New Age Islam News Bureau
28 Oct 2015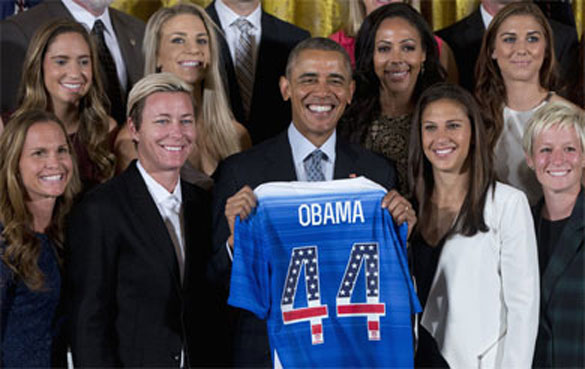 President Obama poses with a jersey he received from the U.S. Women's National Soccer Team during a ceremony to honor the team and their victory in the 2015 FIFA Women's World Cup. Standing with Obama are (from left) Christie Rampone, Morgan Brian, Abby Wambach, Julie Johnston, Sydney Leroux, Carli Lloyd, Alex Morgan, and Megan Rapinoe. Carolyn Kaster/AP
----------
• Indian Supreme Court Pushes For Change in Muslim Divorce Law
• Pak Woman, Mahammada (45) aka Mamta, Forgotten in Shimla Shelter Home
• Australian-Born Muslim Woman Told To Leave a Noosa RSL for Wearing Hijab
• So Swede of You ... Bosnian Muslim Aida at 27 is in Stefan Löfven's New Cabinet
• Obama to U.S. Women's Soccer Team: 'Playing like a Girl Means You're A Badass'
• Breast Cancer Kills 40,000 Women in Pakistan Every Year: Experts
• Women and Children First: How French Policies Impact Muslim Communities
• Women in Islamic Countries like Burqas as TheyDon't Need to Wear Makeup: Donald Trump
Compiled By New Age Islam News Bureau
URL: https://newageislam.com/islam-women-feminism/indian-supreme-court-pushes-change/d/105082
----------
Indian Supreme Court Pushes For Change in Muslim Divorce Law
27 Oct 2015
The Supreme Court on Tuesday ordered registration of a Public Interest Litigation and urged Chief Justice HL Dattu to set up a Special Bench to consider gender discrimination suffered by Muslim women owing to "arbitrary divorce and second marriage of their husbands during the currency of their first marriage".
This comes 30 years after the Supreme Court urged the government to frame a uniform civil code to "help in the cause of national integration" in the Shah Bano case.
Issuing notices to Attorney General Mukul Rohatgi and National Legal Services Authority of India, Justices Anil R Dave and Adarsh Kumar Goel sought their reply by November 23 on a question whether "gender discrimination" suffered by Muslim women should not be considered a violation of the Fundamental Rights under Articles 14, 15 and 21 of the Constitution and international covenants.
The verdict, dated October 16, refers to dozens of its own judgments since the 1990s in order to record the Supreme Court's growing realisation that gender discrimination is a violation of the constitutional rights of women.
Considering the strong pitch made by the SC recently for a common civil code, this judgment is significant as this is the first time that the court itself has shed its self-imposed restraint by suo motu ordering the registration of a PIL.
Even in the 1985 Shah Bano case, the SC had only reminded the government of the lack of "evidence of any official activity for framing a common civil code for the country." It had said a "common civil code will help in the cause of national integration by removing disparate loyalties to laws which have conflicting ideologies."
Writing the judgment, Justice Goel said the decision to "consider" the rights of Muslim women came up during discussions with lawyers on gender discrimination at the hearing of a batch of civil appeals on the issue of a daughter's right to equal shares in ancestral property under the Hindu succession law.
"An important issue of gender discrimination which, though not directly involved in this appeal, has been raised by some of the learned counsel for the parties which concerns rights to Muslim women. Discussions on gender discrimination led to this issue also. It was pointed out that in spite of guarantee of the Constitution, Muslim women are subjected to discrimination. There is no safeguard against arbitrary divorce and second marriage by her husband during the currency of the first marriage, resulting in denial of dignity and security to her," it said.
http://www.dailymail.co.uk/indiahome/indianews/article-3292591/India-s-Supreme-Court-pushes-change-Muslim-divorce-law.html
----------
Pak Woman, Mahammada (45) aka Mamta, Forgotten in Shimla Shelter Home
Anand Bodh
Oct 28, 2015
SHIMLA: Indian girl Geeta finally returned home after a decade on Monday amid much fanfare, but for "Mamta", lodged in a women shelter home in Shimla for over two months, it appears to be a long wait to go 'home' to Pakistan.
Mahammada (45) aka Mamta, who claims to be from Mohalla Noorana in Gujarat district of Pakistan, has been in Nari Sewa Sadan, Mashobra, near Shimla, since August 10. As per police record, she was found at a rain shelter near Kasauli on August 7 and brought to the director of Women and Child Development in Shimla by cops on August 10, who sent her to the shelter home.
The fact that she was from Pakistan came to light when members of NGO Umang Foundation visited the home. "Directorate of Women and Child Welfare of Himachal Pradesh, which runs the shelter, did not bother to verify the address given by the woman in two months," said Ajai Srivastava chairman of Umang, who has now decided to take up the inmate's fight.
Srivastava said when he visited the shelter two days back to check on the state of 34 inmates, Mahammada told him said that she belonged to Pakistan's Gujrat.
When Srivastava asked her whether she belonged to Gujarat state of India or Gujarat district of Pakistan, she replied,. "Zila Gujarat, Pakistan". "Main Pakistani hun Hindustani nahin. (I am a Pakistani, not Hindustani)," she stressed.
In her talk with Srivastava, she said that she was married to one Rajjak in Gujrat district of Pakistan when she was 20 and they had two children Raul (14) and Jamila (16) who live with their father in Bihar." But she could not explain how her husband stayed in Bihar when she was from Pakistan.
Mahammada told Srivastava that she did not remember how she came to the hill town and wanted to return home to Pakistan.
He said that Mahammada offers namaz and is confused that why people refer to her as 'Mamta'. Srivastava has sought her mental health check-up and counselling so that she reveals more about her background.
Women and Child Development director J R Katwal said the inmate claims that she is from Pakistan, so can her husband be in Bihar.
Katwal said that all efforts are being made to trace her family. "She is being provided medical assistance and counselling and we are trying to find out more about her family so that she can be sent home," he added.
http://timesofindia.indiatimes.com/india/Pak-woman-forgotten-in-Shimla-shelter-home/articleshow/49560722.cms
----------
Australian-Born Muslim Woman Told To Leave a Noosa RSL for Wearing Hijab
October 27, 2015
Rachel Olding
After a successful start to a national badminton competition, Hijran and her teammates thought a meal out together would be a nice way to celebrate.
However the Australian-born woman, of Turkish origin, was left embarrassed and upset when she was told she would have to leave an RSL in popular holiday spot Noosa for wearing a hijab.
Hijran, who asked that her surname be withheld, travelled to the Sunshine Coast with her Melbourne badminton club for the week-long AtalantaJamboree competition against Australian and New Zealand teams.
On their first night, they had dinner at the Tewantin-Noosa RSL and Citizens Memorial Club.
Hijran said that, as she was lining up with a friend to order dinner, a woman came over and said, "Excuse me, can I ask what it is that you're wearing?"
She replied that she was wearing a headscarf because she is from the Muslim faith and women must wear it for religious reasons.
"She told me that, as per the RSL's rules and regulations, we do not allow for anything to be worn on the head," the 35-year-old accounts and admin worker told Fairfax Media.
"I said I was unaware of the rules and I asked it it was okay for me to stay and have my meal with my friends. She said, 'yes for tonight it will be fine but if this happens on a regular basis I would have to ask you to leave'."
On its website, the RSL says head gear is banned unless the Board is satisfied there are acceptable reasons to wear it.
In a response to Fairfax Media, the RSL's chief executive, Phil Stephenson, said the staff member didn't know what was on Hijran's head at first but when she was told it was religious, Hijran was allowed to stay.
He denied she was told she would have to leave if it was a regular occurrence.
"The duty manager on the night describes the head attire as being a white lacey piece of material underneath a bright floral scarf which made our duty manager unsure if it was for religious reasons therefore [it] needed to be clarified by asking the lady," he said in an email.
Hijran said she ate her meal quietly, so as not to create a scene, but her teammates were not happy.
Some of them shared their experience at the badminton stadium the following day and other competitors refused to go to the RSL.
One competitor, Margaret Dwyer, from the Geelong Ladies Badminton Club, said tournament organisers suggested boycotting the venue. She posted an angry message on the RSL's Facebook page in support of "our fellow badminton sister", saying the venue's slogan of "all visitors welcome" should be reviewed.
Hijran said her great grandfathers served in WWI and she was "saddened" by the RSL's treatment of her.
"I didn't want to make a big deal about it because I stand out enough as it is, but I was upset to think that, living in Australia, I could be treated like that," she said.
Mr Stephenson said he believed his staff handled the matter appropriately.
"The Club is not discriminatory in any way and it is not the Club's intention to relay any form of discrimination," he said in a response to Hijran's sister. "I apologise if you feel this was the intention."
The incident was reported to Islamophobia Register Australia. Mariam Veiszadeh, founder of the register, said it potentially breached state and federal anti-discrimination laws.
"This is a rather disturbing incident which has broader implications," she said.
Queensland's Anti-Discrimination Commissioner Kevin Cocks wouldn't comment on the incident but said employees were expected to be aware of workplace policies and whether those policies were in line with anti-discrimination laws.
"Policies or practices that treat people less favourably due to their religious belief or activity (which includes the wearing of religious clothing) may be discriminatory," he said.
http://www.smh.com.au/national/muslim-woman-told-to-leave-a-noosa-rsl-for-wearing-hijab-20151027-gkju4c.html
----------
So Swede of You ... Bosnian Muslim Aida at 27 is in Stefan Löfven's New Cabinet
28 October 2015
STOCKHOLM: A 27-year-old Bosnian Muslim immigrant has been named as the new Swedish minister of education, setting a role model for young, active Muslims.
Aida Hadzialic, in Stefan Löfven's new Cabinet, is a law graduate from the University of Lund. She became the deputy mayor of the Swedish city Halmstad at the age of 23.
Born in 1987 in Bosnia, the Swedish politician is now the youngest person ever to serve as a minister in Sweden.
Aida was five years old when her family fled from war in Bosnia-Herzegovina.
The Swedish politician for the Social Democrats is now the Minister for Upper Secondary School and Adult Education Initiative in Sweden.
http://www.arabnews.com/world/news/826726
----------
Obama to U.S. Women's Soccer Team: 'Playing like a Girl Means You're A Badass'
OCTOBER 27, 2015
The World Cup-winning U.S. women's national soccer team was honoured at the White House today, where Obama praised the champions.
"This team taught all of America's children that 'playing like a girl' means you're a badass," he said.
The U.S. team beat Japan to win the 2015 FIFA World Cup in July, shattering TV ratings for soccer in U.S. the process. Since the victory, players have been on a victory tour that includes talk show appearances, interviews and exhibition games.
During the team's visit to the White House, Obama spoke for about 11 minutes about the team's accomplishments and the contributions of individual players, including midfielder Carli Lloyd, who scored a hat trick in the World Cup final.
"And Carli's performance was so good that by the time the game was over, someone had changed her title on Wikipedia from 'midfielder' to 'president of the United States.' Which, by the way, the job is about to open up," Obama said. He added, "I guarantee you Carli knows more about being president than some of the folks who are running. But that's a whole other — that's a whole other topic of conversation."
Obama's remarks were mostly lighthearted — he teased striker Sydney Leroux about her Chihuahua, which has 10,000 Twitter followers, and mentioned that a farmer in California had built a corn maze in the shape of Megan Rapinoe's face — but he also struck a reflective tone about what the World Cup victory symbolized beyond the world of soccer, highlighting veteran Abby Wambach's "fairytale" ending to her final World Cup appearance.
"I'm not sure [Abby] could have written a better ending: a world champion at last, draped in the Stars and Stripes, showing us all how far we've come -– on and off the field –- by sharing a celebratory kiss with her wife."
Lastly, Obama praised the team for changing stereotypes of women and girls in sports, saying, "They've inspired millions of girls to dream bigger, and by the way, inspired millions of boys to look at girls differently, which is just as important."
"Playing like a girl means being the best," the president said at the end of his speech. "That's what American women do. That's what American girls do. That's why we celebrate this team. They've done it with class. They've done it with the right way. They've done it with excitement. They've done with style. We are very, very proud of them."
http://www.npr.org/sections/thetwo-way/2015/10/27/452260571/obama-to-u-s-womens-soccer-team-playing-like-a-girl-means-youre-a-badass
-----
Breast cancer kills 40,000 women in Pakistan every year: experts
HASAN MANSOOR
Oct 28, 2015
KARACHI: Experts at a seminar held on Tuesday to create awareness about the dangers of breast cancer warned that the number of deaths caused by the deadly disease was on the rise in Pakistan, with 83,000 such cases reported and around 40,000 women dying of it every year.
They said breast cancer was the most commonly diagnosed cancer and the second leading cancerous cause of death.
"In Pakistan, one in nine women will develop breast cancer at some stage of their life," said Dr Iqbal Afridi, head of the department of psychiatry and behavioural science at the Jinnah Postgraduate Medical Centre. He shared this information at a seminar organised by the Pink Ribbon, Medionix, Sindh Maternal, Sindh Maternal, Newborn and Child Health (MNCH) programme and Jinnah Sindh Medical University (JSMU). It was held at the JSMU auditorium.
Pakistan, like the rest of the world, observes October as the breast cancer awareness month.
Dr Afridi said one million women worldwide were diagnosed with breast cancer every year. In Pakistan, he added, "we do not have such a case registry at a national level."
Dr Afridi said several studies and reports suggested that among the Asian population, Pakistani women had the highest risk of breast cancer (after non-Arab Israeli women).
Sughra Parveen, a professor of surgery, reiterated that Pakistan's breast cancer rate was the highest in Asia, "which claims 40,000 lives annually".
The audience was informed that in breast cancer some cells begin to grow abnormally; they divide more rapidly than healthy cells and metastasise (spread) to other parts of the body.
Speaking about the cause of the disease, experts said the exact mechanism is still unknown, but it causes damage to the cell's DNA.
At the seminar the signs and symptoms of breast cancer were discussed to raise awareness. Experts said that any change in how the breast or nipple felt, tenderness, rooted lump or thickening in or near the breast or underarm area were some of the symptoms to look out for. Also, a change would be visible in the skin texture or an enlargement of pores in the skin of the breast, or even discharge from the nipple — particularly clear or bloody discharge.
Dr Parveen said the disease manifested itself with a change in appearance — unexplained changes in the size or shape of the breast with dimpling. Besides, other symptoms included "unexplained swelling of the breast (especially if only on one side); unexplained shrinkage of the breast (especially if only on one side); nipple that is turned slightly inward or inverted and skin of the breast, areola, or nipple that becomes scaly, red, or swollen."
Experts said the increase in the cases of breast cancer was also because most patients delayed getting help. They consider it against society's norms to inform others about the disease, or delay seeking help due to psychological barriers. Most of such cases, experts believe, can prove fatal.
According to Pink Ribbon, having breast cancer in Pakistan, no matter what stage or severity it was of, carried with it a stigma. Furthermore, due to lack of awareness many women denied their condition and refused to go for any kind of breast examination. Senator Dr Karim Khwaja in his keynote speech said awareness about breast cancer should be effectively created across the country and that he would also present proposals in the senate to carry forward the task.
Prof Afridi said many people were influenced by certain misconceptions about breast cancer, which deteriorated the patient's condition and entrapped her with additional psychological disorders.
He said the disease was not just being witnessed among elderly women, but it was increasingly affecting younger women despite the fact that 80 per cent of the patients' families had no history of breast cancer.
Surgeon Rufina Soomro said the risk for breast cancer increased with age as approximately 77pc of women with breast cancer were over the age of 50 at the time of diagnosis.
According to the data compiled by Pink Ribbon, Pakistan has the highest rate of breast cancer in Asia.
JSMU vice chancellor, Prof Tariq Rafi, director, MNCH, Dr Sahibjan Badar, Prof Naila Zaheer and Dr Mohammad Ali Memon also spoke at the seminar.
Published in Dawn, October 28th, 2015
http://www.dawn.com/news/1215772/breast-cancer-kills-40000-women-in-pakistan-every-year-experts
----------
Women and Children First: How French Policies Impact Muslim Communities
October 28, 2015
By the grace of God, I have been afforded the opportunity to study in Paris next semester. I've been longing to go to France since I was a little girl; I spent many a day pretending I was born in the campagne (countryside) or by the rivière (river). In high school I always made sure I completed my French homework, if nothing else. Now, in university, I force myself to get up and get dressed in time to make it to my 8 AM French conversation and composition course, even though it's unfathomable that a third-year student would intentionally select classes at such a dreadfully early hour. Yet, I do it, because going to France has been my plan since long before I even knew what Islam is.
I'm finally going to France in the spring, insha'Allah, and I am terrified. My apprehension has nothing to do with planes or relocation; I've long been accustomed to packing up and moving across the world. Rather, I'm intimidated by France's blatant disrespect towards and disregard for religious people, Muslims in particular. It's no secret that France's policy against religious dress and other conspicuous displays of religion disproportionately affects Muslim women. France's quest for a strict separation of church and state in the public sphere while protecting private beliefs, confounds the two arenas by allowing the codification of laws that inhibit the open practice of faith. Each legislative push against religion brings it closer to the heart of the public sphere and encroaches upon the private. While it is understandable that France would like to keep its citizens safe by banning clothing that might inhibit criminal investigations, instances of attacks by veiled women are relatively rare and do not characterize the whole of the Muslim population in France, especially considering France hosts one of the largest Muslim populations in Europe. These laws, then, do more to harm the highly-visible female Muslim population than to protect the public. France is trying to erase Muslim women.
Source
Source
As if to further the affront against human rights, the French are now dictating not only what Muslims wear, but also what they put into their bodies. New French policies regarding school meals are forcing children to go without an entrée instead of providing them with non-pork options. This policy affects not only Muslim students, but also Jewish students. Combine this with the fact that all head coverings are banned in the French school system and can apparently be banned in university and it seems like religious students are being punished for attempting to pursue an education. Private faith schools are permitted to set their own rules regarding dress and dining options, but not everyone can afford a private faith school, and those schools aren't always the best for creating well-rounded citizens capable of navigating social situations involving people of differing cultural and economic status.
Such egregious policies cause identity problems by forcing students to choose between family, faith, and state. They cause educational problems by focusing on trivial details and distraction students who may be more than eager to learn. The policies even prevent children from having meaningful childhood experiences. Beneytou, the mayor of the small town from which the school meal controversy stems claims the decision to remove non-pork options was made "in the interests of living together" and claims serving different meals would set students apart. What he fails to realize, however, is that serving students a meal without an entrée is no different from serving meals with a different entrée. In both cases students are being served different meals. With the removal of non-pork options, students are set apart by eating incomplete meals. Classmates will notice and wonder why their peers don't have any meat, and the children, being the ever envious human beings they are, will long to have as much food as their classmates, forcing them to decide whether the values of their religion are worth the deprivation. No one wants to be seen as "the other." It seems that to France, forced homogeneity is the definition of secularism. Such environments fail to according to a headteacher who wished to remain anonymous.
France's discriminatory measures against Muslims are rapidly increasing in number, prompting both protests against the policies and violent attacks against those the laws target. France is essentially codifying religious intolerance, but only towards certain religions. Let's not forget that France has national holidays that coincide with several Christian holidays, including more obscure holidays such as Ascension and the Assumption of Mary. Yet, there is not a single holiday given to those of Jewish or Islamic faith. Hindu, Sikh, Buddhist, and Baha'i holidays are also excluded, of course.
It is unacceptable that the so-called secular policies have been allowed to progress to this point. Perhaps I'm biased with my outspoken American attitude, but there needs to be more resistance among the French. There needs to be more lobbying against the policies and boycotts against intolerant businesses. It is ridiculous that Muslims (and others who choose to wear symbols of their religion) are being denied education for something that has no effect on their performance. Even more outrageous is the infringement of adult politics on even the youngest children. Is it not enough that the children were born in France? Is it not enough that they have learned the language? Is it not enough that they can sing both the national anthem and the latest pop songs? At this rate, speech will be next action to be policed– the slightest religious utterance to a friend overheard by a stranger might be cause for arrest.
http://www.patheos.com/blogs/mmw/2015/10/women-and-children-first-how-french-policies-impact-muslim-communities/
----------
Women in Islamic Countries like Burqas as TheyDon't Need to Wear Makeup: Donald Trump
October 27, 2015
In yet another controversial jibe, Republican presidential front-runner Donald Trump has said women in the Islamic world like wearing burqas because it is easier as they do not have to wear makeup.
During a New Hampshire rally on Monday, Trump briefly spoke about his belief that the United States imposes its own version of Western democracy upon cultures that do not necessarily want it. Citing failed interventions in Libya and Iraq, Trump suggested it has been futile to try to export "freedom" to Muslim countries. "I saw somebody say 'We want it over there where the women don't have to wear the you-know-what,'" Trump told the crowd, wiping his hand in front of his face to mimic the look of a burqa. "And then I saw women interviewed. They said, 'We want to wear them, we've worn them for thousands of years. Why would anyone tell us not to?' They want to!" he was quoted as saying by CNN. "Fact is, it's easier. You don't have to put on makeup. Look how beautiful everyone looks. Wouldn't it be easier? Right? Wouldn't that be easy?" the real-estate mogul joked. "I tell ya, if I was a woman, I don't want to. I'd be like, bwah (gesturing the burqa), 'I'm ready, darling, let's go.' It's true!" he said.
Trump has a history of making controversial remarks about immigrants and other groups. Earlier on in his campaign, Trump had made controversial statements about Mexican immigrants and did not dispute a man's assertion that US President Barack Obama was a Muslim. Last week Trump said the world would be a better place if dictators such as Saddam Hussein and Muammar Gaddafi were still in power.
http://indianexpress.com/article/world/world-news/donald-trump-says-women-in-islamic-countries-like-burqas-as-they-dont-need-to-wear-makeup/
----------
URL: https://newageislam.com/islam-women-feminism/indian-supreme-court-pushes-change/d/105082