New Age Islam News Bureau
10 Jun 2015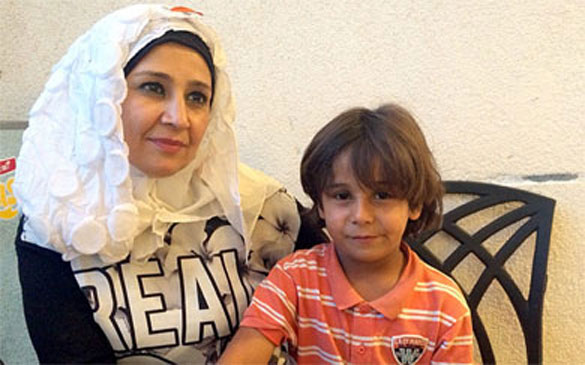 Shokrana Khalil Alawi, 37 and her son Mustafa Photo: Ruth Sherlock/The Telegraph
----------
• Jewish-Muslim Women's Network Holds First Workshop at Jewish Museum
• Hounded By Kin, Cops, Muslim Couple Goes Into Hiding
• Young Lovers 'Caught Out' In Saudi Arabia Sentenced To Community Service
• Bangladesh Urged To Tackle Child Marriage "Epidemic"
• Amnesty: Ireland Should End Abortion Ban, Puts Women at Risk
• Kitchener Muslim Women Share Tea, Tales and Head Scarves
• Tribunal Sides with Employer over Muslim Who Said Request to Wear Shorter, Ankle-Length Jilbab Was "Against Her Morals"
• 'Stalkers' Track Young Runaway Girls In IS World
• 'Marry Me or Be My Slave': Islamic State Emir's Ultimatum to A Young Syrian Widow
• 80 Saudi Women to Run For EP City Council
• Sporty Hijabs: A Mini High Street Revolution That Could Save Muslim Women's Lives
Compiled by New Age Islam News Bureau
URL: https://newageislam.com/islam-women-feminism/indian-muslim-girl-mastered-bhagwad/d/103426
-----------
Indian Muslim Girl Who Mastered the Bhagwad Gita Donates Prize Money for Girl Education
10 June, 2015
Thane: Maryam Siddiqui, the 12-year-old Thane schoolgirl who in March topped a competition testing knowledge of the Bhagwad Gita, has decided to donate her cash rewards for the cause of girl education.
Siddiqui has been showered with felicitations, awards and honours from around the country, starting from President Pranab Mukherjee, Congress president Sonia Gandhi and her son Rahul Gandhi, several chief ministers, and a plethora of organisations.
However, the girl, hailing from a Mira Road town middle-class family, has decided to give away all the cash rewards for the education of poor girls. "Though we are not financially well off, my daughter has made it her mission to work for the education of girls," her father Asif Siddiqui, a journalist and editor of Hindi publication Vartman Media, said on Tuesday. Maryam, a Class 6 student of Cosmopolitan High School in Mira Road, shot into the international limelight four months ago when she topped the Bhagwad Gita competition conducted by the International Society for Krishna Consciousness - ISKCON. She bagged the top honour among 4,000 students from 195 schools in Maharashtra who took part in the competition. On June 2, she was felicitated by Gujarat Chief Minister Anandiben Patel. And the girl surprised the gathering by offering a cheque of Rs.11,000 to the chief minister of one of the rich states of the country with a request to utilise it for the education of poor girls. Uttar Pradesh Chief Minister Akhilesh Yadav also was similarly stumped on June 6 when he honoured Maryam with a cheque of Rs.11 lakh. "Maryam not only returned the cheque to the chief minister, but also offered two cheques of Rs.11,000 each to him, with a plea to use all the money for the noble cause through various schemes," Asif added. On June 9, Maryam is slated to meet Madhya Pradesh Chief Minister Shivraj Singh Chauhan in Bhopal at a felicitation event - and she would be attending it, armed with a cheque to be handed over to the chief minister for the same cause. Earlier on Tuesday, Maryam visited a destitute children's home, Dinanath Ashram, and distributed sweets and other articles among the resident children and sponsored the school fees of some local girls, he said. The Bhagwad Gita is a 700-verse epic, which is part of the Mahabharata. Mahatma Gandhi always recited it, calling it his 'spiritual dictionary'.
http://www.mid-day.com/articles/muslim-girl-who-mastered-the-bhagwad-gita-donates-prize-money-for-girl-education/16277188#sthash.Qbjencgi.dpuf
---------
Jewish-Muslim Women's Network holds first workshop at Jewish Museum
10 June, 2015
Interfaith relations were boosted this week, with the first meeting of the fledgling Jewish-Muslim Women's Network.
Nearly 100 prominent women attended, to support the new network seeking to create projects and events for Jewish and Muslim women.
Among those attending were Daniela Pears, Mayoress of Camden and Inter faith Chair of Mitzvah Day, Debbie Fox, trustee of the Jewish Leadership Council, and Rabbi Laura Janner-Klausner.
Organisers Laura Marks and Julie Siddiqi established the project to encourage women of the two faiths into driving social action and leadership.
The network will focus on four 'streams': social action, culture, business and sport and well being – each project being set up by women, together.
Marks told Jewish News: "Never before has a group of such prominent, interesting and determined Muslim and Jewish women been gathered here in Britain.
"The good that will come out of this project, in a world which desperately needs it, just might change our communities forever."
Siddiqi added: "Muslim women tend to be less visible leaders but as we saw here, we are blessed with some exceptional, strong and inspirational leaders. This network will form the basis for a new way of setting the agenda in society."
The project is supported by the Board of Deputies, and will be formally launched with the Department of Local Government in autumn.
The workshop coincided with the anniversary of the death of Emily Davison – a suffragette, who ran in front of a horse at Epsom race course over 100 years ago to publicise women's demand for suffrage. Ros Currie, curator of the Jewish Museum's Suffragette exhibition, said this was a fitting context to encourage more Jewish and Muslim women into leadership roles.
The event took place last Thursday.
http://www.jewishnews.co.uk/jewish-muslim-womens-network-holds-first-workshop-at-jewish-museum/
---------
Hounded By Kin, Cops, Muslim Couple Goes Into Hiding
Esha Roy
10 June, 2015
Shabaz Ahmad (24) and Archiya Habib (19) are married and on the run. The couple has been staying in shady hotels, hiding from the police and fleeing from one part of Manipur to another after the girl's family, that strongly disapproves of their relationship, slapped a kidnapping case on Ahmad.
Ahmad is a Bengali Muslim, who belongs to a business family. His father runs a perfumery that caters to the markets in Mumbai, Bangkok and Dubai. Habib is the only child of wealthy parents from Assam. Things came to a head on June 2, when Habib's father, a well-known surgeon in Hojai, Assam, allegedly turned up in Imphal with a dozen men and threatened them.
Dr Chaidul Islam, Habib's father, is the managing director of three hospitals — Haji Abdul Majid Memorial Hospital in Hojai and two others in Gwalpara and Badarpur in Silchar. All three belong to Assam MP Badruddin Ajmal.
On June 3, Ajmal himself, reportedly, turned up to persuade the couple to return home.
He is also believed to have met Manipur Chief Minister Okram Ibobi Singh regarding the matter.
"An FIR has been lodged against my husband accusing him of kidnapping me. But I got married to him and came here on my own,'' claims Habib. A team of the Assam Police also visited Imphal to track down the couple.
Guwahati City Police (East), DCP Hemanta Kumar Das, said a case was registered in the Dispur police station on the basis of Dr Islam's complaint about kidnapping of his "minor" daughter.
"The Investigating Officer (IO) went with a team to Imphal but could not trace them. The IO has since returned," DCP Das said.
It was in August last year that Ahmad and Habib had met each other through a mutual friend.
"Most of our courtship was over the phone as I was never allowed to go out alone,''says the 19-year-old.
The couple says that they decided to elope as Habib's family wanted to send her to Ukraine to study medicine. It was on May 25, Habib claims that she discovered the "plan" to send her abroad and called Ahmad.
While holding a Nikah Nama, written in Manipuri, the couple claims that Habib met Ahmad on May 29, and they approached a Muslim cleric to get married for the second time.
"When we realised that her parents wanted to separate us we got married in April — we received our marriage certificate on April 24. We kept it a secret till this plan to send her abroad came up,'' says Ahmad.
The couple have surrendered themselves to the Chief Judicial Magistrate in Imphal (West), who has now ordered that they be given protection.
Speaking to The Indian Express, Dr AK Jhalajhit, SP, Imphal (West) said, "We have received directives from the court. But where are they? How can we give them protection if they don't come to us.''
"There has been no let up in police pressure. Her father even threatened to kill me in front of my own father,'' says Ahmad.
"I fear for my husband's life,'' adds Habib. But Guwahati police dismisses Habib's fears.
"If the girl is above 18 and an adult, and has already surrendered before the CJM in Imphal, then the police can do nothing but wait for the court's order," DCP Hemanta Kumar Das said.
http://indianexpress.com/article/india/india-others/hounded-by-kin-cops-muslim-couple-goes-into-hiding/#sthash.Ye6D4UvI.dpuf
---------
Young lovers 'caught out' in Saudi Arabia sentenced to community service
10 June 2015
Four young men and women were sentenced to do community service instead of going to prison after being caught having unlawful relationships with each other.
Jeddah Penal Court said the defendants, two males and two females, were caught partying at a resort on the beach.
The judge ruled the women must visit 10 patients and the men must dig five graves. The court also reported 97 percent of judges in the Ministry of Justice were willing to hand down alternative punishments.
https://english.alarabiya.net/en/life-style/art-and-culture/2015/06/10/Young-lovers-caught-out-in-Saudi-Arabia-sentenced-to-community-service-.html
--------
Bangladesh urged to tackle child marriage "epidemic"
10 June 2015
LONDON — Bangladesh must ramp up efforts to tackle its "epidemic" of child marriage — a problem fuelled by the country's repeated natural disasters, rights campaigners said on Tuesday.
Human Rights Watch (HRW) also called on the government to ditch a proposal to lower the legal marriage age for girls from 18 to 16, which it said undermined the prime minister's recent pledge to end child marriage.
Bangladesh has one of the world's highest rates of child marriage, with two thirds of girls ending up as child brides. Nearly 30 percent wed before their 15th birthday and many are much younger.
Although child marriage is illegal, the law is widely flouted, with officials often forging birth certificates to facilitate underage marriages for small bribes, HRW said in a report, "Marry Before Your House is Swept Away".
Densely populated Bangladesh suffers frequent flooding and other natural disasters. The rights group said floods, cyclones and river erosion exacerbate child marriage by pushing families into greater poverty.
"Child marriage is an epidemic in Bangladesh, and only worsens with natural disasters," said Heather Barr, an HRW researcher on women's rights.
"The government should act before another generation of girls is lost." Officials from the ministry of women and child affairs did not immediately return phone calls seeking comment on Monday.
At a global summit on child marriage in London last year, Prime Minister Sheikh Hasina pledged to end the marriage of girls under 15 by 2021 and all child marriages by 2041.
But campaigners say moves to allow girls to marry at 16 raise doubts about her commitment. A revised version of the original proposal would keep 18 as the legal age, but allow exceptions with parental consent. As most marriages are arranged by parents, campaigners say this would still amount to lowering the age to 16.
At the summit, Hasina also pledged a national action plan on child marriage, but HRW said this had not happened.
The report, based on scores of interviews with child brides, says marriage robs girls of their education and opportunities and puts their lives in danger when they are forced to have children before their bodies are ready. Child marriage also increases the risk of domestic and sexual abuse, including marital rape.
Rashida, who was married at 10 or 11, is quoted as saying: "He forcibly entered me and I would cry so much that everything would get wet from my tears. It was so difficult, so painful. The first time, the next day I couldn't even move."
Driving factors behind child marriage include poverty, lack of education and dowry payments, which tend to be lower for younger girls. Environmental disasters drive the practice.
"Whatever land my father had, and the house he had, went under the water ... and that's why my parents decided to get me married," said Sultana who was wed at 14.
Other families describe feeling under pressure to marry daughters off fast for fear of losing their homes through river erosion.
HRW said the government must do more to raise awareness of the dangers of child marriage, enforce the law and keep girls in school, seen as one of the best ways to prevent child marriage. — AFP
http://www.saudigazette.com.sa/index.cfm?method=home.regcon&contentid=20150610246686
--------
Amnesty: Ireland should end abortion ban, puts women at risk
Associated Press
10 June, 2015
DUBLIN (AP) - Amnesty International urged Ireland to ease its abortion ban as it unveiled a report Tuesday that said Europe's most restrictive laws on terminations endanger the lives of women.
The human rights watchdog's 113-page report included case studies of women who risked blood poisoning from dead fetuses that doctors refused to remove quickly; who were refused abortions after doctors determined the unborn child could not survive outside the womb; and who avoided post-abortion medical care in Ireland for fear of being identified as a criminal.
The report said Ireland should repeal its constitutional amendment giving the unborn fetus an equal right to life as the pregnant woman, arguing this 1983 clause conflicted with international human rights conventions that "human rights apply after birth."
This needs to happen urgently as Ireland's current laws are putting the lives of women and girls at risk every day," said Colm O'Gorman, Amnesty's director in Ireland.
The Irish government, which in 2013 passed a law legalizing abortions when deemed necessary to save the woman's life, declined to comment. The 2013 law was passed following the death in hospital of 31-year-old Savita Halappanavar, who suffered blood poisoning from a dying fetus that doctors refused to remove, and included a maximum 14-year prison term for abortion violators.
Amnesty said the new law still left doctors uncertain when they could legally perform an abortion without risk of being charged with murder.
Anti-abortion groups accused Amnesty of bias and of ignoring worse rights abuses committed by hospitals and abortion clinics.
"Now that Amnesty has become a de facto campaigning group on one side of the abortion debate, sadly it can no longer act in the role of unbiased and impartial defender of human rights," said Cora Sherlock, spokeswoman for Ireland's Pro Life Campaign.
In its conclusions, Amnesty called on Ireland to legalize abortion in cases of severe or fatal fetal abnormalities, of long-term risk to health caused by continued pregnancy, and of pregnancies linked to rape and incest.
Also Tuesday, the British government published its 2014 abortion statistics for England and Wales, where abortion was legalized in 1967. The report found that 3,735 women with Republic of Ireland addresses received abortions in Britain, slightly up from 2013.
http://www.12newsnow.com/story/29274410/amnesty-ireland-should-end-abortion-ban-puts-women-at-risk
---------
Kitchener Muslim Women Share Tea, Tales and Head Scarves
10 June, 2015
KITCHENER — Kathy Bergen and her friend from Indiana, Dee Swartz, walked around Carl Zehr Square on Sunday wearing colourful Hijabs that matched their outfits.
The friends don't normally don the Muslim head scarf, but they decided to try them on at the Coalition of Muslim Women of K-W's annual community event.
Bergen had a pretty white scarf with red flowers on it to match her red top and Swartz wore a sparkly gold and tan head scarf to match the brown tones of her clothing.
"It was so much fun," Bergen said. "We're going to keep them on."
Dozens of colourful head scarves were donated for the popular try-on-a-hijab booth.
Volunteer Manal Barakat said they often see the same people every year.
"People like the idea, to see themselves in it and see how they look," Barakat said.
"Some of them keep it on, some of them say it feels very strange but most of them like it."
The annual event is in its fifth year and aims to build bridges with the larger community.
This year's theme, Tea and Tales, offered a series of "culture cafés" with tea and snacks from a variety of Muslim countries.
Several people sat at the tea tables to learn about a new culture, engage in dialogue and ask questions. Dozens of non-Muslim women donned fancy Hijabs as they circled through tea tables from Pakistan to Turkey and Sudan to Iran.
For Nuha Hashim, a volunteer at the Sudan table, wedding trinkets were laid out in an elaborate spread.
"The wedding is very unique and important in our culture," she said, pointing to the intricate gold-chain headpiece worn by the bride, handmade snakeskin shoes and leather footstools with wildlife scenery painting on them.
Each table also had posters of important female role models from each country.
For Hashim, they "prove that women can become whatever they want."
Amira Elghawaby, a human rights co-ordinator at the National Council of Canadian Muslims said the Coalition of Muslim Women of K-W is doing a "remarkable job" in engaging with their communities.
"The coalition is a tangible example of positive contributions," she said.
Recent issues such as wearing the Niqab during citizenship ceremonies or wearing a Hijab in a courtroom frame the Canadian Muslim experience in a negative way, Elghawaby said.
"It creates a frame where Canadian Muslim women feel unwelcomed."
The local group hopes to dispel stereotypes about Muslim women by inviting the public to interact with the Muslim community.
http://www.therecord.com/news-story/5665880-local-muslim-women-share-tea-tales-and-head-scarves/
---------
Tribunal sides with employer over Muslim who said request to wear shorter, ankle-length jilbab was "against her morals"
10 June, 2015
An Employment Appeal Tribunal has found that a Muslim woman was not discriminated against when told that her jilbab posed a tripping hazard.
A Muslim woman, named only as Ms T Begum, was offered an apprenticeship in a nursery, but was asked by a manager if she could wear a jilbab which did not extend over her feet- as it could pose a tripping hazard for children and staff.
Ms Begum had worn a jilbab during the interview which the manager said would not be suitable for working in the nursery because of its length. Instead she was asked to wear a slightly shorter garment.
Despite not objecting at the time, the claimant said that "she had been insulted" by the request and that the requirement that she wear an ankle-length jilbab, rather than one which covered her feet and touched the floor, was "against her morals and beliefs."
She claimed that she had been "discriminated against" because of her "ethnic/cultural background."
The Judge dismissed the case and noted that the woman in question "was only asked if she might wear a shorter version of the [jilbab] she wore to the interview", and was not told she could not wear the religious garment at all.
According to the ruling, "at no point was she told that she could not wear a jilbab while working at the nursery."
The Judge concluded that the policy was not "indirectly discriminatory to Muslim women" and that the health and safety policy "applied equally to staff of all religions". The Judge noted that even if the policy did "put some Muslim women at a particular disadvantage", it was a proportionate means of "protecting the health and safety of staff and children."
The ruling also pointed out the nursery employed four Muslim women who all wore hijabs, and that they were accommodated by their employer who facilitated time off for Ramadan and for prayers.
An NSS spokesperson commented, "Clearly the health and safety of staff and children is the priority here. There is not an unlimited right to manifest your religion in the workplace. The employer made a very reasonable, practical request, and we are pleased to see the Judge siding with them."
http://www.secularism.org.uk/news/2015/06/tribunal-sides-with-employer-over-muslim-who-said-request-to-wear-shorter-ankle-length-jilbab-was-against-her-morals
---------
'Stalkers' Track Young Runaway Girls In IS World
10 June, 2015
LONDON – In a nondescript office in central London, researcher Melanie Smith stares at her laptop, scrolling down the Twitter feed of a 17-year-old British girl who ran away to join Islamic State militants.
"What we're looking at here is when she announced her husband's death," said Smith, pointing to a post from a few months ago that says: "May Allah accept my husband."
There are also lots of retweets, from screenshots of Islamic State propaganda videos to news articles, particularly around the time of the Islamist attack on the French satirical magazine Charlie Hebdo in Paris in January.
"We saw her retweeting pictures of the cartoonists who had been killed and also others who were celebrating the attacks," Smith said.
The account is one of several held by Salma Halane, a schoolgirl from the northern English city of Manchester who ran away to join Islamic State with her twin sister, Zahra, in July 2014.
The twins are among an estimated 550 Western women that have joined the Islamist militants who have seized swaths of territory across Syria and Iraq.
In a ground-breaking project to understand more about female recruits and their online footprints, Smith and her colleague, Erin Saltman, of the Institute for Strategic Dialogue, have profiled 108 of the women from their social media accounts, .
"It's pretty much my life now, it's kind of an obsession," said Smith, a petite blonde who, having just turned 23, is similar in age to many of her subjects.
They do not interact with the women, they just watch.
"We're stalkers!" laughed Saltman, a 30-year-old expert on radicalization and violent extremism.
Scrolling through Twitter, Facebook, Ask.fm and tumblr accounts for hours on end can take its toll, however.
"You are seeing very disturbing images, everything from beheadings to dead children. It's not easy," said Saltman.
Some researchers in this field suffer from post-traumatic stress disorder and they can become targets themselves.
"I personally have received a couple of Twitter death threats," Saltman said.
Smith began working on the database about a year ago, archiving online posts from women who have left their often affluent Western lives behind to become brides of Islamic State fighters and populate the new "caliphate."
One of her subjects is just 14. "I feel sympathy for the younger ones," she said, but this fades as they become more radical.
"I don't feel much pity. But I do take an interest in what would have brought them to that decision."
The research, undertaken jointly with the International Center for the Study of Radicalization at King's College London, is necessarily limited, not least because it focuses on English-speaking accounts.
A recent U.S. study identified at least 46,000 Twitter accounts linked to supporters of the Islamic State group, with three-quarters of them tweeting in Arabic.
Information gleaned from social media can also be patchy, but what they have found challenges the notion of naive "Jihadi brides," revealing women who are just as ideologically committed as the men.
While forbidden from fighting, the women use open-access social media to spread Islamist propaganda and, through posts hailing the medical care available or the camaraderie of the "sisterhood," encourage new recruits.
"We know that the lens we're seeing is the propaganda, not the reality. We read between the lines quite a lot," said Saltman.
Mentions of miscarriages and the pain of leaving families back home slip between posts glorifying Islamic State fighters, while a brief hashtag trend #nobodycaresaboutthewidow suggests some women feel isolated after their husbands die.
Negative sentiments are quickly drowned out by positive tweets from the user's followers, however.
Many of the women use "noms de guerre" and their accounts are frequently shut down for breaching rules on disseminating extremist material.
The researchers report users to Twitter or Facebook if postings point to an actual attack, and the police got in touch recently about one of their reports.
But they view censorship as largely counterproductive. "If you take one account down, three appear in their place," Smith said.
Mostly their subjects are aware they are being monitored — if the researchers are reading, it would be safe to assume that so are the security services.
Exchanges that veer into sensitive areas, for example on how to travel to Syria, are referred to private messenger services such as Kik, Sure-spot, Wickr or WhatsApp.
"They are showing such an intimate lens into their life, but it's also a very self-aware lens," Saltman said.
http://www.japantimes.co.jp/news/2015/06/09/world/stalkers-track-young-runaway-girls-world/
---------
'Marry me or be my slave': Islamic State emir's ultimatum to a young Syrian widow
10 June, 2015
For Shokrana Khalil Alawi, saying "no" to a suitor's marriage proposal was the single most dangerous thing she had done throughout the Syrian civil war.
For four years, following the death of her husband, she had survived alone with her seven-year-old son, Mustafa, in war-riven Deir Ezzor - but faced with the demand from a leader of the Islamic State of Iraq and the Levant (Isil), she knew she had no choice but to escape.
"He asked for my hand in marriage," said Ms Alawi, 37. "But when I refused he issued the ultimatum: marry me or become my slave."
Extreme though her story is, the misfortune that befell Ms Alawi is being endured by thousands of unmarried women living in Isil-controlled parts of Syria, or as refugees abroad.
Syria's conservative culture, coupled with the destitution and desperation wrought by the civil war, has seen women pushed into marriages they did not choose, either by their families, by pimps, or because they felt marriage was their only chance to survive.
In 2011 Ms Alawi's future had seemed bright. A primary school teacher, she had moved to the eastern city of Deir Ezzor where she and her husband had started a family.
As the protests against the regime of Bashar al-Assad swelled into armed insurrection, her husband, a Syrian intelligence officer, defected to join the Western-backed Free Syrian Army rebel movement.
But just weeks later, she received a fateful knock on the door: her husband had been killed in a rocket attack on the frontline.
Blacklisted by the Syrian regime, and therefore unable to join her family who still lived in government-held Hassakeh, she had little choice but to raise her son alone, in a city that was becoming increasingly engulfed in war.
As Syrian fighter jets were joined by Assad's helicopters, dropping barrels filled with TNT on the city, Ms Alawi volunteered at a primary school, teaching the children in an underground bunker.
It was when she was walking to work that she first caught her suitor's eye. A liberal Muslim, Ms Alawi said she did not wear a headscarf: "The man saw me and started asking to marry me. At first I thought it was a joke."
Too religiously conservative to propose to her directly, he instead entreated Ms Khalil's male neighbour to dispatch his wife to speak to the Syrian teacher.
"He tried this method many times," Ms Alawi said. Each time she politely sent back the message that she was not ready to re-marry.
At this point Isil had not yet entered the city, and her suitor, a Moroccan who was 10 years her junior, was a member of Jabhat al-Nusra, al-Qaeda's affiliate in Syria.
But as Isil advanced towards Deir Ezzor, his tones hardened: "He told me: 'Soon I will demand that you be mine'."
Days later Isil jihadists stormed her district in Deir Ezzor and her suitor, who had secretly supported the extremists, was immediately promoted to the position of emir - leader - in the group.
Bolstered by his new power, the jihadist walked directly to her house and banged on the door: "He told me that if I did not marry him, he would make me his slave," Ms Alawi said.
With the wedding scheduled in two days' time, Ms Alawi planned her escape. With the help of friends in the Free Syrian Army, she and Mustafa crept out of Deir Ezzor at dawn, taking a boat across one of the rivers that surround the city to avoid the jihadists' checkpoint on the bridge.
Alone and penniless, she and Mustafa arrived in the Turkish border city of Urfa to start a new life.
Ms Alawi began looking for work, applying for jobs in schools, in offices and restaurants.
"I searched everywhere, but everyone knew I was a woman alone," she told The Telegraph.
Several times the bosses, who were all male, told her they had no positions she could fill but then sidled up to her afterwards, implying they would pay her for sex.
"The men here treat the women as objects, as bodies to be used when they want," Ms Khalil said. "So many other Syrian women I know had the same problems as me."
Even within the swollen Syrian refugee community the vulnerability of being a lone single mother was exploited. "For the first five months Mustafa and I shared a small apartment with a family from the Aleppo countryside," she said. "The head of the household was already married, but decided he wanted me as a second wife. So Mustafa and I and left the home."
For now Ms Alawi and Mustafa live alone on the outskirts of Urfa city in a single-room shack with no water, and a single electric lightbulb.
Ever resilient, Ms Alawi provides as best she can for Mustafa. She sends him to a free school for Syrians run by other refugees, and what he does not learn there, she teaches him at home.
"I know we have to keep trying," she said. "I am always hopeful for something better. But right now, it's hard to see what future I can give my son."
http://www.telegraph.co.uk/news/worldnews/islamic-state/11660897/Marry-me-or-be-my-slave-Islamic-State-emirs-ultimatum-to-a-young-Syrian-widow.html
---------
80 Saudi women to run for EP city council
10 June 2015
DAMMAM — There are over 80 women running for the Eastern Province city council elections in August with at least 10 female candidates contesting places on each municipal committee, a social activist told Al-Hayat.
Fowziyah Al-Hani of the "Baladi" campaign, which works to increase women's representation in the city council, said female participation in the Shoura Council has improved Saudi society.
She believed more women in the city council would help societal development as well. She said: "I believe the Saudi woman will be a complementary addition to the city councils in the Kingdom.
"A lot of women are apprehensive about nominating themselves. They fear their agendas and plans would be stolen by other candidates if they were publicized."
She added women candidates would always be under the spotlight in the election and their private lives exposed. "It is financially and emotionally exhausting to campaign and challenge social norms.
"Not everyone can afford such a cost but the women who nominated themselves have great courage and I wish them all the best and thank them for their initiative."
She added no women participated in the 2012 elections, driving her to organize an awareness workshop for women in cooperation with the Alwaleed Bin Talal Foundation.
"We had a great turnout in 2012 and we will hold the workshops again this year with bigger hopes and more improvements.
"In 2012, we were introducing the concept and importance of city council elections and this year will be talking in detail on how to run a successful campaign and to lobby in the municipality."
Candidate Hanan Al-Daham said she was the first Saudi woman who decided to run for city council after King Abdullah announced that women should participate in the elections.
She said: "I run to serve the citizen, the resident and the country as a whole. "As a citizen, I have a social responsibility and an obligation to give back to my community.
This is my first city council election but it is not the first election I have stood for. I was previously elected as the head of the National Retirees Society."
She added the Saudi woman is capable of giving back to society and enhance the infrastructure of the Kingdom.
She said: "We will be rivaling men and bringing our perfectionism into good use. My participation in the election does not compromise my religious values and morals as a Saudi Muslim woman.
"Women in the city councils is looking up and many doors will open for us, giving us the opportunity to contribute to the betterment of our society."
http://www.saudigazette.com.sa/index.cfm?method=home.regcon&contentid=20150610246718
--------
Sporty hijabs: A mini high street revolution that could save Muslim women's lives
10 June, 2015
Asisat Oshoala is one of a growing number of Muslim women on the global sports stage. She has been tipped as one of the top 10 players to watch during the current Women's World Cup. And at 20 years old she's a remarkable figure to also have been named as the BBC Women's Footballer of the Year. She plays for Liverpool and was the highest female goal scorer under 20 last year.
In 2012 Sarah el Attar was the first Saudi woman ever to take part in the Olympics. Indian Muslim tennis player Sania Mirza is currently world number one in women's doubles. Ibtihaj Muhammed became the first Muslim woman to compete for the USA at an international level in her chosen sport of fencing.
These are fantastic female Muslim role models, but closer to home, the story of Muslim women and sport is less positive. According to Sport England, only 18 per cent of Muslim women take part in sports, compared to around 30 per cent of the female population. Part of this is related to ethnicity – only 21 per cent of Asian women take part in sports, and in the UK at least two thirds of Muslims are of Asian origin. But it's also a gender issue, as Muslim and Asian male participation in sport does not fall below the average for their sex.
Just five years ago, the figures for female Muslim participation in sports were as low as 12 per cent which suggests that things are improving, but not nearly fast enough. A number of barriers remain - such as access to facilities which Muslim women feel are sensitive to their needs, misplaced cultural taboos around preserving 'modesty' and of course, suitable sportswear.
A sports hijab range has just launched at House of Fraser, finally bringing to the high street the kind of clothing Muslim women who cover choose to exercise in. Soft, flexible and tidy, it keeps hair under wraps whilst maximising movement. Until now, items like the Burqini, and sports friendly clothing have been restricted to online outlets or local independent stores, often created by Muslim women themselves who have found the high street and mainstream brands lacking when it comes to modest sportswear. Other women, outside of the Muslim community, are of course looking for modest sportswear too.
It's a small but important step in actively engaging Muslim women in sports. A lack of involvement in sports and health related activities among younger Muslim women has long term implications for health and equalities. Analysis of the 2011 census figures by the Muslim Council of Britain show that Muslim women over the age of 65 feature disproportionately high into the category of bad or very bad health (38.2 per cent versus 16.1 per cent of the overall female population), and disproportionately low in the very good or good health categories (22.3 per cent versus 47.3 per cent). There's a similar pattern when reporting disability over 65 where Muslim women report that their day to day activities are limited far more than the overall population. (47.6 per cent versus 29.4 per cent).
This matters because the reduction of health inequality is a one of fairness and social justice. But it also matters because ensuring long term good health is socially and economically the right thing for any community, given a straitened NHS and an aging population.
The three biggest health challenges for Muslim populations are diabetes, dementia and depression, all of which can be substantially improved through healthy lifestyles and sports.
The right clothing is very important, but so is creating the right cultural conditions within a community, as well as ensuring access to the correct facilities. For instance, local swimming pools are increasingly offering female-only sessions open to all women.
There's a growing cottage industry of Muslim personal trainers, gyms, sports classes and even – bizarrely – fitness videos. Many of these Muslim women talk about how their faith pushes them to take care of their bodies. But they want to fulfil their sports aspiration while maintaining a level of modesty that is important to them.
This is not about Muslim women segregating themselves off from the mainstream – quite the opposite. They want to be involved in sports just like their peers.
Sports England launched its phenomenally successful 'This Girl Can' campaign because a study it commissioned discovered that significantly fewer women than men play sport regularly – two million fewer female 14 – 40 year olds in total. When the women were asked why didn't exercise, a reason that kept cropping up was their fear of being judged on their appearance, while they sweated buckets. Of course, being judged on a appearance is a challenge Muslim, women know too well.
If we want to encourage young women – including young Muslim women – to take up sports, the easy availability of decent sportswear is a major first step. However, once we get past the outfit anxiety, we must concentrate on the important bit: the taking part.
http://www.telegraph.co.uk/women/womens-life/11658803/Muslim-womens-health-Could-sporty-hijabs-transform-it.html
---------
URL: https://newageislam.com/islam-women-feminism/indian-muslim-girl-mastered-bhagwad/d/103426