New Age Islam News Bureau
27 Oct 2016
• Triple Talaq Divides Kerala's IUML's Women, Girls Wings
• Two Yazidi Women Win EU Human Rights Prize
• This Pakistani Radio Show Confronts 'Endemic' Ogling Of Women
• 45 Weird Bans on Women in Iran
• Interference in Muslim Personal Law Won't Be Tolerated: AIMPLB Executive Member, Asma Zehra
• Police Followed Me Around Cordoba's Mosque. All I Did Was Wear a Hijab
• Nobel Peace Laureate, Shirin Ebadi, Talks Gender and Sexuality in Islam
Compiled by New Age Islam News Bureau
URL: https://newageislam.com/islam-women-feminism/indian-man-made-his-friend/d/108937
-----
Indian Man Made His Friend Rape His Wife, Claims It Was Muslim Ritual
27 Oct, 2016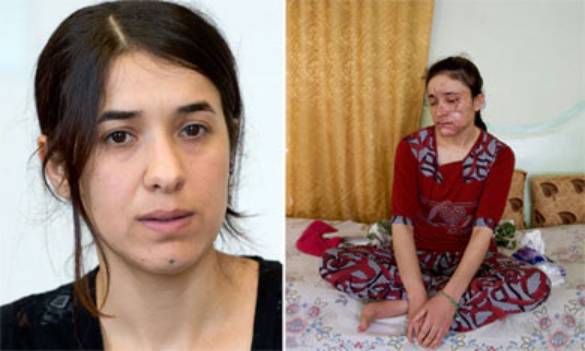 Nadia Murad, left, and Lamiya Aji Bashar, the two Sakharov prize winners. Composite: AP
------------
A man in India had a friend rape his wife, claiming that it was Nikah Halala, a special Muslim ritual, local media reported. The victim, however, says it was simply abuse and that her husband drugged her and filmed the act of rape.
The incident took place in Jaipur, the capital and largest city of the state of Rajasthan in North India, the Hindustan Times reported, citing the victim, a 42-year-old woman who declined to give her name.
The woman said she had been married to her 50-year-old husband, who is also her cousin, for 25 years. They have two adult sons.
The man, a property dealer, had asked his wife to have sexual relations with other men in the past, but she refused.
"He used to insist that I sleep with his friends, but I always refused. One day he got angry and gave me triple talaq," she said. 'Triple talaq' amounts to divorce in Islam. The ritual is performed when a husband pronounces the Arabic word 'ṭalaq' (I divorce you) to his wife three times.
"But he continued to live with me and had conjugal relations," she said.
In August, the woman's husband took her on a ride to his friend's home, the victim said.
"I was feeling unwell and he gave me some tablets. I felt dizzy after taking them. He then took me to his friend's house where he gave me some more tablets. The next thing I remember is waking up naked on the floor next to his friend."
When she woke up and saw her husband's friend, she started shouting, but her husband, who then entered the room, told her not to make a fuss. The 50-year-old said that it was a ritual of Nikah Halala. According to Sharia law, a woman cannot re-marry her first husband until she sleeps with another man and then that man divorces her or dies.
"I cannot get over the insult and shame meted out to me. My husband got me raped by his friend," said the woman. "I feel angry, depressed, scared."
She said that her husband had a video of her sexual intercourse with his friend. He also reportedly had a document saying that the woman and his friend were married.
The threats and the video, however, did not stop the woman from reporting the rape to the police.
"There was no Nikah with the friend. It's a case of rape, not Halala," she said.
The man and his friend are currently "on the run," Narendra Kumar, an officer from the Amer police station where the victim reported the rape, told the paper.
Zakia Soman, co-founder of the Bharatiya Muslim Mahila Andolan (BMMA) told the Hindustan Times that the whole practice of Nikah Halala is "inhuman and barbaric and must be abolished."
"We will take up the Jaipur woman's case and add it to our petition," Soman said, adding that BMMA filed a petition in the Indian Supreme Court which calls for the abolishment of triple talaq and Halala.
"The clergy misinterpret the Quranic verses, saying if a couple has divorced and wants to get back together, the woman must marry another man and have conjugal relations and then get divorced before she can get back to the first husband," she said.
The incident was criticized by Mohammed Iqbal of the Jamaat-e-Islami Hind, a constituent of the All India Muslim Personal Law Board. The organization often opposes reforms in Muslim laws.
"If there was no Nikah or any forced Nikah, Halala is not valid. This is a case of rape and the accused must be punished," he said.
Source: rt.com/news/364356-india-man-raped-wife-friend
----
Triple Talaq Divides Kerala's IUML's Women, Girls Wings
October 27, 2016
KOZHIKODE: Even while much discussion is taking place on abolition of triple Talaq, a difference of opinion has come to the fore between Muslim Women's League, the women's political wing of Indian Union Muslim League (IUML), and its girls wing Haritha with the latter strongly pitching for banning triple Talaq, while the Women's League is maintaining a stoic silence.
Haritha has come out in the open against the practice terming it as 'un-Islamic', while the Muslim Women's League follows the IUML's stand. Though Haritha has raised voice against triple talaq, it has expressed concern over the Central Government's move to bring in the Uniform Civil Code (UCC). "Clearly, there is politics in discussing triple Talaq in the backdrop of UCC. But, it doesn't lessen the seriousness of the issue because it is anti-women. We have demanded that the party leadership should conduct a discussion and listen what Muslim women have to say about talaq. We hope that they would look into our demand seriously," said Haritha state president Fathima Thahiliya.
Whereas, Women's League, following the line of IUML, is silent on the issue. "Since the party leadership has already expressed its opinion, there is nothing more to say on the issue," said Women's League state president Kamarunnisa Anwar.
The Muslim League had made its position clear on the issue by taking a safe stand that the party won't interfere in the issue.
"Talaq has been discussed by Islamic scholars for long and they have a different opinion. The Muslim League is against any political interference in the matter. Let religious scholars take a final call," said the party's national secretary E T Muhammed Basheer. He also alleged that the Centre was trying to divert attention from a serious issue like UCC by focusing on less important matters like triple Talaq.
However, the IUML has decided to conduct a meeting of different Muslim organisations in Kozhikode on October 29 to discuss the issue.
Representatives of All-India Muslim Personal Law Board and various Muslim organisations irrespective of their political stance will attend the meeting. Ironically, no Muslim women organisations have been invited to the meeting so far.
http://www.newindianexpress.com/states/kerala/2016/oct/27/triple-talaq-divides-iumls-womens-girls-wings-1532226.html
--
Two Yazidi Women Win EU Human Rights Prize
27 OCT 2016
Two Yazidi women who survived sexual enslavement by the Islamic State before escaping and becoming advocates for their people have won the EU's Sakharov Prize for human rights.
Guy Verhofstadt, the leader of the Liberal ALDE group, said Nadia Murad Basee and Lamiya Aji Ashar were "inspirational women who have shown incredible bravery and humanity in the face of despicable brutality. I am proud that they have been awarded the 2016 Sakharov Prize."
Among the finalists were the Crimean Tatars and a former Turkish newspaper editor.
The award, named after Soviet dissident Andrei Sakharov, was created in 1988 to honour individuals or groups who defend human rights and fundamental freedoms. Last year's winner was Saudi blogger Raif Badawi.
The award carries 50,000 euro ($A71,531) in prize money
Previous recipients include former South African president Nelson Mandela and Myanmar opposition leader Aung San Suu Kyi.
The award ceremony is to take place on December 14.
http://www.sbs.com.au/news/article/2016/10/27/two-yazidi-women-win-eu-human-rights-prize
--
This Pakistani Radio Show Confronts 'Endemic' Ogling Of Women
27 OCT 2016
For many women in the country, the simple act of leaving the house can be uncomfortable, even intimidating — the probing gaze of the opposite sex is never far away.
Fed-up with the constant unwanted attention, broadcaster Anila Ansari decided to bring the touchy subjects of harassment to the airwaves, by launching an "anti-ogling campaign" on her national radio show.
The idea — unprecedented in this conservative Muslim country where misogyny is often legitimised by hardline clerics — came to her at the start of the year when she returned to her country after living for two decades in Great Britain.
Everywhere she went in public spaces, she felt endlessly intimidated by the male gaze — and found she was far from alone.
"I went to different offices, restaurants: everywhere I went I could see these eyes following me," she told AFP from the Radio99 office located in the centre of Islamabad.
"So I came to my office and started asking my female colleagues and said 'Is it just me or do you experience that as well?', and every woman I spoke with said 'Oh don't even talk about it, it's so endemic.'" When it came to the men, though, many didn't even realise there was a problem.
"They either laugh it off or they get really upset or even annoyed," she explained, adding that some even blamed women for encouraging such attention by their choice of outfit or make-up.
Ansari says she launched the campaign to highlight "how it impacts on a woman's mental health and well being and even her opportunities, academic or employment opportunities." And her radio station, which claims a listenership of up to 25 million across the country, backed the idea.
As part of the campaign, she hosts regular debates on the subject encouraging listeners to call in. She also makes proclamations to underline her point such as: "You wouldn't like it if someone was staring at your sister!" Najib Ahmed, the radio's director, said he the project had his full support from the outset.
"In our country we put these kind of issues under the carpet, we don't discuss them," he said.
"It is the basis of everything, the basis of the economy, the women go out of their home and if (women) are not comfortable they won't be able to do their jobs properly with their other colleagues." -
'We can't help ourselves'
One afternoon in September, Anila and her colleagues gathered on the pavement outside Radio99's headquarters to spread their message on the streets.
Journalists handed out leaflets and made speeches. "Say no to staring. It's unethnical!" shouted one of the DJs.
Sana Jaffry, a young woman wearing a pink hijab and sunglasses, said the project had her support, adding she too suffers from daily ogling by men on her way to work.
"These men who keep their sisters locked up at home, why do they stare at others?" she said. "They need to appreciate that women who go out are also respectable." Radio99's campaign is a "first step" she says.
Pakistani staff of Islamabad-based Power 99 FM radio work on their computers at the station in Islamabad.
But, to truly change things, "the matter will have to be taken up by the government".
Nearby, Ayyan Ali, a young man dressed in traditional garb, is far from convinced.
Girls, he says "are the honour of their parents". If they don't wear the burqa or clothes that completely cover the body, "they can't complain if someone is staring at them".
"If they go out in the street in inappropriate clothes, we can't help ourselves," he adds.
According to Ali, most men share his views. "Nobody has come out for this campaign," he said.
"Everyone is watching the journalists from head to toe. Nobody is looking at them with good intentions because they are not covered properly."
Patriarchal society
Women in Pakistan face huge discrimination in all aspects of their lives, with the country ranking 144 out of 145 on the World Economic Forum's 2015 Gender Gap report.
Ansari hopes her show can open the door for discussions on other issues facing women and girls such as honour killing, forced marriages, and child brides.
For lawyer and feminist Rafia Zakaria, the issue of harassment brings to the fore the place of women in a profoundly patriarchal society.
Staring is an act of intimidation aimed at "pushing women out of the public sphere," she said, adding that the aim has been validated by the clergy.
"They believe wrongly that it is required by Islam," Zakaria said.
She urged women to take out their phones and record evidence to shame men who ogle and harass.
Zakaria explained: "When this form of harassment is made visible and is debated, moral pressure is created to stop it. "
http://www.dawn.com/news/1292586/this-pakistani-radio-show-confronts-endemic-ogling-of-women
--
45 Weird Bans on Women in Iran
October 27, 2016
Under Iran's Islamic laws, women are prohibited from performing basic day-to-day activities. I had firsthand experience of witnessing many of these strange and bizarre bans while living in Iran and other Muslim countries. Millions of women, including my relatives in Iran and Syria, continue to face these injustices. Some of the following rules, which are derived from Iran's Islamic constitution and moral police codes, were recently reported on by Deutsche Welle Farsi. They exist in may other Islamic countries as well:
1. Women are prohibited from taking selfies with soccer players. Specifically, Iran's "moral committee" has banned women from taking selfies with famous soccer players.
2. Iranian women are prohibited from riding bicycles. Iran's Supreme Leader, Ayatollah Ali Khamenei, recently issued an Islamic fatwa regarding officially banning women from riding bicycles. He argued that "riding bicycles often attracts the attention of men and exposes the society to corruption, and thus contravenes women's chastity, and it must be abandoned," according to Iran's state-run media.
3. Coffee shops are prohibited from hiring women. According to Iran's police, women are banned from working in any cafés.
4. Iranian Muslim women cannot marry non-Muslim men. But Iranian Muslim men can marry non-Muslim women.
5. It is forbidden for women to wear boots over their pants. (Why? I am not sure what Iran's Islamic logic behind this is.)
6. Women are not allowed to wear hats instead of veils to cover their hair.
7. Women are not allowed to wear tight clothes that show their body curves.
8. Women are prohibited from wearing tight clothes for swimming.
9. Women are forbidden from changing their religion or criticizing Muhammad, Allah, the Supreme Leader and other Muslim leaders.
10. Women are prohibited from entering sport stadiums and watching men's sports.
11. In Iran, buses and subways are divided in two sections. The larger front section is for men, the smaller back section is for women. Women are prohibited from entering the men's section even if there are no seats left in the back and there are plenty of empty seats in front of the bus.
12. According to Iran's moral police, women are banned from wearing leggings.
13. Women are prohibited from showing strands of their hair on any side. Article 683 states: "Those women that appear in the streets and public places without the Islamic hijab, shall be sentenced from ten days to two months' imprisonment or fined from fifty thousand to five hundred thousand Rials."
14. Women are banned from going camping with men.
15. Any kind of contraceptive surgery is not allowed for women.
16. Women are banned from entering coffeehouses or smoking hookah.
17. Women are not allowed to initiate divorce. Men have the right to do so.
18. According to Iran's family code, women cannot travel abroad except with the permission of their custodian or natural guardian (husband, father, etc.). They also cannot obtain a passport without the consent of their husbands.
19. Women are banned from wearing clothes with writing on them.
20. Women are banned from taking their hijab off in any sport event, including in the Olympics.
21. Iranian women are prohibited from pursuing education in some academic fields. Iranian regime's oil minister argued that "education of women in the field of operations such as drilling and processing and so on that require (physical) activities in operational areas and sites is useless and these are masculine (men's) jobs."
22. Women are not allowed to work in any occupation if their husband disagrees with it. Article 1105 of the Civil Code states, "In relations between husband and wife, the position of the head of the family exclusively belongs to the husband." In addition, when it comes to employment laws, Article 1117 of the Civil Code indicates, "The husband can prevent his wife from an occupation or technical profession which is incompatible with the family's interests or the dignity of him or his wife."
23. Women are banned from receiving the same amount of inheritance as their male relatives. Even if a husband dies, the wife will receive only one-eighth of the inheritance if she has a child.
24. Women are forbidden from having any physical contact with men, including shaking hands.
25. Women are banned from becoming a Supreme Leader.
26. Girls, as young as 9 years old, are not allowed to object to their parents decision to marry them off.
27. Women are not allowed to object to their husband's requests for sex. The law of Tamkin means women's submission, obedience, full accessibility and unhampered sexual availability to her husband. Sexual availability is considered a woman's duty and a man's right.
28. Women are not allowed to bring lawsuits if they are raped, unless they have four witnesses.
29. Women are banned from socializing or dating men.
30. Women are banned from attracting attention in public through "flamboyant behavior" such as laughing loudly.
31. Women are not allowed to show any part of their skin except the face. It is encouraged to cover the face as well.
32. Women are not allowed to have any kind of alcoholic drinks.
33. Women are not allowed to dance.
34. Women are forbidden from being lesbian. Sex between two women is adultery and the punishments range from stoning to execution.
35. Women are banned from listening to "forbidden" music.
36. Women are not allowed to have pets, such as a dog.
37. Women are banned from adopting except if they have a husband and he agrees to do so.
38. Women are prohibited from gambling in any kind of event.
39. Women are banned from having sex or marrying a man up to five or six months after their divorce.
40. Women are prohibited from having tattoos.
41. Women are not allowed to have premarital relationships with men.
42. In many of Iran's provinces, women are banned from performing music on stage.
43. Women are banned from being judges.
44. Women are banned from striking their husband, but men are allowed to do so in some circumstances.
45. Women are not allowed to show their jewelry in public.
Some women continue to defy these rules, but many face severe punishment and discrimination for performing some of these normal day-to-day activities. We need to raise our voice in helping Muslim women in Iran and other Muslim countries who desire to experience freedom, social justice, equality, and do not want to be subjugated, dehumanized, treated as second class citizens, or solely as sexual toys for men.
http://www.frontpagemag.com/fpm/264622/45-weird-bans-women-iran-dr-majid-rafizadeh
--
Interference in Muslim Personal Law Won't Be Tolerated: AIMPLB Executive Member, Asma Zehra
October 27, 2016
Taking a strong note of growing political interference on the triple Talaq issue, All India Muslim Personal Law Board (AIMPLB) executive member Dr. Asma Zehra on Thursday said the rights given by the Constitution of India to the followers of Islam cannot be taken away from them either by the government or the court.
"We have assembled here to send a message across the nation that Muslim women are happy with the Muslim Personal Law, they are secured and all their rights are protected. And no one should try to interfere in that," said Dr. Zehra at a press conference here.
She warned that any interference in the Muslim Personal Law in the name of triple talaq would not at all be tolerated by the Muslims
Earlier, All India Majlis-e-Ittehadul Muslimeen (AIMIM) chief Asaduddin Owaisi on Tuesday accused Prime Minister Narendra Modi of "polarising voters" in the name of triple talaq and construction of Ram temple to ensure that the Bharatiya Janata Party wins the upcoming Uttar Pradesh assembly elections.
Owaisi said the Prime Minister wants to make triple talaq the core issue for the 2017 elections instead of focussing on delivering good governance and corruption.
"The Prime Minister's statement clearly shows that the BJP wants to make triple talaq an important issue for the upcoming UP elections. Instead of making governance, corruption, the Samajwadi Party infighting, the Prime Minister wants to make triple talaq and the construction of Ram mandir core issues of the BJP's campaign in UP," Owaisi told ANI.
"Why didn't the Prime Minister say that separation in divorce is not highest among the Muslims; why didn't he talk about that agricultural land in Uttar Pradesh should also be given to daughters of all religion and the Muslim Personal Law Board has passed the resolution asking the UP government to give it to Muslim girls; why didn't he say that marriage laws in Goa would be removed, because he is facing elections in Goa, where limited polygamy is allowed to our Hindu brothers," he added.
However, founder of the Haji Ali Sabke Liye movement Feroze Mithiborwala has praised Prime Minister Narendra Modi for his statement that the triple talaq issue should not be treated as a Hindu-Muslim matter, adding that this comment signals the emergence of a positive and liberal climate across the country.
Mithiborwala also lashed out at the All India Muslim Personal Law Board (AIMPLB) for creating fear psychosis among Muslims on the issue of the Uniform Civil Code.
http://www.business-standard.com/article/news-ani/interference-in-muslim-personal-law-won-t-be-tolerated-asma-zehra-116102700728_1.html
--
Police Followed Me Around Cordoba's Mosque. All I Did Was Wear a Hijab
Thursday 27 October 2016
How much of this exaggerated and abusive response was because I happen to fit into the categories of brown, Muslim and woman?
This photograph was recently taken in Cordoba's Mosque-Cathedral, a place whose naming has been, and remains, contested and political.
Like all of the other tourists inside this "mosque-cathedral", I walked around the building and enjoyed the architecture. Yet, unlike them, I did that with policemen following and watching me. They would look at me and speak into their walkie talkies.
I had not expected that I would find at least six, maybe seven, policemen in full uniform, one of whom stood sternly with his machine gun
I would look at them and then look back to the intricate walls of the monument, built in 785 on the site of Visigoth remains and later became one of Andalusia's most influential hubs before it was turned into a church in the 13th century.
While I had been bothered by the way their suspicious eyes were glued to me, as though my mere presence inside this building was threatening, I told myself that it was okay. This was not the first time I had been assumed to be suspicious because of the way I look.
At one point during my visit, a Muslim-American man and a Muslim-Mexican man, who had also been visiting the site, asked me to take a photo of them posing in a position of prayer. Muslim prayer inside this building is prohibited, despite the fact that it has historically been a site of worship for both Muslims and Christians.
The police and guards quickly reacted to the scene, and although we had not known about these rules, an argument broke out. One of the policemen insisted that I spoke Spanish and was lying about it, even after I repeatedly told him that I did not understand most of what he was saying.
Soon enough, the Muslim-American man left without trouble (his "Muslim-ness" was not visible), and I had decided to continue walking around inside the building, despite the policemen's ever more watchful eyes. I told myself again that it was okay, because I thought that that would be the extent of it.
Questions all around
It was not. I had not expected that in the courtyard of the monument next at the exit, I would find at least six, maybe seven, policemen in full uniform, one of whom stood sternly with his machine gun. They were staring, waiting, and I was scared by the intimidating sight. A policewoman was with them, and she quickly began inspecting me and my bag.
How much of this exaggerated response was fuelled by the fact that I just so happen to fit into the categories of brown, Muslim, and woman?
Jalil, the Mexican man, had thankfully also walked out with me, and while he was getting scrutinised as well, he translated. I took out my useless, Egyptian, "third-world" passport, a passport that only managed to get me 10 days in Europe.
Despite being one of the more privileged "third-world" citizens who can speak English, study a Western curriculum at school, and manage to get a visa, I was still one of the "undesirables" to this continent.
What was I doing in Spain, they asked, as they wrote down all my information, my name, my nationality, and my passport number.
But I had questions too: how much of this exaggerated (and quite abusive) response was fuelled by the fact that I just so happen to fit into the categories of brown, Muslim and woman? If praying had been against the rules, well technically, I was not praying. If I did present a threat to the security of this space by my mere presence there, wasn't it enough to have just one policewoman and one policeman waiting outside?
Some Spanish friends have explained to me that the police's reactions were heightened by the terrorist attacks that had been sporadically taking place around Europe. They also reasoned that the controversy over the site is an important factor and provided context to the incident.
I contacted a tourism office in Cordoba which organises visits and sells tickets to the site to see what they had to say about what happened to me, but have not heard back at the time of this column's publication.
A 'lucky' one
I have thought about the humiliation of this experience a lot since it happened. It was in many ways, very telling about the banal forms of gendered and racialised violence that many experience on a daily basis, as well as about the inequality surrounding the movement of people around the world.
Why must I be made to go through hell in order to obtain a visa, when all any European national has to do come to my country is buy a plane ticket?
While the Muslim-American man managed to leave the building without being harassed or inspected further by the police, my "Muslim-ness" was easier to spot, given that I wear a headscarf. My difference was visible.
Muslim women experience discrimination differently from Muslim men, and are thus usually the ones to face the brunt of the violence that accompanies it. As many have argued before me, Islamophobia is a particularly gendered form of discrimination.
From this point, it is important also to reflect on the arguments made by Muslims who struggle with Islamophobia in the so-called Western world. Much of the time, they seem compelled, in the face of discrimination, to highlight and reassert their "American-ness," or their "British-ness" or whichever other Western nationality they hold.
The point is valid, especially with slurs like "go home". How can they be asked to go home when this is their home? Yet, what if this wasn't their home? Is it such a crime to be in Europe as a non-European? Why must I be made to go through hell in order to obtain a visa, when all any European national has to do come to my country is buy a plane ticket?
If I successfully get to Europe, I will be policed further. My movement will be controlled. I must reassert over and over that I will not overstay my visa, that I will go "home" and that I am not a "threat".
Yet I am one of the "lucky" ones, spared the harsh conditions that compel women (and men) to precariously take to the sea because their visa will inevitably be rejected, only to be othered upon arrival.
http://www.middleeasteye.net/columns/i-was-followed-cordoba-because-i-wear-hijab-1464726346
--
Nobel Peace Laureate, Shirin Ebadi, Talks Gender and Sexuality In Islam
Wednesday, October 26, 2016
Nobel Peace Laureate Shirin Ebadi received a standing ovation from more than 300 students and faculty for her lecture on gender and sexuality in Islamic cultures Wednesday.
The Rackham Amphitheatre was packed for the Digital Islamic Studies Curriculum Distinguished lecture, "Gender and Sexuality in Islamic Culture," which was co-hosted by the Weiser Center for Emerging Democracies and the University of Michigan Law School.
Ebadi was awarded the Nobel Peace Prize in 2003 for her work as a lawyer in Iran, representing women, religious minorities and other marginalized voices. Speaking in Farsi through an interpreter in her remarks Wednesday, she discussed the political repression of women in Islamic countries, citing her experience as an attorney and as a Muslim.
She told the crowd she appreciated the opportunity to lecture on Islam and the patriarchy in the Middle East because she felt much of the fear surrounding Islamic culture stemmed from the lack of knowledge about the region.
"If people in a society want to live in peace together, there is no other choice but understanding and appreciating other's cultures," she said.
Contextualizing laws with historical and religious information, she touched on the background of a variety of oppressive laws in the Middle East, such as the death penalty as a punishment for homosexuality and the laws of inheritance that are limited for women.
Overall, she said she felt providing information helped combat growing Islamophobia in society.
"We have to put an end to the flame before it takes over, because then we will have destruction that cannot be fixed," she said. "Let's be forgiving like the sky, let's grow the seed of cooperation like the earth, spread the friendship like the wind, be like fire burning ignorance and prejudice, be kind to each other."
Ebadi also provided an interpretation of the Quran that she said permitted the change of unjust and patriarchal laws.
"Societies change, and things change in society, so according to the change in society, the time and the condition, these laws must change," she said.
Following the lecture, a Q&A session was hosted, in which audience members asked Ebadi questions about her experience and her ideas for positive change in the Middle East.
Public Policy and Taubman graduate student Michelle Rubin said she felt Ebadi's lecture provided a unique space on campus to discuss issues not often addressed in her experience at the University.
"I think (lectures like this one) definitely help campus climate, help to bring people together for a dialogue that's not really happening a lot of places and bringing cross-disciplinary students together," Rubin said.
Social Work student Ariana Sulejman said she enjoyed hearing about these issues from Ebadi's viewpoint as a woman who grew up in the Middle East.
"I've never really heard about these types of things from someone who's actually from the Middle East, so getting that perspective was amazing," she said.
Sulejman added she admired Edabi and appreciated her hopeful perspective on positive societal change.
"I thought she was amazing, just knowing what she's done in her life, and she still has such a positive outlook on everything," she said. "She was so funny and adorable, it was amazing to hear her talk about it, the moments where she flared up and got very passionate about things was really powerful to hear."
https://www.michigandaily.com/section/campus-life/rackham-filled-nobel-peace-laureate-shirin-ebadi
--
URL: https://newageislam.com/islam-women-feminism/indian-man-made-his-friend/d/108937
New Age Islam, Islam Online, Islamic Website, African Muslim News, Arab World News, South Asia News, Indian Muslim News, World Muslim News, Women in Islam, Islamic Feminism, Arab Women, Women In Arab, Islamophobia in America, Muslim Women in West, Islam Women and Feminism