New Age Islam News Bureau
20 May 2022
• Afghan Female TV Presenters Asked to Cover Faces on Air by Taliban's Ministry of Vice and Virtue
• How A Saudi Woman Activist's IPhone Revealed Pegasus Snooping
• Afghan Women Hold Book Fair in Kabul
• Saudi, Belgian Artists Showcase Women-Centric Artworks
• Leonora Messing, German Jihadi Bride Accused of Enslaving a Yazidi Woman after Joining ISIS in Syria Walks FREE
• Qatar World Cup To Feature Female Referees In First For Tournament
• Baloch Women Fear Crackdown after Karachi Suicide Attack
Compiled by New Age Islam News Bureau
URL: https://newageislam.com/islam-women-feminism/indian-boxer-nikhat-zareen-world-boxing/d/127049
--------
Indian Boxer Nikhat Zareen Clinches Gold at World Boxing Championships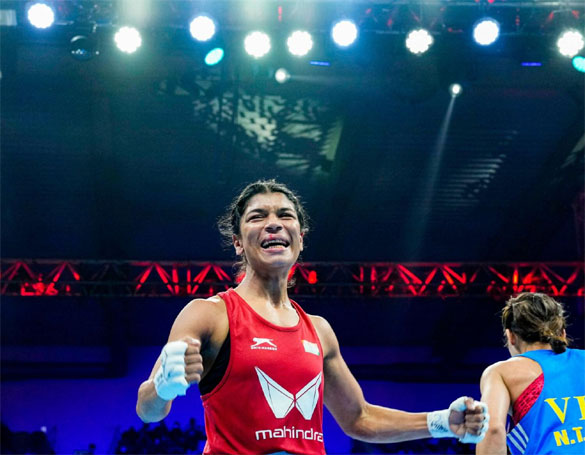 Women's World Boxing: India's Nikhat Zareen win gold, beats Thailand's Jitpong Jutamas in 52 Kg final
-----
19.05.22
Indian boxer Nikhat Zareen emerged world champion with a comfortable 5-0 victory over Thailand's Jitpong Jutamas in the flyweight (52kg) final of the Women's World Championships in Istanbul on Thursday.
The Telangana boxer out-punched her Thai rival to win via unanimous 5-0 verdict. With this win, Zareen became only the fifth Indian boxer to be crowned world champion.
Six-time champion Mary Kom (2002, 2005, 2006, 2008, 2010 and 2018) Sarita Devi (2006), Jenny RL (2006) and Lekha KC (2006) are the other pugilists who have won the world title. Apart from Zareen's gold, Manisha Moun (57kg) and debutant Parveen Hooda (63kg) will return home with bronze medals.
A 12-member Indian contingent was sent to participate in the competition and while the medal haul has decreased by one, an Indian has been crowned world champion after four years, Mary Kom had last won the gold in the 48kg in the 2018 edition.
Source: Telegraph India
https://www.telegraphindia.com/sports/nikhat-zareen-wins-gold-at-world-boxing-championship/cid/1865909
--------
Afghan Female TV Presenters Asked to Cover Faces on Air by Taliban's Ministry of Vice and Virtue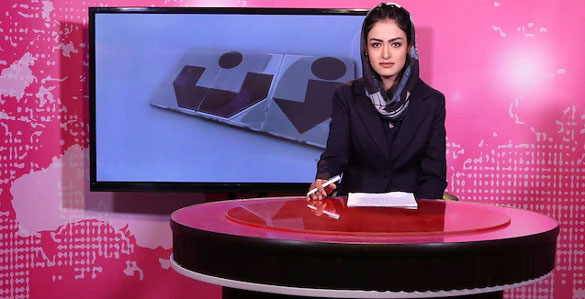 Authorities have ordered Afghan TV stations to have their female presenters cover their face while on air. (AP: Rahmat Gul)
----
20.05.22
Taliban authorities in Afghanistan have asked television broadcasters to ensure that female presenters on local stations cover their faces when on air, an official said on Thursday.
The move comes days after authorities ordered women to cover their faces in public, a return to a policy of the Taliban's past hardline rule and an escalation of restrictions that are causing anger at home and abroad.
"Yesterday we met with media officials... they accepted our advice very happily," Akif Mahajar, spokesman for the Taliban's ministry of vice and virtue, told Reuters, adding this move would be received well by Afghans.
While he framed the move as "advice", Mahajar added: "The last date for face covering for TV presenters is May 21," referring to when compliance with the new requirement should begin.
He did not respond to a query on what the consequences would be of not following the advice.
Most Afghan women wear a headscarf for religious reasons, but many in urban areas such as Kabul do not cover their faces. During the Taliban's last rule from 1996 to 2001, it was obligatory for women to wear the all-encompassing blue burqa.
Mahajar said female presenters could wear a medical face mask, as has been widely used during the Covid-19 pandemic.
Women in Afghanistan had pursued work and education after the Taliban government was toppled in 2001 following a US-led invasion, endeavours that were forbidden to them under Taliban rule at the time. The Taliban says it has changed since its last rule, but it added regulations such as limiting women's movement without a male chaperone. Older girls above 13 years old have also yet to be allowed back to schools.
Source: Telegraph India
https://www.telegraphindia.com/world/taliban-tells-female-tv-presenters-to-cover-up/cid/1865936
--------
How a Saudi woman activist's iPhone revealed Pegasus snooping
May 20, 2022
Today a special bench of the Supreme Court, led by Chief Justice of India NV Ramana is scheduled to examine an interim report of its technical committee which is examining allegations of the government using Pegasus. The Israeli military grade software was allegedly used to spy on citizens.
Allegations are that a cross-section of people from various fields like journalists, activists, Parliamentarians, government officials, lawyers and even court staffers were targeted using Pegasus. This leads us to the story as to how it all began.
A single women's rights activist from Saudi Arabia helped turn the tide against the NSO Group, one of the world's most sophisticated spyware companies which is now under the scanner. It all started with a software glitch on her iPhone.
How it was discovered?
A mysterious fake image file was found within the iPhone of a Saudi women's rights activist named Loujain al-Hathloul. When Lajoun Al-Hathlol was released from prison in February last year, she suspected that her iPhone had been hacked. Hacking iPhone is not something common as it is considered the most secure phone in the world.
Soon after her release from jail in February 2021, the activist received an email from Google warning her that state-backed hackers had tried to penetrate her Gmail account. Lajoun Al-Hathlol handed over his phone to Citizen Lab, a Canadian organisation, and asked them to find out the matter.
It was then that privacy researchers discovered a trove of evidence suggesting the Israeli spyware maker had helped hack her iPhone. After six months of investigation, Citizen Lab made an unprecedented discovery. A malfunction in the surveillance software implanted on her phone had left a copy of the malicious image file, rather than deleting itself, after stealing the messages of its target.
After the discovery, amounting to a hacking blueprint, they informed Apple Inc and asked them to notify thousands of other state-backed hacking victims around the world. Citizen Lab and Saudi activist Loujain al-Hathloul's find provided the basis for Apple's November 2021 lawsuit against NSO.
Source: DNA India
https://www.dnaindia.com/explainer/report-how-a-saudi-woman-activist-iphone-revealed-pegasus-snooping-2954399
--------
Afghan Women Hold Book Fair in Kabul
20 May, 2022
To celebrate the last day of the week of the International Day of Book, several women held a book exhibition on a street in Kabul.
The organizers said the exhibition is aimed to increase public awareness about the importance of reading books.
"We want to hold a book-reading exhibition on the street to boost up the book reading culture in the society," said Khatera Hissar, an organizer.
"We celebrate this day and we try to praise the book," said Azita Nazhand, an organizer.
The visitors welcomed the holding of the exhibition and urged the citizens to incorporate book reading as a daily habit.
"The nation that pays attention to studying books is aware of its history and will learn new things in the world," said Nisar Ahmad, a resident of Kabul.
Analysts called on the current Afghan government to pave the way for education in the country.
"There should be attention paid to book reading in the education sectors in schools by the government," said Mohammad Yasin Ihsan, a cultural analyst.
Source: Tolo News
https://tolonews.com/afghanistan-178088
--------
Saudi, Belgian artists showcase women-centric artworks
May 19, 2022
RIYADH: For Europe Month 2022, Belgian Ambassador to Saudi Arabia Dominique Mineur invited visitors to an art exhibition titled "Belgian and Saudi Face to Face" at Lar't Pur Gallery, which commenced on May 17 and will last for a week.
"The Belgian Embassy is delighted to collaborate with the EU and Saudi Arabia to hold an exhibition featuring Belgian and Saudi artists in conjunction with the European Union month," Mineur told Arab News.
The exhibit features abstract women-centric art pieces by Belgian artist Andrea B. M. Hulsbosch and Saudi artist Skna Hassan.
"Both artists are portraying women in their respective contexts, and I think the dialogue between them is inspiring, and there is no better way than art to create links between two countries," Mineur said.
Hassan's artwork is colorful and showcases Arabian women dressed in traditional yet modern attires on large-scale canvases, while Hulsbosch's artwork is mysterious with dark colors on small canvases.
"I believe that Skna and I are very complementary. Her artworks are large and bright while mine are intentionally smaller and more sober. My work requires a symbiotic connection with my collaborators and a level of intimacy with the audience which generates a sense of mystery, while Skna's art makes an immediate impression. But both focus on women, and I feel that's what connects us — telling stories as women and about women transcends borders," Hulsbosch said.
Hassan is known for her female representations in her artwork as she always shows traditions, especially Najdi culture in her artworks.
"My work represents the Saudi woman and her life and culture. I am glad they called me and that the Belgium Embassy chose me to represent the Saudi woman. I feel that it was convenient to do it with Andrea because her pieces are about women and their cultures," said Hassan.
Europe Month celebrates the founding of the EU on May 9 to celebrate peace and unity in Europe and cooperation with the Kingdom of Saudi Arabia.
The celebration runs until June 9, and is centered around the exchange of cultural experiences and encouragement of further communication between Europe and the Kingdom to improve mutual understanding and strengthening relations.
Source: Arab News
https://www.arabnews.com/node/2085786/saudi-arabia
--------
Leonora Messing, German Jihadi Bride Accused of Enslaving a Yazidi Woman after Joining ISIS in Syria Walks FREE
19 May 2022
A girl who ran off to Syria as a 15-year-old to join the Islamic State has left court with a two-year suspended sentence.
The court in Halle, central Germany, found Leonora Messing - now aged 22 - guilty of membership of a terrorist organisation.
She was also found guilty of possessing a Kalashnikov AK-47 assault rifle and a pistol with ammunition, while prosecutors alleged that she and her husband had enslaved a Yazidi woman, who they later sold for £647.
Messing ultimately escaped charges of crimes against humanity, but despite being convicted of two offences, the woman who abandoned her family in 2015 to lead a new life as a 'jihadi bride' will now likely escape prison time altogether.
The mother-of-two was handed the sentence after she vowed to 'rehabilitate' and insisted she was trying to integrate her two young daughters into German society.
Messing was just a teenage schoolgirl when she fled her home in the Breitenbach district of Sangerhausen to join the Islamic State (ISIS) in Raqqa, Syria, in March 2015.
There she became the third wife of ISIS secret service agent and fellow German national Martin Lemke, now aged 30 and with whom she had two daughters.
But as the years passed, ISIS lost much of its former territory and the family ended up surrendering to Kurdish security forces in early 2019.
Messing and her daughters were taken to a Kurdish-controlled prison camp in north-eastern Syria.
In December 2020 she was repatriated to Germany, where she was arrested upon her arrival at Frankfurt Airport.
Prosecutors accused Messing and her husband of buying and enslaving a 33-year-old Yazidi woman in 2015 as part of an ISIS human trafficking operation.
But despite the severity of the accusation, Messing was conditionally released from custody.
Now, the judges in her trial said the accusations of slavery could not be proven and she was cleared of aiding and abetting crimes against humanity.
She was instead convicted of being a member of a terrorist organisation and the unlawful possession of several firearms and ammunition.
Judge Henning Haberland said of the defendant, who owned a Kalashnikov and a pistol with ammunition: 'She was responsible for violating the Weapons Act and the War Weapons Control Act.'
Haberland believed however that the defendant was committed to rehabilitation and was trying to integrate her daughters into society.
He also noted she had started an apprenticeship in an attempt to develop a career and build a new life in her birth nation.
The trial, which began in January, ended with Messing being handed a two-year suspended sentence, which is not yet legally binding and can be appealed.
After fleeing her home for the ISIS-controlled region of Syria in March 2015, the-then teenager reached Raqqa and became a high-profile IS bride.
Leonora would spy on German ISIS women during their 'Islam lessons' in the city to then report back to their husbands about how they were settling in.
Despite this, she even kept in contact with her family in Germany and often told her father about the gold jewellery she received on her wedding day and the horrors of the war in Syria.
Leonora said she twice tried to flee but was caught each time by her husband, before admitting she made a 'big mistake' and pleaded to return to her 'old life' in Germany.
In December 2020, she was controversially repatriated in one of four operations bringing 54 people, most of them children, back to Germany despite reluctance from many European governments in accepting the return of terrorists.
Source: Daily Mail
https://www.dailymail.co.uk/news/article-10833025/Jihadi-bride-accused-enslaving-Yazidi-woman-joining-ISIS-walks-FREE-German-court.html
--------
Qatar World Cup to feature female referees in first for tournament
20 May 2022
Women referees will officiate matches at the men's World Cup for the first time in Qatar this year, the sport's governing body Fifa announced on Thursday.
Three women referees and three women assistant referees will be part of the global showpiece event in Qatar, which will be held from November 21 to December 18.
Referees Stephanie Frappart from France, Salima Mukansanga from Rwanda and Japan's Yoshimi Yamashita, as well as assistant referees Neuza Back from Brazil, Karen Diaz Medina from Mexico and American Kathryn Nesbitt have all been called up.
A total of 36 referees, 69 assistant referees and 24 video match officials have been chosen by Fifa for the tournament.
"This concludes a long process that began several years ago with the deployment of female referees at Fifa men's junior and senior tournaments," said Pierluigi Collina, FIFA Referees Committee chairman.
"They deserve to be at the Fifa World Cup because they constantly perform at a really high level, and that's the important factor for us.
"As always, the criteria we have used is 'quality first' and the selected match officials represent the highest level of refereeing worldwide."
Frappart became the first female official to be involved in European Championship matches after UEFA included her in the list of referees for the tournament last year.
Source: Khaleej Times
https://www.khaleejtimes.com/football/qatar-world-cup-to-feature-female-referees-in-first-for-tournament
--------
Baloch women fear crackdown after Karachi suicide attack
Shah Meer Baloch in Islamabad
19 May 2022
On 26 April, Pakistan's first female suicide bomber killed three Chinese teachers and the driver of the minibus they were travelling in as she blew herself up in front of the Confucius Institute at the University of Karachi.
The impacts have been felt far and wide. Chinese teachers working at the cultural and educational institutions have now left Pakistan, and in the restive province of Balochistan female activists are facing greater pressures, with three reported abductions this week.
The attack was claimed by the Balochistan Liberation Army (BLA), a banned secular militant group that has accused Pakistan and China of exploiting the resources of the south-western province for which it wants independence.
The bomber was identified as Shari Baloch, from Kech in Balochistan, a teacher who held a postgraduate degree in zoology. It was a dramatic shift in the nature of Baloch militancy.
It raised one main question from analysts: Shari Baloch came from an affluent and educated family, none of whom had been killed or gone missing in the crackdown on the insurgency. What pushed her to go to kill herself and others?
Her brother said she never spoke of the insurgency or joining the militants. "None of us could imagine she would take such a step, it was shocking for us," he said. "Shari never shared such extremist thoughts or ideologies with us. She was the happiest sister among all."
Baloch women have been leading a peaceful protest movement against the extrajudicial killing and abduction of their male family members but had not taken part in the separatist insurgency started in the early 2000s.
People suspected of being an insurgent or a sympathiser, including political workers, students and activists, were abducted and sometimes tortured and murdered. According to the Voice for Baloch Missing Persons (VBMP), more than 5,000 people have gone missing since 2000.
Activists and family members have accused security agencies of the abductions and extrajudicial killings but the security agencies have denied any involvement.
After the Karachi attack, the bomber's husband, Dr Haibatan Bashir, a dentist, went into hiding with his two children. He said he had known of his wife's plan. "Shari informed me around two years ago about her decision. There are multiple factors behind her decision," he said.
She chose "Bramsh" as her alias, the name of a four-year-old child whose mother was killed by a private militia in 2020. Two other deaths in 2020 – those of Hayat Baloch, a student of the University of Karachi killed in Turbat by a Frontier Corps soldier, and Karima Baloch, a political worker who mysteriously died in exile in Canada and was buried in her home town under a curfew – had a deep impact on her.
When Shari Baloch learned of Karima Baloch's death, she called her husband. "I remember she was very upset. She told me that the enemy cannot even accept peaceful methods of politics," he said.
These incidents started a wave of protests against the state and the security forces. "She believed people in Balochistan were living under oppression," Bashir said. His wife used to say that "innocent Baloch are killed and abducted and these brutalities will reach our family if we do nothing", he said.
A close friend of Shari Baloch told the Guardian that Shari had once said to her that "our men are humiliated, tortured and abducted. I wish we had died before witnessing such humiliations."
China expressed "its strong condemnation and great indignation at this major terrorist attack" after the bombing. The dead were the Karachi institute's director and two other faculty members.
The Pakistani prime minister, Shahbaz Sharif, wrote in a handwritten letter to the Chinese embassy that "we won't rest until the culprits are hunted down and given exemplary punishment".
Baloch women have been the face of peaceful political movements for many years but now they fear they will be abducted like their male relatives.
Noor Jahan, 40, was picked up from her home in Kech, Balochistan, by counter-terrorism police on Monday. The police claimed she was planning an attack and said they recovered a cache of weapons from her. The police report, which the Guardian has seen, claims she is affiliated with the BLA.
Hundreds of men and women blocked a main road in Kech and refused to move until Jahan was released. Her whereabouts are still unknown.
On Thursday it was reported that Habiba Pir Mohammad, a poet, had been abducted in Karachi by security forces during an early morning raid.
Sammi Deen Baloch, who has been campaigning for the release of her father, Dr Deen Mohammed, who has been missing since 2009, said Shari Baloch's attack had provided an excuse for the state to start picking up women, missing persons' families and peaceful protesters and registering fake cases against them.
"We have nothing to do with violence and we don't support it. We just demand an end to enforced disappearances and for suspects to be treated according to law by presenting them in courts," she said.
Zafar Musyani, a researcher on Balochistan, said the detention of Jahan showed that this kind of trend was in the offing. "Before Shari Baloch, state authorities couldn't profile or portray a Baloch woman as an insurgent. Now they have got a precedent set by Shari to support any crackdown on Baloch women by labelling them as insurgents."
Source: The Guardian
https://www.theguardian.com/world/2022/may/19/baloch-women-fear-crackdown-after-karachi-suicide-attack
--------
URL: https://newageislam.com/islam-women-feminism/indian-boxer-nikhat-zareen-world-boxing/d/127049
New Age Islam Islam Online, Islamic Website, African Muslim News, Arab World News, South Asia News, Indian Muslim News, World Muslim News, Women in Islam, Islamic Feminism, Arab Women, Women In Arab, Islamophobia in America, Muslim Women in West, Islam Women and Feminism