New Age Islam News Bureau
10 Jul 2015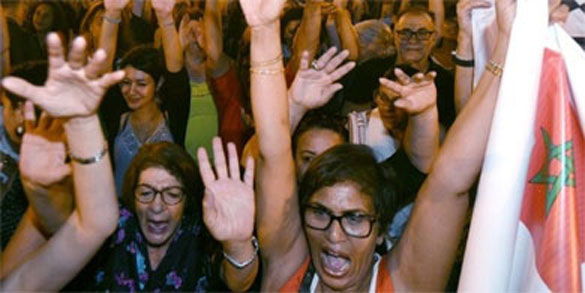 Hundreds of Moroccans have demonstrated for freedom and against the arrest of two Moroccan women after their outfits were deemed inappropriate. Photo / AFP
----------
• Women Held For Wearing Tight Dresses in Morocco
• No Women in Tight Clothes, Says Malaysian Film Censorship Board
• Michelle Obama's Message to Young Muslim Women
• Muslim Maternity Trousers May Pose Medical Risk, Fuel Body-Shaming: Critics
• Bangladeshi Women Make Fancy Designs on Clothes for Eid Market
• Lone Georgian Female Photographer Takes on Lahore
• 'HERstory' Tells the Tales of the Women's Movement in Pakistan
• How Boko Haram Paid Four Children N2, 500 to Carry Out Bomb Attack
Compiled by New Age Islam News Bureau
URL: https://newageislam.com/islam-women-feminism/india-committee-recommends-ban-'oral,/d/103850
----------
India: Committee Recommends a Ban on 'Oral, Unilateral and Triple Talaq'
Ananya Sengupta
July 10, 2015
New Delhi, July 9: A committee on the status of women, set up by the UPA government in 2013, has recommended a ban on "oral, unilateral and triple Talaq (divorce)" that allows Muslim men to divorce their wives over phone, on social networking sites and even over text messages.
The 14-member committee, the biggest yet to be set up to study the condition of women, submitted its report this week to the ministry of women and child development. The ministry is now expected to discuss the recommendations and decide whether or not to accept them.
Even if the ministry were to decide to accept the demand for a ban on triple Talaq, it would have to then start consultations with the Muslim community before any move can be made to change the law.
A senior WCD ministry official said a series of meetings with other ministries, including home, law and minority affairs, would be held over the next two weeks. The first meeting is likely on July 20, the official said.
The committee said the practice should be banned because "it makes wives extremely vulnerable and insecure regarding their marital status".
The triple pronouncement of Talaq in one sitting has been banned by law in many nations, including Pakistan, Saudi Arabia, Turkey, Tunisia, Algeria, Iraq, Iran, Indonesia and Bangladesh, and arbitration councils and judicial interventions introduced to promote reconciliation. However, in India, the Muslim personal law still permits it.
For a decade, Muslim women's organisations have been demanding a reform in the Muslim personal law.
"We have seen and documented instances where marriages have been called off over Skype, Facebook and even text messages. All that the man has to do is say Talaq three times," said Shaista Amber of the All India Muslim Women Personal Law Board.
"The problem is that the political class doesn't consider us as vote banks. Politicians have told me that since I am not a mullah or a Maulvi, my demands are not priority for them," Amber said, adding that she fears that the recommendations of the high-level committee would also remain in cold storage.
In 2008, a women's rights group led by Amber had proposed a "Shariat Nikahnama" or Islamic marriage contract providing for mandatory marriage registration and more rights to the wife within the guidelines of Quranic law. The All-India Muslim Personal Law Board dismissed the proposed changes.
http://www.telegraphindia.com/1150710/jsp/nation/story_30737.jsp#.VZ9p31-qqko
----------
Women held for wearing tight dresses in Morocco
8, 2015
London: Hundreds of lawyers have mobilised to defend two women in Morocco who are being prosecuted for indecency after wearing "tight" summer dresses in a souq.
The two young women, hairdressers aged 19 and 23 who worked in the nearby city of Agadir, were harassed by a group of traders as they walked through a souq, or market, in the town of Inezgane. They were taken to a police station for their own safety, but ended up being forced to stay the night and were brought before a court on charges of "offending public morals".
The case has prompted a strong reaction in Morocco, which is divided between a relatively conservative majority and a more liberal minority, who are proud of Morocco's traditions of openness. The country also depends on tourism, including beach tourism, which has brought about culture clashes in more conservative towns and villages.
Tens of thousands of people have signed a petition demanding that charges be dropped, and 200 lawyers showed up at court for the first full hearing on Monday after news circulated about the arrests, to offer to defend the women.
Meanwhile, protests were held including in Agadir, in the capital, Rabat, and in the commercial capital, Casablanca, where men and women together held up skirts as banners under the slogans "Wearing a dress isn't a crime" and "My dress, my freedom".
The two women have asked for anonymity, saying they are unused to the public spotlight, and have been named in local media only as Sana'a and Siham.
Their lawyer said they were themselves from small, conservative inland towns but had moved to Agadir to work in hairdressing salons. No photographs have appeared to show exactly what kind of dresses they were wearing, but the apparel of some of the women who attended the protests in their support, wearing sleeveless dresses and knee-length skirts, may give some idea.
The police report said the dresses were "tight-fitting". As with most Muslim countries, it is common but by no means universal or compulsory in Morocco for women to wear a headscarf. Unveiled women in traditional areas — such as a souq in a conservative town — would normally cover their shoulders, arms and legs, but there is no requirement to do so.
There is considerably more latitude in liberal and tourist areas. Despite its liberal reputation, ranging from artists to drug-users and even paedophiles — Morocco has faced many of the same difficulties as other Arab countries squaring its society with some effects of modernisation. In common with many other Arab countries, it has become more conservative in recent years.
http://gulfnews.com/news/mena/morocco/women-held-for-wearing-tight-dresses-in-morocco-1.1547163
----------
No Women in Tight Clothes, Says Malaysian Film Censorship Board
July 9, 2015
PETALING JAYA: A circular put out by the Malaysian Film Censorship Board (LPF) on June 23 has left local film directors and scriptwriters scratching their heads as to how to tell a compelling story when all kinds of subject matter has now been considered taboo. Among them are scenes and story lines that "mock, belittle, criticise the government and the country's national sensitivities", a report on The Malaysian Insider said. Also getting the cut would be any scene deemed as tarnishing the image of the government as well as those with women in tight clothes. The circular says, "…women wearing form-fitting clothes, clothes that reveal the shape of their breasts, privates, thighs, buttocks, and underwear (except for Indian women in saris)" will all get the axe as well as scenes of characters breaking the law unless the perpetrators get caught in the end and receive fair punishment. Showing a dedication to being thorough, the circular covers in total 10 different elements that must be avoided at all costs if one wants to see their films make it on the air. These are: sex, explicit, immoral behaviour; superstition; smoking, drinking, drugs; character-destroying; appropriateness of clothing; indecent behaviour; violence/cruelty/graphic; political; horror/mystery/frightening; and law and government integrity. Speaking to The Malaysian Insider, LPF chairman Abdul Halim Abdul Hamid said, "We really can't allow that, because it involves our image. It can bring a bad image for the government, so we avoid this." Unreasonable film censorship has always been a sore point with movie producers as well as viewers in Malaysia. On June 29, director Erma Fatima decided to pull her film from airing on TV3 rather than succumb to their demands that 30-50 scenes had to be cut as they were deemed politically sensitive.
http://www.freemalaysiatoday.com/category/nation/2015/07/09/no-women-in-tight-clothes-no-anti-govt-talk-for-local-films/
----------
Michelle Obama's message to young Muslim women
July 10, 2015
First lady Michelle Obama is promoting a new campaign called "Let Girls Learn," with the goal of making sure young women around the world have the chance to go to school.
She had a special message for students at the Mulberry School for Girls. It's located in the east London neighborhood of Tower Hamlets, which has a higher percentage of Muslims than any other area in the United Kingdom.
"Maybe you read the news and hear what folks are saying about your religion," the first lady told the students, many of whom were wearing a hijab. "And you wonder if anyone ever sees beyond your headscarf to see who you really are, instead of being blinded by the fears and misperceptions in their own minds. And I know how painful and how frustrating all of that can be."
"But here's the thing - with an education from this amazing school, you all have everything, everything, you need to rise above all of the noise and fulfill every last one of your dreams," she continued.
About 35 percent of Tower Hamlets' residents are Muslim, primarily from Bangladeshi immigrant families. The neighborhood faces the challenges of poverty, high unemployment and health inequalities, according to the Tower Hamlets Council. More than 75 percent of Mulberry's students qualify for free school lunch.
But these Muslim students have been defying the odds.
The school has been rated "outstanding" by the country's education inspectors. The teachers' efforts result in higher grades on standardized tests every year. Plus, more than 80 percent of Mulberry's graduates go on to attend college.
Drawing similarities to her experience growing up in a working-class family on Chicago's Southside, Obama said she is proud of the girls' passion.
"I look out at all you young women and I see myself. In so many ways, your story is my story."
http://www.indianapolisrecorder.com/article_93c0866d-5a42-5e59-af04-9f1beaaeeabc.html
----------
Muslim maternity trousers may pose medical risk, fuel body-shaming: critics
July 10 , 2015
BANGKOK: Sales of maternity trousers that allow Muslim women in Malaysia to cover up while giving birth have surged, despite triggering fierce criticism and fears of putting the lives of women at risk during childbirth.
The bright-coloured Mamapride trousers, which cost $26 and look like baggy jogging trousers, have a discreet hole for the baby to come out.
Sales of the trousers have more than doubled since a story about the design went viral earlier this month, but critics fear this is fuelling a trend of "body-shaming" women in Malaysia.
The All Women's Action Society (AWAM), a local rights group, questioned if the Mamapride pants were "a choice for women in labour" or manufacturers "cashing in on politicised Islam in Malaysia".
"We find it unthinkable that a business should attempt to profit off the trend of body-shaming and women's insecurities while further perpetuating arbitrary notions of what it means to be 'modest'," AWAM said by email.
"Any attempt to prey off women's insecurities and pander to misappropriated religious ideals needs to be critically examined if we wish to liberate women from this cycle of body-policing." AWAM says there has been a rise in cases of "body-shaming" in Malaysia, with women being refused entry to public buildings for wearing shorts or knee-length skirts.
Islamic clerics recently criticised top gymnast Farah Ann Abdul Hadi for wearing gymnastic clothes that they deemed too revealing.
The Mamapride trousers were developed by a team of 19 health care workers ─ five of them women ─ from the Malaysian medical charity Papisma, in response to religious scholars concerned about women being exposed to male doctors and interns.
After testing in private hospitals in northern Malaysia, the trousers went on sale a year ago, said Wan Yusof, a medical doctor and spokesman for Mamapride who was on the development team.
The company has received requests from abroad including from Britain, Ireland, Indonesia and Singapore, but for now the trousers are only available in Malaysia.
"We haven't come up with proper study, so we are afraid if we sell in another country, it might go against their (medical) rules and regulations," Yusof said.
The trousers could pose a risk by complicating emergency surgical interventions, said Saira Shameem, programme adviser in the Malaysia office of the UN Population Fund (UNFPA). She said the trousers were an example of how "interpretations of religious texts can potentially put the lives of women, and their children, in situations of increased medical risk".
Azadeh Farzin of the International Center for Maternal and Newborn Health at Johns Hopkins University in the United States, said that the modesty trousers may make women feel more comfortable.
"However, this comfort has to be balanced with the medical care that might be indicated for the wellbeing of the mother and her unborn child including scenarios that might prohibit the use of the pants." Manizha Naderi, a woman's rights activist in Afghanistan ─ one of the most religious and conservative Muslim countries in the world ─ called the trousers "ridiculous".
"Women in Afghanistan won't go to male gynaecologists unless their lives depend on it ... Women won't let male doctors even touch them for regular examinations," Naderi, the executive director of Women for Afghan Women, said by email from Kabul. "Instead of investing in pants, people should work on educating the public (both men and women) on health benefits of going to a doctor to give birth."
http://www.dawn.com/news/1193598/muslim-maternity-trousers-may-pose-medical-risk-fuel-body-shaming-critics
----------
Bangladeshi Women Make Fancy Designs on Clothes for Eid Market
July 09, 2015
Several thousand women in about 15 remote villages of the district are busy making artistic fancy works on saris, scarves, blouses, chemises and other clothes supplied by garment houses of the capital and other cities to make them attractive and pricey in the ongoing Eid market.
Visiting different villages like Neyamatpur, Dhelapeer, Golahat of Saidpur upazila, Tenganmari, Dundibari under Jaldhaka, Panchapukur, Kanial khata of Sadar upazila, this correspondent saw women and children of different families sitting at house yards making artistic designs on clothes.
They were doing works like embroidery, spangle and ornamental stitching using chumki, puti, jori, colour stones, lace etc.
Makers of these attractive designs, mostly widows and poor women, master the work through observation and practice.
"Village women do design on saris and other dresses by setting colourful glittering stones with sewing work. Traders in the capital and other big cities make good profits by selling the attractive dresses," said Abdul Hye, owner of Fancy Karchupi House in Nilphamari.
Gul Naz, a fancy designer of Dhelapur village said she does the work after finishing domestic chores and her nine-year-old daughter helps her in the work.
The women artisans get Tk 500-Tk 700 as wage for making designs on a sari, Tk 200-300 for a scarf and Tk 100-Tk 150 for a blouse, according to designs.
The seasonal income that stands up to Tk 4000 per head enables them to buy new dresses for family members and arrange good food on the Eid day, said several artisans.
Garments traders in the capital usually sell designed saris for Tk 5,000 to Tk 30,000 per piece, making good profit, sources said.
Several local garment traders including owners of Ruma Fashion, Saudia Handicraft, Champa Karchupi House, and Pappu Fashion usually coordinate between Dhaka-based traders and village artisans in this work.
Every day new orders are coming from different places and more women are getting involved in this seasonal trade.
The handiwork provides employment to thousands of poor women but its progress is hampered due to availability of Indian dresses with machine made design, said Anwar Hossain, district unit president of 'Karu shilpi samobai samity'.
The government should take steps to stop massive smuggling of Indian saris to promote local products, he said.
http://www.thedailystar.net/country/women-make-fancy-designs-clothes-eid-market-110401
----------
Lone Georgian female photographer takes on Lahore
July 9, 201
A lone female photographer from Georgia travelled to Pakistan despite being warned by family and friends to take some really stunning photos.
Teo Jioshvili, 29, an aspiring travel photographer, went to Lahore, Pakistan last year and found it to be very safe.
She said, "I backpacked to one of the most dangerous countries on earth… and had a great time."
Jioshvili first got the idea to visit Pakistan after her trip to Iran. "When I was in Iran, I met amazing people from Australia who crossed Pakistan – and one of my Georgian traveller friends had also travelled there. Their stories inspired me."
Read: Point and shoot : 'Not to risk is not to live'
Even though her family was against her going to Pakistan all on her own, Jioshvili did not waver in her resolve. She returned home to show them some amazing photographs from what became one of the 'safest' trips she had ever taken.
She said, "I always stay positive, try to appreciate the traditions and culture where I go, smile a lot and I know that everything will be okay."
Jioshvili said that despite what people had told her about the security situation in Pakistan, she found the people to be very friendly.
"Actually, I felt very protected in Pakistan," she added.
Recounting her adventures, Jioshvili said, "I was often stopped on the streets and in bazaars someone would ask me to take a picture of him or her with me. Most of the time, people would just give me an apple or an orange. That was just very sweet."
When the 29-year-old first arrived at the Lahore Backpackers Hostel, she was delighted to be invited to a wedding party by a German girl.
Explaining how the German girl came to be invited to a local wedding, she said, "The day before, that girl had met a rickshaw driver who was a friend of the drummer's and those guys were invited to the wedding to play music. Of course I said yes, left my backpack in reception and went with them. The whole experience was just amazing."
Read: Congratulations: Express Tribune's photographer wins laurels
Naturally enough, at first the people started wondering who the foreign girls were but they were soon welcomed with open arms and asked to take part in the ceremony.
"The whole wedding party was just an incredible experience with its music, traditions, smiling and curious faces, women in colourful dresses. I am just very happy that I said "yes" to that girl," she said.
Jioshvili did not for a moment feel that she was in any kind of danger during her stay in Pakistan. However, she conceded that there are places in Pakistan that are not recommended for travellers but that she felt absolutely safe in Lahore.
Speaking about her love for photography, Jioshvili said, "I enjoy taking pictures while travelling because it's a perfect way to show my friends and family what I'm experiencing when I'm there. Photos are the best souvenirs for me, so I snap everything around me."
The 29-year-old's favourite photos are the portraits of Pakistani street artists and street girls.
Speaking about how she was treated by the men in Pakistan, the Georgian said, "If ever any men asked to take a photo with me, they were always extremely respectful."
Further, Jioshvili added that men would never ask her to take photos with them if she was alone. "If there was another male (another traveller or guide) with me, they would ask him for the permission to take a photo with me. I think that was a really beautiful sign of appreciation."
The 29-year-old also became a fan of Pakistani food. "Also, I must say that Pakistan really has the most delicious street food I've ever tried. And it's very very colourful. I love that."
Moreover, Jioshvili said that Badshahi Mosque was just one of the most impressive heritage sites that she had ever visited, but probably what she loved most about Pakistan was that it surprised her.
"I did not expect that it would be so easy to get around Lahore. People were so generous and friendly that I was really impressed. Lahore is a huge city, but I was never lost and I always knew if I got lost that someone would definitely help me, which is a very important feeling especially when you are a lone female traveller," she added.
This article originally appeared in Mail Online
http://tribune.com.pk/story/917711/lone-georgian-female-photographer-takes-on-lahore/
----------
'HERstory' Tells the Tales of the Women's Movement in Pakistan
By Munira Abbas
July 8, 2015
KARACHI:
Worried that the feminist movement for young Pakistani women will be limited to the developed world, BoloBhi is trying to push forward the struggles of women in the country through its HERstory project.
A collaboration with Stories Beyond Borders, this oral history project is a collection of video interviews of women who have dominated the struggles of women's rights movement in Pakistan since 1983. The collection of video interviews started in September, 2014, and continues to this day.
Farhat Parveen has set up NOW communities to work towards de-weaponisation. PHOTOS COURTESY: BOLO BHI
Anis Haroon, a rights activist currently serving as resident director of Aurat Foundation. PHOTOS COURTESY: BOLO BHI
"People have no idea about feminism. Young Pakistani feminists are embracing The Second Sex, A Room of One's Own, The Yellow Wallpaper, but ask them about Fahmida Riaz's beautiful Chadar Aur Chaar Devari [Four Walls and a Black Veil] or ask the name of Kishwar Naheed's poem that is affectionately referred to as a women's anthem among feminists, and you get blank stares." This is how BoloBhi describes the project.
The near-absence of information in local textbooks on the feminist movement in Pakistan compelled BoloBhi to start this project and educate women about their journey. "This project is about the history of the women's movement, to tell people that there was a woman's movement and that there is a legacy," said Ghausia Rashid Salam, a research associate who collects stories for this series.
Read: Irreplaceable: Sadeque's death leaves large vacuum in women rights' movement
"HERstory is not just an oral history, it is a legacy," said Salam. "It is my heritage as a feminist and that's what makes it so important. If these stories are not immortalised, we will lose a piece of ourselves along with these stories."
Uzma Noorani, founding member of Women's Action Forum and HRCP council member. PHOTOS COURTESY: BOLO BHI
Saleha Athar, a political activist and feminist who has worked in the government for social welfare. PHOTOS COURTESY: BOLO BHI
As she traced the journey of women's rights in Pakistan, Salam recalled that the most pro-women legislation took place during the Pakistan Peoples Party-led government. "Women were actively involved in working with legislators to draft the laws," she pointed out.
BoloBhi director and activist Sana Saleem believed in the power of the feminist movement. "People don't understand street power because they haven't seen street power in the past," she said. "When people see other people coming together and doing something, they do come out."
HERstory has unveiled the struggles and inspiring stories of several women. Hilda Saeed, a microbiologist-turned-women's-rights activist, shed light on the discriminatory laws passed against women and religious minorities who in turn face persecution as a result of these laws.
Read: International Women's Day: On provincial stage, women issues still glossed over
"There is not much public awareness about what women's lives are like, most people somehow remain unaware about the social traditions and customs that are discriminatory to women," said Saeed, adding that even the educated and the well-to-do are equally unaware. "Women are not given a chance to work even if they are doctors. Domestic violence and sexual harassment seem to be increasing," she pointed out. "In such circumstances, women need to know their rights and where this movement started from."
Mahnaz Rehman, resident director of Aurat Foundation, who works for women's rights. PHOTOS COURTESY: BOLO BHI
BoloBhi's Saleem recalled how the idea for HERstory came from an intern, Maria Said, who was surprised to learn there was an active feminist movement that Pakistan witnessed in the 1980s. "This reflected that a lot of women who are feminists don't know about it," said Saleem. "They know about the western movements but not the Pakistani one."
The team plans to hold screenings of these interviews at colleges and universities and see how young people react to the feminist movement.
http://tribune.com.pk/story/917313/stories-beyond-borders-herstory-tells-the-tales-of-the-womens-movement-in-pakistan-one-icon-at-a-time/
----------
How Boko Haram paid four children N2,500 to carry out bomb attack
July 10 , 2015
Four children on Thursday, July 9, bombed the Kofare area of Yola, close to a mechanic workshop along Numan Road, Yola, the capital of Adamawa State after being given N2, 500 by a suspected Boko Haram agent.
The Adamawa Sector Commander of the Federal Road Safety Corps, Luka Ikpi, told journalists that the magnitude of the explosion extended to the state headquarters of the FRSC in the state.
The children told the police that an unknown man gave them N2, 500 to carry out the attack.
They said the unknown man instructed them to drop the explosive at a specific place in Bachure suburb, near the Army Barracks mainly inhabited by retired military personnel.
Two of the boys, who are between nine and 15 years, were arrested by the police.
They recounted that the bag containing the explosive was too heavy for them to carry, so they had to sell it to a dustbin scavenger, whom they ran into at the nearby mechanic workshop.
The scavenger, who is said to be helping the police with investigation on the incident, said while he were negotiating with the boys, he noticed smoke coming out the container and before he could inquire about its content, it exploded, shattering his legs and injuring two of the children.
While two of the boys fled, the other injured two were arrested by the police.
http://pulse.ng/local/in-yola-how-boko-haram-paid-four-children-n2-500-to-carry-out-bomb-attack-id3957703.html
----------
URL: https://newageislam.com/islam-women-feminism/india-committee-recommends-ban-'oral,/d/103850