01 May 2022
• Houthi Moral Policewomen Crack Down On Women Who Walk Without Mahram
• 'Dressing Up For Eid Is The Oldest Tradition': Why Fashion & Makeup Is A Celebration For Muslim Women
• The Brummie Muslim Women's Football Team With The Goal Of Changing Attitudes And Reducing Violence
• Climate Leadership Is In Urgent Need Of More Women
• 'Women Workers Are Pride Of Pakistan': International Lawyers Forum
Compiled by New Age Islam News Bureau
URL: https://newageislam.com/islam-women-feminism/houthi-moral-policewomen-mahram/d/126909
--------
Houthi Moral Policewomen Crack Down On Women Who Walk Without Mahram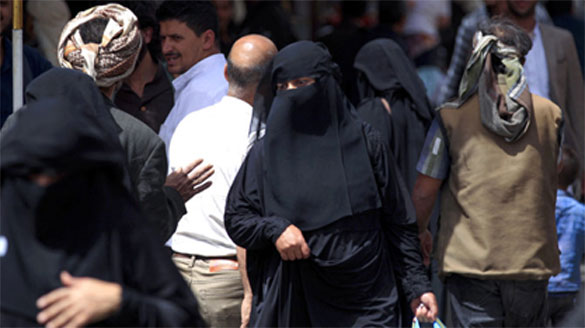 The Houthis have banned women from shopping without a mahram. (AFP)
-----
Saeed Al-Batati
April 30, 2022
AL-MUKALLA: Houthi moral policewomen have removed dozens of women from the streets of the northern city of Saada, the movement's heartland, for shopping without a male guardian, also known as a mahram, residents and local media reports said.
The Iran-backed Houthis have banned women from shopping without a mahram, asking women to stick to the Islamic dress codes and only allowing women to shop in limited places in the city.
To enforce the ban, residents told Arab News, dozens of all-female morality police officers were seen roaming Saada during Ramadan, when streets are teeming with shoppers, searching for violators.
Al-Masdar Online, a Yemeni news site, reported that the Houthis broadcast the ban through loudspeakers fixed on cars that circulated the streets, asking women not to go out with mahram and naming markets where women could shop for Ramadan and Eid.
The ban on women walking about without a mahram comes as the Yemeni militia intensifies its morality campaigns in areas under its control.
The Houthis have arrested dozens of women for violating Islamic dress codes, banned singing at weddings and arrested singers and artists who challenged the ban.
Since earlier last year, the Houthis have been holding Entesar Al-Hammadi, a Yemeni actress and model, after removing her from a street in Sanaa for allegedly "trading in drugs and ... prostitution."
The latest report by the UN Panel of Experts accused the Houthis of sexually assaulting women, subjecting them to different forms of physical and psychological torture and denying them birth control.
"The Houthis simply want women to be annexed to men and to serve as baby-making machines to produce fighters," Nadwa Al-Dawsari, a Yemeni conflict analyst, told Arab News.
Ali Al-Fakih, editor of Al-Masdar Online, said the Houthis have turned Saada into a testing site for their harsh rules, as they see the city as completely loyal to them. "They consider Saada as a pure place for their doctrine and followers. Thus, they can implement any decision easily," Al-Fakih said.
Unlike other Yemeni areas under their control, the Houthis have turned Saada into the most secretive place in Yemen, where even visitors to the city must inform the militia at checkpoints about their reasons for visiting and how long they would be staying there.
"People cannot breathe in Saada. I think we will later see the Houthi ban on women from going about without a mahram imposed in other areas," Al-Fakih said.
Source: Arab News
https://www.arabnews.com/node/2073851/middle-east
-----
'Dressing Up For Eid Is The Oldest Tradition': Why Fashion & Makeup Is A Celebration For Muslim Women

Alicia Vrajlal
1 May 2022
The past month has been one of the busiest for Mawluda Momin, the co-founder of Sydney modest fashion boutique, TWIICE. With extended Ramadan trading hours and high demand for a festive collection launched two weeks ago, the booming business is testament to the important role fashion plays, for many Muslim women, in the lead up to and on Eid.
"Our Eid 22 collection has been a huge success so far, only two weeks post its release," the 28-year-old tells Refinery29 Australia. "Our customers are buying everything from casual dresses to more elevated satin dresses."
Momin — who moved to South Australia from East Turkestan when she was eight — launched TWIICE in December 2018 with her sister and close friend after struggling to find modesty fashion that was comfortable and stylish.
"Growing up, there was absolutely nothing, especially in South Australia where there isn't a huge Muslim shopping strip — not even a small boutique," she explains. "Modest fashion in my teens was either really mature looking maxi dresses or awkwardly-layered mainstream styles, such as under tops with sleeveless dresses and tights under shorter dresses."
Through opening a shop in Greenacre in Sydney's southwest, having an online boutique and also selling through The Iconic, Momin's followed her dream to "bridge the gap between mainstream fashion and modest fashion" while staying "consistent with Australian designers in terms of quality, aesthetic, and fabrication."
This year, Eid, an Islamic celebration at the end of the month of Ramadan, begins on 2nd May. Momin says, there are diverse ways that it's celebrated by different people, but presenting one's best self is often a big part of it.
"Eid Al fitr, the upcoming one, which is celebrated at the end of Ramadan, gives me a sense of unity and celebration of everything good because of the teaching and trials we face in Ramadan," says Momin.
"Dressing up for Eid is the oldest tradition and we have been fortunate to be able to do that. On Eid morning, you might go to the mosque where you face hundreds of people, so you want to look your best. And even if you don't go, it's a time that you feel excited to celebrate in style.
"Personally, I feel like I have wasted Eid if I don't dress up for the occasion. I find honour in dressing up for Eid. It's is a celebration bestowed by God, so I feel honoured in showing up as my best self."
Sydney-based digital creator Nawal Sari says it is customary for her and her family to buy new outfits come Eid time, and she has fond memories of experimenting with her style over the years and seeing it evolve.
"It's Sunnah (meaning Islamic tradition) to buy new clothes or put on your best clothes to see and celebrate with the community, family, and friends," says Sari.
"Some of my iconic Eid outfits growing up were definitely bold… the first year I put the hijab on, I wore a Burberry-inspired hijab with red lipstick. Although cringey now, I love the memories associated with it, and going Eid shopping with my mum and sisters each year."
Sari is yet to decide on exactly what she's wearing this year when she visits restaurants and unites with family for prayer in a community park or mosque. But regardless of her outfit, her makeup will be practical yet glowy for the occasion.
"I usually opt for something I can easily retouch, that's not too heavy," she explains. "Due to praying and having to do Wudu (ablution) before prayer, I have to reapply my makeup often. This year I might do my classic cat-eye-lash look and keep it very warm looking."
For Adelaide-based mother-of-two, Hafifa Khelwaty, preparations for Eid begin in the week leading up to it, as she continues observing the month-long period of fasting during Ramadan.
"I will prepare for Eid days in advance by heading to the shops and splurging on myself by purchasing new clothes, getting a haircut, nails done, and picking up all kinds of diet-killing, calorie-dense ingredients and baking sweets until my heart's content," she says. "Of course, all this extravagance never sways from the boundaries and true meaning of Eid itself."
After buying several options and then waiting until the day to pick a winner, Khelwaty's Eid outfit is always a traditional Afghan dress. The vibrant, intricate designs are as dazzling to look at as they are representative of the rich culture, which she wants her two young daughters to learn about.
"This year I have a deep, emerald green dress made of velvet with gold embroidery around the edges, and a low V-neck line dress that I'm looking forward to wearing," she says.
"In truth, clothing, food, family and that sense of community is all that remains of our cultural heritage, and keeping that alive and passing that on means so much to me. I think that's the true reason why wearing an Afghan dress on Eid day always wins out. I don't want to give up an opportunity to share my culture with my children, as I don't always know when the next opportunity will come by."
"For as long as I can remember, the perfect makeup for Eid was just as important to me as the perfect clothes or desserts," she says, adding she's opting for a "bold red lip" this year.
"Eid makeup is very special, it's the ritual of getting glammed up for the day itself that marks it as significant. The preparation, precision, and care taken in each carefully-planned stroke of the brush cements in the back of my mind that today is special and something to get excited about," she says.
"When the day starts with such precision and care, the rest of the day follows. Equally is the effect makeup has on the mindset. The sparkle and glow of makeup has a tendency to help us feel like we are our best selves, it helps posing in all the pictures with an extra big smile knowing your skin, lips and eyes are well-groomed and prepared for this lasting memorable moment amongst family and friends."
Oromo Australian software consultant, Ikram Boru, says upholding a certain style standard hasn't always been the biggest priority on Eid, but rather, carefully selecting an outfit that's comfortable and makes her feel good, as she does prayers followed by a big breakfast with family.
"I wouldn't say that style has been important, it's more looking for pieces that I can be comfortable in and not wear too many layers to keep it modest," she explains.
"This year, I'm sticking to a classic three-piece abaya from a boutique retailer in Melbourne called Niyyah Boutique. Her pieces are designed in Dubai, and I'm opting for a sage-green palette, as I feel like that's the colour of the season," she continues, adding she's also bought the same set in brown.
In addition to some makeup essentials, such as filling in her brows, applying mascara, and a slick of lip gloss, Boru always tries to get henna done just before Eid.
Also known as mehndi, henna is a temporary body art that's particularly popular among South Asian communities, most often applied for weddings, religious occasions and important festivities.
It's becoming increasingly popular in Australia in recent years, with local henna artists facing higher demand for their services before and during Eid. Sydney-based henna artist, Payal Sharma is taking up to 10 bookings a day this weekend, ahead of Eid, and has also created special Eid packs for interstate clients that include several cones of henna paste, along with a guide on how to apply different designs.
Applying henna is a special Eid ritual for Bengali Australian Sophia Chowdhury, providing a beautiful bonding opportunity for her and her female relatives, while accentuating their entire Eid looks that consist of traditional South Asian attire.
"I love that you get to get ready with your family," says the Melbourne-based marketer and stylist. "Whether it's your cousins or aunties applying henna, helping each other match a makeup look to our colourful fits, a mother helping to pin your saree, thread through string on the pants of your salwar kameez, or making sure jewellery and your bindi is sitting centre on your face."
Given her profession, style has always been incredibly personal and important to Chowdhury, and she likes to experiment by combining eastern and western influences. That could be wearing sneakers with her salwar kameez, or making a statement with her makeup.
"I usually create a look depending on my outfit, which usually incorporates gold or silver used in our traditional garments," she says.
"Eid is known as the Muslim Met Gala, and this year the actual Met Gala falls on the same day, so I know the looks are going to be extra this year. I will probably try a Met Gala-inspired, Euphoria, or Bridgerton-inspired look."
Source: Style.yahoo
https://uk.style.yahoo.com/dressing-eid-oldest-tradition-why-082142062.html
-----
The Brummie Muslim women's football team with the goal of changing attitudes and reducing violence
By Richard Guttridge
1 MAY 2022
The star striker wearing a headscarf is certainly an unusual sight on the football pitch - but it's something one inspirational group of women hope will only become more common as they continue to break down barriers and dispel stereotypes. Muslim football team Saltley Women's launched three years ago when four players took part in a training session - and has since exploded with 200 players now signed up.
The team aims to give young Muslim girls and women an opportunity to play sport and access support, which some might not feel is available to them elsewhere. And it has now got the backing of police chiefs, who believe the team is empowering young Muslim women, allowing them to prove outdated attitudes wrong, could make players less likely become victims of violence.
Saltley Women's is thought to be the only all-Muslim women's football team in the region, which in itself shows how girls from the community face obstacles to getting involved in sport. A key principle of the side is allowing players to wear whatever they feel comfortable in while playing.
It means some players take to the pitch in traditional headscarves like the hijab, and it's all about making women feel they are welcomed for who they are and that they shouldn't have to change in order to play sport. Aside from the obvious benefits of playing sport, being part of the team helps in other ways.
It aims to reduce social isolation and anxiety among women who may not ordinarily mix with many other people in their daily lives. Leaders are also on hand to provide support with mental health and other issues, should players require it, while they host regular workshops on issues such as empowerment. It's almost as much a support bubble as it is a football team.
Women's football is finally getting greater recognition at a professional level in the UK but access for Muslim women is even more difficult. Co-founder Yasmin Nessa, 26, said: "As a child I was sporty and active but there were barriers I experienced to participating in sport.
"There was not much provision for young girls in my neighbourhood and school. For years on end I didn't pursue any sport or physical activity, I thought that was the state of things and didn't question it too much."
But in 2019 Yasmin, a city council worker from Lozells, decided it was time for that to change. She helped launched the team and took advantage of a contact at Aston Villa to use their training pitches until the team found its own base in Bordesley Green, where around 30 regular players now play 5-a-side matches and are planning to expand to 11-a-side from September.
While many women will have experienced difficulties accessing sport, she explained it is even harder for young Muslim women who sometimes face unique challenges. "There are definitely more pressures. There are different needs, family responsibilities or family members being hesitant to them participating. There are cultural stereotypes about what women are like."
She added: "Sport is something that should be empowering. What we try to do is open that and allow them to access a level playing field. White women are just about seeing more recognition in the professional women's game. It is much worse at grassroots level, especially in the Muslim community.
"The traditional idea of football is that it is predominantly a male sport and you have to wear certain clothing, that can be a barrier. There might be some reluctance (among Muslim women) about what they might have to do or what kit they are expected to wear.
"We are challenging that and saying 'come in what you are comfortable in, we won't dictate what you wear'."
Source: Birmingham Mail
https://www.birminghammail.co.uk/news/midlands-news/brummie-muslim-womens-football-team-23801138
-----
Climate leadership is in urgent need of more women
YVONNE AKI-SAWYERR
April 30, 2022
The observation by the Nobel Peace Prize laureate and environmental trailblazer Wangari Maathai that — "the higher you go, the fewer women there are" — reflects a reality familiar to all women who have aspired to leadership positions, and it has gained a new meaning for me as the climate crisis has intensified.
Though it is already clear that women and girls will face higher risks and greater burdens because of climate change, they remain significantly underrepresented in climate and environmental negotiations.
In 2019, the UN's Gender Composition Report noted that the number of women represented in UN Framework Convention on Climate Change bodies was not in line with efforts to create gender balance. In response, member states adopted a gender action plan at that year's UN Climate Change Conference, COP25. The plan recognized that "full, meaningful and equal participation and leadership of women in all aspects of the UN framework process and in national- and local-level climate policy and action is vital for achieving long-term climate goals."
And yet, by the time COP26 rolled around two years later, little had changed. The UK's COP26 presidency was predominantly male-led, and only 11 of the 74 African national representatives were women.
Moreover, the UN Convention on Biological Diversity appears to be exhibiting a similar tendency, with male negotiators outnumbering female negotiators by about 60.
The failure to ensure equal representation and women's participation in efforts to tackle climate change and the loss of biodiversity is short-sighted, at best, and potentially reckless. The problem is also increasingly urgent.
Last month, delegates from around the world gathered in Geneva for one of the final rounds of negotiations to conclude the development of the new UN Global Biodiversity Framework. These gatherings, which aim to accelerate action to halt further species loss and tackle climate change, will shape the global response to both crises for years to come.
The latest reports from the Intergovernmental Panel on Climate Change illustrate the scale of these crises. The IPCC has documented unequivocally the fact that human activities are warming our planet's surface, leading to rapidly changing weather systems, biodiversity loss, and increased resource insecurity.
By 2100, 50 percent of Africa's bird and mammal species could disappear. We are potentially entering a sixth mass extinction and if the problem is left unchecked, our sources of food, water and medicine will increasingly be at risk.
Women comprise the majority of the world's poor and are disproportionately affected by these crises. In the developing world, they are overwhelmingly responsible for sourcing food and water for their families and they often take the lead in fuel collection and household management. Women also make up nearly half of the world's smallholder farmers, producing 70 percent of Africa's food.
As such, women and girls are often the first to experience the harsh realities of climate change. But owing to pervasive inequalities that limit their access to education and healthcare, unequal employment rates, and low rates of representation in public office, they are less likely than men to be able to participate in decision-making processes.
If the past two years have shown us anything, it is that women's leadership is critical during tumultuous times. According to a recent study of 194 countries, the immediate responses to the COVID-19 pandemic were systematically better in countries with female leaders. Similarly, research has found that "female representation leads countries to adopt more stringent climate-change policies," and that a high degree of female representation in parliament makes it more likely that a country will ratify international environmental treaties.
Women bring not only ambition but also different perspectives and experiences to the table. As a result, their contributions ultimately lead to more nuanced and inclusive environmental policies.
In Africa, the importance of women's leadership in the face of climate change and biodiversity loss is evident to any observer. In Nigeria, Minister of State for Environment Sharon Ikeazor has advocated for the High Ambition Coalition for Nature and People, and pushed for fossil-fuel subsidies to be replaced with investments in sustainable, low-carbon development.
In Rwanda, Minister of Environment Jeanne d'Arc Mujawamariya has won praise for her inclusive rainforest conservation efforts. In Chad, environmental activist Hindou Oumarou Ibrahim continues to champion the cause of Africa's local communities and indigenous peoples at the highest levels of the UN. And in Freetown, Sierra Leone, we are planting 1 million trees over three rainy seasons to promote climate resilience and green job creation.
All of these women, including me, have championed 30x30, the global campaign to protect 30 percent of the world's surface by 2030. Meeting this objective would prevent further destruction of ecosystems, and the effort could lead to the first-ever global agreement to halt the destruction of nature.
Many more women are tackling biodiversity loss and climate change, including indigenous women who are using their unique knowledge of the land to farm more sustainably and protect fragile ecosystems, and aspiring politicians who are running on integrated policy platforms linking reproductive health, education and environmental protection. Those who are already in leadership positions must ensure that these women are given a chance to contribute.
Much has changed since 2004, when Maathai won the Nobel Peace Prize for her contributions to sustainable development, democracy and peace. Emissions have surged and extreme weather events have increased in frequency and intensity. But much has also remained the same: Women continue to be excluded from leadership positions and the world continues to pay the price for it.
As the final negotiations for the new Global Biodiversity Framework continue, and as we approach this year's UN Convention on Biological Diversity, CBD COP15, in Kunming, China, we have a duty to address these failures. If we do not bring more women to the table, a climate disaster is almost certainly guaranteed.
Source: Arab News
https://www.arabnews.com/node/2073781
-----
'Women Workers Are Pride Of Pakistan': International Lawyers Forum
By Our Correspondent
May 01, 2022
International Lawyers Forum (ILF) Chairman advocate Nasir Ahmed has said that the women workers are a matter of pride for Pakistan.
To mark International Labour Day, an ILF Awards veremony was held for working women across the country.
On this occasion, 20 awards were given to polio worker Aqsa Asghar, National Weightlifting Champion Arjumand Khan, sanitary worker Camma, freelance journalist Erum Gulzar, cotton worker Ganga, patchwork maker Hanifa, Sindh Police's constable Kaneez Jamal, nurse Lubna Perveen, farmer Mariam, executive secretary Nafeesa Mohammad Ali, Advocate High Court Roop Mala Singh, Foodpanda rider Rubab Jumani, domestic worker Rubina, advocate and consultant Sadia Maqbool, NICVD nurse Shabana Rasheed, pharmaceutical packaging worker Shabana, IT consultant Mariyam, St Paul School principal Shakila George, garments factory worker Sumaria Naz and dry fruit seller Usha.
A large number of dignitaries from various walks of life, sisters of Christian missionaries, lawyers and many others participated in the ceremony. Advocate Jamshed Ali Khowaja distributed gifts among the participants.
Source: The News
https://www.thenews.com.pk/print/954720-women-workers-are-pride-of-pakistan
-----
URL: https://newageislam.com/islam-women-feminism/houthi-moral-policewomen-mahram/d/126909
New Age Islam, Islam Online, Islamic Website, African Muslim News, Arab World News, South Asia News, Indian Muslim News, World Muslim News, Women in Islam, Islamic Feminism, Arab Women, Women In Arab, Islamophobia in America, Muslim Women in West, Islam Women and Feminism