New Age Islam News Bureau
26 Apr 2013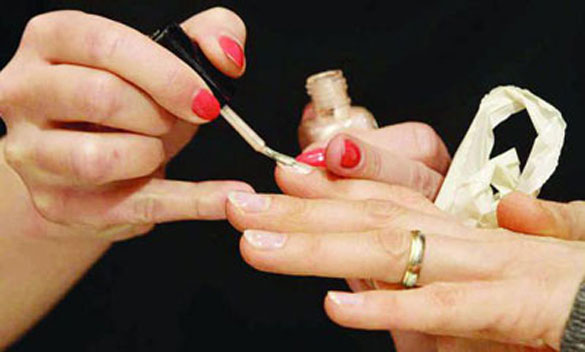 Photo: Breathable Nail Polish a Hit with Muslim Women
----------
• New Jersey Parents Demand Girls' Right to Wear Strapless Dresses
• Palestinian Female Singer Holds Rare Concert In Gaza
• Kurdish Singer Sparks Identity Debate on 'Arab Idol'
• Breathable Nail Polish a Hit with Muslim Women
• Saudi Women Victims of 'Restriction for Protection'
• Girl's College Closure Decision Condemned
• Women Urged To Play Role in Socio-Economic Development of Pakistan
• To Help Afghan Women, Keep Sending the Boys to School
• Nigeria: Hajj 2013 - Planning for Women
• WFP Project Lifts 30,000 Women Out Of Extreme Poverty
• Girl's Schools of Jeddah Stage Sports Events
• Madinah Fire Victim Had Created 64,000 Jobs for Needy Women
Compiled by New Age Islam News Bureau
URL: https://newageislam.com/islam-women-feminism/facebook,-sms-talaq-troubles-india/d/11306
------------
Facebook, SMS Talaq Troubles India Muslims
By Shuriah Niazi
25 April 2013
NEW DELHI – A growing trend among Indian men using social website as Facebook, SMS and e-mail to divorce their wives is sparking a new debate among scholars for contradicting Islamic teachings.
"It is un-Islamic to divorce through Facebook," Muslim scholar Mushtaq Ali Nadvi told OnIslam.net.
"There is a set procedure in Islam to divorce and if someone goes against it then it is un-Islamic."
Several cases were reported in India of men using Facebook, SMS and e-mails to divorce their wives.
In one case, a husband divorced his wife through Facebook just two-and-a-half months after their marriage. He wrote 'Talaq' thrice on his wife's Facebook wall.
In another case, Majidi Begum learnt about her divorce two years after the action.
"I was kept in dark about the divorce and had no inkling about the action of my husband," she told OnIslam.net.
After marital problems with her husband, Majidi asked for divorce in 2012.
But to her shock, she was told by her husband that he has already divorced her two years ago.
The husband also showed her a stamp paper with the signatures of two witnesses stating that he had divorced her.
"He informed me only in 2012 that he had already divorced me," Majidi said.
"I am staying with my mother and hardly earn anything for my sustenance.
"I don't know what my fault was. I am fighting my case in the court for the sake of meher (dowry given by the husband) and maintenance amount from my husband despite being divorced arbitrarily."
Another case of Dr Yasmeen, who was divorced by her husband orally after a 14-year marriage.
She says she was mentally tortured by her in-laws and husband who used to pressurize her to sell off her clinic and give them the money from the sale proceeds. She is now living with her children, separated from her husband and in-laws.
Dr Yasmeen's husband argued that he had given his wife verbal divorce but she said she was not aware of him doing so.
The divorced wife has now filed a case in the court demanding monthly maintenance from her husband for herself and her two children.
Un-Islamic
Muslim activists say that triple Talaq and using unusual tools run counter to Islamic teachings.
"Our sisters along with their children are regularly thrown out of their homes with nowhere to go under this highly un-Islamic practice of triple Talaq," Bharatiya Muslim Mahila Andola (BMMA) convenor Saifia Akhtar told OnIslam.net.
"This practice is un-Islamic, inhuman and unjust.
"This practice is in total violation of Qur'anic injunctions and values of justice and fairness," she said.
"In many cases, even the Qazi or the Mufti (Muslim judges) supported this practice out of ignorance and lack of understanding of the Qur'anic injunctions."
She said that pronouncing the word Talaq trice at once violates Islamic teachings.
"Unilateral Talaq, that is pronouncing the word 'Talaq' thrice in one go to annual marriage, is not in accordance with Shari`ah.
"Ironically, it is widely prevalent due to lack of awareness in India.
"The Qur'anic injunction regarding arbitration before divorce proceedings is not followed and hence women don't get justice," she said.
In Islam, marriage is a sacred bond that brings together a man and a woman by virtue of the teachings of the Qur'an and the Sunnah.
Each partner in this sacred relationship must treat the other properly and with respect.
Divorce is not at all viewed favourably in Islam and is discouraged unless warranted by valid reasons.
Divorce is one of the rights that Islam grants to husbands. In most cases, a husband can claim that right.
However, there are also some cases in which a wife can terminate marriage; for example, by means of khul` (wife's right to obtain divorce under certain conditions).
Muslims account for 160 million of India's 1.1 billion people, the world's third-largest Muslim population after those of Indonesia and Pakistan.
In India, divorce and marriage issues are dominated by All India Muslim Personal Law Board (AIMPLB), the single largest religious body consisting of scholars of different schools of thought.
The AIMPLB was formed in 1973 to protect and apply Muslim Personal Law in marriage, divorce, succession and inheritance.
In 2005, Shiites and women seceded to form their own separate Boards, the All India Shiite Personal Law Board & the All India Muslim Women's Personal Law Board.
http://www.onislam.net/english/news/asia-pacific/462410-facebook-sms-talaq-troubles-india-muslims.html
------------
New Jersey Parents Demand Girls' Right to Wear Strapless Dresses
26 April 2013
A New Jersey principal's ban on strapless dresses at a junior high school dance because they would be "distracting" to boys has enraged parents, who called on Tuesday for its reversal on the grounds it violates their daughters' constitutional rights.
The dress code shreds US 14th Amendment right to equal protection since girls for the past six years have been wearing sleeveless fashions to the dance at Readington Middle School in Readington Township, New Jersey, said parent Charlotte Nijenhuis.
Parents petitioned the school board on Tuesday to overturn the policy before the June 12th dance. The school's principal, Sharon Moffat, said in a letter last month that a "dress with straps" was the only style that would be allowed. Nijenhuis said she called Moffat to ask why strapless dresses had been forbidden. "She told me, 'It is because it's distracting to boys and inappropriate','" Nijenhuis said.
Moffat did not respond to a request for comment.
Another parent, Michelle D'Amico, said she was "livid" that her 14-year-old daughter was being prevented from wearing the same strapless dress that her older daughter had worn six years ago. "It's completely unjust," D'Amico said.
The Readington Township School District said in a statement on Tuesday that it "has a policy regarding dress code, which is being universally applied to the school day and school events. We regret that a small number of families are upset by this and we welcome their input and communication."
At least one student, Claudine Nijenhuis, 14, said she planned to defy the ban and press her right to bare arms.
http://www.dailytimes.com.pk/default.asp?page=2013%5C04%5C25%5Cstory_25-4-2013_pg9_3
------------
Palestinian female singer holds rare concert in Gaza
Thursday, 25 April 2013
Gazans have attended a concert by Palestinian female singer Reem Talhami, a performance considered exceptional in the territory besieged by Israel, and ruled by the Islamist Hamas movement.
Talhami came to the Gaza Strip from Jerusalem.
"I'm very happy to be in Gaza. I love this city. When I arrived for the first time, I felt that Israel is the one destroying, and Gazans are those who build," she said.
"She's not singing things related to blood and missiles. She sings in a different style, yet it still conveys Palestinian suffering," said a male concert-goer.
Another told Al Arabiya that he hoped all artists would be allowed into Gaza, including Lebanese singer Elissa and Egyptian star Amr Diab.
http://english.alarabiya.net/en/life-style/2013/04/25/Palestinian-female-singer-holds-rare-concert-in-Gaza-.html
------------
Kurdish Singer Sparks Identity Debate on 'Arab Idol'
April 26, 2013
ARBIL — A singer from Iraq's Kurdistan region has made it through to the semi-final of an Arab talent contest, igniting heated debates over Iraqi identity and politicising the popular TV show.
A panel of judges praised 24-year-old Parwaz Hussein and she was voted through to the next round of "Arab Idol."
Unlike two other Arab Iraqi contestants who were described as being from Iraq, Parwaz's origin was referred to as "Iraqi Kurdistan".
"I am against the country title that says Parwaz is from Kurdistan, because Kurdistan is an inseparable part of Iraq. I want your introduction to say that you are from Iraq and not Kurdistan,"Ahlam.
The comment provoked an angry response among Kurds.
"Tell Ahlam we are not Arabs," said Ako Aljaff on Parwaz's Facebook page. Others said that as a Kurd she should not have entered a competition called "Arab Idol" in the first place.
http://www.saudigazette.com.sa/index.cfm?method=home.regcon&contentid=20130426163020
------------
Breathable Nail Polish a Hit with Muslim Women
25 April 2013
A "breathable" nail polish created as a less harmful alternative to regular nail varnish has become a surprise hit among Muslim women. The polish looks trendy, and — making it interesting to Muslim women — it is said to be Halal (allowed by Islamic law) and provides no obstacle for women who want to complete their wudhu (ablution) before the daily prayers.
Nail polish is considered inconsistent with Wudhu because of the physical layer it creates over the nails. This prevents water from cleansing the nails, which is a requirement for wudhu.
Therefore, a woman would have removed her nail polish every time she needs to renew her Wudhu, which may mean removing and re-varnishing several times a day.
For this reason, some Muslim women put nail polish on after finishing the last prayer of the day before going out, and then take it off again before dawn prayers. Others simply refuse to go through the trouble of getting a manicure that won't last long.
Inglot Cosmetics, the manufacturer of O2M Breathable Nail Enamel, claims that unlike the regular manicure which keeps oxygen and moisture from reaching the fingernail, Inglot's nail polish was formulated to let both air and water through, hence making it a 'Wudhu-friendly' nail polish. The product is made of a polymer found in contact lenses to achieve permeability.
A craze has built up around O2M nail polish after an Islamic scholar in the United States tested its permeability and published an article saying that, in his view, it complies with Islamic law.
"I love nail polish and I wish I could wear it on a regular basis," said UAE-based Fatma. "This new polish is a huge breakthrough for me. We are supposed to cover up, but nowhere does it say 'don't be fashionable'."
Aisha Ali, an employee at a real estate office, said she rushed out and bought the polish in its five available colours as soon as she heard about it.
College student Farhana Ali felt that Inglot just found a new way to circumvent the Islamic laws, even though some scholars approved it.
The mosque Noor Al-Islam's Imam in Sharjah, Sheikh Ali Barakat, pointed out the conditions of validity of wudhu agreed by the majority of scholars. It is the removal of any substances that prevents water from reaching the body, he said. "If this product allows water to reach the nails then there is no harm in using it."
Nevertheless, Fatima Al-Hamrani, Islamic law instructor, said that the product should be prohibited because it encourages women to manifest in finery.
"Any finery acts do not require a fatwa (Islamic legal judgment) to permit it," said Shaikh Ahmad Al-Qubaisi, a prominent UAE Islamic scholar. "Whether it allows the passage of water or not, it is Haram (forbidden by Islamic law). These inventions are circumventing the name of religion, and we should be aware of it, and more eager to implement the Sharia," he said.
http://www.arabnews.com/news/449314
------------
Saudi Women Victims of 'Restriction for Protection'
26 April 2013
Badria al-Bishr
I arrived to Dubai airport last week with my daughter. It was around midnight and I waited in line for a taxi, like I would do in any other country. When my turn came, I was surprised to see a lady standing near the cab, wearing a uniform, similar to the one worn by flight attendants, with Dubai's Road and Transport Authority badge on it. After checking that I've put my luggage in the trunk, she sat behind the wheel and drove.
This is of course was not the first time I saw a female taxi driver, however, I was surprised because I had just arrived from Riyadh where I had just read a statement from a sheikh confirming that prohibiting women from driving in Saudi Arabia aims to "preserve their chastity, morals and safety." The statement added that they –women – are more likely to make mistakes and violations while driving the car, but most of all, the Sheikh said that "men verbally harass women on the streets and markets, even when they are accompanied by guardians." He then asked: "What will happen once they drive a car?"
I thought to myself, if the Sheikh could see us now, all the three of us in the taxi, on our way home, which is located half an hour from the airport, without any car bothering us or a reckless man blocking the road; we were truly safe. I have lived these peaceful moments during my stay in Dubai, and I saw women around me driving their cars -- among them unveiled foreign women, veiled Gulf women, women who cover their entire face with a black veil -- and no one dares to mistreat them or assault them. People behave on the streets by virtue of an Islamic law that forbids any assault on men or women. So how can women be safe even in the late hours of the night in Dubai, while women in Saudi Arabia are not safe, even when they are accompanied by their guardian?
Keeping out of harm's way?
Where is the Islamic responsibility that was revealed in the words of Islam's Umar ibn Al-Khattaab when he said: "If a mule stumbled, I would be afraid that Allah [God] would ask me, why did you not pave the road for it?" Would he pave the way for mules and not for women? What if someone in these societies came out and told them that women should sit at home and should not go out on the streets, so they can preserve their chastity and manners? What if someone added that when a woman goes out and falls victim to verbal or physical harassment, this is her punishment for daring to leave her house? In which human civilizations or religion is this logic found correct?!
How can Muslims defend this logic? How could women go out, 1,400 years ago, five times a day to the mosque to pray with men without barriers or dividers, only protected by the saying of the prophet: "Do not stop Allah's [Islam's] women from going to Allah's mosques." Today, women do not go to mosques, but are rather warned by sheikhs that that they might be harassed even if they are accompanied by their guardians. So the solution is to prohibit them from going out in order to protect them and preserve their chastity according to a logic that is closer to the logic of the desert rather than the country, civil society and religion's logic.
Women staying inside their own houses will not fix the dilapidated traffic infrastructure, it will rather make us more tolerant to its deterioration; this will not fix the fragile ethics educational system. If the violators do not find women on the streets to harass, they will mistreat other vulnerable employees and animals; they will ruin public places and go astray. Detaining women inside their houses will not make a better community, but instead it will sanctify its mistakes, as it will treat it through temporary hiding it under the rug.
Dr. Badria al-Bishr is a multi-award-winning Saudi columnist and novelist. A PhD graduate from the American University of Beirut, and an alumnus of the U.S. State Department International Visitor program. Her columns put emphasis on women and social issues in Saudi Arabia. She currently lectures at King Saud University's Department of Social Studies. Twitter: @BadryahAlbeshr
http://english.alarabiya.net/en/views/news/middle-east/2013/04/26/Saudi-women-victims-of-restriction-for-protection-.html
------------
Girl's College Closure Decision Condemned
April 25, 2013
Traders and members of civil society have threatened to launch a protest campaign against the decision to close girl's college of Naurang Town
Talking to journalists on Wednesday, Naurang Shopkeeper Union President Haji Amanullah, Vice President Gulab Khattak, General Secretary Younas Khan, advocate Ameenullah Jan, advocate Muhammad Zaman and others said closure of FEF college would deprive hundreds of female students from getting education facility near their homes.
Full report at:
http://www.nation.com.pk/pakistan-news-newspaper-daily-english-online/lahore/25-Apr-2013/girls-college-closure-decision-condemned
------------
Women Urged To Play Role in Socio-Economic Development of Pakistan
26 April 2013
ISLAMABAD: Centre for Policy Studies, Comsats Institute of Information Technology (CIIT) organised a seminar "Development in Pakistan and Women Inclusive Strategies" to create awareness about the role of women in the realisation of the vision of a prosperous Pakistan.
The seminar intended to reinforce the need for continued women participation in various fields of social and economic activities. The chief guest, CIIT rector, Dr. S M Junaid Zaidi said women can play important role in the socio-economic development of the country.
Full report at:
http://www.dailytimes.com.pk/default.asp?page=2013\04\26\story_26-4-2013_pg11_6
------------
To help Afghan women, keep sending the boys to school
By Christian Bayer Tygesen
April 25, 2013
Most people remember the harrowing cover of TIME in late July 2010 depicting the 18-year-old Afghan woman whose nose and ears were cut off following a Taliban sentence for her attempt to flee from an abusive husband. Many can recall the penetrating glare of the green-eyed Afghan girl in a refugee camp on the cover of National Geographic. Both images are powerful reminders of the past atrocities, present humanitarian strife, and future aspirations of millions in Afghanistan as the international military presence draws down. Many Afghans ask, "Can my country avoid a relapse into civil war?" Even those who assess this question with some optimism still find themselves asking, "Will Afghanistan be safe enough to raise my children and build a livelihood?"
Preventing an outright civil war is directly related to the national interests of the coalition countries engaged in Afghanistan. A civil war would strengthen the hands of the numerous terrorist groups that operate on both sides of the Afghanistan-Pakistan border. Moreover, destabilizing spill-over effects would weaken an already fragile Pakistan, exacerbating the internal cleavages and security threats confronting the state with the world's fastest growing nuclear arsenal. Therefore, the primary objective of the U.S.-led coalition is to ensure a stable and cooperative Afghan political order that denies terrorist groups the capacity and opportunity to conduct large-scale attacks against Western interests.
Full report at:
http://afpak.foreignpolicy.com/posts/2013/04/25/to_help_afghan_women_keep_sending_the_boys_to_school
------------
Nigeria: Hajj 2013 - Planning for Women
BY HAJIYA BILKISU, 25 APRIL 2013
Mni — Hajj is Islam's fifth pillar and a journey for completion of a Muslim's faith. Those who have the resources and can travel in safety to Makkah are enjoined to perform hajj at least once in their lifetime. For such an important religious activity, Muslims worldwide invest money and time in ensuring that pilgrims are taught the rites of hajj and perform it hitch free. The National Hajj Commission of Nigeria (NAHCON) is the organisation charged with policy issues and administration of Hajj nationwide. It works closely with State Pilgrims Welfare Boards/ Agencies to develop policies for Hajj operation and administration. It also organises review meetings of previous hajj operations and capacity building workshops for hajj officials and stakeholders.
Full report at:
http://allafrica.com/stories/201304250432.html?viewall=1
------------
WFP project lifts 30,000 women out of extreme poverty
26 April 2013
Thirty thousand ultra poor women, supported by a four-year cash-transfer project, have moved out of extreme poverty in the disaster prone areas of three northern districts of Bangladesh, a report revealed yesterday.
The "Food Security for the Ultra Poor" (FSUP) project initially supplied each of the women with Tk 14,000 in cash to start their business and monthly subsistence allowance of Tk 500 over a period of four years.
As the European Union-funded programme of 15 million euros came to a close in December 2012, the results showed that the average income of the participants and their families increased fivefold, savings way above four times, and household asset threefold.
Full report at:
http://www.thedailystar.net/beta2/news/wfp-project-lifts-30000-women-out-of-extreme-poverty/
------------
Girl's Schools of Jeddah Stage Sports Events
26 April 2013
After approval from the Ministry of Education, two local girls' schools have established sports clubs and organized tournaments for their students.
The 18 High School Jeddah recently concluded its football league and launched basketball, tennis and running events, a local newspaper reported. This is the second school to establish sport clubs, the first being 50 High School that was established under the umbrella of the project entitled "School Leadership Internship." Girls schools are numbered in Saudi Arabia.
English teacher Lubna Al-Betawi, founder of the football club, said the final game involved two teams named Manchester United and Chelsea. "For the record, Chelsea won the game 3-1 and received a prize of SR 1, 000," said Al-Betawi.
Full report at:
http://www.arabnews.com/news/449473
------------
Madinah fire victim had created 64,000 jobs for needy women
April 26, 2013
MADINAH — A Madinah-based businessman who died with his wife and five children early Tuesday in a fire had been a philanthropist who created 64,000 job opportunities for needy women in the city.
Abdul Aziz Al-Jamal's wife Budoor Al-Butaini, 30, died immediately while the 55-year-old businessman and five children died in hospital after all suffered severe smoke inhalation.
Col. Khaled Al-Juhani, spokesman for the Civil Defense in Madinah, said the victims were trapped inside their house after the fire broke out. They were buried in Madinah on Wednesday.
Full report at:
http://www.saudigazette.com.sa/index.cfm?method=home.regcon&contentid=20130426163041
------------
URL: https://newageislam.com/islam-women-feminism/facebook,-sms-talaq-troubles-india/d/11306