New Age Islam News Bureau
14 Jun 2012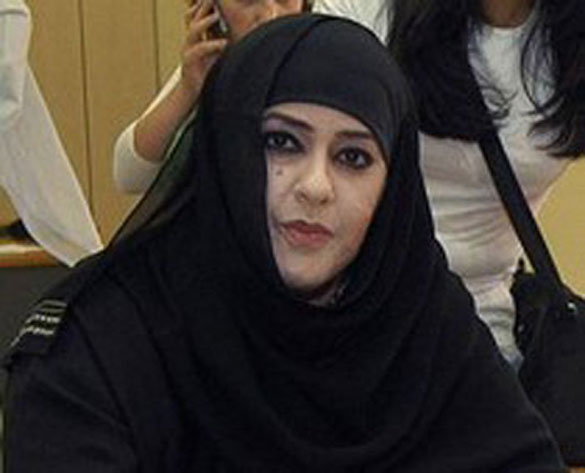 • Legalise Sex Trade and Selling of Female POWs: Kuwaiti Woman
• Women in Malaysia escape sex slavery
• Malaysia women athletes praise volleyball ruling to allow shorts
• Arab world gets new trailblazer for women in politics
• Female Quran teacher stopped teaching children of police after MDP Coup Report
• Despite Progress, Too Many Indonesian Women and Children Still Dying: UNICEF
• Saudi Driving Star Manal Pays a High Personal Price
• Indonesian Anti-Corruption Fighter Works to Help the Disadvantaged
• Teenage Pak girl 'commits suicide for failing Matric exams'
Complied by New Age Islam News Bureau
Photo: Salwa al-Mutairi asks to legalise Sex Trade and Selling of Female POWs
URL: https://newageislam.com/islam-women-feminism/deoband-clerics-welcome-high-court/d/7619
---------
Deoband Clerics Welcome High Court Order On Marriage Of Muslim Girls At 15
June 13, 2012
The All-India Muslim Personal Law Board (AIMPLB) and Darul Uloom Deoband have welcomed the recent decision of the Delhi High Court that Muslim girls can rightfully marry at the age of 15. But both organisations have said that presently a large number of Muslim parents prefer to follow the law of the country, which prevents marriage of a girl before the age of 18. "The order of the court is in accordance with Section 2 (vii) of the Dissolution of Muslim Marriage Act (DMMA), 1939. Even the AIMPLB allows the marriage of a Muslim girl after she attains puberty because this is permitted under the Islamic law. But we don't force the Muslims to follow such things. The parents are free to decide when their children should get married," said Khalid Rashid Firangimahli, a member of AIMPLB. "If you conduct a survey, you will find that not more than 10 per cent Muslim girls get married before the age of 18 years," he stressed.
"Let me remind you that Shariah has given substantial rights to a girl in regard to her marriage. She can terminate her marriage after attaining puberty, if it was done against her wish. There are such instances in the Hadees, which is considered a collection of sayings and deeds of Prophet Mohammed," Firangimahli explained.
Ashraf Usmani, head of the fatwa department of Darul Uloom Deoband, said the order of the court should be appreciated by the Muslim community. "In fact, we hold that the girls can get married after puberty occurs. It is permitted in the Shariah. The HC has only reconfirmed the Islamic law. We call upon the Muslims of the country to welcome this decision," he said.
But Usmani pointed out that the court has also stated on the basis of the DMMA that the minor after attaining the age of puberty can revoke the marriage if it was decided by any guardian other than her father or grandfather against her wish.
http://indiatoday.intoday.in/story/muslim-organisations-welcome-hc-order-on-marriage-of-girls-at-the-age-of-15/1/200551.html
---------
Legalise Sex Trade and Selling of Female POWs: Kuwaiti Woman
Sharifa Ghanem | 13 June 2012
DUBAI: A Kuwaiti woman and former candidate for Parliament Salwa al-Mutairi has argued that men should be allowed to purchase women in order to meet their sexual desires.
She argued that it would be a way of ensuring adultery doesn't happen and said in comments published by British media that female prisoners of war should be sold on an open market.
She argued the women would be used by "virile" Kuwaiti men to protect them from being "seduced or tempted into immoral behaviour by the beauty of their female servants."
She went as far as saying that female Russian captives should be the ones being sold.
"For example, in the Chechnyan war, surely there are female Russian captives. So go and buy those and sell them here in Kuwait," she continued.
"Better than to have our men engage in forbidden sexual relations," she argued.
But her comments are unlikely to gain any traction, in fact, quite the opposite, as women's activists and advocates in the Middle East have lashed out against her, saying what she is promoting is "sex slavery" and should be put on trial for her statements.
"This is absolutely horrible and degrading to any woman anywhere in the world, and especially here in the Middle East," blogger and activist Mona el-Jamal told Bikyamasr.com in Dubai.
For Jamal, the issue of sex workers is a tenuous discussion in the region, where "men have already helped push this industry into new directions while the governments in the region continue to push women's rights aside.
"This is the societies we live in right now and for a female politician to speak out like this is wrong and disgraceful for all Arab women," she added.
http://bikyamasr.com/69751/kuwaiti-woman-calls-for-legalizing-sex-trade/
---------
Women in Malaysia escape sex slavery
Alisha Hassan | 14 June 2012
KUALA LUMPUR: A local media report this week highlighted the growing concern for women in the country being abducted and sold into sex work.
According to The Malaysian Insider, five women have escaped that fate after they reported being attacked and tried to be kidnapped by unknown assailants.
The women escaped their would-be abductors who allegedly had plans to sell them.
Harian Metro reported that one of the women, who only wished to be known as Ms Najwa, claimed she was abducted near her rented house in Wangsa Maju, Kuala Lumpur, at 3pm on Monday.
However, she escaped when the van ferrying her and four other women stopped at a petrol station in Simpang Pulai, Perak.
Najwa, a bank officer in Kuala Lumpur, said she was forced into the van by three men.
The incidents have women's advocates in the country frustrated, but optimistic that police in Malaysia are attempting to put an end to the illegal trade in women for sex work.
"I think we should at least see some positives to this situation," social worker Nora Tantin told Bikyamasr.com, "because until a few years ago the police would do little to assist women and now they are actively trying to protect women from being kidnapped and forced to work as sex workers in the country.
"This is a good thing for the country," she added.
http://bikyamasr.com/69783/women-in-malaysia-escape-sex-slavery/
---------
Malaysia women athletes praise volleyball ruling to allow shorts
Bikya Masr Staff
13 June 2012
KUALA LUMPUR: The bikini is out, at least for women athletes from more conservative countries. Women here in Malaysia have praised a decision from the International Volleyball Federation (FIVB) to allow female players to wear shorts and sleeved tops instead of bikinis at the Olympics.
The decision, Malaysian women told Bikyamasr.com, is a welcome change that gives more freedom to women from conservative countries, or women who do not feel comfortable with the two-piece bikini.
"I think it is a right decision because it will allow more women to join the sport," said Malaysian youth volleyball coach in Kuala Lumpur Sara Daret, who added to Bikyamasr.com that "the bikini is still the best thing to wear because it gives freedom of movement that shorts and sleeves don't, but it should not be the decision of a committee for what women wear."
The International Volleyball Federation (FIVB) said it wanted participants to have options to cover up more.
Bikinis have helped define the sport but the FIVB wants to respect the cultural beliefs of various countries.
"Many of these countries have religious and cultural requirements so the uniform needed to be more flexible." said FIVB spokesman Richard Baker.
The modified rule permits "shorts of a maximum length of (1.18 inches) above the knee, and sleeved or sleeveless tops."
The women's Olympic beach volleyball tournament will be played between 28 July and 12 August in a specially created stadium at Horse Guards Parade near Buckingham Palace.
http://bikyamasr.com/69747/malaysia-women-athletes-praise-volleyball-ruling-to-allow-shorts/
---------
Arab world gets new trailblazer for women in politics
June 14, 2012
Women in Algeria have traditionally played a more active role in public life than in most other Arab states
NOW that Algeria has the largest proportion of women lawmakers in the Arab world, workmen at the national assembly building have some urgent modifications to make. While the men's washroom just outside the debating chamber is clearly marked with the silhouette of a man, there are so far no signs for the women's. On the opening session of the new parliament on May 26, two of the newly elected female members had to ask for directions to the rest-room.
"Wherever I go I see a woman in front of me. Things have changed. We're used to only seeing men," said one local journalist as he watched the opening session of parliament. The 146 women elected to parliament last month is up from just 31 before. Women now make up 31.6 percent of the chamber, the highest share of any Arab legislature and higher than many in the West.
The sudden leap is the result of a quota mandated by President Abdelaziz Bouteflika that many sceptics - including foreign election monitors - thought would not be enforced. Now Algeria, a Muslim energy exporter of 37 million people, is basking in its new status as a trailblazer for woman's rights.
UN Secretary-General Ban Ki-moon and US Secretary of State Hillary Clinton have both praised the large female contingent. But campaigners for equality say the big question remains unanswered: how will the new women lawmakers - most of them political novices - put their positions to good use?
Full report at:
http://www.dailytimes.com.pk/default.asp?page=2012\06\14\story_14-6-2012_pg4_8
---------
Female Quran teacher stopped teaching children of police after MDP Coup Report
By Ahmed Nazeer | June 13th, 2012
A female Quran teacher has refused to teach the 10 year-old daughter of Police Assistant Commissioner Hassan Habeeb, following the publication of the Maldivian Democratic Party (MDP)'s report into controversial transfer of power on February 7.
Speaking to Minivan News today, Assistant Commissioner Habeeb said that when his wife went to fetch their daughter from the Quran class, the teacher told her: ''we are not supporters of the coalition.''
''My wife at first did not quite get what she said and asked her what she meant by that. The Quran teacher replied that she had stopped teaching the Quran to the children of police and Maldives National Defence Force (MNDF) officers, as she had seen and read what they had done on February 7,'' Habeeb said.
He said when he and his wife talked to their daughter about it; they learned that the Quran teacher had not been teaching her daughter since the release of the MDP's report.
''We knew from our daughter that the Quran teacher has been talking politics in the class,'' he added.
Habeeb said he was "very saddened" by the incident and appealed to everyone not to put politics in the way of such services.
''I have information that some doctors have also being differentiating among people of different political views, and it is very concerning,'' he said. ''If this continues, this citizens will be split into groups.''
Full report at:
http://minivannews.com/society/quran-teacher-stopped-teaching-my-daughter-after-mdp-coup-report-says-police-assistant-commissioner-38974
---------
Despite Progress, Too Many Indonesian Women and Children Still Dying: Unicef
Jakarta Globe | June 14, 2012
Indonesia has been able to cut by more than half the annual mortality among women and children in just over two decades, but too many of them continue to die, Unicef said on Thursday.
Since 1990, annual mortality among Indonesian women and children has declined by more than half, according to global estimates in "Building a Future for Women and Children," published overnight by the Countdown to 2015 initiative, Unicef said in a press release.
"Indonesia has made important progress to improve the health of its mothers and children, since making its own commitment to a World Fit for Children," said Dr. Robin Nandy, Unicef's chief of child survival and development in Indonesia.
In Indonesia, improved health policy and legislation, a renewed focus on reducing malnutrition and improved coverage of key services such as prenatal care are all contributing to reductions in overall mortality. "But even today, it is estimated that 150,000 children die in Indonesia every year before they reach their fifth birthday, and nearly 10,000 women lose their lives annually to problems in pregnancy and childbirth," Nandy said.
"We must look closely at the barriers that are slowing progress toward preventing these deaths, especially in relation to maternal health, in order to build on previous achievements."
Full report at:
http://www.thejakartaglobe.com/news/despite-progress-too-many-indonesian-women-and-
---------
Saudi Driving Star Manal Pays a High Personal Price
By Rita Henley Jensen
June 14, 2012
One year later, Manal al-Sharif has a host of international honours for helping to spur 100-plus women into the driver seats. But she's lost her job and finds it too dangerous to travel to accept any more awards.
DHAHRAN, Saudi Arabia (WOMENSENEWS) -- With her life torn apart by the events of the past year, it's not clear whether Manal al-Sharif will be able to keep leading the push by Saudi women to drive.
Al-Sharif posted Tuesday an open petition to King Abdullah to end the ban on women driving. "It is our hope that you take into consideration our campaign I Will Drive My Own Car to encourage women who have obtained driving licenses from neighbouring countries to forgo their male drivers and start driving themselves when they need to."
The soft plea is a far cry from the buoyant protests last year on June 17, when more than 100 Saudi women and their male supporters drove cars publicly.
Full report at:
http://womensenews.org/story/leadership/120613/saudi-driving-star-pays-high-personal-price
---------
Indonesian Anti-Corruption Fighter Works to Help the Disadvantaged
Krissy Dwyer | June 14, 2012
Sely Martini is not your ordinary woman. Yes, she's a young wife and mother of three, she's lovely and kind, and she is strong, too. But what stands out most is her passion and utter commitment to change.
As deputy coordinator of Indonesia Corruption Watch, Sely has devoted her life not only to her family but also to one of the country's biggest challenges, the fight against corruption.
Her answer as to why this commitment to such an immense issue is straightforward — corruption makes people suffer.
"The government has the money for development, but then some culprits take the money and the beneficiaries get nothing," she said. "This is public money that should go to the public sector — like health care, education, drainage, roads."
Her voice didn't sound angry, but rather concerned for the disadvantaged.
"The poor can't get access to the private hospitals or private education, so [they] will suffer more because of corruption," she continued. "Corruption eats the cake before you can eat it. [It's] the core of developmental problems."
Having volunteered for ICW during her university years in Bandung, the 34-year-old joined the non-governmental organization after earning her degree and has been working there for eight years.
Full report at:
http://www.thejakartaglobe.com/lifeandtimes/indonesian-anti-corruption-fighter-sely-
---------
Teenage Pak girl 'commits suicide for failing Matric exams'
By Abdul Khaliq Qureshi
June 14, 2012
ABBOTTABAD: In yet another shocking incident, a teenage girl reportedly committed suicide by hanging herself, apparently because she failed in the matriculation examination held under the auspices of the Board of Intermediate and Secondary Education (BISE), Abbottabad.
Mehwish, the daughter of Rahim, a resident of Kaghan Colony, reportedly locked herself in her room and hanged herself on Wednesday, the very day the education board announced the result for the Secondary School Certificate and declared her failed.
Her family was unaware of the tragic incident, until they broke into the room after finding her missing for several hours.
However, the father of the deceased student lodged a first information report (FIR) in the Mirpur Police Station, saying they found Mehwish dead on the floor. The police handed over the body to the family after an autopsy.
http://www.dailytimes.com.pk/default.asp?page=2012\06\14\story_14-6-2012_pg7_13
---------
URL: https://newageislam.com/islam-women-feminism/deoband-clerics-welcome-high-court/d/7619