New Age Islam News Bureau
29 Jul 2013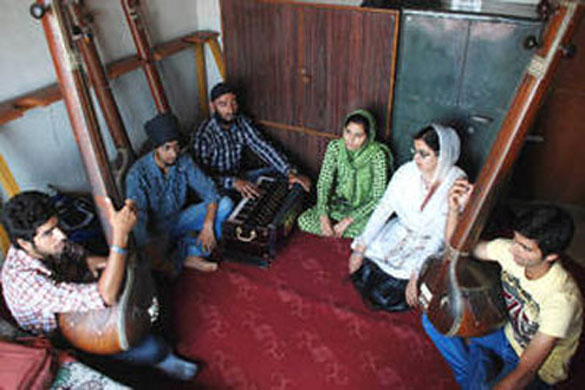 Photo: Students at the Institute of Music and Fine Arts (IMFA) in Srinagar
----------
• UN: Afghan women's rights in balance as 2014 pull-out looms
• Women's Group Denounces Muslim Brotherhood
• Women Are the Future, Says PML-N MPA
• Indira's ex-husband risks Islamic conversion appeal unless he returns daughter
• Meet the 4 Malaysian Beauties Disqualified By Muslim Ban
• Saudi Woman Abused By Her Uncle and Brother 'Commits Suicide'
• Saudi Girl Kills Herself by Drinking Petrol
• 'Walking Woman' To Visit Political Parties in Ankara
Compiled by New Age Islam News Bureau
URL: https://newageislam.com/islam-women-feminism/defying-pressure,-kashmiri-girls-embrace/d/12804
-----------
Defying Pressure, Kashmiri Girls Embrace Music As A Career
By Adil Akhzer
July 29, 2013
Gone are the days when young women in Kashmir did little more than marry early and settle down for domestic chores. Girls who once had to stay away from things like the arts, out of fear they would enrage fundamentalists, are now showing keen interest in music as a profession. In recent years, female performers such as Shazia Bashir and Mehmet Syed have gained increasing popularity in the state.
Shaiqa Mohi, principal of the Institute of Music and Fine Arts (IMFA) in Srinagar, told Khabar South Asia there has been a gradual increase in the number of girls studying music over the past few years. In fact, girls now outnumber boys at the IMFA, which each year accepts 30 students to study sitar, tabla or vocal performance.
"This year, 75% of students in each music discipline are girls. It is a good sign," said Mohi, whose college is the lone full-time music institute in Srinagar. "Change in the cultural mores, and also the awareness among girls, is one of the foremost reasons for this trend. They also want their dreams and aims to be fulfilled and that is why they are choosing this profession," she said.
A passion for music
Young girls in the Valley who are studying music are excited to have the opportunity to enter the field. "Since my childhood, I have interest in music. I am pursuing my bachelors programme in arts, but I am also learning music as an optional subject," Sadiya Hassan, who plays guitar in a band, told Khabar.
Shaista Khan, from Srinagar's Bemina, joined the IMFA last year. "I can't describe to you how much interest I have for music. I even got lessons from professional singers of Kashmir," she said.
"My parents never intervened when it comes to deciding this field. Although people don't prefer girls who sing publicly here, times have changed and people should also change their attitudes."
The attitudes she refers to were on display earlier this year, when Kashmir's first-ever all-girl rock, Pragaash, quit after fundamentalists staged a hate campaign against them on social media. Kashmir Grand Mufti Bashir-u-Din Ahmad, meanwhile, caused a public stir by issuing a fatwa in which he claimed it was "un-Islamic" for girls to take up rock music.
While conservatives appear to be less angered by women pursuing traditional and classical music, the fallout from the Pragaash incident has had an impact on young musicians like Shaista, increasing their determination not to bow to pressure.
"Let everyone issue fatwas, but no one can halt our interest in music," she said. "Why should I kill my dream for anyone else's sake?"
More institutes needed
Experts believe that more music schools are needed to cater to the growing demand of students.
"When they (students) have no option or they don't get admission in any college they (want to) move out of the state," music trainer Waheeda Shah told Khabar. "But most parents don't allow their child to move outside the state, which forces them to choose another career option."
Although the state government has no immediate plans for opening additional music institutes, some local experts have started private learning centres to train aspiring musicians.
"After seeing growing passion for music among the youth, I started the institute last year," Waseem Ahmad, who runs a music institute in Srinagar's old city, told Khabar. "Currently, more than 50 students are learning music in the centre, out of which 20 are girls."
http://khabarsouthasia.com/en_GB/articles/apwi/articles/features/2013/07/29/feature-06
---------
UN: Afghan women's rights in balance as 2014 pull-out looms
July 29, 2013
GENEVA: The fate of Afghanistan's women hangs in the balance as the 2014 withdrawal of international forces looms, a UN human rights watchdog warned Monday, denouncing a raft of abuses there.
"We are worried about Afghanistan because we're at a decisive moment," said Nicole Ameline, head of the UN Committee on the Elimination of Discrimination Against Women.
"If we don't manage to preserve the rights of women after having devoted so much energy, resources and support in all forms in this country, it will mark a failure by the international community," she told reporters.
Ameline's comments came after the committee examined Afghanistan's record under procedures for the regular review of UN member states.
During a review session, the Afghan government insisted that women's rights were "non-negotiable", she noted. Ameline said the international community had a duty to keep Afghanistan under scrutiny to ensure women's rights are protected and extended.
The committee's report slammed the high level of violence faced by women in Afghanistan, including domestic abuse, rape and stoning, and the practice of making victims set themselves on fire.
It also condemned forced marriages, and the fact that women were sentenced for having tried to flee their homes.
"Afghanistan displays a concentration of forms of violence which for the most part are linked to patriarchal and ancestral systems, and which are exacerbated when they occur in zones which are not necessarily under direct state control," said Ameline.
The committee also criticised a failure to call perpetrators of violence to account, and the fact that relatives were able to stop victims from filing legal complaints.
It also protested against the low level of representation of women in political life, notably in a peace council set up by President Hamid Karzai to try to foster talks with the country's Taliban insurgents.
Improving the lot of Afghan women has been a watchword of the international community since the hardline Islamist Taliban was ousted by US-led forces in 2001.
http://dawn.com/news/1032747/un-afghan-womens-rights-in-balance-as-2014-pull-out-looms
---------
Women's Group Denounces Muslim Brotherhood
By Nourhan Dakroury
July 29, 2013
The National Council for Women (NCW) denounced the Muslim Brotherhood's "attempts to marginalise and exclude women from the political scene", in a Sunday statement.
The council described the year during which the Brotherhood ruled as the "worst and most cruel [year] for Egyptian women."
"I can't comment on such criticism in a time when peaceful Egyptian protesters are being killed," said Sabah El-Saqary, women secretariat of the Freedom and Justice Party, the Brotherhood's political wing.
NCW's statement outlined the council's efforts to resist the adoption of the constitution, which was passed on 25 December 2012.
The council said it opposed the formation of the committee because of its violation of the law and its attempt to implement "sectarian division in the Egyptian community."
The statement read: "Ever since the formation of both constitutional committees, there was an obvious intention for only one faction to monopolise the formation of the constitution," adding that the proof was that only 7% of the committee members were women.
The statement added that all those who represented women in the committee were members of the Islamist current, meaning that their participation in the committee was illegal.
"The council presented a list of nominees to the committee, which included a lot of qualified and experienced women, but none of them were chosen and the council itself was not represented in the constitutional committee, despite its role to advance women's roles in Egypt," the statement said.
The council had also presented the committee with a list of suggestions for the constitution; however, they claimed the committee did not take them into consideration.
The council also criticised Article 68 of the constitution, which puts restrictions on women through the implementation of Sharia law, which "opens the door to various opinions of religious scholars allowing the legalisation of the marriage of 12-year-old girls or the allowance of female genital mutilation," according to the statement.
The statement added that such practices, which have been promoted by religious scholars, are not related to the true Islamic Sharia.
The statement also condemned a suggestion made by the former Shura Council to convict women who have been sexually assaulted during protests.
The council described such a suggestion as "a setback in women's rights" in Egypt.
The Women's Parliament group, a human and women's rights group also offered the Legal Experts Committee working on amending the constitution with some suggestions, which include women's rights to participate in political, social, cultural and economic life in Egypt, gender equality, respect towards international women's rights agreements and the illegalisation of civilians going on trial in military courts.
http://www.dailynewsegypt.com/2013/07/28/womens-group-denounces-brotherhood/
-----------
Women Are the Future, Says PML-N MPA
July 29, 2013
LAHORE: "If I just wanted to relax and sit on the sidelines, I wouldn't have joined politics," says Kanwal Noman confidently.
And confident she has a right to be. As a former actress, and now an MPA for the ruling Pakistan Muslim League-Nawaz (PML-N), she is used to basking in the spotlight.
However, the spotlight is not at all why she joined politics almost six years ago; she wanted to, and still wants to, make an impact on a broader level.
Her unwavering voice, strong beliefs and evident determination speak louder than her words.
It's a man's world
Noman is unequivocal about the importance of working for greater women's rights. She was provided a ticket on reserved seat and stresses how difficult it is for independent women to run unless they are from big families or have powerful backing.
"Men are very intelligent beings, they are able to judge a woman instantaneously," she claims. "I have always been a bold woman. Whether in showbiz or politics, I have never allowed anyone to bother me."
She expresses disappointment over the failed implementation of the laws protecting the rights of women, especially working women, during the previous tenure.
"Women work more than men. They not only have to work outside the house, but they also have to come home and take care of the families," she explains. "Laws must be implemented so that no person can harass or bother any woman. If someone does, there should be a safe place, and concrete processes at work, for women to complain and get justice."
In this vein, Noman highlights the significance to address the question of violence against women, such as victims of acid attacks and karo kari, and to also liberate those who spend their entire lives working in brick kilns to pay off unending loans.
"These women work day and night, but have no security and no rights. We have to liberate them from this insecurity," she says determinedly.
Change in the offing
Despite the skewed workings of a deeply patriarchal society, Noman is certain that things are changing, especially within political parties that traditionally did not cater to women wanting to run in the elections. Now, according to her, PML-N is planning to award tickets to women to contest in the next tenure.
"In the next elections, those women who want to run and have done work in their fields will be given tickets," she says. "The idea is to give party support to competent women who are not financially or familialy strong."
Although Noman acknowledges that it is a male-dominated society, she asks rhetorically which field, which sector does not boast of a strong female presence.
"They [the women] have made it this far," she states. "Our goal is to make their presence stronger."
Meant to be
For Noman, this move into politics isn't a simple fluke, as it may seem at first glance.
She was a television actress at a time when Pakistani dramas were in a league of their own. According to her, she chose the medium because dramas provided a social commentary, and were rooted in deep issues prevalent across the country.
Her approach to both acting and politics has been uncompromising, built on hard work. She is not afraid of getting her hands dirty, and aspires to help others above all else.
"People thought I would just join the culture wing and go home," she says, with a slight smile. "But I joined the women's wing. Culture is a part of me, and I will always fight for it, but want to do something for the masses."
http://tribune.com.pk/story/583290/up-close-and-political-women-are-the-future-says-kanwal-noman/
-----------
Indira's ex-husband risks Islamic conversion appeal unless he returns daughter
BY V. ANBALAGAN, ASSISTANT NEWS EDITOR
JULY 29, 2013
Muhammad Ridzuan Abdullah may not have his day in the Court of Appeal unless he surrenders his five-year-old daughter to ex-wife M. Indira Gandhi, who last week won a landmark judgment to jointly determine her children's faith
Kindergarten teacher Indira had obtained custody of their three children, including the daughter, but the Muslim convert has been keeping the daughter throughout their four-year battle over the children's faith.
Lawyer Benjamin Dawson said Ridzuan's lawyers could not make a submission to reverse the High Court decision due to a Federal Court ruling, although there are reports that they will file an appeal soon.
"The principle is that a person in contempt of court will not be heard unless the contempt is purged," Dawson told The Malaysian Insider.
The Bahasa daily Utusan Malaysia reported on Saturday that Ridzuan would file an appeal within 10 days to set aside a High Court ruling that quashed the conversion of his three children to Islam.
Dawson, who appeared as counsel in the celebrated Lina Joy conversion case, said Ridzuan had every right to file a notice of appeal against last Thursday's ruling.
"Beyond that, he has to contend with the Federal Court ruling, where S. Syamala who was not allowed to pursue her appeal because she had disobeyed a High Court ruling," he said.
Dawson said if Ridzuan was excluded, the appeal may have a bearing on whether the religion the children should profess be a decision between the couple, not the religious authorities.
A retired judge agreed with Dawson on Ridzuan's position following the Federal Court ruling.
"But nothing stops other parties in the action, including the Perak religious authorities to challenge the High Court decision as it involved constitutional and administrative issues," said the former judge, who did not want to be named.
In November 2010, a five-man bench led by then chief justice Tun Zaki Azmi had unanimously dismissed Syamala's bid to raise her two young children in the religion they grew up in after being converted to Islam by her estranged Hindu-turned-Muslim husband.
Zaki had ruled that Syamala must return to the country if she wants the court's protection.
She had fled the country with her two sons in 2004 and their whereabouts were unknown.
Zaki noted that Syamala had gained an unfair advantage over her husband when she breached a court order allowing the father the right to visit the two children.
The Federal Court said it cannot adopt a "fugitive doctrine of heads I win, tails you lose" in deciding the basic rights for either parent.
The apex court noted that her estranged husband, anaesthetist Dr Muhammad Ridwan Mogarajah (alias Jeyaganesh C. Mogarajah), also had rights as the father but had been denied access to his children since 2004.
Both parents were in a bitter fight to gain custody of their sons,Saktiwaran and Theivaswaran, then aged 11 and nine respectively in 2010, and to be allowed to raise them in their respective religions.
Last Thursday, Judicial Commissioner Lee Swee Seng quashed three certificates to convert the three minors, Tevi Darsiny, 16, Karan Dinish, 15, and Prasana Diksa, 5, to Islam which were made without Indira's knowledge.
Lee said the certificates were null and void as it was unconstitutional because it was given without hearing the mother or the children.
He also said the conversion was unlawful as the Perak Syariah law states that children must be present to utter the affirmation of faith.
Lee had also ruled that the conversion attempt was against the United Nations Convention on the Elimination of All Forms of Discrimination Against Women (CEDAW).
Indira married K. Patmanathan 20 years ago, according to Hindu rites.
Sixteen years into the marriage, on March 11, 2009, he converted to Islam.
The next month, he converted their three children to Islam without the knowledge of his wife.
That same month, the Syariah Court granted him custody of his three children.
The couple separated and the husband took the youngest child, then a-year-old, with him.
Indira applied to the High Court to quash the Syariah Court ruling that gave the father custody of the three children.
However, the husband, whose whereabouts are unknown, did not hand over the child to Indira.
http://www.themalaysianinsider.com/malaysia/article/indiras-ex-husband-risks-islamic-conversion-appeal-unless-returns-daughter
--------
Meet the 4 Malaysian beauties disqualified by Muslim ban
July 29, 2013
The four Muslim contestants who were disqualified from the Miss Malaysia World pageant have been subject to media scrutiny after their dropping due to the ruling that states Muslim girls are not allowed to compete in beauty pageants.
Two of the four Miss Malaysia World 2013 contestants who were dropped from the contest have denied that they attempted to challenge a fatwa banning them from entering such competitions.
Miss Wafa Johanna De Korte, 19, one of the participants who was dropped, had publicly protested against her disqualification. She retracted her protest, saying that she will abide by the organiser's decision. She said she was very disappointed that she could not fulfil her ambition, liberal news portal Malaysiakini reported.
"I hold the view that Malays can participate but since there is a fatwa (religious edict) which bars Muslims from participating in it, I have to abide by it," she said.
Investigation
The denial comes after the Federal Territory Islamic Affairs Department (Jawi) launched an investigation against the four Muslim participants - Miss Wafa Johanna, Miss Sara Amelia Muhammad Bernard, 20; Miss Katrina Ridzuan, 23; and Miss Miera Sheikh, 19.
Jawi director Che Mat Che Ali said its enforcement unit would look into the matter following Malay daily Berita Harian's report that the women were bent on taking part in the pageant despite an edict by the National Fatwa Council prohibiting it. Miss Sara Amelia had earlier hit out against the organiser's decision to drop them. On Tuesday, she said the religious edict banning her from the contest was "outdated".
But Berita Harian yesterday quoted her as saying that her earlier outburst was merely her way of "expressing her opinions and should not be regarded as an attempt to challenge the fatwa".
She told the daily: "I do not have an intention to degrade or insult Islam as I am merely giving my personal opinion. If what I say is seen as a challenge, I would like to apologise."
She claimed that she did not know about the edict barring Muslims from participating in such competitions, and the organisers had only stated that Muslim contestants are not required to wear swimsuits.
Mr Jamil Khir Baharom, Minister in the Prime Minister's Department in charge of Islamic Affairs, said the fatwa explicitly states that participating, organising or contributing to any sort of beauty contest is haram (not permissible) and a sin for Muslims.
He maintained that there was nothing strange about the action, adding that "the fatwa is for every Muslim to observe".
Mr Che Mat said that if they find sufficient evidence against the four, they will be charged in syariah court. Those found guilty can be fined up to RM3,000, jailed up to two years, or both.
http://www.malaysia-chronicle.com/index.php?option=com_k2&view=item&id=135972:meet-the-4-malaysian-beauties-disqualified-by-muslim-ban&Itemid=4#ixzz2aQPnPT5u
-----------
Saudi Woman Abused By Her Uncle and Brother 'Commits Suicide'
July 29, 2013
ABHA — Sources close to a young woman who was found burned to death in her kitchen in Asir believe she committed suicide, Al-Hayat newspaper reported on Sunday.
Hanan Al-Shehri had been abused by her uncle and brother after her father's death, claimed a relative who declined to be named.
The source said Hanan had been engaged to a young man who had paid the dowry to her uncle. Yet Hanan's brother refused to approve the marriage and her uncle beat her, the source claimed.
As a result, Hanan drank benzine and set herself on fire, dying in Mahayel Asir General Hospital a day later, claimed the source.
The mayor of Mahayel Asir, Mohammed Bin Sabra, said the hospital took in Hanan without asking about the details.
The case, he added, is in the hands of the police.
An Asir police spokesman refused to comment until after the conclusion of the investigations.
The head of the National Society for Human Rights' Asir branch Dr. Hadi Alyami said the society is monitoring developments in the case and would issue a statement soon.
Mohamed Asiri, an activist working in the region, said abuse of women is widespread in the region due to the persistence of outdated social traditions. He said many cases go unreported due to fears of retribution.
He called on religious scholars to participate in the fight against abuse of women by raising social awareness and declaring that such behavior is religiously unacceptable.
The new developments come after the case caught the attention of social media users.
http://www.saudigazette.com.sa/index.cfm?method=home.regcon&contentid=20130729175156
-----------
Saudi Girl Kills Herself by Drinking Petrol
29 July 2013
An investigation into the death of Hanan Al-Shahri, a Saudi from Bisha who committed suicide by ingesting gasoline, is continuing as law authorities focus on the relationship between the woman and her brother.
Police said Al-Shahri took her own life when her brother and uncle refused to marry her to a man who had asked for her hand in marriage from her uncle.
A female relative of the victim told local media that Hanan was a student at the education faculty in Bisha and suffered abuse at the hands of her brother following the death of her father. When her brother refused to allow her to marry a man who had approached the family, she killed herself by drinking gasoline a day after being admitted to a hospital in Asir.
New developments in the case emerged in the wake of interactive communication on social networking sites. Supervisor of the Human Rights Commission branch in Asir Hadi Al-Yami said that the women's division in the branch is following up on the case, with a statement to be issued soon.
A security spokesman in the region refused to comment on the incident until further investigation is conducted. The mayor of Asir, Muhammad bin Sourra, said the hospital in Asir admitted the girl without details of her case.
Meanwhile, Muhammad Al-Asiri, a human rights activist in Asir, said that cases of violence against women in the region are alarming. "Yet women do not come forward and disclose such cases," he added.
He called for a meeting between the Human Rights Commission and tribal chiefs to raise awareness with the participation of scholars and preachers.
http://www.arabnews.com/news/459530
-----------
'Walking Woman' To Visit Political Parties in Ankara
July 29, 2013
Aylin Kotil, "the walking woman" who marched some 500 kilometers from Istanbul to Ankara starting July 8 to protest the 10 percent election threshold, will wrap up her action, at least for now, July 29 at Parliament.
Kotil, a member of the main opposition Republican People's Party (CHP), is expected to meet with the deputy parliamentary group chairs of the four political parties and present her manifesto to remove the current 10 percent election threshold, which has constantly been subject to criticism by international organizations as well as the opposition. July 27, Kotil arrived at Ankara's Kuğulu Park, where she was welcomed by a small crowd that accompanied her during the last few kilometers to the center of Ankara.
She told the gathered crowd that the ruling Justice and Development Party (AKP) was afraid to reduce the threshold.
"They are lacking self-assurance; because they know the situation they will be in when they reduce it.
That's why they are insistently resisting lowering it. But that will be in vain because we will continue our demonstrations until the threshold is removed," Kotil said, adding that she intended to pursue her own personal efforts until she was heard. "They are as guilty as the military, who instituted this threshold [after the 1980 military coup]. If Turkey's mosaic is reflected in Parliament, it will become a happier and more peaceful country," she added.
Just a day before, July 26, Prime Minister Recep Tayyip Erdoğan told reporters that he had no intention of tackling the 10 percent threshold issue, despite opposition pressure.
"My thoughts on the threshold are clear. We don't have that on our agenda. This isn't something that has ever been done in our time. We don't want to put our country through any suffering; we want to continue with a process that has been tried before," Erdoğan said. Two young persons, Cem Bağcı and Ecem Derici, left the earth they brought from Gezi Park at Kuğulu Park.
http://www.hurriyetdailynews.com/walking-woman-to-visit-political-parties-in-ankara.aspx?pageID=238&nID=51581&NewsCatID=339
-----------
URL: https://newageislam.com/islam-women-feminism/defying-pressure,-kashmiri-girls-embrace/d/12804