New Age Islam News Bureau
16 Apr 2018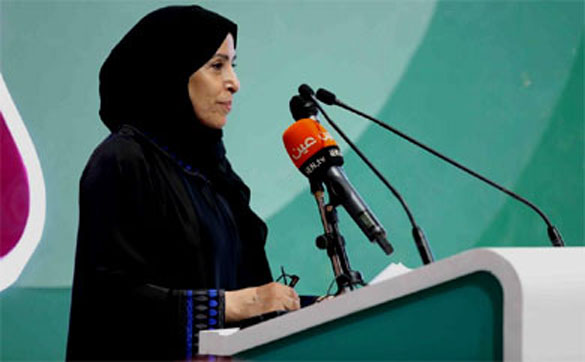 Saudi Deputy Minister for Girls' Education Haya Al Awad
-----
• Saudi Woman Minster Removes Face Veil
• DAH Holds Workshop to Prepare Saudi Women to Take the Wheel
• 'Leaving Pakistan Was Not By Choice, Returning Was', Says Malala
• Pak State Minister, Marriyum Asks Society to Empower Women at Lower Level
• Princess Reema: Mothers Are Grateful For What Saudi Vision 2030 Will Bring Their Daughters
• Egypt Parliament Approves Law Regulating National Council for Women
Compiled by New Age Islam News Bureau
URL: https://www.newageislam.com/islam-women-feminism/clerics-term-muslim-women-bill/d/114942
-------
Clerics Term Muslim Women Bill As Interference into Shariat
April 16, 2018
Patna, Apr 16 (PTI) A congregation of Muslim clerics has termed the Muslim Women (Protection of Rights on Marriage) Bill 2017 as Centres "interference" into Shariat law. The congregation which was named as "Deen Bachao, Desh Bachao conference" was organised by Imarat Shariah at Phulwari Sharif, Patna, yesterday. The congregation passed an unanimous resolution demanding that the bill be withdrawn. Presiding the conference, Imarat Shariah - Bihar, Jharkhand and Odisha - Amir-e-Shariyat Mohammad Wali Rahmani appealed to the people to find out solutions to their problems within the ambit of the Constitution. PTI ANW AR RG PR PR
https://www.indiatoday.in/pti-feed/story/clerics-term-muslim-women-bill-as-interference-into-shariat-1213016-2018-04-16
-------
Saudi woman minster removes face veil
April 16, 2018
Manama: Intellectuals and writers in Saudi Arabia have come forward to defend the kingdom's Deputy Minister for Girls' Education Haya Al Awad after she appeared in public without her niqab.
No details were provided about Al Awad's decision to lift the niqab that kept only a gaping slit for her eyes.
While a few users on social media attacked her for "not keeping up with religious and social traditions" many others, including religious figures, praised and defended her insisting she did not do anything wrong.
"Dr Haya Al Awad is living according to her convictions within the framework of significant jurisprudence pluralism," Sulaiman Al Tareefi, a religious preacher, said.
"Our jurisprudents have decided that there matters of ijtihad, the independent reasoning as opposed to imitation, cannot be dismissed."
Saud Al Musaibeeh, a media and education advisor, said that he "hailed Al Awad for adopting the stance of religious scholars who allowed women not to cover their faces.
"She is following what she believes is right regardless of what she has to endure from those who oppose her view," he said, quoted by Saudi news site Al Marsad on Monday.
"Unfortunately, there are those who want to seize every occasion to attack a woman official and to incite the public against her. People have to be really careful about such subversion attempts generated by those hiding behind their computers."
Literary critic Abdullah Al Ghadami said that Al Awad had followed an authorised religious view and that whoever attacked her would be violating jurisprudence rights.
Blogger Hatoon Qadhi said that although she generally kept her distance from issues related to the hijab, niqab and burka, she felt she had to join in the debate in the aftermath of the humiliating attacks on a respected woman holding a high position.
"Dr Haya does not need anyone to defend her because she has made no mistake. In fact, I wish she would go ahead and prosecute all those who have abused her," she posted.
http://gulfnews.com/news/gulf/saudi-arabia/saudi-woman-minster-removes-face-veil-1.2206163
-------
DAH holds workshop to prepare Saudi women to take the wheel
April 16, 2018
JEDDAH — A workshop on 'safe driving' was organized by Dar Al-Hekma University and hosted by Alaa Kayal, to spread awareness about safe driving initiatives, building women's road confidence, automotive knowledge, and traffic skills to achieve safety while driving among female students.
The lecture was presided by Alaa Kayal, auto expert, and presenter of "Car Mix" program on Mix FM.
This initiative comes in recognition of the importance of raising awareness of full compliance with traffic regulations and rules to achieve road safety for female road users after allowing Saudi women to drive starting June. Several automotive companies joined together in the drive to give information about road & traffic to future women drivers.
The workshop allowed female students to ask any questions that they might have had about Saudi traffic rules and regulations. To a surprising degree, many of the women wanted to learn more about different types of cars models available on the market, the importance of car insurance, legal traffic issues and the benefits of driving manual Vs. automatic.
Kayal spoke about the importance of safe driving on roads to ensure the safety of people from traffic accidents that usually cause disability or death, stressing the importance of female students to ensure safety requirements such as tires and effectiveness of brakes, the danger of using mobile while driving and how to maintain the car.
As he lectured the participating students about the proper driving manner, Kayal said: "It is an opportunity for all of us to think about how we behave on the roads and how we can improve our safety. Sadly, we have seen an increase in deaths on our roads here in Saudi Arabia. But if we have learned anything from the past, it's that all of us can make real changes to improve safety."
He answered students' questions on the topics related to road safety measures, raise awareness of driving, and their questions about some irregularities that occur almost daily in roads and monitored by traffic men, indicating that following the traffic regulations and instructions while driving the vehicle reflects the culture of society and respect for the system.
Dr. Suhair Hasan AlQurashi, president of Dar Al-Hekma University, commented: "We are one of the first to publish a driving guide and support younger women on their journey because it is important that we emphasize on safety and training.
"Today's lecture comes within many initiatives to raise awareness about road and traffic issues. I think women should get background knowledge on how they can acquire a driving license, insurance plans, road and traffic safety and how to deal in case of emergency. This also comes as part of the awareness steps towards empowering women and giving them the skills they need and the confidence to embark on their journey."
The lecture was supported and sponsored by NCB, Mercedes-Benz, Wafy, Paris Gallery, Versace Collection, Pirelli and Mix FM Radio.
http://saudigazette.com.sa/article/532671/SAUDI-ARABIA/DAH-holds-workshop-to-prepare-Saudi-women-to-take-the-wheel
-------
'Leaving Pakistan was not by choice, returning was', says Malala
April 16, 2018
"I didn't leave my country by choice, but I did return by choice", Malala writes in her blog recounting the emotional journey she made back to Pakistan for the first visit since being shot in 2012 by Taliban militants.
Pakistani Nobel laureate, women rights and education activist Malala Yousufzai arrived in Pakistan on a four-day visit on March 28, in Islamabad. During her trip, she met Prime Minister Shahid Khaqan Abbasi, Chief of Army Staff General Qamar Bajwa and also visited her hometown in Swat Valley.
Malala begins her blog reminiscing about the early morning of the fateful day she was shot. She writes, "When I left Swat Valley, Pakistan on 9th October 2012, my eyes were closed. I woke up a week later in the intensive care unit of a hospital in Birmingham, UK — but in my mind I was still at home".
" I remembered that morning. I was in my bedroom, finishing revision of my Pakistan Studies paper and praying to Allah that I would do well on my exam. I remembered eating breakfast on the floor with my family, leaving my egg unfinished and rushing off to school. After school, my best friend Moniba and I were relieved our exam was over. We giggled as we watched our bus driver Usman Bhaijaan do magic tricks with a pebble. My memories end there. Seconds later, I was attacked".
Malala also narrated the events leading to her standing in her home in Swat Valley once again on March 31.
"On March 31, 2018, I stood in my home again — and felt like the past was reversing itself. My family and I packed our bags and flew from UK to Dubai and then Dubai to Islamabad. We took a helicopter from Islamabad to Swat Valley. I saw the beauty of my home from a bird's eye view — the never-ending mountain range, the greenery, the rivers. I could not stop myself from looking at everything."
More than 500 of Malala and her family's friends and relatives came to meet them during their whirlwind visit to their hometown.
Cherishing the memories, Malala said she hoped it will "not be another five and half years before I see their faces again."
"Besides our home, we had not seen our friends and family for such a long time. More than 500 of our friends and relatives came to greet us with hugs and prayers. We took so many pictures and I love looking at them now that I'm back in UK. But my greatest hope is that it will not be another five and half years before I see their faces again," she added.
The education activist also hoped that leaders and political leaders in the country make girls' education their priority.
"In just a few years, Malala Fund has invested $6 million in our work for girls' education in Pakistan, from opening the first secondary school for girls in Shangla to supporting Gulmakai Champions across the country. Malala Fund will continue our work — and I hope our leaders and political parties make girls' education their priority as well, especially in the coming elections."
https://www.pakistantoday.com.pk/2018/04/14/leaving-pakistan-was-never-by-choice-malala-pens-blog-recounting-journey-back-home/
-------
Pak State Minister, Marriyum Asks Society to Empower Women at Lower Level
April 16, 2018
ISLAMABAD: State Minister for Information and Broadcasting Marriyum Aurangzeb has said that the women who were playing an active role in the empowered society must make efforts to bring forward the women from the backward areas.
Speaking at a ceremony in regards to the International Day of Women organised by the Women Committee of the Institute of Chartered Accountants of Pakistan here, she said that the PML-N government had initiated a number of measures to ensure equal rights for women including enrolment of girls in schools under BISP and establishment of coding cloud training institutions to impart skill to the girls who for some reason could not go to school, in collaboration with Microsoft under which 150 thousand girls were graduating annually.
She said that the women also had representation in the parliament where there were 17% reserved seats for women besides 5% quota on general seats which was also supplementing the efforts to empower women. She said that the first phase of empowering the women began at homes and sending girls to schools along with the male children should be the first priority.
Marriyum said that there was imperative need for collective efforts by the society to empower the women at the lower level. She said that the subjects pertaining to women empowerment should be included in the curricula of the primary schools. She informed the audience the PTV Sports channel had launched a programme on women sports to highlight their participation in the sports for the first time adding that media could play a vital role for the rights of women.
She said that the government took serious notice of the regrettable incidents of child abuse in the country recently and a parliamentary committee had been constituted which would suggest necessary legislative measures and other steps to prevent child abuse. She said that the efforts at the federal level were also on the anvil to revise the national curricula which would ensure the strengthening of the process of women empowerment.
Marriyum said that the syllabus of schools should also include subjects on status and importance of women in the society so that the children become part of the endeavours to empower women when they grow up. She said that in addition to that subjects on climate change, environment and other important social issues should also be part of the syllabus so that necessary awareness could be created at the lower level.
She observed that the Women Committee was playing a significant role in promoting the concept of equal rights for women. She said that they should raise voice for the women belonging to areas where opportunities were not available and also make them part of the effort.
https://www.pakistantoday.com.pk/2018/04/14/marriyum-asks-society-to-empower-women-at-lower-level/
-------
Princess Reema: Mothers are grateful for what Saudi Vision 2030 will bring their daughters
13 April 2018
PARIS: Changes in women's status may have come too late for some, but mothers in Saudi Arabia are thrilled that their daughters will benefit, says entrepreneur and philanthropist Princess Reema bint Bandar.
Princess Reema, who is deputy head of planning and development at the General Sport Authority, told Arab News: "Mothers say that even though they did not have the same chances, they are very glad that their children will.
"They may worry about them, but that's a universal worry shared by any parent."
At the same time, she said she was well aware that there was resistance to the reforms from some sections of the older generation.
"We held some forums with students in the US and they told us that they want to work and do things but their parents say no, and I have to admit we dropped the ball on that aspect. So then we had to sit and work out how to persuade and reassure the parent generation."
The princess said young Saudis were now returning to their homeland after studying abroad.
"Parents worry about their children going abroad to study and staying there because life was easier. But nowadays they are coming back home because there are opportunities for them," said the princess, who herself returned to Riyadh after graduating from George Washington University with a bachelor's degree in museum studies.
One of the princess's roles in the General Sport Authority is to work on long-term job creation and develop a career structure in sport.
"If you're an athlete, then obviously your career is short. We are dealing with sport as an industry. We are able to show that sport can and does produce long-term jobs with a career structure and an income trajectory," she said.
Princess Reema, a successful retail entrepreneur whose father was a former Saudi ambassador to the US, was one of the business leaders addressing the Saudi-French Business Forum in Paris on Tuesday. She has launched her own handbag brand and when she was CEO of Alfa International, which operates luxury store Harvey Nichols in Riyadh, she bought more women into the workforce and provided child care services.
At the business forum she spoke passionately about the untapped potential of women in Saudi Arabia.
"This is not a dream. Women's inclusion is not happening because we want to get Americans to say Saudi Arabia is a great place. It is happening because it is our right," she said.
Addressing a room packed with the CEOs of leading French companies; she continued: "What we need to learn from you is how to integrate sports into the economy, as you have done."
Her mission, both abroad and at home, was not necessarily to change people's views of women or of Saudis, she said.
"We are not asking you to change an opinion of us that you already hold, but to consider a fact: We are the future."
The princess evoked the French tradition of the salon, "with scientists, artists and philosophers talking to each other."
She stressed that the changes encompassed in Vision 2030 constituted evolution, not revolution.
"You had to have a revolution here," she said, referring to the 1789 revolt that resulted in the removal of the monarchy in France. "We don't have to have one because we have learned from the past. Freedom of speech, freedom of expression — without these you cannot have a creative society. It's not about being more American or more Chinese or Russian. It's about being the best Saudis we can be."
http://www.arabnews.com/node/1282476/saudi-arabia
-------
Egypt parliament approves law regulating National Council for Women
15 Apr 2018
Egyptian MPs approved on Sunday a new 23-article law aimed at regulating the National Council of Women (NCW), bringing it in line with the 2014 constitution and international conventions signed by Egypt, according to a report prepared by parliament's social solidarity committee.
"The law was primarily drafted to go in line with Articles 11 and 53 of the constitution, which state that men and women are equal in terms of civilian, political, economic, social and cultural rights, that citizens are equal before the law regardless of religion, gender, colour, and language, and that the state will take all measures necessary to eliminate all forms of discrimination in society," the report said.
The National Council for Women was created in 2000 by then-president Hosni Mubarak.
"The presidential decree (no.90/2000) that created this council in 2000 will be replaced by the new law to regulate the council on an institutional basis," said the report.
While Article 1 states that the 30-member National Council for Women will be under the purview of the president of the republic, the council itself will seek to reinforce women's rights in line with the constitution and international conventions signed by Egypt.
Article 3 states that the membership of the council will be a renewable four-year period.
"The members should be public figures with a proven outstanding performance in the areas of social work and respect of human rights," says Article 3, adding that "they will be named by civil society organisations, professional syndicates and the higher councils for media regulation, culture and universities."
According to Article 6, the council will have offices in all of Egypt's 27 governorates in order to implement the council's national plan on promoting the rights of women, and to coordinate with all government institutions and civil society organisations in all of Egypt to achieve its main objectives.
Article 7 states that the council's offices will "observe respect of women's rights".
"It will review complaints related to violations of women's rights and freedoms and refer them to concerned institutions to help solve them in an effective way. It will also help empower women in all aspects of life," says Article 7.
The law also states that once formed, the council should move quickly to create a "documentation centre" which will be responsible for gathering all figures, statistics and research on the status of women in Egypt.
Parliament speaker Ali Abdel-Aal hailed the law as a very progressive step for women in Egypt.
"We have seen that over a few years women in Egypt were able to become cabinet ministers and provincial governors," said Abdel-Aal, "and I assure you that in the coming few years women will be also named as judges and heads of courts."
Abdel-Aal said the parliamentary election law based on individual and list systems helped women gain an unprecedented 90 seats in parliament.
"The new local city councils law will also help women get no less than 20 percent of seats in these councils," said Abdel-Aal, expressing high hopes that "very soon a woman will be named a prime minister of Egypt."
Evelyn Matta, a female MP, said the National Council for Women law is a very progressive step as it is the first of its kind in the Arab world in terms of giving women sweeping rights.
"For example, no laws or agreements on women can be passed without the prior approval of the council, which will be mainly responsible for defending the rights of women in Egypt."
Ghada Sakr, deputy head of parliament's tourism committee, said "the issuing of the new National Council for Women comes after Egyptian women were able to reach leading positions under the regime of President Abdel-Fattah El-Sisi.
"Right now, we have six women as cabinet ministers, or 20 percent of the cabinet's total members, we have 90 female MPs (15 percent), one provincial governor, and I am sure that the new law will help women reach other leading positions, particularly in the judicial sector," said Sakr.
http://english.ahram.org.eg/NewsContent/1/64/297724/Egypt/Politics-/Egypt-parliament-approves-law-regulating-National-.aspx
-------
URL: https://www.newageislam.com/islam-women-feminism/clerics-term-muslim-women-bill/d/114942
New Age Islam, Islam Online, Islamic Website, African Muslim News, Arab World News, South Asia News, Indian Muslim News, World Muslim News, Women in Islam, Islamic Feminism, Arab Women, Women In Arab, Islamophobia in America, Muslim Women in West, Islam Women and Feminism