New Age Islam News Bureau
18 Aug 2014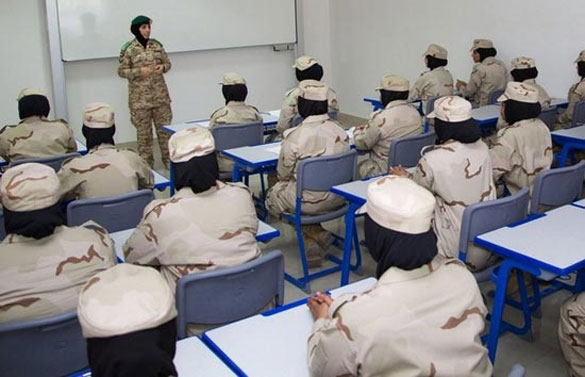 The Khawla bint Al Azwar Military School, the first such college for women in the Arabian Gulf, is gearing up to welcome female recruits
----------
• Maltese Muslim Woman Told She Can't Swim Fully Covered
• Lashes for Saudi Woman Who Called Morality Police Liars
• Right-Wing Extremists Can't Break the Love of A Muslim Man And Jewish Woman
• Hundreds of Couples Gear Up For Group Wedding at Jeddah
• Afghan Woman Who Stands Up To Taliban Termed An Icon Of Bravery
• Female Emiratis Keen to Sign Up For UAE National Service
• Over 1,100 Pakistani Women Subjected To Crime in Last Five Years
• ISIS Militants Plan To 'Marry' Captured Yazidi Women
• Education for Yemeni Women Still Rare Luxury
Compiled by New Age Islam News Bureau
URL: https://newageislam.com/islam-women-feminism/cape-town,-south-africa-parents/d/98610
-----------
Parents Shocked as 10-Year-Olds Play 'Rape Rape' Game in School Playground
18 Aug, 2014
Primary school children in Cape Town, South Africa, have been found playing a new playground game called "Rape Rape", where boys chase girls then simulate a sexual attack.
Parents and teachers raised the alarm after children were discovered playing the game. The Western Cape Department of Education said it was outraged and has launched an investigation.
A principal at one of the primary schools where children were playing the game said boys and girls as young as 10 were participating, South Africa's Independent Online reported.
In the game, girls are given the chance to run away before boys start to chase them. Once caught, the girl would be pinned to the ground and the boy would simulate rape for up to 20 seconds. Once she had been "raped", the girl would be eliminated from the game. The game would end once the last girl had been "raped".
The principal said: "Rules of the game differ from school to school. Children do not understand the implications.
"The game desensitises them to rape, which can have dire consequences for society in the long run.
"In high schools, we are seeing at least one girl a week come in and complain that she has been sexually harassed. The reports are growing and sexual assaults are increasing. This game is worrying and can be extremely detrimental to society."
South Africa has extremely high levels of sexual assault. Statistics suggest someone gets raped every four minutes, with many cases also never reported to police.
Colleen Horswell, chairwoman of the Mitchells Plain Education Forum, said parents must be more proactive in educating children about rape: "Children act out what they see happening in society. It is the role of the parent to educate their children and teach them right from wrong. Now is the time that parents should step in and take responsibility to end this trend."
Reports of the rape game come as a young woman was raped and murdered in Tshing for being a lesbian.
Gift Makau, 18, was killed in a "corrective rape", where men attack gay women. She was strangled with a wire and shoelace after a water hose had been forced into her mouth. The suspected attacker is due to appear at Ventersdorp Magistrate's Court, according to Times Live.
Lucky Gaoraongwe, Makau's cousin, said: "She had never been abused or heckled in the community.
"She was a cool girl who was never violent. She enjoyed playing and refereeing soccer games in the neighbourhood. Her mother is not coping at all, but we're trying - and people have been supportive."
http://www.ibtimes.co.uk/south-africa-parents-shocked-10-year-olds-play-rape-rape-game-school-playground-1461552
-----------
Maltese Muslim Woman Told She Can't Swim Fully Covered
18 Aug, 2014
A Muslim woman claiming to have worn a "modest" full-body bathing suit at the Marsa Sports Club was told she could not swim in the pool wearing "unhygienic" clothes.
The Maltese woman, who asked to remain anonymous, feels the club discriminated against her on the basis of her religion by not allowing her to wear the Islamic bathing suit, a claim the club is vehemently denying.
"This is about equality. I felt very hurt. They told me that the suit I was wearing was just normal Muslim clothing and that I was being unhygienic. It's offensive because I am a very clean person and simply wanted to have a swim with my children," she said.
The incident happened some six weeks ago and the woman insisted she wore a Burkini, a full-body suit made of similar materials to conventional swimwear.
It is more in keeping with the Islamic tradition of female skin coverage than Western alternatives. The Burkini was popularised by celebrity television chef Nigella Lawson, who wore a black version on holiday in 2011.
The distraught woman told Times of Malta that while she had repeatedly attempted to explain the purpose of the Islamic bathing suit, the club management had not replied to her repeated e-mails.
"Eventually, I just terminated my membership and left... I wanted to be a member because I thought it would be a place where I would be accepted but it wasn't the case at all," she said.
Contacted for a reaction, club president Ralph Asciak said: "She swam in clothes. This Burkini business, which is against our policy anyway, didn't come into it."
He said the burkini was not recognised by Sharia law.
Asked what type of clothes the woman was wearing, Mr Asciak replied: "What these Muslims wear; Muslim clothes, not a bathing suit."
Mr Asciak said the club had other Muslim members who respected the rules and he questioned why she could not do the same.
He insisted that the club had done nothing wrong and was merely following its rules and policies – made clear to members upon joining – that appropriate swimwear had to be worn.
"Yesterday, there was a Muslim and his wife was swimming and you know what she was wearing: a European bathing suit.
"And she is a proper Muslim; she's Libyan," he said.
"The proper Muslims will tell you they follow people's traditions and policies. Like when we go to Tripoli or wherever; if you go with your wife and she exposes some shoulder or some breast she will be stoned and arrested. This one is just trying to make herself a martyr or something," he added.
Mr Asciak said the woman was "not even an Arab" but Maltese, further raising the question of why she would not wear a conventional bathing suit.
Apart from cancelling her membership, the woman also took her case to the Malta Competition and Consumer Affair Authority, which wrote to the club demanding a refund. The club sent the woman a cheque but she noted the compensation did not begin to make up for the emotional experience she endured.
"I haven't even cashed the cheque. And I'm not that bothered. I know the way things happen in this country. But I didn't expect this," she said.
http://www.timesofmalta.com/articles/view/20140816/local/muslim-woman-told-she-cant-swim-fully-covered.531993
-----------
Lashes for Saudi woman who called morality police liars
18 Aug, 2014
Riyadh: A Saudi Arabian judge has upheld a sentence of a month in prison and 50 lashes for a businesswoman convicted of insulting members of the morality police during an argument, the local Al Madinah newspaper reported on Sunday.
Incidents of heavy-handed behaviour by the morality police have come under growing criticism on social media from inside the kingdom in recent years, straining relations between Saudis and the official body.
The appeals court in Makkah upheld the sentence, passed by a district court in Jeddah, after the woman was found guilty of "cursing the morality police" and calling them "liars", the Arabic-language daily reported.
It said the patrol had entered her cafe to check there were no breaches of morality or other laws, and that some of her employees had then run away because they were breaking immigration rules.
he morality police, formally called the Commission for the Promotion of Virtue and the Prevention of Vice, was set up in 1926 to monitor public behaviour in Saudi Arabia.
It patrols streets and other public spaces such as shopping malls enforcing strict dress codes and 30-minute store closures at noon, afternoon, sunset and evening prayers.
In 2012 King Abdullah Bin Abdul Aziz sacked the head of the religious police after a series of controversies including footage of members harassing families in a shopping mall going viral online and fatal crashes after patrols engaged in car chases with suspects.
SLOW TO CHANGE
The new head, Shaikh Abdul Latif Al Al Shaikh, has publicly pushed a more conciliatory approach, talking about training sessions for the morality police to ensure they are politer and do not exceed their legal powers.
However, the force has still been embroiled in a series of controversies over the past two years, including more fatal car chases.
Saudi Arabia's Sharia justice system gives extensive control to judges who can base their verdicts and sentencing on their own interpretation of religious texts rather than using official sentencing guidelines or a system of precedent.
King Abdullah and Justice Minister Mohammad Al Eisa have pushed reforms aimed at standardising sentencing, but analysts say implementation has been slow as conservative judges and officials in the Justice Ministry have blocked change.
http://gulfnews.com/news/gulf/saudi-arabia/lashes-for-saudi-woman-who-called-morality-police-liars-1.1373104
-----------
Right-Wing Extremists Can't Break the Love of A Muslim Man And Jewish Woman
Sydney Morning Herald
18 Aug, 2014
Jerusalem: Sunday brought a different kind of pre-wedding jitters for one Israeli couple.
Instead of fretting over hairdos and guest arrangements, Morel Malka and Mahmoud Mansour spent the morning of their wedding in court, trying to keep right-wing Zionist extremists from ruining their special night.
Amid the tension of Israel's fragile ceasefire with Hamas militants in the Gaza Strip, the intimacy of Morel and Mahmoud has become a national political issue.
The crux of it: she comes from a Jewish family; he's a Muslim Arab.
When the Jaffa couple in their 20s posted their wedding invitation on Facebook, they just wanted to share their good news.
Instead, it attracted the attention of Jewish extremists avowed to preventing mixed marriage – especially Jewish women marrying Arab men. And especially when they have converted to Islam, as Ms Malka has done.
Run by ultra-nationalist Jewish activists, the group called Lehava is dedicated to what it calls "preventing assimilation in the Holy Land", although it works against Israel's Arab citizens on other issues as well. Some of its supporters openly follow the teachings of Meir Kahane, a Jewish extremist assassinated in New York in 1990.
Kahane's doctrines are outlawed in Israel as racist and various offshoots of his political party are considered terrorist organisations in Israel and abroad.
Members called for a demonstration outside the wedding hall in the city of Rishon Lezion on Sunday evening as the couple was being wed.
"Assimilation is nothing to celebrate," right-wing activist Bentzi Gopstein told Israeli media.
According to media, Facebook removed the group's page last month following repeated complaints that it encouraged incitement and racism. On Sunday evening it was back up, calling on supporters to attend the protest against the wedding.
Full report at:
http://www.smh.com.au/world/rightwing-extremists-cant-break-the-love-of-a-muslim-man-and-jewish-woman-in-israel-20140818-1058hp.html
-----------
Hundreds Of Couples Gear Up For Group Wedding At Jeddah
18 Aug, 2014
Hundreds of couples are to tie the knot in congregation at the Jeddah Centre for Forums & Events on Aug. 21.
Around 1,200 brides and grooms will celebrate with their families that day.
The 16th annual group wedding event is organized by the Charitable Society for Marriage and Family Guidance in Jeddah under the auspices of Makkah Gov. Prince Mishaal bin Abdullah.
"The society helps youth who cannot afford marriage expenses," Abdulaziz Al-Harthi, PR director at the society, told Arab News.
"We have a range of programs and projects that help candidates achieve a stable family life. In short, we aim to minimize celibacy through spreading awareness among youth about the importance of marriage and rationalizing expenses."
The centre also plans to introduce marital counseling in a bid to reduce divorce rates, he said.
The society offers financial aid and gift donations, such as electrical appliances and furniture, and helps match singles, organizes support groups and arranges for mass weddings.
Candidates should reside in Jeddah and have a permanent job earning a maximum monthly salary of SR6,000 in order to be eligible to receive financial support.
In addition, candidates must present proof of a marriage contract from an Islamic court that is less than a year old.
Candidates must also have been married for first time unless the first wife suffered from an incurable disease.
Bridal dowries should not exceed SR40,000 in gold and cash.
Young teams at media and promotional departments are working to make the event one-of-its-kind for the newly weds.
The society is the first wedding institution in the Kingdom and has helped 68,000 men and women get hitched over a span of 26 years.
http://www.arabnews.com/news/saudi-arabia/617446
-----------
Afghan woman who stands up to Taliban termed an icon of bravery
18 Aug, 2014
KABUL – When Taliban militants August 1 attacked a village in Nuristan Province, Uzra Nuristani responded by taking her husband's weapon from their room and joining the fight with other villagers.
A day before, the Taliban had killed 15 people in a nearby village, including one of Uzra's family members, Nuristan Province Police Chief Col. Abdul Baqi Nuristani said. So she had a personal reason to feel bitter toward the militants.
Thus, when the Taliban came to Uzra's village, no doubt with plans to conduct similar atrocities, Uzra battled them for two hours, killing four of the insurgents before others killed her and her 3-year-old daughter, he said, describing her fight to protect her family and fellow villagers from Taliban aggression.
An 'icon' for Afghans
In the aftermath, many are hailing Uzra for her heroic actions.
Uzra's sacrifices will not be forgotten as she devoted herself and her three-year-old child in the fight against the Taliban, Khatera Naeemi, a women's rights activist, said.
"Uzra is an icon for Afghans," Naeemi said. "She is a warning for those who murder innocent Afghans that even the Afghan women are fed up with the cruelties being committed against them."
The bravery Uzra demonstrated against the Taliban revives memories of the legendary Malalai of Maiwand, Hawa Alam Nuristani, a lawmaker representing Nuristan Province in the Wolesi Jirga, said.
Malalai, the "Grandmother," is a folk heroine of Afghanistan who, by bearing an Afghan flag, inspired local Pashtun fighters against British troops at the 1880 Battle of Maiwand in Kandahar Province.
"Uzra showed that even Afghan women can stand against the aggressive Taliban," Rahima Nuristani, a woman who formerly lived in the same village as Uzra, said.
Taliban violence toward civilians
The militants got what was coming to them as payback for not caring about the lives of civilians, including women and children, residents said, as they praised Uzra's effort.
Hawa strongly condemned the Taliban's killing of civilians, adding that their misdeeds are further amplifying the public's hatred of the group.
The Taliban, including those who killed Uzra, are known to treat women cruelly, Abdul-Hai Warshan, a Badakhshan Province journalist who recently lost 16 family members in a Taliban attack, said.
http://centralasiaonline.com/en_GB/articles/caii/features/pakistan/main/2014/08/15/feature-01
-----------
Female Emiratis keen to sign up for UAE national service
18 Aug, 2014
ABU DHABI // Many female Emiratis are as keen as men to enlist for national service, believing it will benefit themselves and society.
As the first batch of male recruits prepares to begin their national service next month, the Khawla bint Al Azwar Military School, the first military college for women in the Arabian Gulf, is gearing up to welcome female recruits for the nine-month military training under the national and reserve service law.
Military service is compulsory for some men but it is optional for women aged 18 to 30, provided they have their parents' consent.
Abeer A, a 25-year-old Emirati graduate who is a civil servant, said military service was an opportunity to give back to the community.
"I think it's a sense of pride and patriotism mostly," she said. "When you think about the training and what you get outside of the training, you really do grow as a person in all aspects."
Having spent most of her life in the United States after completing secondary school, she said she was impressed by the changes in the UAE. So she wanted to show her patriotism by enlisting for military service.
She has missed the deadline to do so this year, but plans to sign up next year. "The country has changed, the way it's progressed has helped people," said Abeer.
"It's the least anyone can do, to serve. My family was telling me that if I do train, I might get called up to fight. But I'll do it gladly. I won't even blink."
Abeer believes that many Emirati women would benefit from receiving military training.
"This kind of training will empower our women and strengthen us to take on any challenge thrown our way," she said.
"People live in a bubble, but once we get into a place like the army, it's a challenge that won't be easy. And I'll be able to learn and live with people from all over the UAE."
She also thinks that the military will help to improve her interpersonal skills.
"You learn so much. Aside from learning how to deal with weapons, I'll learn to deal with different kinds of people, which are discipline and skills that will benefit me in my professional and day-to-day life," she said.
Being a regular gym patron and a certified crossfit trainer, Abeer said the military training would help her achieve her fitness goals.
"Then there's the physical aspect, where you are training and getting healthier, learning how to fight and how to defend yourself," she said.
"I think the only thing that would hold anyone back is that you'd be away from family, and if you're called to go into battle."
During the three-month-long basic training, the first two weeks will be spent at Khawla bint Al Azwar Military School
Conscripts will subsequently be released at the weekends.
Lt Col Afra Al Falasi, the military school's commander, said the UAE leadership wanted to empower Emirati women so that they could be on an equal footing with their male compatriots in serving the nation.
"Women are today holding leadership roles, and the Federal Law on national and reserve service has opened the door for them to contribute, along with men, in the development of the nation," she said.
nalwasmi@thenational.ae
http://www.thenational.ae/uae/government/female-emiratis-keen-to-sign-up-for-uae-national-service#ixzz3AjUySzqj
-----------
Over 1,100 Pakistani women subjected to crime in last five years
August 18, 2014
HYDERABAD: According to the statistics collected by Hyderabad DIG Sanaullah Abbasi, a total of 1,119 crimes against 1,152 women were registered in the nine districts of the Hyderabad police range during the last five years.
These comprise 264 murders, 84 attempts to murder, 105 rape cases, 539 kidnappings, one acid attack and 126 miscellaneous crimes. His statistics reveal that the most cases of murder, rape and kidnappings were reported from the Dadu district, with as many as 94 murders, 24 rapes and 182 kidnappings. Second in rank was Badin with 18 rape and 39 murder cases. Jamshoro followed with 16 rape and 33 murder cases, and Hyderabad with 15 rape and 25 murder cases.
According to Abbasi, an overwhelming number of 1,054 victims were uneducated. As many as 446 of them were between 15 and 20 years of age, while 441 were aged between 20 years and 30 years. Most of the victimised women, his research shows, were married. Only 479 victims were unmarried. Up to 3,755 people were accused in the cases but only 2,115 of them were apprehended.
Another set of data of the last 10 years, which the DIG collected from the Larkana range police, shows that 575 women were killed for honour in the range's five districts of Larkana, Qambar, Shikarpur, Jacobabad and Kashmore. In comparison, 281 men were murdered for honour during the same time in these districts.
"Interestingly, most of the women were killed by their husbands and least by their sons," Abbasi said. The statistics show 297 husbands, 65 brothers and nine sons accused in the 575 murders of women.
http://tribune.com.pk/story/750053/statistical-revelation-over-1100-women-subjected-to-crime-in-last-five-years/
-----------
ISIS militants plan to 'marry' captured Yazidi women
18 Aug, 2014
The fate of more than 1,000 Iraqi women captured by ISISmilitants remains unclear, as Kurdish troops moved closer to the city of Mosul, which was taken by ISISin June.
Witnesses said that the captured women, who were of the Yazidi faith, were divided into groups of younger and older women.
The witnesses said they were not aware that ISIShad maltreated either group but it appeared that the younger women were intended as so-called brides of ISISfighters if they converted to Islam.
Meanwhile, Kurdish peshmerga forces were moving towards targets around Mosul last night and claimed to have taken the strategically important dam on the Euphrates river. It is the largest in Iraq and controls water and electricity supplies to a large part of northern Iraq.
ISISwas hit repeatedly by US air strikes, which enabled the Kurds to advance. The US Central Command said a combination of bombers, fighter jets, attack planes and unmanned drones launched 14 strikes near the dam, after nine strikes on Saturday.
Kurdish forces are also believed to have recaptured the mainly Christian towns of Batmaiya and Telasqaf, 18 miles from Mosul., the closest they have come to the city since ISISfighters drove government forces out in June.
David Cameron said yesterday that Britain should consider an alliance with Shia Iran to deal with the Sunni extremists of Isis, saying they were seeking to create a "terrorist state" stretching from Iraq to the Mediterranean that could pose a threat closer to home.
He warned that ISISshould not be viewed as "a problem miles away from home", saying it would "only grow stronger until it can target us on the streets of Britain".
Hundreds of Yazidi women captured by Islamic extremists during their sweep through the town of Sinjar are being incarcerated at scattered locations across northern Iraq in what increasingly looks like a deliberate attempt to co-opt them into service as the wives of fighters.
As al-Qa'ida-inspired ISISmilitants surged into the area from surrounding Arab villages two weeks ago, snaring those who had not managed to flee, they showed a marked interest in detaining women, notably the youngest and prettiest, according to witnesses, relatives and, in some instances, the women themselves.
Women were separated from men, then younger women were separated from older ones, with most shunted off in buses or trucks.
Once in custody, the women are presented with a bleak choice. Those who convert to Islam can be promised a good life, with a house of their own and – implicitly – a Muslim husband, because the extreme interpretation of Islam promoted by ISISdoes not permit women to live alone. Otherwise, they have been told, they can expect a life of indefinite imprisonment – or, they fear, death.
The accounts of the women's capture and detention have been assembled from multiple interviews with Yazidi refugees, witnesses, activists and women who have been able to reach out to the outside world using mobile phones they were carrying when they were detained. The identities of the women, and some of the specifics of their accounts and communications, are being withheld to protect them from being discovered by their captors.
The accounts point to a chillingly deliberate effort to harness the women into the service of the Isis's project to create a caliphate across the Muslim world by persuading them to convert and then marrying them to the men of the group. The women "are considered apostate, and it is haram [forbidden] for Muslims to marry a non-Muslim", said Hoshyar Zebari, a senior Kurdish leader who until recently served as Iraq's Foreign Minister. He puts the number of women detained at more than 1,000.
"Many fighters came from foreign places without wives, so they want the women to convert so they can become brides of the jihadis," he said.
The Iraqi government claims that 1,500 women have been detained and 500 men executed in the brutal blitz by the extremists through the Sinjar area, where a majority of the residents are Yazidis, but with some Christians, Shia or Sunni Arabs.
Women from other sects also have been detained but the majority of the captives appear to be Yazidis, whose beliefs are considered heretical by Islamist extremists.
The Sinjar CrISISGroup, formed by Yazidi activists in Washington, has compiled a list of 1,074 names of female captives reported by their relatives to be in the custody of Isis.
On Saturday, 100 or so women joined that list, turning up crammed into two buses at a school in the town of Tal Afar, where hundreds of the women are already being held, according to an eyewitness. The new arrivals had been detained the previous day in the small village of Kocho, where Kurdish officials and Yazidis say that more than 80 men were lined up and shot – before the younger women were separated from the older ones and taken away.
The oldest women in Kocho weren't detained, but are being held there by ISISfighters who also spared the oldest men, Ziad Sinjari, a Kurdish peshmerga commander in Sinjar, said, citing the account of one of six survivors of the massacre.
Once at the school, the eyewitness said, the youngest women again were parted from older ones and driven away, along with a dozen or so boys aged between 10 and 12 who had apparently been detained with their mothers.
The reports from the massacre at Kocho and its aftermath show a disturbing pattern emerging in the two weeks since the majority-Yazidi town of Sinjar was overrun. US air strikes and an airlift of humanitarian supplies helped most of those who fled reach safety in northern Iraq last week, aided also by Kurdish Syrian fighters who battled the extremists to open a corridor for the fleeing Yazidis.
Some did not get away in time. Among them was an aunt of Haji Kirani, 45, who managed to escape to Dahuk, the city in Iraq's Kurdistan region where many of the refugees have found sanctuary. His aunt lived in the town of Sinjar and was snatched along with her daughter as the militants surged in – unopposed, the Yazidis say, as the Kurdish peshmerga forces responsible for defending the town fled.
As Mr Kirani ascended the mountain, escaping with the other Yazidis, he received a phone call from his aunt, telling him she was being transported in a truck with scores of other women. Over the next few days, she called several more times, relaying her location as she was moved around – first in a prison, then a hotel in Mosul, then some kind of "hall".
"I can see a lot of trees," she told him. Late last week, the phone calls stopped.
The more lurid rumours of mass rapes and sexual enslavement of the women who were caught appear to be exaggerated. But the ISISfighters guarding the women seem to have mostly adhered to the tenets of Islam forbidding contact with non-Muslim women. When a local Iraqi guard attempted to fondle a woman in one location where hundreds are held, a senior guard ordered the molester's finger to be cut off.
For the most part, Isis's men entreat rather than threaten the women to convert, the women say. "They beg us," one of the women said. "They promise us everything. They say they will give us houses and we will lead happy lives."
The captives describe incidents replete with sexual innuendo and implicit threats that keep them constantly on edge.
Men show up and circulate among the women crammed into classrooms, eyeing them and making demeaning comments, one witness said. "If you were a Muslim, I would choose you," the witness recalled one of the men saying as he pointed at a woman.
In the wake of the initial onslaught against Sinjar, all of the women were taken to Badoosh prison on the outskirts of Mosul, according to multiple reports. Since then, groups of the women have been moved around, leading to fears that they have been killed or sold. Some, however, have shown up at other locations a few days later.
But the fate of some of the women remains unknown. Instead of running up the mountain like many other Yazidis, Nouray Hassan Ali, 40, had taken shelter in the home of a nearby relative with around 40 other members of her extended family when the ISISfighters began their onslaught, shortly after 2am on 3 August.
Around 10 Islamic State fighters burst into the house. The men ordered the family outside, lined them up and then divided them into groups according to age and gender, Ms Ali said in an interview in the town of Dahuk, where she has now taken refuge.
Ms Ali, her six children and the other mothers were taken indoors and put into a room. One fighter glimpsed Ms Ali's 15-year-old daughter and beckoned her to leave the room. Then the women heard gunshots, followed by silence. They stepped outside. The bodies of eight men, including Ms Ali's husband, lay sprawled around the house. Her daughter and the other young women had gone.
http://www.independent.co.uk/news/world/middle-east/iraq-crisis-isis-militants-plan-to-marry-captured-yazidi-women-9674922.html
-----------
Education for Yemeni women still rare luxury
18 Aug, 2014
Leila, 22, returned to the kitchen after a few days of rest from house chores. She had university exams. The Sanaa University student laughed when asked, "Where do Yemeni girls spend their summer?" She said, "You are in Yemen!"
Several girls told Al-Hayat that summer vacation and holidays represent a major concern — a threat to the pursuit of their studies, especially with all the weddings taking place during this period.
The truth is, there is no summer in Yemen, for either men or women. It is simply a vacation. The social and cultural concept of summer does not exist due to the country's geographical and climate conditions, in addition to the level of social and economic development. Rainfall is the main sign of the advent of summer, but there is not much difference between the seasons when it comes to climate. Seasons in Yemen are said to be simultaneous. Summer in Sanaa seems more like spring and winter, while in coastal areas it seems like a real summer in a way that differs from other Arab countries.
Despite the natural and climatic features of Yemen, the concept of summer and enjoying summer vacation is nonexistent in Yemeni society. A bourgeois class never emerged to impose its culture on both behavioral and structural levels of tourism.
Even the wealthy who take vacations outside the country only do it to show off, rather than truly enjoying the vacation. Salwa, 20, said she traveled with her family to Egypt and Morocco, but rarely had any fun. Being with her parents and siblings made her feel as if she were still at home in Sanaa. The only fun she ever had was during the first couple of visits, since she was introduced to new cities and countries. Families who wish and are able to travel are a minority since many are burdened by poverty, unemployment and a decline in living standards.
Salwa said that leaving the country was the main reason for the family's summer travel, not the pursuit of entertainment. She said, "We have wonderful places in Yemen that we could enjoy during the summer vacation, like Socotra Archipelago or Karaman Island." Despite all this, Salwa is luckier than the millions of Yemeni girls who face tougher circumstances, which make talk of summer seem like "luxury and empty words."
Leila knows that Yemeni girls' circumstances do not allow them to take advantage of the summer vacation to enroll in a language or a computer course, let alone travel and have fun. She said, "I might be lucky since I will be spending my vacation doing chores, watching TV and reading. Village girls spend their vacation, and even school days, bringing water, farming and cooking."
According to other Yemeni girls who spoke to Al-Hayat, summer vacation and other holidays are a threat to their studies. Fatima, 25, noted that the number of weddings during summer vacation and religious holidays triggered her mother's heartbreak over her single daughter, wherein she pressured her daughter into marriage. The Sanaa University student said, "During the past holiday, three girls from our neighborhood got married. My mother kept nagging and telling me 'your friends are getting married and all you do is go back and forth to university.'"
A recent field study showed a persistence in the traditional view of women only getting married and staying at home. Student Najib Abu Srour conducted a study of 300 families in the center of Taiz province and its countryside. In both the center and the countryside, residents still believe that women are supposed to stay at home to serve their husbands and families because "education delayed their marriage."
The study, carried out as part of an effort to earn a master's degree at Aden University, revealed that the social upbringing in both the center and the countryside prepares girls to become housewives who conform to the roles laid out for them by the family. UNICEF is currently founding a joint program with the Ministry of Education in Yemen to encourage village girls to attend school and continue their education.
Summer in Yemen was, and probably still is, a season of war, poverty and social backwardness, like all other seasons. The harsh memories of the civil war of the summer of 1994 and its aftermath are still vivid and always will be, especially as chances of change that started with the Arab Spring begin to fade.
http://www.al-monitor.com/pulse/culture/2014/08/httpalhayatcomarticles4063055------.html
-----------
URL: https://newageislam.com/islam-women-feminism/cape-town,-south-africa-parents/d/98610