New Age Islam News Bureau
26 April 2022
• Saudi Arabia Boasts Higher Women-In-Tech Startup Rates Than Europe: Research Report
• Women In Turkey's Adana Turn Waste Into Beautiful Toys For Children
• US Asset Freezes Contributing To Afghan Women's Suffering: UN Experts
• Chief Justice Of India Agrees To List Plea Challenging Hijab Verdict In 2 Days
• Mediaquest Joins UN Women's Unstereotype Alliance
• UAE Women's Cricket Team For Bilateral Series Against Hong Kong
Compiled by New Age Islam News Bureau
URL:
--------
After Arooj Aftab another Pakistani singer Mehak Ali lights up Times Square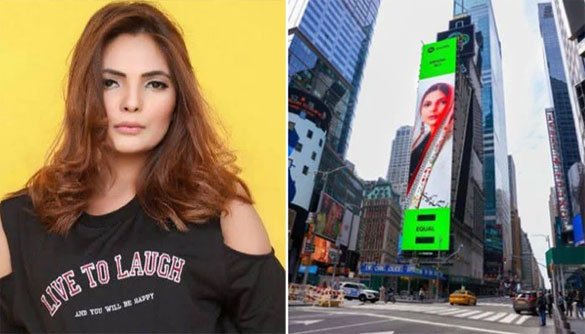 Photo: Geo News
-----
Apr 23 2022
Pakistani singer Mehak Ali has been featured on Times Square Billboard as Spotify's Ambassador for 'EQUAL Pakistan' as the audio streaming giant continues to turn up the volume on local women creators.
After naming Grammy Award-winning Arooj Aftab as its first 'Equal' Pakistan Ambassador for the Month of March, Spotify has selected Mehak Ali for this month.
The world's most popular streaming service aims to celebrate female creators by giving them a platform to share their content with the world.
Particularly in light of the holy month of Ramazan, the new edition is "updated its Ramadan Destination for Pakistani listeners, curated for every Ramadan moment". The decision to choose Mehak also has thought behind it since she has released a kalaam called 'Sallay Ala Nabiyena'.
The artist has thanked her fans and Spotify for the honour. She tweeted: "Same day , same place, At Times Square New York. I never knew I'll be on a billboard one day at Times Square. Thank you everyone for all the love and support. I'm so grateful. Alhumdulillah for everything."
After becoming the Equal Ambassador in this glorious month, Mehak Ali noted in a statement, "It is an honor to be selected as an Ambassador for EQUAL Pakistan especially in a month as auspicious as Ramadan. This is an opportunity not just for me as a woman to inspire women in the country but provide listeners with a beautiful track for this Holy Month."
Mehak Ali, who has become a household name in Pakistan, is also representing women creators of Pakistan at a global level.
Source: Geo TV
https://www.geo.tv/latest/413262-after-arooj-aftab-another-pakistani-singer-mehak-ali-lights-up-times-square
--------
Saudi Arabia Boasts Higher Women-In-Tech Start-up Rates Than Europe: Research Report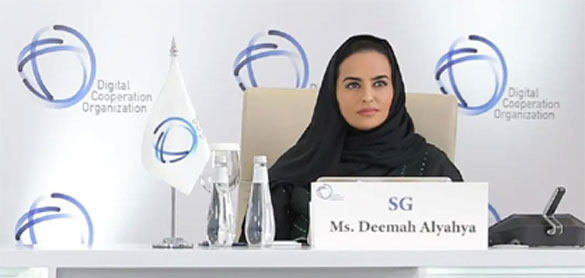 Deemah AlYahya, newly appointed secretary general of the Digital Cooperation Organization. (SPA)
-----
26 April ,2022
Saudi Arabia's start-up rates for women in tech are higher than that of men, a research report published in April 2022 by Endeavor Insight found.
The report also found that the participation rate of women in the tech sector is higher than the European average.
According to the Kingdom's Ministry of Communications and Information, the participation rate of females in the tech sector stood at 28 percent in the third quarter of 2021, above the European average rate of 17.5 percent.
Saudi Arabia issued 139,754 new commercial licenses to women in 2021, marking one of the largest growth rates according to records.
The ministry reported a 112 percent increase in commercial registrations issued for women entrepreneurs in six years from 2015. In contrast, the report said that 65,912 commercial registrations were issued to female-owned businesses in 2015.
The research report credits most of the changes to the Kingdom's Vision 2030 framework, with key elements of private sector investment and talent-attraction and retention fueling the sector.
A key area of development for tech start-ups in progressing from a small company and scaling to firms with more than 50 employees, the report found.
"Saudi Arabia has the potential to become a regional hub for tech entrepreneurship in the Middle East if more companies reach scale," research showed. Having more than 50 employees reportedly helps with resiliency in times of economic turmoil.
According to the same research report, 50 percent of the companies in tech were founded in the last five years.
The Ministry of Investment's recent initiative to revamp the country's legal system for foreign investors is also expected to result in an increase in international businesses by over 50 percent, according to reports.
Under the new law, both foreign and local investment will receive equal treatment as the Kingdom looks to diversify its economy from oil exportation. It will grant foreign investors the freedom to manage, sell, and dispose of their economic projects and own any necessary properties, ensuring smoother business operations.
It will also give both local and foreign investors the full support of all competent government authorities and ensure that both are subject to the same sectoral approval requirements for registration, licenses, and approvals for permits needed for specific economic activities or zones.
According to Global Entrepreneurship Monitor (GEM), the percentage of the adult population involved in an entrepreneurial operation rose from 13.7 percent to 22.4 percent between 2016 and 2020.
The findings in the Endeavor Insight report are based on 70 interviews with tech entrepreneurs and more than 340 companies and their founders.
Source: Al Arabiya
https://english.alarabiya.net/News/gulf/2022/04/26/Saudi-Arabia-boasts-higher-women-in-tech-startup-rates-than-Europe-Research-report
--------
Women in Turkey's Adana turn waste into beautiful toys for children
APR 25, 2022
Asmile on a child's face is priceless, and women in Adana agree, with the Adana Advanced Technical School for women working to put a smile on the faces of children as part of the Zero Waste Project with the waste left over from the materials used in homes or workshops.
In the decorative handicrafts workshop, the trainee women make toys from materials such as waste fabric, yarn, beads and buttons, using different doll-making techniques they learned in lessons.
Within the scope of the project, the trainees evaluate and collect leftover craft supplies in their homes as well as the workshop and make toys for children in need.
Decorative handicraft teacher Müge Boyacı told Anadolu Agency (AA) that a lot of leftover material comes out of the workshops of her institutes, where there are different departments from fashion and art design to jewelry making, from handicrafts to ceramics and glass processing.
Explaining that they worked with 12 trainees to evaluate the waste and support the Zero Waste Project, Boyacı stated that as part of the course they both taught how to design with different techniques and how to evaluate waste.
Boyacı stated that they make many toys from waste materials, turning them into dolls and stuffed animals in the workshop.
"We have a lot of material left over while making handicrafts. We thought about what we can do about it. We supported the project with 12 students (trainees) to make use of the materials, socks, cotton and yarn in their homes and in the workshop, to contribute to nature and to make children happy. We try to use threads that were better for children's health, and we used cotton socks," she explained.
Boyacı stated that they will give toys to a school to help make children smile.
Müge Civan, a mother of three, explained that thanks to the institute, they make the best use of the waste in her home and workshop.
Civan said she also uses socks her children have outgrown for the toys she makes, for example.
"Hopefully, we will make other children happy with these toys. We don't throw away anything in the house anymore. We try to use it in any way," she said.
Aslı Aka explained that she made a doll by making use of all kinds of waste, from fabric to yarn, that she brought from her home.
"Before, I was throwing waste away. Here I understood what appreciation is. Now I think at home, 'I won't throw it away, it will definitely be valuable.' It is a very useful project. We are very lucky that we have also contributed to the children's happiness," Aka said.
Source: Daily Sabah
https://www.dailysabah.com/life/environment/women-in-turkeys-adana-turn-waste-into-beautiful-toys-for-children
--------
US asset freezes contributing to Afghan women's suffering: UN experts
25 April 2022
UN experts have blamed the United States for making life worse for Afghan women, saying Washington's move to freeze Afghanistan's assets is contributing to the suffering of women in the war-ravaged country.
In a statement on Monday, 14 independent human rights activists held Washington responsible for making the situation worse for women in Afghanistan through blocking billions of dollars in assets belonging to the country's central bank.
"While gender-based violence has been a long-standing and severe threat to women and girls, it has been exacerbated by the measures imposed by the US...," said the statement, without providing specific details.
The statement also blamed the Taliban's "widening gender-based discrimination" for deteriorating women's rights, adding that the current humanitarian crisis where 23 million are reliant on food aid is having a "disproportionate impact" on women and children.
The Joe Biden administration has frozen the assets belonging to the Afghan Central Bank since the withdrawal of its occupation forces from the country in August 2021. The International Monetary Fund (IMF) and the World Bank have since then suspended activities in the war-ravaged country.
Many of the US allies and Western governments have also largely suspended their financial assistance to Afghanistan since the US troop withdrawal and the Taliban takeover.
Back in February, US President Biden signed an executive order saying half of the frozen assets from Afghanistan's central bank were to be reserved for victims of the September 11, 2001, terror attacks.
Washington also claimed that the other half would be allocated for humanitarian aid to Afghans suffering from the dire situation following the Taliban's assuming of power in Afghanistan in August 2021.
Despite the intense lobbying by present rulers in Kabul, the US and its allies have refused to release the funds, paving the way for the worst humanitarian disaster.
The UN experts further called the order's provisions "overly broad," stressing that they were resulting in "over-zealous compliance with sanctions thus preventing people of Afghanistan from any access to basic humanitarian goods."
They also noted that under international human rights law, governments, including the US, have an obligation to ensure their activities do not result in rights violations.
The experts said they have already relayed their concerns and recommendations to Washington, adding that they have not yet received a reply.
Almost eight months after the US-led international coalition hastily abandoned the South Asian country, millions of Afghans are on the brink of starvation, with no food and no money.
The Taliban's return to power came as the US was in the middle of a chaotic troop withdrawal from Afghanistan.
The group announced the formation of a caretaker government on September 7, but their efforts to stabilize the situation have so far been undermined by international sanctions, as banks are running out of cash and civil servants are going unpaid.
The UN has already warned that some 95 percent of Afghans do not have enough to eat and nine million are at risk from famine.
Source: Press TV
https://www.presstv.ir/Detail/2022/04/25/680977/Afghanistan-UN-experts-US-assets-freeze-women-suffering-Taliban
--------
Chief Justice Of India Agrees To List Plea Challenging Hijab Verdict In 2 Days
26th April 2022
The Chief Justice of India has agreed to list the hijab case appeal in two days. The CJI Ramana stated, "I will list it, wait for two days", to senior advocate Meenakshi Arora when she raised the petition filed against the Karnataka high court's judgement in the hijab case for urgent listing.
The Special Leave Petition has been booked against the judgement passed on March 15 by the HC of Karnataka. Supporting the government order dated 5 February, led to the ban of petitioners and female Muslim students from wearing the headscarf in their Pre-university colleges.
A bench of the high court consisting of Chief Justice Ritu Raj Awasthi, Justice Krishna Dixit, and Justice JM Khazi concluded that the wearing of hijab by women is not a part of religious practice in Islam. The bench also said that the suggestion of the uniform dress code in educational institutions was not offensive to the fundamental rights of the petitioners.
Despite an urgent listing petition registered on March 30, the case has not been listed for hearing.
Advocate-on-Record Shadan Farasat, listed two reasons in the application:
Firstly, the petitioners and other Muslim girls are being denied permission to write their annual PUC examination unless they take off their headscarves.
Secondly, in light of the disputed judgement, a large number of hijab-wearing Muslim girls similar to the petitioners are forced to drop out.
Most recently, a month back, the CJI turned down a plea for the urgent listing of the appeals against the Karnataka high court's verdict sustaining the hijab ban in schools and colleges.
The CJI said, "exams have no connection with this issue," when the petitioner's counsel said that Muslim students won't be able to attend exams.
Source: Siasat Daily
https://www.siasat.com/cji-agrees-to-list-plea-challenging-hijab-verdict-in-2-days-2315986/
--------
MediaQuest joins UN Women's Unstereotype Alliance
March 30, 2022
DUBAI: MediaQuest has joined the UAE National Chapter of the UN Women's Unstereotype Alliance, making it the first publishing company in the Arab region to adopt the UN's Women's empowerment principles.
Obeida K. Danhach Bissani, CEO of the Dubai-based firm, signed a memorandum of understanding with Dr. Mouza Al-Shehhi, executive director of the UN Women Liaison Office for the GCC, last week.
Al-Shehhi said: "Media plays a critical role in shaping our perceptions and views, as well as forming our social values. UN Women believes in the transformative role of media and social media, which are powerful tools to promote gender equality and break down gender-based stereotypes."
MediaQuest and the Unstereotype Alliance will work together in different areas to increase awareness of stakeholders, including decision-makers and influencers on issues relating to gender equality and women's empowerment.
As a first step, MediaQuest is producing a campaign that aims to eliminate harmful stereotypes in advertising and media.
The company will create and publish content informed and facilitated by UN Women's data and analysis on gender equality and women's empowerment. It will provide media coverage and organize events on topics related to women's economic empowerment, leadership and participation, and other subjects related to gender equality.
"We need more gender-sensitive content and to challenge social and cultural norms, attitudes and perceptions, both in content and in publishing houses," Al-Shehhi added.
"And we also need to portray women in leadership roles and unconventional settings, and the media helps us instill this more realistic depiction of women in mainstream culture."
Earlier this year, MediaQuest joined the UN Women Media Compact, a partnership to advance women's empowerment with and through the news media. The organization will work with its stakeholders to uphold and implement business practices that empower women, including equal pay for equal work, gender-responsive supply chain practices and a zero-tolerance policy on sexual discrimination and harassment at work.
"As a media organization that not only produces content by women and for women but is also led by women, MediaQuest aims at completely embracing the ambition to adopt and promote the highest standards in women's rights wherever it can," Bissani said.
Currently in its fifth year, the Unstereotype Alliance has 217 global and national chapter members.
Source: Arab News
https://www.arabnews.com/node/2053906/media
--------
UAE Women's Cricket Team For Bilateral Series Against Hong Kong
April 25, 2022
Dubai: Emirates Cricket Board has named the UAE team for the SkyExchange.net Women's T20 Bilateral Series against Hong Kong Cricket.
The four-match bilateral series between UAE and Hong Kong will be played at the Malek Ground, Ajman (UAE), starting this Wednesday and will continue through to Saturday.
Dr. Tayeb Kamali, Selection Committee Chairman, Emirates Cricket said: "This bilateral series is yet another opportunity for our women's team to showcase and further develop their cricketing skills. The board is committed to supporting young women to pursue their cricketing passion while representing the UAE in all forms of the game," added Dr. Kamali.
The UAE team:
Chaya Mughal (captain), Chamani Senevirathne, Esha Oza, Indhuja Nandakumar, Kavisha Egodage, Khushi Sharma, Lavanya Keny, Mahika Gaur, Priyanjali Jain, Samaira Dharnidharka, Siya Gokhale, Suraksha Kotte, Theertha Satish and Vaishnave Mahesh.
Source: Gulf News
https://gulfnews.com/sport/cricket/uae-womens-team-for-bilateral-series-against-hong-kong-1.87432515
--------
URL: https://newageislam.com/islam-women-feminism/arooj-pakistani-singer-mehak-times-square/d/126869
New Age Islam Islam Online, Islamic Website, African Muslim News, Arab World News, South Asia News, Indian Muslim News, World Muslim News, Women in Islam, Islamic Feminism, Arab Women, Women In Arab, Islamophobia in America, Muslim Women in West, Islam Women and Feminism