New Age Islam News Bureau
19 Nov 2016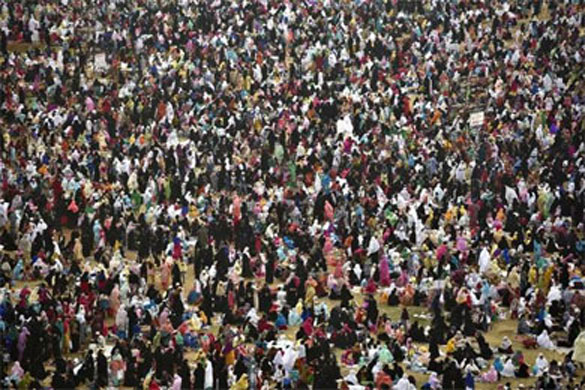 Muslim women gathered in large numbers at Azad Maidan during the annual Sunni Iljetma in Mumbai, on Friday. (Arijit Sen)
--------
• 'Women Members of AIMPLB Support Triple Talaq'
• Saudi Women Drop the Niqab in Conservative Riyadh
• An American Muslim Woman's Post-Election Red, White and Blues
• Muslim Satyashodhak Mandal Backs Justice for Community's Women
• Muslims Help Perform Last Rites of Kashmiri Pandit Woman in Srinagar
• Saudi Women's Rights Advocate No Stranger to Adversity
• UN Welcomes Pak Legislation for Protection of Women
Compiled by New Age Islam News Bureau
URL: https://newageislam.com/islam-women-feminism/50,000-muslim-women-attend-sunni/d/109145
-------
50,000 Muslim women attend Sunni gathering at Azad Maidan in Mumbai
Nov 19, 2016
More than 50,000 women gathered at Azad Maidan for the three-day annual Sunni Ijtema that began on Friday. The event is organised by Sunni Dawate Islami, a non-political organisation. The first day was reserved for women.
Scholars and established speakers, from India and abroad, will talk about Islamic knowledge and teachings.
Mufti Nizamuddin Razavi, one of the speakers in the event, spoke about marriages and divorce. "We need to educate ourselves first. Others can encroach upon our rights if we lack educational expertise," he said, adding, "The main issue is that we are lagging behind owing to lack of education. We should do some introspection."
The speakers listed important issues that the community needs to tackle with peace and harmony.
Aliya Thakur, 18, a participant, said people don't know the religion in detail. "There are some rules and regulations in every religion which should be determined and followed accordingly," she said. "Religious teachings and preachings prevent person from going awry. Women are treated on a par with men from the very start in Islam."
Another college student, Qudsiya Khan, 16, said the rights of women are the same as men in the community. "Teenage is a fragile age. Islamic teachings enable us to stay away from the evils that this age comes with," Khan said.
Around two lakh people are expected to take part in the event on Saturday and Sunday.
http://www.hindustantimes.com/mumbai-news/50-000-muslim-women-attend-sunni-gathering-at-azad-maidan-in-mumbai/story-DiEZyWmZxYYoaA3wS8TQ4K.html
-------
'Women members of AIMPLB support triple talaq'
November 18, 2016
Kolkata: Extending their support to Triple Talaq, the women members of the All India Muslim Personal Law board on Friday accused the Centre of interfering in the rights of minorities and urged the government to come out with plans for empowerment of women in the country.
According to AIMPLB, an estimated 10 crore Muslim women from all across the country have signed a campaign supporting the practice of triple talaq.
"India is a secular and a democratic country. Everybody has the right to pursue their own religious rights. We fully stand in support of the triple talaq among Muslims and oppose the Uniform Civil Code. A misinformation is being spread about triple talaq by the government," Asma Zehra, executive committee member of AIMPLB, told reporters.
"Divorce rate is the least in the Muslim community. The number of abandoned, deserted, and divorced women in other communities are many times larger," Zehra said.
A debate has emerged over the government's stand opposing the practice of triple talaq with some leading women politicians seeking its abolition, even as some Muslim bodies accused the ruling dispensation of waging a "war" on their personal law.
http://www.siasat.com/news/women-members-aimplb-support-triple-talaq-1068499/
-------
Saudi women drop the niqab in conservative Riyadh
November 19th, 2016
Riyadh, the capital of Saudi Arabia, could be one of the most conservative places in the Kingdom but a lot of women now feel comfortable when going out without a niqab, a new report states.
A report in Al Arabiya English says that while earlier it was a requirement for women to cover their faces with what it is known as niqab, women there no longer feel fully obliged to move around its streets covering their faces with the veil, now considered by many as non-mandatory requirement in Islam anyways.
The women in Riyadh prefer the Islamic veil that covers the hair known as hijab, sometimes even with strands of their hair showing, combined with colorful abayas or cloaks instead of the traditional black colour.
Rawan Al Wabel, a mother of three and a healthcare worker, told Al Arabiya English:
"I know families [in Riyadh], the eldest sibling could not wear hijab alone - she had to wear niqab, but the youngest sister can now walk even without a scarf on her hair in some places."
"People in Riyadh are becoming bolder, and more accepting," Najla Al Sulaiman, 30, who works as a compliance manger in an international bank in Riyadh said.
The report adds: Different cultures coming together, whether it is Saudi Arabians coming from different parts of the Kingdom or expats, social media, globalisation or women going to work and earning their own income, are all factors these women consider behind the change.
http://www.albawaba.com/editorchoice/saudi-women-drop-niqab-conservative-riyadh-905870
-------
An American Muslim Woman's Post-Election Red, White And Blues
18/11/2016
Muna Hussaini
"Fifty nifty United States from 13 original colonies." I learned that song in elementary school for a jump rope performance. I remember feeling quite proud to jump rope and recite all of the states in alphabetical order at the same time!
Half of America voted for a Donald Trump ticket last week. Is that half of the people I see on a daily basis or half of all of the people I don't see regularly, in those small counties outside of the city I live in? I really need to know.
As election night continued and each state flipped red, a weight grew in my stomach. My heart was racing and wouldn't slow down. The floor kept calling to me. Maybe if I lay flat I could connect with the earth and all of creation in the most primal way. Instead, I pulled my husband closer on the sofa and grabbed a pint of ice cream, because, well, ice cream makes everything better for a diabetic.
Michigan? Deep breaths. Wisconsin? Slow down your breathing, and your heart rate should come down. Florida? Maybe I need a brown bag. As more states flashed red on the screen, "Fifty Nifty United States" kept repeating in my head.
I went to bed at 2 a.m. and was up with my baby at 5:30. My head was still spinning. It's hard to slog through the morning routine when you can't stop your fingers from shaking. I tell my daughter Trump is president between servings of eggs. "Mommy, he's going to build a wall and kick us out."
"That's not going to happen. It's not that simple." And there ensues a long conversation about three branches of government, checks and balances, and how laws are passed. 6:52 am is the best time for a civics lesson. Can she tell I'm still trying to convince myself?
Mostly, I'm concerned about safety right now. After Brexit happened, hate crimes spiked in the UK by 41 percent. And, I'm supposed to let my beautiful, multi-racial, Muslim baby girl walk out the door like it's just another day? Are Trump supporters also worried about minority children?
As someone who has survived hate crimes, this is exponentially harder for me. I'm a woman, the daughter of Indian Immigrants, and a visibly identifiable Muslim. Who knew I had so many boxes to check? Is American on there?
The worst thing about being a victim of hate crimes is you never know if you'll be safe again. We all have rules in our head about ensuring safety. Go outside in a group. Stick to public places. Stay away from dark alleys. Those rules mean nothing when you've been attacked before in broad daylight, in public, and out with friends. Tell me I'm going to be ok. Can I believe you?
I don't believe all Trump supporters are bigots. But a Trump vote feels like approval to hate and acceptance of bad behavior. How can I ensure my safety when hateful people have been given carte blanche? Maybe I can take my scarf off, but I can't rip my skin off.
I've talked to my 8-year-old about prejudice and hate for a few years now. This morning, I had the luxury of telling her that nothing has changed. As a third grader, her job is to cultivate a strong mind, heart, and body by making beautiful choices. And if someone else is not being beautiful, then her job is to keep her body safe, even if that means dialing 911. In the meantime, I've already spoken with her vice principal and teacher to ensure safety is top of mind for them as well.
I don't know what tomorrow holds. I can't even figure out when I will do my laundry. But I do know this.
I will not leave.
I will not give up on the United States of America.
I will not stop working to make this a country I'm proud of.
I will be brave, even though I'm scared.
I am rolling up my sleeves.
I am taking my rings off.
http://www.huffingtonpost.in/entry/an-american-muslim-womans-post-election-red-white_us_582e369ee4b0eaa5f14d4283
-------
Muslim Satyashodhak Mandal backs justice for community's women
Nov 19, 2016
PUNE: Muslim Satyashodhak Mandal which is for a uniform civil code has said it will accept a law which gives justice to the community's women.
It was in response to law commission chairman Justice B S Chauhan's statements that the code may not be about standardization but focus on fighting social injustice and bring gender just laws.
"Women must have rights and should not face any injustice. The Muslim Personal Law Board and other religious organizations are saying it is against Shariat and against Islam. The Quran does not say that women should face injustice," mandal president Shamsuddin Tamboli said.
The mandal will organize a national conference on Muslim women's rights on November 26 from 10am to 5pm at Rashtra Seva Dal. "The event will be inaugurated by Shayara Bano who has petitioned the Supreme Court to declare triple talaq, polygamy and halala (the custom to consummate marriage with another man if a woman wants to go back to her first husband) illegal. The event will be attended by Muslim reformists Noor Zaheer, Arshad Ali, Sophia Khan and Rubina Patel," Tamboli added.
There will be interactions on the topic, talaq-a question, Muslim women's rights and a talk by women who have been victims of triple talaaq and other Muslim personal laws. On December 10, Halal, a movie based on the issues of triple talaaq and halala will be shown. An inter-religious dialogue will be held.
In February, the mandal's representatives and other reformists will go to Delhi and and submit their demands for a uniform civil code.
http://timesofindia.indiatimes.com/city/pune/Muslim-Satyashodhak-Mandal-backs-justice-for-communitys-women/articleshow/55502836.cms
-------
Muslims help perform last rites of Kashmiri Pandit woman in Srinagar
November 19, 2016
Srinagar (Jammu and Kashmir)[India]: In an another example of communal harmony in Kashmir. Muslims residing in the Habakadal area of Srinagar recently helped to perform the last rites of a Kashmiri Pandit woman.
According to reports, the Kashmiri Pandit family had been living in this Muslim-dominant area for the last 30 years, and when one of women in the family passed away, the arrangements for the last rites were made by her Muslim neighbours.
Muslims carried the hearse to the cremation ground in Karfalli Mohalla. Sushma Parimoo died on Friday morning. She was 40.
"We got full cooperation from neighborhood and always feel like a family. Never felt that I am from a different religion. We shared a brotherhood relation with the Muslim community and treat each other equally," said Kamlesh, Sushma's brother.
"There is a fraternity bond since ages and we always share our joys and sorrows with each other. When we heard about the sad news, then all of us attended to the family at their home and went to the cremation ground to conduct the last rites," said Abdul Khaliq, a Muslim neighbour.
Sushma is survived by her two brothers Raj and Kamlesh Parimoo and their wives and children.(ANI)
http://www.siasat.com/news/muslims-help-perform-last-rites-kashmiri-pandit-woman-srinagar-1068691/
-------
Saudi women's rights advocate no stranger to adversity
November 19, 2016
Jeddah: Earlier this month, Qatar University administrators forced Dr Hatoon Al Fassi, a leading Saudi scholar instrumental in helping women gain the vote in Saudi Arabia, to postpone a Debate Club discussion on women in Islam at the university where she teaches.
University students launched an online petition demanding her sacking, alleging that her views on women's rights in Islam are "contrary to the Qatari culture and values" and she sought to "spread poison in students' brains."
Twitter users created the hashtag #I'mWiththeExpulsionofHattonAl-Fassi in their efforts to oust the professor. Critics claimed her teachings were against "Islamic Sharia," although they provided no evidence.
Such is the lot of an Arab women's rights activist: condemnation, threats, intimidation. And there is perhaps a no more sensitive topic in the Gulf region, especially in Saudi Arabia and Qatar, than the discussion of exactly what rights are accorded women in Islam.
The Qatar incident appears to have boiled over following an article written by two of Al Fassi's students.
"The problem was they wrote an article and argued there were some laws and gaps in women's rights in Qatar," Al Fassi told the Gulf News. "It was done professionally based on evidence. It's common knowledge. I endorsed them and tweeted how proud I was of them. The girls were attacked and then I was attacked [on social media]."
The irony is that if Al Fassi's lecture were to be held in Saudi Arabia, a considerably more conservative country than Qatar, it would be unlikely to have raised eyebrows given her reputation as a respected scholar and an activist who works with a soft touch to raise awareness on women's issues.
Al Fassi doesn't court controversy, but she is also no stranger to it and does not shy away from a good fight. It was Al Fassi and her legion of followers who worked virtually non-stop since 2005 to help win women's right to vote in municipal elections.
The first elections were held in December 2015 and saw 20 women win council seats throughout the kingdom. Nearly 1,000 women had registered as candidates and an estimated 132,000 women cast ballots for the first time.
Al Fassi said she keeps in touch with some of the elected council members and their success has had varying results. "I don't think we expected to change the norms or a lot in the community," she said.
Women members are hampered by council rules and still must contend with gender segregation, which makes performing their duties difficult.
In Jeddah, Rasha Hefzi has faced marginalisation from her male colleagues, but has battled on.
"She doesn't submit to that and has kept on working by going into areas trying to meet with the people," Al Fassi said.
Al Fassi noted that the Saudi government can say it has accomplished its commitment to human rights groups, noting that Saudi Arabia can write in its annual report that women have participation and can stand for elections. The box can be checked there, but the work ahead is to ensure that female participation is not just cosmetic, but actual engagement, she said.
Born in 1964, Al Fassi is a member of the Sufi Al Fassi family of Makkah and is a descendant of Qutbul Ujood Hazrat Muhammad Al Fassi, the spiritual leader of the Fassiyah branch of the Shadhiliyya Sufis. When she retired as associate professor of women's history at King Saud University in Riyadh with a full pension, she accepted a post as visiting professor at Qatar University. A mother of two children, her husband is Dr Abdul Aziz Abu Hamad Aluwaisheg, the assistant secretary-general of the Gulf Cooperation Council.
Among Saudis she is instantly recognised for her traditional Hijazi-style hijab that honours the history and traditions of the Hijazi tribe and inspired by an aunt. Her parents, she once told a reporter, infused her with "the spirit of Islam, about what is the essence of being a Muslim woman."
Her pride in her history and Hijazi tradition is evident in how she wields her influence in women's rights.
While younger and more militant Saudi women have emerged using blunt language to advocate for their peers, Al Fassi uses a less confrontational approach that has garnered important allies. Her rhetoric is minimal and she relies on fact-based research to argue her point. It makes her popular among the more traditional and conservative Saudi women who view with skepticism aggressive activists who are often perceived as posturing with their attention-getting language usually spoken by Western activists.
But even gaining acceptance among Saudi women to accomplish her goals is a challenge. A vast cross-section of Saudi women claim no interest in voting or running for elected office, mainly because they perceive the council as having no relevance in their lives and their voice would not be effective.
"I see no advantage to being a member of a council or asking them for anything," said one female Saudi academic who holds a doctorate. "If they can build a park that is not a safety hazard, fine, but that is like asking for the world."
Al Fassi said she understands their position. Even the 30 seats on the Shura Council granted to women in 2013 does not change perceptions among some women.
"It's very hard to see the result and the impact of women on the Shura Council and you really have to follow closely to see what is going on to have a real grasp of what they are doing," she said. "And they don't relate easily to the issues of what the municipal councils do. Women feel their opinions don't count and it's a cultural problem."
Al Fassi points to the councils for failing to be more transparent, but also the Saudi media. She credits Saudi newspapers for their growth and maturity in journalism over the last decade, but problems persist. Journalists generally don't cover specific beats, leading to a lack of expertise.
Saudi journalists cover issues in which they lack understanding, she said.
"It depends on the journalist," she said. "You have progressive newspapers and you have people who mix things up. Somebody does an interview on a hot topic and then it's published after the interference of the editor-in-chief and you have a very provocative title of just the opposite of what you are saying."
However, she said there are more female journalists than 10 years ago. "There are a lot of new voices and new journalists who are doing a very good job."
Al Fassi is less active in the #IAmMyOwnGuardian campaign, which seeks to eliminate male guardianship rules that require women to obtain permission to receive an education, marry, seek medical treatment or leave the country.
Yet she is vocal about its control over women and supports the movement by keeping in touch with its organisers.
Aziza Al Yousuf, a leader of the campaign, argues that guardianship applies to issues of marriage in which the husband serves as the breadwinner and protects his wife and nothing more.
But in her 2007 book, 'Women in Pre-Islamic Arabia,' Al Fassi goes further. She contends that Arabian women in the pre-Islamic Nabataean period had immense rights. The concept of male guardianship is rooted in Greek and Roman law and is neither Islamic nor Arabian.
Simply, contemporary clerics have misinterpreted the origins of Islamic law, she said.
"I dispute that marriage is a part of guardianship," Al Fassi said.
"It's not compulsory and when talking about a divorced woman, there is definitely no need for a guardian. As for compulsory consent from a minor [guardian], I oppose it. If a woman needs a guardian for a marriage, it's only for support, but it's not up to him [the guardian] to decide who she must marry."
Meanwhile, cooler heads have prevailed over the Al Fassi's discussion dust-up at Qatar University.
At the moment, the Debate Club event is on hold as university administrators seek a more "comprehensive" view on women in Islam "that takes into consideration its religious, social and academic aspects."
— Rob Wagner is a freelance journalist based in Jeddah.
http://gulfnews.com/news/gulf/saudi-arabia/saudi-women-s-rights-advocate-no-stranger-to-adversity-1.1928407
-------
UN welcomes Pak legislation for protection of women
November 19, 2016
Islamabad: The United Nations welcomed the recent legislation in Pakistan for the protection of women rights and said it would continue supporting and cooperating with the country in this respect.
The assurance was given by UN Resident Coordinator and UNDP Resident Representative in Pakistan Neil Buhne during a meeting with Federal Minister for Human Rights Senator Kamran Michael here.
The visitor remained with the minister for some time and discussed matters of bilateral interest with special reference to the issues related to the promotion and protection of human rights in Pakistan.
The minister acknowledged the UN support and assistance for socio-economic development in Pakistan.
He highlighted the steps being taken by the government for the protection of human rights, especially women's and said special committees at district level were being formed for the promotion and protection of human rights.
The UN representative congratulated the government on the recent legislation for the protection of women and appreciated its endeavours for the promotion and protection of human rights including the rights of women, child protection and minorities in the country.
He assured the country of his organisation's full support and cooperation in this regard.
https://www.thenews.com.pk/print/166052-UN-welcomes-Pak-legislation-for-protection-of-women
-------
URL: https://newageislam.com/islam-women-feminism/50,000-muslim-women-attend-sunni/d/109145
New Age Islam, Islam Online, Islamic Website, African Muslim News, Arab World News, South Asia News, Indian Muslim News, World Muslim News, Womens in Islam, Islamic Feminism, Arab Women, Womens In Arab, Islamphobia in America, Muslim Women in West, Islam Women and Feminism, Moderate Islam, Moderate Muslims, Progressive Islam, Progressive Muslims, Liberal Islam