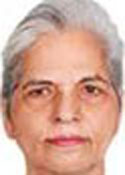 By Zubeida Mustafa
2013/04/24
WOMEN once again dominate the election scene not by virtue of their presence being a determining factor in the outcome of the coming contest. It is the "women's issue" that will certainly figure more prominently in the forefront than ever before. That will take the women's movement in Pakistan a step further.
Take the female candidates who have filed nomination papers for the general seats and are creating quite a ripple in the media. Women activists are supporting them quite vociferously. After the polls their sisters from various parties will join them on the reserved seats in the assemblies and enhance the female strength.
More than their numerical presence in parliament, the women who have entered the fray are making their point in other ways too.
Take Badam Zari from Bajaur, Nusrat Begum from Dir and Veeru Kohli from Hyderabad who have defied tradition to make a political statement on women's equal rights in politics, and by implication, in every field of national and family life. This affirmative action is important because it takes place in regions where women have been most suppressed.
Men in some areas of Khyber Pakhtunkhwa are known to have, by agreement, prevented their women from going out to cast their votes, so backward has the male mindset been. Kohli is a Bheel who was a bonded labourer and managed to escape her life of drudgery and then went on to help others do the same. The fact that these women are contesting is what is so important in the context of the women's struggle in Pakistan. It doesn't matter whether they win or lose.
Another development of significance is the maturing of the women's movement. It comes in the form of the document issued by the Aurat Foundation, Suggestions on Women's Empowerment for Election Manifestos of Political Parties that was written by Naheed Aziz and Tahira Abdullah.
This is not a conventional type of writing enumerating the changes that are needed to bring about improvements in the lives of women. It touches upon 14 various aspects that have a direct bearing on women's lives and must be addressed.
Ranging from violence against women, poverty and economy and legislation, judiciary and law enforcement to questions about issues such as the creative arts and sports, environment and climate change and women and the media, this little booklet makes profound observations that provide food for thought.
The idea is not to simply issue a checklist of a number of do's and don'ts which most concerned about women's rights are well versed in. What Aziz and Abdullah clearly point out is that the data collected in Pakistan about women, generally at the national level, is inadequate.
It conceals the disparities that exist at the sub-national level. Moreover the data about the disadvantaged groups is not disaggregated which means we know little about the discrimination against women belonging to underprivileged groups such as peasant, workers, populations in disaster-prone areas and the internally displaced.
Hence the need to expand the scope of gender-based data collection and tabulation. Such data is essential to devise a strategy of development and women's empowerment that is equitable and fair.
Another vital contribution of Suggestions on Women's Empowerment is its focus on the need to "acknowledge a national imperative for far-reaching and wide-ranging structural change".
This is important because some of the prejudices and inequities women suffer from are in-built in our state, societal and economic structures. These anomalies must be rectified by introducing changes at the fundamental level and not by simply counting the sectors where more efforts are needed to improve the lot of women.
For instance, as this document mentions, land reforms and the equitable distribution of wealth and just agricultural policies can do more to improve the status of women than working for their rights on a piecemeal and incomplete basis.
The authors want gender equality to be integrated in each and every sector of national life. They are right in demanding that every party manifesto should integrate a gender perspective in its vision statement, goals and objectives.
To ensure that the pledges are really implemented, Aziz and Abdullah call for supporting action plans to actualise the manifestos and regular monitoring by state institutions of how parties are implementing their manifestos. Even those political parties that do not get elected should come under scrutiny.
Suggestions on Women's Empowerment were issued in November 2012 when no manifesto had seen the light of day. It is a pity that no party seems to have studied it seriously. No party has included a woman-centric programme in its election manifesto or even promised structural changes with the objective of mainstreaming women and making the economy and society gender equitable to empower women.
All parties, especially the PPP and with the exception of religious parties, have been liberal in their resort to rhetoric but they show no way how they will achieve what they promise at random in respect of women.
Disappointment lies in store. Without the approach suggested by Aziz and Abdullah — if not in the details then in broad outlines — it is likely that we shall have more of the same in this respect in politics. But that does not mean that the women's struggle will not move on.
Source: http://dawn.com/2013/04/24/manifestos-and-women/
URL: http://www.newageislam.com/islam,-women-and-feminism/zubeida-mustafa/pakistan-elections---manifestos-and-women/d/11302