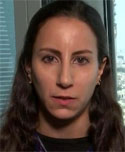 By Vivian Nereim
June 19, 2018
The night the Saudi government declared an end to its ban on women driving, Aziza Alyousef was elated. The retired professor was inundated with celebratory calls and messages after years of fighting for the freedom. She couldn't wait to get in line for a license.
"I want to be No. 1," Alyousef told a reporter after the government's announcement in September.
Alyousef now awaits the milestone behind bars. She was detained last month, along with some of the most outspoken women's rights advocates in the ultra-conservative Islamic kingdom. With days to go before the ban is lifted, nine of the 17 people arrested remain in prison, accused of aiding enemies of the state.
Their names were splashed across the front page of a local newspaper, branding them as traitors. They've been anonymously accused of being agents of Qatar, which is feuding with Saudi Arabia.
The public prosecutor says those in custody have admitted to charges including "cooperating with individuals and organizations hostile to the kingdom" and "providing financial and moral support to hostile elements abroad." Authorities haven't provided more details on what that means. The Saudi government's Centre for International Communication didn't respond to requests for comment.
For years, officials justified banning women from driving by saying Saudi society wasn't ready. While Islam doesn't prohibit it—and, indeed, women drive regularly in every other Muslim-majority country in the world—some Saudis believe it leads to moral corruption.
There is genuine excitement in some circles as the big day, June 24, approaches. Social media is full of women posing proudly with their new licenses. Women who want to drive say they're sick of paying for Ubers or relying on male relatives, who aren't always around. "I need to drive," said Haya Aldosari, 35, who tried a driving simulator at a recent exhibition in Riyadh. "Even if our customs and traditions say no, I must."
But while many women's lives are expanding in the kingdom, the space between the goals in Saudi Crown Prince Mohammed bin Salman's "Vision 2030" program and the reality on the ground is often vast. The young prince has promised to diversify the economy and loosen social restrictions—Bloomberg Economics estimates that allowing women to drive could add $90 billion to economic output by 2030—but at the same time, he is tightening the noose on the kingdom's limited civil society.
The crackdown follows the usual path of a group in power keeping people on message: You're either with us or against us. The government has closed "any kind of space that's left for people to safely voice their concerns," said Hala Al-Dosari, a Saudi researcher in the United States. Instead of seeing them as allies, the new government viewed them as hostile, she said. She believes authorities want people to fall in line, not push for more change.
Indeed, the women targeted have been fighting for more basic freedoms than the right to drive, including the end to guardianship, the Saudi legal system that requires women to have the approval of a male relative to travel outside the country or get married.
Alyousef, who is about 60 years old, was one of the most visible and best-known advocates for women. An Associated Press photo of her driving during a 2014 protest, with a black scarf wrapped around her face, was published by newspapers and websites around the globe.
For years, she served as an accessible point of contact for Saudi women in difficult situations, fielding messages about restrictive families or workplaces, offering advice and help where she could. In 2016, she submitted a petition to the government calling for the end of guardianship.
At occasional salons in her home in Riyadh, Saudi intellectuals would discuss politics and women's empowerment over tea and cardamom-spiced coffee. With bright eyes, sweeping hand gestures and strong opinions, Alyousef rarely minced words.
"What's going on is slavery," she said during a small gathering last July, when the discussion turned to guardianship. She dismissed changes such as high-level business and government appointments for women. "This is window dressing," she said.
After the announcement that the driving ban would be lifted, Alyousef and other activists celebrated their breakthrough. Then the mood changed. One by one, they started receiving calls from authorities warning them to stay silent.
Alyousef got the message. Her once-lively Twitter account went dormant.
Loujain AlHathloul, another prominent activist in her 20s, went quiet for a while but then started tweeting again. In March, she was detained in the United Arab Emirates, forced onto a two-hour flight back to Riyadh, then interrogated for three days at Al Ha'ir prison, a maximum-security facility where Islamic militants are held, according to people familiar with the matter. After her release, she and her family members were banned from leaving the country, the people said. She stopped tweeting.
Then, about a month ago, she was arrested again.
The arrests have sent a chill through Saudi Arabia's intellectual elite. People who once talked freely with foreign journalists are now cancelling meetings, saying they're worried about the risk. At a recent gathering in the Saudi capital Riyadh, a Saudi businessman called the arrests shameful, though he acknowledged that in public he "beats the drum" for the government, painting a rosy picture of the kingdom.
"It is clear the Saudi leadership wants to end all independent political activism," said Kristin Diwan, a senior resident scholar at the Arab Gulf States Institute in Washington. "Both the timing of the arrests and the smear campaign accompanying them suggest an effort to paint the new reality of women driving in nationalist colors."
Even some of Prince Mohammed's supporters say he risks spoiling some of the goodwill he has been building up. "A lot of good reform is being done despite what cynics say but mistakes are inevitable and this sure looks like one," tweeted Ali Shihabi, head of the Arabia Foundation, a pro-Saudi think tank in the U.S.
Women are unlikely to push for change in public now, observers say. The future is "state feminism" led by the government, said Al-Dosari, the researcher. Vogue Arabia recently featured a coiffed princess behind the wheel of a red Mercedes-Benz convertible on its cover, calling her a "driving force." The cover was criticized for ignoring the non-royal women who had protested on the streets at great risk.
"[The government] will keep pushing for reforms that will allow women to be workers and consumers," Al-Dosari said. "Whatever will allow more spending."
Source: bloomberg.com/news/articles/2018-06-19/the-saudi-women-most-eager-to-drive-are-sitting-in-jail
URL: http://www.newageislam.com/islam,-women-and-feminism/vivian-nereim/the-arrests-of-saudi-women-activists-sent-a-chill-through-saudi-arabia's-intellectual-elite/d/115576