By Tufail Ahmad
Jan 29, 2018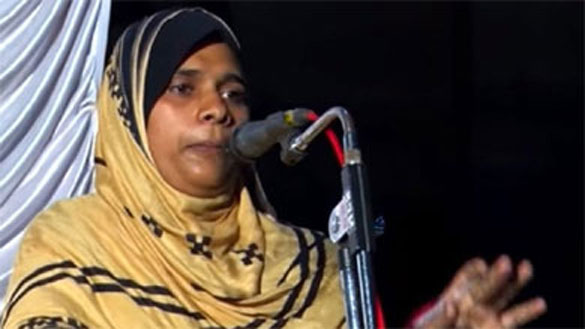 India's first female imam Jamida, the 34-year-old state secretary of the Quran Sunnath Society Image Credit: Twitter
---------
Any act that enables women to walk into public spheres of life controlled by men is a revolutionary step in the advancement of human civilisation. On 26 January –a Friday, which is important for the weekly prayer in Islam – a Muslim woman named Jamida led an all-male prayer in a mosque at Cherukode, near Wandoor in Malappuram district of Kerala.
In Islam, an imam (prayer leader) can be any person from among the worshippers present at the time of the prayer. Such a person should ideally be a pious person who commands respect among the worshippers.
In upholding religious tenets, Islam can be described as the most flexible religion, even permitting Muslims under certain circumstances of duress to eat pork. It also means that if a group of thieves decides to offer prayers, one from among them can act as imam. Also, mixing of men and women for prayer in mosques has been continuing from the earliest days of Islam.
Even now, in major mosques in India, such as the Jama Masjid of Delhi, women do join in prayers, but in such cases, only a male Islamic cleric leads the prayer. Female worshippers either maintain some distance from men or stand in the back rows. There is gender segregation.
To break this gender segregation in Islamic prayers, US-based professor Dr Amina Wadud led a mixed prayer of men and women in 2005 in New York, where female worshippers deliberately lined up in the first rows. Jamida is the first Indian woman to do so.
Jamida's act, even if symbolic, is ground-breaking because she led a prayer of men. In a video that surfaced of the Friday prayer led by her, all worshippers seen are men. Her act becomes revolutionary also for the fact that Muslim men – especially in the orthodox region of Malappuram – are willing to join a prayer led by a woman.
However, the common practice throughout the Islamic world remains that women do lead prayers when the worshippers are women. Shaista Amber – the president of All India Muslim Women Personal Law Board, an organisation working for Muslim women's rights – notes that many women in the family of Prophet Muhammad were great Islamic scholars and some even fought wars, but there are no instances of them leading daily prayers of men or funeral prayers. In an interview with Firstpost, Amber expressed the view that we must campaign for equal rights for women, but religious practices should not be made a Mazaaq (joke).
In Islam, Sunni Muslims follow the principle of Taqleed, which requires them to belong to follow one of the four schools of fiqh(Islamic jurisprudence) led by noted jurists Imam Abu Hanifa, Imam Shafi'i, Imam Malik and Imam Hanbal. Even Shia Muslims follow this principle of Taqleed, but to their own separate line of jurists based in Iran and Iraq.
Jamida is the general secretary of the Quran Sunnat Society, a religious organisation of the Ahle Hadith sect of Islam. This sect is unique in that it believes in the Quran and in only those Hadiths(sayings and deeds of Prophet Muhammad) which concur with Quranic teachings. This sect also does not follow Taqleed.
Amber notes that Imam Abu Hanifa had decreed that women could lead prayers, but we find no example by name where a woman led a prayer. Sultan Shahin, the editor of the reformist website Newageislam.com, told Firstpost: "As far as I know, there is no ban in Islam on women in leading prayers. I haven't seen any Islamic text that says women can't lead prayers." Since Islamic history is written by men, he says, it is possible that instances of women leading prayers might not have been recorded.
Shahin says that if some men from orthodox backgrounds feel sexual tension, they should not pray behind a female imam, but there is no harm in a woman leading a prayer if there are men willing to pray behind her.
Fundamentalists have, however, not taken well to Jamida's actions, and have since threatened to eliminate her for she "defiled the religion".
Irrespective of the Islamic doctrinal positions on this issue, the cause of liberty is itself a goal of civilisation in modern times.
When a woman wears jeans and skirts, she unsettles the orthodox mindset that does not want her to wear it; she strikes at the notions of power that push women to the back rows of life. When a girl uses a mobile phone, she challenges the control of men. When a Muslim woman becomes a Qazi (jurist), she challenges the idea that only men can be learned. When a Muslim woman throws off her Burqa, she claims her liberty.
Similarly, when Jamida leads an Islamic prayer, she proclaims gender equality, a necessary tenet of modern civilisation. In this debate, only Jamida's liberty matters; any argument that curbs her path to liberty must be rejected.
Tufail Ahmad is a senior fellow for Islamism and counter-radicalisation initiative at the Middle East Media Research Institute, Washington DC.
Source: firstpost.com/india/kerala-woman-imam-leads-friday-prayers-faces-threats-irrespective-of-islamic-doctrines-jamidas-liberty-must-be-defended-4325105.html
URL: https://www.newageislam.com/islam-women-feminism/kerala-woman-imam-leads-friday/d/114103