By Taskeen Zahra
October 22, 2015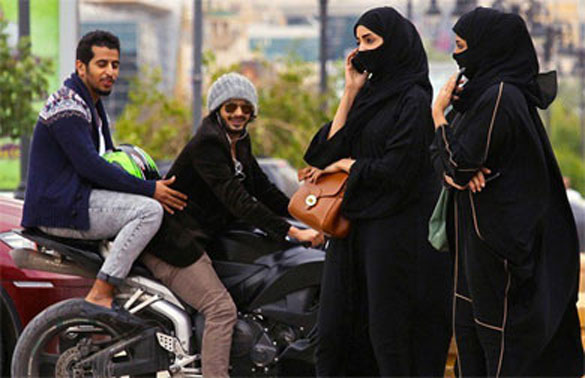 The assumption is that women who wear Dupattas or Niqab do nto get harassed on the street. Photo: Reuters
----------
Recently, I came across an article that seemed to propagate the indispensable role of 'dupattas' in our 'cultural dress code'. I was amused by the fact that the article, which stressed on preserving Pakistani culture, began with an Indian song featured in the movie Barsaat, which was released in 1949. If I'm not mistaken, it was sung by the famous Lata Mangeshkar.
So much for celebrating our own culture.
What was most appalling about the article was the fact that it was propagating the idea that men stare, ogle, and gawk at women because they do not cover themselves up with dupattas. It quoted a girl saying,
"How can I complain of a man staring at me in bazaars or on the roadside, if I have left my attire incomplete?"
Before I begin with how completely irresponsible, absurd and incorrect this statement is, I would like for everyone to know that I choose to wear a hijab. Now I am sure that once I present my side of the argument, there will be many that will lash out and say,
"Look at her. She wears a hijab and supports women who don't even wear a dupatta!"
I would request that you hold your judgement and hear me out.
The problem with the ideas presented in the article is that they operate on the assumption that women who wear dupattas do not get harassed on the street.
If a dupatta was all it took to end harassment in this country, trust me, men would be eager to embody it too. But the subject of harassment extends beyond the fabric of a dupatta. It is intricately bound to female subjugation, patriarchy, objectification and how our society views women.
According to the arguments presented in the article, wearing a hijab should ward off any kind of unwanted male advances. However, I would like to enlighten my fellow citizens that that is certainly not the case. I have had men stare at me while I was covered, from head to toe, wearing what you consider our 'complete cultural dress code' – shalwar kameez, dupatta and a hijab!
Despite covering myself, I have been a victim to sleazy young men leaving colourful notes with their phone numbers on my side-view mirror. Apart from how ridiculous those men are, that seem to carry around a stack of post-its to graciously leave uninterested women with their numbers, I would like to say that in our society, hijab or no hijab, dupatta or no dupatta, sexual harassment persists.
Just the other day, I was driving to my university and somehow, just my presence behind the steering wheel was enough to 'excite' men on the bikes. Again, I will stress that I was wearing a dupatta and a hijab. Before I knew it, I had men on bikes tailing me till I was safely within the premises of my university.
How would you justify harassment in this case?
Dupatta.
Hijab.
Niqab.
Burqa.
No matter how much cloth you add on to a woman's body, she still faces and endures harassment in all spheres.
Have we forgotten the video of that woman, in a burqa and niqab, who was harassed on Independence Day?
Beyond the 'wear more clothes' argument, they will say,
"Do not go out. Do not leave your house."
But, is there any such precedent that states that women do not get harassed in their own households? I'm afraid not.
To the misogynists who would keep coming up with more ways to impinge on the freedom of women – how about I lock myself in a cage and wrap it up with barbed wire?
t deeply grieves me that our women believe that whenever they are harassed, it has to have been their own fault. We manage to turn our women and their freedom to wear whatever clothing they choose, into an exhaustive debate riddled with 'false' concepts regarding women empowerment and the aesthetics of a progressive society. Every time any woman propagates her right to decide what she wears and what she doesn't, we lament her in the name of the 'condemned' ideology of feminism or women empowerment.
When men in our country harass women, it has more to do with their mentality than the woman herself. If a woman is not wearing a dupatta, she is not "asking for it". This is exactly what lays the foundation for the prevalent rape culture that automatically views rape and any form of harassment as a reaction to some act of the woman herself.
Society makes women feel like they are at fault. Perhaps, their biggest error is being a woman in our backward and primitive society that sees choices of women merely in the context of 'modern' or 'chic'.
The polarities in the 'dupatta debate' are particularly distinct. Designers are taking dupattas off their display racks. At certain brand stores, you would not find dupattas tucked into hangers. Women on billboards appear wearing designer lawn without the cumbersome dupatta. It is significant for us to remember that the dupatta is just a piece of cloth. It does not carry anyone's honour or izzat. It has no special powers to protect a woman. It is merely a piece of cloth that has disappeared from fashion spreads in magazines.
We need to rid ourselves of this apologetic attitudes with the hopes of coming across as more 'cultured'. We really need to quit focusing on what clothing women choose to wear, and spend a little more time raising our boys to not objectify women.
I write this piece in the hope for more power to the women and less to the stupid dupatta.
Source: goo.gl/nSVS2Z
URL: https://newageislam.com/islam,-women-and-feminism/taskeen-zahra/more-power-to-the-women-and-less-to-the-stupid-dupatta/d/105007