By Sibtain Naqvi
August 13, 2013
Hendon Cemetery, London NW7 on Holder's Hill Road is a serene space with the usual poignancy and hush that accompanies cemeteries. There, tucked away among other graves is a simple tomb with a black headstone. "786", the numerical translation of Bismillah is etched along with this touching epitaph:
"In the loving memory of Nazia Hassan. Loving daughter, sister and mother. Beloved and cherished by millions of people. Died in her youth, August 13, 2000."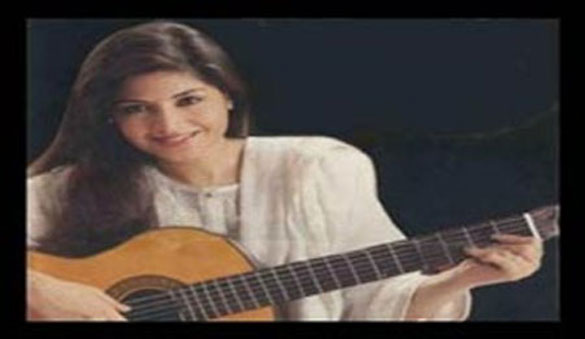 Nazia Hassan
--------
Every word rang true and took me back to July 2000. I was driving my friend and Nazia's songs were playing on the stereo.
"She is about to die", he said.
His callous remark was like a jab to my face, sharp and hurtful. On the morning of August 13, I saw the top half of a folded newspaper which showed only her picture, the rest of the news was printed in the unseen part below. I unfolded it with dread and saw the headline, terse and painful: 'Nazia Hassan Passes Away.'
It has been 13 years since that day and almost 33 since she burst upon the music world in a blaze of sultry lyrics and effervescent beats. "Aap Jaisa Koi (AJK)" was everything the 80s represented. The story is well documented, musician Biddu and the child singer made the "Disco Deewane" album. HMV, the record company, estimated it would sell 25,000 albums. It sold three million albums.
Nazia's youthful good looks, lilting voice and pacey beats caused a sensation and such was the success of 'AJK' that she became the youngest winner of a Filmfare award. For a short time the teenaged wisp of a girl from Karachi even supplanted Lata Mangeshkar on the throne of Indian music. Lata's biographer Raju Bharatan has written about the despair Lata had when the songs of her film Aasha trailed behind AJK for 14 weeks, a cataclysmic event if there was in the life of the reigning queen of melody.
She has an incredible story, like out of a penny press novel. Teenage girl finds everlasting fame at a time when it was almost unheard of. It happens now but in this day of social media and pervasive media coverage, stardom it is much easier. Nazia was an international pop icon at 15 with none of that, in a pre-internet time, in spite of a repressive zealot dictator ruling the country, with a controlled media, and at a time with very limited avenues of expression.
Nazia was a star but more than that, she was also a part of people's lives. My sister loved 'Aap Jaisa Koi', so much that my parents would play it in the morning to wake her up with. A generation later, family kids cavort to "Telephone Pyar", or rather "Teen Teen Do Do", easy for two-year-olds to say. Thinking about Nazia is like going through a montage of memories. I remember when she visited my school as part of her charity work. We were all enamoured, some still are, and when she said she can substitute if our teacher falls ill we started making plans of doing away with the poor lady so Nazia could come every day.
These were not just the fantasies of a second-grader, Nazia's grace and charm had a lasting impact on people of all ages. She had that rare quality; for instance, when she said she would like to meet you again, it felt as if she really meant it. Many cherish chance meetings and a cousin still raves about running into her in London and her readily agreeing to an afternoon tea. Others carry memories of sneaking into a concert, or dancing along on Music 89 or hosting masquerade parties like the one in "Aankhen Milane Wale."
Many males went to their mothers begging to be married to someone like her while the girls wore their hair in the same style. Everyone's dream teacher, sister, friend; Nazia was a heaven sent means of escape, catharsis from impositions and why shouldn't she be? She stood in bright contrast to the stifling atmosphere forced by the dictatorship. The side parted hair, the sparkling, erudite ways made her the perfect symbol of youth and optimism in India and Pakistan who, in spite of their political difference, loved her with equal measure. While her songs touched all ages, it was the youth who lucky enough to enjoy them to the fullest for as Wordsworth said:
Bliss was it in that dawn to be alive,
But to be young was very Heaven!
The songs were magic and the videos revolutionary. Juxtaposed to the staid singers on various TV programs stage, Nazia seemed to be the very embodiment of youth, a Diana or Artemis. A Norwegian friend called her Iduna, the Norse goddess who gave Thor, and other gods' apples of youth. Her songs have been like the mythological age defying apples, taking millions back to their younger years or in my case, childhood. Today- more than ever- we play her music to remind ourselves of our happiest memories and rejuvenate in her ephemeral presence.
I cannot quite comprehend why she has this role in our lives. Maybe it is nostalgia that makes us miss her so. Nostalgia, from Greek, is comprised of two root words, "nostos" (return) and "algos" (pain). Thus it literally translates to 'pain for the returning' or in the same sense an impossible longing for an immemorial loss. Nazia's passing just makes this sentimental longing for the happier, simpler past even stronger and her songs hang on memory's everlasting peg. Keats immortal words may just have been written for Nazia:
Wide sea, that one continuous murmur breeds
Along the pebbled shore of memory!
The music stars of Indo-Pak owe her a debt of gratitude for she paved the way for them. India Today nominated her as one of the 50 people who helped change the face of India.
"She set – well ahead of its time – the personal album trend in India, spawning the likes of Alisha Chinai, Lucky Ali and Shweta Shetty," it noted.
Biddu stated that Nazia put the subcontinent on the music world's map and was to the region what ABBA was for Sweden. Intensely patriotic, she turned down the offer of singing "Made in India" which made the career of Alisha Chinai, because she didn't want to offend her countrymen. Most would give their right hand for such opportunities
After an enormously successful career as a singer she joined the Department of Political and Security Council Affairs, UN. At that time I thought she would eventually return home and continue her work but unbeknownst to most, Nazia was very sick. She was not to live long and passed away at 35, to stay forever young and beautiful in our minds. She had been pushing herself hard all these years as if aware of the lasting peace that would come but the end came too soon.
Maybe her thoughts were on Edna St Vincent Millay emotive lyricism: My candle burns at both ends; it will not last the night; but ah, my foes, and oh, my friends – it gives a lovely light!
Source: http://blogs.tribune.com.pk/story/18478/remembering-nazia-hassan/
URL: https://newageislam.com/islam-women-feminism/remembering-nazia-hassan/d/13007