By Shazia Omar
April 27, 2014
When Shonkori prepared egg curry that Friday afternoon for a visitor, she didn't know she would be married to him by evening. Shonkori's mother drowned several years earlier from a fit of hysteria when she jumped into a river. Shonkori's father remarried, and Shonkori and her younger siblings moved in with her maternal aunt.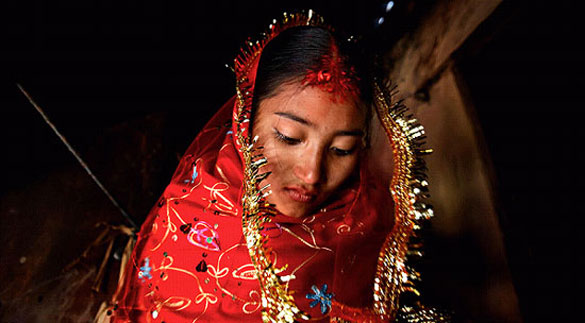 Shonkori's older brother went into bonded labour to support his siblings, and Shonkori stayed in school. Her father rarely visited, but that Friday morning he came by in great spirits, and gave her a sari. He left saying he was going to visit friends. He returned an hour later, grinning, and asked her to prepare some lunch for four friends who would be visiting.
The four friends, two brothers and their parents came and ate. They didn't speak much to her, only asked what her age was (12), what grade she was in (VI), and whether she could cook (of course). When they left, her father informed her that the younger man, 30, would be her husband, and the wedding would be that very night at her aunt's house.
Best of all, the family had not asked for any dowry! This, he insisted, was because of the negotiating power of the Ghotok (match-maker) who was a friend indeed, and was charging them only a reasonable fee of Tk2, 000 for his service.
Shonkori wept in her aunt's arms, saying she didn't want to marry this man, for she was already in love with someone else. The boy was fair, educated (grade X in her school), and from a good family. Her aunt explained gently that a boy from a good family would never marry her, that the rich look down on the poor, and besides, the man her father had chosen was a widower with a young son. This son had lost his mother, just as Shonkori had, and it was hoped she would understand his hurt and perhaps give him the love he so desperately needed.
Shonkori remembered how heartbroken she was when her mother died, and though she was still a child, this ignited a deep sympathy within her, so she agreed to the marriage. That evening, she wore her mother-in-law's wedding sari, and married the stranger. Her father gave her a mattress, blanket, bed sheets, a few saris, pots and pans, and gave her husband Tk6,000 with which to start a small business. Her father-in-law gave her a golden nose pin and told her she would no longer go to school.
Now, three years later, Shonkori says she loves her two sons, the boy from another mother, and her own, who is now ten months old. She says labour was difficult, but her child is very sweet, and her husband does not beat her as she had feared he might.
She says with pride that he neither drinks nor gambles, but he doesn't earn either, and they are dependent on her mother-in-law's income (her mother-in-law owns a boat which she received from Shiree's asset-transfer program two years ago).
I ask what happened to the Tk6, 000 her father gave her husband as start-up capital (not "dowry," as he liked to point out). She tells me glumly about the stomach problem her husband suffered soon after their wedding that cost over Tk6, 000 to diagnose and treat.
Most forced marriages at tender ages are related to extreme poverty and reduced dowry costs on the basis of age. Young girls are married to the least desired men in the community, men who are also extremely poor and jobless, and so the poverty perpetuates.
I return to the questions in my notebook to see what else I can learn. I ask if she has a say in any of the household decisions. She says she does not like to interfere. I ask if she gets to eat as much as her husband. She looks at me as if I am strange. "Why would I?" she says. "I am small and he is big." She is small, a tiny 4'9", and frail.
I ask if she has any dreams. She says she wants her sons to go to school. I ask if she has faced any severe deprivations. She laughs and says no, she has been unusually lucky in life. I smile politely, but I know from my notes that she was a victim of Aila five years ago, and her aunt and her father both lost their homes to the cyclone. For weeks she lived in a shelter and for months she ate less than two meals a day. Her own sister died of a snake bite.
Finally I ask her how she feels. She says she is happy, though I am not sure what happiness means to her. When we part, she gives me a hug and says she shall call me "Apu" for she has never had anyone take so much interest in her before and for this she is grateful.
This is a true story but the names have been anonymised.
Source: http://www.dhakatribune.com/op-ed/2014/apr/27/married-twelve#sthash.Ha3kGFab.dpuf
URL: https://newageislam.com/islam-women-feminism/married-twelve-most-forced-marriages/d/76777