By Sarfaraz Memon
02 Jun 2017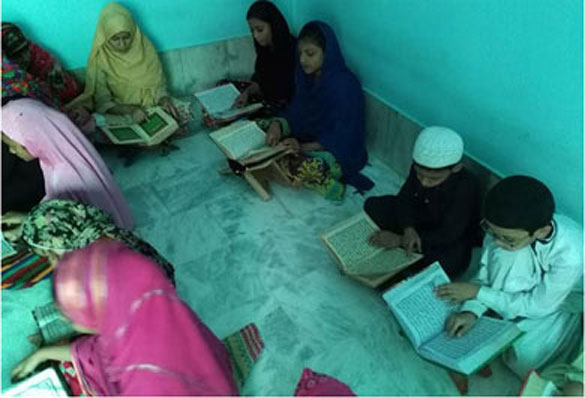 So far, Jameela has taught the Holy Quran to around 10,000 children
-----
Eighty-year-old Jameela, most popularly known as Amma Jameela, Nani Jameela or Nani Madrasa Wali (the grandmother of the madrasa), lives in Sukkur and teaches the Holy Quran to children. Undeterred by the negative attitude from people in the community, Jameela has struggled on for 45 years.
Born in March 1941, in Syed Mohammad Yakoob Shah's household in Pishin, Balochistan, Jameela never fit in at home or at school. Born transgendered, Jameela was not comfortable at home with siblings, nor at school, because classmates would mock her style of walking. So when an elderly member of the traditional transgender community, Pasham Fakir, offered to take her up, Jameela ultimately yielded and followed him.
Jameela lived in the community until May 1972, when her brother died in a robbery. "This proved to be a turning point in my life because I started learning the Holy Quran," Jameela says. "My father had two wives: my mother was from a Syed family, whilst my stepmother was from a non-Syed family," she says. "My mother died when I was four and my aunt looked after me for two years after which my father sent me to live with my stepmother in Ranchore Lines, Karachi."
Jameela's stepmother sent her to an all-girls middle school near their house, but the young child left school when she was in class 3 because she already faced teasing and ill treatment for her "attitude and strange style of walking."
After dropping out of school, she helped her stepmother with domestic chores. "When I was 10 years old, Pasham Fakir came to our house and asked my mother to hand me over to him but my mother refused." She said that Pasham kept coming back for her and they used to talk outside the house. "Then one day I just went with him without telling my mother," she recalls dolefully. Pasham took Jameela to his house in Garhi Yaseen near Shikarpur and there began her 'training'. "I lived with him for three years but I wanted to get away because I didn't like his company," said Jameela. "Luckily, the fakir took me to Hazrat Shah Abdul Latif Bhittai's shrine for the annual Urs celebrations, where members of our community come together from every part of the country." This is where Jameela met her new guru, Fakir Ameer Zadi, also known as Saboo. "He looked quite decent so I told him I wanted to go with him," she said. Saboo talked to Pasham and after paying Rs. 5,000, Saboo adopted Jameela.
Saboo took Jameela to Sukkur, where he lived in a double-storey house in Makrani Muhalla. With his permission, Jameela purchased a house at Takkar Muhalla for Rs 4,000 in 1970. "I knew how to read Urdu, even though I had dropped out of school. One day I was reading the newspaper when I came across news of my elder brother Syed Muhammad Rasool's death," she recalls, her eyes filling up with tears. Rasool used to run a car showroom on Tariq Road, Karachi, and was murdered during a robbery. Jameela said she rushed to Karachi to reunite with her family but they had left with her brother's body for Pishin. "His death was a turning point in my life. A female neighbour taught me how to read the Holy Quran. With Allah's grace, things just fell into place for me after this."
In 1975, Jameela began teaching her neighbour's child, four-year-old Aasia, the Quran. "Since she proved to be a brilliant student, other neighbours started sending their children to my house to learn," she said. The number of students grew day by day and the number of children went up to 450 – all of whom she used to teach in seven different shifts without any charges.
"I started teaching when I was 31 years old and at that time people used to call me Khala (aunt) Jameela. Then it became Amma (mother) Jameela and with my growing age, people started calling me Nani (grandmother) Jameela", she says. Jameela added that her neighbours have always respected her, irrespective of their age or gender. A student's mother sends Jameela two meals a day and offers to wash and iron her clothes. Since she teaches her students free of charge, their parents give her money and clothes as gifts. Jameela said she was lucky enough to perform the Hajj pilgrimage to Makkah four times and the Umrah once.
"I teach in groups for an hour each and the children start coming in from 10 am until 5:30pm," she says. There is no age limit for female students but Jameela said that she does not take boys older than 10 because she does not believe in intermingling between "big boys and girls."
"Allah created me the way I am, but nowadays being one of us has become a profession," she says. She is uncomfortable with some practices in the transgender community, adding: "If you meet 1,000 from the community, you will seldom find a real fakir."
Jameela has known setbacks. The girl who she adopted at the age of five, brought up, educated and married off, went on to transfer one of the portions of her house into her name. That young woman, after her marriage, fraudulently sold the house without even informing Jameela and thus rendered her homeless. "However, one of my neighbours provided me some space in her house, where I started living and teaching the Holy Quran to the children," she says.
"I don't know how but my nephew came to know about my problems and visited Sukkur, met me and bought me a plot of land measuring 120 square yards in Mustafa Colony at Bhutta Road, Sukkur, and constructed a house and handed it over to me!"
Jameela now lives in this house and performs her duty of teaching the Holy Quran to the children. Age takes its inevitable toll, though. She cannot sit for a long time and therefore reduced the number of children to 40 and daily teaching shifts to three only. One of her neighbours sends breakfast, lunch and dinner, whilst the parents of the students who complete their education in the Holy Quran give Jameela gifts of new clothes and money.
"Besides this, if I fall sick, the doctors in the neighbourhood visit my house, check me and give medicines free of cost. What else could I need in this old age?" she asks. Jameela has officially transferred this house to the Edhi Foundation and that they will take over the house after her death.
One of her students, Tanzeel Hussain, is learning the Holy Quran for the last five months and is revising it, after having completing it once.
"Nani Jameela is very loving and caring and never beats us when we make any mistakes," he says. "She never gets irritated, even if we kept on asking same word many times!"
Another student Ayan Memon is new. "My elder sisters were taught the Holy Quran by Nani Jameela and now I have joined them too," he says.
Little Uzma is also a newcomer and is busy taking her lessons from Nani Jameela. One of her neighbours Noor Mohammad, who runs a woodworking shop, believes that Jameela is no less than a great blessing for the people of the area, as she teaches the Holy Quran to their children.
So far Jameela has taught the Holy Quran to around 10,000 children, and she plans to continue her work for as long as she can.
Source: thefridaytimes.com/tft/jameelas-madrassah/
URL: https://newageislam.com/islam-women-feminism/seminary-nani-jameela/d/111410