By Sara Faruqi
18 Dec, 2012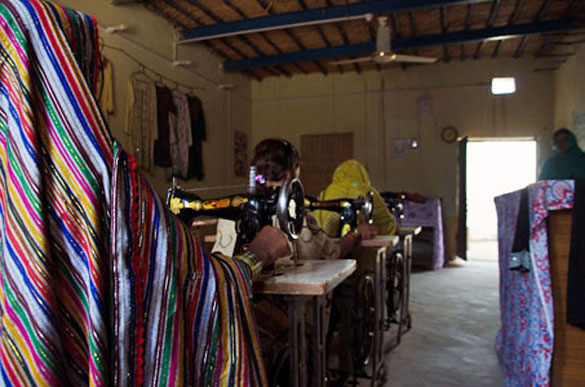 This one roomed sewing centre in the village of Talli near Nawabshah has helped train more than 200 women in basic tailoring, embroidery and stitching. – Photo by author
---------
On the outskirts of Nawabshah, there is a town called Sakrand. Inside Sakrand is a village called Talli where exists a tiny one-roomed sewing centre that has changed the lives of 400 households.
It started with conservation and protection of natural resources. The idea was simple – Talli borders the protected Pai Forest from where the women of the village cut and collected wood to sell to Pathan sellers on their way to Karachi. Though not as extensive as the timbre mafia, the women did contribute to the depletion of the few trees that remained in the Pai. WWF-Pakistan decided that instead of cutting and collecting wood to make ends meet, it may be better to teach these women a skill, in this case, sewing machines would be the choice for change.
With a small grant from the WWF, a few sewing machines were bought for the community. Getting the machines was easy; convincing the men in the village to allow their women to go for training was the difficult part. Some men, mostly brothers of the girls, would even object to their sisters coming to the centre. But success begets success and once the first few batches graduated and started working from home, the villagers became eager for their girls to learn, says Hameeda Keerio, the President of Kiran Aurat Taraqiati Tanzeem the organisation responsible for operating the sewing centre.
Keerio was given the responsibility of gathering women and persuading them to stop collecting wood and learning instead to sew. "Although I very much wished for change and talked about it, I was shy and timid." This would soon change, with the help of the NGO, Keerio took charge of Kiran and soon the training centre was functional.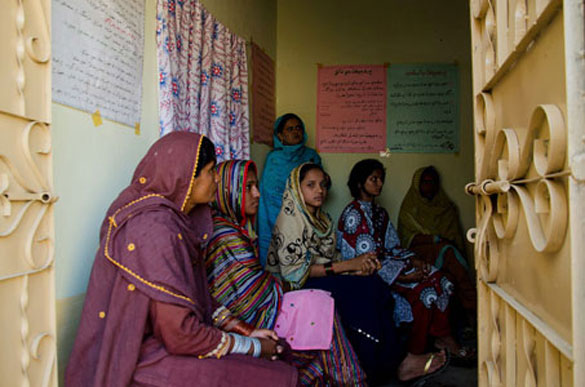 Some women who have been trained by Kiran in Talli. The woman in blue is Hameeda Keerio, president of Kiran. – Photo by author
----------
The first step of starting this centre led to many more steps of change for this community. Shortly after, the women of Kiran were meeting with local government officials to discuss problems of electricity and gas. They managed to get gas pipes laid throughout their village, which means that now there are no excuses for collecting or cutting wood and women cancook with much more ease. Managing a business that required electricity to run, helped the women of Talli become a lot savvier with their money. At one point, they realised they were being overcharge on their electricity bills and a talk with WAPDA officials was organised and eventually electricity became affordable for all in the village (although once again, electricty has been cut off in the village, WAPDA officials are apparantly demanding Rs.40,000 to fix a broken transformer).
The centre itself has become self-sustaining in less than two years. They charge a fee of Rs.200 a month and operate in two shifts of 20 to 25 girls each. Work done for the centre is sold through exhibitions and local festivals. So far Kiran has participated in four exhibitions, one each in Bhit Shah and Matiari and two in Nawabshah. Money raised through sales is used to meet the expenses of the centre. The success of the sewing centre created a demand for trimmings such as ribbons, laces and thread leading to the starting of yet another home-based enterprise. Four women have set up shop in their homes selling accessories, saving others the time and expense of a trip to town.
Kiran now provides lower income women in the village with free sewing machines so they can start building their own clientele from home.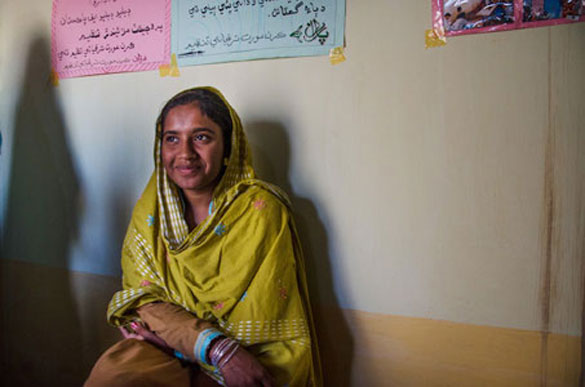 Reema, who is only 16 years old, says that she now has a say in her home. Her father, a plumber, consults her on how to spend the household income since her tiny tailoring business is also bringing in money for the family. – Photo by author
---------
It's not just lives that have been changed; even fashion has changed in this tiny village. Parveen, another young woman who learned cutting, designing and sewing through Kiran points at a traditional Sindhi dress and says, "we used to dress like that," she says, pointing to a yellow kameez with lace and a decidedly 'urban' look, "now, we dress like this." She shows a magazine from a textile company – inspiration for many.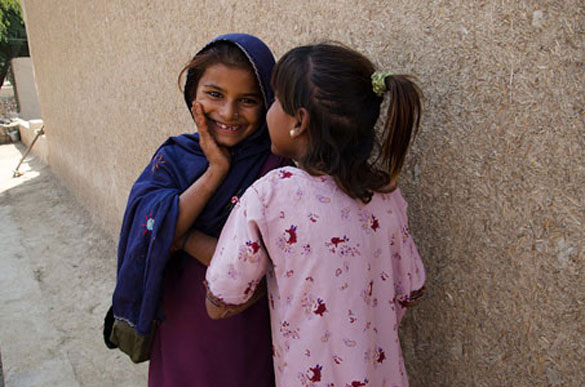 Some of the younger girls at the village who will soon attend classes at the traning centre. – Photo by author
------------
The collection and cutting of wood, from the women's side, has stopped completely says Keerio.
A simple idea has resulted in revolutionary change for these women and their families. Although executed on a very small scale, such actions not only have the power to change family income dynamics but if caught on, they can perpetuate the empowerment of women, one village after another.
Sara Faruqi is a Multimedia Producer at Dawn.com
Source: Dwan.com
URL: https://www.newageislam.com/islam,-women-and-feminism/sara-faruqi/small-revolutions-and-sewing-machines/d/9722