By Sanjana Agnihotri
March 30, 2017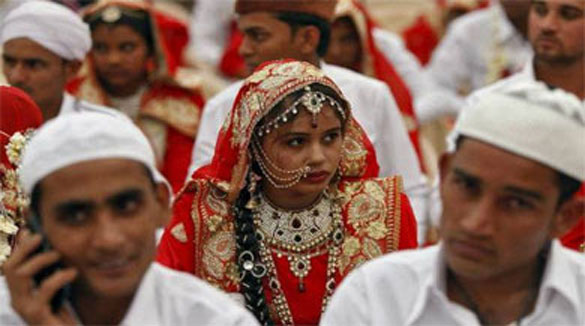 Imagine living with the mental insecurity that years of your marital alliance can be ended just by the utterance of three words. That's exactly what Indian Muslim women feel.
India is home to world's third-largest Muslim population which is governed by the Sharia or Islamic jurisprudence and this has been the case since British colonial rule. But till today, India's 90 million Muslim women face the threat of a sudden, oral, and out-of-court divorce.
When Pakistan, Bangladesh and many other Islamic countries could ban the practice of Talaq-ul-Bidat, then why not India, is the question. Talaq-ul-Bidat or triple Talaq is a Sharia law practice which gives men the power to end a marriage by simple uttering the word 'Talaq' to their wives three times in succession.
There have been many cases that made headlines for men practicing triple Talaq even via instant messaging apps like WhatsApp.
According to the Census 2011 data, out of all married Muslim women 13.5 per cent were married even before the age of 15 and 49 per cent were married between 14 and 19 years of age. Marriage at such an early age, in most cases, decreases the possibility of acquiring education or being financially sound.
A survey by Bhartiya Muslim Mahila Andolan revealed that 95 per cent of divorced women received no maintenance from their husbands. In many cases, women are not in a position to immediately become the breadwinner and manage kids. One such recent case of a pregnant woman being thrown out the house for not getting an abortion added more weight to the issue.
"He (husband) verbally gave me triple Talaq and I was left on the road to die," Shagufta Shah said. Mother-of-two, Shagufta became pregnant for the third time but refused to get an abortion when her husband feared that she would deliver another daughter.
"They feared that if I deliver a girl again, she will be a burden," Shagufta said. "When I refused repeatedly, they started torturing me. On March 24, they forcibly tried to take me to the hospital and, when I resisted, they started beating me mercilessly," she said.
Shagufta has written a letter seeking help from PM Modi and sent copies to Uttar Pradesh Chief Minister Yogi Adityanath, the National Commission for Women as well as the district magistrate.
Not only that, oral divorce is the easiest and most common method of taking a divorce among Muslims. Out of all divorced women, 65.9 per cent were divorced orally. Recently, this has been happening over text and email as well. Recently, two women living in Hyderabad were divorced over WhatsApp by their respective husbands.
Judicial Intervention
Allahabad High Court has termed 'triple Talaq' as unconstitutional and the Supreme Court, today, decided that a five-judge constitution bench will begin hearing cases and will decide on the "constitutional validity" of the practice of triple Talaq, Nikah Halala and polygamy among Muslims.
In fact, Chief Justice of India Justice JS Khehar has said that the Supreme Court is ready to give up its summer vacation to hear the issue of triple Talaq as it is a matter of "grave importance". The cases filed are regarding whether divorce by saying 'Talaq' three times is legal or not, women's right, and whether freedom to practice religion - via the Muslim Personal Law for Islam - takes precedence over basic freedoms.
"It is for the Centre to decide if they can cooperate", he said.
However, the All India Muslim Personal Board (AIMPLB) urged the SC "not to meddle with its personal laws" as the issues fell outside the realm of judiciary.
Source: indiatoday.intoday.in/story/triple-Talaq-muslim-women-supreme-court-sharia-law-islam/1/916882.html
URL: https://www.newageislam.com/islam-women-feminism/triple-talaq-how-affects-lives/d/110602