By Salil Tripathi
Mar 23 2017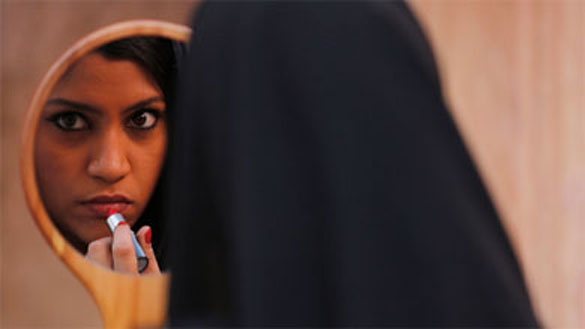 Lipstick under My Burkha
---------
On Saturday, away from the paternalistic gaze of Pahlaj Nihalani, I went to see Alankrita Shrivastava's film, Lipstick under My Burkha. I was safely in London, where Nihalani's writ as the chair of India's Central Board of Film Certification (CBFC) does not run. The hall was full and the audience was predominantly South Asian. The laughter during the film, which tells the story of four women in Bhopal, was spontaneous, and when the film ended, the applause was generous.
Nihalani had found the idea of concealing lipstick under the Burqa subversive, as though the lipstick was perhaps a concealed grenade. He denied it certification, which means, unless it is successfully challenged in courts, people in India will not be able to see the film legally. Nihalani is the guardian of Indian morals. He is concerned about the impact of the film because it is "lady-oriented", and he finds the "sexual scenes" and "audio pornography" not to his liking.
Nihalani's puritanical disapproval of depiction of human desire is mere cover—the real problem men like him have with the film is that it is made by a woman and it speaks to women about their rights and desires. That is the real battle: about power, about who exerts and exercises control, who has authority, and what the place ought to be for women in a family, at college, in a community, and in the bedroom. Like most men shown in the film, Nihalani seems troubled by the assertive identity of the women in the film. The men in the film are weak. They use their strength to hide their inadequacies and wield their power to subjugate the women around them.
Sex is one aspect of the film, but only one. The film tells the story of four women. The youngest is a student who goes to college wearing a Burqa, revealing nothing but her eyes, but who transforms into a jeans-clad youngster on campus, fighting for the right to wear jeans, and fancies herself as Miley Cyrus. She shoplifts outfits and lipstick without qualm, shocking and betraying her stern parents. There is a Hindu beautician passionately in love with a Muslim photographer, brazenly making out with him even as she is getting engaged to a hand-picked suitable boy. Her single mother (herself a mould-breaker—she models in the nude at an art school) won't have her daughter marrying the good-for-nothing photographer—desire must surrender to economic reality, for the groom-to-be has promised the mother a flat. There is the Muslim mother-of-three, an enterprising sales agent for household goods, who is in a loveless marriage and has joyless sex with a husband who is forever looking for jobs in the Gulf while having an affair with another woman. She wants to space her pregnancies but her husband discards the condom she offers; their sex is passionless and ritualistic, nearly fully clothed, like an unpleasant bodily function performed. He has forced sex with her when he discovers she is working—but of course, according to courts in India there is no such thing as marital rape, so it is all right. And finally, there is the older widow whose word is the command in her family, until the family discovers the fantasy world she inhabits, reading cheap pulp fiction and imagining a sexual life she cannot have.
Each story is heart-rending and real; each woman struggles to affirm her, self; and it is the desire for independence that each one shows—the collegian, to wear jeans and apply lipstick; the beautician, to marry the man she wants; the wife, to be financially independent; the widow, to rediscover sensual pleasure—that rankles the kind of men who take away Cellphones from their daughters and prevent their sisters from eating chow mein. Women need to be protected; they can't be trusted with independence. That isn't an outlandish view—it also coincides with what the new chief minister of Uttar Pradesh believes in.
The women's rebellious acts are heroic, but not dramatic—you don't see a Smita Patil hurling red hot chilli powder in the eyes of a village tyrant, as in Mirch Masala (1987), nor Nargis shooting her son for the greater common good in Mother India (1957), nor Patil again, as movie star Hansa Wadkar, living an unconventional life because she can, in Bhumika (1977), nor a Suchitra Sen leaving home to pursue a political career, as in Aandhi (1975).
Real heroism is often incremental: Swatilekha Chatterjee, as Bimala, crossing the threshold beyond which women don't step out in Ghare-Baire (1984), or indeed, Patil again, as Sulabha Mahajan, leaving her home for good when she finds that her husband has started a new relationship while she was away running a home for abused women, in Umbartha (1982); or, indeed, Madhabi Mukherjee, unsettling Bengali Bhadralok hierarchy when she is published in a magazine, in Charulata (1964). The consequences of these rebellions aren't necessarily pleasant, with everyone living happily ever after—Bimala, Charulata and Sulabha, in their own way, would need to rebuild their lives.
Women know that real life is not a fairy tale. Lipstick under My Burqa shows how a patriarchal society denies women agency, how control is taken away from them, how decisions are made on their behalf, against their interest, and without their consent, countless times, all the time.
Courts may eventually overturn the CBFC's decision. Until then, men will reinforce the norm of how women are shown and seen—as objects of desire, as alluring item numbers, as mothers who sacrifice, or daughters who must be protected.
Salil Tripathi is a writer based in London.
Source: livemint.com/Opinion/gQzfPWtC0URo8p2aFtMrjM/Why-assertive-women-rankle-Pahlaj-Nihalani.html
URL: https://www.newageislam.com/islam-women-feminism/assertive-women-rankle/d/110502