By Rym Tina Ghazal
11/12/2012
It began with a myth...
Almost every tradition in the Arab world has a legend behind it, and pieces of clothing are no exception.
It is said that sometime in the eighth century of the Abbasid Islamic period, a merchant selling cloaks ran out of all the colourful ones and was left with only black ones that no one wanted.
He visited a poet friend of his over his plight and asked him for help. The poet then composed a poem praising the beauty of a woman cloaked in black garment, a colour he hailed as one worn by the rich and noble.
And ever since then, women flocked to buy the black ones as they all wanted to be "sensuous and beautiful."
That is one legend behind the black cloak or "abaya" worn by women here and in other parts of the Arab or Muslim world.
The matter of choice...
It was 6 a.m., and I had five minutes to get ready. So instead of struggling with what to wear, I just grabbed my black abaya and scarf and wore them over my pyjamas and un-brushed hair.
"Zero hassle," I smiled to myself as I headed out.
I was in Paris at the time, and I just happened to have my abaya from Saudi Arabia in my suitcase. To my surprise, no one even gave me a second look. I guess people in Paris are used to seeing people from all over the world, including tourists from the Gulf and Muslim countries.
Tired of reading accounts -- or rather rants -- by Western women journalists who visit Islamic countries, try on an abaya, then write lengthy articles complaining about how "hot" they felt and the "great suppression" and "discomfort" of the abaya, I am here to write in defence of the abaya.
Not to be mistaken with the "chador," a full-body, unflattering, tent-like cover, the abaya, these days, is quite fashionable and can even be "sexy" when tightened in strategic places and cut certain ways.
Growing up in Saudi Arabia, I had different abayas for different occasions. I had the "fancy" one with intricate gold lining that I wore when I was invited to weddings or official events. I had the "sporty" plain one that buttoned up, which I wore for trips or pilgrimages. I had the "everyday" abaya I wore when I went out with my family and for the less important events where no one was going to judge me based on my abaya.
Of course, a woman should have "the choice" whether she wants to wear one or not. It is not surprising to find that every time a plane lifts off, leaving Saudi soil, you see women removing their abayas and headscarves, stuffing them into their carry-on bags. Often they stay inside those bags until the flight back home, back to Saudi Arabia. But it is not always the case, some women continue to wear their headscarves, but remove the abaya.
Once the cover is off, you then see the kaleidoscopes of fashions, some conservative, some not-so-conservative, as each woman tries to reassert her identity and her fashion sense.
I have done it myself. I am often wearing something comfortable under my abaya as I am terrified of flying and couldn't be bothered to dress up. I am usually more concerned with arriving safely, not that I have much control over that.
In Gulf countries, like Saudi and the UAE, the abaya can sometimes define a woman's social status, and so a lot of care is put into picking the "right one" with the latest designs.
At one point in my teenage years, my gang of close friends and I designed and tailored our own special abayas with our logo -- a small cat's paw print on the back next to the letter of our first names. Mine had a huge purple "R" across the back, made up of shiny purple Swarovski crystals. I even wore a matching purple cap over my headscarf just for kicks.
But at the same time, we wanted to wear them when we felt like wearing them. Anything that is forced is hated and eventually people rebel against it.
One of my religious teachers in Saudi Arabia used to tell us: "Great fruits, like an apple, wear a protective cover to protect their insides from the harm of the outside."
Of course, being teenagers, we would all protest that we were not fruits and we should be free to customize our abayas to reflect our personalities. There were times when my friends and I would get told off by the tough morality police in Jeddah for our more outlandish abayas, and, on one occasion, a whole group of us were chased down the street by a car packed with stick-carrying religious police because we were running to our cars (we were late -- as usual) and our legs were showing as we ran.
For whatever reason, we weren't wearing the buttoned-down kind of abaya. It wouldn't have been a problem, except I was wearing shorts and one of my friends was wearing a short skirt as we were heading to a beach birthday party.
Needless to say, one of their sticks left a mark on my legs. I wore my buttoned-up one more often after that.
But that was 15 years ago, and a lot has changed since then in Saudi. Women fight back more and religious police have been restricted to a certain extent.
During my last trip to Iran, I noticed the complete opposite reaction to the abaya. There, the women seem to put a disdainful lack of care and effort in the designing of the abaya. In a silent protest against the enforced Islamic dress code, the young women wore either completely plain abayas or colourful, yet conservative, Western-style clothes.
In a metro in Tehran, my shoulder was accidentally exposed at one point by the weight of a bag I was carrying. You could cut the tension with a knife, with both males and females staring at my naked shoulder as the abaya slipped down.
Many years ago, an exposed ankle had the same effect in Saudi. Not anymore.
I have worn an abaya for a handful of occasions here in the UAE, partly out of respect for the families who had invited me to visit (if they were more conservative), and partly for my own comfort. I just feel protected in it. You can wear what you want under an abaya and still look professional and modest.
You are also given more respect and treated better when in national dress. This is the case for both women and men.
In the UAE, Emirati men and women stand out from among the crowds of expats because of their traditional dress. Men wear kandoura, an ankle-length, collarless white thoub or gown with a ghutra, or headwear, while women wear black abayas over their clothing, often with a matching black shayla. With few distinctions in the actual cut of the garments, it is similar to the traditional wear in the rest of the Gulf.
It is not uncommon to see Arabs and citizens from Pakistan, Afghanistan and India, wearing the national dress on a regular basis. Depending on the patterns on the headgear and the way it is worn, specific nationalities can be subtly identified.
But it sometimes offends the nationals when a non-Gulf national wears their national dress, especially if the non-Gulf nationals are walking around in them behaving obnoxiously. Every country's national dress is symbolic and should be worn with respect, given its history and its nationalistic, as well as patriotic, connotations.
There is also that resentment among women, whereby many told me that they "get upset" with they see expat women wearing abayas as they do this "to attract the attention of Gulf men with the ultimate goal of marrying them."
But that is a whole other column.
There are several social and religious codes. Some sociologists have told me that when Gulf women are seen without their shayla or headscarf, there is a general interpretation by their community that they are in some way "more open."
"The abaya and shayla come together, and are expected to be worn together," said the expert. "So when a Gulf woman is seen without a shayla, she is likely to be judged and seen as unconventional."
Whatever the case, there is a lot to be said about the humble abaya and its evolution.
Even though it doesn't stop men from staring and cat calling, I do feel that an abaya somehow empowers women in the Gulf.
While I have no idea who decided that women should be in black and men in white, I have no complaints. Black has remarkable slimming powers -- and it goes well with any purse or pair of shoes.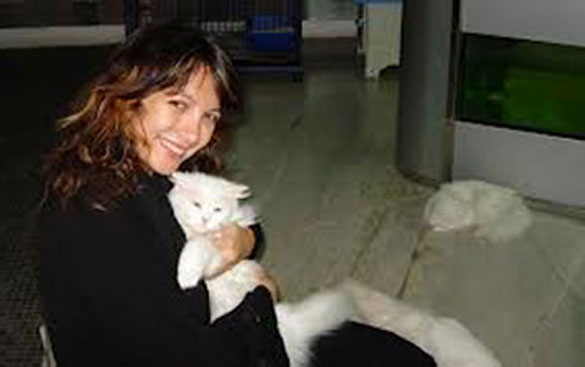 Above: I am wearing pyjamas under my abaya while visiting a pet store in a Saudi mall that allows pets to roam free, a tiny step in the right direction. Unfortunately, animal shelters still haven't caught on.
Rym Tina Ghazal is a senior feature writer and columnist for the National Newspaper. She is working on her second book, Single in the City that will include some of the adventures shared here.
http://www.huffingtonpost.com/rym-tina-ghazal/abaya-women-saudi-arabia_b_2114073.html
URL: https://newageislam.com/islam-women-feminism/it-began-with-myth-abaya/d/9295