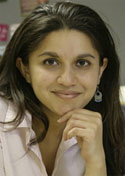 By Rafia Zakaria
November 12, 2014
NOT much of Pakistan operates on merit. Connections procure jobs, recommendations procure promotions, an uncle in this bureaucracy, a brother in that one, all of it together amounts to the favours and facilitators that are needed to get where one wants to be.
It was not a huge surprise, therefore, when the Pakistan Medical Dental Council (PMDC) announced at the end of September that it was doing away with merit-based admissions and implementing a 50-50 quota for girls and boys seeking admission to the country's medical and dental colleges.
In the days following, a modest outcry erupted. Some felt the ban was unfair while others welcomed it, saying too many girls were wasting the opportunities provided by a medical education by opting for marriage and motherhood. Aggrieved female students filed a petition with the Lahore High Court alleging that their equal rights as citizens of Pakistan were violated by the regulatory body's actions. Ayesha Malik, the judge who heard the case, about a month after the new policy was announced, agreed with them. In her judgment, she quashed the PMDC's quota policy for its unequal treatment of males and females. The PMDC has since announced that it will be seeking advice from the Supreme Court before implementing the policy.
According to the PMDC website, admissions to the country's private and public medical colleges are to be announced at the end of this month. It appears that merit-based admissions, as per the LHC's verdict and the PMDC's announcement, may survive for one more year. Their future, however, is contested.
In support of the PMDC's case, its president, Dr Masood Hameed, said that of the 14,000 medical students graduating in the country every year, 70pc were women but only 50pc of these actually practised medicine. Given that the government spends Rs2.4 million on each medical student admitted on a general merit seat, Dr Hameed added, the fact that half the girls admitted on merit seats were not practising was a huge loss to the country's investment.
There is no quibbling with the numbers. As many students and graduates of medical schools will testify, female graduates are at times unable to practise once they embrace marriage and motherhood. The question, therefore, is not whether the numbers are correct but rather whether to impose a quota limit that would deny admission to better qualified females on the basis of their gender and the decisions made by the women who came before them.
In an article I wrote last year titled 'The doctor brides', I analysed the predicament of those women who go to medical school and are never able to practise. As the response to the article proved, the situation was not one of 'where there's a will there's a way'. The vast majority were committed to the profession and to practising it: their obstacles arose from the societal pressures that landed upon them like an avalanche the second they crossed the threshold from daughter to daughter-in-law, student to wife.
Among the hundreds of letters I received were stories of meddlesome in-laws who could not accept a working daughter-in-law and of apathetic husbands who expected a wife with a career but saw no need to contribute to household chores. Added to these general societal pressures was the harassment from superiors in the professional field who believed that actual jobs, not simply seats in medical school, were a male privilege. All of it combined to create constrictions of a sort against which very few could persevere. If the medical school environment was one where merit held some sway, the world beyond was insistent on denying it.
Now the PMDC stands on the cusp of institutionalising this tradition of societal discrimination, ensuring that merit is wiped out even from the realm of medicine, where it has ruled to some limited extent. In heaping the blame that belongs to a whole society onto the backs of girls who wish to be physicians, all the double standards that operate to prevent female physicians from practising are denied, ignored and shelved.
No one, for example, wants to admit to the fact that Pakistan, especially middle-class Pakistan, has become quite used to singing paeans to girls' education but is completely unwilling to recognise that educated girls will become educated women, and educated women may wish to make choices for themselves that are different than those of their uneducated forebears.
The freedom that follows education, the societal support required to ensure that a woman can be a wife and a mother, a doctor and a daughter-in-law, is something Pakistani society by and large is unwilling to grant. Its consequences are in the numbers cited by the PMDC as the waste of an education.
Upon leaving medical school, female graduates face the unapologetically patriarchal Pakistan that insists on making achievement impossible for them. Their male counterparts never have to face quibbling in-laws who would like them to stay home, or complaining wives who wish they would have cooked a better meal, or harassing and lecherous superiors awaiting them in staff rooms and empty clinics.
Around the same time as Judge Ayesha Malik quashed the PMDC's gender quota, the World Economic Forum issued its 2014 gender parity report, revealing Pakistan to be the second worst country in the world in which to be a woman. Its findings also revealed that gender parity in work situations in Pakistan has not improved at all over the past nine years. These dire numbers illustrate the larger truth of an unequal society unwilling to look at more complicated questions. The solution to the wasted potential of housebound female doctors lies not in punishing future female applicants but in holding Pakistani society accountable for its inability to accommodate the working lives of women.
Rafia Zakaria is an attorney teaching constitutional law and political philosophy.
Source: http://www.dawn.com/news/1143831/physicians-and-patriarchy
URL: https://newageislam.com/islam-women-feminism/physicians-patriarchy-pakistan/d/99964