By Nicholas Kristof
March 13, 2019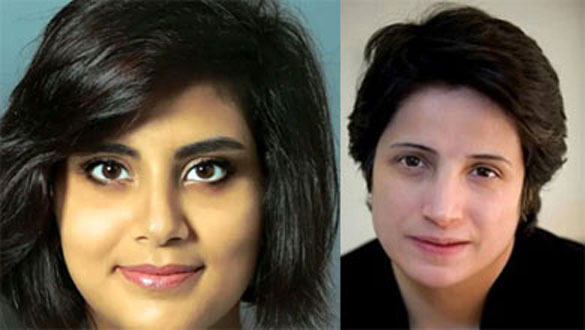 Loujain al-Hathloul and Nasrin Sotoudeh
----
This is a dispiriting epoch of strongmen and bullies, yet side by side with the worst you find the best. So today let's find inspiration in two heroes.
They are women who bravely challenged misogyny and dictatorship, one in Iran, the other in Saudi Arabia. Those two nations may be enemies, but they find common cause in their barbaric treatment of women — and since they are trying to squelch and smother these two women, we should shout their names from the mountaintops.
Nasrin Sotoudeh, 55, is a writer and human rights lawyer who for decades has been fighting for women and children in Iran. Her family reports that this week she was sentenced to another 33 years in prison, on top of a five-year sentence she is now serving, plus 148 lashes.
Loujain al-Hathloul, 29, a leader of the Saudi women's rights movement, went on trial Wednesday after months of imprisonment and torture, including floggings, sexual harassment, waterboarding and electric shocks.
Her sister Alia al-Hathloul told me that Loujain was finally presented with the charges against her, which included communicating with human rights organizations and criticizing the Saudi "guardianship" system for women.
I previously suggested that Hathloul should get the Nobel Peace Prize, and she has now been nominated for it. So let me revise my proposal: Hathloul and Sotoudeh should win the Nobel together for their courageous advocacy of women's rights before rival dictators who share one thing: a cruel misogyny.
I know I'll get notes from people who harrumph that the problem is simply Islam. That's too glib, but it is fair to say that Saudi Crown Prince Mohammed bin Salman and Iranian Ayatollah Ali Khamenei together tarnish the global image of Islam more than any army of blasphemers could.
"This sentence is beyond barbaric," the U.S. State Department said of Sotoudeh's reported sentence. Quite true. But the State Department refuses to be equally blunt in denouncing Hathloul's torture and imprisonment; that's because it sees the Saudis as allies and the Iranians as enemies.
What the Trump administration doesn't seem to understand is this: If you care about human rights only in countries that you despise, you don't actually care about human rights.
Alia al-Hathloul said that her sister was ordered to sign a letter requesting a royal pardon, and did so, and that the torture appears to have ended. I'm hoping that the crown prince is looking for a way to climb down from his brutal mistreatment of the women's rights activists and will eventually grant the pardon that she "requested."
Meanwhile, Iran seems to be cracking down harder. Amnesty International reports that Iran arrested more than 7,000 dissidents last year and that the 38-year combined sentence for Sotoudeh, if true, is the harshest imposed against a human rights defender in Iran in recent years. Iran state media suggested that she had been given a shorter sentence, but Sotoudeh and her family have much more credibility than Iran's government.
"The shockingly harsh sentence against her is a signal of just how unnerved the Iranian authorities have become," Kumi Naidoo, the secretary general of Amnesty International, told me. He noted that women's rights activists in Iran have become bolder, sometimes waving their head scarves on a stick and posting videos on social media.
"With this cruel sentence, the Iranian authorities appear to be seeking to make an example of Nasrin Sotoudeh and to intimidate other women's rights defenders," he said.
Sotoudeh's husband, Reza Khandan, was separately sentenced in January to six years in prison, for posting updates about his wife's case on Facebook. The couple has two children, a 12-year-old son named Nima and a 19-year-old daughter named Mehraveh. Hadi Ghaemi of the Center for Human Rights in Iran said that relatives may now have to raise Nima and Mehraveh.
"My dearest Mehraveh," Sotoudeh once wrote her daughter from prison, "you were my main motivation for pursuing children's rights. … Every time I came home from court, after having defended an abused child, I would hold you and your brother in my arms, finding it hard to let go of your embrace."
Likewise she wrote to Nima last fall, explaining why she was in jail rather than with him on his first day of the school year. "How could I witness the execution of juveniles in my country and be silent? How could I close my eyes to child abuse cases?"
"I just couldn't, my son." She added, "That was my sin."
Here's my message to Nima and Mehraveh: Your mom is a hero! She inspires people like me worldwide, and no imprisonment or flogging can change that. She will be remembered in history, like Loujain al-Hathloul, as a moral leader, perhaps Nobel Peace Prize winner, who confronted tyrants and changed the world for the better.
Nicholas Kristof has been a columnist for The Times since 2001. He has won two Pulitzer Prizes, for his coverage of China and of the genocide in Darfur.
Source: nytimes.com/2019/03/13/opinion/hathloul-sotoudeh-iran-saudi-arabia.html
URL: https://www.newageislam.com/islam-women-feminism/loujain-al-hathloul-nasrin-sotoudeh/d/118030