New Age Islam News Bureau
3 May 2016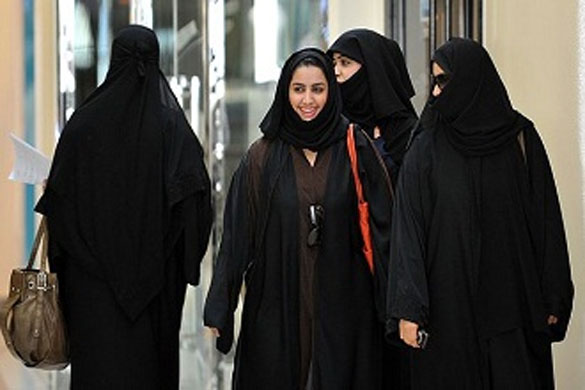 Photo: Saudi women are to automatically receive copies of their marriage contracts for the first time. Photograph: Fayez Nureldine/AFP/Getty Images
------------
• Lankan Muslim Panel Likely To Suggest Raising Age Of Marriage For Girls
• Delhi Govt to Study Muslim Women's Concerns
• Abuja Cleric Urges Women in Internally-Displaced Persons Camps to Shun Prostitution, Begging
• California Muslims Sue over Hijab Discrimination
• Muslim Women Accuse Laguna Beach Cafe of Booting Them Because Of Their Religion
• Annual Conference of the Islamic Women's Council of NZ
Compiled by New Age Islam News Bureaus
URL: https://newageislam.com/islam,-women-and-feminism/new-age-islam-news-bureaus/saudi-arabia-gives-women-the-right-to-a-copy-of-their-marriage-contract/d/107185
----------
Saudi Arabia Gives Women the Right to a Copy of Their Marriage Contract
MAY 3, 2016
Saudi brides will now get a copy of their marriage contracts, a privilege that was previously exclusive to men in the ultra-conservative kingdom, the kingdom's justice ministry has announced.
According to a directorate issued by the justice minister, Walid al-Samaani, clerics who register marriage contracts will now have to hand a copy to the bride "to ensure her awareness of her rights and the terms of the contract".
The decision aims to "protect the rights of the woman and facilitate procedures for her", the ministry said in a statement carried by SPA state news agency.
It said the decision took into consideration that a woman would need a copy of her marriage contract in case of a dispute with her husband and in court.
Women need the permission of their male guardians to get married under Saudi Arabia's interpretations of Islamic law. They also need that permission to travel and work, in a country where they are not allowed to drive and have to cover from head to toe when in public.
theguardian.com/world/2016/may/03/saudi-arabia-gives-women-the-right-to-a-copy-of-their-marriage-contract
---
Lankan Muslim Panel Likely To Suggest Raising Age Of Marriage For Girls
May 2, 2016
COLOMBO: The Sri Lankan Presidential panel set up to suggest amendments to the Muslim Marriage and Divorce Act of 1951, is likely to recommend raising the minimum age of marriage for Muslim girls from 12 to either 16 or 18, a member of the panel told Express on condition of anonymity.
"The committee favours raising the age of marriage, but it is yet to decide if it should be raised to 16 or 18."
"Discussions are still going on and we hope to submit our recommendation in June," the member said.
The committee was set up in 2009 by the then Lankan President,
Mahinda Rajapaksa.It is headed by the retired Supreme Court Judge Saleem Marsoof. One of the key organizations associated with it is the Muslim Women's Research and Action Forum (MWRAF) headed by the well known social activist, Jezima Ismail.
The committee has been on the job for long because of the sensitive nature of the issue. While social activists, human rights workers and the majority Sinhalese community have been clamouring for raising the age of marriage for Muslim girls to 18, to put it on par with the minimum age for the rest of Lankan females, the community itself has been wary about the bid for change.
For instance, when non-Muslim MPs, Hirunika Premachandra and M.A.Sumanthiran, took up the issue in and out of parliament, agitated Muslim leaders said that non-Muslims had no right to interfere. Sumanthiran was shouted down in parliament by Muslim ministers and MPs.
However, among Muslims themselves, a good section is in favour of making a change in tune with the times.
For example, S.M.Aliyar, the Qazi of the all-Muslim town of Kattankudy in the Eastern Province, told Express that Muslim law does not say that marriage at 12 is mandatory for girls. The minimum age could vary from country to country and as per the culture of the times. If the government and people of a country, in their wisdom, decide to raise the age of marriage, there should be no objection, Aliyar said.
WHY EARLY MARRIAGE?
However, in an article on the issue in meelparvai.net, Anas Abbas, argues that there are valid reasons for certain classes of Lankan Muslims to marry their girls off at a young age, sometimes immediately after puberty.
Poverty forces many parents to give away their daughters in marriage as quickly as possible. It relieves them of the burden of looking after the girls. Wome -headed households, which are a plenty in the Eastern Province because of the 30-year war, are particularly eager to get their daughters married off at the earliest.
Mothers who go to the Middle East to work as maids, have the additional problem of ensuring the security of the daughters they leave behind. Giving off their young daughters in marriage is one way of ensuring their security, Abbas points out.
Muslim boys themselves tend to get married early because they stop their education abruptly to take a job and earn money. Being young themselves, they have to look for younger brides.
Yet another factor contributing to the intense anxiety among women about getting married is the gender imbalance among Lankan Muslims With women outnumbering men, parents' anxiety about finding grooms for their daughters is understandable.
Abbas agrees that when a little girl is married off to shoulder conjugal responsibilities, she loses her youth and the opportunity to get educated.
But for him, the solution for the problem does not lie only in raising the minimum age of marriage from 12 to 16 or 18.It lies in tackling the underlying issue of poverty, for it is poverty which makes women go abroad for work. It is poverty which makes it burdensome to bring up girls. And it is poverty which makes young men give up their studies early and take up a job. And once in a job, marriage follows automatically.
"It will be more useful if people like Hirunika Premachandra demand an improvement in the economic condition of the Muslims," Abbas said.
newindianexpress.com/world/Lankan-Muslim-Panel-Likely-To-Suggest-Raising-Age-Of-Marriage-For-Girls/2016/05/02/article3411753.ece
---
Delhi Govt to Study Muslim Women's Concerns
May 3, 2016
The Arvind Kejriwal government's Delhi Minorities Commission (DMC) is looking to rope in NGOs and research institutes to carry out the study in Muslim-dominated areas.
"The ultimate objective of conducting the study is to make recommendations to the government of Delhi to take remedial policy decisions/ measures so as to improve the socio-economic and educational status of Muslim women in minority concentrated areas of Delhi," a note issued by DMC Deputy Secretary Vikas Goyal said.
The move comes close to the May 15 municipal corporation by-polls but an Aam Aadmi Party leader denied it had any political motives or was aimed at appeasing the Muslim community, which supported AAP in its political debut in Delhi.
Delhi's Northeast district has the highest density of Muslim population. In the survey, Muslim women respondents would be asked to give their priorities in the descending order on issues likes shelter, education, finance, health, family and entertainment. The study will gather information on their educational qualifications – whether they studied up to primary, secondary, higher secondary or graduate level, and if they have any professional degree, said an official.
It would also collect data on the rate of literacy, dropout rate and percentage in higher education, he said.
From working Muslim women, the study would collect data like income, working conditions and employment status, he said.
On personal matters, the questionnaire will cover marital status, family composition, membership of any association and source of entertainment.
It will also quiz them on approach and behaviour of people from other communities towards women belonging to the minority community.
Financial and political empowerment of Muslim women would be gauged through parameters like monthly income, bank account holder, savings status, voter card, use of voting right, awareness about public representatives, hospitals used for treatment, life and medical insurances.
An official said Muslim women's property and building ownership rights, and whether they have been on tours or pilgrimages in the city, country or abroad would also recorded.
Apart from the study on Muslim women's problems, the DMC also plans a separate study on problems and status of graveyards used by Muslims.
Another study on cemeteries used by Christians and their state is also proposed.
"All organisations with a minimum experience of three years can apply by May 15 for the three independent studies," said an official.
The commission has advised research organisations to submit their expression of interest in the form of technical bids.
The Muslim population in Delhi is around 21.58 Lakh out of the total 1.68 Crore.
The ruling AAP's interest in Muslim community's problems was also reflected in its Delhi unit Chief Dilip Pandey's recent interaction with Urdu media persons to collect first- hand information.
Ahead of the civic by-polls, the AAP seems to be trying to send signals to Muslim voters to continue supporting the new party which dislodged the Congress as their preferred choice.
deccanherald.com/content/544117/govt-study-muslim-womens-concerns.html
---
Abuja Cleric Urges Women in Internally-Displaced Persons Camps To Shun Prostitution, Begging
02 May 2016
An Abuja based Islamic Cleric, Sheik Zaiyanu Abdullahi, have urged women in Internally-Displaced Persons (IDPs) camps to shun prostitution and begging.
Abdullahi gave the advice at the weekend during the graduation of 120 IDPs trained on different vocational skills acquisition organised by the Coalition of Nigeria Muslim Women in Dakwa, Bwari Area Council in the FCT.
The News Agency of Nigeria (NAN) reports that the IDPs comprising men and women were trained on tailoring, bead making, cell phone repairs, soap and pomade making, shoe and bag making.
He noted that going into prostitution or begging in the name of making money would not solve any problem.
The cleric admonished the IDPs to be patient with their situation, adding that it was a test from the Almighty Allah, which was a temporary situation that would be surmounted.
"It came to my knowledge that some women at the IDPs camps due to harsh economic condition they find themselves have decided to go into prostitution and street begging.
"This is a sad development that will eventually distance them from the mercies of Allah and prevent them from earning the reward that comes with the condition in which they are being tested.''
Abdullahi also urged IDPs to shun all forms of social vices and accept their situation as a test from God, "the Supreme Being.''
The Coordinator of the Skill Acquisition Programme, Hajiya Rahamah San,i noted that it was the responsibility of all Muslims to empower IDPs, adding that government alone could not provide for all their needs.
"Donating relief materials to IDPs is a good and excellent effort, but the most important thing is to empower them to be self reliant. `This will inspire them to discover their potential with a view to reintegrating them back to the society,'' Sani said.
Speaking on behalf of the beneficiaries, Mrs Hauwa Mohammed, who was trained on cell phone repairs, expressed gratitude to the members of the coalition for empowering them.
The Coalition of Nigeria Muslim Women is an umbrella body of Muslim women organisations in the country.
today.ng/news/national/115446/cleric-urges-women-idps-camps-shun-prostitution-begging
---
California Muslims Sue over Hijab Discrimination
03 May 2016
LOS ANGELES: Two lawsuits filed in California on Monday claim that Muslim women were discriminated against in separate incidents because of their religion and for wearing the Hijab.
One of the suits claims that police in Long Beach forcibly removed a suspect's headscarf while another suit alleges that a group of women were kicked out of a Laguna Beach coffee house for being Muslim.
According to the complaint against the city of Long Beach and its police department, Kirsty Powell and her husband were pulled over by two officers while driving home in May of last year.
She was subsequently arrested on two outstanding warrants -- one linked to her sister allegedly falsely using her identity and one in relation to a 2002 shoplifting incident at a grocery store.
Powell, who is African American, alleges that while being booked at the police station, one of the officers forcibly removed her headscarf in view of other male officers and inmates, telling her she was "not allowed to wear her hijab" and that policemen were "allowed to touch women."
The suit states that Powell "suffered and continues to suffer extreme shame, humiliation, mental anguish and emotional distress" as a result of her experience.
"The actions taken by the Long Beach police officers were unwarranted and a serious violation of Mrs Powell's bodily integrity," said Yalda Satar, attorney for the Los Angeles chapter of the Council on American-Islamic Relations, which filed the suit on behalf of Powell.
"The manner in which Mrs Powell was treated by LBPD officers was simply a show of authority over a woman of colour who was unable to protect herself, and is another example of the type of discrimination faced by women who wear a hijab.
"The Long Beach Police Department said in a statement late Monday that Powell's hijab was taken off in line with the department's policy to remove certain items from inmates -- including belts, shoe laces and head coverings -- for their own protection.
"We respect the religious rights and beliefs of all people and understand the sensitivity of this matter," police chief Robert Luna said. "The policies we have in place are for the safety of the individual, other individuals and police employees.
'Targeted over hijab'
In a separate lawsuit also filed on Monday, a group of seven women claim that they were kicked out of Urth Caffe, in Laguna Beach, last month because they were Muslim.
The women, six of whom wear the headscarf, allege that management had asked them to vacate their table on April 22 on grounds that the restaurant was busy and that the policy limited seating to 45 minutes when no free tables are available.
When the women refused to leave, the coffee house called in the police.
Dan Stormer, whose law firm is representing the women, told AFP that it was clear his clients were targeted because of their religion.
"At the time our clients were there, there were several dozen free tables," he said.
"There were people who were there before our clients arrived and they were not asked to leave. Those people were white and they were not wearing the hijab."
The owner of the restaurant, Shallom Berkman, could not be reached for comment.
But in interviews with local media, he denied discriminating against the women and pointed out that his wife was Muslim.
The two lawsuits come as police in Los Angeles and San Francisco have come under scrutiny over racist and homophobic text messages and emails, several of which target Muslims.
On Sunday, a senior official at the Los Angeles County Sheriff's Department stepped down after outrage over emails he sent three to four years ago mocking Muslims and others.
In San Francisco, several police officers have resigned or retired over racist text messages they exchanged among each other.
dawn.com/news/1256018/california-muslims-sue-over-hijab-discrimination
--
Muslim Women Accuse Laguna Beach Cafe of Booting Them Because of Their Religion
May 3, 2016
LAGUNA BEACH, CA - Seven Muslim women sued Laguna Beach's Urth Caffe this week, alleging the restaurant kicked them out because of their religion.
The lawsuit stems from an April 22 incident in which the women were asked to leave the restaurant by an employee and then forcibly removed when the employee called the police.
Six of whom were wearing hijabs, a traditional headdress worn by Muslim women. They allege they were asked to leave under the auspices of a time limit for diners on busy nights. However, they contend the restaurant had numerous vacant tables and they were singled out for being Muslim.
"What began as a night out with some friends ended as a painful and embarrassing reminder of what it is like to be visibly Muslim—even in liberal California," one of the women Sara Farsakh wrote on her Facebook page. "By visibly Muslim, I mean women who wear the hijab, or headscarf."
A restaurant employee referred Patch to Urth Cafe's corporate offices for comment where no one could be reached late Monday night.
The restaurant's "busy time seating limit" is printed on placards placed at each table. It reads: "During our busy rush times, if you have already been at a table for 45 minutes or longer, please share or give your table to someone who is waiting. If tables are available, you are certainly welcome to enjoy Urth for as long as you desire."
The women claim that more than 20 tables were unoccupied when they were told they needed to vacate to make room for other customers. They further accuse restaurant employees of staggering their meals between 7:20 p.m. and 8:15 p.m., then telling them to leave at 8:15 p.m. when some in the group had just begun eating.
Other diners, who were white and had been in the restaurant longer, were not asked to leave, the women claim.
"Urth Caffe's expulsion of this group of women is a throwback to the days of 'Whites only' signs and colored water fountains, with Muslims now being the convenient targets of discrimination," said the women's attorney, Mohammad Tajsar.
"Urth Caffe's attempt to whitewash its upscale clientele by using its seating policy as a justification to expel those who outwardly appear Muslim is both immoral and illegal, and should have no place in Orange County's diverse community," he added.
Two other non-Muslim women also told Farsakh they had been there before Farsakh and her friends arrived and were not given the boot. Another group of women in the restaurant also said they had been there for about four hours, according to the Council on American-Islamic Relations.
"CAIR-LA is investigating the matter and is very concerned about the possible bias motive involved in this incident in wake of recent events in which Muslims were kicked off a plane or refused service simply for allegedly being Muslim," Hussam Ayloush, the organization's executive director, said on Tuesday. "No customer should have to face the humiliation of being kicked out or refused service if they are compliant with the business' policies. Public spaces, such as restaurants are prohibited from applying a business policy that denies access to services in a discriminatory manner."
For her part Farsakh summed up her feelings about the incident on her facebook post. "I can't even begin to express the feelings of embarrassment and humiliation as police officers were called to escort out a group of Muslim women from a restaurant," she wrote. "Shame on you Urth Caffe for your disgusting and racist treatment of paying customers."
patch.com/california/lagunabeach/muslim-woman-accuse-laguna-beach-cafe-booting-them-their-religion
---
Annual Conference of the Islamic Women's Council of NZ
May 2, 2016
Stepping up and stepping out was the theme of this year's Islamic Women's Council annual conference. The Hamilton conference, which was attended by 200 women from around the country, included a youth programme, along with competitions for written and spoken word poetry and short-story writing.
A group met with Attorney General, the Honourable Chris Finlayson, to raise social issues faced by Muslim women. "The women look forward to a longer term engagement with the government to ensure positive outcomes not just for our community but the country as a whole" said National Co-ordinator Maysoon Salama. "Muslim women contribute to this country in many fields, and we want to ensure that it remains a safe place for us."
The youth programme followed on from the successful national youth camp for Muslim girls held last December. "In order for successful integration, our youth programme is focused on developing strong and confident young women who feel comfortable with their unique Kiwi Muslim identity" said Assistant Co-ordinator, Aliya Danzeisen. "We are extremely proud of our youth leaders, who played a significant role in organising this year's conference. They give us a lot of hope for the future."
The AGM was held on Sunday morning, and IWCNZ is pleased to announce the following positions were filled:
National Coordinator – Dr. Maysoon Salama
Assistant Coordinator -Aliya Danzeisen
Assistant Coordinator –Anjum Rahman
Secretary –Zarghoona Lafrae
Treasurer - Munira Khanum
We look forward to implementing our plans over the next year and reporting progress at next year's conference in Palmerston North.
scoop.co.nz/stories/PO1605/S00021/annual-conference-of-the-islamic-womens-council-of-nz.htm
URL: https://newageislam.com/islam,-women-and-feminism/new-age-islam-news-bureaus/saudi-arabia-gives-women-the-right-to-a-copy-of-their-marriage-contract/d/107185

New Age Islam, Islam Online, Islamic Website, African Muslim News, Arab World News, South Asia News, Indian Muslim News, World Muslim News, Womens in Islam, Islamic Feminism, Arab Women, Womens In Arab, Islamphobia in America, Muslim Women in West, Islam Women and Feminism