New Age Islam News Bureau
30 October 2021
• Turkish Women From 81 Provinces Walk To Support Victims Of Terrorism
• Rusnah Aluai , PKR MP Apologises For Saying Drinking Timah Whiskey Is Like 'Drinking Malay Women'
• Jordan's Garment Sector Is Top Destination for Bangladeshi Women Workers
• Solidify Women-Centric Initiatives in Budget 2022, Women's Groups Tell Putrajaya
Compiled by New Age Islam News Bureau
URL: https://www.newageislam.com/islam-women-feminism/zebulon-simentov-afghanistan-jew/d/125681
--------
Zebulon Simentov, Thought To Be Afghanistan's Last Jew Flees Country
Oct 29, 2021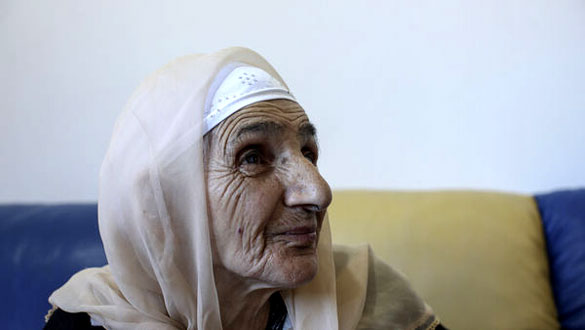 Tova Moradi, 83, an Afghan Jewish woman who fled Kabul this month (AP Photo/Franc Zhurda)
-----
JERUSALEM: For years, Zebulon Simentov branded himself as the "last Jew of Afghanistan", the sole remnant of a centuries-old community.
He charged reporters for interviews and held court in Kabul's only remaining synagogue. He left the country last month for Istanbul after the Taliban seized power.
Now it appears he was not the last one.
Simentov's distant cousin, Tova Moradi, was born and raised in Kabul and lived there until last week, more than a month after Simentov departed in September.
Fearing for their safety, Moradi, her children and nearly two dozen grandchildren fled the country in recent weeks in an escape orchestrated by an Israeli aid group, activists and prominent Jewish philanthropists.
"I loved my country, loved it very much, but had to leave because my children were in danger," Moradi told The Associated Press from her modest quarters in the Albanian town of Golem, whose beachside resorts have been converted to makeshift homes for some 2,000 Afghan refugees.
Moradi, 83, was one of 10 children born to a Jewish family in Kabul. At age 16, she ran away from home and married a Muslim man.
She never converted to Islam, maintained some Jewish traditions, and it was no secret in her neighbourhood that she was Jewish.
"She never denied her Judaism, she just got married in order to save her life as you cannot be safe as a young girl in Afghanistan," Moradi's daughter, Khorshid, told the AP from her home in Canada, where she and three of her siblings moved after the Taliban first seized power in Afghanistan in the 1990s.
Despite friction over her decision to marry outside the faith, Moradi said she stayed in touch with some of her family over the years.
Her parents and siblings fled Afghanistan in the 1960s and 1980s. Her parents are buried at Jerusalem's Har Menuhot cemetery, and many of her surviving siblings and their descendants live in Israel.
But until this week, she had not spoken to some of her sisters in over half a century.
"Yesterday, I saw my sisters, nieces and nephews after around 60 years through a video call. We spoke for hours," Moradi said. "I was really happy, I saw their children and they met mine."
"They said it's like she came back from the grave,'" Khorshid said.
Source: Times of India
https://timesofindia.indiatimes.com/world/south-asia/woman-now-thought-to-be-afghanistans-last-jew-flees-country/articleshow/87363530.cms
--------
Turkish Women from 81 Provinces Walk To Support Victims Of Terrorism
OCT 29, 2021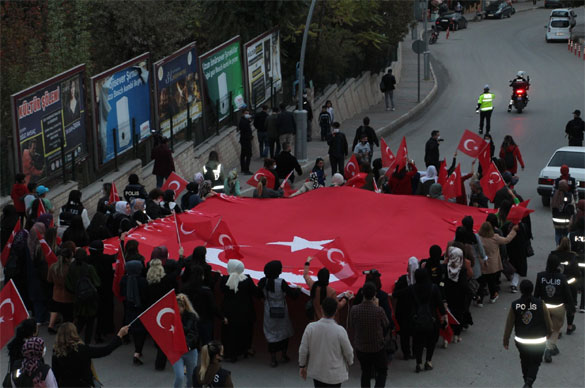 Women from 81 provinces staged a protest against the PKK in Şırnak province, Turkey, Oct. 28, 2021. (IHA Photo)
-----
Women from 81 provinces gathered in eastern Şırnak province on Thursday to support families that are victims of terrorism and to fight for the return of their children from the claws of terrorist organizations.
The group of women, supported by the Interior Ministry, gathered at the Cumhuriyet Square in Şırnak. The group voiced slogans against the terrorist organization with Turkish flags in their hand.
Hatice Atan, head of an association supporting the protesting women, said that the protest was organized to support mothers whose children have been abducted by the PKK.
Civilian movements against the PKK have grown in recent years with many families staging demonstrations or walks in several provinces inspired by the Diyarbakır protests.
Most recently, one more family has joined the ongoing protests against the PKK's activities in front of the Peoples' Democratic Party (HDP) headquarters in southeastern Diyarbakır.
Families that have been protesting for 787 days now, continue to wait for their children well into the night, holding the photos of their sons or daughters who have either been deceived or abducted by the terrorist group.
The protest started when Hacire Akar turned up on the doorstep of the HDP's Diyarbakır office one night, demanding to be reunited with her son. Akar's son Mehmet returned home on Aug. 24, 2019, giving hope to other families. A week later, on Sept. 3, 2019, families inspired by Akar staged a collective sit-in protest.
Since then, the number of families demanding the return of their children who they say were deceived or kidnapped by the terrorist group has been gradually growing.
The families have not given up their posts despite difficult conditions, at times being threatened or ridiculed by HDP officials and those with links to the PKK terrorist organization. The protest continued despite the coronavirus pandemic, with the families taking the necessary precautions.
A significant number of suspected terrorists have begun to flee the PKK and surrender, but many terrorists lack the courage to leave the group out of fear of severe punishment if caught.
The HDP, long facing public scrutiny and judicial probes over its ties to the PKK, is under pressure from the growing civilian movement. Various groups from around Turkey have supported the Kurdish mothers in their cause, with many paying visits to the protests to show their solidarity.
In its more than 40-year terror campaign against Turkey, the PKK – listed as a terrorist organization by Turkey, the United States and the European Union – has been responsible for the deaths of 40,000 people, including women, children and infants.
Source: Daily Sabah
https://www.dailysabah.com/politics/war-on-terror/women-from-81-provinces-walk-to-support-victims-of-terrorism
--------
Rusnah Aluai , PKR MP Apologises For Saying Drinking Timah Whiskey Is Like 'Drinking Malay Women'
29 Oct 2021
BY KEERTAN AYAMANY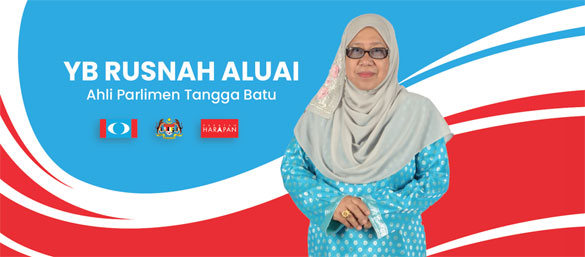 Rusnah Aluai/ Photo- Facebook
-----
KUALA LUMPUR, Oct 29 — PKR MP Rusnah Aluai has apologised for her controversial speech regarding the Timah whiskey brand yesterday, where she said consuming the alcoholic drink was akin to "drinking a Malay woman" .
"Although my original intention was to make sure there is no confusion about the label, my speech was misunderstood.
"Because of that, to whomever was offended by the speech, I apologise", she said in a Facebook post today.
The Tangga Batu MP however did not explain what she actually meant by her remark.
The Tangga Batu MP had yesterday questioned Timah's name and the particular image of "Captain Speedy" — otherwise known as Tristam Charles Sawyer Speedy — that is printed on the brand's bottle, during yesterday's Dewan Rakyat sitting.
She asserted the brand's name could be confused with short forms of the Malay feminine names, such as Fatimah, and pointed out that the image of Captain Speedy seems to be wearing a kopiah that is often donned by Muslims.
Winepak Corporation (M) Sdn Bhd, the company behind the locally produced alcoholic drink had a meeting with multiple ministers yesterday, where it agreed to reconsider the brand's name and asked for a week to consult its investors and other stakeholders.
The company previously explained that Timah was a reference to the tin mining era in colonial Malaya, and that it used the image of Captain Speedy as he is said to have introduced the drinking of whiskey in the country.
Source: Malay Mail
https://www.malaymail.com/news/malaysia/2021/10/29/pkr-mp-apologises-for-saying-drinking-timah-whiskey-is-like-drinking-malay/2017020
--------
Jordan's garment sector is top destination for Bangladeshi women workers
October 30, 2021
DHAKA: Jordan has become a top destination for skilled garment workers from Bangladesh, officials in Dhaka say, as hundreds of Bangladeshi women find employment in the kingdom's clothing sector every week.
Bangladesh started exporting skilled garment workers to Jordan in 2010 through a government agreement. Jordan's garment industry has expanded rapidly in the past few years, and two thirds of Bangladeshi female workers in the kingdom now find employment at its clothing factories.
In other Middle Eastern countries, Bangladeshi women work mostly as domestic helpers.
According to data from the Bangladeshi Embassy in Amman, the Jordanian garment sector currently employs 40,000 Bangladeshi women.
"Every week we recruit around 500 female migrants for Jordan's garment sector," Mohammad Abdus Sobhan, company secretary of the state-run Bangladesh Overseas Employment and Services, told Arab News. "It's a very good opportunity for Bangladeshi female migrants to earn more as a skilled workforce with much more dignity."
"All they need to have is some working experience in the local garment factories," he said, adding that average monthly salary of Bangladeshi garment workers in Jordan is between $260 and $360 and that all of them initially receive two-year contracts.
The demand for Bangladeshi labor has been on the rise since the lifting of coronavirus restrictions, Sobhan said. In 2020, the kingdom accepted only about 3,700 garment workers from Bangladesh, but this year up to Sept. 30 more than 12,300 had already left for the Middle Eastern country.
Jordanian employers bear all the costs of processing working permits, travel, accommodation and healthcare.
Bangladesh Nari Sromik Kendro (BNSK), a rights organization for migrant workers, has been conducting awareness campaigns in the country's rural areas about work opportunities abroad. It has found that workers are interested in joining Jordanian garment factories due to their employment model.
"Our female migrants are very interested in taking the opportunity since it's an employer pay model, where the employer bears all costs to have the migrants' services," BNSK executive director Sumaiya Islam said.
Workers themselves say higher incomes are also a factor.
"My elder sister joined a garment factory in Jordan three years ago. The working environment and salary structure is much better than in Bangladesh," said Masuma Begum, a 33-year-old single mother of two who is scheduled to fly to Jordan next month. "So, I also decided to join my sister."
Kulsum Akter, 27, another garment worker who is preparing to work in Jordan, said the job will help her to provide for her whole five-member family.
"The job in Jordan will double my income," she said. "Now I will provide better education for my seven-year-old son."
BRAC, the largest development organization in Bangladesh, encourages the authorities to do more to tap into the Jordanian market
"It's a very good opportunity for our female migrants since they earn more without any incidents of abuse," BRAC's head of migration program Shariful Hasan said.
"We need to make the people aware at the grassroots level, so that the intended migrants can make an informed decision about their opportunities in the overseas market."
Dhaka's ambassador to Amman, Nahida Sobhan, said the embassy is regularly in touch with Jordanian authorities, the Jordan Chamber of Commerce, the Jordan Garments, Accessories and Textiles Exporters Association, and individual factory owners to facilitate the employment of Bangladeshi workers.
"We are maintaining regular contact with Jordan's Ministry of Labor and other government agencies to bring more Bangladeshi workers," she said. "We have regular interaction with the business community."
Source: Arab News
https://www.arabnews.com/node/1957936/world
--------
Solidify women-centric initiatives in Budget 2022, women's groups tell Putrajaya
29 Oct 2021
BY SHAHRIN AIZAT NOORSHAHRIZAM
KUALA LUMPUR, Oct 29 — Putrajaya should deliver on its pledge for women to occupy one in three boardroom seats, gender advocacy groups said in response to the Budget 2022 target of at least one female director in all companies.
Women's Centre for Change (WCC) programme director Karen Lai said this should also be expanded to cover the public sector and politicians.
She said it was important to continue such efforts until the country reached "the minimum critical mass" of 30 per cent women's representation in all decision-making levels.
"Currently, women's political representation is still lagging behind and this has a significant impact on laws and policies affecting women, children and families on the ground," she told Malay Mail.
In 2011, then-prime minister Datuk Seri Najib Razak announced that Putrajaya would implement a 30 per cent quota for women in corporate boardrooms but this was never made into law.
However, Nation of Women (NoW) president Hanizah Talha said it is also critical to ensure qualified women were appointed on merit, and not simply to make up the quota.
Institute of Corporate Directors Malaysia (ICDM) said the push for more women to be included in leadership roles was empirically beneficial, citing a study that showed companies with at least 30 per cent women directors reported 38 per cent higher return on equity versus firms with all-male directors.
"This is a reflection of the importance of advocating for greater diversity on boards," it said.
Separately, the Women's Aid Organisation (WAO) asked whether the Budget 2022 went far enough to fundamentally address gender inequality in the country.
Among others, it said there was no increased investment to improve the country's childcare infrastructure despite the lack of this being a major impediment for women's work.
"Besides investments in D11 (Sexual, Women and Child Investigation), we did not hear any indication of increasing investments for crucial services like One Stop Crisis Centres in public hospitals or an increase in JKM officers.
"Commitment to increase women's protection shelters was announced, though the investment figure was not mentioned," it said.
Sisters In Islam communication officer Aleza Othman said the initiative for single mothers dubbed "MyKasih Capital" did not appear to have sufficient allocations.
"Allocations are made for single parent households that can see them benefitting up to RM2,500. The allocation for programme MyKasih Kapital would only benefit up to 2,000 single mothers when the number of single mothers in Malaysia exceed more than this. "Whether the budget addressed the structural poverty issues faced by single parent households affected by the pandemic remains to be seen," she told Malay Mail.
When tabling Budget 2022 today, Finance Minister Datuk Seri Tengku Zafrul Abdul Aziz announced plans to tackle sexual crimes against women and children, address period poverty, assist single-parent households, and increase women's representation in corporate leadership.
Source: Malay Mail
https://www.malaymail.com/news/malaysia/2021/10/29/solidify-women-centric-initiatives-in-budget-2022-womens-groups-tell-putraj/2017025
--------
URL: https://www.newageislam.com/islam-women-feminism/zebulon-simentov-afghanistan-jew/d/125681
New Age Islam, Islam Online, Islamic Website, African Muslim News, Arab World News, South Asia News, Indian Muslim News, World Muslim News, Women in Islam, Islamic Feminism, Arab Women, Women In Arab, Islamophobia in America, Muslim Women in West, Islam Women and Feminism