New Age Islam News Bureau
6 May 2020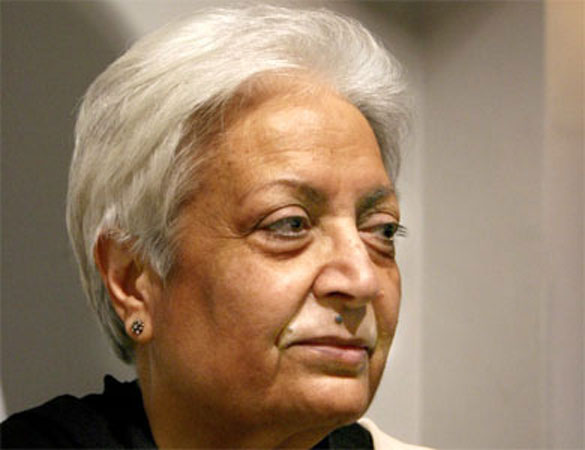 Zarina Hashmi, An Indian-born American Artist
-----
• Zarina Hashmi,An Indian-Born American Artist of a World in Search of Home, Dies at 82
• Pakistan- First Female Sikh Journalist from Peshawar Nominated for UK Award
• 46% Of UK's Forced Marriage Cases Linked To Pakistan
• Saudi Female Employees Resume Work in Malls Amid Strict Health Precautionary Measures
• 18 Arab Women Share Messages Of Gratitude This Ramadan
• UN Accuses Houthis of Using All-Female Militia to Suppress Opposition
• Religious Fatwas of Concern to Muslim Women During the Month Of Ramadan
• Muslim Women in the Lead to Fight Covid-2019 - From Masks to Cremations
• Fifty Shades of Fearlessness: A Remarkable Ode to Pakistan's Feminist Icons
• Is There A Difference Between A Niqab And A Face Mask?
• North Philly Woman Helps Others Break Fast
Compiled By New Age Islam News Bureau
URL; https://www.newageislam.com/islam-women-feminism/zarina-hashmi-indian-born-ameri/d/121772
-------
Zarina Hashmi, An Indian-Born American Artist of a World in Search of Home, Dies at 82
By Holland Cotter
May 5, 2020
Zarina Hashmi, an Indian-born American artist who turned the history of her peripatetic life into an emotional and spiritual guide composed of spare images, poetic words and subtle politics, died on April 25 in London. She was 82.
Ms. Hashmi, who preferred to identify herself professionally by only her first name, became internationally known for woodcuts and intaglio prints, many combining semiabstract images of houses and cities she had lived in accompanied by inscriptions written in Urdu, a language spoken primarily by Muslim South Asians. (It is the official national language of Pakistan.)
In South Asia itself, she is particularly revered as a representative of a now-vanishing generation of artists who were alive during the 1947 partition of the subcontinent along ethnic and religious lines, a catastrophic event that, she felt, cut her loose from her roots and haunted her life and work.
Zarina Rashid was born on July 16, 1937, the youngest of five children, in the small Indian town of Aligarh, where her father, Sheikh Abdur Rashid, taught at Aligarh Muslim University. Her mother, Fahmida Begum, was a homemaker.
In her 2018 memoir, "Directions to My House," Ms. Hashmi described growing up in what she called a traditional Muslim home. In hot months she and her older sister Rani would sleep outdoors "under the stars and plot our journeys in life." The floor plan of her childhood house, whose walls enclosed a fragrant garden, became a recurrent presence in her art.
That life abruptly ended with the partition of India and the violence between Muslims and Hindus. For safety, her father sent the family to Karachi in the newly formed Pakistan. The experience of fleeing to a refugee camp and seeing bodies left in the road stayed with Ms. Hashmi.
"These memories formed how I think about a lot of things: fear, separation, migration, the people you know, or think you know," she wrote in her memoir.
She eventually returned to Aligarh, near New Delhi, and earned a degree in mathematics from the university there, but the place would never be home again.
At 21 she entered into an arranged marriage with a young foreign service diplomat, Saad Hashmi, and a life of travel began. In 1958, they were posted in Bangkok, where her interest in printmaking started. In 1963, after an interlude in New Delhi, where she made friends in the city's art community, her husband's job took them to Paris. She attended the British printmaker William Stanley Hayter's Atelier 17 workshop there, becoming immersed in European modernism, including abstraction.
In their four years in Paris, she and her husband began to drift apart. Once back in New Delhi, she essentially lived and traveled on her own. In 1974, she went to Japan, where she planned to stay two weeks; she stayed a year, studying woodblock techniques with Toshi Yoshida in Tokyo.
During this period she experimented with printmaking conventions. She eliminated color. She printed grains and textures she found on scraps of wood. She punctured and slashed the surface of handmade paper, or built it up sculpturally with pulp.
When her husband died suddenly in 1977, she contemplated settling in India or Pakistan, where her parents then lived, but chose instead to move to New York City, which she had visited earlier. She found it difficult at first, living a bare-bones life alone in a small loft in the garment district.
But gradually she was absorbed into Manhattan's downtown art world, largely through her involvement with the feminist art movement. She taught at the New York Feminist Art Institute, which opened in 1979 (and closed in 1990) and joined the Heresies Collective, a group of feminist artists for whom she co-edited the "Third World Women Artists" issue of their fabled journal.
In 1980 she organized, with Ana Mendieta and Kazuko Miyamoto, an exhibition called "Dialectics of Isolation: An Exhibition of Third World Women Artists of the United States," at A.I.R. Gallery, then located in SoHo. (It is now in the Dumbo section of Brooklyn.)
It was around this time that she began to make the themes of home and exile central to her art. "Some people who have come and settled in the United States don't look back, but I'm not one of them," she said in a 2017 interview with Courtney A. Stewart, a senior research assistant in the department of Islamic art at the Metropolitan Museum.
Near-abstract images of houses recurred. A 1981 cast-paper relief called "Homecoming" is essentially an aerial view of a courtyard surrounded by arches, reminiscent of the one in her childhood home. A bronze sculpture, "I Went on a Journey III" (1991), is a miniature house on wheels. The prints in a portfolio called "Homes I Made/A Life in Nine Lines" are based on blueprints of houses that Ms. Hashmi had lived in from 1958 onward.
And in a print series called "Letters From Home," Ms. Hashmi overlaid images of both house and city onto the texts of letters, often about family deaths and loss, that her sister Rani had written to her but never sent. Significantly, each letter is transcribed in Urdu script, as are many identifying labels in other prints. Urdu is slowly going out of currency in sectarian India, but for Ms. Hashmi it defined "home" as surely as images of maps and houses did.
"The biggest loss for me is language," she told Ms. Stewart. "Specifically poetry. Before I go to bed lately, thanks to YouTube, I listen to the recitation of poetry in Urdu. I jokingly say I have lived a life in translation."
Much of the Urdu poetry that Ms. Hashmi cherished was associated with Sufism, a mystical strain of Islam that interested her deeply. Some of her later abstract prints, as well as sculptures in the form of prayer beads, directly refer to it. "I do believe in a spiritual life," she said, "and I'm not embarrassed by that."
It took time for her to find a substantial American audience, but there has been growing interest in her work in the past decade or so. She was included in important surveys, including "The Third Mind: American Artists Contemplate Asia 1860-1989" at the Solomon R. Guggenheim Museum in New York in 2009 and "WACK! Art and the Feminist Revolution," organized by the Museum of Contemporary Art in Los Angeles in 2007.
In 2012, the Hammer Museum in Los Angeles organized a career retrospective, "Zarina: Paper Like Skin," which traveled to the Guggenheim and the Art Institute of Chicago. Another survey, "Zarina: Dark Roads," was organized by Sarah Burney at the Asian/Pacific/American Institute at New York University, where Ms. Hashmi was artist in residence from 2017 to 2018. A third show, "Zarina: Atlas of Her World," was mounted at the Pulitzer Arts Foundation in St. Louis last year.
Ms. Hashmi represented India in the 2011 edition of the Venice Biennale and has had solo exhibitions at Gallery Espace in New Delhi since 2000. Luhring Augustine Gallery represents her in New York.
Ms. Hashmi chose, as an artist, to identify herself by neither her father's name nor her husband's. In addition to her nephew, she is survived by a niece, Saima Chishti.
In recent years the political scope of Ms. Hashmi's work has sharpened, in prints that refer to anti-Muslim violence and the plight of persecuted refugees. Even then, in its scale and reflective mood, her art remains as personal and intimate as a diary. Regret colors the narrative. ("Nobody is left in our house at Aligarh. Rani is gone. My parents are gone. Home has become another foreign place.") But something like serenity settled in.
"I have had people come to my show and start to cry," Ms. Hashmi said in her interview with the Met. "I always ask them why, and usually they say, 'That is our story also.' A lot of them were people who were exiles from their own country: Holocaust survivors, or people who had the desire to return home. I realize that if you tell your story and if someone can come and cry on your shoulder, that is sharing."
https://www.nytimes.com/2020/05/05/arts/zarina-hashmi-dead.html?smid=em-share
------
Pakistan- First female Sikh journalist from Peshawar nominated for UK award
5/5/2020
(MENAFN - Tribal News Network) PESHAWAR: Manmeet Kaur, the first woman journalist from Sikh community from Peshawar, has been nominated for an award in UK.
Manmeet Kaur said while talking to TNN that 'The Sikh Group' in UK has nominated her for an award for highlighting problems of Sikh community in Khyber Pakhtunkhwa. She said 100 people from around the world have been nominated in the first phase and some of them will be shortlisted for the award.
Manmeet Kaur said The Sikh Group is a global organisation which awards people from Sikh religion from different parts of the world who serve the people in different ways. Manmeet Kaur said she has worked for promotion of inter-faith harmony and rights of minorities in Pakistan. She said Indian singers Ammy Virk and Gaurav Randhawa have also been nominated along with her for the award. She said the institution also awarded Indian Prime Minister Manmohan Singh and her nomination for this award is a great achievement for her.
Manmeet Kaur said her nomination for the award will encourage other women to work hard in their respective fields and serve humanity. She said if she is lucky enough to eventually get the award, she will represent the whole country in UK and tell others that women in Pakistan never lag behind in any field.
Ms Kaur said when she initiated reporting in 2018, her family and community members were not happy as they said the community girls don't go outside their homes for work. She said the family members were worried about her and told her how she will compete with men in a city full of challenges for women. However, she said, when she started reporting on problems of her community members, her people became happy with her work and appreciated her.
The 25-year-old is married and she also has a one-year-old child. She got Master's degree in social work from the University of Peshawar. She said literacyrate among girls from Sikh community is low and girls don't have the tendency of doing jobs that is why she was feeling a bit nervous that people may not accept her in the field. However, she said when she started work, she got very encouraging response from family and community. She said she is now working with great self-belief and dedication and her work is getting recognition.
She said even the nomination for such a coveted award is an achievement in itself. She said every person faces difficulties in the field initially, but these difficulties can be overcome if a person remains committed and dedicated.
https://menafn.com/1100117034/Pakistan-First-female-Sikh-journalist-from-Peshawar-nominated-for-UK-award
--------
46% of UK's forced marriage cases linked to Pakistan
MAY 6, 2020
At least 46% of the forced marriage cases reported to the British authorities were linked to Pakistan, the UK Home Office (HO) data have revealed. The Forced Marriage Unit (FMU) stats for the year 2018 released this week shows the breakdown of the cases by countries as cases related to 64 "focus" countries were handles by the British Officials around the world.
According to the latest figures, FMU gave advice and support to 1507 cases of possible forced marriage in 2018 with 687 victims were of Pakistani origin which makes Pakistan with the largest numbers of forced marriage related cases. The reason being the large size of the Pakistani diaspora in the UK. The proportion of cases relating to Pakistan has increased by around 9%compared with 2017. However, the proportion of cases relating to Pakistan in 2018 is stable compared to 2011-2016.
Out of 687 Pakistani cases, 515 victims were female and 133 male, age wise an alarming numbers of 119 (17%) were 15 and under, 125 (18%) of 16-17 years, 132 (19%) 18-21, 101 (15%) 22-25 year and in 71 (10%) cases the victims were aged between 26-30 years. 35% of Pakistani cases are linked to the North West (122 cases) and Yorkshire and Humber (119 cases) regions, with 47 cases linked to Manchester and 45 to Leeds. 85% of cases were handled entirely in the UK, where the focus was on preventing the marriage before it was due to take place, or where the marriage had taken place and the victim was being forced to sponsor a spousal visa.
Pakistan is followed by Bangladesh with 133 (9%) cases, UK 102 (7%), India 85 (6%), Afghanistan 41 (3%), Somalia 41 (3%), Iraq 33 (2%) and Saudi Arabia 8 (1%) reported case. 12 cases (1%) involved victims who identified themselves as lesbian, gay, bisexual or transgender (LGBT). Some 93 cases (6%) involved victims where there was a concern that they may have a learning disability.
According to the analysis, 1,129 cases (75%) involved female victims and 267 (18%) with male victims, this demonstrates that forced marriage is a crime which disproportionately affects women, but that it is also not an issue which only women face; men can also be forced into marriage. UK region associated with the greatest number of cases was London 268 cases, 18% followed by North West of the country with 228 cases, 15% and West Midlands 176, 12% of all cases reported.
FMU said that when a victim is overseas, the risk is often elevated because it can mean the wedding is imminent. The security situation in certain countries or regions within countries also affects the risk and the level of support the FMU is able to provide. However still In 2018, they supported the repatriations of 23 individuals to the UK.
According to the findings, majority of referrals (62%) came from professionals such as those in the education, legal and health sectors, as well as from other third parties, for example non-governmental organisations. The other calls/referrals came from victims (19%)and the remaining ones from friends, partners, family members and anonymous callers (19%). The fact that only about a fifth of cases were notified to FMU by victims who were self-reporting may reflect the hidden nature of forced marriage and the fact that victims may fear reprisals from their family if they come forward.
Support and campaign groups says people force others into marriage due to a range of factors such as preserving wealth and family reputation. Many victims are subject to emotional blackmail and physical threats. A number of them may be forced to marry a member of their extended family, for example, a cousin. In most of these case, it's the parents and close family members who force the victims into the marriage, they added.
According to the HO guidance, forcing someone into marriage is a criminal offence. A forced marriage is defined as one in which one or both spouses do not consent to the marriage, and violence, threats, or any other form of coercion is involved. Coercion may include emotional force, physical force or the threat of it, and financial pressure. In an arranged marriage, by contrast, both parties have consented to the union but can still refuse to marry if they choose to.
In order to effectively deal with this issue, FMU was established jointly by the UK HO and Foreign & Commonwealth Office (FCO) in 2005 to lead on the Government's forced marriage policy, outreach and casework. The unit operates both inside the UK, where support is provided to any individual, and overseas, where consular assistance is provided to British nationals, including dual nationals.
https://dailytimes.com.pk/607818/46-of-uks-forced-marriage-cases-linked-to-pakistan/
--------
Saudi Female Employees Resume Work in Malls Amid Strict Health Precautionary Measures
May 2, 2020
By Randah A-Harthi
RIYADH — Saudi female employees have resumed work since Wednesday in the malls in all regions of the Kingdom. Shoppers, including citizens and expatriates, have begun flocking to the malls to purchase their needs, amid high standard measures set up by owners of these malls to protect shoppers' health.
SPA met several of these female Saudi employees, who have resumed work in the malls, in line with the royal order to ease curfew measures during the period Ramadan 6–20, 1441H.
They unanimously expressed their thanks to the Custodian of the Two Holy Mosques King Salman and Crown Prince Muhammad Bin Salman for all the financial support the state has provided the private sector to mitigate the impacts of the precautionary measures to stem the spread of the new coronavirus (COVID-19).
Young woman Alyaa Al-Khath'ami, who works in a shop selling international brands of ladies' wear, said she joined work in the store recently. She expressed happiness working with her Saudi sisters in the store.
At the same time, Al-Khath'ami contributes to serving the shoppers. She stressed that this job is an important source of income for her and her family.
The income will help her live a happy life. She added that it is also an opportunity to gain experience from her job, which will inevitably help her in future, according to her.
Meanwhile, Noorah Abdullah, manager of one of the shops, said: "In the process of selling goods during the period allowed by the state, we are keen to ensure compliance with the highest safety standards in the store.
"We always alert the shoppers to take the necessary precautionary measures for the sake of public safety of the shoppers in the malls and markets. I'm very happy to resume work with my female colleagues. We are all enthusiastic to work hard to meet the shoppers' needs during the period allowed for shopping."
Young Saudi Al-Hanouf said that she is working as an assistant sales manager in one of the branches. She said that she has four years experience in international products.
Al-Hanouf added that she has made preparations to exert her utmost efforts to meet the local market demand during the specified period Ramadan 6–20.
She stressed that they are following up on how the precautionary measures are being carried out, including testing and checking up female employees and shoppers to ensure public safety.
Saudi women have set an good example for work in the private sector, specifically in malls, which for them is a new experience, if we take into consideration the past few years when women started joining the marketing field in shops, whether as female investors or salespersons.
Within a short time, women have been able to show creativity in their work and have proved themselves. Women have been accepted by a wide segment of shoppers, whether citizens or expatriates.
The number of female Saudi employees in the government sector and various private sector companies, establishments and malls during Q4 2019 has reached 1,115,414.
These formed 26 percent of the total manpower in the Kingdom — both males and females — according to the labor market bulletin for Q4 2019, issued by the General Authority for Statistics (GASTAT).
As to the private sector, the percentage of women in the labor market has risen from 23 to 25 percent by the end of Q3 2019, amid the endeavor to empower women in the labor market.
Meanwhile, women's contribution to the economy has increased from 17 to 23.2 percent by the end of Q3 2019, according to the statistics of the Ministry of Human Resources and Social Development.
https://saudigazette.com.sa/article/592610/SAUDI-ARABIA/Saudi-female-employees-resume-work-in-malls-amid-strict-health-precautionary-measures
--------
18 Arab women share messages of gratitude this Ramadan
Attitude of gratitude
During this special month, we thought it would be wise to stop, take stock and to think about what mindfulness means to us and what we're grateful for. We asked some of the most incredible women we know to do the same.
Mindful for me, means peace. Being more mindful taught me to stop running and to appreciate everything around me. I'm also mindful to appreciate my family. So, mindfulness keeps me living in the now.
Practices that bring me peace and make me feel focused are swimming, music (especially classical) and little things like just sitting down and allowing quiet time.
I am grateful that I have passion and I'm able to love, especially toward my family and kids. I'm also grateful for my team and clinic, as they are the ones who make me feel good for achieving all we do. Lastly, I am very grateful for living in a country that has peace, because without it, I can never find all of the points above. Feeling at peace and to feel safe is the most important.
Usually every Ramadan, we decorate the house with lanterns, crescent moons and we light the trees in the garden. For me, the main thing in Ramadan is the gathering but this year, we're not be able to do it. Still, I'm going spend it with my main family and I'm going to connect with people and call them or video call them as sadly we need to practice social distancing. I am still able to communicate with them, talk, share news and food because what's important is the emotional communication and that is what I'm going to keep on going. And in a way, I'm looking forward to this year's Ramadan because usually in the other years, it's really hectic with work and having to be outside the home. This year we get to spend more time at home to read Qur'an and to have time for our Islamic practices. Everything can be positive, it depends on how you look at it and I am choosing to look this experience in a very positive way, I'm choosing to learn new things, giving my time to pause and to be more mindful.
Mindfulness is a practice of carefully focusing attention and awareness of present moment, making conscious decisions and be an observant without judgment. We have scientific evidence to suggest that mindfulness indeed enhances our mental, emotional and physical health and cultivates our wellbeing.
As a genetic scientist, I am a huge believer in these principles: meditation practices and adhering to healthy habits like adequate sleep, healthy and balanced diet and moderate and regular physical activities.
Gratitude is both the art and the science of living a fulfilled life. The three things I am most grateful for are: my privilege to be born as an Emirati woman and have opportunity to serve my nation, UAE; my family; my mentor and president of UAE GDA and UAE Genetic Diseases association, volunteers, scientific experts, members of board and societies.
The holy month of Ramadan is always very special and an opportunity to reflect on my privileges, blessings of God and to connect with family, friends, community and expanding my learning. This Ramadan is especially a month of compassion and solidarity, towards the public service providers, healthcare and essential service teams working in our country and worldwide.
Mindfulness is essentially a heightened sense of awareness of oneself and one's environs. Practicing mindfulness enables me to be fully present in my 'here and now', to purposely focus my attention on my daily experiences, on my thoughts, feelings and actions. These acts of mindfulness ground us, enable us to notice and appreciate the little things in life, accept things we cannot control and ultimately, be the best versions of ourselves. For me, mindfulness is being aware in each and every moment. It means taking responsibility for what I am thinking, saying and doing, and if it is not the experience I want, I change it.
My work is a very important part of my life. It allows me to build on my strengths and gives me great satisfaction at the end of the day. Exercise is very important physical and mental strength so I can push boundaries fully energised. Meditation is part of my daily routine – it removes stress and helps me centre myself. I turn to praying for inner peace.
I am grateful for this life that I am able to lead; that I am able to help and support those in need; for the good health and for the relationships that have helped me become the person I am now. I am immensely grateful for the resilient and positive community I am a part of, and for this I have to thank our wise leadership for providing support and care to all citizens and residents of the UAE, equally without exception or bias.
Ramadan is a period for peace, introspection and thanksgiving. This year, I will be observing Ramadan with a focus on developing more compassion, self-discipline and inner resilience.
I think mindfulness for me is being empathetic through everything you say and do, and creating a positive influence when you extend that awareness to the people around you, to your business practices, and even to yourself.
Apart from balancing time between taking care of my business, family duties and engagements, I find that's important to take time for myself. Maintaining a regular fitness routine and healthy lifestyle have always helped keep me centred physically and mentally.
My family, friends, and my entire team – I get to have these amazing experiences with their help and support which I'm always grateful for.
Ramadan is a special time because I get to spend extra quality time with my family, enjoying each other's company over Iftars and Suhoors. It's also an opportunity to slow down, rediscovering old books and films, and getting inspired for next season.
Mindfulness for me is the focus of being present, engaged and grateful in the current moment. Mindfulness is the ability to focus my attention, thoughts, emotions and body by being engaged and in a tranquil state.
I am a big advocate of a correlation between mental health and fitness. It took me years to find a way to disconnect from within and from my busy days and focus internally on my peace of mind on the daily. My daily workout session is a good one to two hours of rebalancing, clarity and escaping from the daily hustle of the business world.
Ramadan for me is an important month to reset my body and mind. Detoxing the body, maintaining my fitness levels and freeing the mind for more religious meditations. We will celebrate in Dubai with unity and closeness.
This is the perfect time to feel and be completely submerged in mindfulness. During COVID-19 I've started to notice my internal being and external. The stillness of things has brought a new kind of zen to beautiful moments that we would have missed in busier times. So, to me it's the deep appreciation of being alive.
I will be cooking daily for my staff as they moved in with us. I will also Zoom with my mother, sisters and brother to stay in touch and celebrate the spirit of the month.
Mindfulness for me means treating one another with grace and compassion and trying our best to impact positive change through our words and actions.
As a mother, wife of an Ambassador Minister and business owner, I am constantly in motion so sticking to a routine is important as I juggle my various roles. My family is my source of peace; being a mother who is present is my number one priority, so I always put my kids first. In spite of my busy schedule, I also make a point to set aside time for exercise – kickboxing is my workout of choice as I find it incredibly therapeutic.
My family and their health, which is most important at a time like now, as well as the opportunity to impact change and help our community. I'm also grateful for my friends, near and far.
I love being able to welcome friends and colleagues to our home and share in the holy tradition of Ramadan. Since circumstances won't make it possible to gather this year, I look forward to reflecting with my little family over home cooked meals. The unexpected extra time with my children has been a blessing – they are blissfully happy and innocent in all of this so I am loving the frequent hugs, funny chats and outdoor walks.
It's your ability to focus on the very moment you are living in and try to shut out all the voices and distractions inside your head.
Praying five times a day and taking some time to meditate first thing in the morning. The app 'Calm' has been my go-to solution to stress especially during to lockdown.
It's scary to know that it will be so different this year. I plan to pray as usual and read Qu'ran but mostly from and at home. Hopefully do a few online Iftars and Suhoors with family and close friends on Zoom if lockdown persists.
Mindfulness to me is focusing on what's going on in my life right now, not holding on to things from the past, or worrying about things in the future, but being aware of my mental state and my family's mental state in the moment. It's about being kind to myself and aware of what others might be going through during these difficult times, and showing compassion. An important part of mindfulness for me is also seeing the situation for what it is and reminding myself that like all things, this too shall pass inshAllah.
The act of prayer is a daily practice that gives us a strong sense of peace and strength by default, it allows us a time to stop everything we are doing five times and day and no matter what we are feeling we stop, breathe and be truly grateful for the things happening in our lives, both the good and the bad. Another thing is the 'Calm App' – it's my go-to application every day for my meditation and mindfulness practices. Every evening before I go to bed I mediate with the 'Daily Calm' session, the 'Daily Calm' is guided meditation with a short talk at the end on a specific topic that teaches us how to stay grounded, centered and more focused in our life and practice.
Firstly, I am grateful for our leadership and healthcare workers who have dedicated their lives to ensuring our health and safety, I am grateful to all those on the front lines fighting again COVID-19, they have shown us that in the hardest of times they are the truest of heroes. Secondly, I am grateful that my family and I are able to stay at home and safe during these challenging times, we are aware and understand that for many that is not the case so we are doing what we can to help and support. And finally, I am grateful for my family, they bring so much love and joy to my life every single day, and push me to become a better human, creator, wife and mother.
I know there might not be much to celebrate given what is happening in the world, but in my opinion that is why Ramadan couldn't have come at a better time. The Holy Month is a time to reflect, to deepen our connection with Allah and help other people. I am aware these are things we do in our daily lives, but during Ramadan those acts of reflection, kindness and help for others is magnified. Our goal is to celebrate those acts by doing everything we can to help and support other people, the world needs it now more than ever.
To me its awareness in both micro and macro scales, meaning being away of things inside you and the external factors as well, such as your mental and emotional health and being apathetic and sympathetic towards those around you. It's an important balance that we need to be fully present and aware of ourselves on a deeper level, not just being aware of the here and now but also the why and when.
Sports has always been my go-to for focus and funnily enough, organising brings me peace – the first thing I did when lockdown happened was go on an organisation rampage! I only started feeling badly home sick once I ran out of things to organise.
No matter how crazy my schedule is or how far I go for my adventures I try very hard to be home for Ramadan. Sometimes I'm halfway across the world in the middle of nowhere, but I still try to be there for a bit because there's something very special about being home for that month.
Its meaning has changed as my understanding of it having evolved over the years, stemming from my own healing journey as well as the journey of my yoga students, and from the children we work with at Superhope.
Yoga for sure. After co-initiating Superhope and meeting with incredibly powerful children, a part of the experience made me realise that I did not know how to process pain constructively, and that snowballed as I encountered different events which triggered an anxiety attack one day. I was then determined to find a tool to get me out of it and to never experience it again. The tool was yoga, and with yoga comes deep breathing, journaling, and paying attention to what I fuel my mind and body with.
Well, even though we are in isolation already, I would like to isolate myself even more during the day so that I could go inwards and listen to my inner dialogue. When we surround ourselves with a bit of silence, it's amazing how loud it gets on the inside, and by journaling that dialogue, I get to release some of that noise and learn what it's trying to tell me, and why. The aim here is to truly try to become a better version of myself in 30 days, even if just a little better.
To me mindfulness is very important. It shows that I'm in control of my thoughts and emotions. Mindfulness is the ability to focus only on the present and not on the future. I try to do this in my everyday life and during my daily training. This doesn't mean I don't set long-term goals, but I focus on day-to-day actions to slowly get me there. This will help me focus more and reduce stress and pressure.
In my opinion the best way to bring peace and help you remain strong and focused is by meditating every day. Meditation will help your body remain calm yet focused on what needs to be done. I'm trying to do this every morning even if it's only for five minutes be- cause it helps my mood and gets me ready physically and mentally for the day.
I'm most grateful for my family, my health and my strength. These three things are the most important foundation to my success and happiness. Without my family's support and guidance, without my good health, and without my strength to push through struggles I wouldn't be the person I am today.
This year Ramadan will be different for all Muslims around the world. We're all in the same situation of self-isolation but stand united to get over this difficult time. I will spend this time with my family and continue to do exercises at home to stay healthy and active. I recommend this for everyone not just for their physical health but also for their mental health and wellbeing.
I have spent all my life dwelling on the past and planning for the future. And for the first time with all that's happening around us, I realised that I need to be present, be mindful of the little things that took away the most important thing for me which is living and enjoying the moment.
Being with my kids brings me peace beyond words. Being with them fully with no distractions. Their innocence brings me so much joy and purpose, spending time with them makes feel useful. Their unconditional love makes me feel that the world is still okay.
Ramadan this year is going to be tough. Not only because we won't be having the usual Iftar gatherings, but I have been finding comfort in my morning coffee, I'm hoping that I will get in touch with my spiritual side as I'll have more time for that. I'm hoping to spend less time on social media, more time praying and reading. Having said all of this, I have been in a very good place with all that's happening. I got to know myself better and pinpointed the weaknesses I can work on.
For me mindfulness is fully experiencing a moment. If my mind has wondered to the past or the future or the stresses of the present I bring myself back to the moment using all my senses.
It is about not only being where you are right now but experiencing it as well. Not thinking about the past, the future, all the things happening in the world. Asking yourself questions to come back to present moment, meditation, practicing yoga and workouts and train your mind to see the positive. I also surround myself with people who have good energy and who also think positively. This helps me have peace of mind and stay strong.
Unfortunately, I won't be able to celebrate Ramadan with my family this year because of the situation. I will still be celebrating with a few friends and my husband on a Caribbean island.
Paying attention to the signs, being thoughtful of the little things in life. Taking things slowly, diving into the things I love and being aware of my feelings and my thoughts.
Reminding myself why I'm doing what I'm doing, counting my blessings, gratitude, listening to meaningful music, talking to my life coach and therapist and playing with my dog.
Unfortunately, I won't be able to go to the mosque or tents for Iftar and Suhoor. Instead I'll be spending my Ramadan by fasting and having Iftar with my family and I'm counting my blessings and thanking God for it. Honestly at this point we all have to be grateful for our health and that we have access to food and a house.
For me, mindfulness is about enjoying the peaceful times and taking time to feel grateful for where I am right now. It is very important. I am happy to have a busy life with many different work projects but this can be a lot and it is sometimes overwhelming so I also try to spend time with my family.
I have to spend lots of time inside on my laptop so I enjoy being outside for a walk or playing with the kids in the fresh air and sunshine. At night every day Hamza, my husband and I sit on our sofa watch movies and series – this has become our nice routine where I feel some peace. Also, one of my favourite things to do is to cook. So, when I am focusing on the ingredients and the recipe and making the food, I find that I can switch off my mind from work.
Unfortunately, there is no real feeling of Ramadan in London where we live, but every year we try to make our own. We will do crafts with the kids to decorate the house and we will cook lots of traditional meals as well as trying through 'Action For Sama' to support amazing campaigns for people in need.
Mindfulness to me mean being aware of the present and appreciate being in the moments – it's something I remind myself of constantly and try my best now more than ever to always be mindful.
My faith is my strength. I also stay active physically, as it is when I feel most energetic and focused. Painting also is peace to me – it's when I'm my most calm.
My family: they are the love and happiness in my life. My health: it is the most important currency. My country: it is our safe haven.
We will be keeping our Ramadan rituals as normal as the past years, within what we are able to practice given the current circumstances. We will stay connected with our loved ones, family and friends, by calling them. I hope we will be able to celebrate Eid with our loved ones.
To me it is a state of mind when you feel that you are in total control of your brain and the current moment. It is the ability to be able to observe things without judgment or pre-assumptions. I've always tried to be mindful in looking at things and when making decision.
I like to paint because I can be in total peace while doing so. The process also helps clear the mind and heals the body of emotional trauma. I also meditate and pray on a daily basis.
In Ramadan I like to read historical and spiritual books. So, I'll have my selected books for this holy month. In addition, I'll continue working on some visual projects including video art, painting and editing old footage.
https://emirateswoman.com/18-arab-women-share-messages-of-gratitude-for-ramadan/
--------
UN Accuses Houthis of Using All-Female Militia to Suppress Opposition
5 May, 2020
International experts working the Yemeni file at the UN Security Council accused Houthis of brutally oppressing opponents in northern Yemen and exploiting the all-female militia known as Zaynabiyat to target women and homes of Yemenis.
The UN recently published a final report prepared by the Panel of Experts on Yemen in accordance with Resolution 2456 of 2019, which was submitted to the Sanctions Committee established by the Security Council under Resolution 2140 of 2014.
More than five years after the conflict erupted, the Houthis and the Yemeni government have made little progress towards a political settlement or a decisive military victory, according to the report.
The report stated that the Houthis continued to consolidate their political and military control, as their forces embarked on a brutal suppression of the tribal and political opposition.
Documented violations committed by Zaynabiyat militiawomen included the arbitrary arrest and detention of women, looting, sexual assault, beatings, torture, and facilitation of rape in secret detention centers.
Yemen's Houthis are holding dozens of women without trial and often torturing the detainees and blackmailing their families, activists and a human rights lawyer have told the Associated Press (AP) news agency.
Speaking on condition of anonymity for fears for personal safety, he said families were still searching for their missing daughters.
The allegations were first raised over the weekend by the Yemen Organization for Combating Human Trafficking, based in the capital, Sanaa.
Furthermore, the UN report also accused Houthi militias of launching attacks against the Kingdom of Saudi Arabia during 2019.
https://aawsat.com/english/home/article/2268506/un-accuses-houthis-using-all-female-militia-suppress-opposition
--------
Religious Fatwas Of Concern To Muslim Women During The Month Of Ramadan
5/3/2020
During the holy month of Ramadan, Muslim women are searching for answers to many of the questions they have regarding the obligation of fasting, especially since this month is not like any other month. How can she perform her religious duties to the fullest in order to obtain the best reward in the Holy Month?
Sheikh Kamal Al-Rifai, who has a license in Islamic law, a degree in the Arabic language, and an imam and preacher of the Imam Al-Bukhari mosque in Baalbek, Lebanon, answers all the questions that Al Jazeera Net carried:
During the menstrual cycle, is it permissible to read the Qur'an and religious books? Is it also permissible to read the Qur'an from the mobile?
All scholars assert and agree that it is not permissible to recite the Noble Qur'an for Muslim women during menstruation or postpartum times, and so that it is not permissible to read it from the mobile, but there is nothing wrong with a menstruating woman reading some of the veins.
If the woman was on the last day of the menstrual period and there was no blood, then the cleansing sees "the white story." What is the ruling on prayer and fasting?
Cleanliness is achieved in only two cases, first with the descent of the white story. Some women know that it is pure (with this sign) and it is pure and pure. This is clear evidence of the pure period from the monthly period. Others do not see this story. Rather, there will be complete dehydration, which is the sign of the pure period of menstruation.
If a woman becomes pure after Fajr, does she hold and fast and considers it one of her fasting days, or is she required to make it up?
If the menstrual blood is not cut off until after dawn, even a moment, then fasting on that day is not valid, and it is obligatory to make it up.
As for constipation, scholars have a difference of opinion. The first is that it needs to constipate for the rest of that day, but it does not count for it. Rather, it must eliminate it, which Abu Hanifa went to. The second is that she does not have to hold the rest of that day, which is the doctrine of Malik and Al-Shafi'i, and she breaks that day.
The ruling is divided into two cases. The first shows that delaying the judiciary until the next Ramadan, if it is with an excuse, such as continuing illness or travel or having a pregnancy or breastfeeding, it is only necessary to make up the judiciary without atonement.
The second case: If the delay is without an excuse, then it is a sin, and it is obligatory to seek forgiveness and repentance, and its ruling is with the expiation, "Ransom for poor food."
There are some women who intend to take birth control pills to delay menstruation until after Ramadan .. Is this permissible, and are there restrictions?
The use of these pills, which delay menstruation until after Ramadan, which allows women to complete the whole month without a permissible interruption, there is no objection to Sharia, and it is permissible to resort to this method provided that the specialized doctor decides that the use of these pills does not entail any harm to the health of the woman sooner or later, so if arranged The use of harm is prohibited by law.
The nifaas must wash, pray and fast under the conditions of purity, and she must see the white story or complete dehydration, but if the blood appears again, she must immediately stop praying and fasting.
It is likely that it is not valid for a person who does not perform the obligatory prayer to fast because he has left the first, which is the second main pillar of Islam. As for the unveiled, fasting is acceptable.
Gossiping and backbiting does not spoil fasting, but it reduces the reward for fasting and spoils the goals of fasting, which is preserving the tongue from backbiting and gossip.
In our current circumstances, and with the Corona pandemic, what are the preventive matters that help the fasting person to maintain his health, and do not reduce his immunity due to fasting, especially in countries where fasting hours are long? Is breakfast permissible for those who complain of immunodeficiency and what should he?
It has been scientifically proven that fasting is one of the things that makes health so much better, and that it protects against diseases, because fasting helps to replenish, stimulate and strengthen the cells of the immune system and reduces the chances of infection with viral and even immune diseases. In short, fasting contributes to strengthening the body's immune system and fighting diseases.
It was reported from the Prophet (may God bless him and grant him peace) the hadeeth "Fast and wake up". It has been proven by many scientists how valid this hadith is because every person needs fasting, so food toxins meet in the body and if he fasts all these toxins are broken down and the fasting person will feel more energetic and stronger than before.
But there are some pathological conditions that are not allowed to fast, and they are consulted by doctors, otherwise it will cause harm, because the body is a trust from God Almighty and must be preserved as a matter of preserving the soul that is one of the four purposes of the Sharia.
https://www.tellerreport.com/news/2020-05-03-for-women-only----religious-fatwas-of-concern-to-muslim-women-during-the-month-of-ramadan.SyMi29OntU.html
--------
Muslim Women In the Lead to Fight Covid-2019 - From Masks to Cremations
6 MAY, 2020
What do people like Jahanara Bibi, Zakir Hussain, Heera, Rebecca, Mansura, Reshma, Hassanujjaman, Akbar, Raju and Rahim have in common?
One, they all are residents of West Bengal; two, they are Muslim and three, immune to the communal strife reported all around, they have dedicated themselves to help the poor, the ignorant and the needy in these times of Covid-19 irrespective of their communal identity.
Some of them are making masks and distributing these free of cost among poor people who cannot afford to buy them, creating awareness in their respective neighbourhoods about the need for wearing masks, maintaining social distancing and staying indoors during the lockdown. They live in neighbourhoods in extended Kolkata where the majority is Muslim but Hindus live here too and there does not seem any communal strife raising its head here.
According to Arunakshya Bhattacharya of the AnandbazarPatrika (May 4, 2020), Jahanara Bibi, a housewife, who lives in the neighbourhood of Duttapukur Police Station, happened to chance upon a group of children moving about without masks during the lockdown. So, she asked them why they were not wearing masks. They chorused that they did not have the means to buy masks. She at once made up her mind to make masks herself at home with leftover pieces of cloth and distribute these for free among poor children. She personally distributed these masks to different localities in the neighbourhood. To end this happy story, her husband, Zakir Hussain, has joined her in this effort.
Explaining what motivated her, Jahanara says, "I know that people in these outskirts and suburbs areas are not aware of the importance of wearing masks and the ill effects of not wearing them. There are many who cannot afford to buy masks or know to make them, So, I took it upon myself not to make masks but also to visit homes from door to door and distribute the masks and also, if possible, to explain the importance of wearing masks when stepping out."
Happily, other women of the community such as Heera, Rebecca and Mansura are distributing masks across neighbourhoods like Jagulia, Duttapukur, Golabadi, etc from one house to the next and also selling some masks to those who can pay.
Aamdanga is a neighbourhood crowded with people of the minority community. The same applies to Hadipur and Gorpara in Deganga. A group of women from the minority community noticed that the residents of these places were crowding needlessly in some areas, in violation of the rules of social distancing. Some were even seen chit-chatting at small tea shops.
A group of Muslim women took it upon themselves to form small groups and visit these crowded areas and counsel the locals against crowding needlessly and advising them to stay home. Reshma Tarafdar, a college student, went from door to door to advise them to stay at home and not step out during the lockdown. Some among these groups are also helping out in the distribution of free food among the poor and the very poor.
Hassanujjaman Choudhury, a young man who lives in Noornagar within Deganga, has invented an original "Food ATM" machine which carries the label "Please maintain social distancing" on its body. The very poor who cannot afford their daily meals are handed a metal token with the picture of Netaji Subhash Chandra Bose. They have to slip this token into a slot in the machine and at once, two packets of rice, potatoes, onions, soyabean and oil come out. Others involved in similar volunteer work are Akbar, Raju and Rahim who have vowed to stand beside the deprived and the downtrodden in these dark days.
These incidents come in the wake of the story of Abdul Rehman Sheikh, 30, a businessman, who, along with other Muslim neighbours, came to the aid of the sons of Draupadi Bai Verma when her sister refused to take care of her as she suspected the old woman of being a Covid-19 patient. No one was there to take her to a hospital and she died the following day. This happened in the beginning of April this year.
She lived with one son who is very poor while the other was away and could not come down when the mother was serious. They were very poor. The neighbours refused to even touch the body leave alone joining to help in the funeral rites. At this juncture, Sheikh brought ten Muslim men and came forward to arrange the cremation of the lady by Hindu rites both physically and financially.
This happened in South Toda in Indore. The old woman was suffering from paralysis for three months. According to Sheikh, her sister's sons, who live just 100 metres away refused to step inside the house. "If she was taken to a hospital the same day, she probably wouldn't have died," said Sheikh. the 10 men, along with her two sons and their children, took out the procession to the cremation ground around a kilometre away.
Man-made schisms within two communities do not exist except when politicians try to ignite them for their own axe-grinding motives irrespective of the degree and intensity of the harm this igniting of hate can fall on the harmony and secular feelings the present situation demands. These are just a few examples that illustrate how Kolkata and its suburbs are being witness to the wonderful effort being put in by women of the minority community in volunteering to help people in distress, specially the economically deprived classes, with their help, without thinking about how their exposure in the public domain might place them at risk.
According to a Reuters Report in The Japan Times,(April 20, 2020), "There is no official breakdown of coronavirus cases by religion. But many Muslims feel unfairly blamed for spreading the disease after a cluster emerged at a gathering of Muslim missionaries in New Delhi last month. Sensational news coverage about the event, fanned by some Hindu nationalist politicians, helped spur the trending topic "Coronajihad" on social media.
https://www.thecitizen.in/index.php/en/NewsDetail/index/15/18704/Muslim-Women-In-the-Lead-to-Fight-Covid-2019---From-Masks-to-Cremations
--------
Fifty shades of fearlessness: A remarkable ode to Pakistan's feminist icons
06th May 2020
By Alisha Rahaman Sarkar
After years of resistance, the term 'feminism', still raises eyebrows in the Asian subcontinent. For most, it's confusing, synonymous with misandry or a communist concocted word. Even today, to fight for equal rights for women in a patriarchal world is still an alien concept for the greater number.
Once the world is done with tainting the f-word, the most dangerous question perhaps looms in our subconscious -- who is a perfect feminist?
In the Islamic state of Pakistan, the word brings back memories of a tall political leader, who was assassinated in cold blood -- Benazir Bhutto. This was a woman who revolutionised Pakistan's polity. Although she left a polarising legacy, her achievements are celebrated as a win for Muslim women.
But, will Allah Rakhi Wasai, popularly known as Noor Jehan, who mellifluously gave voice to Faiz's haunting words "mujhsepehlisimohabat mere mehboobnamang" be considered a feminist?
A child star in Calcutta, Wasai moved to Lahore in 1938 and went on to rule the film industry for over 30 years, mesmerising the world with almost 10000 songs and becoming the nation's Malika-e-Tarannum. Her first big break arrived in the form of the film Chan Wey where she not only acted and sang but co-directed with her husband, becoming Pakistan's first female director. "No mean feat for a woman of her time," writes Amneh Shaikh-Farooqi in her book Fearless: Stories of Amazing women of Pakistan.
The conversation around feminism deviates from its aim when we become oblivious of such women of colour and their fight. Ever since the suffrage, women of colour have been fighting a dual war, one with patriarchy and another for their representation in the movement.
"Over and over research reiterates the importance of diversity in mainstream media, and literature and yet what many of us consume is often restricted to (a) Western construct and aesthetic," Amneh writes in the introduction of her book, acknowledging the lack of representation of women of colour, especially South Asian women in feminism.
"Intersectional Feminism" was first coined by a black American professor Kimberle Crenshaw in her study of overlapping social identities and related systems of oppression, domination or discrimination. Thirty years later, in the subcontinent where identity politics overpowers a woman's life, it's perhaps a matter of shame that the term "intersectionality" has failed to gain a place in our collective consciousness.
In her book, published by Penguin India, Amneh traces the history of Pakistan's women movement and brings to the fore, stories of 50 remarkable women who have over the years aced fields of science, technology, arts and shaped the future of their country. Aziza Ahmad's illustrations breathe life into the stories of these women.
Patriarchy finds its roots in Islam too, which binds Muslim women to private spaces, enabling misogynists to oppress women. But in a country where misogyny is so ingrained that for some surviving itself becomes an act of resistance, my kind has been fearless. One can only imagine the gravity of suppression in the early 1900s that has now led to Pakistan ranking third-worst at 151 on the Gender Parity Index of the World Economic Forum.
When inequalities in the field of education between men and women were stark, defying odds, Fatima Jinnah, the sister of Muhammad Ali Jinnah, became the first Muslim woman in Calcutta to set up a dental clinic in 1923. Fatima stood shoulder-to-shoulder with her brother and played a crucial role in the signing of the Lahore Resolution of 1940. After her brother's death, Fatima's voice was suppressed by the military rule of Ayub Khan.
Her death brought six lakh people together who bid "Khatun-e-Pakistan" a tearful goodbye. "Fatima's courage and determination made her one of the most fearless women of Pakistan. Fatima was often photographed standing next to important men of her period, something unusual for the time; but her message was clear: women need to play a role in society and politics alongside men," Amneh writes.
The book comes at a time when Pakistani women are raising their voices to reclaim the public space through protests and marches. March 8, 2020 marked one of the exceptional days for the country's revolution when thousands of women marched on to the streets of Lahore and Karachi demanding autonomy.
The magnanimity of the march, which faced several challenges, marked a new phase of the feminist movement in the Islamic country. Women, irrespective of their social backgrounds, trans women, everyone came together to raise their voices in unison against oppression, yet in unique ways.
With 'Khudmukhtari (autonomy) and Violence (both sexual and economic)' as this year's theme, women rallied against patriarchy and its cataclysmic effect.
The concept of bodily autonomy is so frowned upon in Pakistan that it often claims the lives of women who dare to assert theirs. After all, 26-year-old Quendel Baloch, who finds mention in the book, was killed by her brother in 2016, for being fearless in claiming her right to her body.
"No one expected her to become a feminist icon for young women in the country". The country's first celebrity-by-social-media used the platform to "push the conversation around how women were expected to behave in public. She used her celebrity status to empower women," Amneh writes.
"As a woman, we should step up for ourselves" she roared. She extended her voice to empower the younger generation till one day she was silenced by patriarchy.
The 'aurat march', which should have been appreciated by the country by and large, instead rattled the far-right, including their Wazir-e-Azam Imran Khan.
Khan termed the struggle of Pakistan's women a western concept and added, "I disagree with this western concept, this feminist movement, it has degraded the role of a mother. My mother had the greatest impact on my life."
In Islam, women are barred from being a part of the funeral procession. And such sexism transgresses borders. While some of us privileged lot suffer less in the hands of patriarchy, the less fortunate battle for their existence every day. Having said that, in the intellectually progressive state of West Bengal in India, I too was barred from being a part of my mother's janaza.
Although the far-right doesn't acknowledge it, the women's resistance in Pakistan isn't new. In 1960, the All Pakistan Women's Association (APWA) became the face of the women's movement in the country. The passage of the Muslim Family Laws Ordinance, pushed by APWA, created a ripple.
Over 30 years ago, when Zia-ul-Haq proposed the "Evidence Bill", which suggested that the evidence of two women should equal that of one man, it was these fearless women of Pakistan who created history by standing up for their rights despite facing the brunt of police action.
Every woman is a novel in herself, every step is an act of resistance and while the book salutes the revolutionaries, it's women like Amneh Shaikh-Farooqui, Aziza Ahma, Girls at Dhabas, Malala Yousafzai, Mukhtaran Mai, are carrying the inclusive feminist struggle forward. Perhaps, for a woman, to be fearless, is the only way to survive.
https://www.newindianexpress.com/lifestyle/books/2020/may/06/fifty-shades-of-fearlessness-a-remarkable-ode-to-pakistans-female-icons-2139638.html
--------
Is there a difference between a niqab and a face mask?
Thomas Sealy
6 May 2020
The Covid-19 pandemic and physical distancing rules enacted by governments around the world have changed the way we act and present ourselves in public spaces. In order to protect ourselves and others we are far more likely to give each other a wide berth in the streets and stand two metres apart in queues. A further feature of this is the presence of face masks. More and more people are wearing them when they go out to cover their mouth and nose, and some countries have even mandated it in law.
In western Europe some have seen in this trend the unmasking (pun intended) of a deep hypocrisy: in contexts where Muslim women who wear the niqab have been vilified for covering their face in public, and such forms of dress banned in some places, the sudden social acceptability, even encouragement and good social manners of face covering highlights the nonsensical attitudes towards those forms of female Islamic dress. The idea that face coverings prevent effective communication, for instance, is being tested and found a little wanting. Indeed, it has been suggested that 'we are all niqabis now', thus pointing to a symmetry between the niqab and face masks belied by the apparent hypocrisy.
Yet, neither the hypocrisy nor the symmetry actually allow us to grasp what is at issue and it is questionable as to whether the prevalence of face masks might help spark a more constructive conversation on the niqab. This is because in addressing the question, 'is a face mask used to help block coronavirus really that different from a niqab?' a good deal of caution is also warranted. The reason for this caution is that the answer from both sides, that of the women wearing them along with that of people banning them, is 'yes, it is'. To understand why, we need to grasp the logic of niqab wearing, face mask wearing, and niqab banning.
Arguments over its effectiveness aside, face mask wearing, whether voluntary or mandated by the state, is based on protecting people from the virus and thereby is one measure in helping secure the health of the nation. Wearing face masks in these extra-ordinary times is in a way seen as a profoundly social measure.
Niqab banning is also based on 'protection'. To take one of the best-known examples, France brought in a ban on full face covering in 2011, the first European country to do so. Despite being technically indiscriminate, the ban is known as the 'burqa ban' as it is widely agreed to have been provoked by and targeted at the burqa and niqab. Justifications for the ban included positively promoting women's liberty and equality, protecting public order, and 'living together'.
When a challenge to the ban was brought before the European Court of Human Rights, the state's defence was based on such coverings being "incompatible with the fundamental requirements of living together in French society" (the state won the case). That is, wearing these types of face coverings is seen as a profoundly anti-social act. It is on contravention of how 'we' come together in public spaces and marks out a cultural and religious 'other'. This is why, for example, face masks are celebrated on French catwalks while niqabs are banned in public.
Caution is also warranted, however, when we approach the issue from the position of the niqab wearers. Women I have spoken to have in fact mentioned the niqab/face mask symmetry, in pre-pandemic times too. Vidya (not her real name), for instance, remarked about the benefits of wearing it: "That it's good you know, when people are sick in the vicinity, you don't get their sickness 'cause your face is not exposed, so when people cough on you or spit, you don't have to worry about it. Benefits of the niqab… it keeps your face warm, really nice in the winter time".
But the symmetry breaks down when it comes to the reasons for wearing it. Vidya also talks about her relationship with God and how this orients and guides her choices regarding dress, behaviour and so on. This is because for many women who wear forms of dress such as the niqab, burqa, or hijab it is a profoundly religious act. To quote another woman I spoke to: "It's between me and God".
Abdal Hakim Murad (Tim Winter), a lecturer at Cambridge University, Dean of Cambridge Muslim College and an influential Muslim thinker, has in fact decried the fact that veiling has been increasingly seen in terms of identity affirmation stripped of its religious and theological content. The reason for wearing face and head coverings then is substantively different and no simple comparison reflects this; such a comparison would in fact 'misrecognise' the meaning of these forms of dress. In fact, the agency of women and their decision and views are noticeably absent from many of the political decision-making processes that feed into their being banned.
While there might be a superficial symmetry between the mass face mask wearing we now see on the streets throughout Europe (and the world) and the face covering of Muslim women, it is precisely this: superficial. This is why there is reason to be cautious about how it might positively impact Muslim women who cover their faces in public spaces in western Europe. We still need much better and much more profound conversations about the place of public manifestations of religion, especially with regard to religious 'others', if we are to be really able to reach a point where the difference between a face mask and a niqab can be appreciated at the same time as the latter forms no barrier to interacting with our fellow citizens. Will what we are seeing in the pandemic help move these conversations along? One can hope.
https://www.opendemocracy.net/en/global-extremes/there-difference-between-niqab-and-face-mask/
--------
North Philly woman helps others break fast
May 5, 2020
It was just supposed to be a one-time thing.
Munazza Muhammad passed out grab-and-go stuffed fish, barbecue chicken, macaroni and cheese and more to people who lined up in the yard next to her house at 22nd and Venango streets in North Philadelphia.
She wanted to gather her community together in some way for iftar, a dinner eaten after sundown by Muslims to break their daily fast during Ramadan.
Muhammad also knows the novel coronavirus has left many families struggling to provide good dinners. Others are working around-the-clock and don't have time to cook.
She ended up serving nearly 250 people, including 40 families, and contributions started flooding in. Now, she plans to hold "Grab N' Go Iftars" every Friday at 5 p.m.
"When people hear that you're doing something good, they always want to help," Muhammad said. "People have been giving a lot of donations."
Ramadan, like Easter and Passover before it, has been upended by COVID-19. It began on April 23, around the virus' peak in Philadelphia, and ends on May 23, when it's unlikely many restrictions will have been lifted.
For Muhammad, this year's holy month has been a time for spiritual reflection and learning more about Islam. She said the shutdown has forced her to slow down.
"We're always preparing ourselves to go out and do something whether it's going to a gathering of iftar, go to the masjid, so we're always out doing something," she said.
"Even though it's a pandemic and the circumstances are unfortunate, it's really allowed me to just take a deeper look at myself and do more and really reflect on the true meaning of Ramadan," Muhammad added.
Muhammad funded the first grab-and-go iftar herself, though she received help from her family and friends in preparing and handing out prepackaged meals and family trays.
"I'm just a person that is a community servant anyway," she said. "I grew up just serving my community from feeding the homeless to just donating my time to different organizations."
She's also an entrepreneur. Muhammad's company, the Traveling Muslimahs, organizes trips for Muslim women. The group has more than 200 members who pay a monthly fee and can pick from a menu of pre-planned trips.
"As Muslim women, it's not recommended for us to travel alone," she said. "A lot of times, I come across a lot of people who haven't traveled because they don't have people to travel with."
Many of the members are from Philadelphia, but women from New York, Atlanta, Virginia, Chicago, Canada and the United Arab Emirates have signed up, Muhammad said. They have organized trips to Iceland, Greece, Morocco and other destinations.
It's more comfortable traveling with people who, in keeping with Islamic guidelines, don't go out partying and drinking, Muhammad said.
"I wanted it to be a group where we're all doing the same type of thing. So when it's time to pray, we're all praying," she added. "We're all making sure we're eating halal meals."
Muhammad nearly got stuck in Dubai on a trip around the time the virus arrived in the United States. She was there to meet about 50 people from Philadelphia, including some family members, for a cruise.
The cruise ended up getting canceled, and they arrived back in the city March 19, not long after non-essential businesses were forced to close.
So far, the Traveling Muslimahs has canceled a trip to Greece, and Muhammad said she will decide next month on trips scheduled for July.
In the meantime, she'll be serving hot meals from her house at 2204 W. Venango Street on Fridays from 5 p.m. until the food runs out.
People are asked to register at www.phillytravelingmuslimahs.com so Muhammad has an idea on how much food to get, but it's not required.
https://philly.metro.us/north-philly-woman-helps-others-break-fast/
--------
URL: https://www.newageislam.com/islam-women-feminism/zarina-hashmi-indian-born-ameri/d/121772
New Age Islam, Islam Online, Islamic Website, African Muslim News, Arab World News, South Asia News, Indian Muslim News, World Muslim News, Women in Islam, Islamic Feminism, Arab Women, Women In Arab, Islamophobia in America, Muslim Women in West, Islam Women and Feminism