New Age Islam News Bureau
01 February 2021
• Saga Of A Afghan Refugee Girl's Quest For Education In Pakistan
• Saudi Woman Driving An Uber Taxi Is The Face Of Real Change In Saudi Arabia
• In Malappuram Christian Woman's Last Rites Held In Madrasa Scripting An Exemplary Tale Of Communal Harmony
• Manila House of Representatives OKs Bill Declaring February 1 as National Hijab Day
• Shura Chairman congratulates SCW President on Arab Women's Day
• Over 400 Turkmen Women Held In YPG-Controlled Prisons, Camps
• Source: Jailed Iranian Anti-Compulsory Hijab Activist Beaten, Dragged to Common Criminals' Ward
Compiled by New Age Islam News Bureau
URL: https://www.newageislam.com/islam-women-feminism/zara-mohammed-first-female-secretary/d/124199
--------
Zara Mohammed - First Female Secretary-General of Muslim Council Of Britain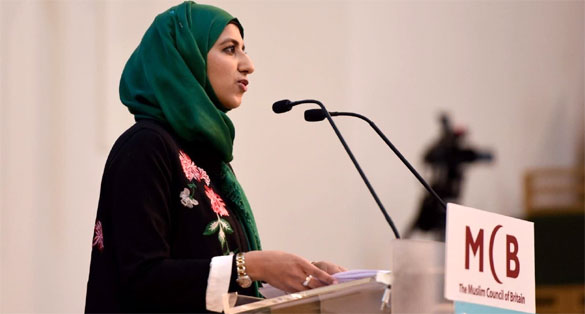 Newly elected Secretary-General of the Muslim Council of Britain Zara Mohammed (MCB Photo)
-----
JAN 31, 2021
The Muslim Council of Britain (MCB) on Sunday elected its first female secretary-general after voting concluded this week.
Zara Mohammed was elected by the affiliates of the MCB, defeating fellow candidates such as Ajmal Masroor, a popular imam and broadcaster.
In a statement released by the MCB, Mohammed said: "My vision is to continue to build a truly inclusive, diverse and representative body; one which is driven by the needs of British Muslims for the common good."
"Being elected as the first female Secretary-General is quite an honor and I hope it will inspire more women and young people to come forward to take on leadership roles. They are the future of this organization and our society."
Mohammed succeeds the outgoing Secretary-General Harun Khan who has completed his four and a half year tenure of the organization.
Mohammed has in the past served as assistant secretary-general for the MCB and holds a master's degree in Human Rights Law. She is also a training and development consultant.
The Muslim Council of Britain is the United Kingdom's largest democratic Muslim umbrella organization, representing mosques, schools and institutions from all over the country.
https://www.dailysabah.com/world/europe/muslim-council-of-britain-appoints-1st-female-head
--------
Saga Of A Afghan Refugee Girl's Quest For Education In Pakistan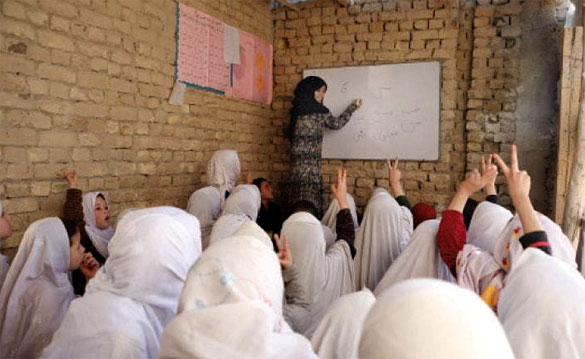 Mahbooba teaches students in a class.
-----
Saleem Shahid
February 1, 2021
QUETTA: Mahbooba, a 22-year-old Afghan refugee girl in Pakistan, has often struggled to continue her education while also helping to provide for her family.
For over 40 years, persistent conflict and instability in Afghanistan have forced millions of Afghans to flee their homes in search of safety. Today, some 4.6 million Afghans, including 2.7m registered refugees, still live outside their country, mostly in Pakistan and Iran.
Pakistan hosts over 1.4m Afghan refugees. Among them are Mahbooba Afghan and her family, who live in Quetta. Although Afghan refugees have access to education in Pakistan, financial pressures and prevailing cultural norms can prevent refugee children from attending school.
Narrating her family's ordeal, Mahbooba says: "It has been 30 years but my parents still share the memories they have of the most dangerous journey of their lives. Due to incessant armed conflict and bombing, they had decided to flee their home in Baghlan in the north-west of Afghanistan. They walked for days under enormous fear to find refuge in Balochistan, Pakistan. It was cold and they did not have proper clothes to keep warm. They were also starving, the leftover food provided to them by the mosques that they passed on their way helped them survive."
Despite odds, Mahbooba has obtained an education and set up a school in her home
Mahbooba continues: "Our family has found safety here in Pakistan, but we have faced many challenges. I was 12 years old and in Grade 4 when my father was paralysed in an accident. He was our family's only breadwinner. Along with my mother and siblings, I started doing anything and everything I could to help support our family. Together, we were able to make enough to get by, we never begged for help.
"It was important to me, as well as my parents, that I continue to stay in school and study hard. The idea of 'education' is beautiful; it is a sweet-sounding word. But the reality of trying to be educated was challenging. It took a lot of work and sacrifice to pursue my education and support my family at the same time.
"When I was in Grade 7, I started tutoring younger students. I would tutor them until around noon each day, and then grab my school bag to rush to school. Most of the time I barely even had a moment to wash my face. I also skipped meals to save time. Even with these efforts, I was usually late for school. It was always disheartening to be punished and reprimanded for my lateness, but I couldn't give up. At nights, I helped my mother carry out tailoring and embroidering jobs.
"Despite these difficulties, it was worth it. Education is one of life's basic and essential needs. Education enables us to sense the meaning of life. It is the only source of enlightenment and self-development. I am proud that the informal school I've set up in my family home is now the place of learning for around 50 Afghan children. There are 32 girls and 12 boys currently enrolled in my school. I was so happy when the school was approved by the Afghan Consulate, as it means that my students' academic certificates are not just recognised but are issued by the Afghan government.
"As I tell my young students, education is a treasure and every human being has the responsibility to find this treasure. It is education that has allowed me to help my family and community. Individually and collectively, we cannot prosper without education."
Mahbooba says she has now gained admission to the University of Balochistan, where she would be pursuing a bachelor's degree in Public Administration. Depending on the Covid-19 situation, her classes would start this month. She hopes that in the future, more young Afghans would be able to pursue their studies.
"Where I live, many children are deprived of education due to poverty," she says. "I saw for myself that some families were reluctant to allow their sons to attend my school, as these little boys were bringing in a bit of money each day by working odd jobs. It was even harder to convince some parents to enroll their daughters in school, given the traditional roles associated with women and girls. There has since been some improvement, but the process of change is always slow."
However, Mahbooba deplores: "Even with a good education, the life of a refugee is very tough. Our degrees do not necessarily help us to get jobs, and we don't live with the same sense of freedom that others have. Sometimes taunts and other acts of discrimination make us feel isolated and alienated from the society where we live and which we were born into."
On the prospects of her going to Afghanistan, she says: "I have been listening to the news about the ongoing war in Afghanistan ever since I was a child. Yet, the name 'Kabul' feels tasty to my mouth. I am desperate to visit my homeland like any other Afghan living outside the country. It is disappointing that law and order have never been restored there. This discourages us from going back. Young Afghans around the world are talented and have a lot of potential, but they cannot return and benefit Afghanistan until there is peace and security.
"My family and I are fortunate that we have found refuge here in Pakistan.But as refugees, we have more than just basic needs. We have other desires, too. We long to participate in the communal life of the societies that we live in, including in terms of job opportunities, music and the arts. We want to travel without fear. We have our talents, but fear doesn't let us benefit society.
"I want to say to the world: respect and care for refugees; we were forced to leave our homes and trusted you to help ensure our safety and dignity."
Mahbooba is a UNHCR outreach volunteer in Quetta. Outreach volunteers assist the UNHCR and partners in communicating and sharing information with refugees. They also help refugees access the services available in their areas, and play an important role in the identification of refugees who are particularly vulnerable and in need of additional support. Today, the UNHCR works with an estimated 1,400 outreach volunteers across Pakistan. Their numbers continue to grow steadily.
https://www.dawn.com/news/1604807/saga-of-a-refugee-girls-quest-for-education?preview
--------
Saudi Woman Driving An Uber Taxi Is The Face Of Real Change In Saudi Arabia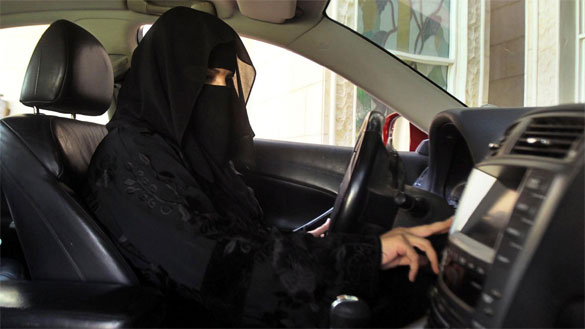 Woman Driving An Uber Taxi Is The Face Of Real Change
FAISAL AL NASSER/REUTERS
-----
January 31 2021
Some things you are mentally prepared for still come as a shock. Less than three years ago women in Saudi Arabia were not allowed to drive, but getting into an Uber last week in Riyadh and hearing a woman's voice say: "Hi, how are you?" still made me sit up as soon as I had sat down. There is indeed a first time for everything.
Foreign correspondents are not supposed to use taxi drivers as litmus tests for popular opinion, so I will not extrapolate from this encounter alone. I will only add that Nuha had a full-time job in IT and drove an Uber in the evenings for a bit of extra cash.
https://www.thetimes.co.uk/article/as-saudi-arabia-grapples-with-modernisation-the-woman-driving-an-uber-taxi-is-the-face-of-real-change-l3rz8bpf6
--------
In Malappuram Christian Woman's Last Rites Held In Madrasa Scripting An Exemplary Tale Of Communal Harmony
Feb 1, 2021
Kozhikode: The village of Ponnad at Cheekode panchayat in Malappuram scripted an exemplary tale of communal harmony with the local madrasa turning the venue for the last rites of a Christian woman on Saturday.
The Ta'leemul Islam Higher Secondary Madrasa authorities came forward to provide the madrasa facilities to keep overnight the body of Bridget Richards, 82, who died on Friday and to conduct her last rites as her small house didn't have space to accommodate the freezer.
Kozhikode native Bridget, whose husband had died earlier, was staying alone in the house at Ponnad for the last 13 years after her retirement as a government hostel warden at Manjeri. She had close connection with the people around who used to fondly call her Ammachi. Her former colleague Janaki used to stay with her often in the house.
As only one woman relative of her could reach Ponnad to participate in the last rites, local Muslim women conducted the cleansing of the body. The temporary partition to create space for cleaning the body along with the stretcher to carry the body for washing was provided by the Ponnad Juma Masjid.
"We arranged for the freezer from the CH Centre, Kozhikode, as the funeral was to be held in Kozhikode the next day. But the freezer could not be taken inside the house due to space constraints and there was not much space outside the house built on four cents of land. We were coordinating the arrangements for her last rites with her nephew Jinu in Dammam and when we suggested that the body can be taken to the madrasa for the last rites, he accepted it," Siddique Ponnad, a local resident and member of the Madrasa committee said.
On Satuday, Rev T I James, Vicar of the CSI Cathedral Church at Kozhikode where Bridget was a parishioner, reached the madrasa and performed the Christian rites, including reading of the Bible and singing of hymns. The body was brought to the CSI Cathedral cemetery at West Hill in Kozhikode where the funeral was held in the afternoon.
"Bridget's was the only Christian household in our area and she was a devout believer and also very close to all of us. We feel very contented that we could help to conduct the last rites as per her customs and beliefs," he said.
Rev James said that it was really heartening to see the people of Ponnad and the madrasa committee helping for the conduct of the last rites of Bridget.
"The people of Ponnad and the madrasa authorities have set a model. Death comes equally for all and it is an honour to the deceased to allow the persons final journey as per their faith," he said.
Kondotty MLA T V Ibrahim, who also visited the madrasa, said that it is heartening to see that the people of Ponnad have upheld communal harmony and camaraderie at a time when there are attempts to communalize society.
https://timesofindia.indiatimes.com/city/kochi/christian-womans-last-rites-held-in-madrasa/articleshow/80617322.cms
--------
Manila House of Representatives OKs Bill Declaring February 1 as National Hijab Day
By Divina Nova Joy Dela Cruz
January 26, 2021
THE House of Representatives approved on Tuesday a bill declaring February 1 of every year as "National Hijab Day" to promote an understanding of this Muslim tradition.
House Bill 8249 was passed on third and final reading by 203 lawmakers.
As defined in the bill, hijab is a veil worn by a Muslim female who is beyond the age of puberty. It covers her head and chest and is worn in the presence of adult males outside of their immediate family. It also refers to any face, head, body veil worn by Muslim women that conforms to a certain standard of modesty.
The bill seeks to encourage the wearing of hijab; remove the misconceptions; stop discrimination against hijabi; protect the freedom and practice of religion; and promote appreciation and acceptance of diversity in the expression of faith.
Under the bill, government institutions, schools, and the private sector are encouraged to observe the National Hijab Day to promote understanding and awareness among employees and students.
The bill mandates the National Commision on Muslim Filipinos as the lead agency in promoting awareness and conducting educational and information campaigns.
The bill was authored by Anak Mindanao Rep. Amihilda Sangcopan, Lanao Del Norte Reps. Mohamad Khalid Dimaporo and Abdullah Dimaporo, Lanao Del Sur Reps. Ansaruddin Abdul Malik Adiong and Yasser Alonto Balindong, Maguindanao Rep. Datu Roonie Sinsuat, Sr., RECOBODA Party-list Rep. Godofredo Guya and Ilocos Sur Rep. Deogracias Victor Savellano.
https://www.manilatimes.net/2021/01/26/news/latest-stories/house-oks-bill-declaring-national-hijab-day/833020/
-----
Shura Chairman congratulates SCW President on Arab Women's Day
31 Jan 2021
Manama, Jan. 31 (BNA): Shura Council Chairman Ali bin Saleh Al Saleh Day sent cable of congratulations to Her Royal Highness Princess Sabeeka bint Ibrahim Al Khalifa, Wife of HM the King and President of the Supreme Council for Women (SCW), on Arab Women's Day.
Shura chairman praised the high position that Bahraini women have assumed and the progress they achieve as a result of their vital role in various fields.
He said that this is an opportunity to recall the achievements of Bahraini women in light of the comprehensive development march of His Majesty King and the efforts of HRH Princess Sabeeka, to promote women and ensure their progress.
https://www.bna.bh/en/ShuraChairmancongratulatesSCWPresidentonArabWomensDay.aspx?cms=q8FmFJgiscL2fwIzON1%2BDv9ZLbknpAHvtG9UCfeqnXQ%3D
--------
Over 400 Turkmen women held in YPG-controlled prisons, camps
FEB 01, 2021
More than 400 Turkmen women are being held in the PKK terrorist group's Syrian branch, the YPG-controlled prisons for Daesh members and their relatives, Iraqi Turkmen Front head Erşat Salihi said Sunday and called on Turkey for them to be rescued.
Releasing a statement, Salihi shared the official documents prepared by Iraqi authorities proving the presence of Turkmen women in the prisons or camps for Daesh members and their relatives.
"Following the correspondence by the Iraq Parliament's Human Rights Commissions, Iraq's National Intelligence Service confirmed that more than 400 Turkmen women are being held in Daesh prisons in Raqqa, al-Hasakah and Afrin and also al-Hol camp," the statement said.
Salihi added that the commission made contact with Turkey's Foreign Ministry for the rescue of these Turkmen women.
The YPG forces, backed by the U.S-led coalition, declared a military victory against Daesh in March 2019 after seizing control of the last sliver of land the militants had controlled in southeast Syria. The Daesh terrorist group has resorted to guerrilla attacks since losing its last significant piece of territory in Syria.
Forces led by YPG terrorists run more than two dozen detention facilities, scattered around northeastern Syria, holding about 10,000 Daesh fighters. Among the detainees are some 2,000 foreigners, including about 800 Europeans.
Families of Daesh militants and supporters who came out of the last territory controlled by the group are also holed in camps around the YPG-controlled areas. The largest one, al-Hol, hosts more than 60,000 people, including 24,300 Syrians that were either captured or displaced by fighting to expel Daesh from its last scrap of Syrian territory almost two years ago, according to the United Nations Office for the Coordination of Humanitarian Affairs (OCHA).
Several human rights organizations along with the U.N. have repeatedly warned that conditions in the al-Hol camp are worsening each day and have demanded access to the centers where the families of former Daesh members are being held. Iraqis make up the bulk of foreigners in al-Hol, which also holds alleged Daesh relatives from around 50 countries, including Western nations. Foreign governments have been hesitant to repatriate their citizens being held in al-Hol.
In recent months, more than 500 Syrians, some related to alleged Daesh members, were released by the YPG terrorist group from the overcrowded al-Hol camp. The YPG also this month released 40 more Daesh terrorists from prisons in Syria's northeastern al-Hasakah province after regional Arab tribes stood as guarantors, according to local sources.
https://www.dailysabah.com/politics/war-on-terror/over-400-turkmen-women-held-in-ypg-controlled-prisons-camps
--------
Source: Jailed Iranian Anti-Compulsory Hijab Activist Beaten, Dragged to Common Criminals' Ward
By Michael Lipin, Ramin Haghjoo
January 30, 2021
WASHINGTON - Authorities at an Iranian women's prison have beaten and dragged a jailed dissident to a ward for common criminals, telling her that she did not deserve to remain in the company of other political prisoners in a separate ward, according to a knowledgeable source.
In a Wednesday interview from Iran with VOA Persian, the source close to the family of the jailed women's rights activist, Saba Kord Afshari, said the activist was forcibly transferred between the wards of Qarchak prison on the outskirts of Tehran the day before.
The source said Tuesday's incident began while Kord Afshari was in a prison yard and heard a commotion inside Qarchak's Ward 6, where she had been held with other female dissidents. When Kord Afshari returned to the ward, she saw several male and female guards banging on doors and walls with batons to intimidate the other inmates as the guards prepared to remove her from the ward, the source said.
"Kord Afshari tried to defy the guards by telling them, 'If you want me to transfer me, you'll have to force me out,'" said the source. "The guards grabbed her, tied her hands behind her back and dragged her to the prison's Ward 6, where common criminals are held," the source added.
Kord Afshari, a campaigner against Islamist-ruled Iran's compulsory public hijab for women, was transferred to Qarchak on Dec. 9 from Tehran's Evin prison, which mainly houses inmates charged with security offenses, according to tweets by her sister, Sogand Kord Afshari.
Iranian authorities arrested Saba Kord Afshari in June 2019 and sentenced her to 15 years in prison on national security charges related to her removal of her hijab in public.
Sogand Kord Afshari posted several tweets on Wednesday, saying Saba had been forcibly transferred to Qarchak's Ward 6 the previous day, despite suffering from chronic gastrointestinal problems. Her tweets did not elaborate on the circumstances of the apparent transfer, which VOA cannot independently verify because it is barred from reporting inside Iran.
VOA's source said that after Saba Kord Afshari's move to Qarchak last month, prison officials told the activist that she no longer is considered a security prisoner worthy of being incarcerated with other dissidents, and warned that she would be moved to a common criminals' ward.
One of the charges for which Kord Afshari was convicted is "spreading prostitution." It is not clear if Qarchak authorities used that charge as a pretext to apparently transfer her to Ward 6, or if she faces some other unspecified new charges not related to national security.
In moving Kord Afshari to Qarchak, Iranian authorities separated her from her mother, Raheleh Ahmadi, who had been detained with her at Evin.
Ahmadi was arrested in July 2019 and detained for several days for advocating on behalf of her daughter Saba, who had been jailed the previous month. The activist's mother later was sentenced to two years and seven months in prison for national security offenses and began serving her sentence at Evin on Feb. 20.
The source who spoke to VOA said after Saba was sent from Evin to Qarchak, Ahmadi suffered shock and paralysis in her left leg, leaving her able to walk only with a cane.
"Ahmadi has been taken to an external hospital twice, and doctors have said she needs surgery as soon as possible, but she has not been granted leave for the procedure," the source said.
Iranian authorities have been aware of the urgency of Ahmadi's medical condition since at least Jan. 12, according to a report published that day by Iranian state-approved news site Ensaf News, which cited Ahmadi's lawyer Mostafa Nili. Ensaf quoted Nili as saying it can take a long time for authorities to approve a prisoner's urgently needed surgery because of contractual disputes between prisons and hospitals.
There has been no mention of Saba Kord Afshari's situation in Iranian state media online in the past week.
This article originated in VOA's Persian Service. Click here for the original Persian version of the story.
https://www.voanews.com/middle-east/voa-news-iran/source-jailed-iranian-anti-compulsory-hijab-activist-beaten-dragged
--------
URL: https://www.newageislam.com/islam-women-feminism/zara-mohammed-first-female-secretary/d/124199
New Age Islam, Islam Online, Islamic Website, African Muslim News, Arab World News, South Asia News, Indian Muslim News, World Muslim News, Women in Islam, Islamic Feminism, Arab Women, Women In Arab, Islamophobia in America, Muslim Women in West, Islam Women and Feminism