New Age Islam News Bureau
7 Jul 2019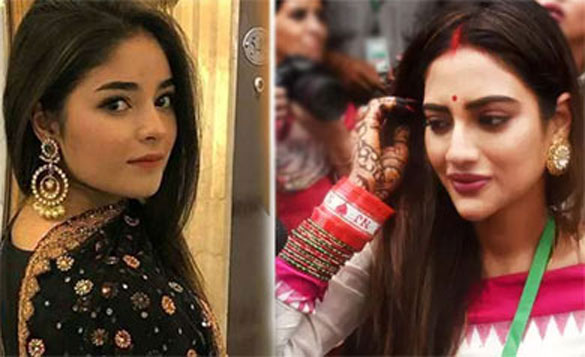 Zaira Wasim and Nusrat Jahan: different debates across the country, One for being 'too Muslim', The other for not being 'Muslim enough'
-----
• Digital Illiteracy A Hurdle For Arab Women
• Improperly Veiled Iranian Women to Be Stopped At Airports, Banned From Travel
• Thousands of Iranian Women Participate In Free Iran March In Berlin
• Triple Talaq Issue Is Always A Favourite During Elections But Create Space For Muslim Women In The Mainstream
• The Woman Reconciling Faith and Women's Rights Through Retreats
• Nigeria: Yemi Osinbajo Urges Muslims, Christians to Unite Against Terrorism
Compiled by New Age Islam News Bureau
URL: https://www.newageislam.com/islam-women-feminism/zaira-wasim-nusrat-jahan-show/d/119106
--------
Zaira Wasim and Nusrat Jahan Show Us the Power Of Personal Choice
By Sameer
Jul 07, 2019
New Delhi: In just one short week, we saw two high-profile Muslim women generating dramatically different debates across the country. One for being 'too Muslim'. The other for not being 'Muslim enough'. Zaira Wasim and Nusrat Jahan have brought opposing perspectives to drawing room conversations. Both deserve a fair hearing, once we allow ourselves to get beyond the 'imaan' and 'sindoor' level of sentimentality. During the prickly and tricky Zaira Wasim controversy, the two words that made most critics uncomfortable were 'personal choice'. The hostility she faced showed our lack of respect for those who not just make personal choices but dare to declare them publicly. I still cannot believe the outrage over an 18-year-old girl's upfront Facebook post which plainly stated that she was listening to her inner voice and quitting showbiz. And yes — her religious beliefs were an important part of the decision. So? Zaira Wasim wasn't committing an unpardonable crime when she walked away from the movie world unable to reconcile it with her 'imaan'. Ditto for newly wed MP Nusrat Jahan who showed up at the rath yatra celebrations in Kolkata with husband by her side, sporting traditional symbols of a Hindu bride — mangalsutra, sindoor, chooda. She was exercising her personal choice as well. Both Zaira and Nusrat were skewered across television channels for daring to break archaic moulds and be themselves.
In Zaira's case, shrill voices accused her of parading her religion, with critics insisting she was under duress to quit showbiz. There was loose talk about her being a victim of radical Islam, with speculations galore about a threat to her life. Nobody bothered to find out the real situation or ask Zaira directly. The utterly puerile questions that were raised over and over again revolved around Zaira's, "I'm done with Bollywood!" comment. Critics found it hard to believe that a successful, beautiful young actor could turn her back on more fame, more money, more adulation, unless she was being intimidated or 'pushed against a wall'. By whom? Had it been a maulana who had forced this decision on a popular young star, surely, he would have grabbed headlines for getting her back on the right path. So far, nobody has claimed credit for 'saving' Zaira from a life of 'shame'. It is safe to assume that she arrived at the decision of her own free will.
Bollywood is a tough, tough, tough place. Zaira, at 15, had taken a leap of faith and jumped right in. Not too many actors get such an amazing break. But once in showbiz, and now, older and wiser, Zaira said clearly, "I may have fit in, but I don't belong here." There were reports of her suffering from depression and popping anti-anxiety pills. If those reports are accurate, we should applaud Zaira for responding swiftly to a wake-up call. Had she continued in this profession, the consequences could have been tragic. Some crack. Some don't. Zaira left a bigger impact with just two films, than other veterans with thirty mediocre movies to their name. But..but if Zaira has pulled a fast one and it's a publicity stunt, God help her!
As a society, we find it very hard to understand choices that do not conform to conventional thinking. In Zaira's case, a silly feminist argument was introduced into the narrative ("How could a woman walk out of a career?"). Choice is the ultimate feminist proof of owning one's identity. A woman who actively chooses to turn her back on a profession that no longer appeals to her is exercising just such a right over herself. It is disappointing to read and hear views of intelligent and informed people, who jumped on Zaira's back for letting the side down. Would any of them continue in a line of work that makes them unhappy?
SITTING IN JUDGEMENT: Zaira Wasim was blamed for being 'too Muslim', and Nusrat for not being 'Muslim enough'
Not everything in our complex society can be divided along neat Hindu-Muslim lines. It is a matter of shame that Zaira's and Nusrat's religion has superseded every other issue. Even if it was Zaira's faith that guided her to leave showbiz for a more meaningful life, surely it is her business as an individual. Going a step further, assuming she was 'influenced' by religious leaders to rethink her career, it is again her prerogative to pay attention to them, or ignore the advice. If Zaira believes she will be a better Muslim after she quits Bollywood, why question her decision? Ditto for Nusrat, who is boldly flouting convention and flaunting her marital status, as per her own conscience. Nusrat says nothing has changed for her. She was born a Muslim. And will stay a Muslim.
Personal Choice. Two words that make us nervous. Thank you Zaira and Nusrat, for demonstrating the power of both.
https://www.siasat.com/news/two-women-show-us-power-personal-choice-1538738/
--------
Digital Illiteracy A Hurdle For Arab Women
06/07/2019
LONDON - While there is widespread optimism that the internet and other technologies will contribute to a better, more sustainable future, millions of women are deprived of these means to progress.
Wadhah al-Taha, an Iraqi financial analyst in the United Arab Emirates and a member of the European Institute for Corporate Governance, said: "One of the most important things to pursue seriously is to ensure that everyone has access to the internet. This, in my opinion, is the most effective first step in developing a 'knowledge' environment that can be improved and in building a knowledge society."
Taha said statistics indicated that the internet is used by 4.39 billion people, up 9% since January 2018. Also, 3.25 billion people can access social media through mobile technology.
Taha stressed the importance of empowering women with digital knowledge that could contribute to their education so they could better educate and raise their children. He said private sector companies, such as banks and telecommunications companies, should help train women in digital knowledge and uses because the institutions would benefit from that empowerment.
Many Arab countries have not made the most of the information and communications technology sector despite opportunities in the development of the technologies.
Most people in Arab countries live in rural, economically challenged areas where access to electricity and communication infrastructure is a major challenge. Without the basic infrastructure, local communities, and especially women, cannot take advantage of new technologies in any aspect of their lives, depriving them of opportunities for development and progress.
A 2018 study by the Federation of GSM Operators and Manufacturers, grouping more than 800 mobile phone operators, indicated that the number of women owning a mobile phone is less than that of men by 184 million. Furthermore, 1.2 billion women do not use the internet. In the Middle East and North Africa, the gap between male and female internet users on mobile phones is 21% in favour of males, compared to a gap of 4% in Europe and Central Asia.
Iyad Barakat, a Palestinian-American technology analyst, said that, despite global initiatives to promote the role of women in scientific research, innovation, development and exchange of experiences, most of the science and technology fields are out of reach for women.
"Historically, technology and science have been the domains of men and this trend was very clear whether in university halls or in jobs," Barakat said. "Even today, we're still far from gender equity in the technology consumer environments in most societies. Men and women don't have equal access to communication and artificial intelligence technologies."
He added that "the proportion of women working in the field is still very low, no more than 20% perhaps, even though digital tools and technologies have become a key component in all areas of work and life."
The World Wide Web Foundation noted in its latest report that females make up 26% of the workforce in science, technology and innovation fields in developed countries. The gender gap is much larger in developing countries.
Lebanese writer Micheline Habib said investing in the internet is an investment in people. She stressed the importance of providing open access to the internet and digital tools.
Habib said digital illiteracy isolates women from the world, deprives them of job opportunities and of becoming involved in social and practical life. It also prevents them from contributing to economic growth, as well as of being open to the world and their human rights.
The digital revolution is one of the most prominent manifestations of technological development but its effects are not likely to be felt by about 25.9% of women who are generally illiterate, a report by the Arab League Educational, Cultural and Scientific Organisation stated.
Omani researcher Mervat Bint Abdulaziz al-Arimi said digital illiteracy cannot be addressed in isolation of the issues of reading and writing illiteracy, of the sharp decline in literacy programmes in Arab countries and of weak educational policies and low quality of educational content, in addition to the lack of internet service for all segments of society, especially for the poor and middle classes because of high prices, compared to developed countries.
"In the current context in most Arab countries, the internet is more of a luxury than a necessity, because we, in the Arab world, have yet to harness all of its capabilities in our daily lives," Arimi said. "This is why internet use is limited to certain social categories and limited to specific purposes that rarely go beyond social networking, dissemination of news, advertising and entertainment.
"We don't see, for example, much interest in adding Arabic content on the web or in developing software in Arabic to suit Arabic culture."
She added: "We have had in Oman several experiences in combating digital illiteracy among women in particular. Some institutions have come up with training programmes for mothers on how to take advantage of the internet in their lives and use smartphones to follow up on their children's lessons or get useful information or use e-marketing and electronic portals to raise the level of digital awareness in the sultanate.
"We still have a long way to go before modern technology becomes part of our practical life."
https://thearabweekly.com/digital-illiteracy-hurdle-arab-women
--------
Improperly Veiled Iranian Women to Be Stopped At Airports, Banned From Travel
Jul 6, 2019
Improperly veiled women are not going to be allowed to travel by planes.
This was announced by Hassan Mehri, commander of the Airport Police. He said the instructions on this issue are going to be implemented. "We have received official instructions on dealing with women who remove their veil and Judiciary officials will also support the police in this regard."
He stressed, "Police officers will certainly deal with cases where people promote western styles by what they wear. It is possible that we prevent the person from travelling. We will file legal cases against these people and hand them over to judiciary officials." (The state-run ISNA news agency – July 1, 2019)
Earlier, Tehran Police Chief Hossein Rahimi had reiterated on the need for women to observe the compulsory veil. He said, "Removing the veil and improper veiling are considered among obvious social crimes." (The state-run ROKNA news agency – June 1, 2019) Also on June 4, 2019, Mohammad Abdollah-pour, Commander of the Quds Corps, announced the formation of 2,000 anti-vice teams in Gilan Province, northern Iran, to give verbal and practical warnings to improperly veiled women. He reiterated, "The issue of chastity and veiling are not an ordinary issue, but an issue of political significance and security for the country." (The state-run ROKNA news agency – June 4, 2019)
He also announced that since the beginning of this Iranian new year (in less than three months) they had dealt with 28,238 so-called improperly-veiled women in Gilan and filed cases against 64 of them.
The clerical regime officials have also announced that they plan to station patrols in recreational areas to monitor women's observance of the compulsory veil and give them verbal warnings. (The state-run ISNA news agency – June 24, 2019)
Just last month, the circulation of a video clip in social media showing the violent of arrest of a young woman by a plainclothes agent of the State Security Force led to public outrage. The young woman said to be around 15 years old was playing water guns with her friends in a Tehran park on June 22, 2019.
https://women.ncr-iran.org/2019/07/06/improperly-veiled-women-to-be-stopped-at-airports-banned-from-travel/
--------
Thousands of Iranian Women Participate In Free Iran March In Berlin
Jul 6, 2019
More than 15,000 Iranians, including thousands of Iranian women, held a massive and impressive demonstration on Saturday, July 6, 2019, in Berlin before the Brandenburg Gate. The rally came on the heels of two previous rallies by the Iranian diaspora in Brussels and Washington, D.C. in June.
Iranians participating in the Free Iran rally and march in Berlin declared support for the Iranian people's uprising, and their struggle for regime change and the establishment of democracy and people's sovereignty in Iran. They expressed support for the PMOI/MEK, the National Council of Resistance of Iran (NCRI) and its President-elect Maryam Rajavi and her 10-point plan for future Iran. The participants including thousands of Iranian women carried banners which read, "Mullahs' regime is incapable of reform or a change of behavior" and ""Time for a FREE IRAN with Maryam Rajavi."
Prominent politicians such as Mr. Patrick Kennedy from the United States; Ingrid Betancourt, former Colombian presidential candidate; Thomas Nord, German Member of Parliament; Eduard Lintner, former German Deputy Interior Minister; Stephan von Dassel, Mayor of Berlin-Mitte; Senator Jerry Horgan of Ireland; Michał Kamiński, Polish Member of Parliament; and Leo Dautzenberg, chairman of the Free Iran Committee in Germany and a former member of the Federal Parliament, spoke to the rally.
In a video message to the rally, the NCRI President-elect Maryam Rajavi called on Europe to stop the policy of giving concessions to the religious oppression and protecting the mullahs from being overthrown. "Each euro of trade with the clerics is a euro for fueling Khamenei's repression and war machine," she stressed.
She also urged Chancellor Angela Merkel to lead a special initiative on the European level against the clerical regime's violations of human rights to stop among others the persecution, execution and murder of prisoners under torture, and to form an international delegation to visit Iranian prisons and political prisoners.
In powerful remarks to the Berlin rally, Ms. Ingrid Betancourt said, "We want to tell Khamenei (the mullahs' supreme leader), we're coming for you. We will hold you accountable for all the people you killed because they supported freedom and justice…
"We believe in the MEK, in its values and what it fights for. We are here to say to our governments in Europe that we don't want any more agreements and concessions with the criminal government of the mullahs…
"We are here to defend our values and principles, and it doesn't matter where we stand, left or right. The fight of the Iranian Resistance is our fight."
Ms. Maisoon Beyraghdar, representative of the Syrian Delegation, had also participated in the Berlin rally. She declared support for the Iranian Resistance and said, "We tell all countries in the Middle East who are fed up with the Iranian regime's meddling, to support the Iranian Resistance. We must support the Iranian Resistance so that the overthrow of Bashar Assad regime and the clerical regime would be realized."
The NCRI representative in Germany, Dr. Masumeh Bolurchi, also stressed that the mullahs' regime is at its weakest point ever in the past 40 years. She said, "Our message to those who are trying to keep Iran's regime in power is, you are on the losing side of history. The mullahs' regime is doomed to be destroyed. To those who are demonizing the MEK and trying to help the regime, and to those so-called 'journalists' in the West who are working with the Iranian regime's Intelligence Ministry agents, know that you are on the wrong side of history. We call on EU member states to put the regime's Ministry of Intelligence and Security (MOIS) and the Islamic Revolutionary Guards Corps (IRGC) on the list of terrorist organizations and expel their agents from their soil."
https://women.ncr-iran.org/2019/07/06/thousands-of-iranian-women-participate-in-free-iran-march-in-berlin/
--------
Triple Talaq Issue Is Always A Favourite During Elections But Create Space For Muslim Women In The Mainstream
Lalita Panicker
Jul 07, 2019
The triple talaq issue is always a favourite during elections with various parties promising to do away with it inviting the usual reaction from the Muslim patriarchy about how it is best to leave matters of faith and tradition alone. It is a script we have seen played out all too often. However, while in the past, the voices of Muslim women were not heard too often, over the last decade or so, Muslim women have become increasingly vocal. The Muslim Women's Rights Network (MWRN) and the Bharatiya Muslim Mahila Andolan (BMMA) have given a voice to Muslim women in whose name the detractors and champions of rights fight pitched battles, often in television studios. Though far too few, Muslim women are challenging organisations like the All India Muslim Personal Law Board (AIMPLB) which has cast itself as the spokesman for the Muslim community, not taking into account the very different concerns and perspectives of women.
The problem that Muslim women faced and still do is the lack of organised networks though the MWRN qualifies to some extent. Unlike the more insular male networks, the women's organisation is secular and welcomes opinions from all individuals working the field of Muslim women's rights.
The BMMA too works with Muslim women and has sought to go beyond just religious rights and look at the larger issues of deprivation that Muslim women face. Of the 33% Muslims (of the total Muslim population as per Census figures) in the workforce, women's share is a mere 15%. These too are largely in low paying jobs. The focus of all political parties has been on issues like triple talaq ignoring largely the need for Muslim women to improve their educational standards and join the skilled workforce.
The debate involving Muslim women ought to get out of the confines of issues like purdah and include the insecurities and the disadvantages they face in relation to education and work.
The BMMA is of the opinion that the problems that Muslim women face is not rooted in religion but in patriarchy as is the case with women in other religions. The message being conveyed is that women's rights and religion can coexist and that it is regressive interpretations of religious texts that are holding women back. In other Islamic countries, movements like this have advanced considerably drawing in women and men who are champions for Muslim women's rights.
The difference in thinking among Muslim women's groups unlike among many of their male counterparts is the realism with which they approach their struggle. They are not keen to restrict the movements on the lines of religion and want to create synergies with other women's movements. The MWRN especially feels that it benefits from creating a space for itself within the mainstream women's movement.
Unfortunately, these developments within the Muslim women community do not get much attention on any media platform. Instead, we have the recurrent theme of how Muslims live in fear in a BJP-led India with the women hidden away from sight. There is definitely reason for concern for Muslims but the narrative has to move from ghettoisation and marginalisation. And the impetus has to come from the Muslim community and within it especially women, to refuse to let themselves remain voiceless and marginalised.
The major issues that Muslim women's organisations must tackle now is to make sure the movement permeates down to the Muslim women in the lower socio-economic strata because the movements so far are still restricted to the educated elite and confined to urban areas.
The other effort that has to be made is to involve Muslim men rather than consider them adversaries. It is not as though there are no women's rights champions among Muslim men, in fact many of them have weighed in on the side of women whenever a contentious issue has arisen. If the current Muslim women's groups inspire similar ones across states, we could see an emergence of a vibrant movement across India which could change the status of women in the community.
https://www.hindustantimes.com/columns/create-space-for-muslim-women-in-the-mainstream/story-jiUyAy0BQZ9BbsB5YfmN7K.html
--------
The Woman Reconciling Faith and Women's Rights Through Retreats
Farah Andrews
July 6, 2019
After two decades of working for global NGOs and the US government, Palestinian-­American humanitarian Manal Omar founded Across Red Lines in 2017, a series of retreats that work to empower women through Islam. "I started it after 20 years working in conflict zones," Omar tells The National, when we meet in her Dubai home. She recently moved to the UAE. "I kind of had to take a step back … you just keep doing the same thing, seeing the same thing in Iraq, Syria, Afghanistan – it was the patterns that I kept seeing.
"I took the step back and said, 'How can we actually start preventing conflict?' I didn't want to simply do resolution or the management of conflict. But, I asked, how can we prevent it? It really kept coming back to women."
Omar has worked with the World Bank, Oxfam, Women for Women International and the United States Institute of Peace. It was her time working with these organisations and foundations, focusing on programmes in the Mena region, that truly inspired her to launch Across Red Lines. "I didn't want to keep putting plasters on these massive social wounds that needed surgery, then acting surprised when they got infected. I wanted to do something ­differently," she explains.
The retreats she came up with now run ­periodically in the UAE, US and Spain, and are designed to empower women to "create a more peaceful world". They run for three days and there are three tiers, or modules: beginner, intermediate and advanced. An intimate group of eight to 12 women come together and work through a curriculum crafted by Omar. Topics range from reiki and facing the true self, to negotiating conflict, management skills and mediation, through to Islamic tradition, in group sessions and workshops.
"I use a lot of my conflict and negotiation skills to teach women to ask for what they want," she says. "I try to bring joy and happiness as a form of transformative energy. What would happen if women actually stepped into their own joy? That's the theory of change with Across Red Lines."
The National spoke to some of the women who attended the UAE retreat in Al Ain this April. They described it unanimously as an empowering experience. Meena Thimmana, a Dubai resident, told us she attended the retreat in the hope of finding "focus on some inner transformation". She added: "I feel like I have a better grasp on myself. I have allowed myself to take the time to 'feel' the feelings that may arise in my life and that it's OK."
Memunah Khadar, an American living in Abu Dhabi, felt a similar way after attending. She said "the organisation provides an Islamic perspective by a Muslim woman who facilitates discussions, reflection and self-love to provide deeper insights into the fact that everything begins with our connection to God." Her main takeaway was "how important it is to start by looking within yourself as the focal point for how to navigate your life for true happiness and empowerment to unfold."
The retreats are suitable for all women, no matter their age. "Manal is dedicated to women's leadership through accessing life force energy and deeper understanding of rights through a faith lens," reads the company's literature. Omar explains why she made a conscious decision to make the retreats faith-based. It is not a decision born solely from her own faith, but because "women of faith often fall in between the cracks," she says.
"Much of the secular women's movement doesn't apply to us and, let's face it, the religious institutions don't fit us and so we're kind of flying so low in the middle trying to reconcile both," she says. "We love the women's movement and we believe in it, we also love our faith, but we're not wearing rose-tinted glasses.
"We see the problems in both communities, so I hope that makes us bridge-builders," she adds. "That's always the thing I point out: when you see the problems of both communities you are the natural bridge, even when both sides are letting you down."
To illustrate what she means by this, Omar recalls an incident of "white feminism", although she is reluctant to use the label. It was a moment when she says she felt hostility directed at her from the "secular women's movement". "I was speaking at a conference, making a statement about how women are treated, but it had nothing to do with faith," she explains. "Then a woman stood up in the auditorium of 400 women and said, 'I will not listen to the words you say as long as you have that symbol of the patriarchy on your head'." The woman was referring to Omar's hijab.
Omar says she was so taken aback that she was left physically shaking. "It was only, like, three days later when I looked in the mirror that the perfect comeback came to me," she says. "I thought, 'You're no different from the Taliban'.
"But I didn't have those words at that moment. She had already shut me down and she tried to shame me for my faith with her feminism."
One thing Omar is certain of is that she is not unique in experiencing this kind of criticism. "I'm a strong, powerful woman and I believe in women's rights, but to dismiss me because of the way I dress and because of my veil is a real experience. And I hear it over and over from women," she says. "The lack of intersectionality, the lack of integration, different experiences … that's what I want to end."
She says she also wants to end the perception that women are victims, whether that is in the context of war or otherwise. "We love the story of women victims, the story of the victim who rises and falls, but it is so much more complex than that. There are individual stories," Omar says.
It is this topic that she tackles in her 2010 book, Barefoot in Baghdad, which tells the true tale of "what it means to be a woman in chaos".
"I never want to glorify war," she states. "But I rarely saw victims. I saw women live through horrible tragedies and they did not have the luxury of victimhood. They had to keep going. They had to keep surviving. This is why I love working with women.
They rarely survive on their own. They almost always take a hand and pull their community with them, beyond their families."
It is this model of powerful femininity that Omar is now replicating in her retreats.
For more information about Across Red Lines retreats, visit acrossredlines.com
https://www.thenational.ae/lifestyle/wellbeing/the-woman-reconciling-faith-and-women-s-rights-through-retreats-1.883223
--------
Nigeria: Yemi Osinbajo Urges Muslims, Christians to Unite Against Terrorism
7 JULY 2019
By Gboyega Akinsanmi
Vice President Yemi Osinbajo yesterday called on Muslims and Christians to unite against radical Islamist terrorism, stressing that it was a common enemy of all faiths.
Osinbajo urged Christians and Muslims to unite against fanatics committed to a twisted creed, which exploited the tenets of Islam, poverty, and exclusion "to recruit men and women and use children to perpetuate the most heinous atrocities."
The vice president spoke at the 2019 Nigerian Army Day Celebration and Combat Support Arms Training Week held at the Ikeja Cantonment, in Lagos. He said terrorists did not have responsible grievances and, therefore, no terms of reference for peace.
According to him, radical Islamic terrorism "is an evil that must be seen as the common enemy of all faiths, including Islam. As the president said, and I paraphrase, anyone who says Allahu Akbar and goes on to kill is either insane or dangerously ignorant of the tenets of Islam."
Reassuring the families and friends of captives of the Islamic terrorist group, Boko Haram, that the federal government would ensure their freedom, Osinbajo noted that the administration of President Muhammadu Buhari "will not relent in our efforts to see that all the remaining girls, including Leah Sharibu, are freed and reunited with their families."
He, however, lamented that the federal government "has seen other threats emerging, even as we have seen a curtailing of the threat represented by Boko Haram."
Citing the cases of the Islamic State's West Africa Province (ISWAP) and others currently operating in the Lake Chad islands and parts of Southern Borno, Osinbajo stated, "The likes of Boko Haram, ISIS, ISWAP and many Salafist Jihadist ideologies are expansionist ideologies that feed purely on hate, hatred of any person or group that does not belong to their particular sect.
"They have no responsible grievances. So, there are no terms of reference for peace. They are fanatics committed to a twisted creed. They exploit the ignorance of the tenets of Islam, poverty and exclusion, recruit men and women and use children to perpetuate the most heinous atrocities."
The vice president noted that such radical Islamic insurgent groups "are motivated by a satanic desire to control communities by murder and terror.
"Whether it is in Iraq, Borno or Syria, their victims are men, women and children, Muslim or Christians, so long as they do not share their sick ideology. They target churches, mosques markets and motor parks, where people gather, using children as human bombs to kill randomly, regardless of tribe or faith."
Osinbajo explained that the challenge for all Nigerians "is to recognise this extremism for what it is." He urged all stakeholders "to form alliances across faiths and ethnicities to destroy an evil that confronts us all."
He said the Fulani herders and farmers' conflicts, random killings, banditry, and kidnappings, which have been largely attributed to Fulani bandits, in different parts of the country, were extant challenges the Nigerian Army had to intervene occasionally to try to curb.
The vice president assured Nigerians that the security issues "are being seriously tackled by the federal government, working with the states, through a multi-pronged approach. Nobody will be allowed to maim, kill or commit other crimes and escape.
"It is our duty to apprehend and punish these criminals and we are doing and will continue to do so. You will be hearing a lot more about these solutions in the weeks and months ahead. Law enforcement is, of course, an important element of the response.
"We have seen an unprecedented ramping up of the deployment of military personnel - multi-agency intervention squads like Operation Whirlstroke, the training and deployment of Special Forces, new Forward Operating Bases, and so on - to the flashpoints, in the last 18 months.
"Several bandits' hideouts and camps have been destroyed, and hundreds of arrests have been made, and it is now up to our judicial systems to ensure that justice is meted out not just comprehensively but also in a timely manner."
He commended the Nigerian Army for fighting hard to uphold the unity of Nigeria, saying the army "has exemplified the ideals of a united country regardless of ethnicity or religion."
Commending the soldiers' gallantry and patriotism, he stated, "You have fought side by side with your brothers and sisters of different faiths and ethnicities and you have seen many fall by your side as they paid the supreme sacrifice in battle."
Osinbajo noted that enemy fire "does not distinguish one tribe from the other; nor does it distinguish one faith from another, the blood of so many and the abounding grace of God has kept this nation together.
"This is why we must never let the self-serving ethnic and religious jingoists, whoever they may be, create the circumstances for strife and bloodshed. This is also an opportunity to remind all Nigerians of the need to live in peace with one another; the importance of choosing unity and tolerance over the impulse to be sectional, vengeful or violent in any way."
He explained that the primary focus of the Buhari administration was to build on the foundation laid over the last four years, and correct observed lapses.
Osinbajo declared that a key priority of the Buhari government under its Next Level agenda "is the welfare of serving and retired personnel. You have already seen demonstrations of our commitment in this regard, in recent years. We will not relent.
"On this unique day of the Nigerian Army Day Celebration, let me again join millions of Nigerians to thank our Armed Forces, Police and other law enforcement agencies, all working diligently to protect us, at great cost to personal comfort and survival."
He commended the Chief of Army Staff, Lt.-Gen. Tukur Buratai, for his dedication, patriotism, loyalty and doggedness in leading the Nigerian Army in the fight against terrorism and other security challenges.
In his remarks at the occasion, Buratai said the Army Day was an opportunity to showcase the history, values, achievements and combat capacity of the Nigerian Army. He pledged that the Army would continue to be ruthless towards all the criminal elements that disturbed the peace and security of the country.
He stated, "We are all aware that the country is facing numerous security challenges and this has necessitated our involvement in conducting operations aimed at tackling the numerous nefarious acts of criminal elements to restore sanity to our dear country.
"Our efforts must not be relaxed until we have achieved the complete defeat of insurgency and other criminalities in the country."
Buratai commended Buhari, the National Assembly, and state governments for their support and encouragement to the Army.
The event was attended by former Head of State, Gen. Yakubu Gowon; Lagos State Deputy Governor, Dr. Obafemi Hamzat; and Kwara State Governor, Mr. AbdulRahman AbdulRazak, among others.
https://allafrica.com/stories/201907070018.html
--------
URL: https://www.newageislam.com/islam-women-feminism/zaira-wasim-nusrat-jahan-show/d/119106
New Age Islam, Islam Online, Islamic Website, African Muslim News, Arab World News, South Asia News, Indian Muslim News, World Muslim News, Women in Islam, Islamic Feminism, Arab Women, Women In Arab, Islamophobia in America, Muslim Women in West, Islam Women and Feminism