New Age Islam News Bureau
2 Jul 2019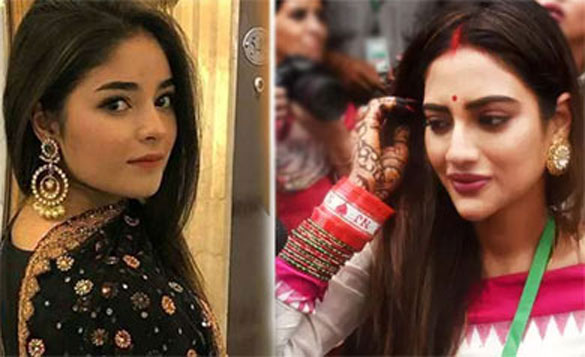 The two actresses, Zaira Wasim & Nusrat Jahan, revealed in the statements about their personal choices.
-----
• Merhan Keller, the Dubai Model Was Trolled By Social Media Users after Speaking Out Against Amr Warda's Unwanted Advances
• Singer Joss Stone Glorifies Niqab
• For Afghan Women, Competing In the Olympics Is Only Part of the Struggle
• Iran Women's Football League Struggles against Obstacles
• Muslim Women's Body That Backed Modi Govt on Triple Talaq Slams 'Inaction' On Lynchings
• Five Years after Kidnapping, Nigeria's Chibok School Girls Fade from the International Scene
• Mere Administrative Actions Cannot Be Treated As Sexual Harassment: IHC
• Indonesian Mosque Council Condemns Woman Who Entered Bogor Mosque with Dog
Compiled by New Age Islam News Bureau
URL: https://www.newageislam.com/islam-women-feminism/zaira-wasim-nusrat-jahan-one/d/119057
--------
Zaira Wasim and Nusrat Jahan: One Nation, One Religion and Two Perspectives
Jul 02, 2019
NEW DELHI: Nusrat Jahan Ruhi Jain and Zaira Wasim are the two young women from the same community and from the same entertainment fraternity but with starkly different personalities.
The two actresses revealed in the statements about their personal choices.
Jahan, the newly elected Trinamool MP from Basirhat, was criticised for her marriage with Kolkata-based entrepreneur Nikhil Jain has come out with her statement saying:
"I represent an inclusive India which is beyond the barriers of caste, creed and religion. As much as I respect all religions, I still remain a Muslim and no one should comment on what I choose to wear. Faith is beyond attire and is more about believing and practicing the invaluable doctrines of all religions."
While National Award-winning actor Zaira Wasim on Sunday penned a six-page heartfelt note announcing her "disassociation" from the field of acting, stating that it had threatened her relationship with Allah and her faith creating a quite the stir on social media.
If the right-wingers can celebrate Nusrat Jahan for sporting sindoor and mangalsutra and also wearing a saree at her oath-taking ceremony in the Parliament then why the outrage over Kashmiri-born 'Dangal' fame star's decision to bid adieu to Bollywood for religion?
BJP MP from Bhopal Sadhvi Pragya Singh Thakur hailed Jahan, welcoming her into "her community". Debashree Chaudhuri, BJP MP from Raiganj on row over TMC lawmaker said, "It is the right of people to disclose his/her identity, religion as it is a constitutional right.
On the contrary, Shiv Sena spokesperson Priyanka Chaturvedi called out Zaira for portraying Islam as 'intolerant.'
If Jahan was praised for her personal choice then why criticize Wasim's decision?
Although a few people respected Zaira's decision and supported her for her choice there are many who called it regressive. If actors Nagma and Iqbal Khan welcomed her choice, then there is Raveena Tondon who criticised and also controversial writer like Taslima Nasreen called her choice 'a moronic decision'.
The 'Secret Superstar' before quitting the entertainment industry has wrapped up the shooting of her upcoming film 'The Sky Is Pink.'
https://www.siasat.com/news/zaira-wasim-nusrat-jahan-one-nation-one-religion-and-two-perspectives-1533320/?fbclid=IwAR0fzzhPxaD01HrxnBLf_dAHFEYWO3RTkSg-7Lnedc21RkUGzmTCdHr7NZQ
--------
Merhan Keller, the Dubai Model Was Trolled By Social Media Users after Speaking Out Against Amr Warda's Unwanted Advances
Nick Webster
July 2, 2019
A Dubai model has said she was subjected to threats and abuse online after accusing an Egyptian football star of allegedly sending her inappropriate messages.
Merhan Keller, 28, shared lewd comments allegedly made by Amr Warda to thousands of followers on social media. Further similar claims from another woman prompted his suspension from the country's national team. He publicly apologised and was reinstated at the insistence of teammates including star striker and Liverpool ace Mohamed Salah, who told supporters people "shouldn't be sent straight to the guillotine".
The 28-year-old British-Egyptian — who has never met Warda or Salah — now said she has been sent scores of highly offensive and threatening messages from social media users.
Speaking to The National on Sunday, Ms Keller angrily rejected his comments, claiming abusive language should never be condoned. She said she had reported the online threats to Dubai Police.
"I was shocked that many verified Twitter accounts had commented on the story; many were national players for Egypt," she said.
"It was like a locker room conversation. People think I want to ruin Warda's future, but I do not."
Ms Keller, who has more than 200,000 Instagram followers, claimed the abuse got worse when star Salah stepped in to defend Warda.
"Salah is an important person and very influential. He should have risen above this and not commented at all," she said.
The controversy over Warda's allegedly abusive remarks began during the second week of the Africa Cup of Nations held in Cairo.
Ms Keller said she received inappropriate messages and content from Warda after she posted an Instagram photo of her boxing in a gym two weekends ago.
When she failed to respond to his online comments, the footballer, who plays for Atromitos FC in the Greek Super League, appeared to take offence.
She shared his comments with thousands of followers online.
Mohamed Salah slams Amr Warda expulsion amid media reports of discontent among Egypt squad at 2019 Africa Cup of Nations
Amr Warda reinstated in Egypt squad due to support from Mohamed Salah and teammates
"When I did not answer his message, I think he [Warda] got offended and started saying things like 'do you know who I am?' and 'no one says no to me'.
"It was then he began using very offensive words that are not acceptable in the UAE. It was not a normal message that I was sent."
Several days later, team officials said they were forced to respond after a Mexican woman posted a video online purporting to allegedly show Warda engaged in a sexual act.
The midfielder was dropped from the Egypt squad just hours before his side played their Group A match against the Democratic Republic of the Congo.
Soon after Warda's alleged behaviour became public and he was dropped, Salah jumped to his defence.
He tweeted that while women must be treated "with the utmost respect", Warda should be given the chance to atone for his mistakes. Warda was subsequently allowed back on the side.
"We need to believe in second chances, we need to guide and educate," Salah told his 9.3 million followers on social media.
"Shunning is not the answer. Women must be treated with the utmost respect. No means no. Those things are and must remain sacred.
"I also believe that many who make mistakes can change for the better and shouldn't be sent straight to the guillotine, which is the easiest way out."
Ms Keller, however, who is originally from Cairo but has lived in Dubai for the last seven years, said she disagreed.
She claimed Salah's international profile awarded him huge influence but that his celebrity also came with great responsibility.
His words, she insisted, had the potential to reach millions and that his suggestion that abusive behaviour could be forgiven was the wrong example to set.
"Like any Egyptian, I respect Mohammed Salah," she told The National. "He is a legend and inspiration. Everyone loves him but this issue has nothing to do with him.
"Saying women should be respected and no means no is all beautiful stuff, but to then say someone should not be punished that bad for a mistake is just wrong.
"I am Egyptian and I know the culture, as does Salah, so he should have known that public opinion would be on his side.
"I understand the human side of it, he [Warda] is Salah's friend and he wants to support him, but he could have done this privately.
"Similar accusations have been made against this guy, it is not one mistake. I just need someone to tell him to stop sending women offensive videos and messages.
"I have now had thousands of hate messages and threatening posts online. The backlash has hurt me."
Critics claim a culture of sexual harassment continues to be rife across Egypt, despite government attempts to crack down on the issue.
Ms Keller, who runs her own line of clothing and cosmetics, said the support of influential names like Salah was now helping legitimise that behaviour.
It is claimed that Warda has faced similar accusations in the past. In 2017, he was accused of harassing the wives of two teammates while on a short-lived loan to the Portuguese team CD Feirense.
He was also sent home from a tournament in Tunisia in 2013 when playing for Egypt's under-23 side, again allegedly over off-the-pitch misconduct.
Salah, meanwhile, has become a hugely respected figure in Egypt, and is one of the most recognised footballers in the world.
The 27 year old was voted the 2018 African player of the year and the third best player on the planet by Fifa. His messages of support for Warda have been re-tweeted more than 35,000 times.
Ms Keller told The National that she had reported her alleged abuse to Dubai Police and that they had launched an investigation.
Officers are understood to have briefly taken possession of her phone to examine the contents, before returning it to her the following day.
"People think I am doing this to improve my online followers — that is nonsense," said Ms Keller.
"Women get abused crossing the street in Egypt. You cannot justify this kind of behaviour.
"[This response from Salah] is telling women not to speak up if they experience this kind of behaviour as they will get scandalised.
"Now I cannot even go back home to visit my family." Dubai Police were unavailable for comment.
https://www.thenational.ae/uae/dubai-model-merhan-keller-tells-of-online-abuse-and-threats-over-egyptian-footballer-row-1.881794
--------
Singer Joss Stone Glorifies Niqab
July 1, 2019
By Clarion Project
British singer Joss Stone took to Instagram last week to praise her trip to Saudi Arabia and the niqab, the face veil women are forced to wear.
In her Instagram post, Joss Stone wrote:
Oh #saudiarabia how we love you so ! I cannot wait to tell everyone I meet to go visit this beautiful place filled with beautiful people yet again, pleasantly surprised. Took me a while to figure out how to keep this wrap from falling off and then when I finally got it I realised that I didn't even have to wear it. What a shame! So I wore it anyway because I love it. I love the different cultures we get a chance to come across and become part of, even if it's for just one small tiny moment. It means so much. The women here are strong and exercising their choice to be free, wear what they want and do what they want, their want may be different to what we experience at home but there ain't nothing wrong in that. To each her own. I spoke to female doctors, managers, directors, vocal specialists, hearing specialists, carers, a singer/performer/artist and they all tell the same tale. The horses mouth has spoken. Yes there are horrible things going on all over the world in many different corners and crevasses but these women individually felt they were not oppressed, they were highly educated and free to choose how they lived their lives. I can only ever speak of those that I have met, I will not comment on what I have not seen with my own eyes because I have no right to. Assumption really is not something I wish to entertain. if you don't know, go have a look for yourself have a look for your self. I have come away from this inspired. Not just by the women but the men too, with how they are celebrating the changes that are happening in Saudi Arabia they are not fighting against it as so many might assume. It seems to me that they are all walking forward together trying to make there world a better place. This is the feeling I got from my personal experience. I would really like to go back one day and explore this place further. Thanks for having me #saudiarabia
This isn't the first time a celebrity has romanticized the niqab. In 2017, singer/songwriter Alicia Keys glamorized the niqab in a 2017 tweet showcasing a picture of a woman in a niqab and an abaya. She later deleted the tweeted due to pushback from women's rights activists, including Clarion Project's National Correspondent Shireen Qudosi — but not before both Clarion Project and Faithwire reported on the exchange.
Shireen Qudosi
✔
@ShireenQudosi
Replying to @aliciakeys @DiaryOf_Thought
You do Muslim women ZERO favors when you push a cloth terrorists and fundamentalists have forced women to wear
408
3:08 AM - Mar 29, 2017
Twitter Ads info and privacy
111 people are talking about this
Shireen Qudosi
✔
@ShireenQudosi
The Taliban, Hezbollah, Hamas, Muslim Brotherhood, Al-Qaeda, ISIS, Al-Shabaab, would all like to thank @aliciakeys for the free PR. 👏 https://twitter.com/aliciakeys/status/846557969424764932 …
593
3:13 AM - Mar 29, 2017
Twitter Ads info and privacy
487 people are talking about this
Though it is beautiful to learn about each other's cultures, it is also important to not celebrate a nation's regressive cultural practices simply to be inclusive or exotic. In the countries where women are forced to wear a niqab, it is neither beautiful, nor freeing, nor an act of strength to wear what has been mandated for you.
The irony is that while feminist icons like Alicia Keys and celebrity personalities like Joss Stone might chant for shutting down the patriarchy, supporting the niqab means they're helping hold up that very system.
https://clarionproject.org/really-singer-joss-stone-glorifies-niqab/
--------
For Afghan Women, Competing In the Olympics Is Only Part of the Struggle
By Siobhán O'Grady and
Sharif Hassan
July 1, 2019
KABUL — No Afghan woman has ever won an Olympic medal. In Tokyo next summer, Somayeh Gholami hopes to become the first.
Five days a week, the 25-year-old black belt in taekwondo ties her long hair up in a bun, covers it with a white headscarf and spars with her teammates. In her gym, news of suicide attacks in Kabul fades from her mind as she focuses on her only goal: winning at the 2020 Summer Olympics.
Just getting to the Games will be an uphill battle. Most Afghan athletes are men, and the country's few female athletes face some of the most dangerous and restrictive conditions in the world. Now, ongoing talks with the Taliban threaten to further derail their Olympic dreams. Many Afghans fear that if the extremists return to power after what will soon be 18 years of war, women could again disappear from public life.
On a recent Saturday evening, Gholami looked around the crowded gym in Kabul where her teammates practice alongside their male counterparts.
"If they saw us like this, they'd probably shoot us," she said.
The United States and the Taliban have met for several rounds of peace talks recently. Negotiators have insisted that any peace deal with the Taliban will protect women's rights.
"Afghan women vote and work and got their place in society," former Afghan president Hamid Karzai, a key voice in talks between the Taliban and Afghan stakeholders, said in an interview at his home in early June. "This is not reversible; this will not go back. The Taliban know this, and we have told them."
But such promises have done little to lessen concerns among Afghan women — especially athletes.
"They will definitely be against sports," said Samira Asghari, the first Afghan member of the International Olympic Committee. "Maybe they will say girls can go to university, maybe school, but not sports. I'm sure about this."
Afghanistan first sent athletes to the Olympics in 1936, but women didn't compete under the Afghan flag until three years after the fall of the Taliban. The IOC banned Afghanistan from participating when the country was under Taliban rule. Since 2004, 13 Afghan athletes have been sent to the Olympics, but just four have been women. In 2008, one female runner fled her training camp and is believed to have sought asylum in Norway and never made it to Beijing.
Over the next year, Gholami and other Afghan athletes will train intensively and compete regionally to try to secure spots at the Summer Games in Tokyo.
Few athletes are more disadvantaged than Afghan women, even in the years since the Taliban was overthrown.
Social norms require women to cover their heads and dress conservatively. They are expected to marry young, mother children and prioritize domestic responsibilities. Contact sports such as martial arts or boxing are often considered inappropriate for women; swimming in public is completely out of the question. There are limited athletic facilities, and many families won't allow their daughters to practice in mixed-gender gyms.
Athletes are vulnerable to attacks from extremist groups because they buck those norms.
The Olympic facility where athletes now train is home to a soccer field where the Taliban used to perform public executions, including of burqa-clad women accused of adultery, in front of crowds of men.
Sadia Bromand is another Afghan woman with Olympic ambitions. She spends half her week training in this gym in Kabul. (Kiana Hayeri for The Washington Post)
Hafizullah Wali Rahimi, the country's top sports official and president of its National Olympic Committee, called the past decade the "worst days of [Afghanistan sports] history."
In recent years, he said, corrupt officials siphoned off resources the Afghan government and its international partners had set aside for women's sports. A recent sexual abuse scandal on the women's national soccer team eroded what little trust parents had in sports officials to keep their daughters safe.
As his office attempts to increase women's participation in sports nationwide, he has had to make careful calculations, introducing low-contact sports such as badminton, table tennis and volleyball in girls' schools to avoid controversy.
"We are a conservative society," Rahimi said. "In some of our provinces, there are not even places for young boys to go and play."
Gholami might have made it this far in part because she was not raised in Afghanistan.
Her family is from Mazar-e Sharif, in the country's north, but she grew up a refugee in Iran. Despite being displaced, she sees her upbringing abroad as an advantage; women in Iran move more freely than in Afghanistan and often exercise in public.
Eight years ago, she joined a taekwondo club there on a whim. Her lean stature and intense discipline soon made her a natural recruit to Afghanistan's national team. She still lives in Iran, but travels to and from Kabul for practice. She also managed to balance training and academics, earning a bachelor's degree in agriculture.
Gholami's coach thinks she stands a good shot at bringing home a medal if she makes it to Tokyo. She won gold at the 2016 South Asian Games. But her Olympic dreams fizzled that year when she tried to compete in a lower weight class and ended up so weak she failed to qualify. She called it the "biggest mistake" of her career.
Now, her heart is set on 2020.
"If I achieve that goal, I'll have no more wishes," she said.
Her transition to professional athlete was made easier by her parents, who support her Olympic dreams and allow her to travel regularly for practice and competitions abroad.
Other Afghan women are forced to hide the fact they are athletes from their families.
In a run-down gym tucked down a quiet alley in western Kabul one recent afternoon, Sadia Bromand, 23, changes out of her street clothes and into long black leggings, basketball shorts and a black headscarf. Then she wraps her hands and slides on her red boxing gloves. She spends half her week boxing with her coach in this gym, and the rest training at the national Olympic facilities in Kabul. She had hoped to qualify for the 2016 Games as a sprinter but was asked to coach a teammate instead. So she switched to boxing, hoping she would make it in 2020.
Then her parents found out.
As a sports reporter and avid runner, Bromand had already defied some societal expectations of Afghan women. But her parents saw boxing as one step too far.
"It was like they were in flames," she said. They worried she would get hurt, be considered unmarriageable, or worse, that the Taliban would track her down and kill her.
Now she keeps her practice routine secret from most of her family, but she said even the national boxing federation doesn't offer enough support for her to have a fair shot at qualifying for 2020. Federation President Shikeb Satari said Bromand works hard but, as a relative newcomer to the sport, doesn't have a realistic shot at the Olympics. But Bromand won't give up.
"My life has been much more difficult outside the ring than inside the ring," she said. "My whole life has been fighting."
When she feels discouraged, she looks at the tattoos etched into her skin that remind her of what she's working toward. On her right arm: "Nothing is impossible." On her left are the five Olympic rings, accompanied by three simple words: "Yes I can."
Sadia Bromand's tattoo, Yes I Can, on her forearm. She looks to her tattoos when she begins feeling discouraged. (Kiana Hayeri for The Washington Post)
Bromand also wears two necklaces, one with the symbol for the Olympic Games and the other with her name written in English. (Kiana Hayeri for The Washington Post)
https://www.washingtonpost.com/world/asia_pacific/for-afghan-women-competing-in-the-olympics-is-only-part-of-the-struggle/2019/06/28/0a8982e4-91f6-11e9-956a-88c291ab5c38_story.html?utm_term=.d41db43e5bec
--------
Iran Women's Football League Struggles against Obstacles
Jul 1, 2019
Women's sports in Iran including the football league and the volleyball league of women do not receive any support from the government.
In recent days and weeks, there have been different news in the state and social media about lack of attention to women's sports in Iran, lack of budget and various other problems, Iranian female athletes face.
Football league of Iranian women
Simultaneous with the Women's World Cup in France, the sixth football league of female footballers was held in Iran. The winner of the league was the women's football team of the municipality of Bam, in the southern Iranian province of Kerman.
The women's football league faced many restrictions from financial straits to the transportation of players.
Marzieh Jaafari, head coach of the football team of Bam, said in this regard, "There are plenty of problems. We have to always travel by bus and sometimes, we have to be on the bus for 2,000 kms."
On discrimination against sportswomen in Iran, she said, "Many countries treat women's and men's football differently; of course, there are some countries who don't. But the situation in Iran is quite different. The contract of an average male league player in Iran is equal to the budget of the whole season of women's football league… Our big problem is that we don't have any local advertisements or live broadcast." (The state-run gozarnews.ir, June 30, 2019)
The existing ban on any form of broadcast of women's tournaments, taking photos and reporting them is discouraging to private sponsors.
Earlier, Shahnaz Yari, head coach of women's Sepidrood futsal team of Tehran, had pointed out in an interview, "The sponsors wish to be seen, otherwise they won't spend money. And this is one of the essential problems which has made life tough for women's futsal." (The state-run ISNA news agency – August 8, 2018)
Fourteen teams were supposed to participate in the 2018 football league, however due to lack of financial support, only 11 teams participated.
On Monday, July 1, 2019, the photo of the female goalkeeper of Malavan women's football team from Bandar Anzali, created controversy in the social and state-run media. Samira Rostami had been pictured wearing tattered gloves with a big hole in the palm. She said, "Many players have similar conditions but they don't say anything… I didn't want to bring up the numerous existing problems including my worn out gloves." (The official IRNA news agency – July 1, 2019)
Worth noting is the fact that the Women's World Cup in France did not have any television coverage in Iran and football fans had to follow up the games through foreign networks.
Iranian women's volleyball league
Lack of sponsors is one of the main reasons the women's volleyball league is in a dire state which is described by some athletes as a state of "gradual death."
The limited number of clubs, lack of sponsors and ban on media coverage of the tournaments, have been among the most serious obstacles in this field. Lack of dynamism in the volleyball league has harmed the women's national volleyball team and obstructed their participation in international tournaments.
In an interview with the official IRNA news agency, Shokoufeh Safari, a national volleyball team player, said, "The major weakness of women's volleyball is that we don't have a good, dynamic league. The volleyball clubs' failure to pay their players' fees has discouraged the athletes from continuing their participation in the league. Every passing year adds to these problems. In this round of the volleyball league, the first and second champions were not able to take part in the Asian Clubs' Cup due to financial straits."
Mahsa Salari also told IRNA, "Unfortunately, we do not have a good league. Only five teams play in the league and the competition is always between two teams which is not good at tall. Therefore, this league does not help the national team even one percent."
Matin Zebardast, Vice President of the Volleyball Federation, also told IRNA, "The reason for the league's lack of dynamism is the small number of teams playing in the league. As a result, the number of hours the teams play and drill or participate in the matches comes down. Consequently, the quality of their play also diminishes." (The official IRNA news agency – June 15, 2019)
Such restrictions do exist in other fields as well. From bicycling to ban on women's entry to sports stadiums to watch football, to blocking female reporters from entering stadiums to prepare reports like what happened on June 26, 2019, in the course of the Wrestling Matches held at the Azadi Stadium's hall for 12,000.
Despite so many restrictions, however, Iranian women athletes have demonstrated their worth on numerous occasions on the international level, repeatedly winning medals and championships. Vis-à-vis so much pressure and so many restrictions aimed at driving them home and excluding them from society, the motivated women athletes in Iran work hard on their own and have not budged on their rights in this field, which is truly admirable, deserving everyone's support.
https://women.ncr-iran.org/2019/07/01/iran-womens-football-and-volleyball-league-struggle-against-obstacles/
--------
Muslim Women's Body That Backed Modi Govt on Triple Talaq Slams 'Inaction' On Lynchings
SANYA DHINGRA
1 July, 2019
New Delhi: A leading national Muslim women's group, which had backed the Modi government's decision to bring in a law banning triple talaq, has now questioned the government's inaction in the face of lynchings and mob violence against Muslims.
In the backdrop of the most recent killing of Tabrez Ansari, 24, in Jharkhand, the Bharatiya Muslim Mahila Aandolan (BMMA) has demanded "clear-cut action on the ground" to prevent communal violence against Muslims in the country.
In a statement released Monday, the BMMA, which was one of the petitioners in the 2017 triple talaq case, pointed out that it had supported the Modi government's "efforts to ensure gender equality for Muslim women" despite accusations that it was "playing into the hands of the right-wing majoritarian government".
It goes on to add that it is anguished that instead of ensuring more inclusivity, the situation for the Muslim community has only worsened in the country.
"The Prime Minister has talked about gaining sabka vishwas (everybody's trust) but sadly there is no change in violence and lynchings by the vigilante groups," the statement reads. "We hope those sitting in the government understand that Muslim women also get impacted by these lynchings.
"We as Muslim women also worry about our own brothers, fathers and other male members of our family in the face of vigilante violence," it adds.
The BJP government has often been accused of showing sympathy for Muslim women by seeking to criminalise the practice of triple talaq on one hand, and remaining mute when in the face of growing mob violence against the community in general.
"Muslim women are being forced to choose between their individual rights as women and the survival and well-being of the community guaranteed by the Constitution. Is that even a choice that she has to be subjected to?" the BMMA has asked.
Prominent backer of govt on triple talaq
In the past, the BMMA has often been one of the lone Muslim groups to throw its weight behind the BJP government's push for criminalisation of triple talaq, even as opposition parties such as the Congress, Trinamool Congress, the All-India Majlis-e-Ittehadul Muslimeen (AIMIM) and Muslim groups such as the All India Muslim Personal Law Board (AIMPLB) have vociferously criticised it as a way of targeting the Muslim community.
The BMMA had even questioned the Congress' inaction over the plight of Muslim women for its own political gains.
Maintaining this position, the group has now said, "On the one hand, there has been the complete failure of the larger community to address it in the last seven decades. And now there is the added dimension of open hatred and exclusion of the community in the face of state apathy.
"While we as Muslim women will continue to fight for gender justice, we also stand up to hold the state accountable in its Constitutional obligation to uphold peace, justice, harmony and to end of the politics of hate and violence," the statement adds.
https://theprint.in/india/muslim-womens-body-that-backed-modi-govt-on-triple-talaq-slams-inaction-on-lynchings/256796/
--------
Five Years after Kidnapping, Nigeria's Chibok School Girls Fade from the International Scene
June 28, 2019
In April 2014, Boko Haram kidnapped 276 female students gathered in Chibok to sit for high school examinations. The international community responded with outcry and condemnation. At the time of the abduction, female empowerment and education in the developing world was widely discussed in the United States. The story and efforts of a young charistmatic Pakistani activist, Malala Yousafzai, drove interest in the topic, and Chibok fed into those concerns. First Lady Michelle Obama joined many celebrities in an international "bring back our girls" campaign. In Nigeria, the Jonathan administration, at first, did not take action. The Nigerian first lady characterized the kidnapping as a hoax. But Nigerian civil society, led by former education minister Oby Ezekwesili, among others, successfully pressured the Jonathan administration to take action, though to little avail.
In the five years since, some girls have escaped and some have been rescued by the Nigerian security services. But 112 remain in captivity. The kidnapping has largely disappeared from the western public's attention. The five-year anniversary in April was marked by no celebrity tweets. Meanwhile, Boko Haram seems to be gaining strength in northwest Nigeria.
How to account for the fading of international interest in Chibok? Part of it is compassion fatigue. Even though the girls were mostly Christian, the western churches are now largely silent, unlike their activism during the "lost boys of Sudan" episode in the late 1980s and 1990s, when celebrities kept their attention focused. By contrast, celebrity interest in Chibok has waned. It has not helped that the re-integration of rescued Chibok school girls has proved to be difficult and expensive. Further, the Nigerian government downplays Boko Haram and more or less continually claims that its destruction is at hand—assertions too often uncritically accepted outside Nigeria. Meanwhile, Boko Haram morphs into factions, some of which have links to al-Qaeda in the Islamic Maghreb and the Islamic State, and remains deadly. Nobody really knows how many have died in the fight between the Nigerian state and Boko Haram, though there are credible estimates of more than thirty thousand. And the killing continues.
https://www.cfr.org/blog/five-years-after-kidnapping-nigerias-chibok-school-girls-fade-international-scene
--------
Mere Administrative Actions Cannot Be Treated As Sexual Harassment: IHC
Malik Asad
July 02, 2019
ISLAMABAD: The Islamabad High Court (IHC) has explained the anti-harassment law and quashed proceedings pending before the Ombudsperson for Protection against Harassment of Women at Workplace, saying that mere meanings in dictionaries cannot be used to explain sexual harassment.
The court set aside the complaints filed against three individuals — a grade 22 officer, Mohammad Younis Dagha, head of the Overseas Pakistanis Foundation (OPF) schools, and an official of a private online cab service.
The decisions in these cases, which were reserved by the court last month, were issued here on Monday.
These complaints were filed before the Ombudsperson under the Protection against Harassment of Women at Workplace Act, 2010 and were pending in the Ombudsperson Secretariat.
The court ruled that harassment as defined in the above-mentioned Act cannot be generalised as the legislature introduced it for certain behaviour and gestures. Mere administrative actions could not be treated on a par with sexual harassment.
It may be mentioned that in the past some people in public sector organisations, against whom their subordinates complained of sexual harassment, were removed from service on the basis of this Act.
Athar Farooq Buttar, former director news of Pakistan Television, has recently been reinstated by the IHC. Mr Buttar was removed from office after a complaint was registered against him under this Act.
Giving brief facts and background of these three cases, IHC Chief Justice Athar Minallah observed that "the reasoning recorded by the learned Ombudsman regarding the scope of jurisdiction vested in the said statutory public office explicitly shows that the provisions of the Act of 2010 have been grossly misinterpreted and misconstrued".
He ruled that "in all the cases in hand, the acts, attitudes, conduct or gestures were not of a sexual nature and, therefore, did not fall within the jurisdiction of the learned Ombudsman. The complaints in all these cases could not have been entertained by the learned Ombudsman because the alleged acts, conduct or attitudes were not sexual in nature."
As per the court order, "when the provisions of the Act of 2010 are read as a whole, it unambiguously shows that the public office of the Ombudsperson has been established with specific object and purpose i.e. to protect women against harassment".
The court observed that "the expression harassment has been defined in section 2(h) of the Act of 2010…it explicitly refers to various phrases such as "unwelcome sexual advice", "request for sexual favours", "physical conduct of a sexual nature", "sexually demeaning attitudes".
Chief Justice Minallah noted that "it is therefore, obvious that a gesture made towards another person with the intention of gaining sexual gratification would fall within the definition of 'harassment' in the context of the Act of 2010. For physical conduct to attract the consequences described in the Act of 2010 it has to be of a sexual nature."
The court order added that, "the legislature through unambiguous language, has defined the expression 'harassment' and its exhaustive meaning has been confined to the acts, advances, requests, attitudes, conduct etc which are of sexual nature".
Distinguishing the sexual harassment and scope of jurisdiction, the court order said, "Depending on the facts and circumstances, harassment for the purposes of the Act of 2010 can be of different forms, verbal non-verbal or physical. The most crucial ingredient for determining jurisdiction of Ombudsman is that the conduct, attitude or act etc complained of must be of sexual nature and the other factors mentioned in section 2(h) are also in existence."
According to the court order, "the legislature has obviously not intended to extend the scope of the Act of 2010 to the expression 'harassment' as it is understood in its ordinary sense explained in the dictionaries".
The court held that "the learned Ombudsman has not properly appreciated the language of section 2(h) of the Act of 2010, wherein the expression 'harassment' has been defined".
The court advised the Ombudsman to entertain the complaints strictly in accordance with the above mentioned section of the Act.
https://www.dawn.com/news/1491543/mere-administrative-actions-cannot-be-treated-as-sexual-harassment-ihc
--------
Indonesian Mosque Council Condemns Woman Who Entered Bogor Mosque with Dog
July 2, 2019
The Indonesian Mosque Council (DMI) has condemned a woman who brought her dog into Al Munawaroh Mosque in Sentul, Bogor, West Java. "We condemn the act [of bringing a dog into a mosque], regardless of any personal reason," Syafruddin said on Monday as quoted by the Antara news agency. The woman also did not take off her shoes when entering the mosque. He went on to say that despite the grave nature of her actions, he urged Muslims to remain cool-headed amid unsubstantiated claims that could potentially blow the issue out of proportion. Many Muslims consider dogs to be unclean or impure, particularly their saliva, and most try their best to avoid contact with canine saliva. All those who enter a mosque must remove their footwear beforehand; entering the site of worship wearing shoes or sandals is considered an act of desecration. Syafrud...
https://www.thejakartapost.com/news/2019/07/02/indonesian-mosque-council-condemns-woman-who-entered-bogor-mosque-with-dog.html
Bangladesh has said it will not force Rohingya to return to Myanmar, where the Muslim minority faced several waves of persecution before the 2017 crackdown which saw widespread murder, rape and arson.
The United Nations has described as "ethnic cleansing" the mass expulsion of the Rohingya.
The Rohingya Muslims, who have lived in Myanmar for generations, are denied citizenship and are branded illegal emigrants from Bangladesh, which likewise denies them citizenship.
https://www.presstv.com/Detail/2019/07/01/599919/Iraq-Shia-militias-PMU-military
--------
URL: https://www.newageislam.com/islam-women-feminism/zaira-wasim-nusrat-jahan-one/d/119057
New Age Islam, Islam Online, Islamic Website, African Muslim News, Arab World News, South Asia News, Indian Muslim News, World Muslim News, Women in Islam, Islamic Feminism, Arab Women, Women In Arab, Islamophobia in America, Muslim Women in West, Islam Women and Feminism