New Age Islam News Bureau
30 November 2021
• Egypt Appoints, Moushira Khattab, First Woman President of National Council for Human Rights
• Cairo World Premiere for Jordanian Film Highlighting Arab Women's Issues
• Finland's Secret School for Children of Daesh Fighters in Iraq
• At Death's Door, Turkish Woman Delivers Miracle Baby
• Gwadar Women Protest for Rights, End To 'Illegal Trawler Fishing'
• German Court to Rule on Ex-IS Member in Yazidi Girl's Death
• Spotify Celebrates 1 Year of Women-Focused Program Sawtik
• Egypt to Launch New Initiative Targeted At Women in December 2021
Compiled by New Age Islam News Bureau
URL: https://www.newageislam.com/islam-women-feminism/zainab-kabul-afghan-bue-eyed/d/125873
--------
Zainab, the Green-Eyed Afghan Child Begging Food on Kabul Streets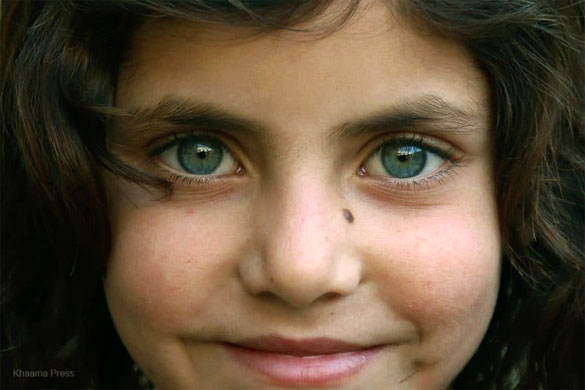 Zainab an 8-year-old Afghan girl
-----
29 Nov 2021
The green-eyed Afghan girl whose videos and photos are being widely circulated on social media these days is a child beggar on Kabul streets in search of food as well as looking to find her lost addicted father.
Zainab is an 8-year-old Afghan girl, originally from Parwan province, but has been internally displaced due to poverty, war and violence and is now living in Kabul with her mother and 5 siblings.
Firoz Sidiqy, a Khaama Press journalist and photographer went to visit her on Sunday, found Zainab's home through her uncle who works as a cleaner in Kabul municipality.
Zainab's uncle initially did not allow the journalist to meet her saying there is an order by the Taliban that no more journalists shall talk to the girl.
"Taliban has said that anyone would like to help the family is most welcome, but taking videos and photographs are not permitted", Zainaibs uncle told Khaama Press.
After a continuous request by Firoz, a mobile number was given by Zainab's uncle to call the Taliban member and seek his permission, and eventually, the guy speaking behind the phone permitted taking some photographs only.
Zainab's father has been addicted to narcotics for the last 10 years, he has gone away 7 months ago and never returned back home.
The little girl does not know where her father has gone to or whether he is alive or dead.
Zainab wishes to go to school, a dream which now seems impossible for her to fulfill both due to the poverty she is in and the closure of schools for the girls in Afghanistan.
The girls' schools doors were shut down as the Taliban returned to power again on August 15, 2021.
Recently, Afghanistan's popular cricket star, Rashid Khan pledged to financially help Zainab's family financially and help her go to school.
This comes as many believe Zainab has unique eyes like Sharbat Gula, the famous National Geographic green-eyed Afghan girl who has recently been given asylum in Italy.
Sharbat Gula was photographed by Steve McCurry, a National Geographic photographer in 1984 when she was a refugee in Peshawar, Pakistan.
The next year in 1985, Shabat Gula's picture was published on a back-cover of the National Geographic magazine and that made her famous fo her unique green eyes.
Source: Khaama Press
https://www.khaama.com/green-eyed-child-begging-food-on-kabul-streets-loses-addicted-father-78785/
--------
Egypt Appoints, Moushira Khattab, First Woman President of National Council for Human Rights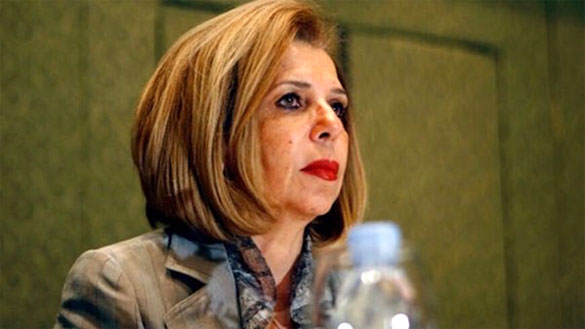 An undated image of Moushira Khattab. - TWITTER
------
November 12, 2021
CAIRO — The Egyptian parliament announced Oct. 4 the formation of the National Council for Human Rights headed by Ambassador Moushira Khattab, according to Law No. 97 of 2017. The new council is expected to start working once Egyptian President Abdel Fattah al-Sisi approves its new formation to the council.
Under the Egyptian Constitution and laws, the National Council for Human Rights is an independent council that aims to promote human rights and public freedoms in accordance with constitutional provisions, in light of international conventions, covenants and charters ratified by Egypt. The council will aim at consolidating their values, raising awareness of these rights and contributing to their implementation.
On Oct. 25, Sisi announced ending the state of emergency that has been in place for more than four years, considering that Egypt has become "the region's oasis of security and stability," days after he launched the National Human Rights Strategy on Sept. 11, and after parliament announced the new formation of the council.
Since the end of the Muslim Brotherhood's rule in 2013, the United States, European Union and human rights organizations have accused the Egyptian authorities of violating human rights, arresting oppositionists, restricting freedoms and imprisoning thousands of detainees, which the authorities deny.
Al-Monitor tried to contact Khattab but to no avail.
George Isaac, a new member of the National Council for Human Rights, talked to Al-Monitor by phone about the council's agenda, saying that the formation of the council will further help the latter assume an oversight role more effectively in order to enhance the human rights situation in a way that befits Egypt's value as a pivotal country in the region.
He noted that many of the council's new members support adopting a draft to amend pretrial detention-related provisions in the Code of Criminal Procedure. It is unacceptable, according to him, to detain those who express their opinion. Seminars and conferences in this regard will be held once the council starts its work, in a bid to explain the importance of these amendments. He added that there will be significant cooperation with the parliamentary Human Rights Committee to approve the necessary legislation in order to release pretrial detainees.
Isaac said that another priority for the council is to activate the council's complaints committee to investigate all external and internal human rights complaints, and to communicate with the authorities in charge to end any injustice and counter any violations.
He added, "We will be open to the world and international organizations, and we will lead serious investigations into the complaints they send. We will always communicate with everyone because the goal is to serve the interest of Egypt and its people."
Commenting on selecting Khattab as the first woman to head the council, ending the state of emergency and the launch of the national strategy for human rights, Isaac said that these developments are positive and other steps will hopefully follow suit, mainly the release of pretrial detainees, and wider civil space for the opposition, freedoms and civil society.
Commenting on the new prison complex in northern Egypt, which was inaugurated Oct. 29, Isaac said that the council will include this prison in its first visits because it is a priority for the council to check whether the law is being implemented.
Negad al-Borai, a lawyer and human rights activist, said that the appointment of Khattab as head of the National Council for Human Rights is appropriate, given her experience, qualifications and skills, and added that it does not give an indication about the human rights situation in the future. He noted that one should wait for the council to start its work before making judgments.
He told Al-Monitor, "The law and the constitution guarantee the independence of the council. Although its advisory role is limited to making recommendations, everything else is in the hands of the Egyptian authorities. Therefore, the way the authorities cooperate with the council will determine how effective its role is. We will have to wait and see because we can't predict the future."
Borai said, "A number of pretrial detainees were released recently. This is a good thing. We hope that all pretrial detainees will be released, we hope for wider civil space for civil society, the opposition and freedoms and tangible progress in the human rights situation."
Commenting on ending the state of emergency and the launch of the national strategy for human rights, he noted that they are good issues, but they remain mere promises until they are practically implemented on the ground.
Tariq Radwan, head of the parliamentary Human Rights Committee, said that choosing the first woman to head the National Council for Human Rights underscores the Egyptian state's orientation to empower women, which has been ongoing since 2014. He told Al-Monitor by phone that it is also a continuation of women's access to high positions for the first time, whether in the government, executive agencies and specialized councils. Women make up 27% of the House of Representatives and the Senate.
He noted that there is no conflict between the parliamentary Human Rights Committee and the National Council for Human Rights, but rather they complement each other in order to promote the culture of human rights in society and assume a supervisory role over the executive authority to the fullest.
Radwan added that the launch of the national strategy for human rights, the end of the state of emergency and the opening of the new prison complex express the Egyptian state's desire to promote the human rights situation, including the right to a house, health care and education, and it is not limited to political rights.
Source: Al Monitor
https://www.al-monitor.com/originals/2021/11/egypt-appoints-first-woman-president-national-council-human-rights
--------
Cairo world premiere for Jordanian film highlighting Arab women's issues
29/11/2021
After five short films and a long career in TV production, Jordanian director Zaid Abu Hamdan decided to embark upon his first fictional experience with the long feature "Daughters of Abdul-Rahman", which took seven years to produce.
The film, which mainly addresses Arab women's issues, stars Saba Mubarak, Hanan Helou, Farah Bseiso, Maryam Pasha, Khaled Al-Tarifi and the child Yasmina Al-Abed.
It has been premiered abroad at the forty-third Cairo International Film Festival, taking part in the official competition.
The film tells the story of an older man, Abdul- Rahman, who owns a small library in the Ashrafieh district of the Jordanian capital, Amman. His late wife gave birth to four daughters, while he always dreamt of having a boy.
Each of Abdul-Rahman's daughters lives a completely different life from the others. The eldest is Zainab, who dreamed of entering a music institute. Instead, staying unmarried, she takes care of her father, who has limited means, burying her talent behind the piles of clothes she sews after she turned herself into a neighbourhood seamstress.
The second daughter is Amal, who married young, wears the niqab and has given birth to a number of children. She is physically abused by her husband who wants to marry off their youngest daughter at the age of fifteen.
The third is Samah, who was able to marry a wealthy man who gave her a decent standard of living, but for years she has failed to have children from him. She eventually discovers he is gay.
As for the fourth, Khitam, she caused great heartbreak for her father after she travelled to Dubai to live with her boyfriend outside marriage, which made the whole family live with a sense of shame.
When the four daughters have their first reunion in years at their father's home, they discover that he has upped and left leaving no sign of where he has gone. This compels them to start searching for him. Their search becomes an opportunity for the daughters to look back at their lives and make bold adjustments.
The story raises issues of family life, customs and traditions and specifically the upbringing of girls in Arab societies. It also deals with thorny issues such as domestic violence, under-age marriage, gender discrimination and the wearing of the niqab.
Zaid Abu Hamdan says that he was inspired by his social environment and the life he led during his youth in Jordan before living for many years in the United States.
He adds that he spent over five years working on the film, while production took two years before its world premiere at the Cairo Film Festival, which opened last Friday.
He points out: "There was no intention to disparage men in the film. This is not our goal in writing, directing or production, but we tell the story of girls and if there are negative male role models, perhaps this is an opportunity for some to reconsider the role of men in society."
He adds, "I wish everyone who watches the film to look at himself for a moment and think of his mother in a different way, not as a loving woman who takes care of him, but think of her as a human being … and wonder if she was happy, if her dreams came true and if she loved her life."
Source: The Arab Weekly
https://thearabweekly.com/cairo-world-premiere-jordanian-film-highlighting-arab-womens-issues
--------
Finland's secret school for children of Daesh fighters in Iraq
November 29, 2021
HELSINKI: At home in the Finnish capital, Ilona Taimela scrolls through hundreds of WhatsApp chats with her former pupils — pictures of animals, maths sums and simple sentences in English and Finnish.
The teacher last year gave lessons to Finnish children imprisoned some 3,000 kilometers (1,800 miles) away in Syria's Al-Hol displacement camp — using only the messaging app.
Al-Hol is a sprawling tent
city housing around 60,000 people, mainly women and children displaced by the US-backed battle to expel the Daesh group from war-torn Syria.
Among them are thousands of children of foreign mothers who traveled to Syria to be the wives of Daesh fighters.
"Some of the children didn't know what a building is, what a house is, because they've always been in a tent," Taimela told AFP.
"There was so much that they needed to learn."
Rights observers warn the camp's children are under constant threat from violence, poor sanitation and fires.
"It's a miserable place, it's out of control," said Jussi Tanner, Finland's special envoy charged with ensuring the fundamental rights of the Finnish children in Al-Hol, including access to health care and schooling, and eventual repatriation.
Extremist propaganda "is free to roam with no counter-messaging," he said.
Tanner had the idea of offering lessons by phone to Al-Hol's Finnish children when schoolchildren everywhere moved to distance learning at the start of the coronavirus pandemic.
With the help of Finland's Lifelong Learning Foundation, officials engaged Taimela, a specialist in teaching Finnish kids abroad, and another teacher, to design and teach a curriculum.
With phones banned in the camp, the lessons would have to be in secret, and the politically sensitive project was also to be kept hidden from the Finnish public.
Tanner forwarded details about the voluntary classes to the mothers.
"That same day ... we got maybe eight children," Taimela said.
Soon 23 of around 35 Finnish children in the camp had signed up.
"Good morning! Today is Thursday May 7, 2020. The first day of distance school!"
Taimela's first message to the children included a smiling selfie.
"The sun is shining here in Finland. What kind of weather is it there?"
Soon Taimela and her colleague were exchanging hundreds of text and voice messages a day with the children, who were taught one or two subjects a day.
"The little ones would always get Finnish, and the older ones would get geography or history, and some of them also wanted to learn English."
Sending photos used too much data, so the teachers relied on emojis, but soon realized there were no symbols for mathematical fractions or the ubiquitous Finnish blueberry.
"During the year the blueberry [emoji] arrived, so we were happy," Taimela says, laughing.
Despite only knowing scant details about the children, Taimela said she and her colleague were "worried all the time about their welfare."
"Especially when we heard that they were sick, or there was a storm and the tent had collapsed."
Communication with some families would periodically stop.
"Some of them escaped the camp," special envoy Jussi Tanner says, "so they were actually taking part in the school while on the run in northwestern Syria in an active conflict zone."
Others were suddenly repatriated and left the group for good.
After months of lessons, the mother of one six-year-old revealed her daughter could now read.
"Not all six-year-olds in Finland can do that," Taimela says, smiling. "It was a eureka moment."
Daesh fighters declared a "caliphate" in large parts of Syria and neighboring Iraq in 2014, three years into Syria's civil war.
Taimela says she feels "sadness rather than anger" toward the mothers who led their children into the conflict.
Many were vulnerable and believed the promises of militants that they would live in some "kind of paradise."
But several military offensives whittled away at the brutal Daesh proto-state, until in 2019 Syrian Kurdish forces declared it defeated.
Reluctant Western nations have since brought home handfuls of their Daesh-linked nationals, mostly children.
Taimela had accepted that she would never know what happened to the repatriated children she had taught, but one day she was called to a reception center in Finland.
"It was an emotional few hours" meeting some of her pupils face to face for the first time, she said.
They "came very close" and Taimela read to them.
"I just wanted to know, 'How is everything, what can I help with?'," she said.
Finland's foreign ministry has now repatriated 23 children and seven adults.
Tanner told AFP that only around 15 "harder-to-reach" individuals, of whom 10 are children, remain in camps in Syria.
The issue originally proved divisive in Finland, but opposition has "become much more muted."
Taimela's teaching drew to a natural close in mid-2021 and the ministry later made the project public.
She is now looking at how to use the innovative teaching model in other crisis zones or camps, and has received requests regarding Greece, Myanmar and Colombia.
"The Al-Hol teacher, that's my label now," Taimela smiles.
"But I'm proud of what we did."
Source: Arab News
https://www.arabnews.com/node/1977841/world
--------
At death's door, Turkish woman delivers miracle baby
NOV 29, 2021
Nida Pelit gave birth to a healthy girl following the efforts of Turkish doctors who conducted a challenging surgery which is expected to feature in the annals of rare childbirth.
This is the first time in Turkey that a pregnant COVID-19 patient connected to an artificial heart-lung machine delivered a healthy baby through a C-section.
Now recovering in her hospital bed, she can't wait to be united with her daughter, Mihra, who is still under medical observation as she was born prematurely.
Pelit was in the 31st week of her pregnancy when she was infected with the coronavirus. She was taken to intensive care in her hometown Kocaeli in northwestern Turkey as the virus had severely affected her lungs.
Surviving with the assistance of respiratory devices, she spent her days largely unresponsive to treatment. When her health deteriorated, she was taken to a hospital in Istanbul which had the extracorporeal membrane oxygenation (ECMO) machine. The ECMO is useful for patients with collapsed lungs. Though doctors' efforts saved both the mother and daughter, it took the former another 40 days to leave the intensive care.
Dr. Mustafa Mert Özgür, who operated on the mother, said she was infected with coronavirus 11 days after she was administered her first dose of vaccine. "We were racing against time when we were informed about her condition. We had minutes to connect her to devices and we made it in time," Özgür told Demirören News Agency (DHA) on Sunday.
He lamented the low vaccination rate against coronavirus among the expecting mothers and warned that the lack of inoculation poses dangers for the mother and the child.
"When such patients' health worsens, we opt to terminate the birth. Our hospital is specialized in the ECMO treatment for patients in advanced stages of the illness, but it is only applied if the patient is eligible in medical terms. We had a similar case previously and she recovered but this patient was in worse condition. She could lose her baby and was not fit for surgery," he said.
After lengthy consultations, doctors decided to perform a C-section on Pelit while she was still connected to the ECMO. He said they had to wait for the baby's lungs to develop in the womb to perform the surgery.
"The baby briefly stayed in intensive care and the mother was able to live without the ECMO after a while. This is a rare case, maybe a few in the world. We will share this with the international medical community," he said.
Mihra's father, Anıl Pelit, said doctors told him that his wife had only two hours to live without the ECMO. However, the doctors brought the device to the hospital in Kocaeli on time, before transferring the mother to the hospital in Istanbul.
"It was truly a miracle. I am so grateful to all doctors. I will reunite with my wife and daughter soon when both are well," he said.
Source: Daily Sabah
https://www.dailysabah.com/turkey/at-deaths-door-turkish-woman-delivers-miracle-baby/news
--------
Gwadar Women Protest for Rights, End To 'Illegal Trawler Fishing'
November 29, 2021
GWADAR: Hundreds of women Monday took to roads in Balochistan's Gwadar district and demanded rights and jobs cut due to curbs on illegal smuggling of petrol and goods across Pakistan, Iran border.
The rally commenced from Al Johar Public School and concluded at Marine Drive. Speaking at the rally, the participants stated that the breadwinners of their homes were without jobs which had compelled them to step out into the streets.
They called for an end to illegal fishing by trawlers and for lifting restrictions on trade with Iran.
Addressing the rally, Maulana Hidayatur Rehman Baloch, the secretary general of Jamaat-i-Islami's (JI) Balochistan chapter and who is leading the movement, stated that today's "historic rally" was a testament to the fact that each and every citizen of Gwadar had mobilised for their basic rights.
Activist Jibran Nasir, tweeting videos from the rally, said thousands of women marched on the streets of Gwadar, adding that a rally of youth and children had also taken place earlier.
"All have the same demand: to provide the entire Makran area with basic amenities like potable and clean water," he said.
On Sunday, Balochistan Minister for Planning and Development Mir Zahoor Ahmed Buledi, who is heading the government team for talks with the protesters, said that the demands made by Baloch had been implemented to a great extent — something he said Baloch had also acknowledged in his speeches.
The minister called on him to show more flexibility in negotiations.
Thousands of people from Gwadar, Turbat, Pishkan, Zamran, Buleda, Ormara and Pasni have been staging a protest for the past several days. Among their demands is the removal of additional check-posts at Pushkan, Sarbandan and Gwadar City, the complete removal of fishing trawlers and the opening of the Pak-Iran border.
Last week, the Excise, Taxation and Anti-Narcotics Department had ordered the closure of all wine stores in Gwadar district with immediate effect in view of the "law and order situation".
The notification was shared by Buledi on Twitter, who said the decision was taken after negotiations with JI's Baloch.
Source: Pakistan Today
https://www.pakistantoday.com.pk/2021/11/29/gwadar-women-protest-for-rights-end-to-illegal-trawler-fishing/
--------
German court to rule on ex-IS member in Yazidi girl's death
NOV. 30, 2021
BERLIN (AP) — A court in the German city of Frankfurt is expected to issue a verdict Tuesday in the trial of a former Islamic State member accused of killing a 5-year-old girl he had purchased as a slave by chaining her in the hot sun.
Taha Al-J., an Iraqi citizen whose full last name wasn't released due to privacy rules, is the first person to go on trial in Germany on charges of genocide for his role in the Islamic State's systematic persecution of the Yazidi religious minority.
The defendant could face a life sentence if convicted of the charges, which also include murder, war crimes and crimes against humanity.
Federal prosecutors have asked the court to additionally determine that he bore "particular responsibility" for the alleged crime — reducing his chances of parole after 15 years.
The defendant's lawyers have denied the allegations made against their client.
His German wife was sentenced last month to 10 years in prison over the same incident.
The United Nations has called the IS assault on the Yazidis' ancestral homeland in northern Iraq in 2014 a genocide, saying the Yazidis' 400,000-strong community "had all been displaced, captured or killed." Of the thousands captured by IS, boys were forced to fight for the extremists, men were executed if they didn't convert to Islam — and often executed in any case — and women and girls were sold into slavery.
According to German prosecutors, Al-J. bought a Yazidi woman and her 5-year-old daughter as slaves at an IS base in Syria in 2015. The two had been taken as prisoners by the militants in northern Iraq at the beginning of August 2014 and had been "sold and resold several times as slaves" by the group already.
The defendant took the woman and her daughter to his household in the Iraqi city of Fallujah and forced them to "keep house and to live according to strict Islamic rules," while giving them insufficient food and beating them regularly to punish them, according to the indictment.
Prosecutors allege that toward the end of 2015, Al-J. chained the girl to the bars of a window in the open sun on a day where it reached 50 degrees Celsius (122 Fahrenheit) and she died from the punishment. The punishment was allegedly carried out because the 5-year-old had wet the bed.
Source: Spectrum News1
The girl's mother, who survived captivity, testified at the Frankfurt trial.
https://spectrumnews1.com/wi/green-bay/ap-top-news/2021/11/30/german-court-to-rule-on-ex-is-member-in-yazidi-girls-death
--------
Spotify celebrates 1 year of women-focused program SAWTIK
November 29, 2021
DUBAI: Last year, Spotify launched SAWTIK, an initiative to elevate and champion the voices of emerging unsigned female artists in the Middle East and North Africa region.
It came after esearch uncovered growing underrepresentation of women in the music industry.
A year later, Spotify is celebrating the program's anniversary, reflecting on its impact and announcing its next steps.
SAWTIK playlists were heard by listeners in more than 70 markets, with the US, Morocco, Egypt, Saudi Arabia and Algeria ranking among the top markets for streaming playlists from the program. To date, the platform's music team has added more than 170 emerging female artists to SAWTIK's official playlist.
Artists on the playlist represent the diversity of female talent in the region, including voices from the Arab diaspora. For example, Egyptian-Moroccan rapper Perrie is raising her voice and collaborating with famous rappers across the scene while being recognized by producers. Her recent collaboration with Abyusif on "Mamlaka" is charting on Spotify's Top 50 Egypt.
SAWTIK's godmother and Arab superstar Latifa is also working with Tunisian SAWTIK artist Sirine Miled on a new song.
Djouher from Algeria recently made the cover of Spotify's global playlist, Ballads International, a collection of the world's best emotional songs. She has established a strong international fan base, attracting listeners in the US, India and Indonesia.
Emirati singer-songwriter Almas has seen a 7500 percent increase in her song streams since joining SAWTIK. She is also one of the voices of the official Dubai Expo 2020 song "This is our Time."
Almas said: "SAWTIK is a great platform. I appreciate the idea of bringing together female talents who share the same passion and challenges. I've enjoyed connecting with other SAWTIK artists; it really gave us a sense of community."
Rania Hamadeh, vice president of marketing and promotions for Universal Music Group MENA, said: "It was inspiring for us to discover such great voices and talents like the rising Emirati artist Almas who was assigned by Universal Music MENA to take part in the official anthem of Dubai Expo 2020, representing the female voice of the young artistic generation of the UAE."
To further support emerging female artists in the region, SAWTIK artists will be given a global platform through the EQUAL program launched earlier this year. EQUAL is Spotify's global commitment dedicated to fostering equity for women in music and celebrating their contributions. The program will highlight female artists around the world through partnerships, activations and new content experiences, and will offer support both on and off the platform.
Under this program, SAWTIK artists will be included in the EQUAL hub, a dedicated space on the platform to highlight women creators.
Every month, the hub features a rotating Artist of the Month takeover, alongside a refreshed track list. SAWTIK artists will have the opportunity to have their music added to the flagship EQUAL Global playlist, among other benefits.
Spotify also has other plans to further amplify the voices of women artists in the region. "As we welcome SAWTIK to our EQUAL program, expect bigger and bolder plans for our emerging female artists next year," said Lynn Fattouh, Spotify's consumer marketing manager for the MENA region.
Source: Arab News
https://www.arabnews.com/node/1977686/media
--------
Egypt to launch new initiative targeted at women in December 2021
29 Nov 2021
CAIRO – 29 November 2021: In his meeting with UN Executive Director Sima Bahous Sunday, Prime Minister Mostafa Madbouli stated that Egypt will launch in December the "Egyptian Family Development Initiative."
Madbouli elaborated that the initiative is targeted at rural and urban women to expand their participation in the labor market and improve their empowerment.
The meeting was also attended by Minister of Planning and Economic Development Hala al-Said highlighted ongoing work aimed at creating one million jobs for women through small enterprises, and training opportunities. That is in addition to increasing the number of nurseries and day care centers to reinforce women participation in the labor market.
Source: Egypt Today
https://www.egypttoday.com/Article/1/110382/Egypt-to-launch-new-initiative-targeted-at-women-in-December
--------
URL: https://www.newageislam.com/islam-women-feminism/zainab-kabul-afghan-bue-eyed/d/125873
New Age Islam, Islam Online, Islamic Website, African Muslim News, Arab World News, South Asia News, Indian Muslim News, World Muslim News, Women in Islam, Islamic Feminism, Arab Women, Women In Arab, Islamophobia in America, Muslim Women in West, Islam Women and Feminism