New Age Islam News Bureau
15 February 2022
• Karachi Women Race across Windy Desert Tracks alongside Men
• Alicia Keys, Princess Reema Push Message of Hope in Alula
• Saudi Pavilion at Expo 2020 Celebrates International Day of Women And Girls In Science
• Over 330 Women Victims of Femicide in Turkey in 2021 – Report
• European Bank Invests In Rideshare App to Keep Egyptian Women Safe
• In 2012, Kendriya Vidyalayas Introduced New Scarf Pattern for Muslim Girls
Compiled by New Age Islam News Bureau
URL: https://www.newageislam.com/islam-women-feminism/hijab-wearing-space-tourist-zainab/d/126375
--------
Zainab Azim Set To Be First Hijab-Wearing Space Tourist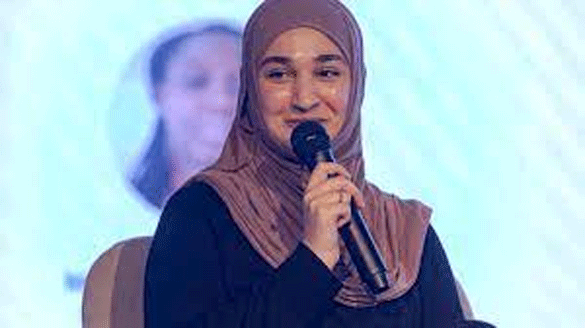 Zainab Azim is on the way to becoming the first hijab-wearing space tourist.
-----
Sarwat Nasir
Feb 14, 2022
It was a birthday gift that most children could only dream of — a trip to outer space.
Zainab Azim's parents bought her a seat on a Virgin Galactic suborbital flight when she turned 11, and now she is on the way to becoming the first hijab-wearing space tourist.
Now 19, the Pakistani-Canadian student is of legal age and eligible to fly on a spacecraft using her $250,000 ticket.
Ms Azim visited Dubai on February 11 to speak on a panel at the International Day for Women and Girls in Science at Expo 2020 Dubai.
Before that, she spoke to The National about her expected journey to space and the need to create more opportunities for women in Stem — science, tech, engineering and maths — fields.
"The ticket was a gift from my parents because I always had an interest in space," Ms Azim said, who is co-founder of the non-profit Global Initiative and Vision for Education organisation.
More than 600 Virgin Galactic ticket holders around the world are also waiting for a turn on the spaceplane, which flies above 80 kilometres but does not pass the Karman line — the boundary between Earth's atmosphere and the beginning of space.
The first passenger flight, which carried Virgin owner Richard Branson himself, was completed last summer.
But, shortly after, authorities grounded the spaceplane for deviating from its flight path. Virgin Galactic announced that operations would resume at the end of this year.
So it could be a few years until Ms Azim gets her ride to space, but she remains "excited".
"I am excited, but I know my mum is already scared and we don't even have a date for it yet," Ms Azim said, who is currently a university student in Toronto, pursuing a double major in neuroscience and public policy and a minor in psychology and astrophysics.
"I'm her only daughter and I have two brothers younger than me, so I do understand her fear. My dad is also excited, but not more excited than me."
Ms Azim would be the first hijab-wearing space tourist, but not the first female Muslim to go to space.
In 2006, Iranian-American businesswoman Anousheh Ansari went to the International Space Station on a self-funded mission for which she paid about $20 million.
Also, Emirati engineer Nora Al Matrooshi is the first Arab female to be selected as an astronaut. She is in line to become the first hijab-wearing astronaut on the space station if she gets a chance to go there before the floating laboratory is retired in 2031.
Apart from feeling enthusiastic about the suborbital flight experience, Ms Azim said she also "feels uncomfortable" about spending such a hefty amount on the ticket.
She hopes that space tourism companies will create programmes that give easier access to those who could not such sums.
"I am excited about it, but 'I want to go to space' is not enough for me to spend $250,000 on a ticket," she said.
"There needs to be a bigger reason and a bigger goal. It has to create an impact for other people. I don't feel comfortable doing that for myself."
Over the past few years, Ms Azim has participated in many conferences and workshops around the world as a speaker and mentor to encourage young people to pursue their passions in stem.
Last year, the United Nations Office for Outer Space Affairs selected her as a mentor for the Space4Women Network, which runs initiatives to promote gender equality in space fields.
Discrimination against women was rife at Nasa in the 1960s when the space exploration began.
While that gender gap has somewhat narrowed, the space sector continues to be male dominated in some parts of the world.
More than 600 people have flown to space so far, but only 10 per cent of them were women.
Source: The National News
https://www.thenationalnews.com/uae/science/2022/02/14/student-given-250000-virgin-galactic-ticket-set-to-be-first-hijab-wearing-space-tourist/
--------
Karachi Women Race across Windy Desert Tracks alongside Men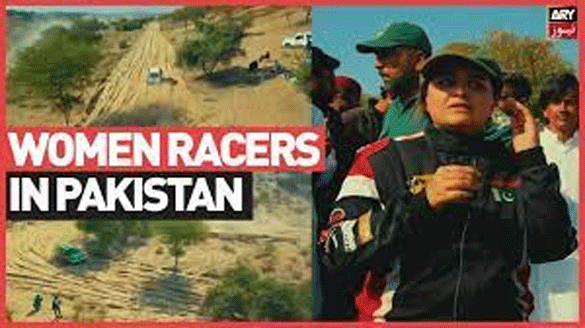 February 15, 2022
Thar saw something new in its Desert Jeep Rally 2022 that happened the previous month, after almost a decade since Mithi heard the roaring engines pitted against one another to claim the podium.
This new happening was Karachi women, young and old, competed in it alongside the men and finished clean. Dina Patel, the 18-year-old prodigy and the daughter of Patel family with a history on tracks, followed in the footsteps of her parents to claim first podium in the stock category. She beat Nida Wasti.
However, Dina's race was a day ahead of her mother fielding her prepared beast of a car and beat Mahum Shiraz Qureshi by a clear margin.
However, all the contestants conceded one thing: the podium was of symbolic value to them compared the achievement they were able to vie on these male-dominated tracks to begin with.
The fact that more women are showing up every year, and in fact almost every race, is the proof things are headed in the right direction, they concurred.
The report is the representation of how Pakistani women are breaking glass ceilings by leaps and bounds, however, this in no way suggests things have started already looking up for there is still a long way to go before women and other genders have things rightly their way, as the racers put it.
Source: Pak Observer
https://pakobserver.net/karachi-women-race-across-windy-desert-tracks-alongside-men/
--------
Alicia Keys, Princess Reema push message of hope in AlUla
February 12, 2022
ALULA: Fresh off her sold-out concert on Friday at The Maraya Concert Hall in AlUla, singer-songwriter Alicia Keys joined Princess Reema Bint Bandar Al-Saud, the first female Saudi ambassador to the US, and a group of other creative Saudi women in an intimate conversation under the theme "Women to Women."
The off-the-record dialogue, hosted by Good Intentions, a newly launched Saudi-based creative consultancy, was held in a town hall style, where audience members asked questions, made comments and interacted with the panel. It felt like an extension of Friday's super-hit show.
Acknowledging the forum's location at Madrasat Addeera, AlUla's first art and design center, Keys told the attendees how excited she was to learn from the Saudi women at the table — and those beyond in the audience.
"I'm here to learn and I would love for you to teach me and continue to be allies together. We are all very special and very important in this room and nobody is more important than anybody else. We are all at the same level," Keys told the audience.
Princess Reema said: "Many of the women that you see, whether they are on the stage or perhaps seated to your right or left, are women of a generation that were born of women of a generation that were told 'no.'
"Those of us that insisted on a 'no' being a 'yes' filled in cracks, filled in corners, filled in holes and we stuffed ourselves anywhere that we couldn't find somebody else to stuff themselves into. So we look like we have crazy CVs. We look like we've had erratic career paths — but it's not erratic. The singular unifier of all of us is the fact that we needed another woman to support us and fill the space — but we couldn't find her."
Saudi women from all different backgrounds spoke up, expressed their opinions, asked questions and shared knowledge.
"If you were not inspired, be the one that inspires. If you did not have a mentor, be the mentor. If you didn't have the resources but have access to them, give them. Because your generosity and your kindness of spirit is what is going to make the community we all deserve. And that is how women to women transfer of power happens and that is how men recognize that when they create a space for us, magic happens," Princess Reema said.
Keys' husband, Grammy award-winning producer Kasseem Daoud Dean, known professionally as Swizz Beatz, said: "We feel confident that Saudi Arabia is exactly the right place for the headquarters of our new creative consultancy. We're ready to go full force with Good Intentions and collaborate with the powerful creative talent in the region," he told Arab News exclusively.
The AlUla concert was presented by Good Intentions, co-founded by Dean.
The agency aims to amplify the voices of women across the Kingdom, with the AlUla town hall being just the first step in that direction.
Perhaps the most simple yet thoughtful solution came from Saudi actress Fatima Al-Banawi, who said: "Never, never give up. And always support one another with no hidden agenda."
Source: Arab News
https://www.arabnews.com/node/2023516/saudi-arabia
--------
Saudi pavilion at Expo 2020 celebrates International Day of Women and Girls in Science
February 13, 2022
DUBAI — The Kingdom of Saudi Arabia's pavilion, at the Dubai Expo 2020, participated in the "International Day of Women and Girls in Science" activities, which was held at the "Nexus" pavilion.
The event was held in partnership with the UAE Ministry of Industry and Advanced Technology, the United Nations Educational, Scientific and Cultural Organization (UNESCO), and the United Nations Office for Outer Space Affairs (UNOOSA), in the presence of the pioneering biotechnology and UNESCO Goodwill Ambassador for Science Dr. Hayat Sindi.
In a session titled "Bridging the Gender Gap in Science, Technology, Engineering, Mathematics and Innovation", Sindi shared her experience with the audience since joining the field of technology, until she attained the position of UNESCO Goodwill Ambassador for Science. — SPA
Source: Saudi Gazette
https://saudigazette.com.sa/article/617066
--------
Over 330 women victims of femicide in Turkey in 2021 – report
Feb 14 2022
At least 339 women have been killed by men in Turkey last year, according to news website Bianet's Male Violence Monitoring Report.
The data for 2021, in which Turkey withdrew from international Istanbul Convention on violence against women, marks the highest number of female deaths by men in Bianet's annual monitoring reports, accounted for since 2010.
Men also killed at least 34 children and raped 96 women in the country last year, Bianet said on Monday.
Violence against women and femicide remain serious problems in Turkey, where citizens are putting increased pressure on the government to tackle the issues.
Compiling data from local and national newspapers, Bianet has recorded male violence against women in the country since 2010 on a regular basis.
According to the reports, at least 3,175 women have lost their due to violence inflicted by men between 2010 and 2021. 2021 marks a record number of female deaths by men. In 2020, 284 were killed, while in 2019, the deaths totalled 328.
Last year, at least 793 women were subjected to male violence, according to the report. At least 208 children were abused and 772 women were forced to be a sex worker, the report also showed.
As of July, Turkey formally withdrew from the Council of Europe Convention on Preventing and Combating Violence against Women and Domestic Violence, better known as the Istanbul Convention, after the President Recep Tayyip Erdoğan pulled the country out of the accord on March 19, via an executive order.
The move came after a months-long debate over whether Turkey should withdraw, with pro-government conservative and Islamist groups arguing against the convention, saying that it undermines Turkish family values and promoted homosexuality.
Erdoğan's move led thousands to protests and the Council of State received legal appeals to suspend the withdrawal from groups including the main opposition Republican People's Party (CHP), bar associations and women's organisations. The court rejected those appeals.
Ankara's withdrawal also triggered heavy criticism from the international community, including the United States and the European Union.
Source: Ahval News
https://ahvalnews.com/gender-based-violence/over-330-women-victims-femicide-turkey-2021-report
--------
European bank invests in rideshare app to keep Egyptian women safe
February 11, 2022
A European bank has announced an investment in a ride-sharing company with the aim of making transportation in Egypt safer for women.
The European Bank of Reconstruction and Development signed an agreement to invest $10 million in the ride-sharing company Swvl. The London-based bank said the investment aims to "advance safety for women on buses in Egypt" in a press release yesterday.
Swvl allows users to book rides on minibuses that the company operates. Users hail the rides via a mobile phone application. Swvl was founded in Cairo in 2017, but is currently based in Dubai. It operates in Egypt, the United Arab Emirates, Saudi Arabia, Jordan, Pakistan and Kenya.
Safety for women is a priority for the company, as sexual harassment is a particularly dangerous threat to women in Egypt. Swvl aims to offer affordable rides people can take instead of public buses. Swvl also offers private bus bookings in Egypt. Last year, the company began offering women-only rides in Pakistan.
The European Bank of Reconstruction and Development said it expects Swvl to become the first privately owned startup from the Middle East to be listed on the Nasdaq stock exchange in New York. Middle East infrastructure director Sue Barrett told the exchange earlier this month that the bank is "delighted to support SWVL at this key moment in its remarkable journey from a startup to becoming a company listed on the NASDAQ."
This is not the first time Swvl has attracted foreign capital. Last July, Swvl and Queen's Gambit Growth Capital announced a merger with the purpose of making Swvl a publicly traded stock. The women-led firm valued Swvl at $1.5 billion at the time. Queen's Gambit is a special purpose acquisition company that aims to take other companies public. It is based in New York.
Source: Al Monitor
https://www.al-monitor.com/originals/2022/02/european-bank-invests-rideshare-app-keep-egyptian-women-safe
--------
In 2012, Kendriya Vidyalayas Introduced New Scarf Pattern For Muslim Girls
By Sourav Roy Barman
February 15, 2022
THE MINISTRY of Human Resource Development had on July 4, 2012, announced the adoption of a "new uniform pattern" by the Kendriya Vidyalayas across the country.
For the Kendriya Vidyalaya Sangathan, an autonomous body under the HRD Ministry, now known as Ministry of Education, the change in dress code for its students was a first since its inception in 1963.
Among the changes were new patterns for scarf and turban. "Scarf with red hemming for Muslim girls matching with the lower," was among the changes approved by the KVS Board of Governors in its 92nd meeting on May 18, 2012.
In a statement issued through the Press Information Bureau, the HRD Ministry had described the new design as an attempt to add a contemporary touch to the uniform along with "a unique identity to its students, keeping in mind the comfort and the cost factors".
Checks were introduced for both boys and girls. For girls in classes IX-XII, trousers were introduced, phasing out shalwars.
The National Institute of Fashion Technology (NIFT) and the Union Ministry of Textiles helped create the new uniform.
There are 14.35 lakh students – 6.55 lakh girls and 7.79 lakh boys – enrolled with the 1,248 Kendriya Vidyalayas across the country.
While latest category wise enrolment figures are not available, in 2015, out of 12.09 lakh students then enrolled in the Kendriya Vidyalayas, 56,719 were Muslims, including 23,621 girls.
Responding to a Lok Sabha question on the new dress code on August 8, 2012, the HRD Ministry had said that the "government has no role to play in the prescription of uniform for the students of Kendriya Vidyalayas".
"This is done by Kendriya Vidyalaya Sangathan (KVS) themselves which is an autonomous body. However, KVS has informed that they have introduced a new uniform for its students so as to give a distinct identity. The dress code has been changed for the first time after 1963."
Source: Indian Express
https://indianexpress.com/article/india/in-2012-kendriya-vidyalayas-introduced-new-scarf-pattern-for-muslim-girls-7774184/
--------
URL: https://www.newageislam.com/islam-women-feminism/hijab-wearing-space-tourist-zainab/d/126375
New Age Islam, Islam Online, Islamic Website, African Muslim News, Arab World News, South Asia News, Indian Muslim News, World Muslim News, Women in Islam, Islamic Feminism, Arab Women, Women In Arab, Islamophobia in America, Muslim Women in West, Islam Women and Feminism