New Age Islam News Bureau
1 May 2015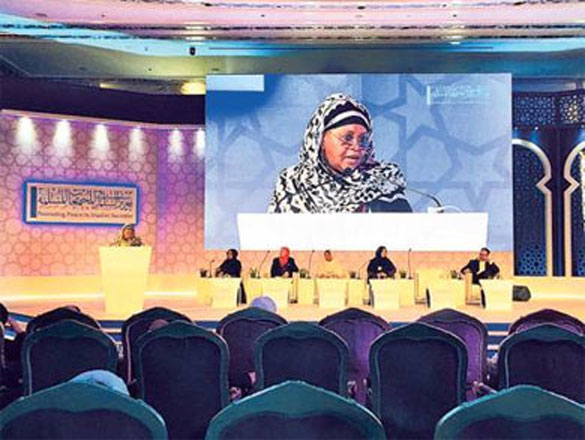 Aisha Al Adawiyyah, an American who embraced Islam, and is the founder of Muslim Women
-----------
• Saudi Battered Women: Prison Better Than Life with Our Cruel Fathers
• French Anti-Islamophobia Groups Condemn 'Religious Skirt' Ban on Muslim Girl
• Nadine Shah: 'I Was Determined For People to Hear I Was Pakistani'
• Burqa Avenger Reaches India for Women Empowerment
• Nigerian Military Rescues More Women, Girls from Boko Haram
• 'Everyday, Muslim Women Are In the Trenches Working For Peace': Aisha Al Adawiyyah
• No Harm in Extra Age Relaxation for Women Job Seekers: LHC
• ISIS Female Recruiter Revealed To Be Seattle Student
• Muslim Unity Centre's First Female President Helps Give Syrian Refugees An Education
• Muslim Women Present Facts about Islam to Briacliff HS Students
Compiled by New Age Islam News Bureau
URL: https://www.newageislam.com/islam,-women-and-feminism/new-age-islam-news-bureau/young-muslim-women-still-fuzzy-about-sexual-rights-in-marriage/d/102769
--------
Young Muslim Women Still Fuzzy About Sexual Rights in Marriage
1 May 2015
As the debate on marital rape within the context of Islam continues to rage among scholars and the online community, many young Muslim women remain unaware and even confused about their sexual rights in a marriage.
A rape-awareness campaign organised by the All Women's Action Society (AWAM) and DAP assemblyman Yeo Bee Yin last week sparked a viral debate on whether or not "rape" was an appropriate term to be used to describe a Muslim husband forcing himself on his wife.
While some have maintained that a wife's consent must be given even within the context of a marriage, many have also argued that a woman is obligated to give in to her husband's sexual advances.
Among young Muslim women themselves, there appears to be confusion and a lack of clarity when it comes to their sexual rights.
Wan Zulaikha Mohd Zakaria, 24, who recently attended a pre-marital course at a local mosque in Kuala Lumpur, said she had been taught that sex was part a of wife's obligation to her husband.
"There is no such term as 'rape' in marriage because it is wife's duty and responsibility," she told The Malaysian Insider.
She said while her fiancé and she were advised that the husband must be "understanding" in his demands for sex, the religious officer who had conducted the course did not go into details about how far a husband could go in his demands.
"A wife's role is to serve her husband in bed. But the husband must, of course, be understanding," said Wan Zulaikha.
It was this ambiguity on a Muslim husband's right to sex that led to potential abuse, said Sisters in Islam (SIS) executive director Ratna Osman.
"We really need to look into what exactly is being told to our young couples getting married. Is it still the medieval understanding of a relationship which was the practice then?"
By overemphasising the sexual role of a wife and not the responsibilities of a good husband, ulama indirectly take a patriarchal perspective on Islam which oftentimes did not protect the rights of a wife, said Ratna.
"Our clerics have to be more responsible. When they say a wife must obey their husband, what kind of husband must they obey?
"Is it if a husband wants to have sex, and the wife must follow? (But) we are not animals," she said.
"Allah says in the Quran that the relationship between husband and wife must have love and tenderness, (but) where is love and tenderness when you force yourself onto a woman?"
For bride-to-be Siti Rabiatul Adawiyah Sheikh Ibrahim, the act of a man forcing himself on his wife was as much a sin as if a woman rejected her husband's sexual advances.
Rabiatul, who will be married in December, said the course she attended at a local mosque also taught that a wife's role was to satisfy her husband's physical and sexual needs, although a man should not force himself on his wife if she rejected him.
She said it was considered a "sin" for a wife to reject her husband's advances, but there was no outright condemnation by Ulema for men who forced themselves on their wives.
"I believe it can be considered as rape if the husband forces the wife and she doesn't consent to it. It is a rape and I agree that there are cases like this in Islam," said Rabiatul, who works at a Sharia law firm.
In Malaysia, a Muslim husband stands to be punished under Sharia law if he is found to have used violence to force himself on his wife. However, many cases go unreported as the victims were led to believe that the woman was to be blamed for not giving in to her man in the first place, said women's rights advocates.
"We, as women should not feel that we just have to follow," said Rabiatul.
"The obedience comes from respect, not because we are their slaves."
http://www.themalaysianinsider.com/malaysia/article/young-muslim-women-still-fuzzy-about-sexual-rights-in-marriage#sthash.MprbA7H9.dpuf
----------
Saudi Battered Women: Prison Better Than Life with Our Cruel Fathers
1 May 2015
Many battered young women who build up the courage to leave their abusive environments at home are often ostracized by a society that frowns upon single young women leaving their guardians. The stigma associated with leaving one's family is so great that little attention is paid to the root causes that force abused women to risk their lives and take the huge risk of fleeing home.
A reporter from the Arabic-language Al-Riyadh daily visited the women's wing of Al-Malaz Prison where she met 21 women who were detained for fleeing their homes and who have chosen to remain in prison rather than be returned to the custody of their abusive fathers.
Deprived of love
A 35-year-old female inmate who requested anonymity said she had been incarcerated for a year. Her story is a tragic one. It started when she was three years old right after her father divorced her mother and forced her and her sister to live with him in the same house. She and her sister only saw their mother when she passed away few years later.
Her father eventually remarried and her new stepmom convinced him to marry his daughter, who was 13 years old at the time, to her 85-year-old father.
"My old husband did not lay his hands on me. He didn't want me as a wife but as a nurse and was very nice to me until he died eight years later," she said while adding that although she inherited SR300,000 from her late husband, her father and step-mother did not give her the money.
Within two months of the death of her husband, the then 21-year-old was married her off to one of her father's relatives. She consented to the marriage because she was trying to find a way to leave her father's house. Her second husband didn't consummate the marriage because he was sick and divorced her after two years.
Finding herself living under her father's custody once again, she was married off to a drug addict, a marriage she did not object to. "I did not refuse the marriage because I told myself that I could bear the torture of anyone except my father. I decided to live at the mercy of my third husband than go back to my father's house. I had six children with him and we lived together for a total of 12 years," she said.
Abusive husband
As her husband's drug and alcohol addiction worsened, he started to abuse her more frequently and eventually began beating her on a regular basis. Fed up and pregnant with her sixth child, she returned to her father's house and asked him to file for a divorce on her behalf. One day, when she left home to run an errand, she was involved in a horrific traffic accident that kept her in the hospital for 14 months.
"I gave birth at the hospital and the entire time I was there, 1 year and 2 months to be exact, neither my father nor husband visited me," she recalled.
"One day, a woman, who was visiting her brain-dead husband, saw me in the next room and was shocked when she learned that I was not brain dead. She asked me what I was doing in the brain-dead patient ward. I told her my story and shortly after, she brought a judge to the hospital and he annulled my marriage," she added.
Once she was discharged from the hospital, she stayed with her step-sister for a while but was eventually asked to leave because her house was too small to accommodate guests. With no other option, she and her children returned to her father's house where his wives began mistreating here again.
When a friend suggested she remarry, one of her father's wives objected to the marriage because he was from another tribe.
"My father's wife refused to let me marry my friend's brother and insisted that I marry her old father but I refused. When my father forced me to accept, I threatened to commit suicide if he did but they ignored my threats," she said.
Left with no option but to run away, she took her youngest child and sought refuge with a friend. After a while, she filed a lawsuit against her father. Shortly after, she was arrested at her friend's house and put in jail because her father had reported her to the police and claimed she ran away from home. When a judge set her free, she refused to go back to her father's home unless she was permitted to marry her friend's brother. She continues to languish in jail.
One abusive marriage too many
Another female inmate who requested anonymity recalled a similar bitter and painful experience. Also the victim of domestic violence, she has been in prison ever since she was arrested after being reported by her father 10 months ago.
"My father married me off three times. The first time, I married my cousin and we had a son together. A few years later, we divorced and I went back to my father's house and lived there for five years during which I was mistreated," she said.
Her father then married her off to a man in his 60s but that marriage got off to a rocky start because his first wife and daughters made her life difficult. Eventually, he divorced her and she returned to her father's house.
"When I returned to my father's house, I was shocked to find my brothers accusing me of having illicit relationships with another man because I was divorced. This accusation, coming from my own brothers, was painful. Shortly after, my brothers married me off to an alcoholic who was also abusive," she said.
After living with him for 8 years, during which she gave birth to a son, she fled and found an apartment to live in with the help of a sympathetic nephew. "My brothers had warned me not to leave my husband but I took my son and fled. My eldest brother eventually found me and beat me up and threatened me with a gun just so I would go home with him," she added.
Abusive brother
Her brother continued beating her for a long time until she finally reported him to the police. The police officer who was supposed to file the abuse report happened to know her brothers and instead, called her eldest brother to come to the police station and pick her up.
"This time all my brothers beat me up. They took me back home and locked me up in a room. They took my son away from me, saying I wasn't a good mother," she said while adding her parents were very old and were not in a position to intervene.
Despite the abuse she faced, she did not give up. One day, when her brothers allowed her to see her son, she took him and fled the home. She eventually wound up in Riyadh where she married a Yemeni expatriate who she had met at a traditional market. Soon after they married, police arrested the couple and accused them of Khulwa (being in seclusion with an unrelated male.)
"The judge let me go after he reviewed my case. But I don't want to go back home and live with brothers who have deprived me of basic rights and accused me of false things when I wanted to apply for an ID and complete my school education," she said.
Paternity proof
The third inmate Al-Riyadh reporter met was a 30-year-old woman who has been in prison for over a year. Her life took a turn for the worse when her father divorced her mother after the latter cheated on him with another man.
"My father deserted our family; me and my siblings ended up living with our mother who immediately forced all of my sisters to get married," recalled the inmate who requested anonymity.
She was married off to an abusive man who beat her on a regular basis. She said the abuse got worse when he learned about her mother's past. He eventually divorced her after they had their first child together. She returned to her mother who also abused and mistreated her. Not being able to take it anymore, she went to the police and explained her situation to them. To her surprise and shock, she was referred to a care center where she stayed for four months but eventually released after her brother signed her release papers.
"My brother forced me to marry a man over 50 and I was only 26 at the time. I got pregnant shortly after our marriage but my husband asked me to have an abortion. I refused and insisted on having the baby. This is when I was told our marriage contract was Misyar (a temporary type of marriage in which a woman waives many of the rights she would otherwise get in a regular marriage). I was shocked," she said.
Her husband divorced her by falsifying the divorce date. She filed a case against him and asked the court to require him to undergo a paternity test to prove that he was the biological father of her son. The test result came out positive but her suffering did not end. Her family tried to force her to remarry but she ran away and stayed with a friend.
"My friend suggested that I marry her brother and I agreed. But I was arrested while I was in the company of my friend and her brother and was taken to jail. The judge ordered my release but I have refused to leave the prison," she said.
Unfortunate cases
Col. Ayoub Naheet, spokesman of the General Directorate of Prisons, said many of the women who are imprisoned for running away from home have been in miserable circumstances and lived a difficult life outside prison. "The problem is some families refuse to take in their daughters again and instead decide to forget about them. My message to those families is: We all make mistakes and we all repent. If their daughter made a mistake, they shouldn't desert her," he said while adding that if a family refuses to pick up their daughter, the prison will refer her to the Ministry of Social Affairs' care center.
Col. Naheet said many female inmates show creative potential and the Technical and Vocational Training Corporation (TVTC) offers numerous courses to female inmates to arm them with skills so that they can find employment and be self-sufficient after they are released from prison.
http://www.saudigazette.com.sa/index.cfm?method=home.regcon&contentid=20150501242269
----------
French Anti-Islamophobia Groups Condemn 'Religious Skirt' Ban On Muslim Girl
1 May 2015
French anti-Islamophobia groups have strongly condemned the recent school suspension of a Muslim girl for wearing a long black skirt to class.
Abdallah Zekri, president of the National Observatory against Islamophobia, told the Anadolu Agency Wednesday that it was "outrageous and unacceptable" that a girl was suspended on the pretext of breaching principles of secularism.
Earlier this month, Sarah, a 15-year-old Muslim girl, was banned from class twice by her school head teacher for wearing a long black skirt, which was seen as a concerted "provocation" by the regional education office in northern France's Charleville-Mezieres town.
"When it comes to concerted protest actions by students, which follow other more visible incidents linked for instance to wearing the veil, the secular framework for education must be firmly reminded and guaranteed," the regional education office said in a statement Tuesday.
Under France's strict secular laws, students are banned from wearing any "conspicuous signs" of religion such as headscarves, skullcaps or crucifixes at school.
Sarah, who started wearing the headscarf only last year, told the French media Tuesday that she took it off "every morning before going inside the school, knowing that she has no such right once inside."
As for her skirt, she told L'Ardennais newspaper: "This skirt really has nothing special, it is simple, it has nothing ostentatious. There are no religious symbols at all."
"Wearing a long skirt is nothing ostentatious. The girl has respected the law by not wearing her headscarf inside the school, so I can't see which secularism they are speaking about," Zekri said.
He added that French authorities should stop the "exclusion" of Muslim girls and warned that young girls, who ended up feeling oppressed in France, later then go and travel to Syria in search of their religious freedom.
"There is a mass hysteria against Muslims and Islam in France... this needs to stop immediately," he said.
Elsa Ray, spokeswoman of the Collective Against Islamophobia watchdog, agreed and revealed that Sarah's case was not an isolated incident.
"For the last two years, we dealt with hundreds of similar cases. In the last few months, several girls were excluded from classes for wearing skirts seen as too long in the southern city of Montpellier," Ray told AA Wednesday.
According to the spokesperson, some 130 students were rejected from their classes last year for outfits that were deemed too religious.
"Suspension from school for such a reason is against the law, it is an attack on the freedom of these girls, who have the right, as others, to dress the way they want," she said.
She called on the Minister of Education, Najat Vallaud-Belkacem, to intervene as soon as possible to stop this "madness."
"It is discriminatory, unjust and very violent for these girls to live in exclusion," she added.
Meanwhile, the European Commission distanced itself from the incident and took the defense that the EU was not a "fundamental rights supercop."
At a press conference in Brussels Thursday, Anadolu Agency asked European Commission spokeswoman Natasha Bertaud about the incident in France and whether it violated EU laws.
"European Union does not regulate what people wear in schools. We trust the French authorities are dealing with this. If there is anything for us to check in relation to EU law-bearing in mind that the EU is not a fundamental rights super cop -we will of course look into it if asked," Bertaud said.
Some people also condemned the move online and expressed their support for Sarah and other Muslim girls like her on social media.
The hashtag #JePorteMaJupeCommeJeVeux, translated into English as "I wear my skirt as I please," began trending Wednesday on Twitter.
"If it's worn by a 'white' person, it's hippy chic, if it's a Muslim, it becomes conspicuous," several users tweeted, sharing photos of French female politicians and celebrities walking the red carpet with long dresses.
Others shared photos of Hollywood stars on the red carpet, such as Angelina Jolie and Emma Watson, and even the U.S. First lady Michelle Obama, with the remark: "Sorry, you can't go to school in France. Your dresses are too long."
http://www.dailysabah.com/europe/2015/04/30/french-antiislamophobia-groups-condemn-religious-skirt-ban-on-muslim-girl
----------
Nadine Shah: 'I was determined for people to hear I was Pakistani'
1 May 2015
On paper, Nadine Shah seems something of an outsider. She was born to Pakistani and Norwegian parents, but grew up in Whitburn, south Tyneside, where she was the "foreign kid". Among the north-east music collective – including Field Music, Frankie and the Heartstrings, Maxïmo Park and the Futureheads – she's a lone female, who makes brooding, theatrical post-punk as opposed to the rest of the scene's buoyant art-pop. Then, there's the rest of the alternative musical landscape in 2015, which remains dominated by the same skinny-white-man cliche that allowed Johnny Borrell to ride a motorbike through Kirsten Dunst's house at the height of indie's mid-00s tight-jeaned boom. Shah is the anti-Borrell. For starters, she wouldn't be seen dead in white denim.
Then, there's her self-effacing wit and warmth. Or her kindness, a philanthropic instinct articulated in her work with the Samaritans and volunteering to speak at schools in east London as part of the Not In My Name campaign in which Muslims publicly state their opposition to the actions of Isis. She also works with Calm, the Campaign Against Living Miserably, and this month the 29-year-old gave a talk at Newcastle University on mental health. In the past 10 years, two of her former boyfriends have killed themselves, the first when she was aged 19, the second a few years ago.
We meet in a bar before she plays a show in London, and she is in full humility mode. "I'm like a bored housewife, honestly," she says of her charity work. "Music takes up a lot of time when you're in album cycle but, also, my writing process is very solitary so I've got to go out and be sociable. It doesn't always feel that satisfying being a musician; it feels quite selfish. It doesn't feel that great. You've got to keep yourself sane – when you can."
The central narrative of her debut album, Love Your Dum and Mad, covered the suicides of her boyfriends Stuart, who suffered from bipolar disorder, and Matthew, who was addicted to drugs. Following its release, Shah was contacted by fans who also were struggling with mental illnesses, and attempted to help as many as she could. She looks beaten by the experience: "I got too involved. I would reply too much, but I've stopped now. I'm not medically trained."
It was Nina Simone – a singer with a similar sense of melancholy and low vocal range – who first inspired Shah to be an artist. Simone's androgynous voice encouraged Shah to switch from replicating the pretty, overembellished warbles of Mariah Carey and the R&B divas and to embrace her own accent's beautiful, warm vowel sounds. That desire to capture the truth is something she still relishes, from her critique of a former hipster boyfriend's disingenuous fondness for Kerouac on Fool, to her scathing disregard for fancy knickers ("Now you're dolled up at the party/ Hoping there's someone to meet/ You are snatching and you're grabbing/ You've got lace on underneath", she sings on Living, while during The Gin One she sniffs at the woman who "threw the cottons out, and now my drawers are lined in lace").
"I wear massive cotton underwear," she reveals. "My mum always wanted me to be more feminine. She was always like: 'Get a massage! Put some blusher on! Get your hair trimmed!' And things about my underwear … 'You could get knocked over by a bus! You've got to start wearing matching underwear!'"
In a rare act of karmic justice, Shah's goodwill and raw talents have been rewarded by glowing reviews for both records. "It was 'critically acclaimed'," she says of her first album, "Which means that yes, we got some nice reviews, but nobody bought it."
However, people are buying her second album, Fast Food, which came out in April. In the first week of the Official Vinyl Chart, it debuted at No 9, and Shah sold more on that format than Brit Critics Choice winner James Bay. For an independent, uncompromising albums artist such as Shah, the revolt against instant-consumption culture is hugely valuable. But she hopes that her presence in the mainstream will benefit more than her own career.
"The only reason why I was so determined for people to hear that I was Pakistani was so my nieces – my cousin's children, two beautiful girls – could have Pakistani role models," she says. "We didn't have any growing up. So I think it's almost wonderful that they can see it's realistic and achievable, I can be from this culture and making this music."
Her relationship with her father's Muslim heritage was not always easy. "[At school] I loved being a bit different. I'd get a day off for Eid. Or at show-and-tell I could bring in these amazing outfits that my aunts would send over. It was only after 9/11 that there was lots of racism. From then on it was awful to be Pakistani and I would lie about it. I would say I was Persian. Arabian. Anything that wasn't … but then finally leaving Newcastle and moving to London, a really multicultural city, I'm 10 a penny!"
The same can't be said for her place in the homogenous indie scene, though. Does she agree that indie is a Caucasian preserve?
"Yeah, because my ears prick up when I hear an Asian surname or one that's a bit different," she says. She can count only a few artists who divert from the stereotype, too: newcomer Ben Khan, Joe Mirza of the Slow Revolt and Bat For Lashes' Natasha Khan. Is this the industry's fault?
"I think [the indie scene] is welcoming enough but I think it's a cultural thing," she says. "I think this generation is changing now; people who are older than me are having children who have been born in England and that's their culture. There's still a lot of pressure on a lot of my family, my first cousins, a lot of pressure academically from their parents because their parents were immigrants who moved to England to work and to succeed. And that's really been instilled in me from a young age. That's not a bad thing, that's a really great thing, to want your children to be well educated."
As we begin to meander into Shah's fondness for ill-fated romance, hipsters and her mother's disdain for her last album, a thought hits suddenly. By doing this interview, she's avoided the rigmarole of helping her band unload the gear into the venue. "Ha, yes!" she says triumphantly, before going out for a celebratory fag. Looks like there's a bit of Borrell in everyone, after all.
Fast Food is out now on Apollo.
http://www.theguardian.com/music/2015/apr/30/nadine-shah-i-was-determied-for-people-to-hear-i-was-pakistani
----------
Burqa Avenger reaches India for women empowerment
1 May 2015
New Dehli: Burka Avenger, the mysterious burqa-clad superhero operating out of the fictional Pakistani town of Halwapur, is jumping borders into the Indian heartland to tackle women's empowerment.
The cartoon series created by Pakistani singer Haroon Rashid – known simply as Haroon – is being shown on ZeeQ, a channel owned by the Indian entertainment company Zee Network. The show, produced by Unicorn Black, launched in India this month and is being aired in Hindi and English as well as two regional languages.
"For the release in India the show has been adapted somewhat. It has been dubbed in Hindi and other regional languages," said Haroon.
Burka Avenger is the story of Jiya, a twentysomething schoolteacher who dons a full body covering, similar to those worn by some Muslim women. The burqa, which is seen by some as a symbol of subjugation, is used by Jiya as a magical cape to hide her identity and fight the wrongs around her, including the subjugation of women and the denial of the right to education for girls.
Haroon claims the idea of Burka Avenger was in reaction to girls' schools being shut down by extremists in Pakistan. The character is a keen proponent of education for girls.
Burka Avenger slugs it out with a number of villains with her weapons of choice – books and pens. The character also tackles health issues, including fighting the opposition to vaccination drives.
"I did not want her to use guns and bombs to fight back. So she uses books and pens, which has a message that the pen is mightier than the sword and education is the answer – not more violence," Haroon said.
Burka Avenger was launched in Pakistan in July 2013 and has won several prizes including an Emmy Kids award. It was also named one of the most influential fictional characters by Time magazine in 2013.
Haroon is hoping the show will help boost awareness about women's empowerment and the importance of education for girls. "We address serious issues, but the edge is taken off through stories that are full of adventure and comedy," Haroon said. "The core social messages come across, yet the stories are not preachy."
Even though there are contrasting social dynamics in India and Pakistan, the status of women in both countries has a familiar ring. India has a skewed sex ratio, with 940 females to every 1,000 males. And it's getting worse, with the ratio for girls to boys 914:1,000.
India's prime minister, Narendra Modi, recently asked political leaders in the northern Indian state of Haryana to ensure female foeticide is brought to an end there. Haryana has the most skewed ratio in the country, with only 877 females for every 1,000 males.
India has made great strides in ensuring gender parity in schools. However, there is a high rate of crime against women and girls. The government has launched a number of campaigns, including Beti Bachao Beti Padhao (save daughters, educate daughters) to stop foeticide and improve education for girls.
"Using cartoons to shape their mind and make them aware about the social issues of our society is a positive step in creating gender sensitivity and social awareness in our country," said Haroon.
The creators and presenters of the series are hoping the themes resonate in India as well. "We are always on the lookout for shows with themes that are relevant to Indian children and we are very fortunate that we have this show," said the deputy business head of ZeeQ, Aparna Bhosle.
Women's groups in India have welcomed the move to air Burka Avenger. "A lot of problems that women in India face stem from the cultural upbringing which conditions the mind of children," said Noorjehan Safia Niaz, founder of the Ashana Trust, which supports women's initiatives for justice and development.
Despite the tension over Kashmir and terrorism, there have been increasing cultural exchanges between India and Pakistan. Early last year, Zee Network launched an entertainment channel showcasing programmes from Pakistan.
Courtesy The Guardian
http://nation.com.pk/entertainment/30-Apr-2015/burqa-avenger-reaches-india-for-women-empowerment
----------
Nigerian military rescues more women, girls from Boko Haram
1 May 2015
Kano, Nigeria: Nigerian troops have rescued about 160 more hostages from Boko Haram's Sambisa Forest stronghold, the army said on Thursday, taking the total number liberated this week alone to nearly 500.
The numbers underlined the scale of the tactic of mass abduction used by the militants, who according to Amnesty International have seized about 2,000 women and girls since the start of last year.
Amnesty's Africa director for research and advocacy, Netsanet Belay, said the rescues were a "cause for celebration" but he warned: "This is just the tip of the iceberg.
"There are thousands more women and girls, and men and boys, who have been abducted by Boko Haram," he said in a statement.
Female former hostages have described being subjected to forced labour, sexual and psychological abuse as well as having to fight on the front-line alongside the rebels.
The first release of 200 girls and 93 women was announced on Tuesday, raising hopes that some of the 219 girls snatched from their school in Chibok in April last year were among them.
Army spokesman Sani Usman has said the Chibok girls were not part of the group but defence headquarters in Abuja has said it was too early to say.
The mass kidnapping from Chibok, in Borno state, prompted global outrage and forced President Goodluck Jonathan to accept international help in the search operation for the missing girls.
All the former hostages — some of whom are said to be traumatised by the experience — were being screened to determine their identities and from where and when they were kidnapped.
On Thursday, Usman said about 160 more hostages were freed in an operation involving troops from the army's 7th Division, which has been tasked with fighting Boko Haram.
"We are still trying to compute the actual number of those rescued. But tentatively there are about 60 women of various ages and around 100 children," he told AFP.
One woman was killed in the fighting and eight other rescued hostages were injured. A soldier was also killed and four others wounded.
Several "terrorist training camps" were cleared during the operation while equipment and vehicles were seized, he added.
A military source indicated the women were used as human shields and in some cases fired back at soldiers until they were subdued.
Meanwhile, the United Nations special envoy for global education, Gordon Brown, said he would hold talks with Nigeria's president-elect Muhammadu Buhari on Thursday.
Britain's former prime minister said it was "time to end the nightmare" of kidnappings, which with forced conscription have been a regular feature of the bloody six-year insurgency.
"Now that some girls have been released we want all girls released," he said in a statement. "And we want them home with their families in days — not months or years."
Brown has spearheaded an initiative to improve security at schools in Nigeria, which have been a target for the militants, who are opposed to Western-style, secular education.
Talks with Buhari, who won last month's elections, would focus on international military support to free the Chibok girls as well as improving access to secure schools for girls, he added.
Former military ruler Buhari has vowed to crush Boko Haram, whose quest for a hardline Islamic state in northeast Nigeria has left at least 15,000 dead and more than 1.5 million homeless since 2009.
http://gulfnews.com/news/africa/nigeria/nigerian-military-rescues-more-women-girls-from-boko-haram-1.1502078
----------
'Everyday, Muslim women are in the trenches working for peace': Aisha Al Adawiyyah
1 May 2015
Abu Dhabi: Muslim women have a very important role to play in promoting peace in the Muslim community, and are already at the forefront, spreading a peaceful image of Islam, delegates were told on the third and concluding day of the Forum for Promoting Peace in Muslim Societies held in Abu Dhabi.
The event saw Muslim women from different professions and walks of life give their opinions on how best to promote peace, and counter the extremism that has emerged in certain sections of the Muslim community.
Aisha Al Adawiyyah, an American who embraced Islam, and is the founder of Muslim Women, Inc, in the US, told the audience, "Women are at the forefront of peace building and I don't think we [truly] understand the significance of what this means. Everyday, women are in the trenches working for peace, trying to keep their family whole, trying to find ways to protect their children, by giving them an education and a dignified, respectful life."
Women accept the challenges they face, said Aisha. "We take on challenges that many are not inclined to take on."
Al Adawiyyah also highlighted how Muslim women took part in inter-faith work, broke down barriers and created friendships.
"Muslim women are at the forefront of interfaith work. I live in New York, and have been involved in the interfaith movement for decades, and have found the more meaningful examples of interfaith work to be the ones that brought people from all faiths and backgrounds to the work that impacted peoples' everyday lives at the grassroots level - that is where you connect with people. Supporting each other in our struggles and strife, we find friendship and love among those people." she said.
She also called for Muslim women to be granted access to attain traditional scholarships, so that there could be Muslim female scholars, who become recognised and reputed in the community.
Leah Mammadova, President of the Balkan Muslim Womens Conference, one of the speakers at the conference, said that one important pillar in preventing extremism, especially amongst women who have newly embraced Islam, is to provide them with a sound guidance of the religion to prevent them from being influenced or lured into extremism.
"We have a challenge of preventing Muslims from fundamentalism and extremism. These people can be called neo-Muslims - they created an ideal picture of Islam, and read a book telling them Islam should be like this or that, but they don't have a real [Muslim] model to see or live by. Many times, they find a change in a radical way and move towards an extremist position."
Scholars also have their role to play in helping these women, by correctly explaining Islamic concepts and principles.
"I propose that scholars compile the doubts and arguments in a book, and also gather the statements by extremist groups that are used to attract Muslim men and women to their cause. This requires a detailed study, of the statements and concepts which need to be explained to them. Unfortunately, extremists have taken Islamic principles ... to [use them] to victimise men and women. This plight should be addressed," she said.
http://gulfnews.com/culture/people/everyday-muslim-women-are-in-the-trenches-working-for-peace-1.1502327
----------
No harm in extra age relaxation for women job seekers: LHC
1 May 2015
LAHORE: The Lahore High Court has ruled that offering extra age relaxation to female candidates for government jobs does not infringe fundamental rights of men.
Dismissing a petition against three-year additional relaxation in age given to female candidates compared to male candidates for posts of educators in Okara district, the court observes, "We are living in a male-dominated society full of considerable disparity, and in some cases incompleteness of institutional provisions (even at primary level) relates directly to difficulties of physical access which adversely affect girls more than boys."
It says the widespread operation of patriarchal systems of social organisations, customary early marriage, heavier domestic and subsistence duties of females, a generally lower regard for the value of female life, adversely affect the participation of girls and women in formal education.
The influence of these factors can only be overcome by more sophisticated and multivariate spatial analysis of educational needs and the planning and implementation of integrated steps to encourage such women, who face all such practical issues and come out to compete with men on merit, the court maintains.
The court rebuffs an argument of the petitioner that giving additional age relaxation to women in employment violates Article 27(1) of the Constitution rather terms it a step to promote full participation of women in national life as contemplated under Article 34, which provides that steps shall be taken to ensure full participation of women in all part of national life.
"Thus, the condition imposed in the job advertisement is not meant to infringe any of the constitutional guarantees to men, rather this is a step towards protection and encouragement of deprived limb of our society," Justice Muhammad Qasim Khan concludes his verdict.
The petition filed by Shaukat Ali Hayat states that the age limit for male candidates was set as 20 to 35 years, whereas, for female candidates the age limit was prescribed as 20 to 38 years.
Counsel for the petitioner pleaded that all citizens are equal under the Constitution and no discrimination on the basis of gender can be carried out by the government. He asked the court to strike down the impugned condition for being violative to fundamental rights guaranteed by the Constitution.
The Punjab government through its counsel opposed the petition saying it is fully empowered to lay a policy and by doing so, no rights of petitioner or others are infringed.
http://www.dawn.com/news/1179285/no-harm-in-extra-age-relaxation-for-women-job-seekers-lhc
----------
ISIS female recruiter revealed to be Seattle student
1 May 2015
A prominent female Islamic State of Iraq and Syria (ISIS) online recruiter has been revealed by a UK TV channel to be a student who lived in the U.S., and has been recently been in Seattle.
On Twitter, she was known as @_UmmWaqqas, and is pictured covered completely in black, and is known for her links to women who travel to Syria and Iraq to marry ISIS fighters.
"I'm actually lost for words," one of the woman's school friends, who wished to stay anonymous, told Channel 4 News. Friends said she lived a normal life as a teenager.
While the woman's account has since been suspended, it was known for its public support of ISIS's murder of a Jordanian pilot, seen in graphic footage released in February.
At the time, the ISIS-linked account tweeted: "an eye for an eye if you ask me!", and: "I now get why they caged the man & then poured concrete on him ... Whenever the Muslims are bombed in their homes they have nowhere to run."
According to Channel 4, the Twitter user refused to answer allegations about her activities and whereabouts when they approached her on social media sites.
http://english.alarabiya.net/en/perspective/features/2015/05/01/ISIS-female-recruiter-revealed-to-be-Seattle-student.html
----------
Muslim Unity Center's first female president helps give Syrian refugees an education
1 May 2015
When the Assad regime attacked her town, Dr. Rouzana Hares was nine years old.
She was readying her backpack to return to school after mid-winter break.
"Then the bombardment started, the sirens started, and everything went black," she said.
She spent the next 22 days in a basement before escaping to a nearby Christian village where her father knew someone. They went door to door until they found him.
"They opened their door. They shared their food. They shared their clothing, their bed with us for 10 days," said Hares.
The emotions still seem fresh as Hares sits in the library of Muslim Unity Center, 1830 W Square Lake Road, Bloomfield Hills, speaking of how those events stayed with her.
Watching broadcasts of tanks rolling into the streets of Syria again in 2011, Hares said "something woke up inside of me and I decided I had to do more."
She got together with a group of friends to start Women for Humanity.
"Six months into the Syrian crisis, we recognized we had to do something. We saw how the humanitarian situation declined," said Hares, a resident of West Bloomfield.
So, they collected coats, raised money, and supported the efforts of other organizations, eventually connecting with NGOs that were focused on education for Syrian refugees.
"We don't want to do food baskets," said Hares. "We want to give them tools to stand on their own two feet."
The UN, says Hares, calls the children who fled Syria, "the lost generation."
"We have kids who have not been in school for four years."
Women for Humanity's first project was assisting Syrians in Jordan to get the equivalent of a GED. Then they created scholarships for secondary education. Based on academic ability, financial need, and community service, the scholarships, says Hares, are awarded to "the ones we expect to go back and contribute to the community."
Currently, they are expanding their scholarship program and hope to open a school for Syrian refugees in Jordan, where documentation and transportation issues prevent an estimated 5,000 refugee children from attending school.
As a youngster, Hares spent three years in Libya before returning to Syria. After meeting her husband Talha, she immigrated to the United States, studied to become a dentist, and had four sons.
She regularly makes a 40 minute drive to her dental clinic in Hamtramck.
"I wanted to do general dentistry and give back to the patients," said Hares. "I give back to a very diverse, under-served community in Hamtramck."
At her husband's urging, Hares joined the board of the Muslim Unity Center board and was elected as its first woman president this year.
"From the first sight, it was all welcoming," she says of the Muslim Unity Center, which she describes as a second home to her family.
The Center partners with many local organizations, including the South Oakland Shelter, serving dinners and packing hygiene kits for residents. They plant trees in Detroit with Birmingham Unitarian Church, and they work with Faith in Action to support Oakland County seniors. They regularly invite students from nearby public schools into the center to learn about Islam.
On Sunday, May 17, they will hold their annual open house, to welcome the community for a day of cultural events, fun, food, and a chance to "ask the Imam."
http://www.theoaklandpress.com/lifestyle/20150430/muslim-unity-centers-first-female-president-helps-give-syrian-refugees-an-education
----------
Muslim Women Present Facts About Islam To Briacliff HS Students
1 May 2015
BRIARCLIFF MANOR, N.Y. – Briarcliff High School freshmen recently had the opportunity to learn about Islam by engaging in a question and answer session with seven area women who are Muslims.
"We just finished studying Islam in class," Jeanne Claire Cotnoir, a Briarcliff High teacher, said in a press release. "These women, who are all highly educated, go to schools and share a presentation about Islam."
"They are just amazing and really just smash the stereotypes," she said
Students asked why some of the female panelists wore hijabs, veils that cover the head and chest, and others did not.
"The women explained the Koran tells women to 'dress modestly,' which is open to interpretation," Cotnoir said.
Some of the women discussed situations in which people had harassed them because of their appearance.
The students "got to see that Islam is not what's on television," Cotnoir said. "It really is a religion of peace."
"The women said, 'ISIS is not Islam; it is not who we are.'"
http://briarcliff.dailyvoice.com/schools/muslim-women-present-facts-about-islam-briacliff-hs-students
----------
URL: https://www.newageislam.com/islam,-women-and-feminism/new-age-islam-news-bureau/young-muslim-women-still-fuzzy-about-sexual-rights-in-marriage/d/102769