New Age Islam News Bureau
8 Jan 2015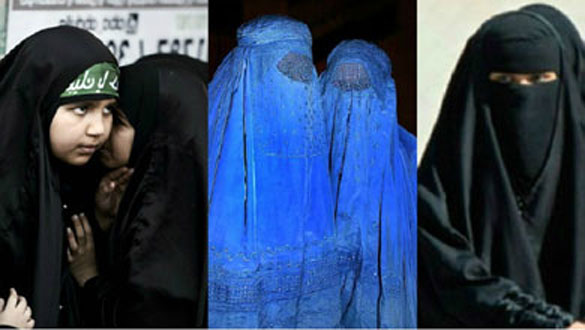 Photo: Colorado School District Makes Girls Wear Head Scarves to Mosque
--------------
• Halal Cosmetics for Indian Women
• Film Star Kareena's Morphed Photo Used As Warning against 'Love Jihad'
• Colorado School District Makes Girls Wear Head Scarves to Mosque
• IS Offers Jihadists 5-Minute Dating Sessions to Find Brides
• Green Light for Saudi Women Diplomats
• Council of Saudi Engineers to Send Female Students for Summer Workshops in Germany
• Abducted Nigerian Girls Still Missing, a Distracted World Must Remember
• ISIS Runs Prison Camps for Yezidi Women and Children
• Taking Dowry against Quran: Prince of Arcot, India
• Guantanamo Order Bars Women from Moving Accused In 9/11 Case
• Women Perceived Incompetent Because Of Gender: Study
Compiled by New Age Islam News Bureau
URL: https://www.newageislam.com/islam,-women-and-feminism/new-age-islam-news-bureau/young-mother-let-terrorists-into-charlie-hebdo-after-threat-against-daughter/d/100916
----------
Young Mother Let Terrorists into Charlie Hebdo after Threat against Daughter
January 08, 2015
Masked terrorists entered the office building in Paris where they murdered 12 people Wednesday by threatening a young mother and her daughter, she said.
Corinne Rey, a cartoonist for the weekly newspaper Charlie Hebdo, says she was forced to enter the security code after returning from picking up her child at day-care, according to a local report.
"I just went to get my daughter from day-care. As I got to the front door of the building, two masked, armed gunmen brutally threatened us," she told L'Humanité. "They wanted to enter, go up. I typed the code."
Rey, who goes by "Coco," said she hid under a desk while the gunmen shot and killed a dozen staffers inside the office.
While crouched down on the ground, she saw the men kill fellow cartoonists Georges Wolinski and Jean Cabut, the French paper reported.
"They shot Wolinski and Cabut," she said. "It lasted five minutes."
The terrorists, claiming to be with al-Qaida, spoke fluent, unaccented French, according to Rey.
The Charlie Hebdo newspaper regularly satirizes religious and political figures.
Terrorists have threatened the publication's staff with violence numerous times for its depictions of Islam and the Prophet Muhammad.
Its offices were firebombed in 2011 after an issue featured a caricature of the prophet on its cover, the Associated Press reported.
Undeterred, Charlie Hebdo published another illustration of Muhammad a year later and a cartoon titled "Still No Attacks in France" featuring a jihadist this week.
http://news.yahoo.com/young-mother-let-terrorists-into-charlie-hebdo-building-after-threat-against-daughter-190057740.html
--------------
Halal Cosmetics for Indian Women
January 08, 2015
AHMEDABAD: Mauli Teli and her younger sister Grishma Teli are probably the first entrepreneurs who have forayed into the niche segment of Halal cosmetics in India. They believe Halal cosmetics are good not only for Muslims but also for whoever wants to avoid chemical-ridden products and seeks healthy living.
Halal is an Arabic word for 'that which is lawful or permitted'
"The word Halal is a universal tenet and if a product is Halal certified, it means it doesn't contain alcohol, animal ingredients and harsh chemicals and is not tested on animals. So, it gives people the reassurance that it is pure and natural," says Mauli Teli, CEO & managing partner of Ecotrail Personal Care, insisting that Halal is for everyone.
It probably helped that the sisters are vegetarian and from the Jain community, which is forbidden from using some products -- tenets that Mauli Teli says resemble the halal concept to some extent. The idea of Halal products caught her attention in the US, where she completed her Masters in Pharmaceutical Engineering from the University of Michigan and worked for more than six years as a management consultant in the pharma and healthcare space. Her sister Grishma, who is vicep resident of research & development and Managing Partner at Ecotrail, studied biotechnology and cosmetic formulation in the UK.
After their return to India in 2009, the sisters decided to enter the cosmetics and personal care space. Their research showed that the Indian cosmetics market was dominated by multinational companies, which used animal derived ingredients and harmful chemicals in cosmetics -- a concern for many consumers, Muslim women. There was potential for natural and ethical cosmetic products.
Their research, surveys and direct consumer interaction found that most perfumes or deodorants contained alcohol (not considered Halal) and hence interfered with Namaz (prayer)
Many Muslim women avoided wearing makeup because lipsticks and other cosmetic products may contain pig fat.
"Absence of any option either prevented them from using certain products or led them to use existing products but with a compromise," Mauli said, adding that this made them determined to zero-in on the concept of Halal cosmetics, which, besides being an emerging global trend, would be relevant to India, given its large Muslim population.
"Halal concept was interesting for us as we wanted our brand to stand apart from the already crowded and competitive cosmetics market in India," said Mauli Teli
After returning to India and dedicating four years of hard work on the concept of halal cosmetics, they set up a Halal-certified company -- Ecotrail Personal Care -- in 2012, with an investment of Rs 5 crore from family members and some bank debt. Apart from Mauli and Grishma, their father and Mauli's husband, Munjal Rangwala, extended their support by investing in the venture.
The company launched its range of 60 halal cosmetic products under the brand Iba in September 2014, making it India's first halal brand in the organised cosmetic market segment. The company makes skin, body and hair care products, according to its website. Tod ay, Ecotrail has one halal-certified unit at Changodar industrial area near Ahmedabad.
"In India, most of the halal certification issuing companies or institutions are mainly focused on food or food-related items," said Muhamed Meeran of Halal India, a Chennai-based halal certification company, adding that never before has a cosmetics company been given a halal certificate in India.
For Meeran and his team, it was a challenging task because it was the first time that a company had sought halal certification in the cosmetics segment and there was no precedent to follow.
He said even though it's a growing trend in the Middle East and wester n countries, no large cosmetics company had launched halal products in India.
Ecotrail expects to have a good valuation after a year. Industry reports suggest the halal category globally is a $4 trillion-strong market, where cosmetics account for almost $26 billion. Industry reports suggest the Rs 537 billion Indian cosmetics industry will grow to Rs 1,032 billion by 2018.
http://economictimes.indiatimes.com/articleshow/45787026.cms?utm_source=contentofinterest&utm_medium=text&utm_campaign=cppst
------------
Film Star Kareena's Morphed Photo Used As Warning against 'Love Jihad'
Vikas Pathak , Hindustan Times New Delhi, January 08, 2015
Vishva Hindu Parishad's (VHP) young women's wing Durga Vahini has launched a campaign to "reconvert" Hindu women who married Muslim men, claiming the Ghar Wapsi campaign must address "love jihad".
The latest issue of Himalaya Dhwani, a magazine brought out by the Vahini's northern India regional coordinator Rajni Thukral, is devoted to this theme. On the cover is the morphed face of film star Kareena Kapoor half covered with a Niqab. A strap underneath reads: "conversion of nationality through religious conversion".
But why a picture of Kareena, who married filmstar Saif Ali Khan in 2012? "She is a celebrity. The youth try to emulate celebrities. They think if she can do so, why not us?" Thukral claimed.
"Sixteen Hindu women who married Muslim men posing as Hindus have approached us for ghar wapsi. We have already reconverted two. One has also been remarried," Thukral told HT.
In the magazine's editorial section, she wrote: "There has been much debate on love jihad and conversions. The nation was divided and Pakistan was created because of conversions. If a girl gets caught in Love Jihad and becomes Muslim by mistake and now wants to return to her original faith, isn't it her right? It's strange that some parties claiming to be secular call this conversion."
Claiming that "love jihad" was a "serious" issue in Himachal Pradesh, Thukral said Vahini, "will go to 3,000 villages" and have "apprised the state government of love jihad here on a large scale."
"We are also taking up the matter at the national level. We had a conclave in MP recently and will have one in Delhi early in March," Thukral added.
Reacting to the cover, Saif Ali Khan told HT, "It's ridiculous and not surprising… but these uneducated and bigoted ideas are the worst of India and condemning them is important".
Women within the VHP loop stay in Durga Vahini from the age of 15 to 35 where they are taught military-style combat and a revisionist history that promotes Hindu supremacy. After Vahini, they join the VHP's women's wing Matr Shakti.
http://www.hindustantimes.com/india-news/star-power-kareena-used-as-warning-against-love-jihad/article1-1304415.aspx
------------
Colorado School District Makes Girls Wear Head Scarves to Mosque
January 08, 2015
Administrators in a taxpayer-funded Colorado school district will force female students enrolled in a world religions class to wear head coverings during an upcoming visit to a Denver mosque.
The field trip is scheduled for Tuesday, Jan. 13, reports EAGnews.org.
The school district is in Douglas County, Colo., a partly exurban, mostly rural county south of Denver.
Local KNUS-AM radio host Peter Boyles said he obtained a notice which district officials sent to parents concerning the field trip.
"We will be visiting the Denver Mosque, the Assumption Greek Orthodox Cathedral, and the Rodef-Shalom Synagogue," the notice explains.
THERE IS A DRESS CODE FOR THIS TRIP," the notice adds, in fierce all-caps. "All students must wear appropriate long pants. Ankles must be covered. Girls must bring wide scarves or hooded sweatshirts for the mosque." (RELATED: Oklahoma Senate Mulls Very Important Hoodie Ban)
The locations of Denver's Greek Orthodox Cathedral and Congregation Rodef Shalom are readily apparent.
The location of "the Denver Mosque" is not obvious. Salatomatic, a website tracking mosques and Islamic schools, lists 17 mosques in the Denver area. None is called "the Denver Mosque."
In any case, after the field trip, students will "eat lunch at Park Meadows Food Court."
Boyles, the KNUS radio host, noted that public schools typically are not allowed to treat boys and girls differently.
"They're holding these girls to a different standard," he charged — and for "a religious reason."
Boyles argued that the district should not apply Islamic principles "to public school kids."
It is unclear whether students in Douglas County will also visit any Protestant or Catholic places of worship, or what the dress code for girls would be in that event.
http://dailycaller.com/2015/01/07/taxpayer-funded-colorado-school-district-makes-girls-wear-head-scarves-to-mosque/
------------
IS Offers Jihadists 5-Minute Dating Sessions to Find Brides
January 08, 2015
A British Islamic State (IS) militant has reportedly published an online guide for British women looking to travel to Syria to find a husband.
In a post published on Tumblr, Abu Qa'qa al-Britani requests women, seeking marriage to ISIS fighters, to go through militants who manage "marriage affairs," reported The Daily Star.
Prospective partners are then offered a speed-dating meeting during which they have five minutes to speak to each other and are given the ability to see one another if they both desire to do so, Al-Britani wrote.
Then they have the choice to marry or refuse one another and look for another terrorist to wed. The newlyweds will be provided with their own home and cash by the terror outfit as well, claimed the Daily Star.
Baritani explains that militants are allowed to marry foreign Muslim women who have come to Syria and joined an Islamic State "sisters maqar." However, women who want to get married in Islamic State-controlled Syria will need to get permission from their guardian or mahram -- usually their father.
http://www.firstpost.com/world/islamic-state-militant-offers-jihadists-5-minute-dating-sessions-find-brides-2032823.html
------------
Green light for Saudi women diplomats
January 08, 2015
The Foreign Ministry does not oppose the notion of having Saudi women serve as ambassadors overseas, a ministry official has said.
Women can fill these senior positions as long as they have the qualifications to do so, said Osama Nugali, spokesman of the ministry. He said senior ministry officials and Shoura Council members would discuss the issue at an upcoming council meeting, including funding programs for employees abroad.
He said the ministry has been employing Saudi women for the past 10 years, with more than 370 working abroad as undersecretaries or attaches. He also announced that the ministry has opened its doors for women seeking jobs in the diplomatic corps from Jan. 18 to 30.
Candidates should submit their applications on www.mofa.gov.sa. Interviews and written examinations would take place on Feb. 15 and 16 at the Prince Salman bin Abdulaziz Exhibition Hall at Imam Muhammad Islamic University in Riyadh.
The ministry said hiring would be done on merit. The regulations stipulate that applicants have to be Saudi, have good character, not convicted for breach of honor or trust, and not have been sacked from government service. Another condition is that an applicant should not be married to a non-Saudi.
They should also be of good health and pleasing appearance.
An applicant should have a bachelor's degree at very good grade and not be above 30. Those seeking employment as a second secretary should not be above 35 and have a master's degree at a very good grade.
Their majors must include political science, law, economics, public relations, journalism, international relations, English, French, Spanish, or international business management. Those candidates with qualifications from foreign universities should have their certificates accredited by the Ministry of Higher Education.
The ministry will accept an application only if it is accompanied by certified qualifications, a copy of the civil status card and a recent photograph. Selected candidates will have to undergo training of six months at the Institute of Diplomatic Studies in Riyadh with a monthly stipend of SR1,500. They should also be willing to work at a Saudi mission abroad.
Meanwhile, Nugali said that he does not have any information on the latest Shoura report regarding the ministry's lack of initiative in addressing requests by nine African countries to improve ties with the Kingdom. He said he would look into the matter.
http://www.arabnews.com/featured/news/686341
------------
Council of Saudi Engineers to send female students for summer workshops in Germany
January 08, 2015
The Council of Saudi Engineers (CSE) plans to send female engineering and architectural students from three universities in the Saudi capital next summer for training workshops in Stuttgart, Germany.
"This plan is in accordance with the program of the CSE to help Saudi students acquire additional knowledge and improved skills in foreign universities," said Ibrahim Al-Hammad, a board member of the CSE.
Al-Hammad said that the students to be sent for the summer workshops will come from the Dar Al-Uloom University, Prince Sultan University and King KSU.
Al-Hammad added that for each student, the German university will contribute 500 euros, accommodation, transportation and study offices, while the Saudi side will contribute 1,000 euros and a plane ticket.
Al-Hammad, who established the program while he was serving as a visiting professor at the University of Stuttgart, is also a professor at the King Saud University (KSU).
To establish the program, Al-Hammad enlisted the support of various individuals and groups, including the chambers of commerce and industry. A number of Saudi students have now gone to Germany for summer workshops under the program.
In recognition of his services in advancing the engineering profession, Al-Hammad was honored and recently received an award from a German association of engineers. A team from Germany came to the Kingdom to confer the award on him.
Referring to the students who have undergone and will undergo the summer workshops, Al-Hammad said, "They are lucky. These workshops were not available during our time."
He added that the students will be exposed to current global trends and practices in architecture and engineering, noting that German architects and engineers had been involved in some of the major projects in the Kingdom.
It may be noted that Gerber Architects were responsible for the design of the King Fahd National Library in Riyadh, the Prince Salman Oasis of Science and the Olaya Metro Station.
Al-Hammad added that "we want to expand the program gradually to fulfill its objectives that include employment of Saudi students in German firms after their graduation."
http://www.arabnews.com/saudi-arabia/news/686261
------------
Abducted Nigerian girls still missing, a distracted world must remember
January 08, 2015
Eight months is a long time. Long enough for international outrage to rise, fall and fade away. That's how long it's been since Boko Haram militants stormed a secondary school in the northeastern village of Chibok in Nigeria, abducting more than 200 still-missing teenage girls.
A global Twitter campaign — #BringBackOurGirls — caught fire with the help of First Lady Michelle Obama, former Secretary of State Hillary Rodham Clinton, British Prime Minister David Cameron and, most important, millions of global hashtag activists.
But since then we have felt tremors as Russia annexed Crimea, as Islamic State gained ground and as Ebola did its deadly work in West Africa. All of this turned the attention of world leaders, citizens and the media away from the 219 abducted Nigerian girls.
Meanwhile, international efforts to recover the girls failed, including several rounds of negotiations to exchange the girls for Boko Haram fighters held in Nigerian jails.
Boko Haram only upped the ante in pursuit of its goal of establishing a fundamentalist Islamic state in northeastern Nigeria and eliminating Western influence in its schools. The militants, declared a terrorist group by the U.S. in 2013, continued to attack Nigerian villagers, killing some and abducting others. The New York Times reported a month ago that Boko Haram "was able to strike at will" in northeastern Nigeria.
I know from experience how difficult it is to stop such aggression. In 1985, at age 16, I was abducted into war by rebels from remnants of the Uganda National Liberation Army. I eventually escaped and reclaimed my life. Years later, my younger brother Godfrey was not so lucky. He too was kidnapped, this time by Joseph Kony's Lord's Resistance Army, and he was killed in battle.
I lost my brother, but I do not lose hope that these tragedies can be stopped. And yet, I fear that hope for the Nigerian girls is slipping away, internationally. Tickers marking the days since their adduction have disappeared from newspapers, Web pages and broadcasts. Does anyone still remember the 219 missing girls?
They do in Abuja, Nigeria's capital. Every day the Bring Back Our Girls demonstrators — whose activism fueled the hashtag campaign — rally at Unity Fountain in Abuja. Families of the missing girls, their neighbors and fellow citizens, about 100 strong, congregate, carrying signs and chanting the now-familiar mantra: "Bring back our girls."
They are indefatigable. They've withstood government repression, refusing to stop when Abuja police ordered an end to the rallies. In the local media, they've dismissed conspiracy theorists who, bizarrely, postulated the girls were never abducted. They outlasted "counter-activists" trying to shout down their demands with campaign rallies for Nigerian President Goodluck Jonathan, the very man the protesters think hasn't done enough to rescue the girls.
But can Bring Back Our Girls overcome time and the cynicism it breeds? After some 4 million tweets, the 219 girls have not been rescued. So what's the point, right?
Wrong. Remember, until a social-media savvy Nigerian lawyer, Ibrahim Abdullahi, came up with #BringBackOurGirls, there had been little coverage of the abductions. When Abdullahi heard former World Bank Vice President Obiageli Ezekwesili say "Bring back our girls" in a speech, he echoed the phrase on Twitter, and the demonstrators amplified it at Unity Fountain and online. Finally their cry was heard.
Had it not been for that social media campaign would anyone outside Nigeria know about the Chibok girls? Would the story have lasted more than one news cycle in the West? Would you be reading this now?
It's time to remind a distracted world that Boko Haram must be defeated. Social media won't return the girls, but the world's attention can help. It's time to stand again with the demonstrators at Unity Fountain. Make this your 2015 resolution: I will #RememberOurGirls.
And, in case you're wondering, it's been 269 days since they were abducted.
http://www.latimes.com/opinion/op-ed/la-oe-sam-bring-back-our-girls-20150108-story.html
------------
ISIS runs prison camps for Yezidi women and children
January 08, 2015
KHANKE, Kurdistan Region - They put fences and walls around them, and made them into prison camps. ISIS, or the Islamic State, has used villages that were earlier emptied when their frightened inhabitants fled the Islamic radicals to imprison hundreds of Yezidi women and children.
Photographs do not exist of this latest disclosure of ISIS practices, but families who escaped from the camps are able to testify about their presence and locations. A portion of the hundreds of children that ISIS kidnapped are also living in those camps.
Habib Khalesh Jazai, 14, and Faraz Hashem Jazai, 12, are two cousins who recently escaped. They are now living in a house in the Kurdish Yezidi village of Khanke, provided for them by the authorities in Iraqi Kurdistan.
There was no food or water, the boys recall about the camp where they were forced to spend a couple of months in the heat of the Iraqi summer. "We all had fleas and everybody was smelling so badly," says Faraz, as he scratches himself in disgust.
The boys were with the women and children ISIS kidnapped in August 2014 from the Yezidi village of Kocho, after killing all of its men and leaving them in a nearby ditch. " Daesh said they would take us to the mountains, but they lied," says Habib, using the local acronym for the group.
Women and children were separated, and the cousins eventually ended up with some 45 others in a school in Talafar, a town near the self-proclaimed ISIS capital of Mosul. There, they stayed for 17 days, with very little food and being awakened at the first call for prayer every morning to learn the Quran.
"The teacher made us repeat every word. If we did not do well he would beat us with a stick," Habib says. "It was too difficult and in Arabic, and we only know Kurdish. All we wanted to do was sleep."
It is known that ISIS indoctrinates young captives to become Muslims; pictures on the Internet have shown that some of them have also been turned into young ISIS fighters. But not the two cousins, who refused to obey their teachers, even though they were threatened and beaten.
Eventually the endless crying of the kids made their tutors first split them up in an older and younger group, and then choose only those who did well to continue the Quran lessons.
The cousins were not chosen. To their surprise and joy they were re-joined with their mothers and some of their female relatives. "My mother fell to the ground when she saw me," says Habib softly.
Habib's family was taken back to Kocho, which had since been looted and fenced in. Faraz and his relatives went to a village near Talafar that had previously been home to Shiite Turkmens and was also changed into a prison.
ISIS has created at least three prison camps like these next to Kocho in the Shingal region and two near Talafar, says the Kurdish official in charge of follow up on the fate of kidnapped Yezidis, Noori Abdulrahman. He thinks ISIS uses the camps to put still more pressure on people to convert. "And at the same time they want to exchange some of them for prisoners in our hands," he says.
The situation in the camps is known to be very bad. "The movement of the people there has been very limited. Whenever we could reach them, we would help." That meant that more than 70 people were rescued in some way from there.
The looted houses were empty and there was no water and no hygiene, as the female family members of the cousins in the Khanke house recount. "We were given rice that was infested with insects. The small kids were so hungry that they ate their own skin. We all had infections and fleas. There was no sanitation at all for our monthly periods."
Both families escaped: Habib's by using a water channel to get to the other side of the fence and Faraz's by cutting a hole through the barrier. They walked for nights, sleeping in the daytime and hiding at night when they saw cars coming. Eventually, they found help from Sunnis who had remained in the region. They then contacted a Yezidi organization in the Kurdish city of Duhok that paid for their transport to Iraqi Kurdistan.
Former Iraqi parliament member Amina Said leads this organization, known as "the commission for helping those who escape from daesh." She puts the number of Yezidis who escaped from ISIS at around 470, of whom 142 are children. "All the children that escaped came with their families," she says. They are mainly from the camps. "Kids cannot do it alone."
The contact with some 400 children who have been put in the ISIS indoctrination program is lost, and there is little hope they will be found. But since the Kurdish Peshmerga started an offensive in Shingal, hope has risen that the camps will be liberated too, ending a desperate situation for the imprisoned women and children.
http://rudaw.net/english/kurdistan/07012015
------------
Taking Dowry against Quran: Prince of Arcot, India
January 08, 2015
Prince of Arcot Nawab Mohammed Abdul Ali has urged Muslims to put a stop to the custom of taking dowry, going against the Quran and Hadith (sayings of the Holy Prophet).
Speaking at the Seerat-un-Nabi (life and teachings of the Holy Prophet) celebration, organised by Fathima Basheer Matriculation Higher Secondary School for Girls under the aegis of the Southern India Educational Trust recently, he urged the Ulema (Islamic scholars) to condemn the practice.
"It is a shameful act and is ruining the lives and finances of many families and girls," he said.
http://www.thehindu.com/news/cities/chennai/taking-dowry-against-quran-prince-of-arcot/article6765759.ece
------------
Guantanamo order bars women from moving accused in 9/11 case
8 January 2015
A military judge ordered officials at the U.S. Navy base in Guantanamo Bay, Cuba, on Wednesday to stop using female guards to move the five defendants in the Sept. 11 case to court and back and to meetings with their lawyers.
The ruling by Army Col. James Pohl addresses a dispute that has threatened to disrupt proceedings in the case, which is in the pre-trial phase. Defendants have been refusing to meet with defence lawyers, arguing that any physical contact with a woman not related to them violates their Muslim beliefs.
Lawyers for the five defendants said the use of female guards, which apparently began only recently inside the top-secret unit where they are held known as Camp 7, is unnecessary and interferes with their right to legal counsel as they face trial by military commission.
Attorney David Nevin, who represents lead defendant Khalid Sheikh Mohammed, said the use of women as part of escort teams that move the men appears to be part of an effort to humiliate the men and undermine their religious sensibilities, a continuation of the treatment they endured as part of the CIA interrogation program.
"It is being done to disrupt them and to disrupt their ability to defend themselves," Nevin said.
Prosecutors had opposed the motion seeking to stop the use of women, arguing that the composition of the guard force should be left to detention center officials.
Military officials previously said it would create a staffing burden if they were unable to use women on escort duty in Camp 7.
Pohl said in the written order that it would "best serve the interests of all parties" to temporarily bar physical contact between female guards and the five defendants until he can hear further evidence and issue a final decision. The ruling applies only in the Sept. 11 case, according to lawyers who had read the ruling, which was not yet public.
The dispute has been confined to Camp 7, where about 15 of the men labeled "high-value detainees" by the Pentagon are held. A military judge in a separate case involving another prisoner made a similar ruling in November.
http://english.alarabiya.net/en/News/world/2015/01/08/Guantanamo-order-bars-women-from-moving-accused-in-9-11-case.html
------------
Women perceived incompetent because of gender: study
January 08, 2015
A study on men's attitude towards women has brought to the fore the deep-rooted gender bias against the fair sex and hurdles the women face as members of the local self government bodies in Maharashtra.
The study paper presented by the students of Applied Psychology of Mumbai University (MU) during a sectional programme on "anthropological and behavioural sciences", at the 102nd India Science Congress in Mumbai on Wednesday stated that men perceive women as "incompetent" because of their gender.
"We tried to study men's attitude towards women and perceived incompetency in women. Women's rights is a contemporary issue and women in rural areas have far less exposure compared to women in urban areas," the students said.
"We studied women members of local self-government bodies in Maharashtra. They include sarpanch, former sarpanch and members of taluka bodies and zilla parishads. The sample size was 20," they said.
The students said their interviews with women were focused on the discrimination they have faced on the basis of gender.
"Our first finding was about male dominance. There were instances of men creating problems for women to prevent them from entering into this field (politics)," they said.
According to the students, though women get elected as Sarpanch but the actual decision-making is done by male members of their families.
"Many a times, women were made sarpanch but the decisions were taken by male members of the family and the woman sarpanch was just made to sign papers," they said.
The working woman is perceived to be inferior to males and aspersions are usually cast on her character because men consider this field as their fiefdom.
"We found that women are perceived as incompetent and as a result they don't get the exposure. In some cases, women were not even allowed to hoist national flag as men considered women inferior," they said.
The decision to reserve 50% seats in local self-government bodies in Maharashtra for women, created a sense of insecurity among men, they said.
http://www.hindustantimes.com/india-news/women-perceived-incompetent-because-of-gender-study/article1-1304343.aspx
------------
URL: https://www.newageislam.com/islam,-women-and-feminism/new-age-islam-news-bureau/young-mother-let-terrorists-into-charlie-hebdo-after-threat-against-daughter/d/100916