New Age Islam News Bureau
5 Apr 2017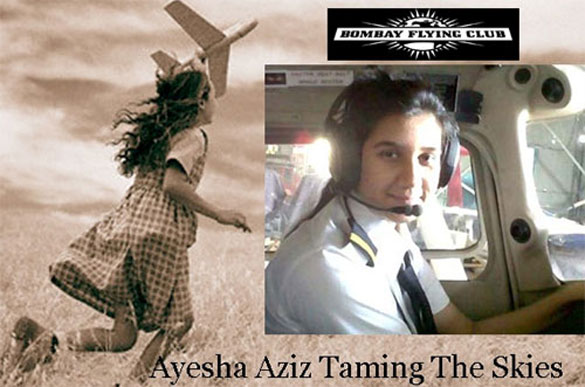 21-year-old Ayesha Aziz of Kashmir plans to fly a MIG-29 fighter jet at Russia's Sokul airbase
-------
• Outcry in Sweden as Muslim School Segregates Boys and Girls
• Lahore High Court Wants Dowry Items Mentioned In Marriage Certificate
• Bangladesh Women Entrepreneurs to Get Tk25 Lakh Collateral-Free Loan
• Malala Urges World to End War in Syria
• For Palestinian Women, Football Not Just About Winning
Compiled by New Age Islam News Bureau
URL: https://www.newageislam.com/islam-women-feminism/young-kashmiri-woman-aims-become/d/110656
--------
Young Kashmiri Woman Aims To Become First Indian To Fly MIG-29
April 5, 2017
JAMMU: According to NDTV, Ayesha Aziz of Kashmir realised her dream of becoming a pilot when she got her commercial licence last week. Now, the 21-year-old plans to fly a MIG-29 fighter jet at Russia's Sokul airbase. If she succeeds, she will become the youngest Indian girl to pilot the aircraft beyond the speed of sound.
"I want to reach the edge of space, for which we are talking terms with the Russian agency to fly the MIG-29 ", Ayesha said.
"So, that is going to be the next expedition - to fly the MIG-29 fighter jet," she added.
Ayesha began training while she was in school. At 16, she was given a student pilot licence by the prestigious Bombay Flying Club. In 2012, she completed a two-month advanced space training course at NASA. She was among the three Indians chosen. Her inspiration is Indian-origin astronaut Sunita Williams.
Ayesha's mother belongs to the Baramulla district in Jammu and Kashmir while her father is from Mumbai in Maharashtra.
"I am proud of her achievements. We want her to go higher and higher. She is my idol and she motives me, ", said Areeb Lokhandwala, Ayesha's brother.
Ayesha has set eyes firmly on her mission of flying fighter jets.
"My message for Kashmiri girls would be to chase their dreams, to not let anything let them down, have goals in your life and achieve them", said Ayesha.
http://nation.com.pk/international/05-Apr-2017/young-kashmiri-woman-aims-to-become-first-indian-to-fly-mig-29
--------
Outcry In Sweden As Muslim School Segregates Boys And Girls
April 04, 2017
In August last year, Swedish media revealed that teachers had agreed to gender-segregated sport lessons
A Muslim elementary school in Sweden, which separated boys and girls on a bus and during sports lessons, sparked controversy on Tuesday with the prime minister condemning it as "despicable".
As part of a documentary, Swedish broadcaster TV4 filmed secret footage of the privately-run Al-Azhar Primary School in a Stockholm suburb where boys are seen entering a bus from the front and girls from the back.
Aged between six and 10, the students take the school bus in the mornings and evenings to go to and from school in the working-class neighbourhood of Vallingby, northwest of Stockholm.
"I think this is despicable. This doesn't belong in Sweden," Prime Minister Stefan Lofven told reporters in Stockholm.
"We take the bus together here, regardless if you're a girl or a boy, woman or a man."
This isn't the first controversy surrounding the school. In August last year, Swedish media revealed that teachers had agreed to gender-segregated sport lessons.
The school argued that gender-mixed sports courses would cause some parents to stop their children from attending.
The school's vice principal said it had no intention of carrying out gender-segregated activities.
"I don't know why it still turned out that way," Roger Lindquist told TT news agency.
"It was a mistake."
But the school says on its website that "boys and girls have separate courses in swimming and sports".
Lofven has asked Education Minister Gustav Fridolin to contact the school and propose measures on what can be done to prevent segregation.
"The school has a duty to end outdated segregation norms," Fridolin told public broadcaster SVT.
"This must concern all schools."
http://www.dhakatribune.com/world/europe/2017/04/04/outcry-sweden-muslim-school-segregates-boys-girls/
--------
Lahore High Court Wants Dowry Items Mentioned In Marriage Certificate
WAJIH AHMAD SHEIKH
April 5, 2017
LAHORE: The Lahore High Court has directed the Punjab government to introduce a new legislation to incorporate dowry items in Nikahnama (marriage certificate) so the miseries of women litigants seeking recovery of their dowry after marital break-up can be reduced.
"There should be a law which would state upon marriage, all things relating to marriage i.e. dowry should be duly incorporated in the columns of Nikahnama so that the miseries and obstacles of the female litigants could be curbed down in future and providing a strong and concrete social and legal set-up," Justice Tariq Iftikhar Ahmad observed in a judgement passed on a writ petition filed by a woman. The petitioner challenged 'miscalculation' of dowry items by a lower court of Bahawalpur.
The judge in his verdict observed that the menace of dowry had become a social threat in modern Pakistan leading to oppression of women, physical violence against brides, causing a financial and emotional stress to the parents of the brides as well.
"This dogma should be removed and shackled with an iron hand at grassroots level and should be uprooted to maintain serene and harmony in society," the judge says.
The judge regrets that successive governments in independent Pakistan retained most of the laws inherited from the British without amendments. "Hence, today unfortunately personal laws are different in Pakistan depending on which religion the person belongs to. For Muslim women and Christian women the rights are even less," the judge adds.
Justice Ahmad observed that the incorporation of dowry items in the Nikahnama, if implemented, by the legislature would be more effective in eradicating the problems of dowry issues in courts as well as in society.
The judge says the brides should also be educated and well informed about negative impacts of dowry and should be taught that they can lead a better life with more independence and happiness.
The judge advises women to make bold moves towards exposing families demanding dowry using the help of the legal system saying the legal system should be made more accommodative to make the brides and their family members comfortable.
Justice Ahmad directed the law secretary to take up the matter with the quarters concerned for carrying out requisite legislation at the earliest.
The judge, however, dismissed the petition finding no illegality or irregularity in the impugned decision of the lower court regarding the evaluation of the dowry items' value.
https://www.dawn.com/news/1324937/lhc-wants-dowry-items-mentioned-in-marriage-certificate
--------
Bangladesh Women Entrepreneurs to Get Tk25 Lakh Collateral-Free Loan
April 03, 2017
New women entrepreneurs are going to get Tk1, 657 crore as SME loans this year
Bangladesh Bank has directed banks to provide Tk25 lakh loan to a woman entrepreneur without any collateral.
The new entrepreneurs will also get collateral-free Tk10 lakh loans.
Bangladesh Bank issued a circular on Sunday to ease the process of the SME loans to the women and new entrepreneurs.
SME loans will be disbursed on the basis of bank-client relations and types of products and services.
Bangladesh Bank data showed that the local banks and financial institutions are going to disburse Tk23,500 crore loans to create new entrepreneurs to promote sustainable development of the country.
The figure is 20% higher than that of the previous year and most of the loans will be given to small and medium enterprises in rural areas.
Bangladesh Bank has made it compulsory for banks and financial institutions to disburse SME and agricultural credit at low interest rates.
New women entrepreneurs are going to get Tk1,657 crore as SME loans this year.
In 2016, the banks and financial institutions fixed the target of disbursing SME loans at Tk1,13,503 crore. But they were able to achieve more than the target. They were able to disburse Tk1,41,935 crore.
This year the new entrepreneurs will get Tk21,794 crore as SME loans. Last year the amount was Tk18,128 crore.
http://www.dhakatribune.com/business/2017/04/03/women-entrepreneurs-get-tk25-lakh-collateral-free-loan/
--------
Malala urges world to end war in Syria
April 04, 2017
Pakistan's Nobel laureate and rights activist Malala Yousafzai has called on world leaders to end the devastating war in Syria that has claimed the lives of thousands.
"Chemical strikes like the toxic gas attack in Idlib on Tuesday have become a sickeningly routine as the Syrian conflict persists," she said in a statement issued in wake of a horrific attack in the war-torn country.
"This morning innocent men, women and children suffered painful, senseless deaths," read the statement.
Malala asked the international community to "do everything in your power to help the victims and end the war".
The war, she said, had displaced millions. "This war has forced too many families from their homes, too many children from their schools and taken too many innocent lives. This war must end."
Tuesday's chemical attack killed at least 58 people, including 11 children, in the northwestern province of Idlib, a monitor, medics and rescue workers in the rebel-held area said.
A Syrian military source strongly denied the army had used any such weapons.
The Syrian Observatory for Human Rights said the attack, believed to have been carried out by Syrian army jets, caused many people to choke, and some had foam coming out of their mouths. All the children were under the age of eight.
"This morning, at 6:30am., warplanes targeted Khan Sheikhoun with gases, believed to be sarin and chlorine," said Mounzer Khalil, head of Idlib's health authority. The attack had killed more than 50 people and wounded 300, he said.
"Most of the hospitals in Idlib province are now overflowing with wounded people," Khalil told a news conference in Idlib.
The air strikes that hit the town of Khan Sheikhoun, in the south of rebel-held Idlib, killed at least 58 people, said the Observatory, a British-based war monitoring group.
Warplanes later struck near a medical point where victims of the attack were receiving treatment, the Observatory and civil defense workers said.
The civil defence, also known as the White Helmets - a rescue service that operates in opposition areas of Syria - said jets struck one of its centers in the area and the nearby medical point.
It would mark the deadliest chemical attack in Syria since sarin gas killed hundreds of civilians in Ghouta near the capital in August 2013. Western states said the Syrian government was responsible for the 2013 attack. Damascus blamed rebels.
http://nation.com.pk/national/04-Apr-2017/malala-urges-world-to-end-war-in-syria
--------
For Palestinian women, football not just about winning
5 April 2017
AL-RAM, Palestinian Territories: The Palestinian women's football team saw a crushing defeat in their first match in Asian Cup qualifiers — a 6-0 loss to Thailand — but for captain Claudie Salameh, the score means little.
"Playing football for girls in Palestine is an enormous challenge," she said after the match.
"We face world football but also (challenges) in our country where an outdated vision of girls playing football exists."
Palestinian women football players have sought to overcome traditional attitudes and the difficulties imposed by Israel's occupation to build a team now competing in Asian Cup qualifiers.
The other teams in the Asian Cup qualifying group — Thailand and China — have been training together for a long time.
But the members of the Palestinian team were only together for 20 days before their match on Monday in Al-Ram, the Palestinian city cut off from Jerusalem by Israel's separation wall.
"We have to prove to our own people that girls can and know how to play football," said Salameh while waving her hands expressively, her fingernails painted with flamboyant red polish — the same color as the Palestinian jerseys.
On Wednesday, they will play their second cup qualifier against China as part of their aim to reach the 2018 tournament to be held in neighboring Jordan.
The two other countries meant to be in the group — Lebanon and Guam — have withdrawn.
Palestinian women's football has existed in organized form for less than 10 years.
The first team was formed in 2009 with little financial support and controversy over women playing what is seen by some as a man's game in shorts.
There are now four teams playing outdoors and about a dozen indoors. About 400 girls over 14 are registered as players.
The players face both "cultural obstacles" and, like all Palestinians, those imposed by the Israeli Army due to the 50-year occupation of the West Bank, said Hanadi Nasser Eldin, head of women's football for the Palestinian federation.
Receiving permission from the Israeli authorities for players to travel as well as for equipment to be transported are issues that have been looked at by FIFA.
But on a more personal level, due to traditional attitudes, the players are subjected to debates over their clothes and the pursuit of sporting activity past the age when some believe they should be married. The subject has come up at sermons in some mosques.
In the Gaza Strip, only a small number of girls play indoor football.
Members of the Palestinian national team come from the West Bank or Arab Israeli communities.
Beyond trying to win, a major challenge for the players is building a program and making their presence known.
Riham Al-Moghrabi, around 20, was one of the rare fans taking in Monday's game at the Faisal Al-Husseini stadium — the only international Palestinian football venue.
Having traveled from the West Bank city of Jericho, she said she felt the players had "a strength, a will and a gift that can both serve them and the whole country."
"Playing football for girls is not something to be ashamed of or a sin," she said.
Jibril Rajoub, head of the Palestinian Football Federation, has been working to bring Palestinian teams — as well as the flag, anthem and cause — to all international sporting events.
The federation works not only on training players and coaches but "also for rules guaranteeing the place of women — half of society — in this sporting revolution," he said.
http://www.arabnews.com/node/1079381/middle-east
--------
URL: https://www.newageislam.com/islam-women-feminism/young-kashmiri-woman-aims-become/d/110656
New Age Islam, Islam Online, Islamic Website, African Muslim News, Arab World News, South Asia News, Indian Muslim News, World Muslim News, Women in Islam, Islamic Feminism, Arab Women, Women In Arab, Islamophobia in America, Muslim Women in West, Islam Women and Feminism