New Age Islam News Bureau
6 Oct 2019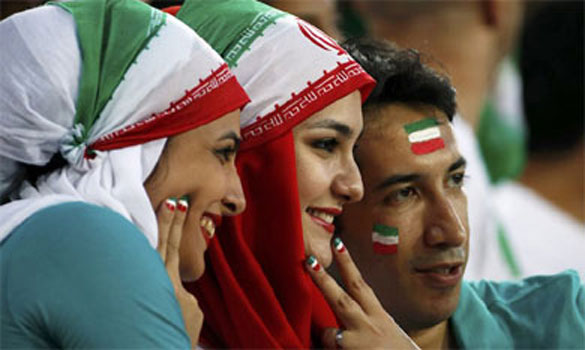 Iranian authorities had assured world governing body Fifa that women would be allowed to attend the game with Cambodia and have set aside sections of the stadium for women. — Reuters pic
--------
• Abortions, IUDs And Sexual Humiliation: Muslim Women Who Fled China For Kazakhstan Recount Ordeals
• Boko Haram: Parents Lament Chibok Girls' 2,000th Day In Captivity
• Indonesian MP Says His Three Wives Are Proof Polygamy Can Be 'Good And Harmonious'
• Iranian Women Snap Up Tickets for World Cup Qualifier
• Al Houthis Manipulate Women to Lay Landmines
• Oracle Women's Leadership Initiative Launched in KSA
• 35% of Newly Elected UAE FNC Members Are Women
• Number Of Women Managers In Iran Has Increased - Rouhani Deputy
Compiled by New Age Islam News Bureau
URL: https://www.newageislam.com/islam-women-feminism/young-girls-sold-so-called/d/119924
--------
Young Girls Sold For So-Called 'Pleasure Marriages', offered by Shi'ite Clerics In Iraq
October 6, 2019
Young girls in Iraq are being sold into so-called 'pleasure marriages' that can last as little as an hour for the purposes of sex, the BBC reported.
The girls are typically offered by Shi'ite clerics, despite the practice being banned. As many as 10 clerics agreed to carry out such an arrangement when asked.
This custom is permitted by Sharia law, one of the clerics said, adding that marrying such a young girl temporarily is acceptable.
According to the BBC, the girls are often exploited, with one of them not being able to remember how many times she was 'married.'
While the practice was banned under the Sunni regime of Saddam Hussein, it resurfaced back in 2003 after the invasion of Iraq, which helped increase the power and influence of Shi'ite clerics.
The war and ensuing violence also caused many young women to drop out of school to work and support sick parents or siblings who were injured. With some of them not being able to read and write, their options are limited and they are easily exploited by men who offer them such 'marriages.' The contract the woman gets from the cleric has an expiration date on it, yet a person who can't read would not be able to know this.
The authorities said they have very few options to work with unless the girl complains to the police. "If women don't go to the police with their complaints against clerics, it's difficult for the authorities to act," they told the BBC.
In some cases, the clerics who officiate the marriages become de-facto pimps, take pictures of the girls and offer them to men.
And they sometimes agree to arrange for a man a child who is only 9 years old, the report claimed.
https://www.jpost.com/Middle-East/Girls-as-young-as-13-sold-for-so-called-pleasure-marriages-in-Iraq-603743
--------
Abortions, IUDs And Sexual Humiliation: Muslim Women Who Fled China For Kazakhstan Recount Ordeals
By Amie Ferris-Rotman
Oct. 5, 2019
ALMATY, Kazakhstan — The women have found refuge from Chinese authorities across the border in Kazakhstan, their ancestral homeland. But they remain haunted by the stories of abuse they carry with them.
Some said that they were forced to undergo abortions in China's Muslim-majority province of Xinjiang, others that they had contraceptive devices implanted against their will while in detention. One reported being raped. Many said they were subjected to sexual humiliation, incidents that included being filmed in the shower and having their intimate parts rubbed with chile paste.
The allegations come as China expands a years-long crackdown on its Muslim minority, which includes not only Uighurs but also Kazakhs and other ethnic groups. While the experiences described could not be independently verified, local rights groups and lawyers say they are common — and reveal a wider pattern of abuse directed specifically against women, aimed at curbing their ability to reproduce.
'Boiling us like frogs': China's clampdown on Muslims creeps into the heartland, finds new targets
In December 2017, Gulzira Mogdyn, a 38-year-old ethnic Kazakh and Chinese citizen, was detained in Xinjiang after a visit to Kazakhstan because WhatsApp was found on her phone. She was placed under house arrest and examined by doctors at a nearby clinic, who discovered she was 10 weeks pregnant.
Officials told her she was not allowed to have what would be her fourth child. The following month, Mogdyn said, doctors "cut my fetus out" without using anesthesia. She still suffers from complications.
"Two humans were lost in this tragedy — my baby and me," Mogdyn said during an interview on the outskirts of Almaty, Kazakhstan's largest city. She received her Kazakh citizenship in July and says that has emboldened her to speak out. She is also pressing Beijing for a response: either financial compensation or, at the least, an apology.
Others are still constrained.
A Kazakh woman with close relatives remaining in China was forced to undergo two abortions, in 2016 and 2017, while living in Xinjiang, her lawyer said. Aiman Umarova, a Kazakh human rights advocate and State Department honoree, said her client is seeking refuge in a Kazakh city and does not wish to be identified for fear of retribution.
Umarova sees the women's stories as forming a pattern.
"Sexually violating women, including stopping them from reproducing, has become a weapon for China against its Muslim population," she said.
The U.S. government and human rights groups estimate that between 1 million and 3 million Muslims have been detained in Chinese "reeducation camps" since 2017, most of them Uighurs.
New evidence emerges of China forcing Muslims into 'reeducation' camps
The Washington Post spoke with two men, including an Australian citizen named Almas Nizamidin, who suspect that their wives, both Uighurs still in detention in Xinjiang, were forced to terminate their pregnancies at a camp in 2017.
Under China's one-child policy, abortions and contraceptives were encouraged — and often enforced — by officials tasked with keeping the population down. Exceptions were granted for ethnic minorities, who were allowed one more child than Han Chinese.
The policy was abandoned three years ago, but that has not prevented the recent move to curb ethnic populations, said Leta Hong Fincher, a scholar and expert on gender equality in China.
"There is a clear tightening of control over the reproductive rights of ethnic minorities," she said.
In addition to mistreating detained women, rights groups and experts say, Beijing has pursued a campaign to erase Muslim culture in Xinjiang, by pushing interethnic marriages and sending Chinese officials for "home stays" with Muslim families, part of efforts by President Xi Jinping's government to assimilate ethnic minorities.
All of this amounts to genocide as laid out by the U.N. Convention on the Prevention and Punishment of the Crime of Genocide, said Rushan Abbas, founder and executive director of the Washington-based Campaign for Uyghurs.
"And as with so much in Chinese culture, women are being targeted, as they are viewed as less valuable," said Abbas, who said her sister was abducted in Xinjiang a year ago and has not been heard from since.
Some allegations extend further back. After the Urumqi riots in 2009, which analysts say triggered the harsh security measures now in place across Xinjiang, ­Islamic studies student Ruqiye Perhat was held in various prisons for four years.
There, the Uighur woman says, she was repeatedly raped by Han Chinese guards, resulting in two pregnancies. "Any woman or man under age 35 was raped and sexually abused," she said through an interpreter from Turkey, where she now lives. Both pregnancies were forcibly aborted while she was in prison, said Perhat, who is now 30.
Several female former detainees said they suspect that when younger and unmarried women were taken from their packed cells at night — to be returned the next morning or not at all — they were raped by guards.
"They'd come in and put bags on the heads of the ones they wanted," said Gulzira Auelkhan, a 40-year-old woman in the Kazakh village of Akshi who spent 18 months in the camps.
In May, an open letter written by a former guard at a Xinjiang camp appeared to support the women's claims. His account, which was posted by activists, has not been independently verified.
The ethnic Kazakh man, called Berik, said Chinese officers would watch women in their cells through a monitor before selecting one to take out. "There are two tables in the kitchen, one for snacks and liquor, and the other for 'doing things,' " he wrote.
Other women contacted by The Post described widespread sexual harassment at the camps, echoing public comments last month by Sayragul Sauytbay, an ethnic Kazakh woman wanted by China for disclosing information about the camps. Kazakhstan allowed her to resettle in Sweden in June.
Several said they were forced to shower and use the toilet in groups, in rooms outfitted with cameras. Auelkhan said female guards used chewing gum to pull on her pubic hair. Married women offered conjugal visits were ordered to swallow unknown pills afterward.
Ground chile peppers mixed with water in small glass jars were given to several women before showering. Once naked, they were ordered by female guards to smear the liquid on their genitals.
"It burned like fire," one woman recalled.
Asked to respond to the allegations, China's Foreign Affairs Ministry referred The Post to a government paper released in August on plans to combat terrorism through education and training, including a section on "protecting trainees' basic rights."
"You wouldn't raise such questions if you had carefully read the white paper," the ministry said in a faxed response.
In July, when the United States was in the middle of a trade war with China, Secretary of State Mike Pompeo called Beijing's treatment of Uighurs "the stain of the century." But elsewhere, the response has been tepid. Even Muslim-majority countries have stood by China.
Kazakhstan's government has been among those hesitant to condemn the abuses attributed to its powerful eastern neighbor. The country's stability and resources have earned it the moniker of "buckle" of Xi's flagship Belt and Road infrastructure initiative, and Beijing's affluent reach is visible in Kazakh cities.
But activists say Kazakhstan's reluctance to upset China could be changing given the deluge of information coming out of Xinjiang, which is home to some 1.5 million Kazakhs.
Former detainees now living in tumbledown villages dotted about the golden steppe on the Kazakh side of the border are increasingly speaking out, even those with relatives in China.
"I didn't want to talk about this for a long time. But if I don't, who will?" said Rakhima Senbay, 32, standing in her friend's house near the town of Taldykorgan. Although still a Chinese citizen, she has called Kazakhstan home since she was released from a camp late last year.
Shortly after Senbay, who has four children, was detained in Xinjiang in late 2017 — also for having WhatsApp on her phone — a female Chinese doctor forcibly fitted her with an intrauterine contraceptive device.
"I told her I didn't want it, but she said it's a must for all women going to the camp," Senbay said.
Gulzhan, a Kazakh activist who uses only her first name, said seven women have told her the same thing happened to them.
"That's since I started four months ago," she said. "Imagine how many more are out there."
Aigerim Toleukhan in Almaty, Emily Rauhala in Washington and Anna Fifield in Beijing contributed to this report.
A Chinese diplomat had a fight about race in D.C. with Susan Rice on Twitter. Then he deleted the tweets.
https://washingtonpost.com/world/asia_pacific/abortions-iuds-and-sexual-humiliation-muslim-women-who-fled-china-for-kazakhstan-recount-ordeals/2019/10/04/551c2658-cfd2-11e9-a620-0a91656d7db6_story.html
--------
Boko Haram: Parents Lament Chibok Girls' 2,000th Day In Captivity
October 6, 2019
Members of the #BringBackOurGirls movement as well as parents of 112 Chibok schoolgirls in Boko Haram captivity have lamented the failure of the Federal Government to effect the release of the girls abducted more than five years ago.
Boko Haram insurgents had stormed the Government Girls Secondary School in Chibok, Borno State, on April 14, 2014 and abducted over 200 girls. But 57 of the girls escaped and found their way back home.
The government subsequently negotiated with the abductors and they freed 107 girls leaving 112 others in captivity for the past 2,000 days.
To mark the anniversary, the BBOG paraded over 112 pairs of school sandals tagged with the names of the missing schoolgirls, Leah Sharibu and two aid workers, Alice Ngaddah and Grace Taku at the Unity Fountain, Abuja, on Saturday.
Speaking on behalf of other Chibok parents during a sit-out, Mr Kabu Yakubu, whose daughter, Dorcas, was among the kidnapped girls, expressed disappointment and sadness over the inability of the government to secure the release of the pupils.
Yakubu explained that his daughter's absence had taken a toll on the health of his spouse, who he said was suffering from heart-related ailments.
He expressed optimism that the girls would return, describing Dorcas as the pillar of his home.
Yakubu said, "Many Chibok parents have died on account of the delay in rescuing their daughters. My wife has been having heart problems, I have been taking her to hospital every week and now, there is no money. So, that is the problem we are facing.
"We are not happy, the government of Nigeria promised to rescue our girls, but up till now, this has not been done. Some Chibok parents have lost their lives, some are sick and in hospital. We won't say government lied to us, but they should put more efforts to rescue our girls."
The BBOG in a statement said the government had failed in its constitutional responsibility, adding that the FG appeared to be at ease amidst the troubles in the land, adding that it was "only concerned about protecting a fake reputation that offers its citizens no value."
BBOG Coordinator, Florence Ozor, who read the statement, cited the Wednesday abduction of six students and two teachers of Engravers College in Kaduna as a pattern of failure of government to secure lives of citizens.
"To highlight this, we note with heartbreaking dismay, the incapacity, apathy and failed leadership displayed by the President and the Federal Government in the wake of the abduction of six students and two staff members of Engravers College in Kaduna on October 3.
"This continues a distressing pattern of failure to secure, preserve and dignify the lives of citizens," the coalition said.
A former Chairman, National Human Rights Commission, Dr Chidi Odinkalu, knocked the government for not doing enough to protect Nigerian citizens, noting that abductions had been normalised with officials now holding talks with criminals.
He condemned the detention and ongoing trial of #RevolutionNow convener, Omoyele Sowore, saying there was nowhere in the world that calls for revolution was criminalised.
The activist also criticised Cross River State Governor, Prof Ben Ayade, for reportedly masterminding the detention and prosecution of a journalist, Agba Jalingo, over a Facebook post flaying the governor for allegedly engaging in anticipatory approval and graft.
https://punchng.com/boko-haram-parents-lament-chibok-girls-2000th-day-in-captivity/
--------
Indonesian MP Says His Three Wives Are Proof Polygamy Can Be 'Good And Harmonious'
Oct 06, 2019
When Indonesian politician Achmad Fadil Muzakki Syah was sworn in as a lawmaker in the new parliament last Tuesday, he created a buzz when he showed up at the ceremony with his three wives in what was believed to be a first for a public figure.
Pictures of Achmad giving the thumbs up, surrounded by his three smiling spouses, went viral in an event which he hoped would showcase his family as an "example" of how to carry out "good and harmonious polygamy".
"It is my intention to bring the press attention to my family to be an example to show that polygamy can be good and harmonious … there is no need for secretive acts, nikah siri, or to have affairs," Achmad, who is also known as Lora Fadil, was quoted as saying by the Liputan6.com news portal.
Nikah siri is a marriage that follows religious norms but is not recognised by the state.
Achmad, 39, an MP from the National Democratic Party (Nasdem), married his first wife 22 years ago, and has had two more marriages in the past eight years. He has seven children.
He was not coy in sharing his bedroom secrets, telling local media that he and his three wives "regularly sleep together in one bed".
Achmad's bold display was decried by the country's women activists, who called it "shameful" and "disgusting", and that it would only encourage more men in Indonesia to do the same, to the detriment of women and children.
"I don't recall any public official blatantly parading around his wives like that. Former vice-president Hamzah Haz has more than one wife, but I think only the first wife made public appearances," said Hera Diani, managing editor and co-founder of Indonesia's online feminist magazine Magdalene.co.
"I am disgusted. I grew up as a Muslim and I am appalled by the increased performative Islam with vulgar religious expression, including the campaign for polygamy," said Hera, adding that she is against polygamy.
In recent years, Indonesia has seen an increase in people carrying out polygamy, with the rise of conservative Islam and the emergence of dating apps for men seeking a second wife.
Seminars for men and women on how to "manage polygamy" are becoming increasingly common.
Polygamy is permitted under certain religious and cultural conditions, according to Indonesia's marriage law.
Islamic scholar and chairperson of the Indonesian Conference on Religion and Peace (ICRP) Siti Musdah Mulia said polygamy was allowed in the early years of Islam as it was then a patriarchal society and an age of ignorance.
"But with the development of Islam, there is no reason for polygamy as all the conditions for fairness [in polygamous marriages] are difficult to be fulfilled," said Siti.
According to Siti, Indonesian marriage law is problematic as the regulation of polygamy is unclear. While the basis of the marriage law is monogamy, there is no sanction for polygamy.
Siti described Lora as an "embarrassment" with no sense of ethics and shame.
"Even if he is convinced that his faith permits polygamy, he should have some ethics; a sense of shame," said Siti.
"But what is more embarrassing are the women who are willing to be his wives. They have no self-worth, to allow themselves to be displayed as dolls," she added.
Hera says she has first-hand knowledge of how women and children in polygamous marriages suffer, as her own grandfather had three wives.
"The men will tell you they'll be fair to all their wives and children, but that is just b******t. There is never fairness when it comes to giving attention and affection to the wives and children," said Hera.
She said many wives and children end up having to struggle financially as a husband's resources become stretched by a large family.
Hera cited her grandfather's family as an example.
A low-ranked military officer with limited means, he could not provide well for his three wives and 11 children. As a result, only two of the children made it beyond high school, with one graduating from university and another obtaining a diploma.
Even in wealthy polygamous families, children would experience psychological hardship due to a lack of attention from their fathers, Hera said.
"It creates a wounded generation where children have no father figure [and] have to compete for his attention," she said. "I see polygamy as a form of domestic violence against wives and children."
https://www.asiaone.com/asia/indonesian-mp-says-his-three-wives-are-proof-polygamy-can-be-good-and-harmonious
--------
Iranian Women Snap Up Tickets for World Cup Qualifier
October 06, 2019
TEHRAN, Oct 5, (Agencies): Iranian women have snapped up tickets for Thursday's World Cup qualifier against Cambodia in Tehran after they were released for sale via a website.
Iranian authorities had assured world governing body FIFA that women would be allowed to attend the game and have set aside sections of the stadium for women.
The semi-official Iranian news agency ISNA said the 3,500 tickets allocated for women sections sold out within minutes of going on sale on Friday morning.
FIFA told Reuters it had been informed a total of 4,600 tickets for women would be made available in the initial batches but that it expects more to be put on sale to meet the demand from female fans.
A spokesman for the organisation said FIFA would be sending a delegation to the Azadi Stadium in Tehran to monitor the access for women.
An activist with the group "Open Stadiums" which campaigns for Iranian women to be able to freely attend matches, said tickets for the game at the 78,000-capacity venue had gone on sale early on Friday morning and were sold via a website in small blocks.
The activist said the tickets went on sale without any announcement from the Iranian Football Federation and news of their availability only reached women via social media.
"It was quite a chaotic situation," she told Reuters.
The group welcomed the sale but said it was concerned that women only sections stopped mothers taking their sons to matches and that it was also unclear how women with disabilities would be accommodated.
At Iran's friendly against Syria in June, women were locked out of the Azadi Stadium and detained by security forces.
A female Iranian fan died last month after setting herself on fire to protest against her arrest for trying to enter a match.
Sahar Khodayari, dubbed "Blue Girl" for the colours of her favourite team Esteghlal, died in hospital after her self-immolation outside a court where she feared being jailed for six months after trying to attend the match disguised as a man.
Khodayari's death caused widespread outrage in Iran and internationally, prompting calls on social media for Iran's football federation to be suspended or banned by FIFA.
Human Rights Watch (HRW) called on FIFA to reject restrictions on how many women could attend.
"Iran's ban on half the population attending football matches has led to women and girls risking arrest, jail, and even their lives to challenge it," said Minky Worden, HRW's director of global initiatives in a statement.
"Any concessions by FIFA to limit the number of women who can attend stadiums only empowers Iran's hardliners who have … (kept) discriminatory restrictions in place," Worden added.
FIFA sent officials to Tehran last month to discuss preparations for Thursday's match including allowing access to women to the stadium.
While foreign women have been allowed limited access to matches, Iranian women have been banned from stadiums when men's teams have been playing since shortly after the 1979 Islamic revolution.
There were signs the situation regarding female fans in Iran was changing when a group of women were permitted to attend the second leg of the Asian Champions League final in Tehran last November, a match attended by FIFA President Gianni Infantino.
But female fans have been denied access to matches since.
FIFA says it wants Iranian authorities to allow women access not only to World Cup qualifiers but to all games in the country.
Also:
KHARTOUM: After the huge leaps made in the Sudanese political sphere, women in the country took another bold step to solidify their rights by launching the first women football league.
Speaking to KUNA on the matter, Minister of Youth and Sports Wala Al-Boushi said that the launch of the league – featuring 20 teams – would develop women sports in the country, providing a glimpse of hope for a country with a history of conflict and political upheavals.
Women took the initiative in the Sudanese revolution and here they are trying to prove themselves on the football pitch, she said proudly.
Delivering similar statements, head of the women football committee Mervat Hussein affirmed that women football was a huge part of FIFA's plan for the overall global development, saying that the current strategy was to boost the skills of young female footballers from age six to 16.
The next step is to choose a national team that would represent Sudan regionally and internationally, Hussein revealed.
While some Sudanese received the news of the launch of the league positively, there are various conservative entities in opposition of the step.
On the subject, women activist Tahani Abbas objected to the conservative view in regarding to women involvement in the sport, claiming that women were involved in football since the mid-1970s and 1980s, citing that Monira Ramadan – a female referee – had led several men games at that period.
The first ever all-female game was held in 1975, stated Abbas refuting claims that women involvement was against traditions and norms.
The activist affirmed that women needed to further their cause in Sudan especially after the revolution.
Meanwhile, administrator at 2001-established Al-Tahadi football club Nuha Abdulmohsen said that she was proud of current achievements for Sudanese women footballers, hoping that more progress would be made within the same sphere.
On the prospect of winning the league, Abdulmohsen stressed that the team will do all that it can to come out triumphant, adding that the win for any team in the league is an indication of how the women had made huge leaps in achieving their rights.
The women football committee of Sudan was formed in 2018 after extensive effort made the previous year at the Sudan football federation.
https://www.arabtimesonline.com/news/iranian-women-snap-up-tickets-for-world-cup-qualifier/
--------
Al Houthis Manipulate Women to Lay Landmines
October 05, 2019
Ramadan Al Sherbini
Cairo: Security authorities in Yemen's western province of Jawf have said they uncovered several groups of bombers, including women linked to Al Houthi militiamen.
"Security forces have captured a number of cells sent by Al Houthi militias to plant mines and explosives in markets and other gatherings of civilians," chief of special security forces in Jawf, Col Abdullah Al Barbar, said, according to Saudi newspaper Asharq Al Awsat.
"They included a women cell who had explosives in their possession," he added.
Rights groups have repeatedly accused Iran-aligned Al Houthis of indiscriminately laying landmines in civilian areas in war-racked Yemen, resulting in large deaths mainly women and children.
"The expertise gained by Al Houthi militias in manufacturing and hiding explosives has been transferred to them by experts from [Lebanese] Hezbollah group and Iran sent to Yemen to train Al Houthis in killing the Yemeni people," Col. Al Barbar said.
He added that military engineers in Jawf had managed to remove and defuse many landmines, mostly planted in busy markets and on roads.
Al Houthis plunged Yemen in war in late 2014 when they toppled the country's internationally recognised government and seized parts of the impoverished country including the capital Sana'a.
An Arab alliance, co-led by the UAE and Saudi Arabia, are fighting the extremists in Yemen upon a request from its government.
https://gulfnews.com/world/gulf/yemen/al-houthis-manipulate-women-to-lay-landmines-1.66926432
--------
Oracle Women's Leadership Initiative Launched in KSA
October 05, 2019
Oracle has launched its global Oracle Women's Leadership (OWL) initiative in Saudi Arabia. OWL's mission is to develop, engage, and empower current and future generations of female leaders at Oracle.
"Oracle thrives on diversity. By building diverse and inclusive teams, we think more strategically and work more creatively. That's why it's crucial that we continuously leverage our powerful pool of female talent," said Fahad Al-Turief, country leader — Saudi Arabia, Oracle.
This is yet another initiative by Oracle to support the implementation of Saudi Arabia's Vision 2030 framework. The Oracle Cloud offers a complete suite of integrated applications for sales, service, marketing, human resources, finance, supply chain and manufacturing, plus highly automated and secure Generation 2 infrastructure featuring the Oracle Autonomous Database.
https://www.arabnews.com/node/1564641/corporate-news
--------
35% of Newly Elected UAE FNC Members Are Women
October 6, 2019
It was a nail-biting wait for the 479 candidates and their supporters, who were in the fray after a month-long campaigning.
Twenty new members to the Federal National Council (FNC) - including seven women, were elected on Saturday in the biggest-ever democratic process the UAE has seen till date.
It was a nail-biting wait for the 479 candidates and their supporters, who were in the fray after a month-long campaigning.
Noura bint Mohammed Al Kaabi, the UAE Minister of Culture and Knowledge Development, announced the names of the twenty candidates from across the UAE, who emerged winners in the elections, immediately after the counting of the votes were over.
In Abu Dhabi, Suhail Al Faali, Khalifan Rashid Al Shamsi, Naema Al Mansouri and Moza Mohammed Al Amri were declared winners.
In Dubai, Hamad Al Rahoumi, Ahmed Abdullah Al Shafan, Maryam Majid Khalifan bin Sunayyah and Sarah Mohammed Amin Falkinaz were declared as winners.
In Sharjah and Ras Al Khaimah, three top candidates from each emirate were announced winners while two winners were announced from Ajman, Fujairah and Umm Al Quwain.
When the announcement was made from the Abu Dhabi National Exhibition Centre (Adnec) polling station at around 10pm on Saturday after the extended voting time till 9pm, there were tears of joy and disappointment.
Naema Al Mansouri, the winner from Abu Dhabi said she was happy that people entrusted her with the leadership.
"I am so excited about winning this election," Al Mansouri told Khaleej Times.
"It has been such a stiff competition but thank God, I have emerged a winner. I promise to represent my people with due diligence."
Al Mansouri is among the seven women who will fill fifty percent of seats in FNC as the UAE becomes one of the first countries in the world to have women as half of the FNC members.
While twenty candidates were chosen on Saturday through the electoral college, the other 20 that will make the 40-member FNC will be nominated by rulers of each emirate.
The voting on October 5, began at 8am and ended at 9pm, an hour later from the slated time, to allow all citizens to cast their vote. The voting during the four-day elections, the biggest election ever, took place at 39 polling centres across the nation.
A total of 117,592 voters out of the 337, 738 citizens who were eligible for voting participated in the elections- which is 34.8 percent.
Thousands of eager voters - including women, elderly and youngsters - trooped to the voting centres as early as 8am to choose their representatives , who will be the people's voice in the parliament.A high turnout of voters has been recorded at polling centres throughout the electoral process, from overseas voting late last month to the early voting phase from October 1 to 3 and, finally, on Saturday.
"The election process has been very smooth and we are happy that citizens have exercised their right of choosing FNC members of their choice," said Noura Al Kaabi.
https://www.khaleejtimes.com/news/general/35-of-newly-elected-uae-fnc-members-are-women-1
--------
Number Of Women Managers In Iran Has Increased - Rouhani Deputy
October 05, 2019
Iranian Deputy President in women's affairs Masoumeh Ebtekar says the number of female managers in the public sector has reached to 18.8%.
Speaking at a gathering on Saturday, October 5, in the city of Zanjan, Ms. Ebtekar announced that since 2017 the number of female managers has risen from 13.8 to 18.8 percent.
Furthermore, according to Ebtekar, 41% of the people working for the government are currently women.
During his presidential campaign, Hassan Rouhani had promised to allocate 30% of managerial positions to women.
Nevertheless, Masoumeh Ebtekar has admitted that there were some "sensitivities" and "religious ambiguities" against women serving in specific positions.
Iranian women are deprived of serving at top governmental positions at a time that 63% of university students in Iran are women.
In the clergy-dominated Iran, the conservatives are vehemently against employing women outside their homes and insist on limiting their activities to being housewives.
The Islamic Republic Supreme Leader Ali Khamenei also proclaimed in 2016 that women's role as mothers and homemakers should be promoted. Moreover, Khamenei highlighted the role of men as fathers and breadwinners, active in the economic sector.
Women in Iran have been deprived of many fundamental rights since the downfall of Iran's last monarch, Shah Mohammad Reza Pahlavi and the establishment of the Islamic Republic.
Married women cannot even leave the country without their husband's permission. In fact, in September 2015, the captain of Iran's female football (soccer) team, Niloufar Ardalan couldn't play in an international tournament in Malaysia because her husband forbade her from traveling.
https://en.radiofarda.com/a/number-of-women-managers-in-iran-has-increased---rouhani-deputy-/30200981.html
--------
URL: https://www.newageislam.com/islam-women-feminism/young-girls-sold-so-called/d/119924
New Age Islam, Islam Online, Islamic Website, African Muslim News, Arab World News, South Asia News, Indian Muslim News, World Muslim News, Women in Islam, Islamic Feminism, Arab Women, Women In Arab, Islamophobia in America, Muslim Women in West, Islam Women and Feminism