New Age Islam News Bureau
18 August 2020
• Dubai Sports Council to Host Fun Event For Women
• Celebrity Loved Label by Far Dedicates New Collection to Arab Women
• GIB Partners with Alnahda To Promote Women 20 In Kingdom
• Report Identifies Legislative Gaps in Ending Violence Against Women In KP
• Woman Arrested in Johor For Flying Malaysian Flag Upside Down
• Gambia: Police Rubbish Claims of Arresting Muslim Women with Veil
• How to break into the tech industry as a young woman
• Child bride to elite police, the Pakistan film focusing on female pioneers
• Pakistani Traders Apologize for Ban On Women Shoppers
• Egypt approves law to protect identities of women reporting sex abuse
Compiled by New Age Islam News Bureau
URL: https://www.newageislam.com/islam-women-feminism/young-female-afghan-mountaineer-makes/d/122655
--------
Young Female Afghan Mountaineer Makes History
18 Aug 2020
Eighteen-year-old Afghan girl Fatima Sultani climbed the peak of highest mountain NAWSHAKH located in the Northern Badakhshan
-----
On August 6th, history was created in mountaineering in Afghanistan when an eighteen-year-old Afghan girl Fatima Sultani climbed the peak of highest mountain NAWSHAKH located in the Northern Badakhshan province of Afghanistan.
NAWSHAKH is also the second-highest peak in the Hindukush range standing at a height of 7492 meters above sea level.
The climbing team, comprised of three Afghan females and 6 males from different parts of the country, started to venture on 18 July and after three weeks, on August 6, they could reach the peak.
Fatima is one of the team members of the Hikeventures-Afghanistan group which supports mountaineering in Afghanistan with resources gathered by the members on a personal pursuit.
This mountain peak had previously been reached and many foreigners have also navigated through this mountainous area.
https://www.khaama.com/young-female-afghan-mountaineer-makes-history-9879786/
--------
Dubai Sports Council to Host Fun Event for Women
August 17, 2020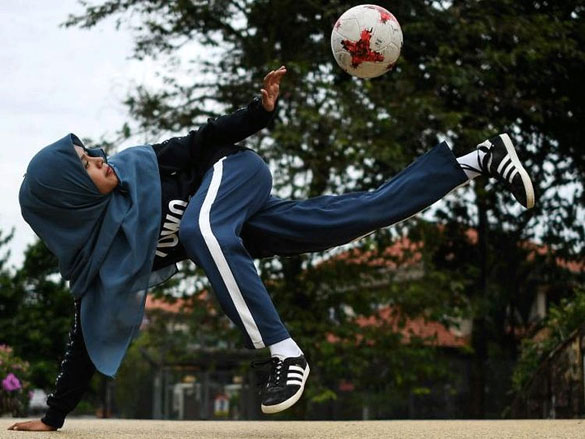 Eight teams will be taking part in each of the four disciplines in the fun event on Friday.
Image Credit: Supplied picture
------
Dubai: The Women's Sports Committee of Dubai Sports Council have announced a fun and exciting new event – the Dubai Sports Council International Women's Online Tournament, which will see teams from UAE and other countries compete in a format to showcase different sporting skills of participants.
Organised in cooperation with Jam Sports Academy, the DSC International Women's Online Tournament will take place on Friday (August 21) between 6-9 pm UAE time, with UAE-based teams competing at Dubai Sports World in Dubai World Trade Centre and international teams taking part through Zoom.
Participants will compete in four different sports – football, basketball, volleyball and handball – but not in the traditional format. Instead, they will be showing off their individual skills through different drills that will give this tournament a unique atmosphere.
In football, for example, competitors will get points based on their juggling, dribbling, long-passing and short-passing, and goal-scoring skills, while in handball, the players will get points based on their success in 'penalty shots', 'dribbling around the body', 'triangle defence', 'zig zag dribbling' and 'passes against the wall'.
In basketball, the players will earn points through five different drills – right-hand layups, left-hand layups, free throws, dribbling from the baseline to the half-court, and 'dribbling from the baseline to the half-court with crossover'.
The volleyball tournament will also see players competing in five different drills – 'one hand bumping', 'overhead setting while walking', 'bumping while walking', 'overhead setting on the wall', and 'spike, receive and set on the wall'.
The tournament is open to women aged 12 and above, of any nationality and residence, and those interested can register through the link https://jamacademy.org/dubai-sports-council-international-womens-online-tournament/.
There will be eight teams taking part in each of the four disciplines and every team will have five players each, with a player being allowed to take part in only one drill. The eight teams will be divided into two groups of four each and the top placed team – based on the point scored in their drills, will qualify for the semi-finals.
https://gulfnews.com/sport/uae-sport/dubai-sports-council-to-host-fun-event-for-women-1.73244909
--------
Celebrity Loved Label by Far Dedicates New Collection to Arab Women
August 18, 2020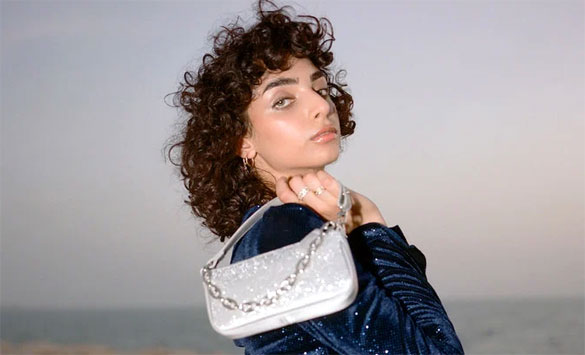 By Far x Level Shoes capsule collection. Photographed by Prod Antzoulis
------
DUBAI: Bulgaria-based accessories label By Far has launched a new collection of shoes and handbags available exclusively online and in-store at Dubai's Level Shoes.
The new footwear offering features four distinct styles made with the Middle Eastern woman in mind. Each pair of heeled mules and strappy sandals is encrusted with glitzy gemstones that cater to the extravagant tastes of the brand's wide-reaching Arab clientele.
The capsule collection also includes four of the brand's most popular bags, reimagined with crystals and luxurious fabrics such as silk.
It makes sense that the A-list beloved brand, founded by twin sisters Sabina Gyosheva and Valentina Bezuhanova, alongside their best friend Denitsa Bumbarova in 2016, would create a collection specifically for the region as the label has recently revealed that it has seen a dramatic increase in sales in the Middle East in the past couple of months. According to the brand, they witnessed a 400 percent increase in sales coming from the UAE and a whopping 800 percent increase in sales in Saudi Arabia and Qatar.
The capsule's accompanying campaign was photographed in Dubai by local photographer Prod Antzoulis and stars some of the region's top influencers, Dima Al-Sheikhly, Leena Al-Ghouti and Lana Albeik.
https://www.arabnews.com/node/1721256/lifestyle
--------
GIB Partners with Alnahda To Promote Women 20 In Kingdom
August 17, 2020
Gulf International Bank — Saudi Arabia (GIB KSA) recently announced the signing of a partnership agreement with Alnahda Society in Riyadh to collaborate on women's empowerment in the Kingdom. The agreement specifically supports their leadership of the Women 20 (W20), an official G20 engagement group focused on closing the global gender gap and fostering women's economic empowerment.
W20 will host a summit in October, welcoming delegates from across all G20 countries and key international organizations. This will follow a number of expert meetings, roundtables and dialogues at which GIB will play a key role as a supporter and sponsor.
The partnership will also allow both parties to work together to promote the efforts and core focus areas of the W20, which include: Digital inclusion, financial inclusion, labor inclusion and inclusive decision-making, with women's entrepreneurship as a cross-cutting topic.
Abdul Aziz A. Al-Helaissi, group CEO of GIB, said: "GIB is delighted to announce our partnership with Alnahda and to extend our support for their critical work on women's empowerment. As a group with the full support of the board, GIB is deeply committed to diversity and has long advocated for and engaged in enhancing women's empowerment. We look forward to furthering this commitment through our cooperation with Alnahda and our support for its numerous programs and efforts including the unique role they have assumed in leading the W20 activities under Saudi Arabia's G20 presidency this year."
Women 20 Sherpa Salma Al-Rashid said: "We look forward to working alongside GIB as we continue to advocate for gender equality and financial inclusion. Our focus includes improving access to personal financial resources, financial literacy, and greater participation of women in the workforce. COVID-19 has highlighted the risk to gains made for gender equality and we appreciate the support from GIB in ensuring that our voice resonates both in Saudi Arabia and globally."
Alnahda had proposed a plan to the G20 Saudi Secretariat to lead and influence the W20 Saudi engagement group discussions at both the national and international levels and as a result, the organization has been appointed by royal decree to lead the W20 activities in 2020.
W20 is an official G20 engagement group whose primary objective is to ensure that gender considerations are mainstreamed into G20 discussions and translate into the G20 Leaders' Declaration as policies and implementation commitments that foster gender equality and women's economic empowerment.
https://www.arabnews.com/node/1720996/corporate-news
--------
Report Identifies Legislative Gaps in Ending Violence Against Women In KP
18 Aug 2020
PESHAWAR: Women Parliamentary Caucus Khyber Pakhtunkhwa (WPC-KP) and UN Women Pakistan launched a report on "Gap analysis of legislation related to ending violence against women EVAW" to provide an in-depth analysis of the normative, implementation and monitoring gaps in the legislative framework of the province and to identify and document gaps in the existing provincial legal framework and implementation process.
The gap analysis report issued here on Monday has been designed and commissioned by UN Women Pakistan in partnership with Women Parliamentary Caucus KP with the financial support of UK Aid.
The virtual launch was attended by the provincial parliamentarians, members of WPC, government officials, representatives of civil society organisations, media, academia, legal community and people from all walks of life.
The starting point for this analysis has been contextualising EVAW laws within the framework of the convention on elimination of all forms of discrimination against women (CEDAW) and Pakistan's other international commitments.
Suggests contextualising relevant laws within the framework of convention on elimination of all forms of discrimination against women
The document substantiates and builds on previous bodies of work and adopts a holistic approach in identifying gaps and proposing recommendations for EVAW related legislation in Khyber Pakhtunkhwa.
WPC-KP general secretary Ayesha Bano said in her welcome address that commitment of provincial government to the cause of women rights was evident from the initiatives undertaken to implement Pakistan's international commitments at the provincial level.
"Gap analysis report of laws relating to EVAW will create a better understanding of the legislative framework which will in turn support the enactment and implementation of effective and inclusive legislation in Khyber Pakhtunkhwa," she said.
In his message, Provincial Minister for Law Sultan Mohammad Khan recounted the achievements of the government related to pro-women legislative reforms over the years.
He specifically highlighted government's success in the amendment and implementation of Khyber Pakhtunkhwa Protection of Women against Harassment at Workplace Act, 2010, and the appointment of renowned social activist Rukhshanda Naz as provincial ombudsperson for protection against harassment of women at workplace.
Chairperson Khyber Pakhtunkhwa Commission on the Status of Women Dr Riffat Sardar and Saman Ahsan, portfolio manager EVAW, governance and human rights UN Women Pakistan also spoke on the occasion.
https://www.dawn.com/news/1575038/report-identifies-legislative-gaps-in-ending-violence-against-women-in-kp
--------
Woman Arrested in Johor For Flying Malaysian Flag Upside Down
BY BEN TAN
18 Aug 2020
JOHOR BARU, Aug 18 — Police have detained a 55-year-old restaurant owner after a Jalur Gemilang was found to be flown upside down at her premises in Taman Nasib, Kluang two days ago.
Johor police chief Datuk Ayob Khan Mydin Pitchay said the woman was arrested on Sunday after a police report was lodged.
"A team from the Kluang district police headquarters was alerted on the matter and they found the national flag being flown upside down at the restaurant along Jalan Lee Ah Leng in Taman Nasib, Kluang," he said during a press conference at the Johor police contingent headquarters here today.
Ayob Khan said investigations revealed that the restaurant had operated between 2017 until December 2019.
However, he said the restaurant closed down in January.
"The woman will be charged under Section 5 of the Emblems and Names (Prevention of Improper Use) Act," said Ayob Khan.
Last week, four individuals were arrested after a Jalur Gemilang and Johor state flag was found flown upside down at a factory in Tebrau Industrial Area here.
Ayob Khan was reported as saying that cases of hoisting the national flag upside down should not be taken lightly as the sovereignty and peace of the country should always be preserved.
"As I have stated before, the Johor police will not tolerate any lame excuses. I would like to advise, stern action will be taken based on the existing law if there are still such irresponsible acts," he reportedly said.
https://www.malaymail.com/news/malaysia/2020/08/18/woman-arrested-in-johor-for-flying-malaysian-flag-upside-down/1894931
--------
Gambia: Police Rubbish Claims of Arresting Muslim Women with Veil
17 AUGUST 2020
Police have rubbished claims making rounds on social media that they are arresting or harassing Muslim women wearing veil (niqab) instead of wearing facemask.
According to the Office of the Inspector General of Police, those claims are untrue and that it is a common understanding that the niqab covers the mouth and nose which is the ultimate purpose of facemask wearing.
"In view of this, it is important to state that the Inspector General's Office has not issued any specific instructions of arrests targeting women wearing the niqab.
"Furthermore, enquiries have been made at all police regions and divisions, and it is clear that no such arrest was reported anywhere.
"However, further instructions have been communicated to regional commands to adequately brief personnel to exercise reasonable discretion in allowing women whose veil covers the mouth and nose to access public places."
https://allafrica.com/stories/202008180294.html
--------
How to break into the tech industry as a young woman
August 13, 2020
Yousra Zaki
Dubai: It isn't a new phenomenon having women in the tech industry. Women have been working in tech since at least 1850s. From Ana Roqué de Duprey to Lillian Moller Gilbreth, women have been embedded in the industry for decades. Yet they still face certain difficulties and stigma when forging their path in tech. Gulf News speaks to Adila Mohamed, a 20-year old senior at the American University of Sharjah about her experience doing a summer internship at a leading cloud provider, Amazon Web Services (AWS). "I am pursuing a Bachelor of Science degree majoring in Management Information System (MIS) and minoring in Data Science," she said.
Here are the things Adila learned along the way
I love working with startups
I support the Amazon Web Services (AWS) startup team, which works with startups in the Middle East. I'm helping the team to better understand our customers and their business challenges, to identify where we can help them most effectively.
It's ok to change your mind... I changed my major halfway through
When I joined the American University of Sharjah, my initial major was Management. I had to take courses in several other disciplines including, economics, finance and Management Information Systems (MIS). The more I studied, the more interested I became in MIT, and how businesses use technology to improve their operations and gain an advantage in the marketplace. I realized this was where my true interests lay, so I changed my major to MIS. For me, it's the perfect combination of business and IT. After joining AWS, I realized the potential of cloud computing and how it is transforming industries. There's so much to learn about in this sector, I know for sure that I wanted to pursue a career in this area.
You have to actively look for your opportunities
After my semester ended in May, I began actively searching for summer internship opportunities. During this process, an Amazon Student Programs recruiter contacted me on LinkedIn about internship opportunities at Amazon and encouraged me to apply. Two weeks after applying, I received an email invite for an initial phone interview along with resources that would help me prepare for the interview.
A week after the first phone interview, I found out I'd made it to the next stage with two more phone interviews. Two weeks after that, I was informed that I had managed to impress all my interviewers and secured the internship position.
Acing your interview means knowing everything about the company
Throughout the job application process, I made sure I kept up to date with the latest news and announcements from AWS. This not only helped me understand the services and value proposition the company offers to customers, but it also helped me to clearly articulate my motivation for joining the team and why I would be a good fit for the position. I also made sure I was familiar with the company's values and 14 Leadership Principles. In other words, I put myself in the shoes of an 'Amazonian' before I became one myself.
Networking is important, even if you are a student
Networking was initially important to let professionals know that I was actively seeking roles and opportunities within this field. As a primary step, it is vital to develop connections with people who might be able to get you a lead into the role that you are looking for. However, to be successful in the interview process, it is essential that applicants showcase their unique strengths and passion for the role
I have to constantly step out of my comfort zone at work
I am a strong believer in Kaizen, which is a Japanese term for continuous improvement. I actively take up challenges that come my way with a determination to give my best and this has been my mantra from my first day at AWS. More specifically, my role enables me to enhance my time management and interpersonal skills, which are often viewed as challenges for students. Because this is my first professional work experience and my first internship, I had to consciously step outside of my comfort zone and challenge myself. With the constant training and support from AWS, I believe I will emerge out of this role as someone who goes an extra mile to not only meet but exceed expectations.
Cloud technology is going to change how people will do business
The cloud technology skills that I am learning at AWS are vital in today's economy and can fuel growth in all industries and sectors. Cloud tech has changed the way companies operate and support customers, and there is still so much more room for growth. Cloud knowledge is now required for not just IT professionals, but for everyone. I know the skills I've acquired through my role at Amazon can be applied in all my future endeavours.
Women do not need to act like a man to be successful in tech
I believe you will not get ahead or achieve anything by imitating anyone, regardless of gender. You need to be your authentic self and recognize your unique skills. At my internship, I was encouraged to focus on developing my individual 'superpowers'. You are recognized and evaluated solely on your talent, drive and capabilities, and this gives you the freedom to be yourself.
Let your internship teach you job skills and life skills
There are several training and certification opportunities that are given to AWS interns, which I have taken advantage of so far. Currently, I am studying for the AWS Cloud Practitioner exam, and I hope to earn the certification before the end of my internship. I have also made it my mission to connect and network with as many AWS employees as possible, to learn about their experience.
Knowing how my internship will affect the organization as a whole has helped me understand the importance of my role. Learning how to become a team player and pitching in my thoughts and ideas has enhanced my confidence and communication skills. The internship has not only helped the development of my technical skills but also my soft skills, which are: Work hard. Have Fun. Make history.
To all student interns: Build meaningful connections
To my fellow students, I would advise to always look out for internship opportunities during your time at university, it can help you discover where your true passion lies. Also, build meaningful connections, network with professionals in your field of interest, and always be up to date when it comes to news, innovations and announcements. In other words, become the master of your chosen field of study!
https://gulfnews.com/how-to/employment/how-to-break-into-the-tech-industry-as-a-young-woman-1.774854
--------
Child bride to elite police, the Pakistan film focusing on female pioneers
Zofeen T. Ebrahim
August 18, 2020
KARACHI (Thomson Reuters Foundation) - A Pakistani policewoman battling rising levels of violence against women in her country is one of three women featured in an Emmy-nominated movie that high-profile filmmaker Sharmeen Obaid-Chinoy hopes will inspire other women.
Obaid-Chinoy, winner of two Oscars and seven previous Emmys, said "Freedom Fighters" tells the stories of elite police officer Saima Sharif, former child bride Tabassum Adnan, and Syed Ghulam Fatima, an activist who took on the brick industry.
Known for films that highlight women's inequality, Obaid-Chinoy said all three women's lives were shaped by their own experiences which drove them to push for change, despite facing threats along the way.
"We need leaders like these three, emerging from the grassroots, from the neighbourhood and communities they come from and work in, and who are invested in them," she told the Thomson Reuters Foundation.
Every year thousands of women in Pakistan face some form of violence, ranging from acid attacks, to sexual assault, to kidnapping, rape or murder, often in the name of honour.
The Human Rights Commission of Pakistan, an independent watchdog, stated in its annual report of 2019 that "despite legislation enacted to protect and promote women's rights in recent years, violence against women has escalated".
Obaid-Chinoy, who was the first Pakistani to win an Academy Award with her 2012 film "Saving Face" inspired by the life of acid victim Fakhra Younus, said "Freedom Fighters" continued her focus on resilient Pakistani women.
She also won an Oscar in 2016 for her documentary "A Girl in the River: The Price of Forgiveness" about a so-called honor killing in Pakistan which prompted then Prime Minister Nawaz Sharif to declare his commitment to eliminate such murders.
CHILDHOOD EXPERIENCES
"Freedom Fighters" was this month named on the shortlist of the 2020 Emmys with the winners to be announced on Sept. 21.
"It is important for girls to be inspired. Such films open their minds to the multitude of possibilities there are," said Obaid-Chinoy.
The film's co-producer, Maheen Sadiq, agreed.
"We can all take inspiration from these powerful women who have braved their past and are now standing up for change, shaping not just their own futures, but the futures of generations to come," Sadiq told the Thomson Reuters Foundation.
Syeda Ghulam Fatima, founder of the Bonded Labor Liberation Front who campaigns for the rights of bonded labourers, said her work stemmed from her childhood when she noticed the extreme living conditions that brick kiln workers faced.
"I was in Grade 8 and was used to seeing brick kiln workers coming from the periphery, to seek help from my trade unionist father," Fatima, 65, told the Thomson Reuters Foundation from the eastern city of Lahore in a phone interview.
"They would be in tatters and half-starved, and my father would ask us to provide meals and clothes for them.
"I would find it very painful and failed to understand why no one listened to their grievances. I later found out it's a modern form of slavery and existed in agriculture as well."
Fatima estimates there are about 4.5 million people engaged in making bricks in Pakistan of which about 60% are women who are routinely harassed.
"Things are much better now than when I began work 40 years ago but rape and sexual abuse continues," she said.
Obaid-Chinoy also tells the story of Adnan who escaped 20 years of domestic abuse after being married off as a child and now lobbies powerful men in the community to stop this abuse.
Pakistan has the sixth-highest rate of child marriage in the world, according to UNICEF, with 21% of girls married before 18.
The third woman in the film, Sharif, was accepted into the Pakistan Elite Force, refusing to let the violence and discrimination she faced on the job deter her from ensuring women play a greater role in her conservative country.
Obaid-Chinoy said one of the main challenges was ensuring the filming did not put the women at risk.
"Both Fatima and Tabassum have always been at the receiving end of threats for taking on the superstructures," she said.
https://www.reuters.com/article/us-pakistan-women-film/child-bride-to-elite-police-the-pakistan-film-focusing-on-female-pioneers-idUSKCN25D1AN
--------
Pakistani Traders Apologize for Ban On Women Shoppers
Kamran Chaudhry
August 18, 2020
Traders in northern Pakistan have apologized for announcing a punishment for shopkeepers dealing with women shopping unaccompanied.
"A few days ago, Pasban-e-Doaba issued a ban on social media against women visiting the bazaar without men. We renounce this responsibility since it is the responsibility of the state," said a local trade union in a notice issued on Aug. 17 to the deputy commissioner.
"The objective of the ban was to stop immoral activities behind the curtains of the shops and end vulgar and obscene practices from the society. We expect help from Hangu [district] authorities in this regard. We apologize for any word or statement against any institution or law."
The notice was released in Doaba in Khyber Pakhtunkhwa province after deputy commissioner Mansoor Arshad warned trade union Pasban-e-Doaba of strict action after the group prohibited women from shopping without men and announced a punishment for shopkeepers permitting such customers.
"If a woman is left in a shop without a family member, the shopkeeper will be fined 50,000 rupees [US$298] and his shop will be sealed for one week. He will be expelled from the shop on repeated violations," stated the traders in a notice.
Social media users condemned the ban. "Looks like Taliban regaining the strength and now trying to control/influence #PMSelect & his puppets!" S. Malaika Raza, a peace activist, tweeted.
Alice R. Garrick, the Church of Pakistan's director of Raiwind Diocese's women's desk, supported punishment for shopkeepers.
"Women often complain of harassment in female shopping markets. Women in Northern Province already practice purdah [seclusion] and wear burqas [Islamic coverings]. Their complaints lead to such absurd bans. Male shopkeepers need disciplining instead of banning female shoppers," Garrick told UCA News.
Militancy-plagued Khyber Pakhtunkhwa province has a tradition of banning women voters through local jirga (assembly) laws enforcing local traditions and Sharia law.
In 2015, women were barred from voting in by-elections in Lower Dir district, a stronghold of the hardline Islamist Jamaat-e-Islami Party. In 2013, Muslim clerics issued a ruling against women shopping unaccompanied in Karak district during Ramadan, the Muslim month of fasting.
https://www.ucanews.com/news/pakistani-traders-apologize-for-ban-on-women-shoppers/89192#
--------
Egypt approves law to protect identities of women reporting sex abuse
Menna A. Farouk
AUGUST 17, 2020
CAIRO (Thomson Reuters Foundation) - Egypt approved a new law on Sunday to protect the identity of women who come forward to report sexual harassment or assault in a move that aimed to encourage women and girls to report cases of sexual violence.
The law, which will give victims the automatic right to anonymity, comes as hundreds of women have started to speak up on social media about sexual assault in a #MeToo movement in Egypt where women have long felt disadvantaged.
Female parliamentarian Ghada Ghareeb said the law was a step "in a long road of issuing regulations that preserve women's rights".
"The government had noticed that there was a sharp decline in women being able to report cases of sexual assault they have been subjected to because they fear of social stigma," Ghareeb told the Thomson Reuters Foundation.
Ghareeb expected the approval of the law would increase reporting of sexual assaults in the coming months in the conservative, Muslim-majority nation.
The bill was approved by the cabinet early in July and submitted to parliament after being presented by the Ministry of Justice.
It followed a widely-published case in July of a university student from a wealthy background who was arrested and accused of raping and blackmailing multiple women. Investigations are continuing.
The case triggered a #MeToo wave in Egypt with the National Council for Women saying it received 400 complaints mainly about violence against women within five days of the case being made public and hundreds of women started to share stories online.
The debate escalated further after an Instagram page revealed a gang rape case in a Cairo hotel, with the six men involved believed to be from powerful, rich families.
The state-run National Council for Women said it stood beside every woman and girl who was exposed to any form of threat by providing the necessary support.
The council urged any women who had face such attacks to come forward to both the council and the public prosecution, and to report the incident quickly through official reporting mechanisms.
A 2017 Thomson Reuters Foundation poll found Cairo to be the most dangerous megacity for women, and 99% of women in Egypt interviewed by the United Nations in 2013 reported sexual harassment.
An outcry over attacks on women near Tahrir Square during President Abdel Fattah al-Sisi's inauguration celebrations in 2014 prompted a new law punishing sexual harassment with at least six months jail but many activists saw this as too weak.
https://www.reuters.com/article/us-egypt-women-metoo/egypt-approves-law-to-protect-identities-of-women-reporting-sex-abuse-idUSKCN25C0SC
--------
URL: https://www.newageislam.com/islam-women-feminism/young-female-afghan-mountaineer-makes/d/122655
New Age Islam, Islam Online, Islamic Website, African Muslim News, Arab World News, South Asia News, Indian Muslim News, World Muslim News, Women in Islam, Islamic Feminism, Arab Women, Women In Arab, Islamophobia in America, Muslim Women in West, Islam Women and Feminism