New Age Islam News Bureau
17 Jan 2020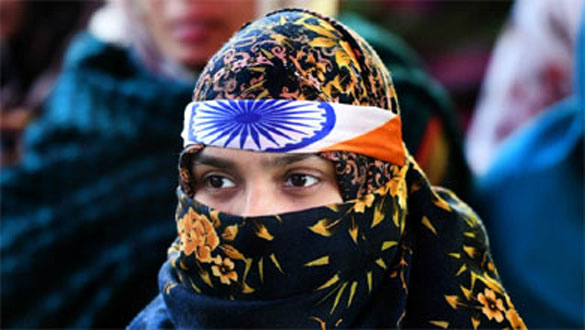 Thousands of activists are braving one of India's coldest winters to fight against new citizenship law that discriminates against Muslims. Gety Images
------
• Egypt's Grand Mufti, Islamic Cleric Ali Jumaa, Issues Fatwa On Facebook Group That Exposes Cheating Husbands
• Round-The-Clock Sit-In against CAA by Muslim Women in Kolkata Continues
• As Resistance Protests Sweep Through India, Its Women Leading the Charge
• As Shaheen Bagh Protest Gains Ground, UP, Bengal Follow Suit
• After Delhi and Prayagraj, Rampur Women Join CAA Protests
• Iranian Chess Official Fears Going Home Over Hijab Photo
• Birmingham Lord Mayor-Elect, Former Chairman of Birmingham Central Mosque, 'Dismissed Forced Marriage Concerns'
• Women in Rampur Demand Release of Their Kin
• Ivanka Trump Applauds Saudi Arabia's Reforms Advancing Economic Role For Women
Compiled By New Age Islam News Bureau
URL: https://www.newageislam.com/islam-women-feminism/young-afghan-woman-teaches-sufi/d/120817
--------
Young Afghan Woman Teaches Sufi Dance In Kabul For 'Inner Peace'
17 January 2020
Fahima Mirzaie set up a dance school for women in the Afghan capital last year, hoping to help her students fight depression and find inner peace in a war-torn country where dancing is widely considered taboo.
Some 20 young Afghan women have signed up for classes to learn "Sama" - a dance form that traces its roots back to the 13th century poet Jalaluddin Mohammad Rumi, who was born in present-day Afghanistan.
Mainly involving swirling movements, Sama has spread throughout the Muslim world and is most famously associated with the Whirling Dervishes.
The dance is a part of Sufism, a mystical form of Islam that emphasises the inward search for God. Islamist militants who view mystical traditions of Islam as heretical have attacked Sufi shrines in some Muslim countries.
"I enjoy Sama, and when I do it, it gives me peace, and the sadness and difficulties of my life go away," Mirzaie, 23, told Reuters in her classroom, located in a western neighbourhood of Kabul that has seen a number of attacks in recent years.
"My life and my students' lives have been changed by Sama. They have gained self-confidence, and even some of them who had depression are very happy," she said.
Women have won hard-fought rights in Afghanistan since the austere rule of the Taliban was ended by a US-led invasion of the country in 2001.
There are growing fears that gains made in social activities, education, and work might be reversed as the United States is increasingly interested in negotiating with the Taliban to end more than 18 years of war.
"My concern is that the fate of our country is not yet clear. Our opponents call us mad and say such practices must not exist, but we will continue on the path of Mawlana (Rumi)," Mirzaie said, smiling.
https://english.alarabiya.net/en/features/2020/01/17/Young-Afghan-woman-teaches-Sufi-dance-in-Kabul-for-inner-peace-.html
--------
Egypt's Grand Mufti, Islamic Cleric Ali Jumaa, Issues Fatwa On Facebook Group That Exposes Cheating Husbands
by Didi Rankovic
January 16, 2020
It feels like it's been a while since we've heard about any new "fatwas" – these are rulings issued under Islamic Sharia Law meant to go after behaviors or persons that this law disapproves of. Think the plight of author Salman Rushdie – or indeed, that of Mickey Mouse.
Now StepFeed – an English-language website geared towards Arabs and the goings-on in their native region – reports that there is a new fatwa out there, issued in Egypt.
It all started with a Facebook group created around the idea that women who suspect their husbands are cheating on them should go out of their way to "catch them" by enlisting help on social media. Quickly enough, 180,000 Facebook users joined the "Has anyone seen my husband?" group – and apparently turned it into a manhunt.
Wives started posted pictures of "cheating husbands" along with other personally identifiable information such as their place of work – inviting other women to offer what information, opinion, or gossip they had on the particular person, and whether or not they were in fact "cheating."
According to the report, the thing soon descended into chaos of lies, rumors, and "encouraging harassment in the name of women helping women." To make matters worse, men started joining the group via fake profiles and with the goal of spreading apparent lies about other men.
This is where the fatwa comes in, as Egypt's grand mufti, Islamic cleric Ali Jumaa (Gomaa) has issued one against the Facebook group.
"These groups are haram (forbidden in Islam) and play on the capabilities of a nation that doesn't have time for this foolishness," said the cleric, who is often described as "controversial."
Despite the wild success – by Facebook standards – of this fast-growing, highly-engaging, and controversial group – its admins seem to be ill at ease with their achievements now.
Some said the group's real purpose was to share "jokes" about allegedly cheating husbands, but it appears that the group – rather than any cheating incidents – is now perceived as "causing harm to families."
And while the StepFeed article doesn't seem to take issue with social platforms being used for connecting users who share recipes, or "curly hair and indoor plants" care tips – attempting to out a "cheating husband" is said to expose how powerful social media can be, as they are available to be "utilized to one's personal advantage for free."
"Are there any limitations or laws that come with being active on social? Is 2020 the year internet police becomes a thing? Only time will tell," StepFeed concludes.
https://reclaimthenet.org/fatwa-egypt-cheating-husbands-facebook-group/
--------
Round-The-Clock Sit-In against CAA by Muslim Women in Kolkata Continues
Bishwanath Ghosh
JANUARY 17, 202
Round-the-clock sit-in against CAA since last 10 days in the heart of Kolkata
It's noon and chants of azadi — freedom — rent the Park Circus ground in the heart of Kolkata, with protesters seeking freedom from the set of acronyms easily recognised across the country today: CAA, NRC and NPR.
The protesters are all Muslim women — most of them homemakers living in and around the Park Circus area — who have been camping here for 10 days now, taking turns to keep the sit-in round the clock. From time to time they also shout slogans like "Hindustan zindabad" and "Hindu-Muslim bhai-bhai."
"As you can see, many of the women are wearing purdah — they are the kind who hardly step out of their homes. It is heartening to see them come out openly in protest against the CAA," said Shampa Sirin, one of the activists egging on the protesters with slogans.
"I have seen countless protest marches and meetings but have never seen a more determined lot. In the past 10 days many of them have even learned how to raise slogans," Ms. Sirin said.
Banners and posters bearing pictures and quotes of Rabindranath Tagore, Maulana Azad, Mahatma Gandhi, B.R. Ambedkar and Subhas Chandra Bose hang at the site. Volunteers go around distributing biscuits and water, and their recipients include policemen keeping an eye on the protesters.
NRC fear
Even though the sit-in is primarily against the CAA, or Citizenship (Amendment) Act, what the protesters actually fear is an Assam-like National Register of Citizens (NRC) being replicated in the rest of the country. "Who stays, who goes — who knows," says Afroja Khatun, who teaches Bengali at the Surendra College for Women and who has to the venue to "show solidarity" with the protesters.
Golam Haider, an elderly man watching the women raise slogans, says: "Today it is CAA, tomorrow they will bring in NRC and NPR and start asking us for documents to prove our identity. We cannot trust the BJP. Narendra Modi says one thing, Amit Shah says something else."
Park Circus-resident Noor Jehan, who is 58 and a homemaker, says: "Kolkata has seen so many upheavals, people have been forced to change homes, how do you expect them to retain all documents? From where will I dig out the birth certificate of death certificate of my grandfather?"
https://www.thehindu.com/news/national/other-states/protest-by-muslim-women-continues/article30580197.ece
--------
As Resistance Protests Sweep Through India, Its Women Leading the Charge
Niamh McCollum
January 16, 2020
Thousands of activists are braving one of India's coldest winters to fight against new citizenship law that discriminates against Muslims
On the evening of December 15, scores of people gathered in Delhi to participate in a peaceful sit-in at Shaheen Bagh, a working-class Muslim neighbourhood in India.
The crowd were protesting against the Citizenship Amendment Act: a law passed in India last month that will grant Indian citizenship to non-Muslim immigrants from Pakistan, Bangladesh and Afghanistan, but block naturalisation for Muslims, who comprise 13.4% of India's population. One month in, and thousands of protesters remain on the occupied road – led predominantly by hijab and burqa-clad Muslim women.
They are fighting to have the CAA revoked, as they fear its implementation could put many Muslims at risk of being pushed out of the country or into detention centres.
Not only has the Shaheen Bagh demonstration made national headlines, but it's also inspired similar protests in cities across India. While some of these have descended into violence, the packed site in Shaheen Bagh has remained peaceful.
Speaking to the BBC, Syeda Hameed, founder of Delhi-based Muslim Women's Forum explained the significance of so many ordinary Muslim women lending their voices to national debate: 'These women are not activists. This is the first time they have come out on a national issue which cuts across religious lines and I think that's important. Although it's something to do with the victimisation of [the] Muslim community, it's still a secular issue.'
Media reports claim the police will try and persuade the remaining protesters at Shaheen Bagh to call an end to their sit-in, which has forced commuters to take alternative routes every day for the last month. The sit-in came about in December after a protest by students of Delhi's Jamia Millia Islamia University clashed with police, resulting in officers later entering the campus and assaulting both members of staff and students.
'The law violates the constitution', university student Humaira Sayed told the BBC. 'It may target Muslims at the moment but we're convinced it will gradually target other communities too. As a Muslim I know I have to be here for my brothers, sisters, the community and for everyone else.'
https://www.marieclaire.co.uk/news/resistance-protests-india-681965
--------
As Shaheen Bagh protest gains ground, UP, Bengal follow suit
Jan 15, 2020
Snigdhendu Bhattacharya
Hundreds of people, who have occupied a stretch of road in New Delhi's Shaheen Bagh to protest against the Citizenship (Amendment) Act and a proposed pan-India National Register of Citizens (NRC) for almost a month, have inspired similar sit-ins in places like Kolkata and Prayagraj.
In Kolkata's sprawling Park Circus Maidan, hundreds of Muslim women have held a round-the-clock sit-in against the CAA, the NRC and the National Population Register (NPR). The number of protesters has grown even as the demonstration entered its eighth day on Tuesday.
The venue of the Kolkata sit-in is a prominent landmark, where students, academics, and activists have been turning up to express their solidarity with the demonstrators, who have been carrying the tricolour and photos of Bhimrao Ambedkar, the head of Indian Constitution's drafting committee.
Ayesha Jalal, a homemaker and mother of two who has spent four nights at the park, said she had never earlier taken part in any protest. "I hardly leave home. But the NRC and the CAA have thrown us in a desperate situation."
The passage of the CAA last month to fast-track the citizenship process for non-Muslims, who have entered India from Afghanistan, Pakistan and Bangladesh before 2015, triggered protests across the country. Opponents of the law insist it is discriminatory and unconstitutional as it leaves out the Muslims and links faith to citizenship in a secular country. They say it could result in the expulsion or detentions of the Muslims unable to provide the documentation if the law is seen in the context of a proposed pan-India NRC. A process carried out in Assam for the detection of undocumented immigrants led to the exclusion of around 2 million people from the NRC last year.
Cultural programmes have been also held at the protest venue in Kolkata while Swaraj India leader Yogendra Yadav has been among those who have visited the protesters.
"The protest in Park Circus started as an expression of solidarity with the Shaheen Bagh agitation. Of late, Hindu women, too, have started joining us," said Laboni (FULL NAME), a social activist who has been part of the demonstration from the beginning.
The sit-in in Kolkata began on January 7 following social worker Asmat Jameel's call for it. Many of the participants are first-time protesters, mostly students and homemakers.
"It is a do-or-die situation for us. It has become evident that our names and the dresses we wear are going to land us in trouble. The Bharatiya Janata Party in Bengal is openly saying that only Muslims will have to face the test of citizenship," said Roshina Sadaf, a student. "I never took part in any protest before."
In Prayagraj, an indefinite sit-in against the CAA, NRC and NPR and police excesses against the student protesters entered its third day on Tuesday. "The sit-in at Mansoor Ali Park began as a small gathering on Sunday. It has now turned into a full-fledged agitation against the government's actions, which are not in the country's interest," said Saira Ahmed, a protester.
https://www.hindustantimes.com/india-news/as-shaheen-bagh-protest-gains-ground-up-bengal-follow-suit/story-Fg2ZeXDCBjFLcY8alOLDeP.html
--------
Meet Salma Mahfooz: World's first Muslim woman to do her PhD in Sanskrit
January 10, 2020
Born as Salma Begum in a Muslim family of a small town Dibai, District Bulandshahar in the northern state of India, Uttar Pradesh, she went on to become the first Muslim woman in the world to do her PhD in Sanskrit (1969), India's ancient language. After marriage she changed her name to Salma Mahfooz.
"My father, Ishtiaque Ahmed and mother, Ehsaan Fatima encouraged me to pursue my higher studies in Sanskrit as I was deeply interested in the language.
After completing high school from the UP board, I came to Aligarh Muslim University (AMU) for higher studies in 1961 and opted for Sanskrit," says Dr. Salma Mahfooz.
Salma Mahfooz completed her BA and MA in Sanskrit and finally went on to write her PhD thesis in Sanskrit on the 'Types of Heroines in Sanskrit Dramas' under the supervision of India's acclaimed Sanskrit scholar Dr. Ram Suresh Tripathi. She also did an MA in Hindi literature.
"In my PhD thesis, I have analysed several roles that a woman portrays in multiple Sanskrit literary forms," says Dr. Salma Mahfooz.
She taught Sanskrit at Rani Bhagyawati College in Bijnor and later joined AMU as a Lecturer.
Under the fellowship of India's regulatory body for higher education, University Grants Commission, she authored a book 'A Critical Study of 'Sirre Akbar visa-vis-The Upanishads' by Dara Shikoh (1615 – 1659), the eldest son of Mughal Emperor Shah Jahan
"I have taught Upanishads, Hindu religious texts, and various other Sanskrit literature components," adds Dr. Salma Mahfooz.
A practicing Muslim, Salma Mahfooz has studied Hindu scriptures and texts, including The Bhagavad Gita, a 700-verse Sanskrit scripture that is part of the Hindu epic Mahabharata, and Kama Sutra, an ancient Indian Sanskrit text on sexuality and eroticism.
She was a Senior Research Fellow and Research Associate at the University Grants Commission and also headed the Sanskrit Department of the Aligarh Muslim University.
http://www.mpositive.in/2020/01/10/03-7/
--------
After Delhi and Prayagraj, Rampur Women Join CAA Protests
January 16, 2020
Rampur: After Shaheen Bagh in Delhi and Mansoor Ali Khan Park in Prayagraj, it is now the Jama Masjid in Rampur where women have joined the nation-wide stir against the citizenship law.
Around 200 Muslim women have assembled at the Jama Masjid here in Uttar Pradesh to protest against the police and administrative officials in this town.
The women have been at the protest venue for over 48 hours. They have raised slogans against the alleged police atrocities and demanded an immediate release of their family members and the "innocent protesters" of the anti-CAA violence on December 21 in the state.
"We are against the citizenship law and also against the district administration which has arrested innocent people who were protesting against the law. We have taken up this issue with the Imam and the clerics and now we are on this protest," said Shaheen, a protestor.
Another protester, Soni, said: "My 20-year-old brother Rahil was arrested and sent to jail illegally by the police."
Social activist Faisal Khan Lala said: "A list of 13 people who were booked and sent to jail had been given to SP Rampur Santosh Kumar Mishra and he had assured that innocents will be released."
Rampur District Magistrate Aunjaneya Kumar Singh said: "A protest is going on inside the Jama Masjid. The people are still being instigated by those who were behind the December 21 violence. We have collected enough materials as well as scientific evidence."
He further said: "When we had asked the Jama Masjid committee to send us a list of the innocent protesters, they had actually sent names of all those accused persons against whom we have evidence. The people were all involved in the crime."
The district magistrate said: "I am working round the clock with the police and other administrative officials so that the innocent people can be released from jail."
https://ummid.com/news/2020/january/16.01.2020/after-delhi-prayagraj-rampur-women-join-caa-protests.html
--------


Iranian Chess Official Fears Going Home Over Hijab Photo
By Maria Cramer
Jan. 15, 2020
A prominent Iranian chess official said she was afraid of returning to her country after an image of her, appearing not to wear a hijab at a world chess tournament, circulated online and in Iranian media.
At 32, Shohreh Bayat is one of the few top female chess arbiters in the world with the Category A classification, a distinction given to international chess referees who have shown an excellent command of the rules of the sport.
But she said discussions in Iranian media seemed more concerned with her hijab than her accomplishments, following a recent chess match during the Women's World Chess Championship.
After she finished presiding over the third round in Shanghai on Jan. 8, she said she turned on her phone and saw a picture of her during the tournament circulating on Iranian media, which is heavily monitored by the government.
In the photo, it appeared that her head was uncovered, a violation of Iranian law.
"The accusation in these articles was that I deliberately had no head scarf in order to protest against the hijab," Ms. Bayat said in an email. "I was shocked and panicked."
Now, Ms. Bayat feels she can't return to Iran.
"Not wearing the hijab is a crime in Iran which is punishable by arrest, invalidation of the passport or prison," she said. "I would love to return to Iran but only if I'll be safe."
Ms. Bayat told the BBC that she was in fact wearing the hijab in the photo, which, in the image, hung loosely on the back of her head. Generally, she said, she did not even like wearing the hijab.
"I believe people must be free to choose what they want to wear," Ms. Bayat said in the email. "I have never worn the hijab out of choice."
She told the BBC that after reading the news accounts in Iran, she decided to stop wearing the hijab so she could "be myself."
Ms. Bayat said in her email that the Iranian chess federation asked her to issue a statement supporting the hijab, but she refused.
"In my conscience, I could not do it," she said.
The Iranian chess federation did not respond to a request for comment.
"It is frustrating that some people are more concerned with what I wear than in my achievements," Ms. Bayat said.
The three-week tournament between Ju Wenjun, the defending champion from China, and Aleksandra Goryachkina, a Russian champion, is now in Vladivostok and ends on Jan. 25.
Misha Friedman, press secretary for the International Chess Federation, said the organization had not heard from the Iranian government or any ministry official asking that Ms. Bayat be removed from the tournament.
"We consider it that she is within the bounds of" federation rules, he said, "and we're happy with the job that she is doing, so there is no problem from our perspective."
Being picked as chief arbiter of such a prestigious tournament is a tremendous honor, said Mr. Friedman, who compared it to refereeing the Super Bowl.
Nigel Short, a federation vice president, shared his support on Twitter for Ms. Bayat on Jan. 9, along with an image of her without the hijab.
He called her "a great ambassador for her country."
The episode coincided with a statement by Kimia Alizadeh, a top Iranian athlete, who recently announced on Instagram that she was defecting from the country because leaders there had used her as a "tool."
"They took me wherever they wanted," she wrote. "Whatever they said, I wore. Every sentence they ordered, I repeated."
Ms. Alizadeh, 21, who won the bronze medal in taekwondo at the 2016 Summer Games in Rio de Janeiro, is the only female athlete to win an Olympic medal for Iran.
"My troubled spirit does not fit into your dirty economic channels and tight political lobbies," she wrote. "I have no other wish except for taekwondo, security and a happy and healthy life."
American Chess Player Boycotts Championship in Iran Over Hijab RuleOct. 7, 2016
https://www.nytimes.com/2020/01/15/world/middleeast/Shohreh-Bayat-hijab-chess.html
--------
Birmingham Lord Mayor-Elect, Former Chairman of Birmingham Central Mosque, 'Dismissed Forced Marriage Concerns'
16 Jan 2020
The former chairman of Birmingham Central Mosque – who has been criticised by campaigners for allegedly dismissing concerns about domestic violence and forced marriages – has been selected to be the Labour lord mayor of the city.
The head of the Muslim Women's Network UK (MWN), Shaista Gohir, has submitted a complaint to Labour after Councillor Muhammad Afzal was selected by its councillors to fill the ceremonial role – a post that is rotated among the parties represented on the council.
Gohir and another witness have signed affidavits to say that in a meeting with her charity at the end of 2015, Afzal dismissed forced marriages as no longer a problem, said that domestic violence only affected Christian communities because they got drunk and claimed that more men than women were the victims of domestic violence.
Afzal was first selected to be lord mayor in 2016, but withdrew from the process after Gohir went public with her claims. He said at the time that he was making the decision because "recent publicity in the local media has given rise to unfair and indeed untrue comments being ascribed to me".
He said: "I have tried to put the record straight but sadly it has not been possible to do so as rumour and innuendo has replaced facts."
Afzal said that he "completely and totally" denied making the comments and claimed that Gohir had a vendetta against him.
The councillor for the Aston ward in Birmingham first joined the council in 1982. He attracted criticism in 2016 when he called for a boycott of the government's counter-terrorism programme Prevent, claiming it unfairly targeted muslims.
Responding to the news of his appointment, Gohir said: "Those who seek such leadership positions of being the 'first citizen of the city' should have an impeccable character, be inclusive and promote equality.
"It is concerning that Muhammad Afzal does not recognise the abuse that women face. It is important that women in Birmingham feel that their interests and concerns are shared and respected. Allowing him to be the next ceremonial mayor will erode trust and confidence in Birmingham city council."
In a statement issued to colleagues after his selection, Afzal said he wanted to spend his year in the position "working with organisations right across Birmingham to increase the representation of women".
He said: "I want to increase awareness of the issues faced by women in all communities of the city and the tackle issues that we find in all communities, including the Muslim community. These issues include domestic abuse, forced marriage and female genital mutilation. Such abuse of women is completely unacceptable and I absolutely condemn it."
https://www.theguardian.com/uk-news/2020/jan/16/muhammad-afzal-birmingham-labour-lord-mayor-selection
--------
Women in Rampur Demand Release of Their Kin
JANUARY 17, 2020
Arrests were made after an anti-CAA protest turned violent on Dec. 21, resulting in one death
For the last three days, hundreds of Muslim women are sitting in Rampur's Jama Masjid demanding the release of their husbands, brothers and children who were arrested after the protest against the Citizenship (Amendment) Act turned violent on December 21 last year.
"Their demand is that the protest was called by the ulemas of Rampur and they should intervene now to get the 34 people out of jail," said advocate Shaila Khan, who is president of the Rampur Chapter of Indian Lawyers Association. She said the protesters went out of control because their leaders were forced to stay at home by the district administration.
An FIR has been registered by the police against 116 named and around 3,000 unnamed persons after the protest in which one person was killed.
Many of them say their kin were innocent and were lifted just to fill the list of unnamed protesters.
'Only earning member'
Mothers of cousins Shahnawaz and Sharooz, Rizwana and Nazma said their 17-18-year-old sons were lifted when they were having their meals. Rizwana said her husband had suffered hemorrhage after that. Shabnam whose husband Pappu was picked up by the police said he was the only earning member in the family and she had not been able to feed her one-year-old child properly.
The women are holding placards that reject the CAA and thw NRC and this has possibly irked the clergy as the senior members suggest that a mosque was not a place of protest. Ms. Khan said there was a sense of fear among the clergy as well as they felt that the police could detain them as well.
Qualifying the protest as an appeal to get their men released, Muqarram Inayati, Secretary of Jama Masjid, told The Hindu that the appeal for a protest on December 21 was taken back by the ulemas on the evening of December 20 under sustained pressure from the district administration. "However, the message could not reach everybody and people gathered on December 21 to protest. The administration had to call the ulemas to request the protesters to return."
He said Maulvi Mehboob Ali and other members of the clergy had met the District Magistrate on Wednesday and he promised of a "positive outcome" in 3-4 days.
Arun Kumar Singh, Additional Superintendent of Police, Rampur, said 34 persons are in judicial custody.
"The investigation is on. We can't give a timeline, it is for the court to decide," he said.
Ms. Khan, who fought the Municipal Corporation Chairman election on a Bahujan Samaj Party ticket, clarified that her support to the women protesters was only as a lawyer and social activist and had no political motive.
https://www.thehindu.com/news/national/other-states/women-in-rampur-demand-release-of-their-kin/article30580078.ece
--------
Ivanka Trump Applauds Saudi Arabia's Reforms Advancing Economic Role For Women
January 17, 2020
The United States President's daughter and advisor, Ivanka Trump, praised on Friday Arab states for the progress they have made in their reforms highlighted in a World Bank Report.
"Great seeing some big progress in countries with the most improved scores this year in the World Bank WBL (Women, Business and the Law) report," she said, referring to several countries mentioned in the report, including Saudi Arabia, the United Arab Emirates, Bahrain, Jordan and Tunisia.
Ivanka Trump
✔
@IvankaTrump
Replying to @IvankaTrump
Great seeing some big progress in countries w/ the most-improved scores in this yrs @WorldBank WBL Report: Saudi Arabia, UAE, Nepal, South Sudan, Sao Tome and Principe, Bahrain, DRC, Djibouti, Jordan, and Tunisia. See the reforms made & those that remain⬇️https://openknowledge.worldbank.org/bitstream/handle/10986/32639/9781464815324.pdf …
790
3:29 AM - Jan 17, 2020
Twitter Ads info and privacy
273 people are talking about this
The World Bank's annual "Women, Business, and the Law" report ranked Saudi Arabia top among 190 countries for its progress in bringing about reforms related to female involvement in economic development and entrepreneurship.
According to the World Bank's figures for 2020, Saudi Arabia scored 70.6 out of 100 for progress achieved in the integration of women into the labor market. The report's findings also placed the country first among Gulf states, and second in the Arab world for meeting the criteria.
Saudi women in business have lauded the Vision 2030 strategy for being the key driver in helping them to realize their ambitions.
https://www.arabnews.com/node/1614421/saudi-arabia
--------
URL: https://www.newageislam.com/islam-women-feminism/young-afghan-woman-teaches-sufi/d/120817
New Age Islam, Islam Online, Islamic Website, African Muslim News, Arab World News, South Asia News, Indian Muslim News, World Muslim News, Women in Islam, Islamic Feminism, Arab Women, Women In Arab, Islamophobia in America, Muslim Women in West, Islam Women and Feminism