New Age Islam News Bureau
03 February 2021
• 'We Need to See Changes to Institutions' – New Zealand Islamic Women's Council
• 3 Female Pioneers Who Paved The Way For S'pore Women
• Saudi Arabian Airlines Targets Localisation Of Aviation Jobs For Women
• Disfigured By Acid, The Face Of Violence Against Yemen's Women
• Nigeria must rethink responses to women displaced by Boko Haram
• Egypt Arrests Father, Nurse for Female Genital Mutilation Of 15-Year-Old
Compiled by New Age Islam News Bureau
URL: https://www.newageislam.com/islam-women-feminism/yemen-security-authorities-foil-assassination/d/124217
--------
Yemen Security Authorities Foil Assassination Plots By Female Houthi Cell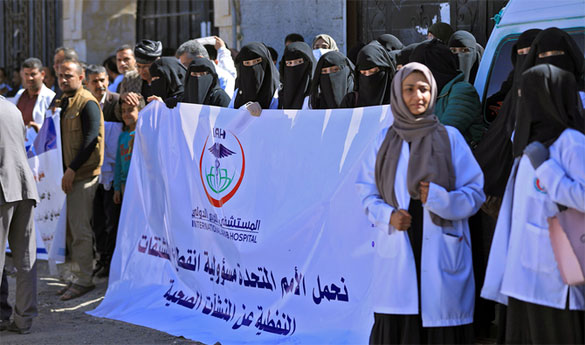 Yemeni doctors and nurses in Houthi-occupied Sanaa, on Tuesday, protest outside the UN office against fuel shortages leading to a decline in helathcare services. (AFP)
-----
February 03, 2021
AL-MUKALLA: Authorities in Yemen have foiled a plot to kill military and security officers after uncovering a Houthi cell of eight women.
The women were planning to carry out attacks against local targets when they were found by police hiding in several houses in the central Yemeni city of Marib, a security source told Arab News on Tuesday.
The officer, who wished to remain anonymous, said security forces had been closing in on the all-female cell for more than a month and when the properties were raided they discovered GPS devices and a list of targets on mobile phones.
During the last five years, security and military authorities have busted several Houthi sleeper cells responsible for guiding ballistic missiles and explosive-laden drones that hit military, security, and civilian locations in densely populated Marib.
In September, a Yemeni court sentenced five Houthis to death for staging attacks in government-controlled areas. But the latest incident was the first time Yemeni officials in Marib had blamed the notorious Houthi policewomen authority, known as Zainabeat, for orchestrating attacks in the city.
Houthi officials denied sending the eight women to kill government officials, and instead accused the Yemeni government of taking the women hostage.
Meanwhile, on Tuesday, official Yemeni state media said Houthis in the northern province of Amran had confiscated a number of homes and other properties owned by army generals who backed the Yemeni government and Saudi-led military operations in Yemen.
Led by Mohammed Ali Al-Metawakel, deputy governor of Amran, a group of Houthis raided the homes of Maj. Gen. Hameed Al-Qushaibi, an army commander who was killed, along with two of his brothers, in clashes with the Houthis in 2014 in Khamer district.
According to reports, the Houthis sealed the houses and wrote on their walls, "confiscated by the state."
Since taking power by force in late 2014, Houthi-controlled courts have sentenced to death and confiscated the properties of hundreds of politicians, military and security officers, activists, and journalists who opposed their rule.
Yemen experts said the militant group was using judicial authorities under its control to justify stealing the properties of its opponents and was seeking to blackmail government officials into surrendering.
A security official narrowly escaped death on Tuesday after an improvised explosive device (IED) attached to his car went off near the historic city of Shibam in the southeastern province of Hadramout, local officials told Arab News.
Shibam district security chief, Col. Ahmed Nasher, was driving his vehicle on the main road between Seiyun and Shibam when the IED exploded, rocking nearby houses.
No one has claimed responsibility for the bombing, but local authorities in Hadramout have previously blamed Al-Qaeda and Daesh operatives for staging attacks.
In May, the former Shibam district security chief, Saleh bin Ali Jaber, and four of his bodyguards, were killed in a similar attack near the old city.
https://www.arabnews.com/node/1802781/middle-east
--------
'We Need to See Changes To Institutions' – New Zealand Islamic Women's Council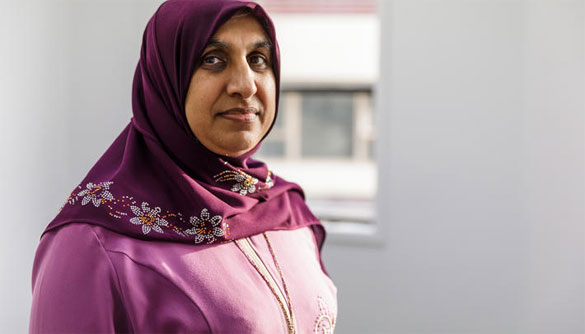 Islamic Women's Council spokesperson Anjum Rahman. Photo: RNZ / Luke McPake
------
3 February 2021
Islamic Women's Council spokesperson Anjum Rahman said these demanded the community to engage when the motivation for putting in that mahi remained uncertain.
Initially, officials of the Prime Minister's Department tried to control who would be invited and to squeeze the hui in before the Christmas holiday break.
"One of our concerns was that government was going to be selecting who could attend," Rahman said.
"After giving our feedback, we're glad that they've opened it up because we don't believe that government should be a gatekeeper."
However, officials had not co-designed the consultations in the way the Royal Commission recommended, she said.
"It's all very well to meet with people, but being absolutely clear as to what will happen from what feedback they receive and how they might implement that, that needs to be fully transparent."
Rahman noted she had not been to a hui yet but would attend in Hamilton.
"We're not clear how the next stage will work, how effective this mechanism is for giving feedback. We need to know that what is said there is well captured and then how that is going to be implemented or dealt with."
The Islamic Women's Council's experience of endless consultations with government agencies regarding the far-right threat prior to the 15 March attacks has been well documented.
"At the moment, it feels like nothing significant has changed," Rahman said.
This was despite the Royal Commission having a section on public servants co-designing with community, which suggested giving people help with resources so they could take part.
That had not happened so far with victims and their families, she said.
"We specifically requested support with legal advice so that they could have at least two senior, experienced counsel to help them digest the report and to raise relevant issues.
"That hasn't been forthcoming."
The government had accepted the commission's 44 recommendations but a timeline for action is not clear.
"We need to see some policy changes. We need to see legislative changes," Rahman said.
"We need to see changes to structures and institutions - all of the things that were recommended in the report, that have been recommended by us.
"When is all of that going to happen if we just keep having these rounds of meetings?"
The Department of the Prime Minister and Cabinet has been approached for comment.
https://www.rnz.co.nz/news/national/435749/we-need-to-see-changes-to-institutions-islamic-women-s-council
--------
3 Female Pioneers Who Paved The Way For S'pore Women
Jeremy Theseira
FEB 3, 2021
Declaring 2021 the Year of Celebrating SG Women on Saturday, Minister for Social And Family Development Masagos Zulkifli highlighted the integral role that women — from war heroine Elizabeth Choy to medical social worker Daisy Vaithilingam — have played in shaping our nation's progress.
"Since our independence, the progress and contributions of our women have shaped our homes, schools, workplaces and communities — making us a better society."
The announcement follows an ongoing series of dialogues called "Conversations on Singapore Women's Development", which began last September. Feedback gathered from these sessions will form the basis of a White Paper on recommendations for further progress of women in Singapore.
In the first of a three-part series celebrating SG women, we salute the gutsy trailblazers who shaped our nation's history through their stories.
Passionate about the poor
Disturbed by widespread poverty, unemployment and disease in the wake of the Second World War, the late Ms Daisy Vaithilingam made it her life's mission to help the less fortunate.
Born in Penang in 1925, the youngest of four children, raised by her mother and stepfather, a nurse and a doctor, was inspired by their passion to heal.
Although she read English literature, economics and geography at the National University of Singapore, then known as the University of Malaya, she chose to go into social work after attending a talk at the university by Ms Kathleen Eastaugh, then a medical social worker at the Singapore General Hospital (SGH).
In 1952, two years after graduating with a Bachelor of Arts degree, she joined SGH as a medical social worker at the age of 27.
Throughout her years as a medical social worker, Ms Vaithilingam pioneered many new initiatives. Among her most significant contributions was her role in setting up Singapore's first fostering scheme for children, which Minister for Social and Family Development Masagos Zulkifli mentioned in his speech on Saturday.
In a 2014 interview with The Straits Times, fellow social worker Ann Wee recounted that Ms Vaithilingam would go about assigning hospital attendants and amahs to children who had been abandoned by their mothers at the hospital.
"It was very unofficial and the director of social welfare saw that and decided to do it properly with a central registry and that's how the whole fostering programme began."
Deeply concerned about the plight of children with intellectual disabilities, she lobbied for financial aid for their parents. In 1962, she spearheaded the creation of what is now known as the Movement for the Intellectually Disabled of Singapore to help children with disabilities integrate into society through learning and training programmes.
She also helped to set up the Singapore Association of Social Workers in 1971 and chaired the first Committee of the Care for the Aged. Alongside her team of social workers, she founded a community project in 1976 to house disadvantaged women in a communal residence.
Her passion to help others continued in her later years when, at the age of 42, she returned to her alma mater's social work department as a university lecturer for 15 years before retiring in 1982.
Ms Vaithilingam died in 2014. She was 88.
Scaling new heights
From a seat behind a desk to the hot seat of an aircraft cockpit, Ms Anastasia Gan went from being among the first few batches of female officers in the Singapore Armed Forces (SAF) to Singapore's first female commercial pilot.
In 1977, at age 19, the fresh junior college graduate decided to pursue a career in the army and joined the SAF's Women Officer Cadet Course.
In a collection of reflections written by the pioneer batch of students from Catholic Junior College, titled Our Footprints — Reflections in Truth and Love, she likened the nine-month course to "a long camping adventure".
Ms Gan graduated as the top cadet during that course and was assigned an administrative role in the SAF. But she quickly realised that she preferred a role that would take her beyond the confines of an office.
When the Republic of Singapore Air Force (RSAF) began recruiting pilots a year later, she applied for a spot and was accepted.
"Pilots were always associated with excitement and adventure, and portrayed as awesome, tough and cool men in fighting machines," she wrote.
Ms Gan became one of a handful of women to earn the coveted RSAF pilot wings in 1979. She later became the air force's first female qualified flying instructor. Disciplined yet nurturing, Ms Gan was given the affectionate call sign, Mama, by her fellow pilots.
After 23 years in the RSAF, the high-flyer joined SilkAir in 2001 where she rewrote Singapore's aviation record books once again by becoming the nation's first female commercial pilot at the age of 43.
The mother of three daughters was also appointed an authorised flight examiner by the Civil Aviation Authority of Singapore in 2012.
Defending her sisters
Life for women in pre-independence Singapore was marked by limited rights, especially in the areas of marriage and divorce. Within the Muslim community, one woman chose to stand up and speak out.
Between 1950 and 1958, close to half of all Muslim marriages in Singapore ended in a divorce. Muslim men could divorce their wives without their consent, leaving the women with no recourse or protection.
"If I didn't help my own people, who would have?" says Mrs Khatijun Nissa Siraj, 95. "It was my foremost duty to ensure their well-being. It was upsetting to see women treated with little dignity and respect."
Mrs Siraj rallied a team of 21 Muslim women who went on to set up the Young Women's Muslim Association in 1952. The association, known today as Persatuan Pemudi Islam Singapura, aimed to give Muslim women an avenue to seek legal and medical advice.
Their efforts paid off when in 1958 the Government set up the Syariah Court to reform legislation on marriage and family matters, including divorce procedures that previously allowed Muslim men to divorce their wives without their consent or knowledge.
Two years later, Mrs Siraj, whose pre-university studies were interrupted by the Japanese Occupation in 1942, became the Court's first woman counsellor. She dealt with hundreds of mostly financial cases where husbands would marry other women, leaving their wives penniless.
Her tireless work fighting for Muslim women's rights paved the way for the Administration of Muslim Law Act (AMLA) in 1966, which provides a centralised system of administration covering all aspects of Muslim life in Singapore. Under the AMLA, married Muslim women were able to gain more protection and representation in the Syariah Court.
Mrs Siraj's exposure to women's problems also led her to in 1964 start the Muslim Women's Welfare Council, which provided charity, welfare, legal and medical advice to Muslim women.
Between 1960 and 1971, divorce rates in the Muslim community dropped significantly to an annual average of 18.5 per cent. Mrs Siraj left the Syariah Court in 1970 and joined the Social Welfare Department and then the Singapore Council of Social Services.
https://www.straitstimes.com/singapore/3-female-pioneers-who-paved-the-way-for-spore-women
--------
Saudi Arabian Airlines Targets Localisation Of Aviation Jobs For Women
February 03, 2021
Samir Salama
Abu Dhabi: The Director of the General Organisation of Saudi Arabian Airlines (Saudia), Engineer Ibrahim Abdul Rahman Al Omar, revealed the start of Saudisation of aviation jobs for women, in cooperation with the Ministry of Human Resources and Social Development.
During the Saudi Airlines' celebration of the graduation of the first batch of the GOAL programme, which was launched in January 2020, Engineer Al Omar stressed that all co-pilot jobs have been 100 per cent localized, and that Saudi Airlines is employing nationals in all fields.
The aviation and air transport industry and the associated support services and empowering them in the corporation's sectors, companies and strategic units to promote the localisation of the industry in the Kingdom, and the age ladder, graduation certificates for twenty employees who have met the conditions and criteria for admission to the program and completed its requirements that give the graduate the opportunity to be qualified to work in the future as a manager of one of the Saudi Airlines stations inside and outside the Kingdom
Aviation jobs for Saudi women
Women bring their specialist skills to ground support roles in aviation.
They provide specialist support in one of the following categories:
Engineering and technical – roles include aircraft technician, cyberspace communications specialist, and survival equipment specialist.
Catering and hospitality – roles include chef and caterer.
Medical and medical support – roles include nurses, medics, biomedical scientists, and environmental health.
Personnel support – roles include human resources, physical training instructors, and musicians.
Air operations – roles include air traffic control, flight operations, and air cartography.
https://gulfnews.com/world/gulf/saudi/saudia-targets-localisation-of-aviation-jobs-for-women-1.76913401
--------
Disfigured By Acid, The Face Of Violence Against Yemen's Women
3 FEB 2021
SANAA: Married at the age of 12, rejected at 16, and then disfigured in an acid attack, Al-Anoud Hussain Sheryan's fate is a shocking illustration of abuse in a society beset by war and poverty.
Now aged 19, the Yemeni woman agreed to relate her ordeal at the hands of her abusive husband -- rare testimony in a country where domestic violence is largely hidden.
"He grabbed me by the hair and poured the acid on me while laughing," she told AFP as she sat with her veil framing a face badly scarred by last October's assault that also left deep wounds on her body.
"I went through hell," she said, describing her years of marriage which she said she spent chained and often beaten.
When her father died, Al-Anoud's mother remarried and then hurried to find a husband for her daughter.
"She wanted to protect me," she said.
Having lived for four years as a "slave", Al-Anoud was eventually kicked out by her husband, taken in by her sister and began training as a nurse.
But her ex-husband decided he wanted her back, and when she refused, he took his revenge.
After being hospitalised in a clinic where she had once been employed, Al-Anoud is now waiting to undergo the three plastic surgery operations needed to repair some of the damage.
Her doctor Moutawakal Chahari said the procedures will be complex and expensive, and even the bills for the first aid she received had not yet been paid.
Apart from this, he stressed the "irreparable psychological effects" of her ordeal.
- A grim tally -
Al-Anoud filed a complaint against her ex-husband after the attack, but he vanished and remains at large.
She is hoping that someone, anyone -- a humanitarian agency, one of the stretched government services, or a grassroots non-government group -- can give her the financial assistance she needs.
"I want the police and the courts to punish the criminal who did this, but I also want to reclaim my youth, my studies and my work. I want to regain my life," she said.
Child marriage is a feature of Yemeni society but six years of war, which has left the country on the brink of famine, has made it more common and "greatly increased" violence against women, said Tayseer Walid of the Yemeni Women's Union in Sanaa.
Families are forced to "rid themselves of the expense of children, especially girls, because of poor financial situations", she told AFP.
Many organisations advocating for women and girls had to shut down after war broke out, and those which struggle on do so with scant resources to address the daunting legal, medical and psychological needs.
When it comes to the status of women in Yemen, the numbers speak for themselves. A UN survey conducted in 2013 found a third of Yemeni women aged 24-32 were married before the age of 18, and nine percent of those were married before 15.
UNICEF has estimated that in 2020 Yemen had some four million married children, 1.4 million of them under 15.
- Cry for help -
In a 2020 report, the United Nations Population Fund (UNFPA), which deals with sexual and reproductive issues, estimated that 2.6 million women and girls are at risk of gender-based violence in Yemen.
It pointed out that in the era of Covid-19, with lockdowns that cause great strain, "cases of domestic violence are on the rise".
The grinding conflict between Iranian-backed Huthi rebels and the government supported by a Saudi-led military coalition has left tens of thousands of people dead and millions displaced.
It has plunged the country -- the poorest on the Arabian Peninsula -- into the world's worst humanitarian crisis, according to the UN, which has expressed fears that some "16 million people will go hungry" in 2021.
While violence against women is one of the hidden facets of the humanitarian crisis, the UN Development Programme (UNDP) has launched one of the few initiatives to combat this phenomenon.
With the support of the Japanese government, it has launched a mobile app to provide counselling to survivors of gender-based violence throughout Yemen, saying that attacks on women and girls have increased 63 percent since 2015.
The application, first tested in the country's south which is in government hands, directs victims to protection and support services.
https://www.bangkokpost.com/world/2061891/disfigured-by-acid-the-face-of-violence-against-yemens-women
--------
Nigeria must rethink responses to women displaced by Boko Haram
February 3, 2021
People's experiences of conflict and violence are shaped in part by sex and gender. Women and girls are especially vulnerable to the threat of sexual violence, owing to cultural practices of gender inequality. Gender norms also have an impact on the roles that both sexes play in conflict contexts.
In Nigeria, women and girls make up at least 79% of approximately 2.5 million people displaced across the country's northeast as a result of the 11-year conflict between the armed group Boko Haram and the Nigerian government. This population is dispersed in camps and host communities in six states in the region and in Cameroon, Chad and Niger.
Inaccurate data and other logistical challenges mean that these figures are probably even higher. This situation has numerous protection and humanitarian implications for women.
Yet women's experiences of this displacement have received scant scholarly attention.
I conducted a study to look more closely at the assumptions underlying much of the scholarship on women and displacement. I argue that women's experiences of conflict and displacement derive foremost from their unequal status in Nigerian society, where violence against women has been seen as normal. And yet, in spite of their low socio-cultural status, displaced women are using their agency. Through peacebuilding and political mobilisation and engagement, they are compensating for the shortfalls in policy and humanitarian responses. They are not necessarily helpless victims. Some have even chosen to return to Boko Haram, though 'choice' is paradoxical given their circumstances. Evidence suggests that thinking about displaced women in new ways can change their experience of displacement for the better.
My study highlights the need for policy and humanitarian interventions to take more notice of women's specific and multi-sectional experiences and priorities.
Reconciling needs, context and experiences
I interviewed 71 people in Abuja and Maiduguri in 2018. Some were women who had been displaced inside the country. Others were human rights and humanitarian personnel, female members of the civilian joint task force, police, activists, politicians, security experts and journalists.
In their own words, safety and security are of prime concern for women and girls. Both before and during displacement, they routinely face sexual and gender-based violence from Boko Haram, as well as camp officials and security actors. The Nigerian government has repeatedly denied such misconduct by its forces. So far, there is only one documented case of disciplinary action against an air force officer who raped a 14-year-old girl in September 2018 — he was dismissed.
In camps for displaced people, women face mental and sexual health challenges in a context of limited access to quality healthcare and justice. Inconsistent humanitarian support has led to a cycle of food and nutrition insecurity, economic deprivation and dependence.
The euphemism "transactional sex" barely disguises the desperation that drives women and girls to exchange their bodies for food and survival, nor the exploitation and abuse of power that it entails.
The protracted and ongoing violence means that the displacement crisis will not likely end soon. And those worst affected by it will continue to suffer inhumane living conditions.
Policy and practical responses to the displacement crisis, from the national to the international, have not been very gender-responsive. To cite one example, a Tripartite Agreement for the Voluntary Repatriation of Nigerian refugees signed in March 2017 between the governments of Nigeria and Cameroon and the United Nations High Commissioner for Refugees makes no provisions for the special needs of women and girl refugees.
Skills training, monetary handouts and other interventions aimed at empowering women are not taking their context into consideration. There is a mismatch between some women's new found "power" as heads of households and a patriarchal context that sees them as subordinate. Also, women have had experiences as direct and indirect agents of violence – including as spies, smugglers and suicide bombers.
Failure to recognise women's diverse experiences leads to misaligned responses that either do not transform their circumstances or catapult them back into the situations they were rescued from.
Way forward
Until the conflict ends, a rethinking of approaches to current interventions could create opportunities for empowering women.
First, it must be recognised that context matters. Nigerian women's experiences of conflict are a mirror of their unequal status and the normalisation of gender violence. Effective empowerment cannot happen without addressing gender inequality norms. And some approaches to empowerment create more problems than they solve. For example, giving women money can fuel domestic violence because it makes some men feel disempowered.
Second, women have agency in situations of conflict and violence and they do not always use it for peace. Some have demonstrated this by returning to Boko Haram as a way of coping with the difficulties of displacement.
Consultation with women displaced by Boko Haram is critical to understanding their needs and how best to achieve them.
https://theconversation.com/nigeria-must-rethink-responses-to-women-displaced-by-boko-haram-150798
--------
Egypt Arrests Father, Nurse for Female Genital Mutilation Of 15-Year-Old
03 February 2021
Egypt arrested a father and a retired nurse on Tuesday for carrying out female genital mutilation (FGM) on a 15-year-old girl, after announcing plans to toughen the penalty to 20 years.
Police made the arrests a day after the crime was reported to the public prosecution by a doctor in a hospital about 35 km northeast of the capital, Cairo, said Sabry Osman, head of a child helpline that supports children subjected to violence.
"The surgery was done at home and when the girl had severe bleeding, the father transported her to a nearby hospital," Osman, who works for the state-run National Council for Childhood and Motherhood, told the Thomson Reuters Foundation.
"We followed up the case until the girl went out of hospital and returned home. We are now in the process of offering the girl the psychological support that she needs after going through this incident."
Nearly 90 percent of Egyptian women and girls aged between 15 and 49 have undergone FGM, according to a 2016 survey by the UN Children's Fund (UNICEF), and the ritual is practiced widely by both Muslims and Christians despite a 2008 ban.
World leaders have pledged by 2030 to eradicate FGM, which typically involves the partial or total removal of the external genitalia, and can cause long-lasting mental and physical health problems, including infections and childbirth complications.
Egypt's cabinet last month approved a draft law hiking the maximum sentence for FGM from seven to 20 years, in a bid to stamp out the ancient practice.
The law was tightened in 2016 to make it a criminal offense to request or carry out the widely condemned practice but women's rights groups say the ban has not been well enforced.
https://english.alarabiya.net/News/middle-east/2021/02/03/Egypt-arrests-father-nurse-for-female-genital-mutilation-of-15-year-old
--------
URL: https://www.newageislam.com/islam-women-feminism/yemen-security-authorities-foil-assassination/d/124217
New Age Islam, Islam Online, Islamic Website, African Muslim News, Arab World News, South Asia News, Indian Muslim News, World Muslim News, Women in Islam, Islamic Feminism, Arab Women, Women In Arab, Islamophobia in America, Muslim Women in West, Islam Women and Feminism