New Age Islam News Bureau
15 Aug 2014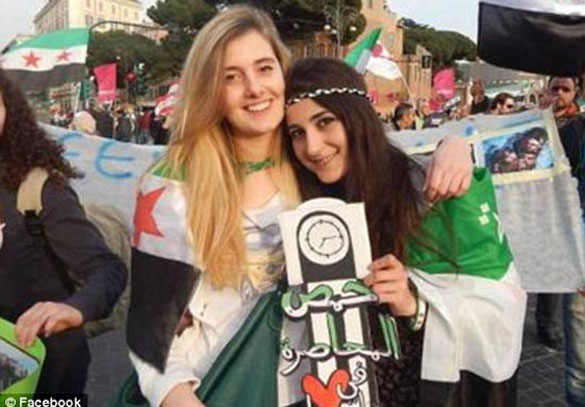 Abducted: Vanessa Marzullo, 21 (left) and Greta Ramelli, 20, (right) were working on humanitarian projects in Syria, the Italian foreign ministry said, admitting that contact with the women is 'impossible'
---------
• IS' Women Warriors: How Feared Al-Khansa Battalion was borne out of Repression
• Nigeria's Hijab Wearers Face Scrutiny on Female Bombers
• Two Female Italian Aid Workers Kidnapped By Islamic Terrorists
• Mobilizing Religious Leaders to Combat Violence against Women in Turkey
• Iranian President Heralds New Era for Women's Rights with 'Hijabless' Photo of Fields Medal Winner
• Islam Looks At Trustworthiness and Capability NOT Male or Female - PKR's Zuraida
• Motorcycle Sidecar Attracts Women Riders in Sana'a
• South African Women Need Mental Liberation
• It's Not a Man's World: The African Women Breaking Down Tech Barriers
• Malawi Muslims Fight Early Marriages
Compiled by New Age Islam News Bureau
URL: https://www.newageislam.com/islam,-women-and-feminism/new-age-islam-news-bureau/yazidi-women-leap-off-sinjar-cliffs-to-escape-sex-slavery-by-is-militants/d/98574
------------
Yazidi Women Leap off Sinjar Cliffs to Escape Sex Slavery by IS Militants
15 Aug, 2014
Witnesses have described seeing terrified women from the Yazidi sect throw themselves "to their deaths" from the Sinjar mountains to avoid being raped and sold into sex slavery by Islamic State (IS) militants.
Tens of thousands of Yazidi people have been trapped in the mountains in northern Iraq for as long as 10 days without food or water, since Islamic State militants took over the region last Sunday.
On Saturday reports emerged that hundreds of women and girls had been kidnapped by the jihadists and sold into sex slavery for as little as $5 (£3, $3.75).
Some Yazidi people have told journalists that they have called their wife or daughter on the phone, only for it to be answered by an unknown male who "warned them off".
One Yazidi man, Khandar Kaliph, told the Guardian that his daughter was kidnapped when IS took control of Sinjar. After a brief telephone conversation with her he discovered she was going to be sold as a slave for $10.
"What can a father say to that? How can I help? We all feel so useless." he told reporters.
The dangers faced by the Yazidi sect have been revealed by survivors who have crossed Mount Sinjar to reach the Kurdish city of Dohuk.
Other survivors spoke of scarce food, water and medical supplies, with no shade from the scorching sun. Many say they have lost all faith in Iraq.
One woman carrying a child told a Channel 4 reporter how she was forced to make a mountain goat suckle her 2-month-old baby after her own breast milk ran out.
Aid helicopters carrying food and supplies to the Yazidi people trapped in the mountains, including one from the British RAF, finally reached the Sinjar Mountains this week.
Witnesses described the sheer desperation of the persecuted people, who "clung on" to the helicopters and tried to escape the treacherous conditions of the mountains.
It's estimated that as many as 40,000 Yazidi people are still struggling for survival in unforgiving conditions on Mount Sinjar. The militants have long regarded the Yazidis as "devil worshippers" and have given them a convert-or-die ultimatum.
"More than 30 people have died of hunger. We went back 100 years in time on that mountain," one man told witnesses upon reaching Dohuk.
He also recalled how one desperate man killed his five sisters and then himself as a last resort to end the persecution suffered at the hands of the brutal Jihadi group.
http://www.ibtimes.co.uk/iraq-crisis-yazidi-women-leap-off-mount-sinjar-cliffs-escape-sex-slavery-by-islamic-state-1461007
------------
IS' Women Warriors: How Feared Al-Khansa Battalion was borne out of Repression
15 Aug, 2014
In February, a group of women arrived at a roadblock in northern Syria, manned by armed members of the Al-Qaeda associated Islamic State. No physical security checks were carried out on the group because of a religious ban, and several minutes later, the IS members were hit with a veil of bullets fired from the womens' concealed weapons.
Following the incident, the IS, formerly known as the State of Iraq and Levant, decided to establish a unit of female jihadist fighters for the first time. The al-Khansa battalion is one of such units - named after Al Khansa, a devout Muslim who dedicated poetry and eulogies to jihad fighters after losing four sons in a war against Persia at the time of the Prophet Mohammed.
In 2012, an anonymous fatwa was distributed, calling for women to join jihad fighters in Syria in their campaign for the country to return to ultra-conservative customs and a broader Islamic caliphate. Surprisingly, a significant response to the propaganda was noted in Tunisia – to the point where authorities intervened in an attempt to stop the phenomenon.
Many of the al-Khansa female fighters are of Chechen descent, but women from Yemen and Afghanistan have reportedly joined the battalion. The recruitment network is allegedly related to the phenomenon of "black widows" enlisted for suicide attacks. Some members are believed to have joined in response to the deaths of husbands or other family members, assassinated by the Russian army in Chechnya or at the hands of the US military in Afghanistan.
In the northern Syrian city of Ar-Raqqah or Raqqa, on the north bank of the Euphrates River, Al-Khansa has over 50 women affiliated with IS. According to an IBTimes UK eyewitness, many are wives of immigrants in Syria, of Tunisian, Moroccan, French and British nationalities.
Until fairly recently, the battalion had patrolled the city's streets to pursue women. According to our source, Al-Khansa enforced legal marriages to "Mujahidin" - a term used to describe those they see as Muslims who struggle in the path of Allah - prompting the families of female students to leave the city and keep their daughters away from schools.
It was reported earlier this year that women, referred to as "muhajirat" – immigrants in the name of religion – were being recruited by the Islamic State for marriage purposes. But according to reports, sexual abuse is rife. Some are married with families, but others are young and single, and serve as a potential attraction to manipulate young men interested in siding with the militant rebels.
Yet female fighters for the al-Khansa battalion perform other tasks, including street patrols and public floggings for Sharia crimes. Others are recruited as roadblock guards, or carry out a violent coercion regime against women who fail to adhere to the strict Islamic ideology of IS.
Female fighters joining the IS are yet another setback in the fight for women's rights, specifically in Syria – a country ravaged by a civil war that has killed more than 100,000. The militants continue to advance across the state, with activists stating the group has taken control of several towns in the northern province of Aleppo, a significant expansion for the organisation.
Women played a central role in the Arab Spring when the revolution erupted in Syria in March 2011. Yet three years after the uprisings, hopes that the revolts would bring greater freedom and expanded rights for women have been thwarted by entrenched patriarchal structures and the rise of militant Islamist organisations.
In 2013, a Thomson Reuters Foundation poll of 22 Arab countries showed three out of five states involved in the Arab Spring came last for women's rights, in terms of gender violence, treatment of women in the family, inclusion in politics and economics and reproductive rights.
And with women pledging their support for militant jihadist groups, it seems that improving the status of female Syrians is further away than ever.
http://www.ibtimes.co.uk/islamic-states-women-warriors-how-fierce-al-khansa-battalion-was-borne-out-repression-1461016
------------
Nigeria's Hijab Wearers Face Scrutiny on Female Bombers
15 Aug, 2014
When Safiya Isa, a 27-year-old teacher wearing a black hijab, approached a cash machine in Nigeria's northern city of Kano recently, people around quickly dispersed fearing she was a suicide bomber.
"It is understandable because women dressed in hijab have been involved in suicide attacks," Isa said. "But I am not feeling good about the way we are now treated."
Women wearing the flowing religious garment that covers the body from head to feet, known as the hijab, are facing heightened security scrutiny across northern Nigeria after a spate of Boko Haram suicide bombings attributed to similarly clad attackers.
This has given rise to allegations of religious profiling, adding to growing sectarian tensions in Africa's most populous country, whose 170 million people are roughly split between a mainly Muslim north and a predominantly Christian south.
While the police and other security forces are more vigilant about potential attacks by people disguised in the Islamic dress, they're also aware that it's not every "woman with a hijab that is a suicide bomber," Kano Police Commissioner Aderele Shinaba said in a phone interview yesterday. "We're very cautious in dealing with this issue. It doesn't mean that people should be victimized."
Man Disguised
Three female suicide bombers detonated explosives that killed at least 11 people from July 27 to July 30 in Kano, while a man disguised as a woman in a hijab was arrested as a suspect at the scene of a bombing in the city of Kaduna targeting opposition leader and former military ruler Muhammadu Buhari on July 23 that killed 42 people. Boko Haram leader Abubakar Shekau said in a video last month that a female suicide bomber was responsible for a blast at a fuel depot in the commercial capital, Lagos on June 25, though the government said it was an accident.
President Goodluck Jonathan is struggling to contain a five-year-old insurgency by Islamist militant group Boko Haram, which has carried out attacks in the capital, Abuja, and the north in its campaign to impose Islamic law.
Boko Haram killed at least 2,053 civilians in 95 attacks in the first half of this year, according to New York-based Human Rights Watch. The group drew global outrage with the abduction of more than 200 girls in April from a school in the northeastern town of Chibok. Most of the girls are still missing. The group kidnapped about 100 boys and men as conscripts on Aug. 10 from the northeastern town of Doron Baga, according to Hassan Ibrahim, a local vigilante leader.
Denied Access
Since the last suicide bombing by a female in Kano, many women who favor the Islamic wear have reported increased suspicion or being denied access to banks and public places in Kano. Zainab Shuaibu, a 19-year-old student, was barred by guards from entering the city's Kwari Market days after because she wore a hijab, forcing her to abort the day's shopping, she said in an interview.
Militants using women in hijabs to carry out attacks are undermining Islam and encouraging women to dress indecently, according to Sheikh Aminu Daurawa, a Kano-based cleric. Excessive security attention on women in the clothing could also increase sectarian tensions, he said.
"I think the most important thing is for the authorities to continue screening people at the entrance to public places without intimidation or harassment," said Daurawa.
http://www.bloomberg.com/news/2014-08-14/nigeria-s-hijab-wearers-face-scrutiny-on-female-bombers.html
------------
Two Female Italian Aid Workers Kidnapped By Islamic Terrorists
15 Aug, 2014
Two female Italian aid workers have been kidnapped by an unknown Islamic terrorist group, the UK Daily Mail reports.
The two aids, Greta Ramelli and Vanessa Marzullo, were doing humanitarian work in Aleppo, Syria, despite pleas from their parents not to go into Syria.
"What could I do? Vanessa is an adult, a golden girl, brave and responsible," Salvador Marzullo, Vanessa's father, told the Italian newspaper Corriere Della Sera. "I tried to reason with her, I tried to convince her in every way I could not to do what she had in mind."
The details of the kidnapping are unclear, but it is believed that the two females were kidnapped on August 1, taken to El Ismo and then transported to the head of the local Revolutionary Council's home.
Vanessa Marzullo had developed in interest in activism, particularly to help out in Syria, at the University of Milan. She and Ramelli had been to Syria numerous times since 2012.
The Italian foreign deputy minister says they're working "belly to the ground" to find the kidnapped girls.
http://dailycaller.com/2014/08/14/two-female-italian-aid-workers-kidnapped-by-islamic-terrorists/
------------
Mobilizing Religious Leaders to Combat Violence against Women in Turkey
The Women's International Perspective
15 Aug, 2014
Violence against Women (VAW) is a violation of human rights rooted in inequality between women and men. Resistance to combating VAW in many Muslim majority countries is ingrained in both the dominant patriarchal and the conventional religious norms. For many years Muslim women have remained silent, and nearly all interpretations of gender relations have been formulated by Muslim men and support the dominant norms. Turkey is no exception.
According to the 2009 results of "National Research on Domestic Violence against Women in Turkey," 2 out of 5 women have been exposed to physical violence by their husbands or partners at least once in their lifetime. Violence against women became part of the public agenda in Turkey in the mid-1980s when women's NGOs ran campaigns, established shelters, and initiated local training programs. Several interventions took place on VAW to raise the awareness of the general public, the decision makers, journalists, service providers, and community leaders.
After working on promoting gender equality for many years in academia and in international organizations, it has become clear to us that promoting gender equality and combating violence against women needs a multi-sectoral approach. Such changes require time, new allies, and new incentives. Political commitment, policy changes, and legal reforms are essential, but so are attitudinal changes in society, in gender relations, and in one's own identity. We now understand that Islam must be viewed as an ally to gender equality rather than a threat.
In Turkey, until the beginning of 2000, all sectors related to the issue of VAW – law-enforcement, the judiciary, health care providers, social care providers, NGOs, and opinion leaders – worked alone or did not see the problem as part of their duties. For example, police saw the issue from the public order perspective and health care providers saw the issue as a health problem, but neither saw VAW as a social issue. After 2000, a multi-sectoral approach to combat VAW has become one of the most important interventions.
Raising religious leaders' awareness of VAW is critical since they have a strong influence in local communities. The United Nations Population Fund (UNFPA) has experience working with local leaders around the world on VAW issues. The UNFPA has partnered with the Turkish Presidency of Religious Affairs (PRA) to provide training. The programs present a unique case study of how Islamic norms on women's human rights may be merged with CEDAW, the UN Convention on the Elimination of all forms of Discrimination against Women.
According to Hidayet Tuksal PhD, an advisor of the PRA, "Religious Affairs and other faith-based organizations have great importance on combating VAW because the problem is an issue that is somehow justified by religion … Of course there are difficulties. One of the important difficulties is the existing patriarchal knowledge of our religious leaders. This knowledge is also supported by the patriarchal mentality that has been built in the society … We believe through such training projects we will start to make small changes in the mentality."
Turkey presents a fascinating case where secularism, representing modernity, and Islam have traditionally been seen as opposites. While women's human rights are still discussed within the context of secularism (Western values versus Islam), the practice on the ground has been quite different and much more complicated. The UNFPA training programs of religious leaders represent a recent practice on the ground that reveals the complications, and helps us move away from a simple dualistic discourse.
PRA is the official institution that provides public service on religious issues. The presidency is responsible for regulating the operation of about 80,000 registered mosques and employing local and provincial imams. Recently PRA has organized activities and made new regulations strengthening the position and role of women in society. This is a pioneering move in the Muslim world. The PRA now appoints women as vice muftis to respond to special issues concerning women. Furthermore, family counseling bureaus have been established all around Turkey, serviced by women vice muftis.
The lack of trained, gender-sensitive staff able to give proper guidance on violence against women is what prompted the PRA to respond and partner with UNFPA and the General Directorate on the Status of Women to develop the training program for religious leaders. This program is meant to promote the capacity of religious leaders' response to VAW through an improved referral system. The program aims to reach 100,000 religious leaders by the end of 2015.
A typical training program consists of 4 modules: a) How Islam approaches VAW, gender equality, Hadiths (Prophet Muhammad's sayings) and VAW; b) Gender equality and VAW; c) Legislation on VAW in Turkey; d) Teaching techniques and communication skills, and how to communicate with violence survivors.
One participant, Mustafa Koseoglu, tells us "I'm glad I participated in the training. The experts taught me what to do. The community was frequently asking me: 'What should we do?' … By this training we have learned how to guide people."
Since the beginning of the program, UNFPA has worked with nearly 500 religious leaders like Koseoglu. Trained religious leaders have reached approximately 500,000 field staff who have been working as imams, Qur'an teachers, and preachers. According to the training evaluations, the sessions are very effective. Ninety percent of the participants feel more confident to provide guidance on the issues of gender and VAW after the trainings. "On every occasion," reports Mustafa Demir, "we express that laying a hand on woman is a sin and Islamic religion prohibits this…"
The process of implementation has led to some difficulties and some surprises. For example, it was difficult to locate national experts on the issue of Islam, gender, and VAW. Bringing experts from other Muslim majority countries was not an option as every Muslim majority country has their own specifications on cultural issues.
During the trainings, we were surprised to meet many Muslim women who identified themselves as feminist. These women are mostly graduates of Theology Departments of the universities, continuing their graduate studies through masters or PhD programs. Both their involvement in the training and their activities outside of the training showed us that Muslim women, with their liberal and progressive perspectives, are the ones who will pave the way to change gendered notions of Islam.
The most important challenge for the project is the increasingly conservative attitude prevalent in the ruling AK party, accompanied by the restructuring of the PRA and changes in its leadership. This puts the achievements of the project at risk. Presently 'the family and children' are emphasized rather than gender equality and the protection of women from violence. Gender equality and VAW are still pivotal in the trainings. However, the perspective has shifted from women to 'family and child', which is considered to be a 'safer' discourse within the context of VAW.
The question becomes 'where do we go from here?' We need to continue raising the awareness of religious leaders on gender equality and combating VAW. However, we have to find another way to reach them because with the new more conservative perspective of the government, we cannot continue the same program. We are discussing this issue with the feminist Muslim women of Turkey, the staff of PRA, and the experts from various NGOs, yet we have not found the answer. But we are hopeful, as always.
We believe training programs for religious leaders represents an innovative approach that moves beyond the binaries of Islam versus secularism. These programs create a dialogue between the secular and religious discourses on women's rights that is cognizant of the complexities and diversity of Islamic interpretations on the ground. It is clear that any transformation in women's human rights is subject to the political vagaries in Turkey and anyone who is hoping for a moral revolution in women's human rights has to, by necessity, become a savvy political player.
http://thewip.net/2014/08/14/mobilizing-religious-leaders-to-combat-violence-against-women-in-turkey/
------------
Iranian President Heralds New Era for Women's Rights with 'Hijabless' Photo of Fields Medal Winner
15 Aug, 2014
A tweet by the president of Iran has fuelled hopes that the punishing law that makes it compulsory for women to wear the Hijab could be relaxed.
President Hassan Rouhani posted images of Mayam Mirzakhani - who this week became the first woman to win the coveted Fields Prize, which is nicknamed the "Nobel Prize for mathematics" - on his Twitter channel.
In the split image, Mirzakhani was pictured wearing the Hijab or headscarf and in the second image without any head-coverings.
Wearing the Hijab has been compulsory for women in Iran since the 1979 Revolution, and the lack of it is punishable by imprisonment, cane lashes or fines.
Rouhani's tweet has been hailed as a major step forward for women's rights in Iran, following a call for lighter headscarves, or even no headscarf at all, to be permitted.
The president is the highest-ranking elected official in Iran. He was voted in 2013 and has publicly stated that he favours a more liberal approach to Islamic modes of dressing. The 65-year-old has been celebrated by much of the Western world for his more moderate beliefs than previous leaders, although some have questioned the legitimacy of this view.
This isn't the first time Rouhani's Twitter account has attracted public controversy. In May, he issued his support for a group of Iranian men who had been arrested in the country for creating a musical tribute to the Pharrell Williams song, Happy. He tweeted: "#Happiness is our people's right. We shouldn't be too hard on behaviours caused by joy."
The English-language account is not managed by the president personally but is run by his close aides.
Mirzakhani, 37, was born in Iran but now lives in the US where she is a professor of mathematics at Stanford University in California. She was awarded the 2014 Fields Medal for her sophisticated contributions to the fields of geometry and dynamical systems.
http://www.ibtimes.co.uk/iranian-president-heralds-new-era-womens-rights-hijabless-photo-fields-medal-winner-1461236
------------
Islam Looks At Trustworthiness and Capability NOT Male or Female - PKR's Zuraida
15 Aug, 2014
PAS' denial has failed to douse the burning speculation that the Islamic party is opposed to Dr Wan Azizah Wan Ismail becoming Selangor menteri besar because of her gender.
PKR Wanita chief Zuraida Kamaruddin reminded PAS today that Islam does not look at gender, but whether a person is able to perform his or her their duties or not.
"If it is true that PAS is rejecting Wan Azizah because of her gender and that it is basing this on Islam, then PAS has to realise that Islam does not look at gender.
"Islam looks at trustworthiness and whether a person is able to carry out his or her duties or not," the Ampang MP told Malaysiakini.
Zuraida also expressed confidence that Wan Azizah would be able to discharge her duties effectively if she becomes menteri besar.
Yesterday, PAS secretary-general Mustafa Ali said PAS objected to Wan Azizah's candidacy but was tight-lipped on the reasons for the party decision.
However, Mustafa denied that the PAS decision was because of gender.
Pressed on the issue, Mustafa said the reasons have been conveyed to PKR but could not be revealed to the media.
Meanwhile, Zuraida pointed out how women's roles in government are important, and that they are good at multi-tasking.
"Just look at other countries, like Bangladesh and India, where women are or were the country leaders.
"Gender should not be used as an excuse," she stressed.
Zuraida said if it was not true that PAS was rejecting Wan Azizah because of gender, then the party should give a formal explanation on the matter.
"If it is true or otherwise, explain the reasons. Then we can discuss so that we can come to a final say on the matter," she added.
http://www.malaysia-chronicle.com/index.php?option=com_k2&view=item&id=340792:virtues-unrecognizable-to-pas-hardliners?-islam-looks-at-trustworthiness--capability-not-male-or-female-pkrs-zuraida&Itemid=2#ixzz3ASj98xZW
------------
Motorcycle Sidecar Attracts Women Riders in Sana'a
15 Aug, 2014
Khaled Ameen, a motorcycle taxi driver in Sana'a, was surprised to see a woman waving for him to pull over, as it is unusual for women in Sana'a to travel by motorbike. He initially thought she was just going to inquire about directions or ask him a question, but the woman, in her 40s, asked Ameen for a ride.
Recently, Ameen witnessed an increasing number of female customers—a development which he links to the addition of a sidecar to his motorcycle, which allows women to rely on motorbikes without having to be uncomfortably close to a male stranger or to drive them themselves.
The emergence of sidecars is directly linked to the government's ban of motorbikes in Sana'a, which was implemented in December 2013 as a measure to reduce the number of assassinations in the capital—many of which had been carried out by armed men on motorcycles. Several motorcycle taxi drivers, who saw themselves bereft of their daily source of income, added sidecars to their motorbikes, thereby trying to skirt the ban. With a sidecar, so the argument goes, the vehicle in question resembles more of a Tuk-Tuk than a motorbike and can thus continue being used as a taxi.
While it remains unclear whether the ban is achieving any results in reducing Sana'a's crime rate, it has impacted women's practices in the capital.
According to Ameen, women are attracted to the new design of motorcycles, especially the covers which came with the addition of the sidecar to protect passengers from the sun and rain.
Fatima Abdulsalam, a housewife in Sana'a who recently began using motorcycle taxis, confirms Ameen's observations, describing the sidecar as "safe and comfortable."
While she used to be afraid of taking motorcycles, arguing that "they were not suitable for women," she argues that the sidecar turned motorbikes into an acceptable means of transportation for women. Furthermore, "they are quick and can be used to avoid traffic."
Using motorcycles also has its economic advantages. "They are affordable, therefore I would like to encourage those who are poor and who rely on a limited income as well as women to try it, because it is fun."
Wedad Al-Badwi, a rights activist at the Culture and Media Center in Sana'a, says the days of motorcycles being the domain of men are over.
In her opinion, the new motorcycle sidecars come close to the Tuk-Tuk and are thereby more socially acceptable for women. It may take time, however, until women fully accept and adopt motorcycle sidecars as a new means of transportation. After all, "it is due to [long established] traditions and customs that women in Sana'a are not used to riding motorcycles."
So far, motorcycles have been a social taboo for women in Sana'a, explains Al-Badwi.
The social character of norms preventing women from riding motorcycles is also emphasized by Nassr Al-Salami, a professor of comparative Islamic jurisprudence at Al-Iman University in Sana'a. In his opinion, it is not Islam preventing women from riding on motorcycles. Instead, he says, it is due to traditions and customs that people refuse to accept women on motorcycles.
Different values in Hodeida and Hadramout
But, customs and traditions vary among Yemen's governorates. While in Taiz and Ibb women on motorcycles are as rare and as little accepted as they are in Sana'a, women in governorates like Hodeida and Hadramout are often seen on motorcycles.
In Hadramout the only requirement for women using motorcycles is that they are accompanied by a male relative who is driving, says Aref Abdulmomen, who studies journalism at Sana'a University but is originally from the region.
Nora Bakatheer, a student at Hadramout University, specifies that the male relative needs to be a "mahram," an Arabic expression describing male relatives, such as brothers, fathers, or uncles, whose relationship with a woman makes it impossible to marry her.
As long as they are accompanied by a mahram, "women ride behind the motorcyclist without being criticized by anybody. People are used to [seeing that]," Abdulmomen says.
Many people in Hadramout—the largest of Yemen's governorates—prefer motorcycles over cars to avoid traffic in some of the governorate's congested streets. In fact, Abdulmomen said that motorcycles are the most popular means of transport in Wadi Hadramout, an area within the governorate, where almost every family owns one.
Bakatheer explains that it is hard for women not to rely on motorbikes due to the long distances within the sparsely populated and large governorate.
Contrary to Sana'a, women on motorcycles have become such a common sight in Hadramout that Bakatheer refers to the practice as "a tradition and a habit." In fact, she explains that locals often prefer a woman to ride a motorbike as it protects her "from the harassment of ill-mannered individuals," when compared to public transportation. Yet, Bakatheer points out that women in Hadramout are still a long way from being able to ride motorbikes alone "because the locals consider it a shameful act."
Like in Hadramout, people in Hodeida are accustomed to women riding on motorbikes. Abdullah Al-Bora'i, a resident of Hodeida, said that women in the region frequently use motorbikes, riding directly behind the motorcyclist—even occasionally with men they are not related to.
Balqees Ahmed Sameeh, from Hodeida governorate, confirms that she regularly rides a motorbike, sitting behind her husband, in order to go to the market, the coast, or to visit her family and friends. Sameeh clarified that society in Hodeida is generally accepting of women on motorcycles as long as they are accompanied by a mahram.
http://www.yementimes.com/en/1807/culture/4204/Motorcycle-sidecar-attracts-women-riders-in-Sana%E2%80%99a.htm
------------
South African Women Need Mental Liberation
15 Aug, 2014
It has been four months since the 14th of April -- the beginning of a life-changing horror story for almost 300 school girls in Nigeria. The recent kidnapping of these girls reminded me, the G(irls) 20 Summit delegate representing South Africa, of my position in the world as a woman, and made me grateful for the opportunities that I receive. While the conversation about women empowerment in other African countries is still about whether women deserve education or autonomy, women in South Africa have at least achieved legal equality for the most part.
Despite this, South African women continue to face challenges. There is constant debate about the cultural oppression of women, especially in Zulu and other African cultures where women are wives of polygamists. Many of these women argue that they choose their tradition and so they are not oppressed, but they are still put in abusive and dangerous positions. Extremist religious organisations in Africa such as Boko Haram have also oppressed women through a misinterpretation of Islam. This results in gross human rights violations against innocent women and girls across Africa and is a microcosm of the global crisis of terrorism which hinders the education and protection of girls, which I found especially horrific after reading, 'I Am Malala,' by Malala Yousafzai.
According to Interpol, South Africa is the rape capital of the world. Frighteningly, a South African woman is raped every four minutes, proving that violence against women is especially rife in South Africa. Oppression of women also resonates in the workplace as women are still paid less than men and have to work a lot harder to retain their position as companies are deterred by the cost of maternity leave. A mindset shift is needed to tackle these issues. A 2013 report on National Gender Equity in South Africa found that men are more than twice as likely to be the top earners.
However, these issues are being targeted by policy-makers, as evident from the continued work of the South African Commission for Gender Equality which was formed in 1996 with the new constitution. The next step for South African women is mental liberation. More women should spend time deciding what they want, regardless of societal expectations, and put these plans into action. This can range from a top position professionally, or an escape from an abusive relationship. With regard to cultural issues, it must be the role of each individual woman to think about her traditions and decide whether following them is worth it. A linked community of support is vital for women to discuss how we are not defined by the limits that our parents or society set us regarding marriage or a career. Speaking out about issues like sexual violence can be an empowering and preventative solution to oppression.
Men also have a role to play in achieving gender equality. As the G(irls) 20 initiative, 'Fathers Empowering Daughters' promoted, it is the job of men to welcome this new type of feminism and not be intimidated by it. Men must learn not to abuse women in the first place. The solution is simple: here in the 21st century, society needs to resonate with the words chanted by South African women when they march against Apartheid in 1956: "You strike a women, you strike a rock!"
http://www.huffingtonpost.ca/girls-twenty/south-african-women_b_5668325.html
------------
It's not a man's world: The African women breaking down tech barriers
15 Aug, 2014
(CNN) -- When I was doing my degree in computer science in Ghana's Valley View University 10 years ago, there just were seven girls in the class. After four years, only four graduated and out of that number, just two of us have stayed in technical roles. Today, my little sister's computer science class has at least 30% females and a smaller drop-off rate.
All across Africa, the number of women entering the tech industry is improving thanks to the several nonprofit groups teaching girls how to code and the bigger availability of funds. As a result, more women are training to become tech professionals. Yet, a large number of them are having to leave their jobs after a few years as they can't break the glass ceiling in an industry that's still largely male-dominated.
To address this, the Google Developer Group for women was created in Ghana less than two years ago. But soon the organizers came under attack from some men in the wider Google Developer Group community, with comments like "why do you need a women only group?" One guy's email even said, "leave them alone, maybe they want to create apps about menstrual periods together."
Such attitudes are widespread. I run the Women in Tech group in Ghana and at one of our monthly events one young female computer scientist approached me and said: "They keep telling me I cannot be really good at IT and also be a good wife and a mother." Straight away, I introduced her to Estelle Akrofi, the Google Country Manager for Ghana, a mother of two and an all-round success; then I introduced her to Otema Yirenkyi, the country manager of Microsoft Ghana and mother of a beautiful five-year- old.
Uphill task
The problems that African women in tech face are not very different from the ones female techies in many other parts of the world also come across. Yet, these challenges, coupled with some Africa-specific problems like power shortages and broadband inaccessibility, create an uphill task for women wanting to enter the industry and develop the high-level technical skills required in order to progress.
Yet, I know there is progress, and the examples are many -- female tech entrepreneurs like Regina Agyare (Soronko Solutions), Anne Amuzu (Nandi Mobile), Rebecca Enonchong (Apps Tech), and myself are all running their own tech enterprises and succeeding at it.
Pan-African Women in Tech meet up
Up until now, no one had attempted to build a pan-African Women in Tech network that would allow us to compare our challenges, learn from each other and connect across borders to expand our influence. That lack is what motivated myself, Ethel Ella Mbawe from Zambia, Barbara Bingu from Uganda, Sam Beckbessinger from South Africa and Akaliza Keza Gara from Rwanda to organize in early August the first Women in Tech Africa meet up.
More than 150 women signed up to the event that was supposed to happen online via Google hangout on August 2. Yet, bad Internet connection and technical challenges marred the event and made it difficult for the participants to communicate.
But while we were trying to fix the technical challenges we noticed something interesting happening on the event's page: the women had already started introducing themselves and talking to each other.
We saw how big the desire was to network and to share knowledge that we quickly decided to move the discussion to Twitter and start a live chat. The need to connect, to learn and to share was greater than any technical challenge.
In the end, the Twitter conversation with the hashtag #WtechAfrica had the reach of 74,502 and 195,209 impressions on Twitter connecting female technologists all over Africa ably supported by one of our speakers Enyonam Kumahor. Here are some of the highlights of the discussion.
http://edition.cnn.com/2014/08/12/tech/african-women-breaking-down-tech-barriers/
------------
Malawi Muslims Fight Early Marriages
15 Aug, 2014
LILONGWE – Rural Muslim communities in Malawi have intensified efforts to reduce rising cases of early marriages among girls to champion the promotion of the education for the girl child, which is said to have suffered much neglect.
"Since independence about 50 years ago, Muslim communities have not taken education for girls as necessary. Girls have been forced into early marriages, a development which has led to poverty and stagnation of various aspects of development in our communities," Senior Chief Chitera, a great champion of education for the gild child, told OnIslam.net.
"It is against this background that as traditional leaders, we have taken up this initiative to accelerate the promotion of education for the gild child so that communities could start valuing education first before marriage."
"It is against this background that as traditional leaders, we have taken up this initiative to accelerate the promotion of education for the gild child so that communities could start valuing education first before marriage."
Chitera hailed the new efforts of the rural Muslim communities to reduce early marriages as a "breakthrough" towards attainment of Education for All (EFA) goal in the southern African nation.
The education activist, from the predominantly Muslim south added, "if chiefs can't take a leading role in this regard, nobody will and as a result girls will continue to be victims of some cultural beliefs. Therefore, at the end of the day, the whole society will pay dearly through this neglect."
"Traditional leaders as custodians of cultures are influencing families through various social gatherings on the significance of education for the girl child. Through this initiative, we are rescuing girls trapped up in early marriages. Following these meetings, communities now value education. They are slowly beginning to realize that educating a girl is not a waste of resources as they have been thinking all along."
She said since the initiative kick started, the number of girls "fleeing" from early marriages have been on the decrease.
"Figures for girls being lured into early marriages either by their parents or guardians within the Muslim communities have been very high," Chitera said.
"But when this initiative was started, girls are very skeptical about rushing into marriages; as a result they are opting for education. With support from various education stakeholders we are able to woo girls to proceed with education even while they are still in marriage."
Common Problem
According to a research conducted by an education think tank, Link Education Project, many communities in Malawi have not valued education for girls.
"Girls are forced to marry as young as 12 years old and this often marks the end of a girl's education," the organization noted in its report.
"Early pregnancy is another common issue that often leads to permanent drop out and despite there being a national readmission policy stating that girls may re-enter the education system following child birth, many raise concerns that this policy is unknown, at school level and in the community," the report added.
Muslim activists like Chitera were making this dream possible.
"We are reaching out to the communities with a message that unless both boys and girls have access to education in an equal measure, it will be hard for our communities to advance in any form of development where women are always in the forefront in its implementation. Therefore, unless they are educated, their efforts would be fruitless to the country," said Chitera.
The influential traditional leader observed that lack of education among women in the country has led to growing levels of poverty; a development she said has led to stagnation of development endeavors.
"Although, I'm convinced that education has the key to unlock potential for sustainable development, both at household and community level. Some sectors of the society have used the Quran as a basis to deny girls education. But with the support of religious leaders, we have managed to change this mindset."
Meanwhile, leading education activists and Muslim leaders have hailed the initiative.
"As I have said before, the figures of girls dropping out of school in the Muslim community have been very depressing," Benedicto Kondowe, a leading education activist, told OnIslam.net.
"This development therefore, is a landmark which calls for multi-sect oral support. It is a breakthrough towards attainment of Education for All (EFA) goal. According to the EFA initiative, education should be made available to all. What these communities are therefore doing is to enhance the success of this initiative and this is highly commendable," he added.
Kondowe asserted that denying girls access to education posed a threat to human development in the southern African country.
"Education is a catalyst for social and economic development. Therefore, by denying girls access to basic education, we are denying them an opportunity to human development. Education for girls has not been accorded much attention by communities in this country. How then can we be talking of gender equality and human development if we ignore the aspect of education? There is therefore need for communities to take a leading role in fighting for education for the girl child," he said.
"There is no country in the world which can talk of meaningful development if women are denied access to education. And in the same vein, we can't talk of alleviating poverty, if women remain uneducated. Literacy, is key in the fight against poverty."
Necessity
On his part, National Chairperson of Muslim Association of Malawi (MAM) Sheikh Mohammed Idrissa said the development would save girls from "social ruin".
"As a Muslim body, we highly commend this initiative. Girls in this country both within the Muslim community and outside are being ruined by social forces which lure them into early marriages. This initiative therefore will save them from this trap," Idrissa told OnIslam.net.
"We are also appealing to various education stakeholders to join this initiative so that at the end of the day, something worthwhile, could be achieved. We have emphasized time and again that there is no religious justification to deny women access to education. Islam doesn't encourage this practice. All of us must strive to attain basic education for our own good and that of the society."
Malawi is a diverse religious, but secular nation. Islam is the second largest religion in the country after Christianity. It accounts for 36% of the country's 16 million population.
Islam highly appreciates marriage and gives it due care stating detailed rules and ruling in every single and small matter.
Islam doesn't impose a specific age for eligibility for marriage and leaves it for the legal authorities to decide the proper age for marriage in order to maintain interests of both husbands and wives.
This, of course, changes from one country or community to anther depending on many considerable factors.
In Islam also it is not permissible for the guardian to compel the one under his guardianship to marry someone she does not desire to marry.
Rather, it is necessary to seek her consent and permission.
http://www.onislam.net/english/news/africa/476193-malawi-muslims-fight-early-marriages.html
------------
URL: https://www.newageislam.com/islam,-women-and-feminism/new-age-islam-news-bureau/yazidi-women-leap-off-sinjar-cliffs-to-escape-sex-slavery-by-is-militants/d/98574