New Age Islam News Bureau
23 Nov 2014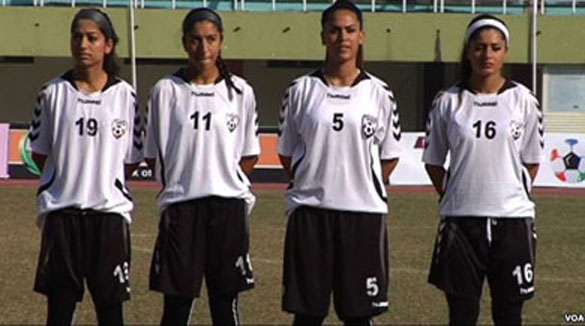 Afghan players at the South Asian Football Federation Championship in Islamabad (Ayaz Gul/VOA)
----------
• Stop Commodification of Women, Indian Commerce Minister
• Women with a Vicious Cause: 'Deviant' Mothers Disastrous For Children
• To End HIV, Stop Violence against Adolescent Girls
• African Union Pledges a Stop to Child Marriage
• Afghan Women's Soccer Team Building for the Future
• This 17-Year-Old Has Given 45 African Girls an Education by Selling Headbands
• Voices Grow Louder Against Women Abuse in Africa
• Africa Tasked On Self-Confidence in Youths, Women
• Embrace Enterprise, Arab Women Told At Global Entrepreneurial Summit
• Tanzania Sees Surge in Girls Reporting Rape and Kidnapping
• Young Woman Murdered Not Wearing a Veil While Driving In Tripoli
• Karachi's Unsung Women Are Its Real Heroes, Say Rights Activists
Compiled by New Age Islam News Bureau
URL: https://newageislam.com/islam-women-feminism/yazidi-families-reclaim-girls-seized/d/100147
-----------
Yazidi Families Reclaim Girls Seized By Islamic State – For a Price
November 23, 2014
NEAR ZAKHO, NORTHERN IRAQ — Suzanne twists the heart-shaped pink plastic ring on her finger as she talks about the women and children who beat her for trying to escape the self-described Islamic State.
The Yazidi 14-year-old, now living with an uncle's family near Zakho, is one of an estimated 5,000 girls and women from the ancient minority taken captive by IS to be sold or given to fighters as slaves – and one of an increasing number who have recently escaped or been bought back by their families.
Activists believe almost 150 girls and women have returned to the Kurdish-controlled territories in the last several weeks. Some see it as a sign of an overstretched IS that no longer has the resources in Iraq or Syria to hold large numbers of captives.
The women's capture and harsh treatment had raised fears they would not be accepted by their families if they managed to return, and has created challenges for the secretive, ancient religion and deeply conservative society, where some women are still killed to maintain family "honour" for even the appearance of impropriety.
But the sheer numbers of women seized from a small community that does not accept converts has helped prompt a religious decree that the women need to be brought back and re-integrated. In most cases, it seems to have worked.
Like other girls interviewed by the Monitor, Suzanne and her sisters and mother were separated by IS from their male relatives after gunmen took control of villages near Sinjar mountain over two days in August. She and her sisters were first taken to Mosul and then to the IS stronghold of Raqqa, Syria. After US-led airstrikes in Raqqa, their captors moved them to the outskirts of Aleppo, where she escaped, only to be handed back to IS by a Syrian family she had asked for help.
"They beat me with a plastic hose and a cable," says Suzanne, whose parents and two sisters are still missing. "They were saying 'it is useless for you to try to escape' … They hit me everywhere, my hands, my legs, my back. Everyone took a turn – even the children from the village and the wives."
The children encouraged to hit her were as young as five, she says.
When the Aleppo prison she was held in was bombed, she and a friend managed to escape. They made their way to the Kurdish region of Syria and then to Turkey, where she was picked up by relatives.
Ending up in an isolated farmhouse
Sabreen is 15. When Kurdish forces protecting Yazidi towns retreated in early August, IS fighters took her to a school in Tel Afar near the Syrian border with several hundred other women. There, IS took all children between the ages of five and 10 from their mothers. When the women screamed and tried to take back their children, the gunmen fired in the air and said they would kill them if they didn't stay back, she says.
Sabreen also ended up in Syria, in an isolated farmhouse near Raqqa.
"Lots of men used to come and look around and when they would see a girl they liked they would say 'I want to buy that one,'" she says. "There was an emir who was taking money for the girls – $1,000 to $1,500." Sabreen says she escaped from her Palestinian and then Saudi "owners" and is now living with an uncle's family near Dohuk.
The uncle, Hamid, said he was sending his sons to retrieve another distant relative who is believed to be the only surviving member of her family. He raised $5,000 – a year's income for many families here – to buy her back from Tel Afar through a middleman.
"Suddenly you get a phone call out of the blue saying 'We have your daughter.' They don't tell you their names or anything like that," says Hamid. "Or 'We have your girl. We want this amount of money.'"
"If you can find someone you can trust, that man goes and says, 'I want this girl to marry,' and he pays it straight to IS," he says. "You can't say 'I want to buy three girls back' – they won't give them to you like that."
Hamid and others said most families with missing wives and daughters were trying to raise money to buy back them back. He says they paid $10,000 for the first girl rescued in the family but that price has now dropped.
"People were willing to pay any amount of money," says Hamid. "But now in my own family, we have about 30 girls missing. If you have to pay $5,000 for each one of them … you will not be able to buy all of them back."
While IS has murdered members of all religious groups during its takeover of northern Iraq and systematically stolen cash and property, it has meted out special punishment to the Yazidis – whom it considers pagans.
Suzanne, Sabreen, and other abducted girls and women say they were told they were infidels and allowed to be bought, sold, or given to fighters. The issue is not spoken of even by Yazidi women, but many of the girls and women who were sold or given away were believed to have been raped.
A Christian woman who was told her family had to convert to Islam says she and her children were held in a house in Mosul with dozens of Yazidi girls.
"At two in the morning we heard the girls screaming," says the woman, who asked that her name not be used. "The gunmen were raping the girls. You could tell they were being raped and they were hurting them. They said, 'these ones don't have religion.'"
Initial reports of some girls and women killing themselves after escaping from ARE to avoid shaming their families have been impossible to corroborate. While such cases may exist, the religious ruling by Yazidi elders as women started to return appears to have protected those who have escaped.
"We would never allow anything to happen to them," says one Yazidi man in Zakho, who is still trying to find his missing mother and sisters. "If anything, they are more deserving of our respect because of all they have endured for our religion."
http://www.csmonitor.com/World/Middle-East/2014/1121/Yazidi-families-reclaim-girls-seized-by-Islamic-State-for-a-price
-----------
Stop Commodification of Women, Indian Commerce Minister
November 23, 2014
Addressing the World Hindu Congress in New Delhi, the Commerce Minister hinted at the need to change the mindset of the viewers.
Criticising the way women are portrayed as a 'commodity' in the media, Union Minister Nirmala Sitharaman on Saturday called for self-regulation and urged stakeholders to exercise freedom of choice with a certain sense of discretion.
"You are encouraging a certain theme, a certain narrative, story, picturisation of women, where she's made a commodity, where she is being projected as a doormat, and you are comfortably watching it, shedding tears...The moment Government tries to come in, we will have equally n—number of women saying 'Oh, moral policing!'," the Commerce and Industries Minister said while addressing the World Hindu Congress here.
Highlighting the role of women in mass movements like the Chipko Andolan and their participation in politics, she said: "There are enough examples to talk about how women have had a role in what I call politics which is not narrow to holding positions."
Sitharaman hinted at the need to change the mindset of the viewers.
"Let's not pretend. There is an audience for this. I am not saying therefore it should go on. But if we are constantly telling the government what are you doing about it, I want to ask for a minute, what are we doing about those people who are watching it," she asked.
"The government will come in, but as long as we believe in the freedom of choice, I think it is for us much more than the government, to exert this freedom of choice with a certain sense of discretion and 'Sanskaar'," she added.
http://www.thehindu.com/news/national/stop-commodification-of-women-nirmala-tells-media/article6625133.ece
-----------
Women with A Vicious Cause: 'Deviant' Mothers Disastrous For Children
November 23, 2014
A MOTHER's duty is to raise a child with a sound upbringing that instils awareness and knowledge while promoting good conduct.
A mother is supposed to raise her children to become good people who are useful to family, society and the nation as a whole.
A mother is the first school for children where they acquire values that will stay with them for life. A mother's love, affection and concern for her child is unmatched.
However, it is unfortunate that some mothers who have embraced extremist ideologies are instrumental in leading their children to destruction by encouraging them to join terrorist outfits.
There are mothers in Saudi society who actively urge their children to travel to conflict zones and fight when their children should be in school and provided for by their parents.
Experts say there should be an intensive campaign to enlighten these women to abandon any extremist views and concentrate on raising their children to become productive and peaceful members of society.
Tareq Al-Habeeb, consultant psychologist, said no one exercises as much influence in the life of a child as his or her mother does.
"The influence of the mother is crucial in a child growing up to become a good citizen or a person with bad and immoral habits. Women who are sympathetic to deviant ideologies or extremism are encouraging their children to join terrorist organizations. Only a woman who is brainwashed or has defective mind would encourage her children to kill innocent people," he said.
Al-Habeeb called on parents to develop friendly and strong relationships with their children and said they should teach them qualities such as tolerance and compassion.
"Apart from parents, the concerned government bodies have to play a constructive role in this regard," he said while calling on the government to create a separate ministry for youth and family affairs.
Dr. Haya Al-Manie, member of the Shoura Council, said the turning point in the fight against extremism was when it became apparent that women were embracing deviant ideologies. She said it is imperative that local communities reject any form of extremism and do everything in their power to reach out to those who may be most vulnerable to being influenced by extremist groups.
Al-Manie also said mothers play a paramount role in inculcating morals and values in their children.
"There are video clips being circulated on social media websites that feature women encouraging their children to go to conflict zones and take part in battle under the banner of militant groups. It is quite disturbing that some of these women express delight and pride in doing this," she said.
The Shoura member said mothers who encourage their sons to go to the battlefield and risk their lives fighting alongside other people who have no connection to Islam.
"These militants are the real enemies of Islam and Muslims, and these women are supposed to take care of their children and ensure them a safe and secure life with better education and career prospects. But these militant women are negligent in performing the noble role of a mother," she said.
Al-Manie urged educational and cultural organizations to play a great role in preventing mothers from embracing deviant ideology.
"These organizations shall shoulder the responsibility of protecting families from slipping into extremism. Women shall be enlightened on true values of tolerance and compassion and there shall be programs to empower them as well as to avoid marginalizing them."
Khaled Al-Dous, a community researcher who specializes in family and social issues, noted that Islam and all other religions regard motherhood in high esteem.
"Islam honoured mothers and it clearly states that Paradise lies at the feet of mothers. It also considers respecting parents and treating them well next to worshipping Allah."
He noted that mothers are a permanent source of happiness for children. "Whether young or old, healthy or handicapped, troublesome or obedient, the child is still beloved to the mother. This love may be displayed in various forms. Allah has granted mothers special physical and mental capabilities that enable them to shower a child with infinite love, affection, endurance, patience and sacrifice.
"Mothers shoulder the bigger responsibility of raising their children. It is important to assure a child that he is always loved, even when his behaviour warrants disciplinary measures. Such a child becomes confident and happy and will never seek solace elsewhere.
"A mother has to play a decisive role in preventing children from going astray and falling into the trap of militants. A woman who embraces deviant ideology will have a disastrous impact on her children," he added.
Um Abdul Ilah, a mother of four boys, said a real mother could not be convinced to send her children to join terrorist groups. She described such actions as "a kind of suicide or killing."
She called for strict punitive actions to be taken against such women and supported institutionalizing them until they change their views.
http://www.saudigazette.com.sa/index.cfm?method=home.regcon&contentid=20141122225177
-----------
To End HIV, Stop Violence against Adolescent Girls
November 23, 2014
A powerful public-private partnership is working urgently to stop violence against children, reports Together for Girls director Michele Moloney-Kitts.
When Gugu was a 14-year-old girl in Johannesburg, South Africa, was raped, shot and left for dead. Miraculously, she survived after spending three months in a coma, but when she woke up, the doctor had another potential death sentence to deliver: she had contracted HIV. And if that news wasn't enough to deal with, she was also pregnant.
This fate is unfortunately not rare for girls, especially in sub-Saharan Africa. And as it turns out, violence against girls and HIV are much more closely linked than we previously understood.
While we've made tremendous progress reducing new HIV infections—especially in infants—UNAIDS reports that adolescent girls and young women account for one in four new HIV infections in sub-Saharan Africa. Girls and young women are significantly more likely than males to contract it, largely due to their heightened risk for sexual violence. About one in three girls in sub-Saharan Africa experience sexual violence before turning 18.
For all of us working towards an HIV-free generation, these statistics are a wake-up call we can't ignore. Until girls' rights and needs are placed at the top of our agenda, we won't get far in achieving our goal to stop HIV, not to mention many other critical public health issues.
Making the Connection and Finding a Solution
I first began working on the link between violence and HIV when I was with the U.S. President's Emergency Plan for AIDS Relief (PEPFAR). The medicine used for treating AIDS can also prevent HIV in certain circumstances, but in the case of rape, it must be taken within 72 hours of exposure. To expand access to the medicine and comprehensive support for survivors of sexual violence, we launched a pilot project to establish post-rape care centers in two African countries. While the pilot itself was a success, the evaluation uncovered a major problem. We expected to see large numbers of women visiting the centers—but instead the vast majority of patients were children. Survivors ranged from very young children to older adolescents. Virtually no one above the age of 20 presented for care.
This information prompted me to begin working on a new partnership that had just been launched at the Clinton Global Initiative. Together for Girls, is dedicated to ending violence against children with a focus on sexual violence against girls. It's a global public-private partnership between the U.S. government, five UN agencies, including UNICEF, UNAIDS, UN Women, UNFPA and WHO, and several private sector organizations, which works to addresses violence and its many public health, societal and economic consequences.
Together for Girls partners work with government leaders to collect national-level data on violence against children in their countries and then use that data to mobilize national action to respond and prevent violence. The Violence against Children Survey (VACS) is a national survey of 13-24 year olds that assesses the magnitude, nature and consequences of violence against children. With strong support from the U.S. Centres for Disease Control and Prevention, PEPFAR and UNICEF, the governments of Cambodia, Haiti, Kenya, Swaziland, Tanzania and Zimbabwe, have all completed surveys and the results have been illuminating—and a call to action.
In Swaziland, the Violence against Children Survey found that girls who experienced sexual violence before the age of 18 were 3.7 times more likely to report a sexually-transmitted disease, including HIV, and were also 3.5 times more like to have pregnancy complications likely due to their young age.
In Tanzania, the surveys revealed that after experiencing sexual violence, girls were more likely to engage in risky behaviour, including having multiple sexual partners and infrequent condom use. In Swaziland, girls who experienced violence were also at greater risk for alcohol abuse, depression and suicidal thoughts. Once a girl's self-esteem is crushed, the effects are far reaching and long lasting.
The good news is that we know what to do. Violence and its consequences, including HIV, are preventable and the data from these surveys are mobilizing governments to take action. For example, In Tanzania, following the survey, the government developed a three-year national action plan to stop violence against children. In just one year, Tanzania trained 4,000 police, social welfare officers, primary school teachers, health workers, and district justice officials in child protection.
Investing in this work is incredibly smart. As country governments build their capacity to respond to and prevent violence, they are also protecting their citizens from a host of other negative health conditions, including HIV/AIDS, unintended pregnancy and the maternal deaths that young teen mothers risk. Taking on this egregious human rights issue contributes to an environment where children can grow up both safe and healthy.
Breaking the Silence and Stigma
This brings me back to Gugu. She is now in her 30s and is sharing more about her life raising a child while living with AIDS in the powerful photo essay, "Through Positive Eyes," published in Safe magazine this week. Developed by Together for Girls, Safe is the first digital magazine highlighting the survivors, heroes and solutions working to stop violence against children with the aim of breaking the silence and stigma around it and inspiring readers to take action.
141120-moloney-hivcover
In this issue of Safe, we explore both the immediate and long-term consequences of violence and how this global epidemic is fuelling some of the world's most intractable public health issues. I invite you to keep exploring this topic in the pages of Issue II of Safe. It includes two powerful photo stories, a list of 50 global heroes finding solutions, and interviews with two U.S. ambassadors working at the intersection of HIV and violence. I hope you will find inspiration from those who grace these pages. Many of the answers to how we make the world better for children—and better for all of us—are contained here.
Michele Moloney-Kitts is the Director of Together for Girls, a global public-private partnership dedicated to ending violence against children, with a focus on sexual violence against girls. Together for Girls generates comprehensive data on the magnitude and consequences of this public health and human rights issue, mobilizing countries to lead a response and inform solutions that are evidence-based. The partnership includes five UN agencies led by UNICEF, the U.S. government and the private sector.
http://www.thedailybeast.com/articles/2014/11/20/to-end-hiv-stop-violence-against-adolescent-girls.html
-----------
African Union Pledges a Stop to Child Marriage
November 23, 2014
PEMBA, MOZAMBIQUE— Mozambique has one of the world's highest rates of child marriage - driven by strong social and cultural traditions, despite the practice being illegal. Early marriage compromises girls' right to education and can have a devastating impact on their health. The African Union has pledged to stop all child marriages within a generation.
In a sandy suburb of Pemba in northern Mozambique, 16-year-old Rachel bounces her daughter on her knee before handing the fidgety toddler to her sister.
Rachel - who did not want to reveal her real name and asked not to be recorded - describes how at 14, she got pregnant.
"My big sister insisted that I stay in school," she said. "There are many here who have babies at a young age but normally, they leave school to get married and continue to have children every year after that. Some think marriage is a guarantee of security," she said.
It's a familiar narrative in Mozambique where 52% of girls marry before they are 18.
Ceremonies with dancing and music mark the beginning of the mostly secretive initiation rites season in Pemba. Girls are removed from school when they have their first menstruation, sometimes before, and are kept away for days, weeks, or even months to undergo initiation by the "matronas", female community elders.
It is so accepted in this Northern Province that the school calendar has been adapted to accommodate the practice.
Initiation rites prepare girls for married life in Mozambique with training in submissiveness, domestic duties, the art of seduction and may include female genital mutilation in the belief that it will increase male sexual pleasure.
After going through initiation, girls are considered ready for marriage.
Françoise Moudouthe, Africa Regional Officer for Girls Not Brides, said child marriage often forces girls to drop out of school and to have children before their bodies are mature enough.
"Most of them are expected to enter into sexual intercourse very early, before her body is ready. She's also very often expected to have children to prove her value as a wife and the consequences of early pregnancy for a girl, especially the youngest child bride, is really dramatic. Girls, who are married before age 15, are five times more likely to die or be injured in childbirth than girls over age 19," said Moudouthe.
Sixty percent of all fistula cases, caused by prolonged obstructed labor leaving a woman incontinent, occur in girls under 18.
Nyaradzayi Gumbonzvanda, the African Union Goodwill Ambassador for the campaign to end child marriage in Africa, said the practice is a violation of the fundamental rights of girls. She believes that if governments, women and youth movements, faith and traditional leaders pull together, it can be ended within a generation.
"Getting into early marriage should not be an option out of poverty. It is important that our girls have access to education, not only primary education but are able to transition into secondary, tertiary education and get jobs or are involved in some entrepreneurship… We need to also address some of the very strong patriarchal attitudes where girls are seen as wives and not citizens. Girls are not getting married to boys, girls are getting married to adult men who are supposed to be responsible," said Gumbonzvanda.
Gumbonzvanda argued that current social traditions in Mozambique to initiate girls into womanhood should not be banned, but rather adapted with more positive age-appropriate messages to equip girls with vital skills so they do not have to depend solely on marriage.
Slowly, attitudes are changing in Pemba as men and women are progressively exposed to information through media and better education.
Child-to-child radio programs debate issues pertinent to young people, giving them a stronger voice in the community. National campaigns raising health awareness are helping parents learn about the detrimental impact of early marriage.
Rachel's parents are stalling her completion of the initiation rites in the belief it might help her stay in school.
"I really like to study and when I finish, I want a job, I want to be financially independent," Rachel said.
For Rachel and her sisters living in a modest concrete house in Pemba, they aspire to have more than what they have grown up with - whether it is the latest fashion, or a smartphone, or a career that gives them freedom and independence.
http://www.voanews.com/content/african-union-pledges-a-stop-to-child-marriage/2524214.html
-----------
Afghan Women's Soccer Team Building for the Future
November 23, 2014
ISLAMABAD— For women in Afghanistan, playing outdoor games was out of question under the repressive Taliban government. But the emergence of a national women's soccer team in recent years is one of the many developments that symbolize changes the strife-torn country has since undergone. The team recently competed in the South Asian Football Federation (SAFF) Championship in Islamabad.
Frozan Tajali, 21, is the captain of the Afghan women's team. She said that increased participation in international events is helping her players improve their skills. Tajali said that for the first time in October, a four-team female league was organized in Kabul and it also helped in identifying players for the national team.
"Yes, women are now free and can play football [in Afghanistan]. We organized the league recently for selecting the national team and 20 girls came just from one province alone to Kabul to take part in the league," she said.
Defender Yalda Arghandiwal came all the way from the United States to represent her country at the soccer championship, held at Islamabad's Jinnah Stadium.
The 20-year-old Afghan player acknowledged there are still cultural restrictions on women for playing soccer and other outdoor games in parts of Afghanistan. However, she said things have improved.
"There is a lot, more brighter cases in Afghanistan, it is not just the Taliban taking over and nobody has any rights. We do have rights it is more free we have our president, he is trying to make the country better for us. And yes, the women now are getting better and this is a big example for you. They are out here playing soccer so that should be a big improvement that yes Afghanistan is proving as a country and they have owned the future," said Yalda.
Yalda comes from Kabul and moved to the United States a decade ago with her family, where she regularly started playing soccer. She said her team must improve to compete with countries like India and Nepal, who have been playing for several decades.
"We lost but that does not matter. As long as we tried our best - we tried really, really hard - and we worked how we want to work, it is totally fine. This is the just the beginning for Afghanistan national soccer team and for the women of Afghanistan. This could be a big start and it could just lead us into a more brighter future," said Yalda.
Yalda was among five Afghan female players who are settled abroad but represent their national team in international events at the request of Afghanistan Football Federation.
Midfielder Shabnam Mubariz said Afghanistan has made significant progress in recent years in all areas, including soccer for women.
"I see a bright future because we are starting to playing football now," she said.
Monika Staab, a German consultant from FIFA watched the teams perform at the SAFF championship. Staab said that she has noted a marked improvement in the Afghan team since she first saw them in action seven years ago in Pakistan.
"Afghanistan women want to play. I know the Taliban and all these people who say women should stay at home, things are changing we are now in 2014 and we have to give the girls the opportunity. We have to push them move on to play, let them play," said Staab.
Members of the Afghan team wear black head-scarves and full leggings in all of their matches to adhere to the country's conservative Islamic culture. Even after the Taliban's removal from power, gender segregation remains deeply rooted in Afghan life.
http://www.voanews.com/content/afghan-women-soccer-team-building-for-the-future/2528910.html
-----------
This 17-Year-Old Has Given 45 African Girls an Education by Selling Headbands
November 23, 2014
About five years ago, Mary Grace Henry of Harrison, New York, asked for a sewing machine for her birthday. She wanted to design and sell headbands to pay for just one African girl's schooling.
Now, 11,000 creations later, the 17-year-old has sold enough to give 45 girls living in extreme poverty the gift of an education.
Henry is the founder of Reverse the Course -- a headband-making business that donates 100 percent of its profits toward educational opportunities for girls, primarily in Uganda and Kenya. Henry was inspired to launch her business after learning about early marriage in the developing world -- a practice that drastically reduces the likelihood of a girl accessing education.
Reverse the course girls
There are roughly 67 million child brides worldwide, according to the International Center for Research on Women (ICRW). Girls in poor, rural communities in the developing world are disproportionately affected by the practice, which "perpetuate[s] the cycle of poverty," according to the organization.
ICRW reports that, aside from depriving girls of an education, child marriage increases health risks associated with early sexual activity and childbearing. It also increases the likelihood of a girl falling victim to domestic abuse and suffering from social isolation.
On Nov. 6, Henry was honoured with a World of Children Award for her commitment to combating the practice through educational opportunities. According to a press release from the organization, a two-year $35,000 grant will support Reverse the Course's work by funding student workshops and programs for girls in impoverished Africa.
Reverse the course meeting
"The greatest obstacle to education faced by both girls and boys is poverty," Henry told the awards organization. "Girls, though, face a second hurdle that is far more difficult to address: their culture. In many countries throughout the world, girls are viewed as having not just lesser value than boys, but often devastatingly little or no value."
Henry spent two weeks capturing her experiences working with the girls in sub-Saharan Africa who have benefited from Reverse The Course, as seen in the trailer above. Henry's documentary, "Tumaini," will provide a hopeful look into the lives of girls who are "going to school and paving their own paths to help others."
henry
"When you see a need, act," Henry said of the advice she'd give to others who want to make change, according to the World of Children Awards. "Dream big, but start small, taking little steps. Set an initial goal and don't scare yourself thinking about the 'what ifs.' Each step taken will present both new opportunities and new challenges. Face each one as it comes and then keep going. All those little steps, done with love, will lead you to places impossible to imagine."
http://www.huffingtonpost.com/2014/11/18/mary-grace-henry-africa_n_6179206.html
-----------
Voices Grow Louder Against Women Abuse in Africa
November 23, 2014
JOHANNESBURG - Following the recent release of videos on the internet showing a women being stripped and beaten, women and men from countries across Africa attended the 9th Africa Regional Conference on Women Beijing +20 Review in Addis Ababa.
The conference released a statement that vehemently condemns abuse, violence and discrimination towards girls and women across the continent.
The statement also demands an end to acts of injustice and impunity faced by victims and survivors that are being reported in greater numbers across Africa.
The opening statement reads, "They are stripping us, raping us, killing us and it must stop NOW!"
The statement cites cases of abuses inflicted on women and girls starting with expressing its heartbreak over the hundreds of girls abducted by Boko Haram several months ago in Nigeria, as well as the a case of four-year-girl who was raped and subsequently died of acute heart failure as a result in Kenya.
The statement goes on to express their concern over the reports of women being stripped in public in both Kenya and Tanzania, supporting the hundreds who took to the streets in Nairobi earlier this week to take a stand against the violations of women's' bodily integrity and dignity.
"Despite local and global media coverage of the campaign and emerging political will to address the issue, the very next day, another incident of public stripping was reported – a testament to the deeply entrenched culture of impunity that pervades our societies," the statement said.
"It alarms us that whilst we congregate in the 'corridors of power' 20 years after the progressive Beijing Declaration and Platform for Action for Women's Human rights, the women and girls that we have pledged to protect continue to be victimised with impunity."
The world will no longer hear the roar of our silence, but will hear the thunder of our action."
http://ewn.co.za/2014/11/21/African-women-demand-an-end-to-abuse
-----------
Africa Tasked On Self-Confidence in Youths, Women
November 23, 2014
King Muhammed VI of Morocco has called on African governments to instill self confidence in young people to help them become entrepreneurs.
He especially tasked leaders to encourage female entrepreneurship, saying acting otherwise will amount to depriving the continent of huge potentials.
He handed down the advice at the opening of the Global Entrepreneurship Summit 2014 going on in Marrakech, Morocco, where over 300, 000 entrepreneurs are attending.
He advised Africa to ensure equal opportunities for all by inspiring and encouraging women and young people to become entrepreneurs, adding: "Their roles in the ecosystem would be more effectively valued ...to boost inclusive growth and development."
http://allafrica.com/stories/201411211529.html
-----------
Embrace enterprise, Arab women told at Global Entrepreneurial Summit
November 23, 2014
Marrakech, Morocco: Dr Jill Biden, Second Lady of the USA, and Morocco's Delegate Minister of Foreign Affairs and Cooperation Mbarka Bouaida were among the speakers encouraging women to become entrepreneurs at the launch of the 5th Global Entrepreneurial Summit in Marrakech on Wednesday.
Coinciding with Women's Entrepreneurship Day on November 19, the first day of the summit organised under the patronage of King Mohammed VI of Morocco and the White House, was dedicated to women's entrepreneurship. It included panel discussions on the financial challenges women face, success stories from the Arab World and Africa, and an event for young women to pitch their businesses to a group of high profile judges.
In her address to the summit, Biden reflected on the women she has met while travelling in Africa who have overcome challenges to become entrepreneurs who serve their societies. She noted that entrepreneurship sounds more intimidating to women than it actually is. "In reality it's what we've always done, solving problems that need to be solved," Biden said.
The speakers and participants addressed the need to support women entrepreneurs because it is vital to strengthening communities everywhere thanks to women's creativity, innovation, and potential to promote economic opportunity. "We can confirm that women entrepreneurs' issues are the same all over the world," said Bouaida, adding that Morocco has made a number of pro-women reforms to give them a more equal
voice in both private and public decision-making.
"Women are not only mere actors but we are the real institution at the heart of the dynamics that move our world," she added.
Speakers included Shazia Saleem of the United Kingdom, who is the founder of ieat foods, the UK's first brand of ethical halal ready prepared meals and Lateefa Alwaalan of Saudi Arabia, who founded Yatooq, a Saudi company focused on developing Arabic coffee brewing technology.
Among the prize-winners in the Live Pitch event was a young Egyptian woman whose plan for a waste-management company impressed the judges.
The Live Pitch grand-prize winner, Fatima Guadalupe Rocha Arguelles, who represents a company that makes solar-heated fabric for winter clothing, captured the spirit of the day.
"I'm representing the hopes of other women and girls who want to build a better community," she said. The Global Entrepreneurial Summit has attracted over 4500 people, including a number of participants from the GCC.
Bahraini entrepreneur Zahra Saleh said she was interested in finding like-minded people to collaborate with her publishing business, which also has a social program to promote a love of reading the Gulf countries.
"Most people don't care about ideas but products. I want to sell books but I want people to love to read first. At this summit we can negotiate and find new ideas and find opportunities for partnerships. I'm sure we're going to find somebody like us and if we put our hands together we can make changes," Saleh said.
http://www.timesofoman.com/News/43071/Article-Embrace-enterprise-Arab-women-told
-----------
Tanzania sees surge in girls reporting rape and kidnapping
November 23, 2014
DAR ES SALAAM, Nov 21 (Thomson Reuters Foundation) - A surge in reports of rape, torture and kidnapping of girls in Tanzania shows that the introduction of specialist units in police stations is giving survivors confidence to report these crimes, a senior official has said.
However, critics said police need to do more to secure prosecutions in the country where nearly one in three girls experiences sexual abuse before the age of 18, according to the United Nations children's fund.
They also stressed that the number of crimes reported represents only the tip of the iceberg as most victims of sexual violence do not speak up for fear of stigmatisation.
In Tanzania's main city, Dar es Salaam, there were 519 reports of violence against girls in the first nine months of this year - 67 percent higher than for the whole of 2013.
"These figures suggest that our desks have had a huge impact since abuse victims are now more willing to come forward and tell their stories without fear," Christine Onyango, the police officer in charge of gender and children's affairs, told the Thomson Reuters Foundation.
It is the first time Tanzania's government has released such data since it introduced 200 so-called Gender and Children's Desks last year, making it easier for survivors to report abuse to specially trained female officers.
Rape was the most common form of violence against girls, according to statistics published last week, with sharp increases in reports of all types of crimes.
Stepmothers were most frequently cited for torturing girls while kidnappings were carried out by unknown assailants for witchcraft or ransom.
The Tanzania Media Women's Association (TAMWA), which advocates for women's rights, called on the government to do more to secure prosecutions.
"If security organs and responsible ministries take action against perpetrators of such inhuman acts against children, the country will be a peaceful place to live," it said in a statement.
Happiness Bagambi, a programme officer with TAMWA, also called for members of the public to be educated on the preservation of evidence after sexual assaults.
"Very few people have the courage to take their raped children to police or hospital without (them) being bathed," she said. "The evidence is lost and, if the case proceeds, ends up nowhere."
http://www.trust.org/item/20141121132832-v9gyq/?source=jtOtherNews2
-----------
Young Woman Murdered Not Wearing a Veil While Driving In Tripoli
November 23, 2014
A 23-year-old woman was shot while she was driving near the former Qala Al Shab (People's Hall) on the west side of Tripoli's upmarket Hay Al-Andalus suburb.
Her name has been reported variously as Sarah Al-Barani and Sarah Al-Maghdura. An Instagram photo said to be of her reads "Sarah James."
The reason for her killing is unclear. Some reports say that the attacker, who had followed her around in a Toyota before shooting her, had sexual intentions and murdered her when she rebuffed his advances. Others say he was an Islamic extremist who shot her because she was not wearing a veil and ignored his demands that she cover up.
Suggestions that extremists opposed to women driving were responsible for the crime may be weakened because later in the day a young man, Ali Gajroob, was reportedly killed in the same way.
People have taken to social media to condemn the killings and express their anger over the current security situation.
"Libya Dawn says Tripoli is safe. Is this what they call safe?" read one tweet that was echoed by many others.
http://www.libyaherald.com/2014/11/21/young-woman-murdered-while-driving-in-tripoli/#ixzz3JkylTNXv
-----------
Karachi's Unsung Women Are Its Real Heroes, Say Rights Activists
November 23, 2014
KARACHI: For theatre artists and women's rights activist Sheema Kermani, there are several women related to the world of art who were Karachi's unsung heroines and had contributed towards developing the culture in the city.
During the fourth session of the Karachi conference on Tuesday, Kermani discussed how women were celebrated in the Indus Valley civilisation – in the form of Mother Goddess or dancing girl of Moen jo Daro. She also reminisced about old Karachi where there was a certain openness, diversity and liberal environment. She claimed that times had changed and women were being treated unfairly.
Kermani mentioned women such as Atiya Fyzee, Madame Azurie, Parveen Qasim, Mehr Nigar Masroor, Meher Rizvi, Perveez Dastur, Amna Nazli, Zebunnisa Hamidullah, Sara Shagufta and Vilina Ghanyshyam.
Aslam Khwaja, a renowned journalist, talked about the role of women in Karachi during the anti-British struggle. The two women who stood out were – Jethi Tulsidas and Shanta Bukhari. Their bravery, strength and determination to keep on fighting even after being sent to jail because of their convictions, according to the speaker, should be an example for all women. Khwaja added that these women led their own movements and did not live in the shadow of their husbands.
Nayyara Rehman, another journalist and writer, read her paper on cities and their genders – 'If Cities had Genders: A short history of feminism in Karachi' and described the development of the feminist movement through different decades after Partition. The paper also looked at the effect of political and legislative developments of feminism in Karachi and Pakistan in the form of the Family Law Ordinance and Hudood Ordinance.
She talked about the transition of a woman from being brought up as a social companion for a man to having a more decisive identity as a human being. She also talked about taking this legacy forward and rethinking what it meant to be a woman in Karachi. The moderator of the session, Anis Haroon, ended the talk by sharing a personal experience from the 1980s, when General Ziaul Haq had put several restrictions on what women should wear.
http://tribune.com.pk/story/795120/the-citys-unsung-women-are-its-real-heroes-say-rights-activists/
-----------
URL: https://newageislam.com/islam-women-feminism/yazidi-families-reclaim-girls-seized/d/100147