New Age Islam News Bureau
15 Oct 2017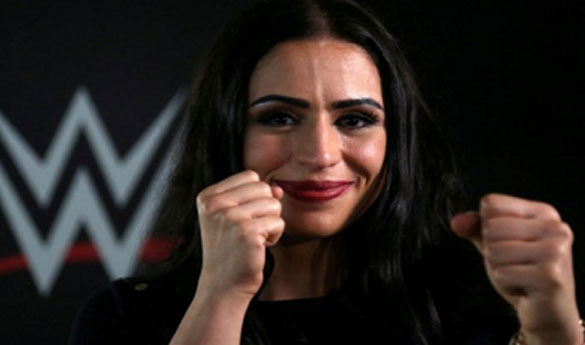 Photo: Shadia Bseiso, who was signed by World Wrestling Entertainment Inc. as its first female performer from the Arab world, gestures during an interview with Reuters in Dubai, UAE October 15, 2017. REUTERS/Satish Kumar
------
• Princess Reema—The First Saudi Woman to Head Sports Federation
• Pakistani Woman to Be Given Visa for Liver Transplant: Indian FM
• A Jewish Woman in Azerbaijan, a Muslim Country: Serving as a Supreme Court Judge
• Muslim Women Welcome Haj without Escorts
• From The Raqqa Front Line: Only British Woman Fighting Isis In Syria Says She Can Never Return Home
• Emirati Women Play Major Role in Sustainability, Says Dr Nawal Al-Hosany
Compiled by New Age Islam News Bureau
URL: https://www.newageislam.com/islam-women-feminism/wwe-signs-first-woman-wrestler/d/112889
-----------
WWE signs first woman wrestler from Arab world in global push
DUBAI (Reuters) - World Wrestling Entertainment Inc. signed its first female performer from the Arab world on Sunday, smashing cultural taboos as the U.S.-based pageant seeks to piledrive its way into lucrative foreign markets.
Shadia Bseiso, a Jordanian versed in jiu-jitsu, dreams of encouraging more Arab women to take up sports - and of one day maybe even crashing a metal chair over WWE mega-star John Cena.
"Female athletes are finally getting the credit they deserve. The world is more open to that, and in terms of how the region will react to it, I'm hoping its going to be very positive," said Bseiso.
While women exercising in public is rare in the Arab world and the local entertainment industry often relegates them to docile roles, big companies such as Nike have stepped up advertising geared towards female athletes.
Still, the high octane physicality and outrageous storylines of professional wrestling remain a novelty in the region.
Speaking to Reuters in the WWE's Dubai office, Bseiso said she made sure to tell her parents about her colourful career choice in person.
After announcing she would join the ranks of the WWE, they paused in disbelief for a moment, she said, worried for her safety in the often bruising shows.
They support her fully, she added, as she now heads to the company's Orlando, Florida, training centre for gruelling in-ring training and what WWE calls "character development" - transformation into one of their trademark big personalities.
She has a Jordan-themed persona in mind, she says, declining to elaborate.
For decades a quintessential if curious emblem of Americana, professional wrestling has now won die-hard fans in the Arab world and beyond, and features widely in apparel and toys.
WWE's reach deeper into new demographics makes plenty of business sense for the $1.5 billion Connecticut company, which has also recently signed several Indian and Chinese athletes in the hope of snaring millions of potential new devotees.
"Recruiting Shadia to join our developmental system underscores WWE's ongoing commitment to building a talent roster as diverse as our fan base," said Paul "Triple H" Levesque, WWE Executive Vice President and himself a popular wrestler.
Bseiso insists the quirky genre has room to expand if only fans could find a hero from home.
"As it is, the WWE's incredibly popular in the Middle East, but I think having athletes from the region who grew up here - it will change things. You finally have someone to root for."
uk.reuters.com/article/uk-emirates-wwe/wwe-signs-first-woman-wrestler-from-arab-world-in-global-push-idUKKBN1CK0H4
-------
Princess Reema—The First Saudi Woman to Head Sports Federation
By Aiman Bilal - Oct 15, 2017
Princess Reema Bint Bandar has been appointed to head the multi-sports federation in Saudi Arab, as informed by an official this Saturday. This is the first time a woman has been chosen for such role, in the Kingdom. Sports sector is usually headed by males, but this would be the first time a woman would lead the sports group. She would be managing the sports-related activities for both men and women.
Back in August 2016, the Princess was nominated by the cabinet for a senior post in the Kingdom. The post was equal to that of sports ministry. That time also was the first time for a woman to get such rank.
Princess Reema had graduated from an American university in museology. She is the daughter of the Saudi ambassador to Washington, Prince Bandar bin Sultan.
Many women have been appointed to do jobs in Saudi Arab. The Kingdom is undergoing great reforms which incorporate the programs and plans to encourage and allow women to join the workforce.
During the month of February, three women were appointed to do the top-level jobs in male-dominated sectors.
Rania Nashar was made the CEO of Samba Group, Sarah-Al-Suhaimi chaired the Kingdom's stock exchange and Latifa Al-Sabhan was chosen for the job of CFO of Arab National Bank (ANB).
Other reform programs introduced are the introduction of physical education classes for female pupils in schools and the revision of guardianship system.
The Prince of Saudi Arab has recently lifted the ban on driving by women. The women would be able to now drive freely in the Kingdom from June 2018.
These reform programs have brought and will bring betterment in the overall lifestyle of Saudi women and would also prove beneficial for the country's overall economy.
researchsnipers.com/princess-reema-the-first-saudi-woman-to-head-sports-federation/
-------
Pakistani Woman To Be Given Visa For Liver Transplant: Indian FM
PTI | Oct 15, 2017
NEW DELHI: External Affairs Minister Sushma Swaraj on Sunday announced that a Pakistani woman would be given visa for undergoing a liver transplant surgery in India.
"We are giving Visa for the liver transplant surgery of Ms.FarzanaIjaz in India (sic)," Swaraj wrote on Twitter.
Follow
SushmaSwaraj ?@SushmaSwaraj
We are giving Visa for the liver transplant surgery of Ms.FarzanaIjaz in India. twitter.com/mohsinsayz/status/918909716230819841 …
2:59 PM - Oct 15, 2017
Twitter Ads info and privacy
The minister's intervention came after M Mohsin, a resident of Faisalabad in Pakistan, tweeted to her, requesting visa for his ailing aunt.
"@SushmaSwaraj Madam my Aunt is (in a) very serious condition need liver transplant pls grant medical Visa. Humble request.Plss! (sic)," Mohsin had written on the microblogging website.
Swaraj has been sympathetically considering the medical visa applications of scores of Pakistani nationals, notwithstanding the strains in ties between India and Pakistan over a host of issues, including cross-border terrorism in Jammu and Kashmir.
Yesterday, she had announced that India was giving medical visas to Pakistani nationals seeking treatment in the country.
timesofindia.indiatimes.com/india/pakistani-woman-to-be-given-visa-for-liver-transplant-sushma-swaraj/articleshow/61090468.cms
-------
A Jewish Woman in Azerbaijan, a Muslim Country: Serving as a Supreme Court Judge
Her name is Tatyana Goldman Alexander, she is Jewish and she is serving as one of seven women, among a total of 39 Supreme Court judges, on the Supreme Court bench of the majority Muslim country, Azerbaijan.
Tatyana Goldman Alexander, Azerbaijan Supreme Court Judge
This is my second meeting with Madam Tatyana, an extremely friendly and hospitable lady, open to a heart-to-heart chat. I especially requested an interview with the Lady Judge because it is rare to see a woman serving in such high position when Muslim countries are known for their oppression of women. And a Jewish woman on top of it? That is the ultimate. Nowadays, there are hardly any Jews living in Muslim countries. But Azerbaijan, though a minority Muslim country, is a total different story, a story I wanted to tell.
Madam Tatyana's roots are in the Ukraine. She comes from a long line of professionals, lawyers, doctors, architects.
Her mother's grandfather was a lawyer. He was one of only five Jewish students in the entire Russian empire who were accepted to study at St. Pietersburg University. However, he could not get a job unless he changed his religion, gave up being a Jew.
Her father's family, name Gusman, she thinks were originally expelled from Spain, moved to Baku from Ukraine in the early years of 20th century; her mother's family moved to Baku from Ukraine in the 19th century. Why? Because both families had many children and suffered from intolerance.
During Stalin's rule, life in Baku was difficult for everyone, especially for Jews. Stalin wanted to build a country for Jews north of Siberia where living conditions were intolerable. For instance, her grandmother's sister who lived in the Koluma Region, Azerbaijan, was sent to that futuristic planned Jew region where she was held and was brained washed for 17 years. When Stalin died, she returned to Baku with a mission to build Communism in Azerbaijan.
During the Communism era, life for Jews in Baku was difficult.
In Baku the Gusman family is well known. Her father, an architect built many buildings in Baku still standing today.
Madam Tatyana formal studies took place in Baku. She received elite education, earned a law degree and practiced law. "In Soviet times many Jews became lawyers" she states.
About the Azerbaijan judicial system
The country has irregular constitution.
There are three division of courts:
1. Regional Courts
2. Appeal Courts
3. Supreme Court
The Supreme Court plenum is seasonal and takes place four times a year. It is open to the public.
Law career
Madam Tatyana practiced law before she was nominated a Supreme Court Judge.
In Azerbaijan's Supreme Court, made of a total of 39 judges, there are seven women serving, "with equal rights, problems, issues" Madam Tatyana explains.
There is one woman serving in the court's criminal division; 4 women are serving in the court's civil division, one of them is Madam Tatyana; two women are serving in the economy administration division.
In the civil division, each judge, in total 17 of them, works on approximately 600 cases a year. Madam Tatyana has two assistants to help her with the load of work. With pride she tells me that there are not too many criminal cases the Supreme Court deals with.
A Jew in Baku, assimilation on a happy note
Madam Tatyana proudly wears a Hamsa around her neck. (Hamsa, the Hand of Fatima and the Hand of Miriam, is a popular good luck symbol found throughout the Middle East and northern Africa, particularly within the Islamic and Jewish faiths). She is married to a non-Jew from Russia. "My motherland is Azerbaijan," she emphasizes. "I am a Jew and I know it but I do not practice the religion. I recognize that Israel is the motherland of the Jews, but my heart and my roots are here in Baku," she explains.
Madam Tatyana has visited Israel many times. She has close family living in Israel. Her mother's sister lives in Ashdod, so is her cousin; other live in Netanya. She likes Israel, she likes her Jewish roots, but she does not like the catastrophes the Jewish people have been through.
Her son, a lawyer, married to an Azerbaijani Muslim woman, is an executive in a large construction company. "My daughter-in-law is a Muslim, my grandson a Muslim, they are happily married, so I am happy," she smiles while telling me this.
I, the writer, met several Azerbaijani Jews and yes, the assimilation rate is high among the small Jewish community.
"During my lifetime, as a Jew living in Azerbaijan neither my family nor I have ever encountered problems as Jews. Azerbaijani society is among the most tolerant societies. We are people, we are Azerbaijanis, nothing else," she proudly explains.
In Azerbaijan, a Muslim majority country, there are 500,000 Christians and 30,000 Jews and several other, rather small, ethnic groups. Though the country is Muslim majority, it is a secular society. The government works tirelessly to keep the entire society, no matter of background or religion, solidified as one nation. The country's social structure is based on civil identity and all ethnic and religious groups are equally protected. The government makes sure to closely monitor the needs of all the small ethnic groups in order to make sure they are content and thus keep in line with the government's society model of coexistence, which creates a safe society.
Mrs. Tatyana Goldman Alexander, Jewish woman, a Supreme Court Judge in Azerbaijan, a majority Muslim country with the writer
You may ask why this story? I am a Jewess. During my two visits to Azerbaijan I felt at home. It is because in Azerbaijan everyone practices his or her religion safely, that includes the Azerbaijani Jews. This exemplary country tells the world it can all be different. Unlike what we see in the world today and from time immemorial, a society made of difference ethnic and religious groups can live is harmonious coexistence. It all stems from the right education and approach.
Mrs. Tatyana Goldman Alexander is a Jew, living in a Muslim country, yet, she enjoys the freedom and opportunities any human being on earth deserves. In Israel, like in Azerbaijan, Muslims, Muslim women, enjoy the very same rights and possibilities. Azerbaijan's society model is a case to follow. The Muslim state majority, Azerbaijan, and the Jewish state, Israel, both enjoy an excellent, all-around relation. These two countries, though different in many ways, are exemplary societies from which the entire world can learn a lesson of coexistence and valiant cooperation.
jpost.com/Blogs/Think-With-Me/A-Jewish-Woman-in-Azerbaijan-a-Moslem-Country-Serving-as-a-Supreme-Court-Judge-507387
-------
Muslim Women Welcome Haj without Escorts
Oct 14, 2017
The Centre is all set to bring in a new Haj policy. While the Ulemas are angry with most of the proposals, saying they were not consulted, one proposition particularly has been described by them as un-Islamic. It concerns women wanting to perform the Haj.
The new policy will allow women to perform the pilgrimage, one of the duties enjoined by Islam, even if unaccompanied by a male relative or mahram. Until now, a relative who fell within the prohibited degrees of marriage — father, son, grandson, brother — had to accompany a woman when she went for Haj. Or, she could be accompanied by her husband.
The new policy says that women over 45 years can go for Haj in groups of four without a mahram. This is being seen by the Ulemas as an attempt by the BJP government to make Muslim women flout the Shariah.
However, Muslim women do not agree. Two of them told Mumbai Mirror why.
Dr Shehnaz Shaikh is the principal of an Islamic school, the Al Muminah Girls High School. The school has branches across Mumbai and Navi Mumbai.
Dr Shaikh argues, "If any provision relating to Haj was un-Islamic, would the Saudi government grant a visa? Forget the BJP, the Saudi authorities would themselves not allow any flouting of Islamic law."
Dr Shaikh points to the website, saudia.com, where, under the Haj visa section, it is written: "Any woman over the age of 45 may travel without a Mahram with an organized group, provided she submits a letter of no objection from her Mahram authorizing her to travel for Haj with the named group. This letter should be notarized.''
"When the Saudi government permits it, why are we in India objecting?" asks Dr Shaikh.
Adds Islamic scholar Dr ZeenatShaukat Ali, "The Saudi government is the custodian of the two holiest Islamic sites. They would know the rules regarding pilgrimages to these sites, surely."
Both Dr Shaikh and Dr Ali assert that there is nothing in the Koran that forbids women from travelling alone. Dr Shaikh cites a Hadees, wherein Prophet Muhammed is quoted as saying: "And if you live a long life, you will surely see women travelling from Hira till they circumambulate the Ka'ba, fearing no one except Allah" (Bukhari and others)"
"This shows that the Prophet had envisaged women doing the Haj without a mahram," points out Dr Shaikh. "Besides, the Prophet's wives went on Haj after his death, and during the Caliphate of Umar. So there's the precedent of women travelling without mahram."
"Under early Islam," says Dr Ali, "women were very autonomous. Asma Bint Umais lived in the time of the Prophet and migrated by sea alone to Abyssinia. She features in my book: Winning the Peace - A Quest."
Both Dr Ali and Dr Shaikh also emphasise that the Shariah is not an unchanging law. "The Shariah is an evolving code; it differs from country to country. It is only the Koran that has remained unchanged," says Dr Ali.
In fact, says Dr Shaikh, the Koran says: "'These are the verses for those who think'. But we have got used to blindly following one or the other scholar," she rues. "We've forgotten Ijtihad or creative interpretation of Islamic law."
Congratulating the government on this proposal, Dr Ali feels it should have come a long time back. "It will help widows and those whose male relatives are unable to accompany them. Why should a woman be dependent on her son or father or any male relative?"
However, Dr Shaikh cautions, "Women must take precautions for their own safety while travelling alone, because we have been created differently from men."
mumbaimirror.indiatimes.com/mumbai/other/muslim-women-welcome-haj-without-escorts/articleshow/61075809.cms?
-------
From the Raqqa front line: Only British woman fighting Isis in Syria says she can never return home
Kimmie Taylor sits at the top of an open concrete staircase gazing at the sun as it sets over Isis-held Raqqa city, cigarette between her fingers.
She turns her head slowly towards the entrance to the courtyard, and just as slowly raises her free hand in greeting.
It's exactly how you imagine the female fighters of the YPJ (Kurdish Women's Protection Units). But Kimmie isn't what I expected at all.
Kimmie and Jianda, a Kurdish member of her unit, at their base in East Raqqa (Bethan McKernan)
"Oh, yours is the first British accent I've heard in ages," she says, her Lancastrian accent a reminder the same is true for me.
When the story broke in February that the then 27-year-old had smuggled herself into Syria to join the fight against Isis, most of the news coverage painted her as a naive, self-styled revolutionary.
In reality, she knows exactly what she's doing. After studying for a masters degree in political theory at Stockholm University, Kimmie was invited by friends with similar left wing politics to explore Rojava – the self-declared autonomous Kurdish region of Northern Syria – for the first time in 2015.
In a country turned upside down by a brutal civil war, she found something to believe in. The Kurdish democratic, feminist movement is building a fairer society – and fighting off Isis at the same time.
"I picked up a gun because I knew how people at home would react to that. I'd already been in Rojava for ages at that point, working with Yazidis and other people fleeing Isis, learning Kurdish, learning about the revolution and how society works here.
"I came back to Europe and gave talks and tried to raise awareness. But nothing happened. The interest just fizzles out. So when I came back I decided to join the YPJ because I knew it would get people's attention."
She was right. The softly spoken northerner has been able to bring the complex reality of Syria's war home for people in the UK in a way they otherwise may not have been able to imagine.
Particularly before July, when the US-backed Kurdish-Arab Syrian Democratic Forces (SDF) managed to encircle Raqqa, the capital of Isis' so-called caliphate, she played a major role helping the YPJ's media team, filming herself talking about what it was like to be shot at by Isis snipers and witness a suicide bomber detonate his explosives just metres in front of her.
Why Investing Now At Dwarka Expressway, Gurgaon Makes More Sense Than Ever
The past year has been hard. Kimmie has witnessed extreme suffering in the communities ravaged by Isis and lost three friends and a mentor along the way.
Like the Kurdish, Arab and Yazidi women who have trained as fighters, though, it has hardened her resolve to fight. The seven other women of Kimmie's unit have on occasion cried after learning they haven't been picked for front-line missions.
"I have given everything to this fight and I am willing to die for what Rojava is trying to achieve. I keep moving units because I want to stay on the front line as long as possible," she says.
Woman celebrates after being rescued from Isis in Raqqa
But as the SDF closes in on the last few hundred jihadis left in the city, an unanswered question is looming: what will she do next?
"Build the rest of the revolution, obviously. Going home to the UK is not an option," she says.
While Kimmie may travel back to mainland Europe to raise awareness of the Kurdish cause, she is worried trying to go home would get her arrested.
While in previous interviews her family members have said that they have had no contact with the British authorities over their daughter's presence in Syria, Kimmie's lawyer has warned that their communications are probably being bugged.
There remains little precedent in British law for returning YPJ and YPG (Men's Protection Units) fighters. Some manage to walk back in with little questioning – but Josh Walker, a YPG volunteer from Wales, became the first person to be prosecuted under anti-terrorism laws on his return from Syria last year. His trial is later this month.
Besides, Kimmie says, there is still work for her to do in Syria. There are civic institutions and election processes to strengthen, women's history syllabuses to write for university curriculums and water channels, school and hospitals to rebuild.
"This revolution, this building of the society and empowerment of women is about changing society," she says. "The people won't accept groups like Daesh again.
Follow
Bethan McKernan✔@mck_beth
A YPJ fighter takes a selfie with the new statue to women of the Kurdish revolution in Kobane, Syria. At her feet, tanks reclaimed from IS.
1:07 AM - Sep 15, 2017 · Turkey
3 3 Replies 46 46 Retweets 91 91 likes
"People are relearning their place in the world as Syrians, as Arabs, as Kurdish people, as Turkmens or Assyrians… they're understanding how to organise democratically and it's working. This is the answer for Syria.
"I've learned [in my time] here and the struggles that I've been through. This is an education that I couldn't have got anywhere else."
So does she finally feel like she's found her movement? That she's a true revolutionary? "Yes, I am a revolutionary," she says. A grin breaks out on her face. I believe her.
independent.co.uk/news/world/middle-east/isis-raqqa-syria-kimmie-taylor-interview-kurdish-ypj-front-line-bethan-mckernan-a8000561.html
-------
Emirati women play major role in sustainability, says Dr Nawal Al-Hosany
October 15, 2017
DUBAI: Dubai Women Establishment hosted Dr Nawal Al-Hosany, Deputy Director General of Emirates Diplomatic Academy and Director of the Zayed Future Energy Prize, in the fourth knowledge-sharing session of the "Qudwa" initiative. To mark Emirati Women's Day, the "Qudwa" initiative was launched by Sheikha Manal Bint Mohammed Bin Rashid Al Maktoum, President of Dubai Women Establishment, and wife of Sheikh Mansour Bin Zayed Al Nahyan, Deputy Prime Minister and UAE Minister of Presidential Affairs, as a platform for female Emirati role models to inspire aspiring national women across all strata of society.
In attendance of Dr Tod A. Laursen, President of Khalifa University, Dr Arif Sultan Al Hammadi, Executive Vice President of Khalifa University, Shamsa Saleh, CEO of Dubai Women Establishment, and LamiaAbdulaziz Khan, Director of Dubai Ladies Club, the influential knowledge-sharing session took place at the Abu Dhabi campus of Khalifa University of Science and Technology (KUSTAR), addressing 50 female senior students.
Dr Al-Hosany commenced the session by praising the "Qudwa" initiative, describing it as the ideal platform for the exchange of knowledge and viewpoints with upcoming generations. She believes that "Qudwa" is capable of refining the students' skills and capabilities as well as preparing them to embark on their professional careers and contribute to the future of the UAE.
The students engaged in a dynamic and enriching question and answer session with Dr Al-Hosany and asked about the role of her upbringing in influencing her decision to specialise in sustainability and renewable energy. She highlighted that her family guided her to this field, although it was respectively new and uncommon among women at the time. She added, "My father encouraged us, daughters and sons alike, to pursue our interests and continuously urged us to be the best representatives of our family and country."
Dr Al-Hosany shared a brief overview of her earlier years, narrating her journey since her graduation from the College of Engineering at the United Arab Emirates University (UAEU). She spoke about her work at an engineering office in the private sector before pursuing her path in academia for two years at UAEU. Following that, she discussed her experience as Head of Studies and Design at Abu Dhabi Police, at which she became the first woman to hold a Deputy Director position in 2007. During that time, she was involved in the refurbishment of the Abu Dhabi Police buildings, which sparked her interest in sustainability. Moving forward, her experience in the field largely contributed to her career at Masdar and her involvement in several other entities, awards and committees within the UAE and internationally.
Inspiring the students to achieve their full potential, Dr Al-Hosany said she's faced stumbling rocks upon venturing onto the path of sustainability and renewable energy, but explained that each encounter provided her with invaluable learning opportunities. For example, she said that dealing with the concept of sustainability was a challenge in itself, as she tried to find ways to incorporate its values within resources, assets and the community. Reflecting on her experience in a field that has been dominated by men, she advised students to excel in their fields of choice with determination and perseverance. She emphasised, "As I partook in more conferences and meetings, regionally and internationally, it became evident that women had limited presence in the fields of sustainability and renewable energy. This furthered my aspiration to undertake this challenge and increase the contributions of the Emirati women in this industry.
"The UAE is recognised as a pioneer in the field of sustainability, and today, the Emirati woman continues to play a progressive role in this field and has secured a solid international presence."
DIPLOMATIC FINESSE
Dr Al-Hosany expressed her pride in the Emirates Diplomatic Academy, which was established to equip current and future UAE diplomats with essential knowledge and skills. Additionally, she highlighted the role of the Academy in developing diplomatic capacities, intellect and research for future diplomats striving to serve the nation.
Reflecting on her work-life balance, Dr Al-Hosany advocated having diverse interests and hobbies to enjoy personal stability and renewed commitment to professional careers. She is said to have climbed the highest mountain in Africa, Mount Kilimanjaro. She explained that her decision to undertake this challenge was twofold. The first, which was personal, underlies the health, mental and personal benefits resulting from the experience, boosting self-confidence and agility. The second, which was on the professional front, was due to her interest in expanding her knowledge of climate change and having first-hand experience with its impact on the environment.
Building on her success and excellence in the fields of sustainability and renewable energy, Dr Al-Hosany told the students that she continuously strives to hone her skills and develop her expertise to best serve the UAE.
Dr Al-Hosany urged the students not to set limitations for themselves, but rather pursue innovations and advancements that don't clash with their values and norms. She said, "in order to effectively deal with people around us, it is imperative to understand them, comprehend their differences and embrace their cultural distinctions".
DISTINGUISHED LEGACY
Shamsa Saleh commended Dr Al-Hosany on her efforts in serving the nation through her eminent professional career and academic contributions. Saleh said, "Dr Al-Hosany is a beacon of knowledge and personal attainments and we are honoured to host her in the "Qudwa" initiative.
"Our goal is to motivate young minds to expand their aspirations and follow lead of inspirational achievers like Dr Al-Hosany."
gulftoday.ae/portal/b31476a5-86bf-4eea-9c1c-a154bfeba902.aspx
URL:
https://www.newageislam.com/islam-women-feminism/wwe-signs-first-woman-wrestler/d/112889