New Age Islam News Bureau
14 Apr 2015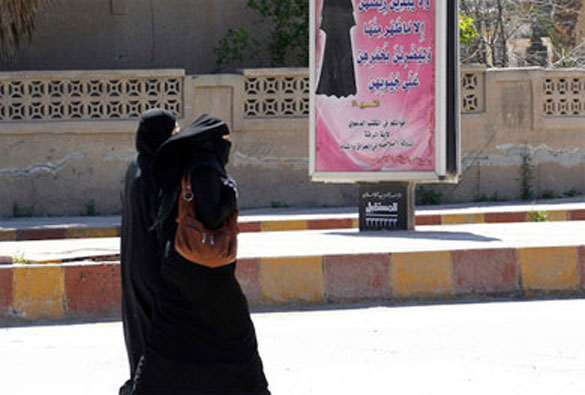 Veiled women walk past a billboard that carries a verse from the Quran urging women to wear Hijab in the northern province of Raqqa, March 31, 2014. (Photo by REUTERS)
---------
• Saudi Families Refuse To Rehabilitate Their Daughters Gone Astray
• Extremists Using Sexual Violence as Terror Tactics: UN Report
• Expert Calls for Restrictions on Dowry Demand in Saudi Arabia
• Radicalized Western Mothers Lead Children into Islamic State
• Nigeria Marks First Anniversary of Boko Haram Schoolgirl Kidnappings
• Designing, Computer Training For Madrasa Girls in Varanasi
• Crowning Glory: Saudi Girl Designs Mini-Shemagh (Headdress for Men)
• Leadership Workshop for Muslim Women Underway In Accra
• Divorce in Gaza Comes At Steep Price
• Young Men Seeking Marriage Aid 'Must Pray In Mosques': Saudi Ministry Of Social Affairs
• Asra Nomani: Duke Students Tried To Cancel My Speech, That Made It Even More Important
Compiled by New Age Islam News Bureau
URL: https://www.newageislam.com/islam,-women-and-feminism/new-age-islam-news-bureau/world-must-do-more-to-free-nigerian-schoolgirl-hostages--malala-yousafzai/d/102458
---------
World must do more to free Nigerian schoolgirl hostages: Malala Yousafzai
Apr 14, 2015
LAGOS: Nobel peace laureate Malala Yousafzai on Monday criticised Nigerian and world leaders for not doing enough to help free 219 schoolgirls kidnapped a year ago by Boko Haram militants.
"In my opinion, Nigerian leaders and the international community have not done enough to help you," she said in a letter to the teenagers, on the eve of the first anniversary of their abduction.
"They must do much more to help secure your release. I am among many people pressuring them to make sure you are freed," she added, calling the girls "my brave sisters".
Yousafzai's letter, which she said was "a message of solidarity love and hope", comes as events, including marches, prayers and vigils, were being held to mark the girls' 12 months in captivity.
Islamist fighters kidnapped 276 girls from their school in the remote town of Chibok, in Borno state, northeastern Nigeria, on the evening of April 14 last year.
Fifty-seven managed to escape soon afterwards but the remainder have not been seen since an appearance in a Boko Haram video in May last year.
Boko Haram leader Abubakar Shekau has claimed they have all converted to Islam and been "married off".
Nigeria's President Goodluck Jonathan and his government were heavily criticised for their response to the kidnapping but Malala said there were now "reasons for hope and optimism".
"Nigerian forces are re-gaining territory and protecting more schools," she wrote.
"Nigeria's newly elected president, Muhammadu Buhari, has vowed to make securing your freedom a top priority and promised his government will not tolerate violence against women and girls."
Malala, 17, also wrote of her own experiences at the hands of militants in her native Pakistan. She was nearly killed by the Taliban in October 2012 for insisting that girls had a right to an education.
She recovered and became a global champion of girls' rights to go to school.
A fund set up in her name would ensure the girls will continue their education after their release, she said, urging them not to give up hope.
"I look forward to the day I can hug each one of you, pray with you and celebrate your freedom with your families. Until then, stay strong and never lose hope. You are my heroes," she added.
The United Nations Children's Fund (UNICEF) on Monday said that 800,000 of the 1.5 million people displaced by Boko Haram's insurgency were children.
More than 300 schools have been severely damaged or destroyed between January 2012 and December last year, with at least 196 teachers and 314 schoolchildren killed in that period, it added.
Children have increasingly become targets for kidnapping, sexual abuse and forced marriage as well as "weapons of war", being made to fight alongside militants or used as human bombs, UNICEF said.
http://tribune.com.pk/story/869217/world-must-do-more-to-free-nigerian-schoolgirl-hostages-malala/
----------
Saudi Families Refuse To Rehabilitate Their Daughters Gone Astray
Apr 14, 2015
Male relatives do not hesitate in shunning any female family members once they have gone to prison. On the other hand, women are usually more courageous and will marry a man who is or was in prison.
However, Fahd Al-Juhani, a well-off man already married to three women and the father of children, is an exception. He decided to marry a prisoner. He took this courageous step to rehabilitate her and get her back on the right track.
Speaking to the local media, he asked: "Why don't we open the doors to women who repent and give them a chance to start a new life? Why do we forgive men who make mistakes but not women?"
He said these questions prompted him to ask scholars and religious men if he could marry a woman prisoner. They encouraged him and helped him to establish a society that takes care of released women prisoners.
"I am already talking to officials at the Ministry of Social Affairs about helping me marry a woman who is about to be released from prison," he said.
Ziad Saad Al-Maawi, an authorized person who solemnizes marriage, said: "If the released woman expresses real regret and repentance, why not help her to start a new life? In our society, many men want a decent and straight life for their daughters who have made mistakes and he may ask a young man to marry her."
He cited two instances in which he married couples who were both prisoners.
Omar Zuhair Hafez of the National Society for Human Rights (NSHR) said once the woman completed her prison term she should not be judged again as a prisoner. "She should enjoy the rights that are granted to her under Islam. She must go back to her normal life, meet her responsibilities toward her community and enjoy her lawful rights," he said.
Faisal Awad, a Shariah expert, said any person, man or woman, who had paid the price for his or her mistakes should receive just treatment.
"Once the price is paid, the person must be rehabilitated to be a productive citizen of society. But some families practice their own rules against their female members and turn the punishment into a never-ending one. Shariah does not forbid marriages after the implementation of the punishment or after repentance," he explained.
Fahd Al-Zaayedi, who leads prayers at Abdul Rahman bin Auf Mosque in Jeddah, agrees with Awad.
"One should look with an eye of mercy on whoever committed mistakes against himself, his religion and society," he said. "A Muslim society must take care of its Islamic sisters and daughters who in the past made mistakes but have now paid the price and repented. If they do not find good care and attention, they will be desperate and distressed. They might make a mistake again unless we help them build a good future, a family and hope for a better tomorrow."
A female prisoner said she had not found anybody to take care of her when she was out of prison. "I was always met with doubt and suspicion in the community," she said. She said other girls were also victims, and they returned to the same path which had landed them in prison. "As for me, I am waiting for the chance for a better life. I want to build a happy family and be a responsible person," she added.
Nisreen Abu Taha, a social researcher and head of public relations at the ministry's social protection unit in Makkah, confirmed that the unit received many applications asking to marry released women prisoners who reside in their shelter. The women are there because their parents refused to take them back home.
"Since the establishment of the unit three years ago, I have witnessed three marriages of ex-prisoners who now lead stable, happy lives. Usually, the parents refuse to approve the marriage so the issue is referred to the governor who takes the necessary steps to allow the marriage," she said.
Explaining how a man could marry a woman in the shelter, she said: "The man should be financially able and then there is the personal interview which involves submitting a recommendation from the neighbourhood chief and those who know him well. The wedding ceremony is held inside the shelter with the attendance of the chairperson and social workers. It is on rare occasions that the parents of the woman attend the ceremony."
http://www.arabnews.com/saudi-arabia/news/732296
----------
Extremists using sexual violence as terror tactics: UN report
The Associated Press
Apr 14, 2015
Secretary-General Ban Ki-moon said 2014 was marked by harrowing accounts of rape, sexual slavery and forced marriage being used by extremists including the Islamic State group and Boko Haram.
In a report released Monday, the UN chief expressed "grave concern" over sexual violence perpetrated by armed groups, including those promoting extremist ideologies in Iraq, Syria, Somalia, Nigeria, Mali, Libya and Yemen.
"The confluence of crises wrought by violent extremism has revealed a shocking trend of sexual violence employed as a tactic of terror by radical groups," Ban said.
The secretary-general said efforts "to degrade or destroy" the Islamic State group, Boko Haram, al-Shabab, Ansar Dine and al Qaeda affiliates "are an essential part of the fight against conflict-related sexual violence."
The report focuses on 19 countries engulfed in conflict or trying to recover from fighting where sexual violence including rape, sexual slavery, forced prostitution and forced pregnancy occurs, mainly against women and girls but also against boys and men. It lists 45 groups in Central African Republic, Ivory Coast, Congo, Iraq, Mali, Somalia, South Sudan and Syria as well as Boko Haram in Nigeria that are "credibly suspected of committing or being responsible for patterns of rape" in conflict - 13 of them for the first time.
The report said "one of the most alarming episodes of 2014" was the April 14 abduction of 276 secondary students by Boko Haram from a school in the northern Nigerian town of Chibok.
Issued a day before the first anniversary of the girls' abduction, the report said Boko Haram often forces women and girls it seizes into marriages that entail repeated rapes.
"Forced marriage, enslavement and the 'sale' of kidnapped women and girls are central to Boko Haram's modus operandi and ideology," it said. "Abducted girls who refuse marriage or sexual contact within marriage have faced violence and death threats."
Since mid-2014, the report said, "there has been a significant increase in the number of reported cases of sexual violence perpetrated by terrorist groups," especially the Islamic State group which "uses sexual violence to spread terror, persecute ethnic and religious minorities and suppress communities that oppose its ideology."
The report singled out that group's abduction of hundreds of Yazidi women and girls in Iraq, some of whom were taken into Syria and "sold" in markets to be used as sex slaves. It said "three cases of forced abortion perpetrated because of the ethnicity of the victim were documented by the government" of Iraq.
In Colombia, the report said, "women working with displaced communities and calling for land restitution have been targeted by armed groups and subjected to repeated sexual assault." In the Central African Republic, the report said 2,527 cases of conflict-related sexual violence were documented in 2014, adding that "all parties have used sexual violence to subjugate and humiliate opponents."
In Sudan's western Darfur region, it said the number of displaced civilians has increased over the past year and so have reports of sexual violence. And in South Sudan, it said sexual violence remains prevalent - including gang rape, castration, forced nudity and forced abortion - which is "exacerbated by impunity and a militarized society in which gender inequality is pronounced."
On a positive note, the report said Congo's government took "unprecedented steps" including prosecuting high-ranking officers for sexual violence and paying reparations to survivors. But at the same time it said 2014 saw a resurgence of violence by armed groups including an increase in rape.
http://www.ctvnews.ca/world/extremists-using-sexual-violence-as-terror-tactics-un-report-1.2325911
----------
Expert Calls for Restrictions on Dowry Demand in Saudi Arabia
Apr 14, 2015
The unabated rise in spinsterhood and increasing rate of divorce in the Kingdom has always been a cause of concern. In a fresh call, a teaching faculty at the Qasim University has suggested ways to tackle the problem, insisting that social obligations like demanding high Meher (dowry) will have to be overcome.
Abdulaziz Al-Mishaiqih of the university recommended that the government should intervene to determine the Meher. "This will hopefully deter some families from playing with the future of girls as well as stop them from costly wedding parties," he was quoted by Makkah daily as saying.
As if the problem of girls remaining at home, mainly due to meher, was not enough, the divorce rate has also shot up in the Kingdom. According to statistics, some 60,000 marriages took place last year but 18,000 divorce cases (30 percent of marriage cases) were reported at the same time, local media said.
"The number of spinsters has reached 1.5 million and is expected to hit four million in the next five years," Al-Mishaiqih said.
The major reason for rising rate of spinsterhood is high dowry demand in many parts of the Kingdom, he said. "This has prompted Saudi men to marry foreigners."
Al-Mishaiqih urged the imams, university professors and media to consistently do something to address the problem of spinsterhood. Last month, a judge said 60 percent of divorce cases in the Kingdom take place in the first year of marriage.
The Justice Ministry had said it would conduct a study aimed at determining the reasons for the spiralling divorce cases in the Kingdom.
A ministry official said they want to gather accurate information on the divorce cases and their impact on society and judiciary. The ministry wants to publish a guidebook to warn couples on potential problems to their marriages, so that the rate of divorce comes down, he said.
http://www.arabnews.com/saudi-arabia/news/732276
----------
Radicalized Western mothers lead children into Islamic State
Apr 14, 2015
AMSTERDAM — For Aysha and Luca Opdam's father, it is still hard to accept that his children, born and raised in the Netherlands, are now living in Syria. In a letter, he describes how his ex-wife radicalized after she devoted her life to Islam around six years ago. After it was made public that Aysha, 7, and Luca, 8, were taken by their mother to join the Islamic State (IS), the letter was published by a local newspaper.
"If my kids — if I ever get them again — become Muslims that would be fine by me. But only at an age when they are able to make their own choices with full awareness," he wrote on March 22.
The mother, a Chechen refugee, and their children disappeared on Oct. 27, 2014, from Maastricht, a city in the Netherlands, and arrived late December in Tell Abyad, a Syrian town near the Turkish border. They are now living in Raqqa, the self-proclaimed capital of IS. The father hasn't heard anything from them for months.
The London-based International Centre for the Study of Radicalisation and Political Violence estimates that at least 4,000 Western citizens have joined the Syria-Iraq conflict. About 550 are women who have migrated to IS-controlled territories, according to the Institute for Strategic Dialogue. How many Western children have been taken remains unknown. Most of the women travel without children.
However, after Abu Bakr al-Baghdadi declared IS' caliphate on June 29, 2014, more women traveled to Syria and Iraq with their children. In early September 2014, Meryam, her husband Jermaine and their three children (ages 2, 5 and 7) joined IS along with some other families from the Netherlands.
An anonymous source who knew the family described how the family lived according to the rules of orthodox Islam. Still, nobody expected them to travel to Syria.
"Meryam was always very concerned about the children. When they had a little scratch, she would go to the doctor immediately. It is awfully illogical that she has taken them to a war zone," said the source, adding, "Perhaps they believe that IS is invincible, or think life is worthless because paradise awaits them."
Women who have joined IS believe that Baghdadi has restored the caliphate and is the successor of the Prophet Muhammad. They see jihad as a religious duty for Muslims and are attracted to the idea of living in an area where Sharia is implemented. On social media they often ask their "sisters" in the West to perform hijrah, or immigration to a Muslim country.
"They do not go there to fight but to live what they call a purely Islamic life. Western jihadists believe that their children are better off in IS, because in Syria or Iraq they are not influenced by 'nonbelievers,'" said Marion van San, a researcher focusing on radicalization and Western jihadists at Erasmus University. "However, some women decide to leave their children behind."
According to Abu Ibrahim Raqqawi, an activist with the group Raqqa is Being Slaughtered Silently, around 90% of the foreign boys over 7 go to an IS boot camp once they arrive in IS-controlled territories. In this military camp they undergo an indoctrination process and receive military training. Some of the children are also required to deliver food and medicine, fill the weapons depots and prepare bombs. Once they turn 16, IS sends them into battle, he told Al-Monitor.
"Their parents want them to fight to protect the caliphate in the future. IS doesn't think about five or 10 years from now; IS is preparing to fight almost the entire world, the West included, for generations," Raqqawi explained.
In the latest issue of IS' online magazine Dabiq, the terror group also hints that it is engaging in long-term planning, explaining that those who are capable are allowed to participate in operations against the "mushrikeen," or polytheists.
"As the mujahideen of IS continue their march against the forces of the kuffar [non-believers], there is a new generation in the wings," reads an article alongside a picture of the young boy who appeared in a video shooting dead an Israeli Arab accused by IS of being a spy.
IS has recruited at least 400 children in Syria in the past three months, according to the Syrian Observatory for Human Rights. But the "Cubs of the Caliphate" are also being indoctrinated in other ways. For example, they may watch violent videos and attend public beheadings.
On social media, Western female jihadists constantly post pictures of children with IS flags, guns and knives. Relatives of European women who joined IS point out that the women glorify violence and that they have adapted to their new way of life quickly. One told Al-Monitor, "When I talk to my relative, she only tells me good things about IS. One day, she shamelessly said that her Western friend — who also joined IS — signed her 10-year-old son up for a military camp. A few months ago, this boy had a normal life. He went to school in Europe, where he had friends."
However, not all foreign children undergo military training immediately. Recently, IS opened a new kindergarten for boys in Raqqa, and there are still schools where children attend Sharia and Arabic classes. As for the girls, they mostly stay inside the home or go to girls-only schools.
It is difficult to determine how Western children are coping with their new environment. A Syrian resident in Raqqa told Al-Monitor over Skype, "Sometimes I see the young kids of foreign fighters play outside. They seem happy, but aren't kids happy almost all the time and everywhere?"
While media outlets mainly focus on young Western girls marrying jihadists, many Western women arrived in Raqqa with their children, with or without their fathers, said Raqqawi. He added that Syrians find it absurd that "Western women take their children to a war zone while so many locals are desperately trying to get out of the country."
Van San stated that the violence doesn't scare off radical Western women because they are convinced they will go to paradise if they are killed. "They believe that they and their loves ones will be reunited in paradise," she said, citing a recent interview she conducted with a woman whose son died fighting for IS. "She said, 'If you have the option to choose between living with your son for 30 years or living the eternal life with him in [paradise], what would you choose?' For them, it is that simple."
However, those who personally know women and children who have joined IS find it hard to accept.
"Maybe it is better if Meryam and her husband die before they commit a war crime. I only hope their children will come back, but I don't think this will happen. And if the kids come back, they must be damaged for life. They have been exposed to so much violence," said the source.
http://www.al-monitor.com/pulse/originals/2015/04/islamic-state-syria-western-women-children-join.html#ixzz3XGV8UKBP
----------
Nigeria marks first anniversary of Boko Haram schoolgirl kidnappings
AFP | Apr 14, 2015
LAGOS: Nigeria on Tuesday marks the first anniversary of Boko Haram's abduction of 219 schoolgirls from the northeastern town of Chibok, as part of a series of events planned around the world.
The commemoration and renewed calls for their release came as Amnesty International said the Islamists had kidnapped at least 2,000 women and girls since the beginning of last year.
The UN and African rights groups also called for an end to the targeting of boys and girls in the conflict, which has left at least 15,000 dead and some 1.5 million people homeless, 800,000 of them children.
The focus of the one-year commemoration was on Nigeria's capital, Abuja, where a vigil has been held demanding the girls' immediate release almost every day since they were kidnapped.
In New York, the #BringBackOurGirls campaign said the Empire State Building would be lit in its colours of red and purple, to symbolise an end to violence against women.
Prayers, candlelit vigils and marches have been held or are planned and campaign group member Habiba Balogun said it was important to mark the anniversary.
"It's wonderful that the world is remembering and... sending the message that we are not going to forget and we are not going to stop until we know what has happened to our girls," she told AFP.
Boko Haram fighters stormed the Government Secondary School in the remote town in Borno state on the evening of April 14 last year, seizing 276 girls who were preparing for end-of-year exams.
Fifty-seven escaped but nothing has been heard of the 219 others since May last year, when about 100 of them appeared in a Boko Haram video, dressed in Muslim attire and reciting the Koran.
Boko Haram leader Abubakar Shekau has since said they have all converted to Islam and been "married off".
The mass abduction brought the brutality of the Islamist insurgency unprecedented worldwide attention and prompted a viral social media campaign demanding their immediate release.
Nigeria's government was criticised for its initial response to the crisis and was forced into accepting foreign help in the rescue effort after a groundswell of global outrage.
The military has said it knows where the girls are but has ruled out a rescue effort because of the dangers to the girls' lives.
In a new report published on Tuesday, Amnesty quoted a senior military officer as saying the girls were being held at different Boko Haram camps, including in Cameroon and possibly Chad.
The Chibok abduction was one of 38 it had documented since the beginning of last year, with women and girls who escaped saying they were subject to forced labour and marriage, as well as rape.
#BringBackOurGirls organisers thanked supporters across the world, from ordinary men, women and children to public figures such as US First Lady Michelle Obama and Nobel laureate Malala Yousafzai.
The girls were "the symbol for the defence of the dignity and sanctity of human life, of the girl child, women, for all those oppressed, repressed, disadvantaged, hurting, unsafe," they said.
"We must prioritise their safe return," they said in a statement last week.
Malala, who was shot and nearly killed by the Pakistani Taliban for advocating girls' education, on Monday published an open letter to the Chibok girls, describing them as "my brave sisters".
The 17-year-old criticised Nigerian and world leaders for not doing enough to help secure their release and called the girls "my heroes".
Outgoing President Goodluck Jonathan's government has been accused of indifference to the fate of the girls after initially trying to downplay the size of the kidnapping and even deny it had happened.
Jonathan's election defeat last month to former military ruler Muhammadu Buhari has raised hopes of a breakthrough. He has vowed to "spare no effort" to destroy the militants.
Twenty-one of the 57 girls who escaped are currently studying at the American University of Nigeria in Yola, the capital of neighbouring Adamawa state.
They told AFP in an email exchange with university staff they were hoping to make "positive future changes, not just in Chibok, but in our country and the world".
The kidnapped girls were in their thoughts and prayers every day, they said, but they did not blame Boko Haram foot soldiers.
"I forgive Boko Haram for what they have done and I pray God forgives them, too," said one.
http://timesofindia.indiatimes.com/world/rest-of-world/Nigeria-marks-first-anniversary-of-Boko-Haram-schoolgirl-kidnappings/articleshow/46916723.cms
----------
Designing, Computer Training For Madrasa Girls in Varanasi
Apr 14, 2015
Varanasi: In an effort to help Muslim women gain financially and empower them through improved skills and knowledge in computers and designing, Sai Institute of Rural Development (SIRD) organized a programme at Madrasa Markazi Ansar ul Ulum in Lallapura here on Monday.
"I am glad to have joined the training programme," Shabina Bano, a resident of Lallapura, said.
"Designing is something you need it in almost everything," said Shama Afroz, presently teaching at a Madrasa. Tabassum Bano, also a teacher at a Madrasa recalled her earlier days and said, "For Muslim girls like us, seeking permission from home is not easy. But my parents supported me and allowed me for training."
SIRD director Ajai Kumar Singh said: "Our target area is Lallapura as it is a hub of Muslims. We began our training and employment programmes that will help these young Muslim women and girls studying in Madrasas."
Former director of IT-BHU SN Upadhyaya expressed disappointment and said that Indian Muslims in other states except Kerala are poorer and less educated. Principal of DR Mahila Mahavidyalaya Mohammad Arif expressed the need to modify the education system in Madrasas to benefit Muslim girls.
http://timesofindia.indiatimes.com/city/varanasi/Designing-computer-training-for-Madrasa-girls/articleshow/46912552.cms
----------
Crowning Glory: Saudi Girl Designs Mini-Shemagh (Headdress For Men)
Apr 14, 2015
A young Saudi woman's talent with the needle and thread has won her praise from all quarters in the Kingdom. Her creation — a souvenir in the form of a small shemagh (headdress for men) — is expected to capture the market.
The young innovator, Iman Hejazi, was honoured by Prince Misha'al bin Majed, governor of Jeddah and chairman of the Majed community development charitable organization, during a ceremony here recently. He hailed her for the souvenir, which represents the national identity.
Iman said she had never expected that her creation would evoke so much interest. Her work will be sent to Britain's Coventry University for the National Day celebrations. It is also expected to be a big hit in the local market which is visited by pilgrims and tourists.
She said she is very much thankful to the Majed center for sponsoring and honoring her. "I was a professional in sewing, but training at the center helped in polishing my skills."
Hammam Zara, Director General of the training center, said the training and development of the community talent have contributed to reduction in unemployment.
He said the organization imparts training in several fields so that one can start small projects and that 681 citizens have been trained so far.
http://www.arabnews.com/saudi-arabia/news/732281
----------
Leadership workshop for Muslim Women underway in Accra
Apr 14, 2015
The Ghana Muslim Mission Women's Fellowship (GMMWF), is organizing a three-day leadership workshop to enhance the capacity of women leaders in the organization.
The workshop with "Enhancing the Leadership Qualities of the Muslim Woman," as its theme, aims at equipping the regional and district organizers of the Fellowship with the necessary skills to enhance the performance of their duties.
Hajia Mariama Obeng, National Chairman, GMMWF said the participants would be taken through skills training, including bead work which has become very lucrative in recent time, and soap making, to help create job opportunities to help reduce the high unemployment rate among members.
Hajia Obeng said although the GMMWF has come a long way by transforming the lives of its members through weekly preaching sections and conferences, it is still faced with a lot of challenges in areas of organization and job creation.
She noted that at the end of the workshop, participants would be provided with some materials and tools to enable them carry on the skills acquired to other members in their various regions and districts.
Hajia Fatima Suleiman, a lecturer at the University of Ghana, said a leader in Islam is someone who sees beyond assumed boundaries, and being a leader is a call from Allah which one must take very seriously, as it will be accounted for in the hereafter.
Hajia Suleiman pointed out that a leader in Islam must be righteous, just, knowledgeable, honest, trustworthy and competent, and it is important for every leader to possess one or more of such attributes to be able to perform to task.
Dr Mrs Rabiatu Armah Konney, Senior Lecturer of the University of Ghana, said the issue about leadership in Islam is something that has been neglected for a very long time, and added that that is why the workshop has been organized at the right time.
She said leadership is the ability for a person to have a vision and to carry the rest of the people along, saying leadership is a two-way affair.
Dr Konney said a Muslim leader is always governing a people of faith, and must be someone who is religiously upright and works on the basis of consultation and consensus-building.
She noted that a Muslim leader must always be ready to accept criticisms in good faith, by recognizing the fact that members will criticize when things do not go on well.
Dr Amin Bonsu, National Chairman of the Ghana Muslim Mission, advised the women to take education of their children both Islamic and secular very serious, in order to breed an upcoming generation of Muslims who would help lift up the Image of Islam.
http://www.ghanaweb.com/GhanaHomePage/regional/artikel.php?ID=354305
----------
Divorce in Gaza comes at steep price
Apr 14, 2015
GAZA CITY, Gaza Strip — Three years ago, Samira Jamil reached a dead end. She had no choice but to divorce her husband by khula, whereby a wife financially compensates her husband.
Jamil, whose name has been changed for this article, told Al-Monitor that the main reason behind the divorce was financial: Her husband was stingy. "Stinginess was among the most important reasons for divorce by khula. The list, however, goes on and includes the non-fulfillment of marital duties and financial exploitation," she said.
Lebanese-born Jamil, 52, said that the divorce process took a month and a half. She ceded all her financial rights. "Although I am fragile by nature, oppression strengthened my character. This is why I filed for divorce by khula before the courts. For the process to be quickly completed, I ceded my deferred dowry and the house's furniture," Jamil said. "I was ready to give up everything in exchange for divorce."
Sharia courts in Gaza seek to find balance when it comes to the right to file for divorce, so as to change the traditional concept that the sole eligibility to divorce comes from the husband. Sheikh Hassan al-Jojo, head of Gaza's Supreme Religious Court, said that the Islamic faith advocates partnership between spouses. Therefore, both individuals have a say in their marriage because marriage can only be consensual.
"When marriage ends, it should also be consensual," he told Al-Monitor. "Although the Islamic Sharia gave men the right to divorce however and whenever they want, restrictions were imposed on this right. Women also have the right in some cases to divorce. The man cannot, for example, divorce his woman arbitrarily. We seek to have a law that compensates women for any arbitrary divorce."
In Gazan courts, the judge permits female-initiated divorces in several cases, including a husband's imprisonment, abandonment and sexual impotency. Another way to end marriage, Jojo said, is divorce by khula.
"Divorce by khula in Sharia courts is consensual and not ruled in court," Jojo explained. "For the khula to become a court rule, the law must be amended by the legislative council. We sought to have it become so, and we presented a draft law that respects Palestinian traditions and customs. However, the paralysis of the legislative council impeded the passing of the three-article law."
He continued, "The consensual divorce by khula is when the wife cedes her rights, or some of them, in exchange for divorce by agreement. The judge implements the agreement. This type of divorce has been applicable since the formation of Sharia courts, pursuant to the personal status law that has been in place since Ottoman rule in Palestine."
Jojo noted that the Gaza Strip's Sharia courts register hundreds of divorces per year. However, many women have been waiting for more than 20 years for a law allowing them to divorce their husbands.
Although khula is based on mutual consent, it can often pose a financial difficulty for the woman, since she is required to financially compensate the man. As such, opportunities for divorce are easier for wealthy women.
According to Jojo, if the law is passed, it will serve high-income women only. "This law is not beneficial to some women, because divorce by khula is done in exchange for compensation and some do not have the financial capacity to do so. The law may solve some problems but not all of them," he said.
Although hundreds of women would benefit from a khula law, conservative Palestinian culture remains an obstacle.
Civil and Sharia lawyer Islah Husniyah explained that many women who would otherwise want a divorce, instead endure unhappy marriages to protect their homes.
"When serious problems occur and women reach a stalemate, they file for divorce," she said. "The divorce is decided on by the Sharia judge in case the husbands were not spending on the house and all legal means did not pay off, or in case of the long absence of husbands, and other reasons."
She continued, "Most women have to stay due to financial and familial conditions. Many sacrifice to stay with their children. In addition, financial status does not allow [some] women to divorce by khula. This is why they do not opt for this option."
Dunia al-Amal Ismail, a writer, feminist activist and head of Gaza's Creative Women Association, said that khula in Gaza has helped women who can pay back their husbands for the dowry and gifts. However, financially unprivileged women cannot benefit from this kind of divorce.
"Even elite women in Gaza have to watch out for social traditions that prevent them from opting for divorce by khula," she added. "These traditions apply to them as much as they apply to normal women. Fear of how their behavior might be religiously interpreted may also constitute an impediment."
Ismail said social acceptance of khula could lead many women to embrace this option. "Fearing the stigma of divorce, women have second thoughts when considering divorce," she said. "For divorce by khula to be effective, women need an open social culture and an effective promotion of the right concepts of Islamic faith. A woman is religiously and humanly allowed to file for divorce, and divorce can happen."
http://www.al-monitor.com/pulse/originals/2015/04/gaza-divorce-sharia-courts-khul-wealthy-women.html#ixzz3XGYZWJdp
----------
Young Men Seeking Marriage Aid 'Must Pray In Mosques': Saudi Ministry Of Social Affairs
Apr 14, 2015
Charities helping couples get married should ensure the grooms pray five times a day in congregation, the Ministry of Social Affairs has ordered.
Imams in the neighbourhoods where these young men live must provide this evidence, the ministry stated, according to a report in a local publication recently. The ministry supervises 650 charities, 21 of which specialize in marriage and family welfare.
Mohammad Rajab Al-Zahrani, the ministry's deputy director in the Eastern Province, said those applying for aid would be investigated, including getting neighbors and friends to provide testimony of their good conduct.
He said charities would have people check the authenticity of documents and whether the grooms pray in their local mosques. These inspectors, who have been contracted by the ministry, would also make sure that those receiving financial support actually get married, he said.
Adel Al-Khoufi, director general of a marriage and welfare society in Al-Ahsa, said his organization does not require imams to provide this evidence. This does not mean it does not want people to pray.
He said many people cannot pray in mosques all the time and might need to do so at work. However, applicants must provide their marriage contracts to prove that they are serious about getting married, he said.
http://www.arabnews.com/saudi-arabia/news/732256
----------
Asra Nomani: Duke Students Tried To Cancel My Speech, That Made It Even More Important
Apr 14, 2015
Asra Nomani is the author of "Standing Alone: An American Woman's Struggle for the Soul of Islam."
We must have critical conversations, especially if they make people feel uncomfortable
This past week, University of Michigan students watched American Sniper after the university first cancelled the film's showing amid protests from an Arab-American Muslim student that the film offended her. The episode at Michigan was like my own painful experience at Duke University after a Muslim student group recently blackballed me.
"I would have come here to speak to just one person. To me, it is simply a victory to stand before you," I said.
Five days earlier, the Duke University Center Activities and Events had cancelled my talk after the president of the Duke chapter of the Muslim Students Association sent an email to Muslim students about my "views" and me, alleging that I have a nefarious "alliance" with "Islamophobic speakers" and noting that a Duke professor of Islam, Omid Safi, had "condemned" me. After I asked for evidence against me, the Center for Activities and Events re-invited me. A spokesman for Duke said the university regrets the misunderstanding.
This experience goes beyond feminism to a broader debate over how too many Muslims are responding to critical conversations on Islam with snubs, boycotts, and calls for censorship, exploiting feelings of conflict avoidance and political correctness to stifle debate. As a journalist for 30 years, I believe we must stand up for America's principles of free speech and have critical conversations, especially if they make people feel uncomfortable.
By standing on stage, I was standing up to the forces in our Muslim communities that are increasingly using tactics of intimidation and smears such as "Islamophobe," "House Muslim," "Uncle Tom," "native informant," "racist" and "bigot" to cancel events with which they disagree.
These dynamics of silencing are often used against women such as Ayaan Hirsi Ali, a Somali-born activist and author of a new book, Heretic. Brandeis University uninvited her from speaking after protests from the Council on American-Islamic Relations and the Muslim Students Association last year, and the Muslim Students Association at Yale University protested her speech at the university last fall.
Friday, organizers of a conference on women and gender at the University of South Dakota defied pitched protests to screen a documentary, Honor Diaries, about crimes Muslim women face, in the name of "honor." The controversy has been "very upsetting," writes Miglena Sternadori and Cindy Struckman-Johnson, the event organizers, and the controversy underscores the battle over whose voices are "authentic," they say.
Last April, Honor Diaries wasn't as fortunate as American Sniper at the University of Michigan when administrators there cancelled a screening after protests from the Muslim Students Association and the Council on American-Islamic Relations. The protesters used a social media hashtag campaign #DishonorDiaries to discredit the film. The University of Illinois also cancelled an Honor Diaries screening after protests from the same Muslim groups. Zainab Zeb Khan, a dynamic Afghan-American activist interviewed in the film, says, "It was a nightmare." She organized a successful substitute screening at a downtown Chicago theater to allow for dialogue and advocacy. "They are using the same tactics of shame and intimidation used to silence people in our traditional cultures. We can't allow it," she says.
Slurs have also been used by Muslims against Egyptian-American journalist Mona Eltahawy, author of a new feminist manifesto, Headscarves and Hymens; Syrian-American physician and activist Zuhdi Jasser; Iranian-American writer Melody Moezzi, and many other writers and activists, in an attempt to discredit them inside our communities. "We don't all need to share the same opinions in order to share the conviction that open debates and discussions within our communities are necessary and should be fostered," Moezzi says.
In a statement provided to TIME, a Duke University spokesperson said, "Duke is strongly committed to free expression and open discussion of controversial issues…We regret that there was a misunderstanding among our students and staff that made it seem like Ms. Nomani was no longer invited to speak at Duke. Once we became aware of it, Duke immediately let Ms. Nomani know that she was welcomed to speak with our students and the larger community, which she did."
As I stood on the stage at Duke, just a wireless microphone tucked into my pink kurta, no barrier between the audience and me, I looked out past the stage lights and said: "There are many who want to make us invisible. But I am standing here today because I believe that, if we try, we can be invincible." There are only two letters separating the two words, I told the audience: "nc," the abbreviation for North Carolina, and it was appropriate that, there, in that state, I was rejecting invisibility and standing up for invincibility. An Indian-American Sikh feminist smiled and nodded her head in agreement.
http://time.com/3818372/islamic-feminist-duke-speech/
----------
URL: https://www.newageislam.com/islam,-women-and-feminism/new-age-islam-news-bureau/world-must-do-more-to-free-nigerian-schoolgirl-hostages--malala-yousafzai/d/102458