New Age Islam News Bureau
27 Feb 2018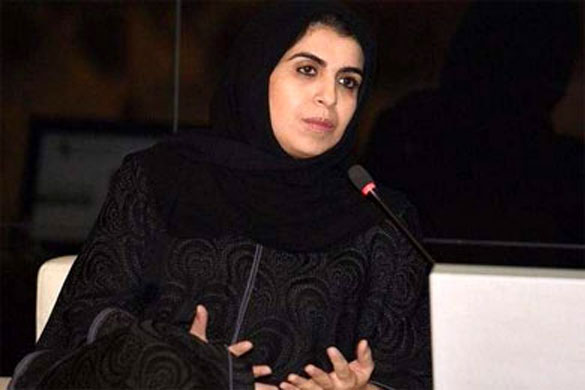 Dr. Tamader bint Youssef Al Rammah has been appointed deputy minister of labour and social development.
-----
• Muslim Girl Attacked In Netherlands after Refusing To Take Off Her Headscarf
• 12 Criteria for Saudi Women to Join Army as Soldiers
• Saudi Appoints First Female Deputy Minister of Labour
• Chinese Girl Embraces Islam, Marry Pakistani Man
• Human Rights Commission: Saudi Arabia Supports Women
• Iran: Plundered Women and Men Stage Protest Across From Majlis
• Iranian Female Basketball Fans Welcomed At Azadi Sports Complex
• Iraq: 15 Turkish Women Face Death Penalty Over Isis Membership
Compiled by New Age Islam News Bureau
URL: https://www.newageislam.com/islam-women-feminism/wont-tolerate-govt-interference-religion/d/114431
--------
Won't Tolerate Govt Interference in Religion: Indian Muslim Women
Feb 27, 2018
Perhaps in a first instance of Muslim Women's opposition to triple Talaq bill, they came out on streets demanding roll back of the bill. The Muslim women said that there is provision for Talaq and marriage in Sharia and Quran. Marriage and Talaq are usual; there is nothing wrong in it.
This was perhaps first time that Muslim women came out on street against the Modi government's act against triple Talaq. They took out a silent protest march after assembling at Karbala ground and proceeded to district collectorate. Considering sensitivity of the matter as protesters were women, additional force was called in.
The protesting women said that Islam has laid down rules for man and woman in form of Quran, which has a process for marriage and seeking divorce and the government is interfering in their religion, which would not be tolerated. The rally was lead by Dr Faiza Manzoor, Nusrat Khaoon, Councillor Shaira Bano and Shaheen Siddique.
http://www.dnaindia.com/jaipur/report-won-t-tolerate-govt-interference-in-religion-muslim-women-2588895
--------
Muslim girl attacked in Netherlands after refusing to take off her headscarf
Feb 27, 2018
A 14-year-old Muslim girl was attacked by two boys on her way home from school in the Netherlands, police said Monday.
According to law enforcement officials, the incident took place in Emmeloord in the Dutch province of Flevoland last Wednesday.
The girl was heading home on her bicycle when two boys — alleged to be around 18 years old — stopped her and started mocking the girl over her headscarf.
They then demanded she remove the headscarf, and upon her refusal, the attackers knocked the girl down from her bike and beat her up.
The 14-year-old was kicked in the head several times and suffered a mild concussion as well as several bruises, the police said.
The police added that they were looking for the perpetrators and asked any witnesses to contact them.
https://www.dailysabah.com/europe/2018/02/27/muslim-girl-attacked-in-netherlands-after-refusing-to-take-off-her-headscarf
--------
12 criteria for Saudi women to join army as soldiers
Feb 27, 2018
Riyadh — There are 12 criteria for Saudi women to join the military in the rank of soldiers, according to an announcement made by the General Directorate of Public Security.
Applications from Saudi women to work in the military in the rank of soldiers are being accepted for positions available in Riyadh, Makkah, Madinah, Qassim, Asir, Al-Baha and the Eastern Province, according to the announcement carried by the Saudi Press Agency.
Candidates can apply online at jobs.moi.gov.sa until Thursday (March 1).
Applicants must be of Saudi origin, and raised in the Kingdom unless their father had to live abroad on a government assignment.
Candidates must also be aged between 25 and 35, be above 155 centimeters tall with a good weight to height ratio, and have at least a high school diploma.
In addition to these requirements, the applicant must pass a mandatory medical check up and go through personal interviews to ensure good conduct.
Women married to non-Saudis are precluded from applying as is anyone with a criminal record or who has previously employed in any government or military-related institution.
Applicants should also have independent national identification cards, and live in the same area as their job's location. Their guardians' job must also be in the same area.
The Directorate of Public Security's responsibilities include to help prevent and investigate crimes, combat drug and narcotic crimes, regulate and control traffic, issue vehicle registration and driving permits, receive civil complaints and protect visitors to the holy mosques, according to the Ministry of Interior website.
Earlier this month, the Public Prosecution said it would begin hiring women as investigative officers for the first time, following similar announcements from the General Directorate of Passports and Justice Ministry.
http://saudigazette.com.sa/article/529295/SAUDI-ARABIA/12-criteria-for-Saudi-women-to-join-army-as-soldiers
--------
Saudi appoints first female deputy minister of labour
February 27, 2018
Dr. Tamader bint Youssef Al Rammah has been appointed deputy minister of labour and social development.
Custodian of the Two Holy Mosques, King Salman bin Abdulaziz of Saudi Arabia, reshuffled some of the Kingdom's top military officers and several deputy ministers on Monday in a broad shakeup seen as elevating younger officials in key economic and security areas.
Several new deputies in economic and security-related ministries as well as a handful of new city mayors were appointed, including Dr.Tamader bint Youssef Al Rammah as deputy minister of labour and social development for social development, a rare senior post for a woman in the Kingdom, the official Saudi Press Agency (SPA) said in a statement.
The order is to be implemented by the concerned authorities.
Al Rammah, who holds Ph.D in Radiology and Medical Engineering from Manchester University, was Human Rights Commission Representative of Saudi Arabia in 2016 and is an academic who served on the faculty of King Saud University, reports Al Arabiya.
No official reason was given for the sweeping overhaul, but it comes as the Saudi-led Coalition's military intervention in Yemen against Houthi rebels nears the end of its third year.
"A military transformation is under way in Saudi Arabia. The changes come on the heels of the SAMI exhibition, which is a critical part of the Prince Mohammed's reform plan to create an indigenous defence program," Theodore Karasik, a senior advisor at the consultancy Gulf States Analytics, told AFP.
Crown Prince Mohammed bin Salman is the country's defence minister and has been consolidating his grip on power in recent months.
Prince Mohammed is the country's defence minister and has been consolidating his grip on power in recent months while pushing major economic and social reforms.
The Prince has pursued an assertive regional policy, including leading a military intervention in neighbouring Yemen since 2015.
Women can now join military
Saudi Arabia also has for the very first time opened applications for women to enlist in the military as the Kingdom continues to enact reforms granting females more access to a wide range of careers.
According to authorities on Monday, interested candidates have until Thursday to apply for positions with the rank of soldier in the provinces of Riyadh, Al Qassim, the holy cities of Makkah and Madinah.
A list of requirements says applicants must be Saudi citizens and aged between 25 to 35 with a high school diploma.
Under Saudi Arabia's guardianship system, women who apply to join the army must also have a place of residence in the same provinces as the job's location with their male guardians, usually husband, father, brother or son.
The recruitment of female soldiers is one of many reforms enhancing women's rights introduced in recent months.
The country announced its plan to allow women to drive from June this year, and ride-hailing apps were getting prepared to hire female drivers.
Furthermore, Saudi women last month were given permission to attend football matches and to open their own businesses without the consent of their male relatives.
Saudi Arabia's public prosecutor's office said it would also begin recruiting women investigators for the first time.
The Kingdom has also opened 140 positions for women at airports and border crossings, a historic first that the government said drew 107,000 female applicants.
https://www.khaleejtimes.com/region/saudi-arabia/saudi-appoints-first-female-deputy-minister-of-labour-
--------
Chinese girl embraces Islam, marry Pakistani man
Zia Qureshi
Feb 27, 2018
Nawabshah
A loving couple established an unbreakable example of Pakistan-China Friendship when a Chinese girl embraced Islam and reached Nawabshah-Pakistan to marry her love. The story started with the illness of Nadeem Sarfaraz who selected Wiwo city of China for his treatment.
During treatment; 30-year-old Nadeem Sarfaraz and Chinese girl Chenshen came across and they fell in love. The Chinese girl Chenshen embraced Islam one year back and was named Yasmeen. Yasmeen said that her parents permitted her to marry Pakistan youth and also prayed for her. The mehndi ceremony of Yasmeen was held at Police Headquarters where Nadeem lived.
The family of Nadeem and nehboring families jously participated the program and also attended the wedding ceremony. Yasmeen on the occasion was wearing beautiful Pakistani wedding dress hands coloured with mehndi. She said that she would a short period in Pakistan and later the pair would leave for China.
https://pakobserver.net/chinese-girl-embraces-islam-marry-pakistani-man/
--------
Human Rights Commission: Saudi Arabia supports women
27 February 2018
JEDDAH: The Human Rights Commission in Saudi Arabia has said in a report that no fair observer can deny the recent empowerment of women in Saudi Arabia.
Women's rights are stressed in the Basic Law of Governance, which prohibits discrimination against women and many other regulations contain provisions prohibiting all forms of discrimination.
Many criminal laws contain provisions providing for increased punishment when the victim is a woman, such as anti-trafficking laws, and participation in political and public life is a right available to every citizen in the Kingdom. A minimum of 20 percent of the seats in the Shoura Council have been allocated to women and the laws of the Kingdom have no provisions preventing women from holding senior positions.
The commission's report stated that the labor system includes provisions to equalize rights and duties between men and women. The decision of the Minister of Labor No. (1/2370) dated 28/8/2010 prevent "any discrimination in wages between male and female workers."
The Kingdom's regulations guarantee maternity protection, especially in the workplace. The civil service system prohibits dismissal for any reason related to marriage or maternity.
The report added that Saudi systems offer women the opportunity to represent their government at regional and international levels, and there are no rules requesting the presence of a mahram (male guardian) for women to practice their legal, educational and other rights.
The report added that a judicial principle in 2013 gives women the right to divorce their husbands if they can not bear living with them. The Kingdom's endorsement of the Convention on the Elimination of All Forms of Discrimination against Women gives them even more power.
The Commission's report stressed that the issuance of the system of protection against abuse, which was prepared by a civil society institution, is a guarantee that contributes to stopping all forms of violence against women.
The Kingdoms education system is based on equality between men and women at all stages. The rate of illiteracy in the Kingdom 25 years ago was 60 percent, with women forming the majority of illiterate Saudis. This rate fell to just 5.31 percent in 2015.
The right to health care is one of the rights guaranteed by the Basic Law of Government. Article 27 of the law states that health care should be offered equally to men and women.
Saudi Vision 2030 states that women form an important component of the country's strength, accounting for more than 50 percent of the number of university graduates, and that work continues to develop their talents and enable them to have the opportunities to build their future and contribute to the development of society and the economy.
http://www.arabnews.com/node/1255046/saudi-arabia
--------
Iran: Plundered women and men stage protest across from Majlis
26 February 2018
Protesters cheated by financial institutes of Alborz-e Iranian and Caspian, including a large number of women, staged a protests outside the mullahs' parliament, Majlis, in Tehran on Sunday, February 25, 2018.
They demanded their savings back and protested officials' indifference in responding to their requests.
The protesters chanted slogans accusing the Alborz and Caspian institutes of thievery and injustice.
On Wednesday, February 21, 2018, protesters plundered by Arman-e Vahdat, Caspian, and Afzal-e Tous also staged a protest in Tehran in front of the Majlis and demanded their deposits.
http://www.women.ncr-iran.org/iran-women-news/4835-iran-plundered-women-men-stage-protest-across-majlis
--------
Iranian female basketball fans welcomed at Azadi sports complex
February 26, 2018
Female basketball fans observing the Islamic dress code and waving flags took the majority of seats at the 12,000-seat Azadi Hall located at the Azadi sports complex.
Samad Nikkhah Bahrami, a member of Iran's national team, expressed his happiness of the presence of female basketball fans and welcomed women's presence besides men, Varzesh 3 website quoted the captain of the national team as saying.
Women's presence at the stadiums is a big lesson that proves women along with men can support the players, Bahrami said, adding, "Today was the day of women's peace with basketball."
"I always wished to play in front of my family and this wish came true on Sunday," Varzesh 3 quoted Hamed Haddadi, the basketball player of national team in the center position, as saying.
"The great number of basketball fans in the hall made us excited," he added.
Iran national basketball team took revenge on Iraq in the FIBA Basketball World Cup 2019 Asian Qualifiers, defeating Iraq 83-53 in Group D.
http://www.tehrantimes.com/news/421589/Iranian-female-basketball-fans-welcomed-at-Azadi-sports-complex
--------
Iraq: 15 Turkish women face death penalty over Isis membership
Feb 27, 2018
At least 15 women of Turkish nationality have been sentenced to death in Iraq for being members of Isis.
The women, aged between 20 - 50, were sentenced in a mass trial at a criminal court in Baghdad on Sunday. Some had young children with them.
One woman said she had taken part in battles against Iraqi coalition forces as they advanced on Isis' Iraqi stronghold of Mosul last year. All 15 said they had married Isis fighters or provided the militant organisation with "logistical aid or helping them carry out terrorist attacks," the judge's statement said.
The public defender argued that the women had been trafficked into jihadi territory or tricked by their husbands.
The judge found all 15 should be killed by hanging. The women have one month in which to appeal.
Under Iraq's anti-terror laws, anyone found guilty of joining Isis, including non-combatants, can be given the death penalty.
Several rights groups have condemned Iraq's treatment of suspected militants, pointing to inhumane prison conditions and a judicial process which does adhere to international standards.
Thousands of people, including hundreds of foreigners, are awaiting trial in Iraq on charges of aiding or being members of Isis, including 560 women and 600 minors.
In June 2017, almost three years to the day since Isis crossed over the border from Syria to seize Iraq's second city Mosul in a surprise attack, US-backed Iraqi coalition forces declared the Iraqi half of Isis' so-called caliphate destroyed.
The jihadists have however continued to carry out suicide bombings, ambushes and other attacks across the country.
Last week another Turkish national Isis widow was sentenced to death by hanging and 11 others were jailed for life for their part in "acts of terrorism" in the country.
Several Western governments, including the UK, have expressed a wish for nationals who travelled to the Middle East to fight on behalf of the group be tried in Iraq.
Alexanda Kotey and El Shafee Elsheikh, part of the infamous British Isis cell known as "The Beatles" responsible for the torture and murder of at least 29 hostages, were captured alive earlier this month.
Home Secretary Amber Rudd said last week the "door is open" for them to be returned for trial in the UK.
http://www.independent.co.uk/news/world/middle-east/iraq-turkey-isis-membership-women-death-penalty-islamic-state-a8229416.html
--------
URL: https://www.newageislam.com/islam-women-feminism/wont-tolerate-govt-interference-religion/d/114431
New Age Islam, Islam Online, Islamic Website, African Muslim News, Arab World News, South Asia News, Indian Muslim News, World Muslim News, Women in Islam, Islamic Feminism, Arab Women, Women In Arab, Islamophobia in America, Muslim Women in West, Islam Women and Feminism