New Age Islam News Bureau
9 Feb 2018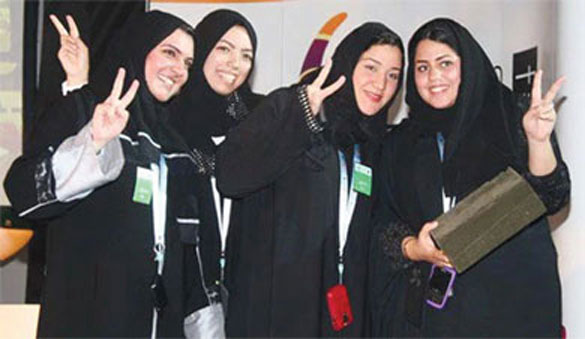 The Saudi Kingdom has stressed efforts to promote the country's tourism sector and increase women's participation in the workforce as part of Vision 2030.
-----
• Triple Talaq Bill Is a Big 'Dhoka' Against Muslim Men and Women: AIMPLB
• Saudi University's Tourism Faculty Opens Its Doors to Female Students
• Saudi Arabia Feminist Activist Detained as Country Claims It Is Increasing Women's Rights
• Pakistan Blasphemy Case: Aasia Bibi's Family Appeals for Early Hearing of Case
• Experts Say Women More Vulnerable To Climate Change Impact
• Iran: Women Stage Protests in Rasht and Tehran
Compiled by New Age Islam News Bureau
URL: https://www.newageislam.com/islam-women-feminism/womens-organisations-write-indian-union/d/114224
--------
Women's Organisations Write to Indian Union Law Minister against Muslim Women's Bill
FEBRUARY 09, 2018
Shinjini Ghosh
Against Muslim women's Bill, say will increase their woes
The All India Democratic Women's Association (AIDWA) and other women's organisations came together on Thursday stating that they had written to the Union Law Minister against passage of the Muslim Women (Protection of Rights on Marriage) Bill, 2017.
'Extremely surprised'
The letter to Union Law Minister Ravi Shankar Prasad read: "We are extremely surprised that neither the Muslim women nor women's organisations or the others concerned with the issue were consulted before the present Bill was very hastily drafted. We feel that the Bill is flawed for a number of reasons, including the fact that it criminalises triple talaq."
"If you go by logic, the Bill is not required as the Supreme Court has already outlawed it. This is now turning into a political game and triple talaq is being used to demonise the minority community, especially the Muslim man," said social activist Shabnam Hashmi.
Many other social activists and members of women's organisations said they are against triple talaq but also do not support the fact that the Bill aims to criminalise the Act. The activists pointed out that by making triple talaq a non-bailable offence, it would only increase the woes of women as it would be difficult for them to get maintenance from the husband.
Kirti Singh, legal convener of the AIDWA, said, "By making the offence cognizable and non-bailable, the government wants to permit anyone to file an FIR and has not restricted this to the woman concerned or even her relatives. This means that anyone from the public can use the section and allege that the crime has been committed. We feel that this section will be counterproductive and will further aggravate the economic condition of the wife and children, who will not be able to ask for suitable maintenance if the husband is in jail."
Chance of reconciliation
"If the man is sent to jail, the minutest chance of reconciliation between the couple is lost. This is a political move and does not keep in mind concerns for the woman. It will only increase harassment," said Maimoona Mollah, president of Delhi Janwadi Mahila Samiti.
The members have demanded that the Bill be referred to a standing committee to take into account arguments put forth by those affected by it.
http://www.thehindu.com/news/cities/Delhi/womens-organisations-write-to-union-law-minister/article22696683.ece
--------
Triple talaq bill is a big 'dhoka' against Muslim men and women: AIMPLB
Feb 8, 2018
NEW DELHI: The All India Muslim Personal Law Board (AIMPLB) today termed the triple talaq bill a big "dhoka" (deception) and hit out at the NDA government for trying to strong-arm its passage despite objections.
Dubbing the triple talaq bill "flawed", a spokesperson for the board said that it was not opposed to the proposed legislation, but wants the "flaws" removed.
"Muslim Personal Law Board is not opposing the Triple Talaq Bill, but raising objections on the major flaws which are against fundamental rights of Muslim men and women. The Bill is big 'dhoka'," AIMPLB spokesperson Moulana Khaleel-ur-Rehman Sajjad Nomani told ANI.
He claimed that efforts were being made to enact a "very wrong law".
"There is no such law in the whole world... an effort is being made to make a very wrong law. There are other such flaws. The Muslim Personal Law Board's stand is to get those flaws removed," reported PTI quoting Nomani.
The board requested all opposition parties to consider whether the bill can be passed in its present form.
The triple talaq bill has already been passed in the Lok Sabha and but it is yet to get a nod in the Rajya Sabha, where the BJP-led NDA lacks a majority.
The Muslim Women (Protection of Rights on Marriage) Bill, 2017, criminalises instant talaq and provides for up to three years of imprisonment for accused Muslim men.
Nomani alleged the bill in its present form would ban the institution of talaq itself.
"It is generally publicised that this bill is presented to stop triple talaq. But, the fact is, if you read the bill, this bill is to ban the entire institution of talaq," Nomani said.
The bill also enables any person from anywhere to complain against a Muslim man vis-a-vis divorce, he charged.
Over a month after the Lok Sabha passed the triple talaq bill, making instant triple talaq a criminal offence, the Muslim Law Board is all set to make it binding on Muslim men to commit in the nikahnama (Islamic marriage contract) that they will not use the practice.
If a man gives triple talaq despite stating in the marriage contract that he won't, his wife could challenge it in a court of law, citing the nikahnama as proof, the board said.
https://timesofindia.indiatimes.com/india/triple-talaq-bill-is-a-big-dhoka-against-muslim-men-and-women-aimplb/articleshow/62835779.cms
--------
Saudi university's tourism faculty opens its doors to female students
9 February 2018
JEDDAH: King Abdulaziz University's faculty of tourism is expected to set up a women's campus by next year.
Ibrahim Alsini, head of the university's hospitality department, told Arab News: "Female student intake will begin in the coming academic year. We have received great interest from current students who want to change their major to tourism. This wasn't possible, at least not until we officially begin the female programs."
"The industry is hungry for professionals," he said, welcoming the idea of women entering the tourism campus.
The Kingdom has stressed efforts to promote the country's tourism sector and increase women's participation in the workforce as part of Vision 2030.
Details of the departments available to female students are being studied. The male campus includes hospitality management, travel and tourism management, event management, heritage resources management, tour guiding and culinary art.
"Our current programs are taught in English, along with two French language courses," said Alsini. "Almost 70 percent of our courses are practical. We're academically partnered with Ecole Hoteliere de Lausanne from Switzerland, the School of Hospitality and Tourism Management at Hong Kong Polytechnic University and the Protocol School of Washington."
Saudi Arabia is changing its visitor visa regulations to encourage tourism in the Kingdom. Advances in the entertainment sector and a change in the law to allow women into sport stadiums are also expected to boost tourist numbers.
Saudi women have shown their worth in the tourism sector by working as organizers in General Entertainment Authority's festivities, and in hotel hospitality and management.
http://www.arabnews.com/node/1242511/saudi-arabia
--------
Saudi Arabia Feminist Activist Detained As Country Claims It Is Increasing Women's Rights
By Cristina Maza
2/8/18
As Saudi Arabia's Crown Prince Mohammed bin Salman touts moderate Islam and makes a public display of giving women more rights, human rights activists say the country is quietly arresting women's rights activists.
Human rights activist Noha al-Balawi, who is based in Tabuk, Saudi Arabia, has been held in detention for 17 days and could be imprisoned for up to five years for advocating for women's rights on social media, activists say.
"She is very vocal on Twitter and Snapchat, she advocates for women's rights and women who drive. She asked to represent the people and the country in Parliament," Yahya Assiri, director of the London-based human rights group Alqst, told Newsweek. "They don't want activists to get involved. Women haven't had any rights until now, and they are still arresting people."
The activist was arrested on January 23, and has been held by police in Tabuk ever since, rights groups say. Police allegedly questioned her about her Twitter account and about videos she posted online.
Police said Balawi could be tried under Article 6 of Saudi Arabia's anti-cybercrime law, which aims to punish anyone who creates or transmits information deemed "prejudicial to public order." If she is found guilty, she could face up to five years in prison or be hit with an $800,000 fine. She is expected to appear in court on Monday, activists said.
Saudi Arabia has made a big show of giving women more rights in recent months. The government has started to allow some men and women to mix in the workplace. In September, the government announced that women would be allowed to drive for the first time starting in June 2018. The country even held its first public concert by a female performer in December, and women were permitted to attend sporting events for the first time this year.
The changes are part of bin Salman's attempts to modernize and reform Saudi Arabia.
Salman, who was made crown prince last year by his father, King Salman, has set out to attract foreign investment and modernize the country's economy by promoting a more moderate form of Islam. The shift from the ultraconservative form of Sunni Islam practiced in the kingdom was part of a necessary move away from dependence on oil revenue as the Saudi government struggles to shrink its large budget deficit. But rights groups say the decision to give women more freedoms is little more than a publicity stunt, and that even more women are being jailed than before the crown prince rose to power.
"This is the worst time for women activists, especially for women who just talk and say things. I've seen dozens of cases like this in the past year. Especially in the past year there has been an increasing number of arrests," Ali al-Ahmed, director of the Washington-based Gulf Institute, told Newsweek.
"Before women would be jailed for a few days and let go with a strong warning, but now women are being sentenced to years in prison and are even tortured in prison," Ahmed added.
The Saudi Embassy in Washington, D.C., did not immediately respond to requests for comment. The Twitter account for Balawi has been deleted since her arrest.
http://www.newsweek.com/saudi-arabia-activist-detained-womens-rights-801459
--------
Pakistan blasphemy case: Aasia Bibi's family appeals for early hearing of case
08th February 2018
ISLAMABAD: The family of a Christian woman convicted of blasphemy in Pakistan has appealed to the Supreme Court to hold an early hearing as she been on the death row since 2010.
Aasia Bibi, 51, has been on the death row since November 2010 after being convicted of committing blasphemy. In 2014, the Lahore High Court upheld her death sentence.
She challenged it in the Supreme Court which stayed the execution in July 2015.
Since then no progress has been made in the case and Aasia is languishing in jail.
Her case gained prominence after the then Punjab governor Salmaan Taseer pleaded for her retrial and was subsequently murdered by his police guard, Mumtaz Qadri, in January 2011.
Aasia's family, including her husband and two daughters, along with her lawyer Saiful Malook yesterday visited the Supreme Court. They met Additional Registrar (Judicial) and asked for a meeting with Chief Justice Saqib Nisar so that they could request him to fix an early date for hearing, The Express Tribune reported.
The family was not allowed to meet the chief justice, Malook said, adding that one of Aasia's daughters was suffering from a mental disease and the family wanted an early decision in the case.
Aasia's husband and daughters were scared when they arrived at the apex court building and reluctant to talk to reporters.
When The Express Tribune asked Aasia's husband about the case, he replied that speaking to the media could endanger their lives, making it impossible for them to return to their home in Lahore.
Malook said the apex court office had told them several times that the date of hearing would be fixed soon. Even last year, he added, the court office had assured that the date would be fixed by the end of December 2017.
Aasia was convicted of committing blasphemy during an argument with a Muslim woman in Sheikhupura district of Punjab.
The last time her case was taken up was on October 13 last year by a three-judge bench headed by incumbent Chief Justice Mian Saqib Nisar and comprising Justice Iqbal Hameedur Rehman and Justice Manzoor Ahmad Malik.
The hearing, however, was quickly adjourned because Justice Rehman recused himself as he was the chief justice of the Islamabad High Court when it heard the Salmaan Taseer assassination case. The assassin had cited Taseer's interest in the Aasia Bibi case as his motive.
According to her statement, Aasia was working in a field when she was asked to fetch water. Several Muslim women labourers objected, saying that she should not touch the water bowl.
At that point, they had an altercation and exchanged harsh words. Aasia said the women later levelled allegations of blasphemy against her in connivance with the wife of a local cleric
http://www.newindianexpress.com/world/2018/feb/08/pakistan-blasphemy-case-aasia-bibis-family-appeals-for-early-hearing-of-case-1770343.html
--------
Experts say women more vulnerable to climate change impact
February 9, 2018
ISLAMABAD: Women remain ignored in the climate change impact studies, experts said on Thursday, asserting that they were more vulnerable to natural calamities.
Leadership for Environment and Development (LEAD) Pakistan, an independent policy think-tank, organised an international conference in Islamabad titled 'Empowering Women for Growth and Prosperity: From Evidence to Policy'.
National Commission on the Status of Women Chairperson Khawar Mumtaz said women contribute Rs400 billion a year to national economy but that is not highlighted appropriately and still the nexus between phenomenal work and women empowerment is not examined as yet.
"We have also not linked the impacts of climate change on women and the opportunities associated with it," she said.
Canada's International Development Research Centre (IDRC) Growth and Economic Opportunities for Women Programme Officer Gillian Dowie said: "Investing in knowledge on women's empowerment and the effect of climate change is critical. We look forward to learning about the evidence from Pakistan today, taking stock of the lessons internationally, and identifying tangible policy solutions."
Urban Institute Director Elizabeth Peters said she hopes that the conference will contribute to the national development agenda.
International Development (DFID) country head said that no country has achieved prosperity without harnessing the potential of women.
Unfortunately, in Pakistan, women are disproportionately affected by many issues. There is a need to provide better education to women and girls and empowering them to make their choices by themselves. DFID is supporting Pakistan in achieving sustainable development.
Canadian High Commission Aid Head Daniel Joly said unfortunately in Pakistan, women face issues to their participation on various avenues. Climate change is another area of concern, as it has greater impact on those who rely on natural resources for their livelihoods which includes women as well. Women can play a greater role in fighting climate change due to their local knowledge.
There were three panels on 'Putting women to work — human capital, growth and labor markets'; 'Pathways to reducing women's vulnerability to climate shocks and stressors' and 'The economic costs and solutions to violence against women'.
LEAD Pakistan CEO Ali Tauqeer Sheikh referred to a study by LEAD Pakistan which explores environmental degradation, climate change and economic empowerment of women based on a household survey conducted in Dhaka, Delhi, Lahore and Islamabad. "Women are particularly vulnerable to climate change events and environmental degradation in urban areas." he said.
https://tribune.com.pk/story/1630083/1-experts-say-women-vulnerable-climate-change-impact/
--------
Iran: Women stage protests in Rasht and Tehran
07 February 2018
Tuesday, February 6, 2018, Iranian women actively participated in protests in Rasht and Tehran, demanding reimbursement of their deposits plundered by Caspian Credit Institute.
In a symbolic act in Rasht, capital of Gilan Province in northern Iran, women put on white shrouds and gathered outside the Governorate building and subsequently marched to the Golsar Branch of Caspian Credit Institute owned by the Revolutionary Guard Corps (IRGC).
They chanted slogans accusing the government of pilfering their money. They pelted rotten eggs and tomatoes at the entrance of Caspian's branch in Golsar. Women chanted slogans vowing to continue their protests until they receive their money back to the last touman.
In Tehran, men and women plundered by the Caspian Institute staged a picket line outside the central branch of this institute on Africa Ave. Women actively participated.
The plundered protesters chanted against the government and the Central Bank, demanding punishment of perpetrators of economic corruption.
http://www.women.ncr-iran.org/iran-women-news/4774-iran-women-stage-protests-in-rasht-and-tehran
--------
URL: https://www.newageislam.com/islam-women-feminism/womens-organisations-write-indian-union/d/114224
New Age Islam, Islam Online, Islamic Website, African Muslim News, Arab World News, South Asia News, Indian Muslim News, World Muslim News, Women in Islam, Islamic Feminism, Arab Women, Women In Arab, Islamophobia in America, Muslim Women in West, Islam Women and Feminism