New Age Islam News Bureau
08 May 2022
• Samar Kamel, Egyptian Artist In Dubai Highlights Women's Issues In Her Works
• Vatican Preparing For Possibility Of Women Swiss Guards
• Gujarat Court Cites Hadith, "Most Detestable In The Sight Of God", While Punishing Man For Triple Talaq
• Mayor Sumbul Siddiqui: A Pakistani-American Looks Forward To Continuing To Make Cambridge A More Equitable And Civically Engaged Community
Compiled by New Age Islam News Bureau
URL: https://newageislam.com/islam-women-feminism/mosque-american-religious-los-angeles/d/126953
--------
Women's Mosque Of America: American Muslim Women Are Finding A Unique Religious Space At A Women-Only Mosque In Los Angeles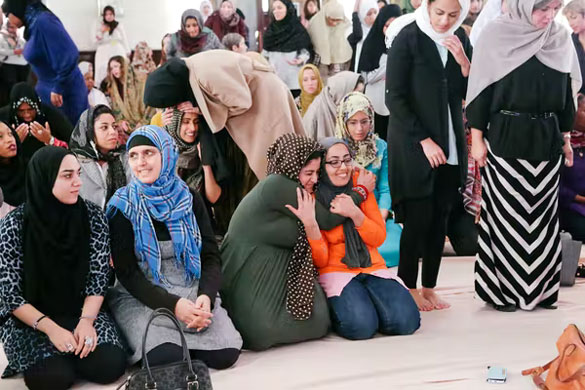 The Women's Mosque of America brings together an ethnically diverse group. The Women's Mosque of America
----
03/05/2022
St Louis (US), May 2: As Ramadan draws to a close, Muslims around the world prepare to celebrate the festival of Eid al-Fitr to mark the end of a month of fasting from dusk till dawn and additional acts of worship. On Eid, as in Ramadan, community is an integral component of Islamic observance, and many Muslims gather in their local mosque in communal prayer.
But not all Muslims belong to a religious community, and sacred dates in the Islamic calendar can prove profoundly isolating for those Muslims who are "unmosqued" – that is, not affiliated with a particular mosque community.
This may especially be the case for Muslims who are female, nonbinary, queer or converts. After all, most mosques in the US and around the world are patriarchal spaces where men occupy the main prayer area and dominate leadership roles.
In many mosques, women are given inferior prayer spaces that are typically cramped and poorly ventilated. While in recent years American Muslim women are increasingly taking on leadership roles on mosque boards, they are still underrepresented and continue to have limited access to religious learning.
However, a growing number of Muslim spaces provide an alternative culture. One I've been studying is the Women's Mosque of America, a multiracial women-only mosque in Los Angeles. It exists alongside a small number of other alternative mosques including women-led, mixed-gender and queer-affirming mosques in places ranging from Berkeley, California, and Chicago to London, Copenhagen and Berlin.
What is the Women's Mosque of America?
The Women's Mosque of America was founded in 2015 by two South Asian American Muslim women – comedy writer M Hasna Maznavi and attorney Sana Muttalib. It was conceived as a space to empower Muslim women to take on active roles in their individual community mosques and influence changes in a mosque culture that is often unwelcoming to women.
The mosque hosts monthly Friday prayers where women exclusively run the services. One woman calls the adhan, or call to prayer, while another delivers the sermon and leads the all-female congregation in prayer. Yet, as I explore in my forthcoming book, the mosque's contribution to creating a different kind of Muslim community is not simply its placement of women in leadership roles, but rather the way it elevates particular issues as worthy of concern in religious communities.
For example, with women at the helm of this mosque, the sermons focus on connecting Islamic scriptures to women's lived experiences in both their personal and professional lives.
Topics have ranged from sexual violence, divorce and motherhood to social justice activism and support for the Black Lives Matter movement. As I learned in my interviews with community members, congregants are eager to hear these types of sermons, which they see as missing in their traditional mosque communities.
Women in religious leadership roles
The mosque promotes the idea that religious authority can be held by lay American Muslim women, as opposed to only male religious scholars with traditional credentials.
Most of the women who deliver sermons and lead prayer at this mosque do not have formal religious training or Arabic expertise. They are a racially and ethnically diverse group who bring their various professional and community activist experiences to their roles as religious authority figures.
The mosque is committed to building community by flattening the hierarchy of religious leadership. For example, after the prayer is complete, congregants sit together in a circle with the prayer leader, asking her questions and engaging in a general religious dialogue with one another.
Moreover, the mosque is invested in using scriptural teachings to work toward social justice causes in the US particularly with respect to anti-Black racism and Islamophobia.
The Women's Mosque of America appeals to women who are dissatisfied with mainstream American mosques and eager to take on more central roles in their religious development. Its alternative culture also appeals to Muslim women who may have otherwise turned away from their faith.
And in providing opportunities for women to preach and lead prayer, I contend that the Women's Mosque of America pushes American Muslims to collectively reimagine the very notion of religious community by raising important questions about what a mosque is and whom it should be for.
Source: Daily Excelsior
https://www.dailyexcelsior.com/american-muslim-women-are-finding-a-unique-religious-space-at-a-women-only-mosque-in-los-angeles/
--------
Samar Kamel, Egyptian Artist In Dubai Highlights Women's Issues In Her Works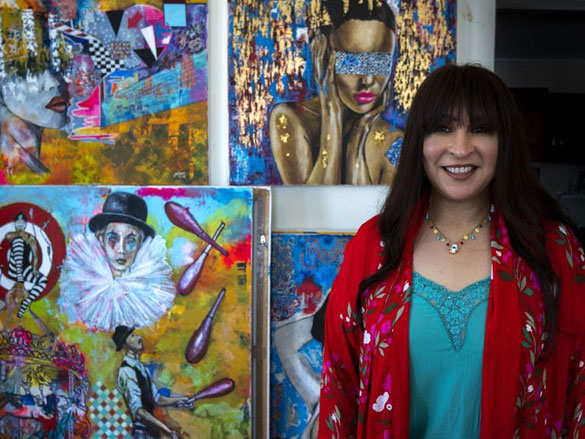 Egyptian artist Samar Kamel at the workshop in her Dubai residence. Image Credit: Ahmed Ramzan/Gulf News
----
May 07, 2022
From using tissue papers, to nail polish and tea bags, Dubai-based artist Samar Kamel has her own unique ways of delivering a message to the wider community. The Egyptian artist who moved to Dubai 30 years ago with her husband, is an author with two published works and curator of World Art Dubai (WAD). She said that she was sitting in her studio, savouring a cup of tea, when the idea of using tea bags for her paintings struck her.
Source: Gulf News
https://gulfnews.com/videos/community/egyptian-artist-in-dubai-highlights-womens-issues-in-her-works-1.1651932012831
--------
Vatican Preparing For Possibility Of Women Swiss Guards
May 04, 2022
VATICAN CITY: The new barracks of the Vatican Swiss guards will be built to accommodate female members if Pope Francis or his successors allow women to join the elite and colorfully dressed force.
Officials of the Swiss foundation that is raising the estimated $46 million (45 million Swiss Francs) to replace the current 150-year-old barracks signed a memorandum of understanding with the Vatican's Secretary of State on Wednesday.
"The project includes single rooms with private bathrooms," Riccardo Boscardin, an executive of the foundation, said in the courtyard of the barracks after the signing.
"There are two reasons. One is because COVID-19 hit when the project started and the second is the possibility of integrating women into the guard," Boscardin said.
"But this decision is not ours, but exclusively that of the Vatican and the pope," he said.
The force, whose principal mission is to protect the pope, has been exclusively male since its founding in 1506. The men are all Swiss citizens.
Francis, 85, has named women to a number of senior posts and management positions in the Vatican administration and in March he introduced a landmark new constitution that will allow any baptized lay Catholic, including women, to head most Vatican departments.
The Foundation of the Pontifical Swiss Guard, which supports the guard financially, has already raised about 37 million francs and needs to raise about 7.5 million more, Boscardin told Reuters.
He said work was due to start in January, 2026 so the guards would not be displaced during the 2025 Holy Year, when millions of pilgrims are expected to visit the Vatican.
Because of building restrictions involving historic buildings, the side of the barracks that faces Rome, which surrounds the sovereign Vatican city-state, will be kept or rebuilt exactly as it now.
Constructing a totally new, ecologically friendly and energy-saving building, even if it resembles the old one externally, would cost much less than renovating the existing one, Boscardin said.
Source: Arab News
https://www.arabnews.com/node/2075511/world
--------
Gujarat Court Cites Hadith, "Most Detestable In The Sight Of God", While Punishing Man For Triple Talaq
May 7, 2022
Ahmedabad: In punishing a government official for divorcing his wife by pronouncing the prohibited instant triple talaq, a court in Palanpur cited religious texts to state how Prophet Mohammed had conveyed that divorce is "most detestable in the sight of God".
On Wednesday, additional chief judicial magistrate G S Darji handed down one-year imprisonment to Sarfarazkhan Bihari (34), a Class I government official who had pronounced triple talaq before his wife in 2019. The court held Bihari guilty of violating the Muslim Women (Protection of Rights on Marriage) Act, 2019 along with other IPC charges. The practice of talaq-e-bidat was held invalid by the Supreme Court and prohibited through a legislation by the Parliament in 2019.
When it came to deciding the sentence, the court cited the Quranic philosophy of divorce and further quoted the Hadith of the Prophet. After explaining various accepted forms of divorce in Islam and three prevalent practices of talaq, the court cited the Prophet's warning as mentioned in a Hadith, "Al-Talaqu indallah-I abghad al-mubahat", meaning 'divorce is most detestable in the sight of God; abstain from it'.
The court also quoted Jabir bin Abdullah as saying, "When the Messenger of Allah delivered a Khutbah, his eyes would turn red, his voice would become loud, and his anger would increase, until it was as if he was warning of an attacking army…" After citing the texts, the court further observed, "Thus, the Quranic philosophy presented by the Prophet also mentions that Allah hates divorce the most. Considering this and the act of the offender of keeping extramarital relations with another woman and then marrying for the second time against the wish of the complainant (wife), the accused has committed an offence which cannot be pardoned and ignored even if viewed from the saying of the Prophet and in the sight of God."
Source: Times Of India
https://timesofindia.indiatimes.com/city/ahmedabad/court-cites-hadith-while-punishing-man-for-triple-talaq/articleshow/91386972.cms
--------
Mayor Sumbul Siddiqui: A Pakistani-American looks forward to continuing to make Cambridge a more equitable and civically engaged community
7 May, 2022
NEW YORK – This is a photo of the historic Cambridge City Hall building in the US state of Massachusetts, which is lit up green for the month of May to recognize Mental Health Awareness Month. This beautiful photo has been shared by the Pakistani-American Mayor of Cambridge City Sumbul Siddiqui on her Twitter and Facebook page.
As Mayor, Sumbul Siddiqui looks forward to continuing to make Cambridge City a more equitable and Civically engaged community. Her leadership skills, experience in community advocacy and her background as a native Cambridge give her an authentic and unique perspective on Cambridge's politics.
Sumbul Siddiqui, the first Muslim Mayor in the history of Cambridge City Council, came to the United States from Karachi with her twin brothers and parents at the age of two. She grew up in Cambridge, MA, from where she did her high school. Sumbul Siddiqui holds a bachelor's degree in public policy and American institutions from Brown University, New Jersey, and a JD degree from Northwestern Pritzker School of Law.
Ms. Sumbul Siddique serve as a legal aid attorney for low-income residents in Greater Boston. She also worked as law clerk and law clerk intern. Then, she entered in politics. She has been Mayor since 2020. Ms Siddiqui is currently serving her second term as mayor, and third on the Cambridge City Council.
Mayor Sumbul Siddiqui earned a 2020 NAACP award, Women's Bar Association of Massachusetts Emerging Women Leaders in the Law 2021 award, South Asian Bar Association 2021 Member of the Year, Margaret Fuller House 2021 Gala award recipient, and Greater Boston Labor Council Labor Champion award.
Historically, the Cambridge City was named to honor the famous British University of Cambridge.The importance of the city is further enhanced by the fact that USA's and globally famous educational institutions, such as Harvard University, the Massachusetts Institute of Technology (MIT), the University of Lisle, and the Hult International Business School, are located in Cambridge City.
Source: Daily Pakistan
https://en.dailypakistan.com.pk/07-May-2022/mayor-sumbul-siddiqui-a-pakistani-american-looks-forward-to-continuing-to-make-cambridge-a-more-equitable-and-civically-engaged-community
--------
URL: https://newageislam.com/islam-women-feminism/mosque-american-religious-los-angeles/d/126953
New Age Islam Islam Online, Islamic Website, African Muslim News, Arab World News, South Asia News, Indian Muslim News, World Muslim News, Women in Islam, Islamic Feminism, Arab Women, Women In Arab, Islamophobia in America, Muslim Women in West, Islam Women and Feminism