Age Islam News Bureau
19 May 2017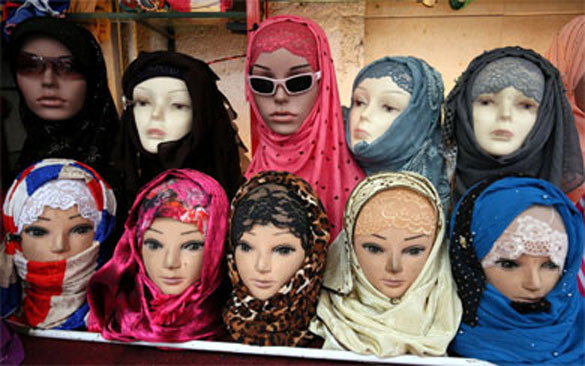 The ban will apply to Islamic Niqabs (pictured) and Burqas, which also cover the eyes AFP/ Getty Images
-----
• 'Love-Marriage' Pakistan Couple Murdered At Home after 14 Years
• Austrian Parliament Passes Burqa Ban Seeing Muslim Women Face £130 Fines for Wearing Full-Face Veils
• Young or Old, Saudi Women Live Under Male Relatives' Control
• Young Female ISIS Terrorist Who Attempted to Kill Christians on Easter Pardoned by Pakistan
• Saudi Embassy in Vienna Calls on Citizens to Observe Austria's Face Cover Ban
• Pictures of Mysterious Burqa Clad Muslim Woman Who Promotes BJP While Performing Hindu Rituals Going Viral
Compiled by New Age Islam News Bureau
URL: https://www.newageislam.com/islam-women-feminism/women-get-option-say-no/d/111210
--------
Women Will Get Option to Say No To Triple Talaq, Muslim Board Tells SC
May 19, 2017
By ANANTHAKRISHNAN G
THE ALL India Muslim Personal Law Board (AIMPLB) told the Supreme Court on Thursday that it would enable Muslim brides to include in the Nikahnama (marriage contract) a provision allowing them to say no to triple Talaq.
"We also don't want the practice to go on. We had a meeting yesterday. It will be part of the Nikahnama. We will send an advisory to all 'Qazis' stating that they should avoid instant triple Talaq," senior counsel Kapil Sibal, appearing for the AIMPLB, told a five-judge bench headed by Chief Justice J S Khehar.
Concluding its hearing of a clutch of petitions challenging the practice of triple Talaq, polygamy and Nikah Halala, the bench, which includes Justices Kurien Joseph, U U Lalit, R F Nariman and Abdul Nazeer, reserved its verdict.
The bench had on Wednesday asked the AIMPLB if it was possible to include such a provision in the Nikahnama. "Can it be made possible to give an option to a wife that she can say that she was agreeable to or not agreeable to it (triple Talaq)? Is it possible to pass a resolution to all 'Qazis' to include this condition in 'Nikahnama'? Give an option to wife to say 'no' to triple Talaq," the bench had asked. Reacting to Sibal's submission today, Justice Kurien asked, "why not bring it on record".
"Yes, we are doing it," replied Sibal.
Explaining the AIMPLB's stand outside the court, senior counsel and Board member Yusuf Muchhala said, "At the time of marriage, the religious functionary will inform the bride-to-be that she has the right to stipulate a condition in the Nikahnama stating that her husband-to-be shall not pronounce triple Talaq in one sitting."
Asked how soon this would be done, he said, "We have not committed to any time limit, but we shall do it."
Senior counsel Amit Singh Chadha, appearing for petitioner Shayara Bano, told the bench that "it will not solve our problems because married women will still have to go to court (in case Talaq is pronounced)".
Another petitioner, Farah Fayaz, questioned the qualification of 'Qazis', and asked how they could be allowed to sit in judgement on the lives of these women. She demanded that the "parallel judicial system of Dar-ul Khada be banned".
The AIMPLB had earlier admitted that instant triple Talaq is sinful. Recalling this, Justice Kurien asked, "you profess it to be sinful, then how can it enjoy the protection of the Koran?"
"Many sinful things happen in the world. Your lordships are not here to decide what are the sinful things… Parliament can interfere, it can make a law," replied Sibal.
He followed this up with a statement that "women accept triple Talaq", inviting a chorus of protests from women lawyers in the court.
Apparently replying to the contention that triple Talaq is not sanctioned by the Koran, Sibal said, "you cannot go to the Koran and decide what Islam is. Islam is Koran, Hadith, Qiyas (analogy) and Hijma (consensus)."
Sibal reiterated that triple Talaq is a part of personal laws of the community and enjoys protection from the court's scrutiny. "The only permissible Constitutional route under Article 25 is for the Legislature to make a law and then its validity will be tested in court," he said.
Senior counsel Salman Khurshid, who was deputed to assist the court, defended the AIMPLB, saying "it cannot be dismissed as an NGO etc. It is a congregation of those who are engaged in the study of Islam. What they say should be taken with some seriousness."
"If it (instant triple Talaq) is bad in theology, it is bad to God, how can something bad to God be personal law," asked Justice Kurien. "It cannot be," replied Khurshid, adding, "it was added later, it is not there in the Koran."
The Centre has termed all forms of triple Talaq as unconstitutional and demanded that they be struck down.
http://indianexpress.com/article/india/women-will-get-option-to-say-no-to-triple-Talaq-muslim-board-tells-supreme-court-4662932/
--------
'Love-Marriage' Pakistan Couple Murdered At Home after 14 Years
May 19, 2017
MAILSI - A couple, who had contracted love-marriage a decade ago, was murdered under mysterious circumstances in their house while asleep here the other day.
The police sources informed that the incident was occurred in Mohallah Hassanabad, Basti Aloo Shah in the suburbs of Mailsi.
The police said that Ramzan had contracted love marriage with Abida some 14 years ago. The couple had four children from the wedlock, two of whom are visually-impaired. The police said that Ramzan, residence of Mohallah Hassanabad Basti Aloo Shah and his wife were shot dead by unidentified assailants. Two children of the couple - Muhammad Awais, 12, and nine-year-old Fatima were in school at the time of the incident while the two others with visual disability - Muhammad Sadees and Afnan were at home. When the two children came back home from school they found dead bodies of their parents. They called neighbours who later informed.
The Mailsi City Police rushed to the spot and shifted the dead bodies for autopsy and medico-legal formalities to the THQ Hospital. The police also recovered a pistol from the room.
The police suspected that love-marriage of the couple could be the motive behind the murder. However, further investigation has been launched to ascertain facts about the incident.
http://nation.com.pk/national/19-May-2017/love-marriage-couple-murdered-at-home
--------
Austrian parliament passes burqa ban seeing Muslim women face £130 fines for wearing full-face veils
Lizzie Dearden
May 19, 2017
Austria's parliament has approved a burqa ban that will see women wearing full-face veils in public fined €150 (£130) as part of new integration policies.
The prohibition will come into effect in October to outlaw Islamic burqas, niqabs and other clothing obstructing facial features in public places, universities, courts or on transport.
Opponents have argued that the ban is both discriminatory and unnecessary as a tiny number of women in Austria are thought to wear veils.
Legal body the Austrian Bar Board said it ran counter to the country's constitutional democracy and "the fundamental rights of the freedom of conscience and the freedom of private life".
Thousands of protesters took to the streets of Vienna to demonstrate against the proposals earlier this year, with organisers declaring: "Every woman must be able to move freely in public without harassment and discrimination - no matter what she does or does not wear."
Austria's own President, Alexander Van der Bellen, has publicly opposed the policy, telling school pupils: "It is every woman's right to always dress how she wants."
"And it is not only Muslim women, all women can wear a headscarf, and if this real and rampant Islamaphobia continues, there will come a day where we must ask all women to wear a headscarf – all – out of solidarity to those who do it for religious reasons," he said earlier this year.
The partial prohibition, which has not yet come into effect, will apply to the niqab and burqa but not headscarves (hijabs), which cover the hair and neck only.
The President's office said he believed prohibitions were only justified when used for all religious symbols and in select circumstances, such as for female judges, where religious dress could raise questions over their professional neutrality.
A draft text of the law said all state representatives must appear to be "religiously neutral", adding: "Those who are not prepared to accept Enlightenment values will have to leave our country and society."
Support for bans on full-face veils has been growing across Europe since France became the first country to implement such a law in 2011, followed by countries including Belgium and Bulgaria, with partial bans being imposed in Austria and parts of Spain, Italy and Switzerland.
The German parliament voted for a draft law banning women working in the civil service, judiciary and military from wearing the burqa and niqab earlier this year, while Dutch MPs have supported a similar prohibition in the Netherlands.
Critics have characterised Austria's bill as a knee-jerk reaction to stem rising support for the populist Freedom Party of Austria (FPÖ), which claimed the new measures do not go far enough.
They are part of a raft of "integration" policies, that require migrants deemed to have a good chance of gaining asylum to attend courses on the German language, job applications and Austrian values, or have their benefits cut.
Muna Duzdar, the State Secretary, hailed an "important milestone for Austrian integration" policy, saying it would improve refugees' opportunities.
"Work is one of the most important factors for successful integration, which is why we are not only breaking down language barriers with [this policy] - we are also creating a continuous integration concept for the first time," said Social Democratic Party of Austria (SPÖ) politician Alois Stöger.
The policy will also require asylum seekers to undertake unpaid work while their claims are processed.
It was agreed in the Austrian parliament on Tuesday, as the EU issued a warning to the country and two others for "breaching legal obligations" by failing to resettle a single refugee under compulsory quotas.
Austria has pledged to accept eligible asylum seekers from Italy, but the EU has warned Poland and Hungary that they have until June to start accepting refugees or face sanctions.
The ongoing crisis, immigration, terrorism and wider questions of integration and national identity have created turmoil in Austria's politics, almost seeing far-right candidate Norbert Hofer elected President last year.
The grand coalition of the centrist SPÖ and conservative Austrian People's Party (ÖVP) has agreed to dissolve and hold early elections in October, while the head of the opposition Greens party has resigned her post amid infighting.
http://www.independent.co.uk/news/world/europe/austria-burqa-ban-parliament-fines-150-full-face-veils-muslim-islam-niqabs-public-transport-a7742981.html
--------
Young or old, Saudi women live under male relatives' control
May 19, 2017
First she's in the hands of her father, then she moves to her husband. Often, she ends up under the power of her son.
From childhood through adulthood into old age, every Saudi woman passes from the control of one legal guardian to another, a male relative whose decisions or whims can determine the course of her life.
Under Saudi law, the guardian's permission is required for a woman to get a passport, to travel abroad or to marry. It is also often demanded whenever a woman tries to do any number of things, including rent an apartment, buy a car, undergo a medical procedure or take a job. As a result, women are consigned to the legal status of minors.
Saudi Arabia's ban on women driving is what often grabs the most attention, but rights advocates say guardianship laws are the factor that most powerfully enshrines inequality for women. President Donald Trump heads to Saudi Arabia this weekend to cement ties with the deeply conservative kingdom.
Guardianship was a major reason for the outrage when Saudi Arabia last month was elected to a U.N. commission tasked with promoting gender equality and women's empowerment. The kingdom was nominated to the post by the Asia-Pacific region, and normally nominees are rubber-stamped automatically. In this case, the U.S. requested a secret ballot vote, a move seen as a symbolic objection, though the kingdom won with 47 out of 54 votes.
The Geneva-based rights group UN Watch denounced the acceptance of Saudi Arabia on the commission, calling it the "world's leading oppressor of women."
Saudi law is based on one of the most conservative interpretations of Islamic Shariah, and no other Muslim countries enforce such strict guardianship measures. There have been some marginal improvements in women's rights in the kingdom in recent years. In a rare step to partially rein in guardianship, King Salman last week ordered government agencies to stop demanding guardians' permission beyond the areas where the law actually requires it.
Rights activists say the system should be ended completely.
The Associated Press spoke with three generations of women from a single family about its impact on their lives:
THE GRANDMOTHER:
Naila Mohammed Saleh Nasief, an outspoken 96-year-old, finds it frustrating and humorous that her son has been her guardian for the past three decades.
"I need his permission for everything," she said. "My son, who I gave birth to and raised and made a man. Does this make sense?"
Her father, who worked in the Finance Ministry, and her husband, a doctor who at one time served as health minister, were both open-minded men and gave her freedom of choice, she said. She raised her sons and daughters as equals. Breaking with another cultural norm, Nasief has never worn the black face veil, known as the niqab, which most Saudi women don.
Since her father and husband's deaths, her eldest son has also been accommodating.
But that doesn't mean things are easy.
In one case, in her 60s, she went to the airport to fly to the United States. But she had forgotten the piece of paper from her son granting her permission to travel. Her brother, his children, and her son-in-law and grandchildren were all flying with her — but not her son.
So airport officials barred her from boarding the plane. She and her 18 relatives had to wait for five hours for someone to bring the document to the airport. Nowadays, guardians can give travel permissions electronically.
"I felt I am not human," she said of the experience.
The system leaves women dependent on the goodwill of their male relatives — fathers, husbands or sons, or in some cases a brother or uncle. Guardians are free to refuse permission. Women have complained of being abused, forced to hand over salaries to their guardians, barred from marriage or forced into unwanted marriages. Women who flee abusive homes can be imprisoned or put in a shelter, requiring the consent of her guardian to leave.
Nasief said the rules aim to keep women at home and quiet. She lamented that some women support the system, seeing it as protecting them.
"I don't think these laws will change, not even in 50 years, because people's minds are closed," she said. "If you hear people talking, they say it's better for men to rule us than to be out in the wild."
"Religion doesn't say to do this," she said. "There isn't anything in the Quran that says a man rules over women."
THE MOTHER:
Sahar Nasief, Naila's daughter, was 53 when her son became her guardian.
When she divorced her husband, her guardianship was transferred back to her father, Hassan Nasief. After he died, her three sons joked over who would be responsible for their mother, she says. In the end, she picked her middle son, then 32.
She had to get his consent when she rented an apartment and when she bought a car. The dealer even demanded he co-sign on the car, even though Nasief, a now 63-year-old retired university professor, bought the car with her money.
In 2013, when she defied the ban on women driving and got behind the wheel of car as part of a nationwide movement to push for women's rights, she was pulled over by police, who wouldn't release her until her son signed a pledge vowing his mother would never drive again.
When raising her three daughters, she taught them never "to take any nonsense from anyone" and made sure not to teach them "this nonsense about 'you have to obey your husband for life'."
"My daughters and sons were raised like this, as equals sharing and exchanging roles," Nasief said.
Nasief says guardianship translates into "ownership" of women.
"I want my right without any reason. It's a right," she said.
THE DAUGHTER:
Lubna Jamjoom, Sahar's daughter, is a 40-year-old interior designer with three children. But she needed her husband to accompany her to the bank in order for her to open an account for her children and she needed him to get her children passports.
"It doesn't make sense that he can decide these things for me as an adult and the mother of his children," she said.
Unlike many Saudi women, Jamjoom knew her husband before marrying him. That was important for her, knowing how much sway he would have over her life. "Even if the guy is kind or good, he can make a woman's life difficult," she said.
She has access to the family's identity book, an official document listing the parents' and children's names. It is issued only to the father, and women whose husbands keep hold on it have no way to prove their relationship with their children and so, for example, can't enroll them in school without the father's consent. It was only last year that widowed and divorced women could receive the book.
Jamjoom said she wants her daughter to grow up and be able to make their own decisions instead of relying on a man for nearly everything.
"This is the right God gave us," she said. "We are born free."
http://abcnews.go.com/International/wireStory/young-saudi-women-live-male-relatives-control-47505983
--------
Young Female ISIS Terrorist Who Attempted to Kill Christians on Easter Pardoned by Pakistan
May 18, 2017
BY STOYAN ZAIMOV
The government of Pakistan has reportedly pardoned a young medical student who joined the Islamic State terror group but was stopped before blowing up a Christian church on Easter, insisting that she can serve as an example to others.
Major General Asif Ghafoor argued on Samaa TV that Noreen Laghari is not a terrorist, and due to the actions of Pakistan's armed forces who caught her before carrying out the bombing, her mind has been rescued from brainwashing, the British Pakistani Christian Association reported on Wednesday.
"So should we treat Noreen like a terrorist or release her so that she can tell others how she was trapped and used for terrorism?" Ghafoor asked. "In this way, awareness will be created among the younger generation and parents as well as institutions."
The BPCA noted that Pakistan's Muslim majority had pressed for Laghari's freedom, but wondered if they would have been so merciful if the medical student, who had left to join IS in Syria, had attempted to blow up a Muslim school instead.
"Noreen Leghari is a woman intelligent enough to be considered for a role as a doctor yet is being described as pliable and immature," BPCA Chairman Wilson Chowdhry said.
"Miss Leghari's animosity for Christians would no doubt have led to many deaths including her own, yet a 'soul searching nation' have a strong will and desire to show her mercy."
Chowdhry continued: "How many of these same Pakistani citizens would be so forgiving had Miss Legahri planned to bomb a Muslim School?
"If it were Muslims that were targeted by Legahri I am certain many of the campaigners would find her crime too offensive for granting a pardon — Christian lives are ostensibly less valuable in Pakistan."
Chowdhry argued that it is "hard to believe" that Legahri's "deep-rooted hatred" has simply vanished when she was ready to kill Christians this Easter.
"Years down the line I pray we do not discover a series of 'Shipman' type deaths of Christians at any hospital she is employed by," he warned, referring to British GP and serial killer Harold Shipman.
"I asked several Pakistani Christians whether they would trust a doctor who had previously attempted to bomb a church on Easter Day, to administer care for them. It was no surprise to me that the unanimous response was a resounding no."
While Laghari has been pardoned, Christians in Pakistan continue being targeted by the nation's blasphemy laws, and severely punished if found guilty of insulting the Islamic faith.
A court in Pakistan sentenced a Christian man to life in prison earlier in May for sending "blasphemous" text messages from his mobile phone.
Legal advocacy group CLAAS vowed to continue fighting for Zafar Bhatti's freedom despite the harsh sentencing.
"The lower court's judges always hesitate to make decisions on the merit, or free people accused of blasphemy, and instead transfer their burden to the higher court without realizing how their decision will impact the accused and their families' lives," Nasir Saeed, director of CLAAS-UK, said in a statement.
"Bhatti is innocent and will be freed by the higher court. But it will take several years for his case to be heard by the High court, and until then he and his family will continue suffering needlessly."
Accoridng to the Center for Research and Security Studies in Pakistan, at least 65 people have been killed over blasphemy allegations in the country since 1990, and dozens more convicted of the crime have been placed on death row.
http://www.christianpost.com/news/young-female-isis-terrorist-who-attempted-to-kill-christians-on-easter-pardoned-by-pakistan-184073/
--------
Saudi Embassy in Vienna calls on citizens to observe Austria's face cover ban
18 May 2017
The Saudi Embassy in Vienna is alerting its citizens to recent Austrian legislation banning face covers in public and is calling on them to observe the law.
The measure takes effect in October. It will affect women who normally wear burqas, nigabs or other outfits that conceal their faces or allow only the eyes to be seen.
The legislation does not specifically name what apparel is banned, however, leaving the wearing of balaclavas and other cold-weather coverings in a possible legal gray zone.
The advisory, on the Saudi Embassy's Twitter account, warns that "anyone who covers the outlines or details of the face in public places is at risk of paying a fine."
https://english.alarabiya.net/en/News/gulf/2017/05/18/Saudi-Embassy-in-Vienna-warns-about-Austria-s-face-cover-ban.html
--------
Pictures Of Mysterious Burqa Clad Muslim Woman Who Promotes Bjp While Performing Hindu Rituals Going Viral
May 19, 2017
Varanasi: Since the advancement in technology and easy availability of internet, social media has become a household tool around the globe, and with this tool there comes many factors, including positive and negative effect on anybody or entire community. You never know what have been cooking and what's being served on this massively large and rapidly growing platform.
A picture of Burqa clad Muslim woman is going viral on social media who was last seen reading Hanuman Chalisia along with couple of other Muslim women at a temple in Varanasi seeking an end to the contentious practice of triple Talaq. She identified herself as Nazneen Ansari who runs a small organisation called Muslim Mahila Foundation claiming to fight for the rights of poor women of the Muslim community.
People alleges foul play and propaganda
Nazneen Ansari's photos have appeared on social media several times in the past since Narendra Modi became Prime Minister in 2014, she was seen holding PM Modi's photos and placards in public. What creates doubt among Muslim community on social media is not just her support for BJP or PM Modi which is rare from Muslims but rather her indulgence in polytheist Hindu rituals which goes opposite to the basic following of monotheist religion of Islam.
Many even alleged she is not a Muslim, is working for RSS to promote their anti-Muslim propaganda or to accept their narrative of 'majoritarian bias' which strangulates the rights of Muslim communities. Samajwadi Party Youth Leader Santosh Rai went on alleging that she is not a resident of Varanasi which she has been claiming, he said she has vested interest.
Who is she and whom she works for?
We tried to dig out as much information as possible to find the truth about this mysterious controversy. Nazneen Ansari who claims to have master's degree in conflict management from Banaras Hindu University, is President of a women's wing called Muslim Mahila Foundation ( Alleged to be associated with RSS though there is no official affiliation between two), she is also associated with the Bharatiya Awam Party who's President is Najma Parveen . Both organisations claim to be working for the welfare of women, especially Muslims.
Nazneen first came into limelight after she scripted Hindu epic Ramcharitmanas of legendry poet Tulsidar in Urdu in 2007. She said she believes that Rama as an ideal of humanity. She also composed 'aarti' of Rama and Hanuman Chalisa, Durga Chalisa in Urdu. She had also claimed that she recited Hanuman Chalisa at famous Sankat Mochan Temple after the terrorist blast in 2006.
But she gain little more popularity in 2013 when she claimed that 35,000 muslim women from her organisation will vote for Narendra Modi for General Election because she was seen as the only Muslim woman to be supporting Narendra Modi after his tainted image of 2002 Gujarat Riots.
In 2013, her Muslim Mahila Foundation organised an congregation in which RSS leader and patron of Muslim Rashtrya Manch Indresh Kumar was Chief Guest, he lauded Nazneen Ansari for her initiative to spread nationalism among Muslims and working for unity in the country.
December 2014, she had also sent a petition to Prime Minister Narendra Modi requesting the construction of Ram Mandir in Ayodhya. She believes that the construction of Ram Mandir would end hatred and strengthen the bond of unity and harmony between Hindu and Muslim, and it would be the permanent solution of ending the hatred between the two communities.
"Yadi Musalman apni tarakki chahate hain aur Hinduon se ijjat chahate hain to Ram janmbhoomi par mandir nirman ke liye pahal kare kyonki duniya janti hai Ayodhya Sri Ram ki hai," (If Muslims want prosperity and respect from Hindus they should come forward to build the temple at the birthplace of Ram, as all know that Ayodhya belongs to Sri Ram), said Nazneen adding that the construction of temple would be the permanent solution of ending the hatred between the two communities.
"Ram se yudh karne wale Ravan ko logon ne maf nahi kiya toh Ram mandir todne wale Babar aur uske samarthakon ko log kaise maf karenge," (When people did not forgive Ravana for fighting with Ram, how could they forgive the Ram Mandir destroyer Babar and his supporters), wondered Nazneen. Describing Babar as Mongol invader, she wrote that his ancestor Halaku killed thousands of Muslims and Khalifa in Baghdad in 1258, and Babar sowed the seeds of hatred by destroying Ram Mamdir in 1528. "Everybody know that the Indian Muslims have no connect with Mongols," she said adding that those who oppose the construction of temple really are not well wisher of Muslims.
In 2016, she was awarded with 100 women achievers award by President Pranab Mukherjee after she was selected by Ministry of Women Child Department from Varanasi.
She also called for the nationwide ban on cow slaughter and asked Muslims to stop consuming beef, "Cow is a symbol of our Indian culture and at any cost we will save them. Those who advocate beef consumption are actually trying to defame Muslims, We request our Prime Minister (PM) Narendra Modi to impose ban on cow slaughter completely and stop politics on cow"
Conclusion
In her earliest interview in 2013, she claimed she is neither Muslim nor Hindu, she said she follows national religion which combines all religions. Mostly appearing in Burqa , Nazeen has been publicly accorded with Hindutva agenda like Ram Mandir, Hindu Nationalism, Uniform Civil Code, Talaq, Beef, et al. Many alleging that instead of solely looking into the welfare of deprived Muslim women condition in one of the poorest state, she has vested interests or she is being used by Anti-Muslim organisations.
We individually cannot conclude or blame her with vested interest while she is not hiding her initiatives and associations.
https://www.siasat.com/news/pictures-mysterious-Burqa-clad-muslim-woman-promotes-bjp-performing-hindu-rituals-going-viral-1186193/
--------
URL: https://www.newageislam.com/islam-women-feminism/women-get-option-say-no/d/111210
New Age Islam, Islam Online, Islamic Website, African Muslim News, Arab World News, South Asia News, Indian Muslim News, World Muslim News, Women in Islam, Islamic Feminism, Arab Women, Women In Arab, Islamophobia in America, Muslim Women in West, Islam Women and Feminism