New Age Islam News Bureau
24 September 2021
• Hindu, Muslim Women Donate Kidneys to Save Life of Each Other's Spouse
• Camera Maker Canon Reveals 30% Saudi Women Employees Target By 2023
• Indian Women Journalists' Group Raises Rs 37 Lakh for Afghan Counterparts
• After Nur Sajat's Case, 25 Civil Society Organisations Warn Of Growing Religious Restrictions In Malaysia
Compiled by New Age Islam News Bureau
URL: https://www.newageislam.com/islam-women-feminism/saudi-national-military-women/d/125429
--------
Women take part in Saudi National Day military parade for first time
24 September 2021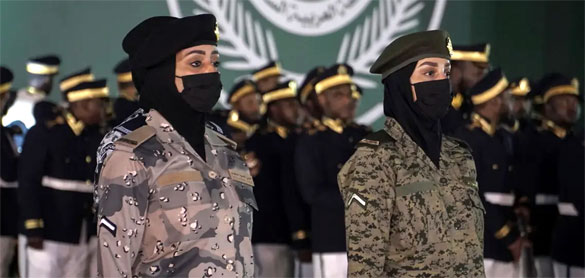 Members of a female military unit participate in a celebratory march past during the Saudi National Day celebrations in Riyadh, Saudi Arabia, September 23, 2021. (Reuters)
------
Women took part in the annual Saudi National Day military parade for the first time in the Kingdom's history on Thursday.
Female soldiers of different ranks marched in the hour-long parade in commemoration of Saudi Arabia's 91st National Day.
The Ministry of Interior, in collaboration with the General Entertainment Authority (GEA), had organized the event in the capital Riyadh. A similar parade was also held in the city of Jeddah.
Hundreds of Saudi nationals and residents attended the event, and waved the Saudi flag and cheered as the soldiers marched on.
Saudi National Day is celebrated annually on September 23 to mark the renaming of the Kingdom of Nejd and Hejaz to the Kingdom of Saudi Arabia in 1932 following a royal decree from King Abdul Aziz Ibn Saud.
The GEA organized dozens of activities and events that will take place to mark the occasion, starting from September 23 to 25. The Ministry of Health urged all citizens and residents to adhere to precautionary measures throughout the celebrations to prevent the spread of COVID-19.
Vision 2030 and Saudi women
In February, Saudi Arabia's Ministry of Defense announced that women could now apply for positions in the military through their unified admission portal.
The move comes under Crown Prince Mohammed bin Salman's Vision 2030 initiative, introducing reforms that advance Saudi Arabian women in various fields.
Women were allowed to join the Saudi Arabian Army, Royal Saudi Air Defense, Royal Saudi Navy, Royal Saudi Strategic Missile Force, and Armed Forces Medical Services.
Saudi Arabian women have also been recruited as soldiers, lance corporals, corporals, sergeants, and staff sergeants, according to the ministry.
To join the armed forces, a woman must be between the age of 21 and 40 years old, be 155 centimeters tall or above, and cannot be a government employee.
She must also pass admission procedures, have a clean criminal record, and be medically fit for service.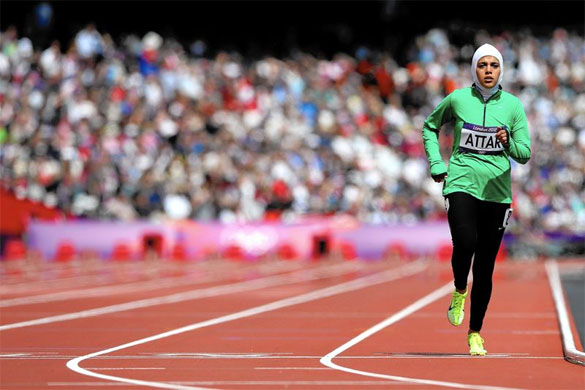 Sarah Attar of Saudi Arabia competes in the women's 800-meter Round 1 heats on Day 12 of the London 2012 Olympic Games on August 8, 2012, in London, England. (Streeter Lecka / Getty Images)
-----
A Saudi Arabian woman must also hold an independent national identity card, have at least a high school education, and cannot be married to a non-Saudi Arabian citizen.
Source: Al Arabiya
https://english.alarabiya.net/News/gulf/2021/09/24/Women-take-part-in-Saudi-National-Day-military-parade-for-first-time-
--------
Hindu, Muslim women donate kidneys to save life of each other's spouse
23rd September 2021
DEHRADUN: At a time of widening gulf between faiths, Sushma Uniyal (48) and Sultana Khatoon (46) came together to save each other's husband's life.
Setting an example both agreed to donate their kidneys for each other's spouse. The transplant has been successful last week and the receivers -- Ashraf Ali (51) and Vikas Uniyal (50) are doing fine.
The husbands of both women were on dialysis and required kidney donation. After much inquiry and search donors were found.
Sushma Uniyal, the wife of Vikas Uniyal, said, "I can't express my gratitude in words. I am thankful beyond anything to Sultana Khatoon and her family. We decided to help each other and here we are, two happy families."
Sultana Khatoon, whose husband received a kidney from Sushma Uniyal said, "Sushma ji has become my soul sister. The bond of humanity is stronger than any relation in this world. I thank Sushma ji and her family for saving the life of my husband."
Uniyal further said her husband's kidneys were adversely affected to the extent that he was on hemodialysis for more than two years now.
"Doctors recommended kidney transplant but we were not able to find a match among family members and relatives including me. Then doctors from the Himalayan hospital told us about Ashraf Ali who also needed a transplant. We went through the paperwork and decided to help each other," says Uniyal.
A team of doctors has been monitoring both men who are now stable and doing fine in a hospital in Rishikesh.
Senior urologist Dr Kim J Momin, whose team performed the transplant, said: "Both the transplants have been successful and the teams are monitoring their health."
Members of the civil society appraised the gesture of both the families.
Anno Nautiyal, a Dehradun-based activist and think tank, said, "This is an incredible example of our culture, values and the code we have lived by since times immemorial. Helping each other in a time of need, saving a life of a fellow citizen is the supreme contribution one can make. We all should take a cue from both these great women."
Source: New Indian Express
https://www.newindianexpress.com/good-news/2021/sep/23/hindu-muslim-women-donate-kidneys-to-save-life-of-each-others-spouse-2362823.html
--------
Camera maker Canon reveals 30% Saudi women employees target by 2023
September 23, 2021
DUBAI: The Saudi Arabia unit of global camera maker Canon wants 30 percent of its employees to be Saudi women by the end of 2023.
The move is in line with national efforts to integrate more women into the Kingdom's workforce.
Canon said it has been working towards this target since 2018, when it first opened offices in Riyadh, Jeddah, and Al-Khobar, but has now made the goal public.
It has previously teamed up with King Abdul Aziz University in Jeddah to develop technology-enabled training, which the camera maker said was proof of its "commitment to support young talent" in the Kingdom.
The company partnered with Mohammed Al-Mana College for Medical Sciences to fund one female student's school expenses, including tuition and housing.
It has also launched a "Women in Sales" internship program to further support the 2023 target.
Source: Arab News
https://www.arabnews.com/node/1934321/business-economy
--------
Indian Women Journalists' Group Raises Rs 37 Lakh for Afghan Counterparts
Ismat Ara
New Delhi: Amid fear and instances of rampant human rights violations since the Taliban takeover of Afghanistan, a major worry has been the death knell to free media.
The Network of Women in Media, India, in solidarity with the "journalists and all other beleaguered civilians in Afghanistan, especially women" had started a fundraiser for Afghan women journalists on September 9.
Within two weeks, the group has raised US $ 50,000, roughly about Rs 37 lakh.
'Drop in the ocean
With only one week left for the fundraiser to end, the group hopes to raise more money as financial support is one of the main requirements of women journalists in Afghanistan.
The money raised will be used to cover the costs of the fundraiser and the remaining bulk will be donated directly to the cause.
"It is a tiny drop in an ocean of need. Funds are required for flight tickets, visas, and even for daily subsistence and milk for children. So we hope to raise much more," Laxmi Murthy, a journalist based in Bengaluru and member of the Network of Women in Media, India, said.
Started in partnership with the Media Safety and Solidarity Fund, the NWMI has organised a print sale of photographs by the Associated Press.
Unable to work, move, forced to flee
Murthy, who has been leading this initiative said the swift takeover of Afghanistan by the Taliban in early August left her and other members of the NWMI horrified.
The women journalists in Afghanistan that Murthy and NWMI were in touch with, she says, described their situation as dangerous. "They were unable to work, unable to even move around and forced to flee the provinces and go into hiding as they were being targeted," she told The Wire.
The NWMI statement reads, "Women journalists [in Afghanistan] that the NWMI has been in contact with are bearing witness to the utter chaos, terror and uncertainty as the nightmare of a brutal Taliban reign becomes a reality, pushing back decades of hard-won progress for women and girls, upon whom the Taliban has meted out particularly horrific treatment merely on account of their gender."
In 2015, the NWMI had reached out to journalists at Radio Roshani, the all-women radio station in Kunduz that had been destroyed by the Taliban, putting out a statement in their support.
"This time too, we reached out as an act of professional solidarity with women journalists who tell stories of their people, exposing ground realities at great risk to themselves," Murthy said.
Murthy on behalf of the NWMI said that it is the duty of Indian media persons to reach across borders to our colleagues in distress, to show solidarity and let them know they have not been "abandoned by the world".
However, from raising money to finally ensuring that it reaches the right place, this initiative is full of challenges.
One of the main challenges that the group is facing with Afghanistan's banking system having become "practically dysfunctional now," Murthy says, is to ensure that the funds reach the right people. But a system is in place to work this out, she says.
Afghan Journalists and danger
The IFJ South Asia Press Freedom Report, titled 'Insecurity and Uncertainty: The Struggle to Survive' says that eight journalists (four of them women) were killed in Afghanistan between May 2020 and April 2021. It also says that close to 20 journalists were wounded, at least 100 resigned and 50 forced to flee the country.
The report notes, "Such violence and a declining security situation represent a serious counter threat to the achievements of the last two decades in the field of freedom of expression and a free press in Afghanistan."
Indian photojournalist Danish Siddiqui had died in firing while embedded with Afghan forces before the Taliban had completely taken over.
According to The New York Times, more than a hundred local media companies including radio stations have stopped operating since the Taliban took over. While some were closed down, others were forced out of business by the Taliban.
Qari Muhammad Yousuf Ahmadi is a Taliban spokesperson and interim director of the Government Media and Information Center. His "11 rules for journalists" in Afghanistan released this week included not publishing content that is either in conflict with Islam or derogatory to national personalities.
He has also instructed journalists to produce news reports in coordination with the Taliban government.
The women's media network has also urged the government of India to extend all possible support to vulnerable civilians and journalists in Afghanistan, particularly women journalists.
Source: The Wire
https://thewire.in/media/indian-women-journalists-group-raises-rs-37-lakh-for-afghan-counterparts
--------
After Nur Sajat's Case, 25 Civil Society Organisations Warn Of Growing Religious Restrictions In Malaysia
24 Sep 2021
BY RADZI RAZAK
KUALA LUMPUR, Sept 24 — Twenty-five civil society organisations (CSOs) have warned of growing restrictions on freedom of religion in Malaysia following cosmetic entrepreneur Nur Sajat's arrest by authorities in Thailand.
The CSOs — which include leading rights organisations such as All Women's Action Society (Awam), Amnesty International Malaysia and Tenaganita — said several state actors had responded with "alarming alacrity" since news of the arrest was first reported by Malay daily Harian Metro on September 20.
They cited, as among them, Bukit Aman Criminal Investigation Department director Datuk Seri Abd Jalil Hassan, who confirmed That the Royal Malaysia Police (PDRM) is working with the Foreign Ministry and Attorney General's Chambers to extradite Nur Sajat from Thailand.
Nur Sajat has been charged under Section 10 of the Syariah Criminal Offences (Selangor Enactment) 1995 for allegedly insulting Islam.
"However, PDRM reported that she is wanted for Section 9 instead of Section 10 of the Syariah Criminal Offences (Selangor Enactment).
"The latter two charges are allegedly related to a scuffle that took place on Jais premises, when Jais officers proceeded to arrest her after taking her statement. Nur Sajat reported that she was violently pinned down and handcuffed. Nur Sajat also made a police report against the Jais officers on January 13. However, the status of the investigation remains unknown," said the CSOs in a joint statement today.
In the same statement, the CSOs also expressed concern about the threats faced by transgenders and LGBTQ persons in Malaysia.
This, they said, included the Perlis Fatwa Committee's recent fatwa, titled "Hukum Berinteraksi Dengan Mukhannath (Pondan/Mak Nyah/Bapuk/Pengkid/Tomboi/Transgender)", which translates to "A guide on interacting with mukhannath (Pondan/Mak Nyah/Bapuk/Pengkid/Tomboy/Transgender)".
The fatwa categorised these individuals as fasik (violators of Islamic laws) and barred them from entering mosques and from performing the Haj and Umrah.
The CSOs also highlighted PAS' Bachok MP, Nik Mohamad Abduh Nik Abdul Aziz, who called for more state-sponsored rehabilitation programmes for LGBT persons in Parliament on September 21.
"A Suhakam study on the discrimination against transgender people based in Kuala Lumpur and Selangor found that 72 of 100 respondents thought of migrating to countries with better legal protection, legal gender recognition, accepting environment, among others. Fifty-four respondents said that they don't feel safe living in Malaysia.
"According to the Ministry of Home Affairs, between 2017 and 2018, over 50 per cent of people who sought asylum in Australia were reportedly Malaysians. 'LGBT' and discrimination on the grounds on ethnicity and religion are two of the four main reasons cited by the Malaysian applicants. Other reasons include domestic violence and family pressure," said the CSOs.
The CSOs then urged Malaysian authorities and the public to end all investigations and harassment against Nur Sajat, and respect her right to seek asylum as stated in Article 14 of the Universal Declaration of Human Rights.
"We recall that in its bid to secure a seat at the Human Rights Council, Malaysia made several pledges during the Human Rights Council pledging session on September 8, 2021. Malaysia reiterated its unequivocal commitment to advancing human rights.
"In line with this, the Malaysian government must respect the principles of non-refoulement and Nur Sajat's right to seek asylum," they said.
Source: Malay Mail
https://www.malaymail.com/news/malaysia/2021/09/24/after-nur-sajats-case-25-civil-society-organisations-warn-of-growing-religi/2008100
--------
URL: https://www.newageislam.com/islam-women-feminism/saudi-national-military-women/d/125429
New Age Islam, Islam Online, Islamic Website, African Muslim News, Arab World News, South Asia News, Indian Muslim News, World Muslim News, Women in Islam, Islamic Feminism, Arab Women, Women In Arab, Islamophobia in America, Muslim Women in West, Islam Women and Feminism